Updated on February 1, 2022
Having the best foam surfboard is like having a key to the world's greatest adventure playground: the ocean. Essentially, they're a LOT of fun. Foam surfboards were designed with Phil Edward's famous quote that "the best surfer out there is the one having the most fun" in mind. They're super buoyant and have a large surface area, which not only means you can paddle them fast in and out of whitewater, but they also provide an accessible platform (literally) for anyone to hop on and experience the thrill of riding waves.
Which foam surfboard do you choose though? Fear not, our expert team of saltwater thrill seekers has found ten of the best beginner friendly foam boards on the market, so you can get to thinking about surfing waves instead of surfing the web.
For more of our top surfing gear recommendations, check out the Best Surfboards.
Quick Answer

-

The Best Foam Surfboards
South Bay Board Co. Verve
Comparison Table

-

Best Foam Surfboard

For the best experience turn your device horizontally
Reviews

-

The Best Foam Boards for Surfing
South Bay Board Co. Verve
Specs
Length

:

8'

Thickness

:

3"

Volume

:

74L

Fins Included?

:

Yes
Features
4 Different Colors to Choose From
Rounded Rubber Tail Increases Stability Through Turns
Soft And Rounded Tail Also Makes This Board Safe To Transport And Store
Fingerprint-style Textured Deck Enhances Your Grip So You Don't Need Wax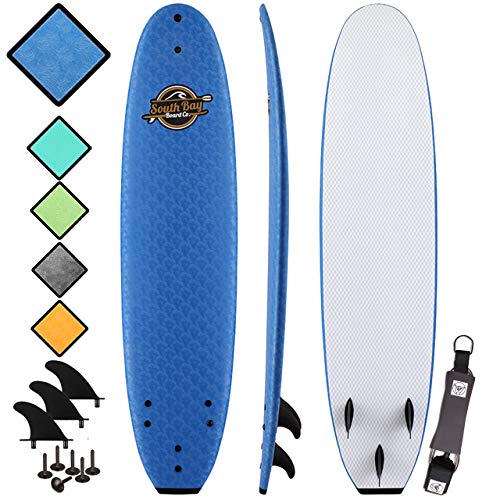 Reliable and durable, you'll find it way easier to learn to surf on the Verve than the flimsy, cheap-o board you picked up at the supermarket last year. The rounded rubber tail allows for safe, damage free storage, as well as stability and control through turns. The fingerprint-style textured deck gives you superior grip so you won't have to keep waxing your board just to stay on through the waves!
Giantex 6'
Specs
Length

:

6'

Thickness

:

3"

Volume

:

N/A

Fins Included?

:

Yes
Features
Rear Traction Pad Provides Easy Positioning And Grip
Removable Fins For Easy Transportation
Includes Leash So You Won't Lose This Board In The Surf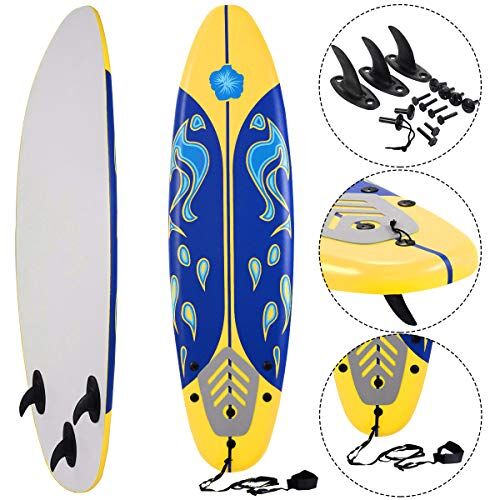 The Giantex is your budget-friendly surfboard solution. Going on holiday and want to try your hand at surfing, but know the board will probably sit in the garage afterwards? This is the board for you and even if you only use it just 4 or 5 times, it will still be cheaper than renting one for your vacation. This board is perfect for kids given its size and the bright and colorful design will mean you have no trouble locating them in the waves!
Catch Surf Odysea Log
Specs
Length

:

7'

Thickness

:

3.125"

Volume

:

72L

Fins Included?

:

Yes
Features
Bold Pop Color Design
Removable Fins for Easy Transport
Triple Wood Stringers (rods that go through the middle inside and offer rigidity and durability)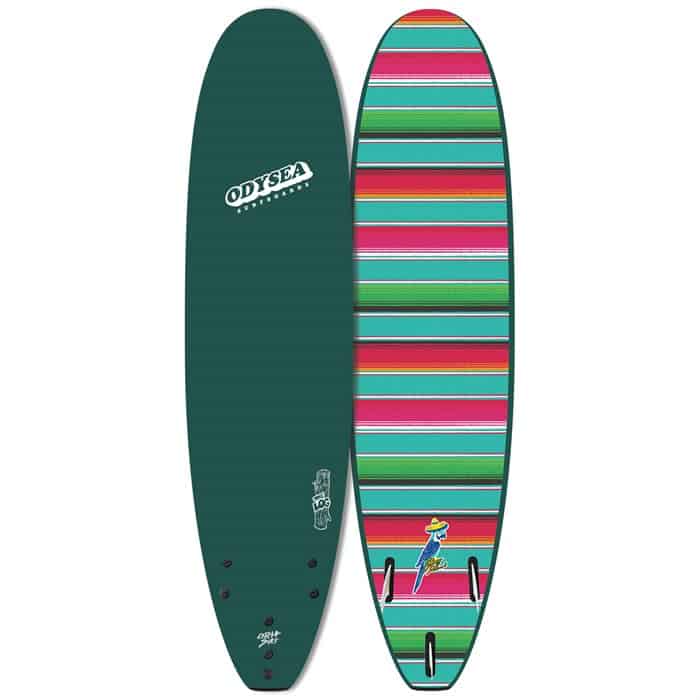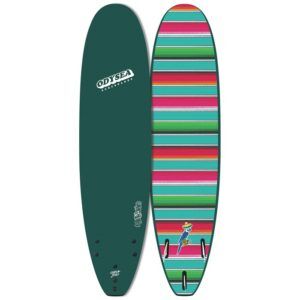 "A legit board designed by surfers in California," the Odysea LOG is perfect for beginners looking to get into surfing regularly. The price of this board reflects a solid investment in your newfound passion for surfing the waves. This board could also be a good choice for you if you're an intermediate surfer who just wants to have some fun in smaller waves.
Wavestorm Classic 8′
Specs
Length

:

8'

Thickness

:

3.125"

Volume

:

86L

Fins Included?

:

Yes
Features
Water Barrier Skin Prevents Water From Seeping Through And Decreasing Buoyancy Properties Of The Board
Textured Rear Traction Pad Provides Easy Grip And Positioning
Funky Reggae Design Makes This Board Stand Out In The Water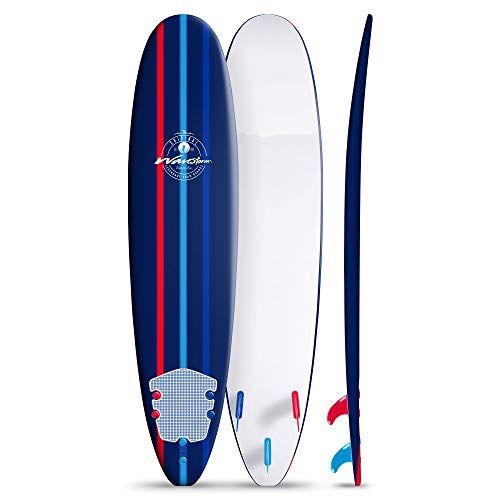 This board has a funky multi-colored, Carribean-inspired design, so you're sure to stand out in the crowd at your local beach. A rear traction pad located on the back of the board allows you to easily position yourself on the board and grip your feet to the back of the deck even while popping up for your first time. And a super thick buoyant core and triple fins offer superior stability through turns in the water, in case you're ready to start shredding some real gnar. What's not to love?
Rock-It Big Softy
Specs
Length

:

8'

Thickness

:

3"

Volume

:

N/A

Fins Included?

:

Yes
Features
6 Colors To Choose From
Double Wood Stringers Run Through The Middle Inside Of The Board And Provide Increased Stability And Durability
Made From Recycled Materials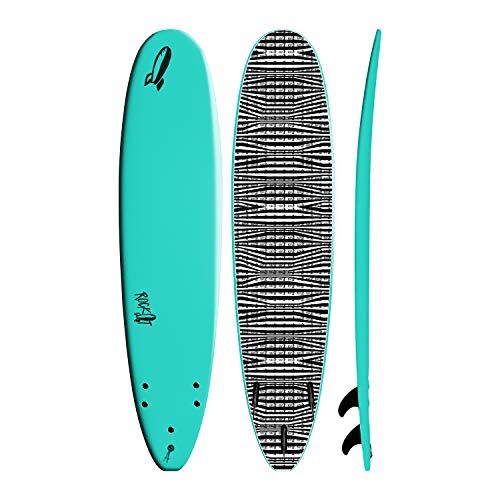 The Rock It board is for the eco-conscious surfer. Made from recycled materials and sporting double wood stringers that increase stability and durability, this is not a board that will let you down. If you're looking to get to the waves semi-regularly, this is a solid board that will last you for many seasons of surf.
Wave Bandit Easy Rider
Specs
Length

:

7'

Thickness

:

3.125"

Volume

:

72L

Fins Included?

:

Yes
Features
Variety Of Bold Colors To Choose From
Double Maple Wood Stringers Run Through The Middle Inside Of The Board And Provide Increased Stability And Durability
Fun Egg Shape Great For Beginners And Intermediates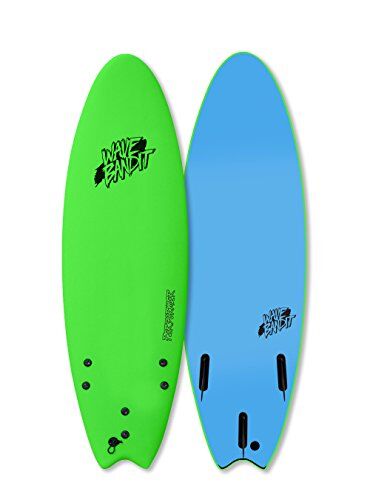 Available in five knockout colors, the Wave Bandit takes no prisoners in the water. With this in tow, you'll be shredding waves faster than you can say Kelly Slater. Its quirky egg shape means this board is not only great for beginners, but for also for intermediate shredders who want to have a bit of fun in smaller waves.
THINGS TO CONSIDER BEFORE BUYING A FOAM SURFBOARD
COST
This is common sense really, but if you're just trying out surfing for the first time, thinking of getting your kids into the waves, or if you just surf a few times a year on vacation, it might be wise not to blow your latest paycheck on the most expensive board you can find.
Much like clothing brands, you'd be surprised how many boards are made of similar materials using a similar manufacturing process, but are miles apart on the sale price scale. It'd be much wiser to read up on the information below (size, materials to look for, etc.) so you know what you're looking for, and can then narrow it down to which ones fit your budget.
SIZE AND VOLUME
Size does matter when it comes to surfboards. Though generally a bigger board means it'll be easier to balance and stand up on, it is possible to get a board that is too big for you, which would result in feeling like you're on a large raft with no means of steering power or control. And we don't want that, right? So, it's good to find the right size board. Generally your board should be at least 2 feet taller than you but no more than 3.5 feet over your standing height. This isn't a hard and fast rule, so you might find it useful to check out this sizing guide.
Volume is arguably the most important factor to consider to get the right board for you. The volume of your board is the total amount of space that it takes up. Usually we calculate volume by a simple calculation of length x width x height, but the shape of a surfboard makes this a little trickier, so they're generally measured in cubic litres (L).
As a general rule, a beginner surfer should be riding a board whose volume matches their body weight in kg. So if you weigh 80kg, look for a board around 80L. This means you'll have a board that is both buoyant and maneuverable in the water. Check out this volume chart to find out what volume of board you should be looking for (if you're buying a foam board, you should look in the beginner column).
MATERIAL
Generally the inside (core) of foam boards are made up of any of the following materials. Each has its own strengths and weaknesses, but all are good to look for when buying your first foam board.
Polyurethane (PU) – Very buoyant. Strong, durable and easy to shape. Keep in mind that disposal of this type of plastic poses a hazardous threat to the environment.
Polystyrene (PS) – Extremely buoyant. Light, recyclable, and environmentally-friendly. Not quite as strong or durable as it's Polyurethane counterpart however.
Expanded Polystyrene (EPS) – A version of the above, so it bears the same properties but essentially is uber lightweight.
Irradiated Cross-Linked Polyethylene (IXPE) – Extremely fine celled microcellular foam that has excellent waterproof and shock absorbent properties (waterproof is good because it means the board won't absorb water over time, which would make it more likely to sink).
Polypropylene (PP) – Very durable, resistant (strong in cold water), and lightweight plastic. Not easy to recycle, so not a great choice for the environment.
FEATURES EXPLAINED
CORE
The inside of the board.
DECK
The top side of the board.
TAIL
The rear end of the board.
NOSE
The front end of the board.
FINS
Fin shaped structures that attach to the rear underside of the board for stability and steering.
READ MORE
For more of our top surfing gear recommendations, check out these popular buyer's guides: