Updated on June 10, 2022
When someone mentions climbing, you might think of bouldering, working on a hard project at your local crag, cleaning a route, climbing trad and plugging your own gear, or mountaineering in a harsh alpine environment. The one item that's present for each of these adventures, yet often neglected in climbing gear roundups, are the pants. To crush those projects and pull off your favorite moves, you need the absolute best climbing pants out there! Pants that are stretchy enough to let you slide up the wall, yet durable enough to hold up to rock, and light enough to not hold you back.
Yet there seem to be dozens of options out there in every single category. Mountaineering, trad, single-pitch, bouldering, and gym climbing all seem to have their very own list of what pants are best suited. But you don't have to worry one bit about that! We've gone through all the options out there already, selected the very best climbing pants, and reviewed them right here for you. So take a gander, pick out the best climbing pants for you, and get on that wall!
For more of our top climbing apparel recommendations, check out the Best Climbing Pants for Women.
Quick Answer

-

The Best Climbing Pants
Black Diamond Notion Pant
Comparison Table

-

Best Climbing Pants

For the best experience turn your device horizontally
Reviews

-

The Best Pants for Climbing
Prana Stretch Zion
Specs
Best For

:

All Around Climbing

Material

:

97% Nylon / 3% Spandex

Design

:

Not Articulated - Relies On Stretchiness

Water Resistant

:

Yes - DWR Treatment
Features
Very Stretchy Design Provides Excellent Mobility
Roll Up Leg Cuff Snaps
Built-In Belt To Keep Your Pants Up While You Crush
UPF 50+ Sun Protection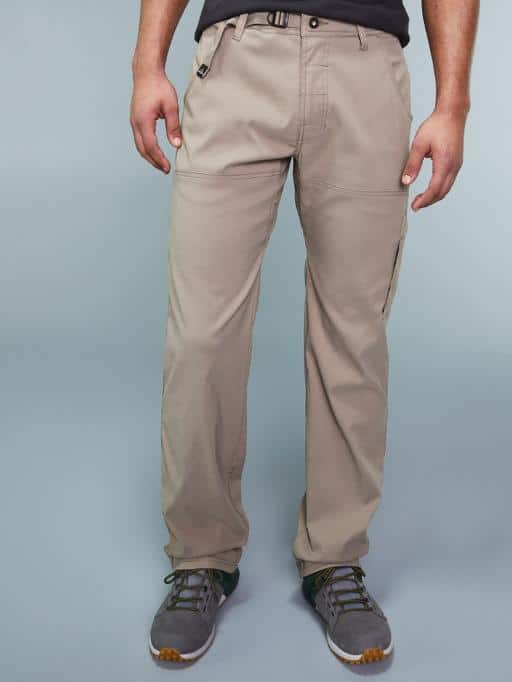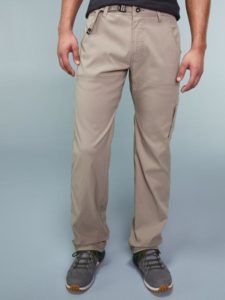 BEST FOR: ALL-ROUND PERFORMANCE
The standard go-to pant for many climbers over the years is the Zion, and it's certainly not hard to see why! PrAna has placed a premium on comfort and mobility with these pants with their nylon-spandex blend which prevents bunching and pinching. The loose-fitting design also contributes to this goal by making the pants extra comfortable so it'll feel easy to pull off your favorite moves.
We're particularly fond of the leg snaps that allow you to secure these pants above the ankle. No more climbing with one pant leg up and one awkwardly unfolding back down to your ankle! Some climbers report that the weatherproof DWR finish can be beefed up. But compared to all the benefits of these pants designed specifically for us climbers, this is a fairly minor issue.
Black Diamond Notion Pant
Specs
Best For

:

Gym Climbing

Material

:

98% Cotton / 2% Elastane

Design

:

Not Articulated - Relies On Loose Fit And Stretch

Water Resistant

:

No
Features
Extremely Comfortable And Loose Fit
Can Easily Be Used For Biking Or Hiking
Elastic Pant Cuffs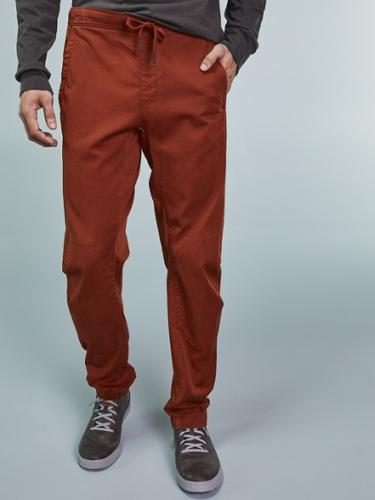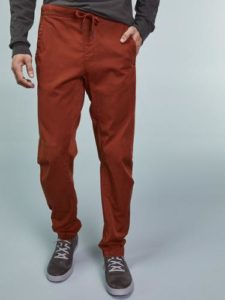 BEST FOR: GYM CLIMBING
For spending a whole day at the gym working on your project, relaxing with friends, giving a belay here, and jumping on the bouldering wall there, you won't find a better pair of climbing pants than the Notion. These pants are incredibly comfortable and will flow up the wall with absolutely zero resistance. This is due to the very loose and stretchy construction that fits almost like your favorite pair of baggy lounge sweatpants.
The extreme comfort and non-technicality behind these pants also make them ideal for an easy hiking trip, or jumping on the bike, or doing a little yoga. All this comfort and stretch comes with one significant downside, however. These are not the most durable pants on our list, and it's for that reason that we recommend them for gym only climbing as we're not sure they will hold up to tough outdoor climbing.
prAna Axiom Jeans
Specs
Best For

:

Versatility

Material

:

99% cotton / 1% spandex

Design

:

Gusseted Crotch

Water Resistant

:

No
Features
Stretch denim material is durable without hindering mobility
Inseam gusset allows legs to move freely
Standard fit is slightly roomy through the legs without being baggy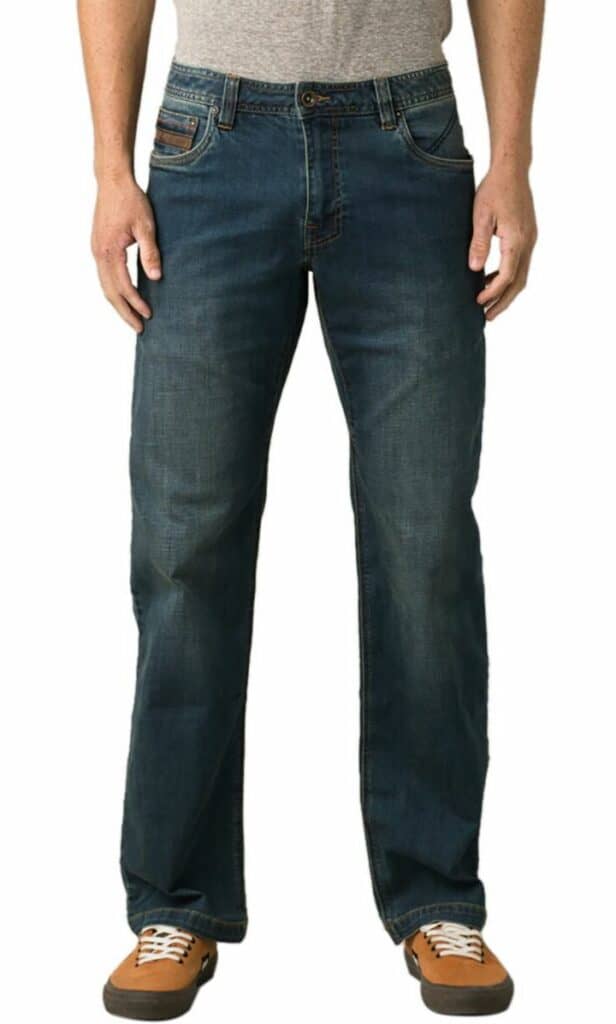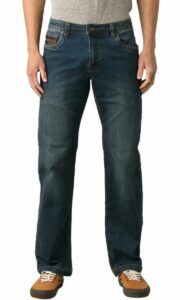 BEST FOR: WEARING FROM THE CRAG TO THE CITY
If you frequent the crag in between urban activities, these are a suitable (and fashionable) option.
The Axiom Jeans are made from a super stretchy durable blend of cotton and elastane that holds up well to use and abuse, plus an improved fit and range of motion over non-jean alternatives. They feature a relaxed fit through the hips and a bit of a widening through the cuffs, like a traditional boot cut style. Features include a climbing-specific gusseted crotch and four large, functional pockets — two in the front and two in the rear.
What I like most about these climbing pants is how fast they dry out when wet.
Arc'teryx Gamma LT
Specs
Best For

:

Multi-pitch Climbing

Material

:

88% Nylon / 12% Elastane

Design

:

Articulated Knees And Gusseted Crotch

Water Resistant

:

Yes - DWR Treatment
Features
Hip and Thigh With Laminated Zippers For Storing Small Valuables
Pant Cuffs Have Adjustable Drawcord To Keep Them In Just The Right Place
Built-In Belt To Keep Your Pants From Falling Down While You Climb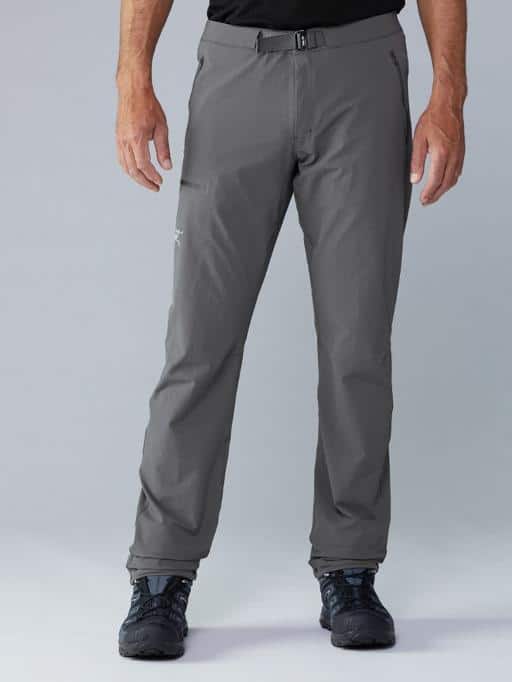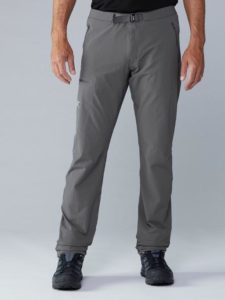 BEST FOR: MULTI-PITCH CLIMBING
When it comes to getting the very best on the market, Arc'teryx always seems to deliver. In this case they've delivered the Gamma LT which are easily some of the best climbing pants that money can buy. A comfortable stretchy design with articulated patterns make these pants simply flow up the wall. No pulling here or pinching there!
They also have a water resistant treatment for when those annoying rain squalls roll through, along with laminated pockets to keep all your items safe. The built-in belt and adjustable cuff drawcords allow you to adjust these pants just the way you like them to reach your climbing zen. Be aware, however, that while these pants are phenomenally constructed, they are significantly more expensive than much of the competition.
Eddie Bauer Guide Pro
Specs
Best For

:

Sport Climbing

Material

:

94% Nylon / 6% Spandex

Design

:

Articulated Knees And Two-Way Stretch Design

Water Resistant

:

Yes - DWR Treatment
Features
Sleek Athletic Fit Looks Good For Casual Wear
Sustainably Produced
Low-Profile Design Helps Prevent Snagging Or Rubbing On The Wall
UPF 50 Sun Protection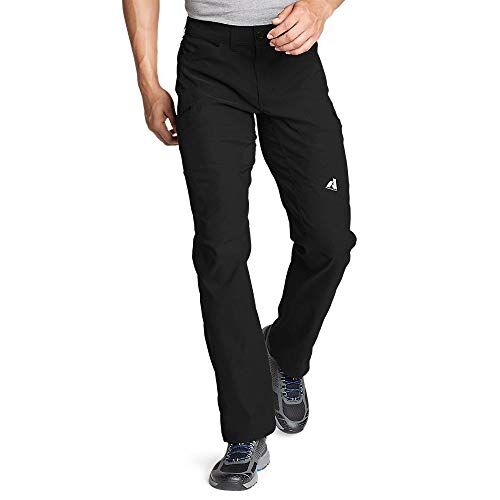 BEST FOR: SPORT CLIMBING
While often overlooked in the search for rock climbing pants, the Eddie Bauer Guide Pro is nevertheless a solid performer! The stretchy material moves very easily with you through every type of move and feature while the low profile athletic cut will minimize snags and holdups in cramped quarters. This athletic cut also allows you to roll the pant legs up above your calves if you prefer, and they won't roll back down in the middle of your climb!
The DWR treatment is also fairly effective in shedding water if you happen to get caught in a mist or drizzle. But when the sun comes out, the UPF 50 protection will give you a little cover. While we love the stretchiness of these pants, it's worth pointing out that Eddie Bauer's sewing scheme or thread material isn't well suited for extreme movement. Over several months and years, the thread holding the pockets together will often begin to fail, and this appears to be a universal problem for all Guide Pro wearers.
Outdoor Research Cirque
Specs
Best For

:

Mountaineering

Material

:

50% Nylon / 43% Polyester / 7% Spandex

Design

:

Articulated Knees

Water Resistant

:

Yes - DWR Treatment
Features
Durable And Abrasion Resistant
Boot Lace Hook To Secure Pants To Your Mountaineering Footwear
Warm Yet Breathable Materials
Wind Resistant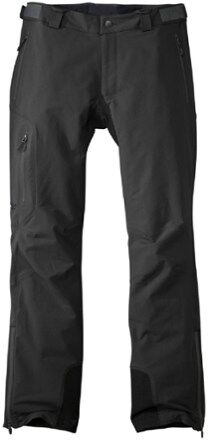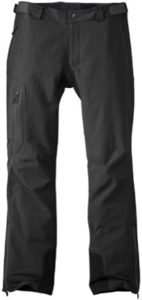 BEST FOR: MOUNTAINEERING
Alpine climbing can certainly be a chilly experience, but that's why we have the Cirque. These pants feature a double-weave design built especially to lock in the heat for you mountaineers out there. The bootlace hook and wind resistant design also work in tandem to make these pants suitable for those wintery conditions on top of the world!
While a little heavy and pricey for your standard day to day climbing, the Cirque still features articulated knees and a stretchy fit to get you the movement you need on every wall. All in all, however, these pants are best reserved for the mountain. If you have easy cragging or gyming in your future, we recommend you opt for some lighter pants.
Outdoor Research Ferrosi
Specs
Best For

:

Multi-pitch Climbing

Material

:

86% Nylon / 14% Spandex

Design

:

Articulated Knees

Water Resistant

:

Yes
Features
Very Durable Yet Light Construction
Good Breathability For Hot Days
Excellent Mobility
Wind Resistant
UPF 50 Sun Protection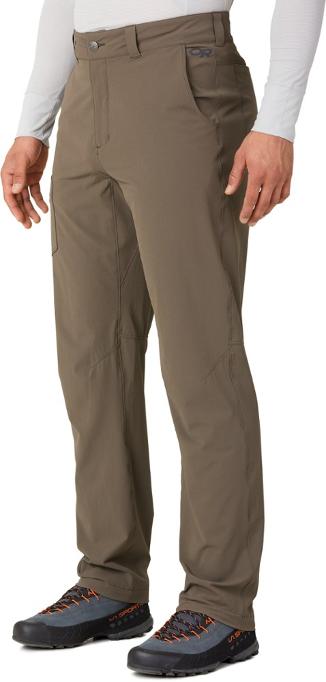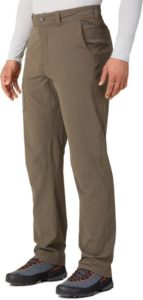 BEST FOR: MULTI-PITCH TRAD CLIMBING
Spending all day on an exposed face requires a pair of climbing pants that can brush off everything the weather can throw at it, and remain comfortable for climbing at the same time. The Ferrosi from Outdoor Research does just that! These lightweight pants are both wind and water resistant to stand fast in the face of any inclement weather that may blow in. But the sun itself can be an enemy on a perfectly clear day, hence the 50 UPF sun protection that the Ferrosi also sports.
Yet for all this protection and durability, the Ferrosi still stretches and moves with the best of them to give you ultimate mobility on the wall. We do wish that Outdoor Research had taken the time to include an integrated belt or waist-cinch system, but this is a small price to pay for all the benefits offered by the Ferrosi.
Mountain Hardwear AP
Specs
Best For

:

All Around Climbing

Material

:

75% Cotton 23% Nylon 2% Elastane

Design

:

Articulated Knees

Water Resistant

:

No
Features
Roll Up Snaps
Very Stylish Design That Looks Good Anywhere
Reflective Strips When Rolled Up


BEST FOR: VERSATILITY
If a pair of climbing pants that can also work for cycling, or for hiking, or wearing for a night out on the town sounds like what you're looking for, then check out the AP from Mountain Hardware. The cotton-nylon design looks very sleek in just about any social setting, but it's hiding a feature or two that also make it perfect for the crag.
The articulated knees help significantly with smooth movement, while the integrated snaps will keep those pant legs secure above your ankles. Rolling up the pant legs will also reveal two reflective strips that are absolutely perfect for cycling, hiking, or climbing after dark. These pants are unfortunately much more stiff than other options on the list, which may make them ride up with use. The very versatile style and design, however, easily bump the AP into the best climbing pants list.
THINGS TO CONSIDER BEFORE BUYING CLIMBING PANTS
WEATHERPROOFING
Have some epic outdoor climbing adventures in mind? Then you should also consider investing in some climbing pants that feature a little weatherproofing! You just never know when some mist, or drizzle, or other inclement weather will roll in, especially if you're eyeing an alpine climb.
The front line of defense in this department are climbing pants with a DWR (Durable Water Repellent) finish. This will help water bead up and run off rather than soak into your pants, and can be a lifesaver in rough weather. Remember that a DWR finish can slowly degrade over time with multiple uses and washes, however. For the most in-depth advice on how to care for your DWR finished pant, check out this article from REI.
Another item to consider, more so for you alpine climbers, is some form of wind-resistance built into your climbing pants. This will help keep you nice and warm during your adventure by locking out that windchill.
COMFORT AND MATERIAL
Spending hours or days in your favorite rock climbing pants is not to be taken lightly. You need a pair that is functional for what you'll be climbing, will hold up to the rigors of your adventure, and most importantly, is comfortable to wear!
You'll find a plethora of different material blends out there on the market, which are broken down here to make it easy to choose. In general, however, you'll be looking for something that incorporates some stretch in order to move with you on the wall and stay comfortable through every route. This stretchiness is most often accomplished by blending with ether spandex, lycra, or elastane.
CUFF SECURING
I'm certainly amongst the 'I can't climb with my pant leg touching my ankles' crew. Luckily for us, many of the best climbing pants out there include snaps or buttons on the pant cuff to secure them above the ankle for all your climbing adventures. Occasionally we'll also see a design that includes these snaps midway up the calf so you can secure your pants even higher.
Whether you want this luxury or not comes down to your own personal preference. The absence of these snaps doesn't exclude you from just rolling up your pant legs to your desired length, of course. But the added security of the snaps to make sure those cuffs don't roll down mid-climb is always beneficial!
FEATURES EXPLAINED
ARTICULATED DESIGNS
The best climbing pants will often incorporate some type of knee articulation into their designs in order to improve mobility. This involves adding extra material and adopting a sewing scheme that moves with – instead of restricts – knee movement.
Gentlemen, climbing pants designed for us will also go one step further and include a gusseted crotch. This design includes more material sewn into that region that, anatomically speaking, makes pulling off tough moves on the crag much more comfortable.
Nothing's worse than scoping out your next move, swinging your leg out, and then hitting the cutoff point for your pants' mobility. But, both of these features will help prevent that from happening and keep you at peak climbing performance!
BAGGY VS. ATHLETIC CUT
Some folks love baggy climbing pants for their freedom, mobility, and comfort. Other climbers, however, prefer a more athletic – or tighter – pant that's low profile and stretchy enough to provide the mobility you need. Both pant types can work perfectly for climbing, and the decision will ultimately come down to your own personal preference.
For reference, we tend to suggest that the baggy versions are most suitable for bouldering or gym climbing. But once you're out there on some technical or multi-pitch climbs, it's better to adopt more technical/athletic pants as these won't brush against the rock as much and are traditionally more durable than their baggy counterparts.
CHALK BAG LOOP AND BRUSH POCKET
When you have a pair of pants designed by climbers for climbers, you will often find an integrated chalk bag loop. This is simply a loop on the back of the pants for you to clip your chalk bag to for easy access. We find this feature most beneficial for bouldering when you don't want to be lumbered with strapping into your full-on climbing harness – which will likely have a chalk bag loop too.
The brush pocket is just what it sounds like. Not to give your teeth a polish mid-climb, but to scrape any accumulated chalk off holds before you make your move. Once again, this is most beneficial for bouldering, but can also be handy if you're cleaning a route outside on the crag.
READ MORE
For more of our top climbing gear recommendations, check out these popular buyer's guides: