Updated on November 21, 2021
People say that good climbing technique means trusting your feet, and to do that you definitely need the best climbing shoes. You want to have faith that your feet will stick on any foothold so you can power through your feet and not just depend on your ams. A lot of factors go into choosing the right climbing shoes that will give you confidence, from fit to aggressiveness to climbing style. Here at The Adventure Junkies, it's our mission to help guide you to the best products for your desired sport, so you can start climbing and stop shopping in no time!
For more of our top climbing footwear recommendations, check out these popular articles:
Beginner Climbing Shoes | Bouldering Shoes | Cheap Climbing Shoes | Trad Climbing Shoes
Gym Climbing Shoes | Women's Climbing Shoes | Crack Climbing Shoes | Intermediate Climbing Shoes
Quick Answer

-

The Best Climbing Shoes
La Sportiva Solution Comp
Comparison Table

-

Best Climbing Shoes

For the best experience turn your device horizontally
Reviews

-

The Best Shoes for Rock Climbing
La Sportiva Katana Lace
Specs
Closure

:

Lace-up

Upper

:

Leather / synthetic leather

Downturn

:

Aggressive
Features
La Sportiva P3 is a technical randing system developed to deliver power to the soles and maintain the downturned shape of the shoes
Lorica lacing harnesses provide an exact, no-stretch fit; laces are made of recycled PET from plastic bottles
Highly breathable tongues work in conjunction with the lining for excellent moisture management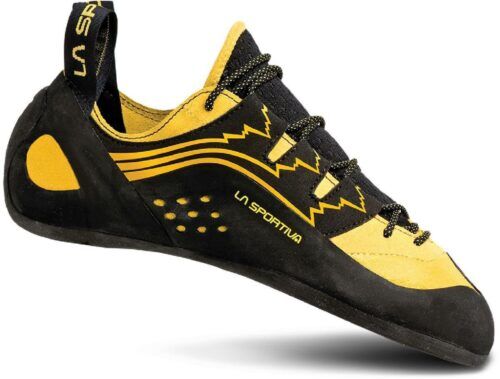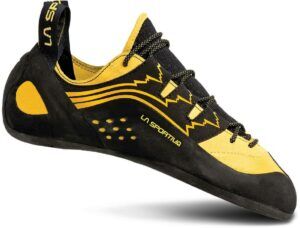 BEST OVERALL CLIMBING SHOE
The Katana Laces are among the most popular climbing shoes across a wide range of disciplines and experience levels. These shoes feature a low volume toe that allows for placement into thin cracks and pockets, precision edging, and a downturned design that is comfortable enough to allow for all-day wear. The Vibram XS Edge sole is as sensitive as it is stiff. In a nutshell: Except for on the most overhung of boulder problems, the Katana Laces will keep you feeling sendy.
What I like most about these climbing shoes is how versatile it is for wearing for pretty much any style of climbing.
La Sportiva Tarantulace
Specs
Closure

:

Lace-up

Upper

:

Leather / synthetic leather

Downturn

:

Moderate
Features
Lined tongues help manage moisture and are comfortable next to skin
5mm FriXion® RS rubber soles provide good grip and stand up to regular use
Quick-pull lacing system delivers a snug, precise fit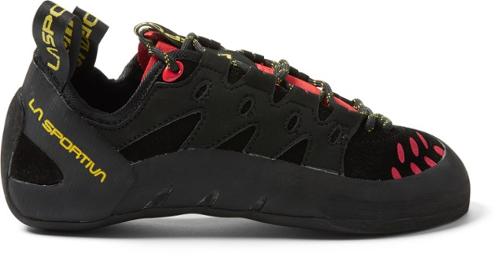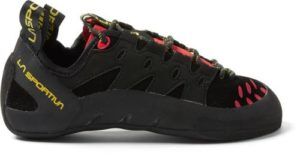 BEST FOR CLIMBERS ON A BUDGET
If you're a beginner climber or shopping on a tight budget, you can still get a pair of quality climbing shoes made by the premier climbing shoe manufacturer for under $90.
La Sportiva designed the Tarantulace to provide for a high level of quality and performance in an affordable package that's hard to beat. These shoes feature a flat sole designed to be sized comfortably and 5mm of Frixion RS rubber — more than most other climbing shoe options and adding to the Tarantulaces' long-lasting durability but do detract from its sensitivity, which combined with having a soft sole, isn't ideal. Being constructed primarily from unlined leather, these shoes are designed to stretch and mold to your feet over time, making them a comfortable — albeit insensitive — option.
What I like most about these climbing shoes is that they're comfortable and precise enough for wearing in the gym or outdoors at the crag.
La Sportiva Solution Comp
Specs
Closure

:

Fast Lacing System

Upper

:

Leather / Microfiber

Downturn

:

Aggressive
Features
Increased rubber over leather upper for better toe-hooking
Vibram XS Grip2 feels stiff at the toe and soft at the heel and arch
P3 Power Platform retains the shoe's aggressive profile for life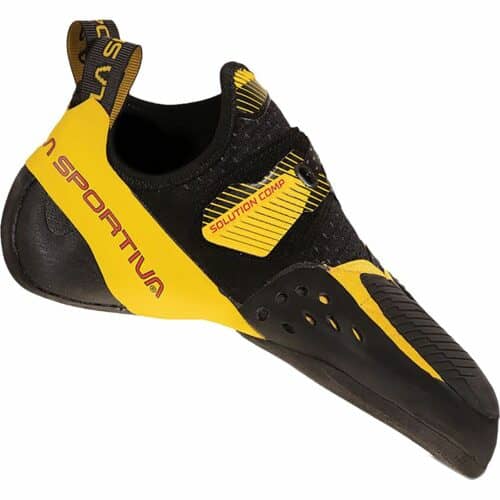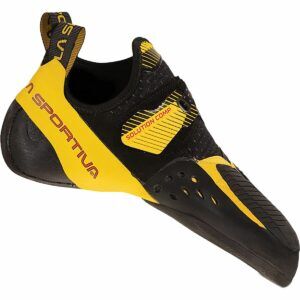 BEST FOR: STEEP SPORT CLIMBING & BOULDERING
If you're looking for an aggressively downturned shoe with a fabulous edging platform, take a peak at the Sportiva Comps — you won't find a higher quality pair of shoes designed specifically for competition style climbing.
The Solution Comps build off the original Solution design but with increased softness and sensitivity as well as a pared-down heel now equipped with a layer of sticky rubber. There is an increased volume of rubber over the toe, as well, which offers better toe hooking performance. The hook and loop lacing system is intuitive and allows for you to quickly dial in the perfect fit for your foot while the tried and true P3 Power Platform ensures retention of the shoe's aggressive design.
What I like most about the La Sportiva Solution Comps is the Vibram XS Grip2 rubber which makes it feel like you're climbing with glue-on feet.
La Sportiva TC Pro
Specs
Closure

:

Lace-up

Upper

:

Leather

Downturn

:

Neutral
Features
High-Top (for ankle protection)
Padded Toes (for comfort)
Ventilated Tongue (for breathability)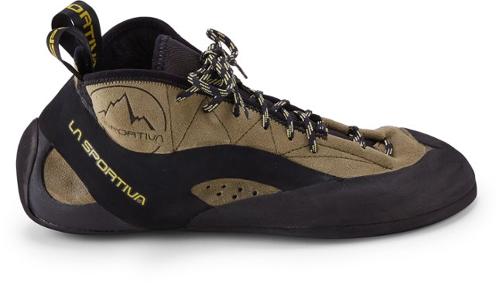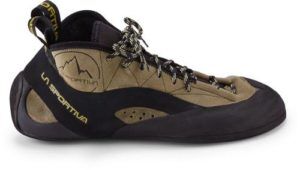 BEST FOR: CRACK CLIMBING
If you're addicted to crack climbing, the La Sportiva TC Pros should be your first choice for a climbing shoe. Designed by pro climber Tommy Caldwell (of "The Dawn Wall" fame), these shoes definitely are pro caliber in cracks. With high tops that provide ankle protection and padding in the toes, the TC Pros make jamming in cracks much more comfortable.
To fit the needs of Tommy Caldwell, the shoes are also excellent at edging and using tiny footholds, due to the proprietary P3 platform that distributes power through the sole of the shoe. The Vibram XS Edge rubber is the standard for stickiness so you'll never feel like you're slipping off the rock.
Black Diamond Aspect
Specs
Closure

:

Lace-up

Upper

:

Leather

Downturn

:

Neutral
Features
With 4.3mm NeoFriction Force molded rubber and Engineered Knit Technology tongues
Lateral stabilizer rands increase precision by keeping your feet from rolling when pressure is applied to the outside or inside edges
Medium-flex midsoles add edging prowess without sacrificing comfort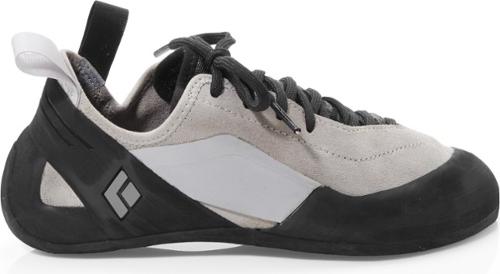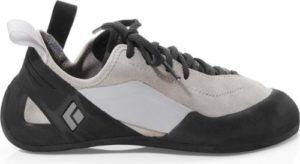 BEST FOR: LESS-THAN-VERTICAL SLAB CLIMBING
When you need exceptional comfort on micro edges, the lace-up Aspects are sure to fit the bill.
This is mostly because of the combination of the NeoFriction Force molded rubber and slightly asymmetrical shape. The Aspects offer a medium level of flexibility, which improves the shoe's ability to edge while retaining its overall comfort. Especially for those of you whom experience pain through the Achilles while you're climbing, the Aspects' low-top upper make this shoe a gentle option that combined with the stiff sole is also effective at keeping foot fatigue to a minimum.
What I like most about the Black Diamond Aspects is that the lining is made from hemp, making for a more sustainable alternative than most other climbing shoes.
Scarpa Instinct VS
Specs
Closure

:

Velcro Straps

Upper

:

Synthetic Leather

Downturn

:

Aggressive
Features
Two-Part Sole (for extra flexibility)
Non-stretch Upper (for precise fit)
Sticky & Durable Rubber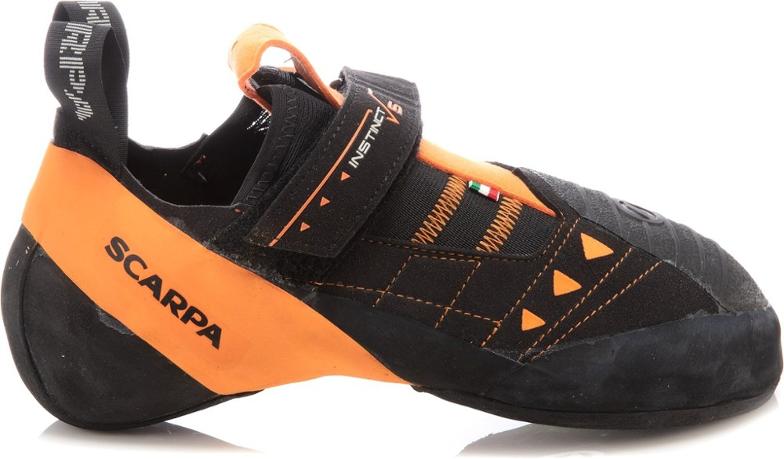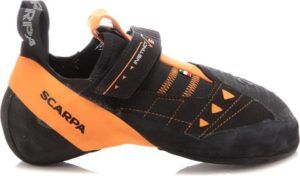 BEST FOR: BOULDERING
If bouldering is your favorite style of climbing, you will love what the Scarpa Instincts can do for you. The sole of the Instinct is split into two separate parts, letting the front and back of your foot move independently. Stiff Vibram XS Edge rubber covers the toes for precise placement on small footholds, and the heel is made of softer rubber, which is more comfortable but still provides heel hooking power.
While the stiff rubber is excellent for powerful climbing, it is not the most sensitive on smaller footholds or for smearing, so the Scarpa Instincts might not be the best choice if you're looking for an all-around shoe.
La Sportiva Solution
Specs
Closure

:

Velcro Straps

Upper

:

Leather / Synthetic Leather

Downturn

:

Aggressive
Features
Highly Adjustable Closure System
Asymmetric Toe (for performance)
Molded Heel Cups (for a snug fit)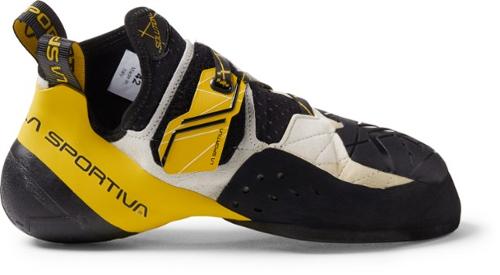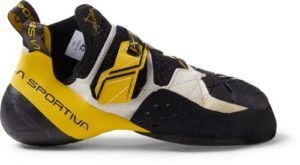 BEST FOR: POWERFUL PERFORMANCE
An extremely aggressive shoe that will give you the power to climb the hardest routes, the La Sportiva Solutions have sticky rubber and a very downturned profile. You can trust that your toes – and heels – will not slip off any surface.
Though the aggressiveness of the Solutions can make them a somewhat uncomfortable shoe, the Solutions have been designed to conform well to your foot. The closure system is the trademarked Lock Harness which brings the rubber outsole up to join the leather upper and locks your foot in place. The midsole is created to maintain the shape of the shoe over time while providing extra support while you climb.
Black Diamond Momentum
Specs
Closure

:

Velcro Straps

Upper

:

Synthetic Knit

Downturn

:

Neutral
Features
Microfiber Toe Lining (to minimize stretch)
Fabric Uppers (for breathability)
Molded Rubber Sole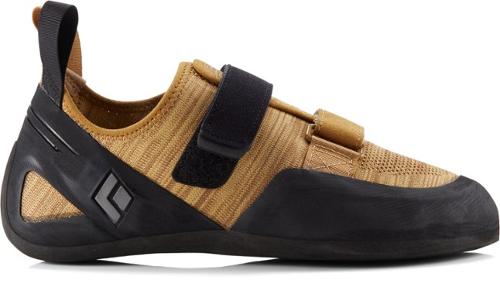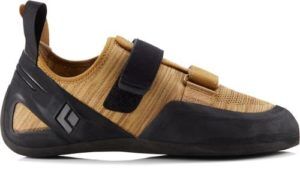 BEST FOR: BEGINNERS
The Black Diamond Momentum stands out due to the unique fabric upper. The mesh knit is meant to fit comfortably as soon as you put them on. It also provides extreme breathability to keep your feet cool and dry no matter how long you climb. The fabric also comes in multiple colors, so you can pick your favorite or even choose a few pairs, especially since the price is quite a value for a climbing shoe.
With a molded rubber sole and a moderate downturn, The Momentums combine good performance and comfort, though they are not the best choice on steep or technical routes. But these are a great shoe for beginners to put in mileage while learning to climb.
La Sportiva Miura VS
Specs
Closure

:

Velcro Straps

Upper

:

Leather

Downturn

:

Aggressive
Features
Precise Fit (with 3 straps)
Sweat-wicking Lining
Midsole Support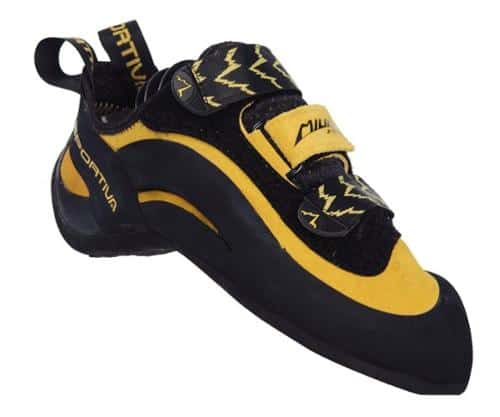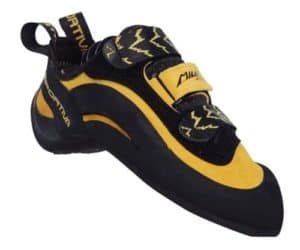 BEST FOR: PRECISION FOOTWORK
When footwork is your focus, the La Sportiva Miuras are your secret weapon. From thin edges to small pockets, the aggressive shape along with the Vibram XS Edge rubber allows you to place your feet with precision on the tiniest footholds. With a flexible midsole, the Miuras are also great for smearing on slab (less than vertical terrain).
You do sacrifice some comfort with the stiff rubber of the Miuras, but the 3-strap closure system allows for a precise fit adjustment. The shoes have a breathable wicking lining which will minimize sweat and odor while keeping your feet dry.
La Sportiva Testarossa
Specs
Closure

:

Lace-up

Upper

:

Leather/Lorica

Downturn

:

Aggressive
Features
Performance Heel Cup (for heel hooking)
Toe Box Insert (for power & comfort)
Asymmetric Lacing System (for precise fit)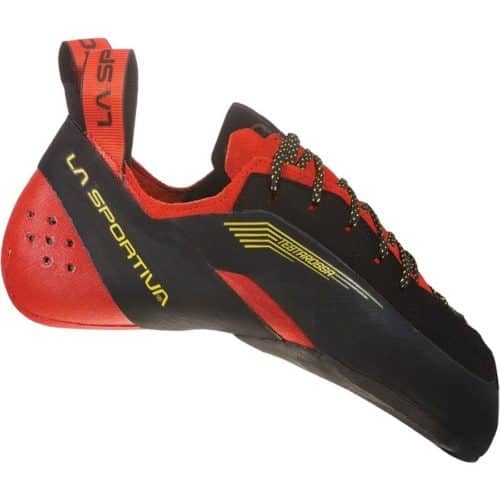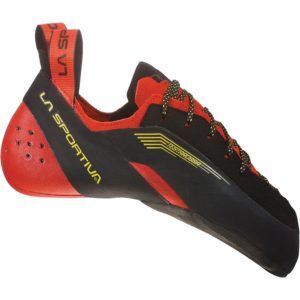 BEST FOR: STEEP ROUTES
The La Sportiva Testarossas are made for those seeking power on steep, overhanging routes. A special bilateral stretch technology strategically places Lorica (which doesn't stretch) and leather (which does stretch) in a pattern designed to create the most power when you need to edge on the thinnest of holds.
A patented 3D cupped midsole gives your toes control without sacrificing comfort, and the asymmetric lacing system allows you to fit the shoes precisely to your feet. The downturn created by the P3 platform is made to keep its shape over the life of the shoe, so you'll never lose performance.
THINGS TO CONSIDER WHEN BUYING CLIMBING SHOES
Your climbing shoes must fit your particular feet well, and everyone has different feet, so some will work better for you than others, no matter the size. That's why it might be helpful for you to try on a few pairs at your local gym to determine what styles fit your feet best. Also, certain shoes are designed for wider feet or narrower feet (sometimes referred to as low volume), so look for those if you need them.
Pay attention to manufacturers' suggestions for choosing a size based on what you usually wear in a street shoe. This helps a lot when you are ordering online. REI has some good advice for choosing a climbing shoe and determining if they fit properly. Here are some tips for taking care of your shoes so you can keep climbing in them for awhile.
FIT
Fit is definitely the most important factor in choosing a climbing shoe that works for you. Generally, you should size down from your street shoe size when selecting a climbing shoe. Don't worry if your shoes feel too tight and perhaps a little painful when you first wear them. Climbing shoes should fit very snugly, and you will need to break them in a little before they become more comfortable. Shoes with synthetic lined uppers usually fit better out of the box, while shoes with unlined, natural leather will stretch to fit more.
COMFORT
Although the uppers of many climbing shoes will break in and conform to your foot, the toe and heel are covered in rubber, so they won't stretch. This means you should be aware that if the toe box feels off or the heel cuts into your ankle when you try the shoe, you probably would be better off in a different shoe.
If your feet sweat a lot, a breathable tongue and wicking lining will keep your shoes drier and prevent them from smelling. Also, some shoes have extra padding in the tongue or toe, which is an asset for crack climbing, but can diminish sensitivity when you're trying to use tiny footholds.
DURABILITY
Once you choose your ideal climbing shoe, you'll want to take care of them so they last for a long time. While thicker rubber on the soles is more durable and performs well, thinner rubber provides more sensitivity on small footholds, so you have to choose what you value more. If you decide to go for an aggressive climbing shoe, check the specs to see if the downturn is designed to last the lifetime of the shoe and not deform over time.
FEATURES EXPLAINED
CLOSURE
How you take the shoe on and off, as well as tighten it to fit. Possible options include lace-up, velcro straps, and slip-on.
UPPER
The material that makes up the top part of the shoe. Often leather or synthetic, which can be unlined, lined, or sometimes padded.
OUTSOLE
The bottom rubber sole of the shoe. Each brand uses different rubber with varying properties.
LAST
The model around which the shoe is formed. Softer slip-lasted shoes are more sensitive, while stiffer board-lasted shoes are usually more comfortable.
DOWNTURN
The amount of downward curve in the toe of the shoe. More aggressive (i.e. more downturned) shoes perform better, but flatter shoes are more comfortable. Beginners should usually choose a neutral to moderate downturn.
READ MORE
For more of our top climbing gear recommendations, check out these popular buyer's guides: