Updated on June 1, 2022
Whether you're the type of lady to enjoy a summer saunter or a long winter trek, a rain jacket is a must for any hike. When you're out on the trail, clear skies can fill up with ominous clouds at a moment's notice. That's why it's best to be prepared and pack a rain jacket for inclement weather. But I'm sure you're wondering, how do I find the best women's rain jacket for hiking?
As avid hikers and outdoor enthusiasts, we've tackled rainy trails more times than we can count. We're here to share our expertise by guiding you through the purchasing process as well as sharing our top picks for the best women's rain jackets for hiking.
For more of our top hiking gear recommendations, check out the Best Rain Jackets for Hiking.
Quick Answer

-

The Best Women's Rain Jackets for Hiking
Mountain Hardwear Stretch Ozonic

Outdoor Research Helium II

Outdoor Research Interstellar
Comparison Table

-

Best Women's Rain Jacket for Hiking

For the best experience turn your device horizontally
Reviews

-

The Best Hiking Rain Jackets for Women
REI Co-op Rainier
Specs
Length

:

Hip Length

Weight

:

11.4 oz

Adjustable Hood

:

No
Features
Affordable
Zippered Hand Pockets
Wind Protection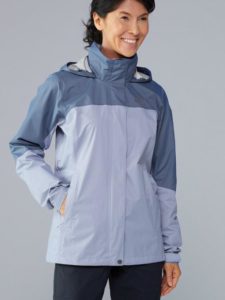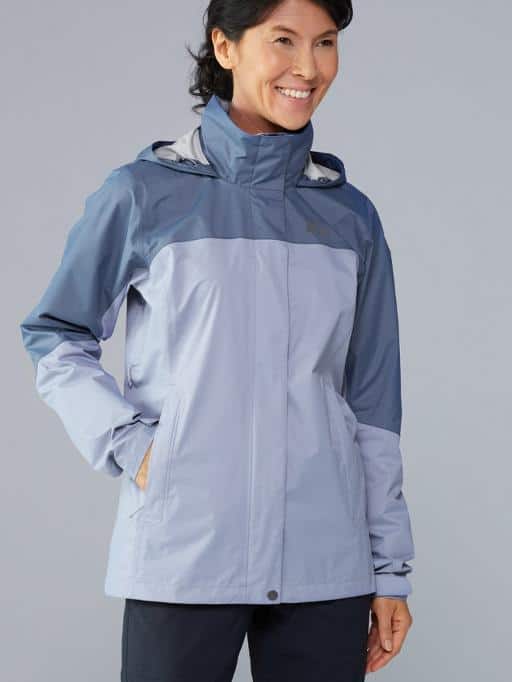 BEST FOR: BUDGET HIKERS
The REI Co-op Rainer women's rain jacket is a terrific option for hikers shopping on a budget. With this rain jacket, you'll get full waterproof protection without sparing any additional expense.
The REI Co-op Rainer is fully seam-sealed and coated with a durable water-repellent (DWR) finish that helps keep the rain out while also repelling it away from your body. Adjust the hem and hook and loop cuffs for a tighter waterproofing seal. 
Should the wind kickup, the REI Co-op will also double as a windbreaker in gusts as high as 60mph. If you're the type to need a rain jacket from time to time, but prefer to skip the hefty price tag, this women's rain jacket is an excellent option.
Rab Phantom Pull-On
Specs
Length

:

Hip Length

Weight

:

3.1 oz

Adjustable Hood

:

No
Features
Reduced-volume hood provides a snug, secure fit with no extra room
Included stuff sack lets you pack it down small in a pack or vest
Deep chest zipper makes it easy to ventilate in warmer conditions
Drop-in pocket in the storm guard keeps keys and cards secure
Micro-elasticated cuffs and hem helps shut out inclimate weather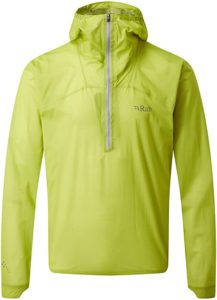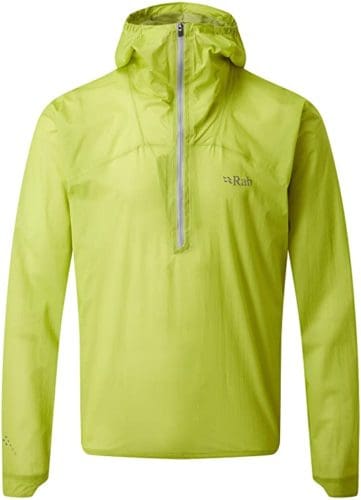 BEST FOR: ULTRALIGHT HIKING
When you're looking for the most packable shell on light and fast pursuits, look no further — you've found it. 
The Rap Phantom Pull-On weighs in at just over 3 ounces and features semi-stretchy 2.5 layer Pertex Shield fabric. The reduced volume hood fits snugly and a drop-in pocket in the storm guard allows you to stash and access essentials. 
What I like most about the Phantom Pull-On is how packable it is, compressing down to a size of 4.5 by 2 inches.
Marmot Minimalist
Specs
Length

:

Hip Length

Weight

:

12.6 oz

Adjustable Hood

:

Yes
Features
Fully sealed seams ensure that no moisture gains access
Adjustable hood, hem, and cuffs lock out the chilly weather
Underarm ventilation points help you keep cool as you hike
Zippered pockets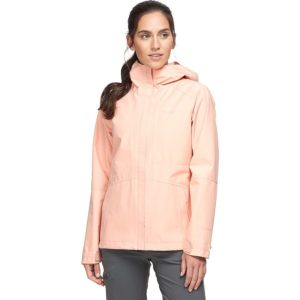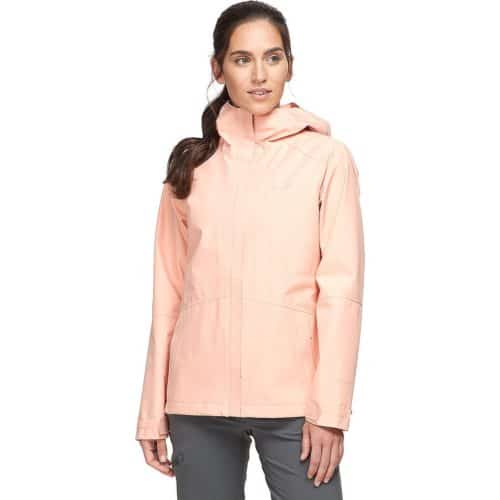 BEST FOR: WEARING FROM TOWN TO TRAILHEAD WITH NO STOPS NEEDED IN BETWEEN
If you're looking for a rain jacket meant to withstand daily use and abuse, the Marmot Minimalist is sure to fit the bill.
This rain jacket features GORE-TEX laminate and 100% seam-taped construction. The hood is adjustable and includes a nice, thick bill. For ventilation purposes, there are zippers beneath both arms and toggles at the hem and hood.
What I like most about the Marmot Minimalist is the flap over the front zipper that does a great job at staving off drafts from windy gusts.
Arc'teryx Zeta SL
Specs
Length

:

Hip Length

Weight

:

9.5 oz

Adjustable Hood

:

Yes
Features
High Quality
Durable
Nice Fit
Proprietary Water-tight Front Zipper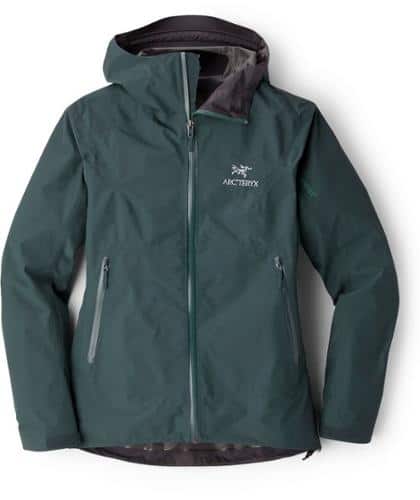 BEST FOR: HIKING IN MODERATE WEATHER
Arc'teryx is renowned for producing top-performing gear when it comes to battling inclement weather. When it comes to their prized quality, the Arc'teryx Zeta SL doesn't stray. 
This streamlined women's rain jacket is constructed with thick, durable nylon that fully seals out wind and rain. The thicker feel and lighter weight make it the ideal hybrid for those who want the feeling of a heavy-duty rain jacket with a minimal design. Striking a nice balance between weight and comfort, you'll find the Arc'teryx Zeta SL performs well in both downpours and drizzles alike.
Mountain Hardwear Stretch Ozonic
Specs
Length

:

Hip Length

Weight

:

8.4 oz

Adjustable Hood

:

Yes
Features
Excellent Mobility
Breathable
Comfortable
Zippered Water-resistant Pockets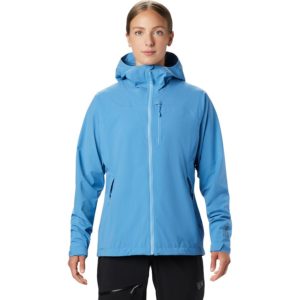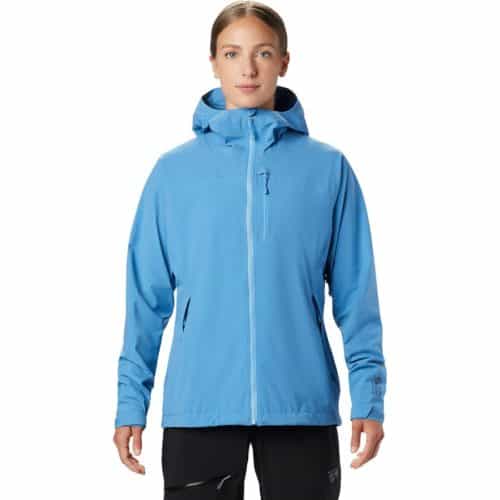 BEST FOR: HIKING MOBILITY
Feeling constricted in your rain jacket? Toss on the Mountain Hardwear Stretch Ozonic and start trekking. The Mountain Hardwear Stretch Ozonic features a soft, stretchy fabric with terrific water protection so you can stay active and dry. As you get into your trail groove you'll notice this fabric breathes well while keeping in line with your movement. This means you can make the ascent without feeling bogged down by heavy material.
Outdoor Research Helium II
Specs
Length

:

Hip Length

Weight

:

5.5 oz

Adjustable Hood

:

Yes
Features
Super Lightweight
Compact
Minimal Design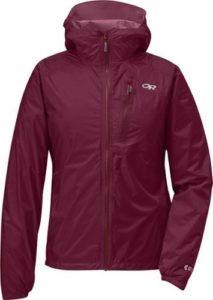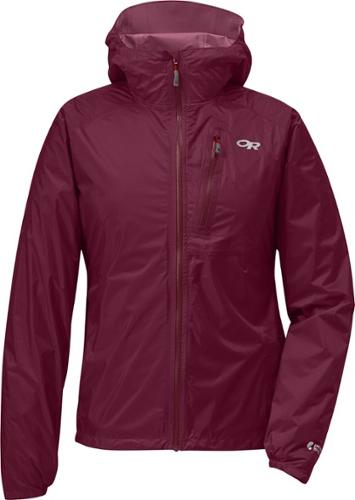 BEST FOR: HIKERS WHO WANT MINIMAL WEIGHT
With the Outdoor Research Helium II there is no trade-off between pack space and weight. By far the lightest rain jacket on this list, the Outdoor Research Helium II features a featherweight of 5.5oz while taking up the bare minimum of pack space.  
Should precip start to form, zip up this layer and keep dry. The stiff brimmed hood will help keep the rain off your face while Outdoor Research's proprietary fabric manages the moisture outside. Minimalist in design, the Outdoor Research Helium II performs best in misty conditions and light drizzles, making it a great item to have on hand for the just-in-case situation.
Patagonia Torrentshell
Specs
Length

:

Hip Length

Weight

:

10.6 oz

Adjustable Hood

:

Yes
Features
Consistent Performance
Utilizes Recycled Material
Velcro Cuffs
Excellent Hood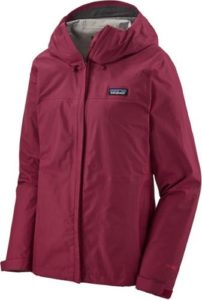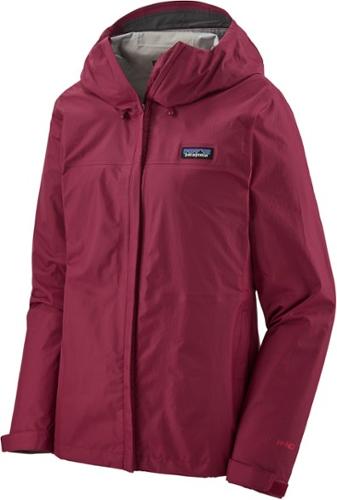 BEST FOR: DAY HIKES
Zip into the Patagonia Torrentshell when you hit the trail and you'll find it delivers consistent performance time and time again.
Utilizing recycled materials, Patagonia outfitted the Torrentshell with their proprietary waterproofing technology that does well in blocking out both heavy and light rain during the inconsistent storm. With velcro cuffs, adjustable hem, and 2-way adjustable visored hood, you can cinch down and block out all the rain from creeping in.
Arc'teryx Beta SL Hybrid
Specs
Length

:

Hip Length

Weight

:

10.9 oz

Adjustable Hood

:

Yes
Features
Flattering Slim Fit
Breathable
Waterproof Zippers
Full Coverage Hood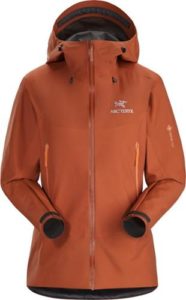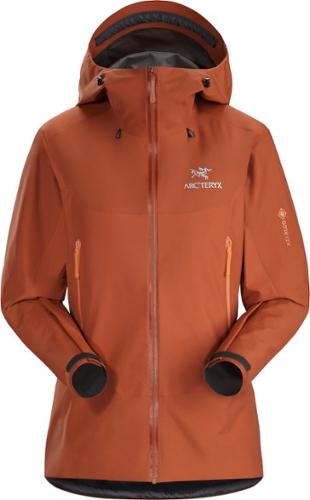 BEST FOR: AVID HIKERS
Comfortable and durable, the Arc'teryx Beta SL Hybrid is built to keep you in motion despite mother nature's raining furry. This rain jacket sports three layers of Gore-Tex to achieve full waterproof protection with outstanding performance. 
While water-tight protection may conjure concerns of breathability, in the case of the Arc'teryx Beta SL Hybrid this isn't an issue. The durable fabric breathes well while the pit zips are an added bonus in venting out body heat. Whether you're hiking in the snow or trying to keep pace in the rain, the versatile Arc'teryx Beta SL Hybrid will help you reach top performance every step of the way.
Outdoor Research Interstellar
Specs
Length

:

Hip Length

Weight

:

11.6 oz

Adjustable Hood

:

Yes
Features
Super Breathable
Good Mobility
Large, Helmet Compatible Hood For Climbers
Additional Chest Pocket For Extra Storage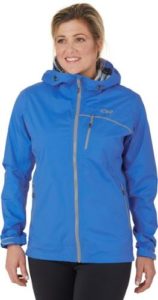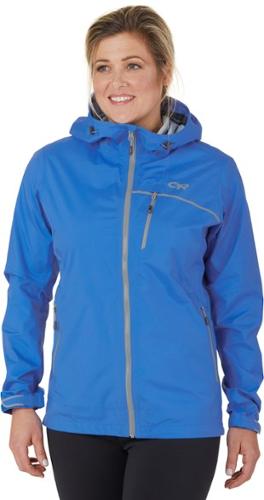 BEST FOR: ROCK CLIMBERS & SWEATY HIKERS
When you start to break a sweat hiking in the rain, you'll be glad you brought the Outdoor Research Interstellar along. This women's rain jacket incorporates a proprietary 3-layer stretchy fabric that offers a great range of motion while maintaining breathability. 
Packing down tight into its own pocket, the Interstellar is both compact and convenient to carry along. The extra-large hood is helmet compatible in case your hike is actually just an approach to a climbing crag. With two large handwarmer pockets and an external chest pocket, you'll find the Outdoor Research Interstellar has plenty of room to stash gear for quick access.
THINGS TO CONSIDER WHEN BUYING A RAIN JACKET FOR HIKING
COST
When choosing the best women's rain jackets for hiking, you'll rely on a culmination of various factors including features, technologies, and intended use. These all factor into the final price.
What you shell out in cash will amount to what you get back in performance. Entry-level rain jackets will feature an attractively low price point at around $100 or less. However, these budget-friendly jackets are likely to wear out after repeated use. Meanwhile, top-of-the-line rain jackets will be more durable in design, yet are likely to cost you a few hundred dollars in price. Make sure to consider what you can reasonably afford and how often you plan on hiking in wet conditions before deciding which rain jacket is right for you.
WEIGHT
Weight can play a major role in how comfortable you are while hiking in the pouring rain – both while you're wearing the jacket and if you're carrying it in your pack. As more hikers are becoming interested in ultralight gear, outdoor manufacturers are revolutionizing technology to match lightweight fabrics with more durable performance. The trouble is, these technologically advanced products can come with a hefty price.
When considering a rain jacket in your budget range, you want to make sure the rain jacket enhances your comfort rather than hinders it because of a heavy weight. If you only hike occasionally in relatively dry areas, then consider purchasing a less expensive, lighter-weight shell like the REI Co-Op Rainer. Otherwise, pay attention to the weight of the jacket and weigh the costs and benefits of having a heavy jacket vs. a lightweight shell while hiking.
USE
Will you be hiking at high elevations in an alpine wilderness? Or is a casual jaunt at your local state park more your style? Perhaps you're planning on backpacking for a few weeks on the Appalachian Trail or maybe you just want to be prepared for a storm next time you go on a day hike. The type of hiking you do will determine how well you need your rain jacket to perform.
For long-distance hikes in challenging terrain, look for a more technical rain jacket. If you plan on keeping the rain jacket stuffed in the bottom of your pack the majority of the time, then a less expensive emergency rain jacket will suit you just fine.
BREATHABILITY
As you start to work up a sweat while hiking, you'll become fully aware of how breathable your rain jacket is. The best rain jacket for hiking will allow your perspiration to dissipate, helping to prevent you from feeling clammy inside. Basically, its shouldn't leave you feeling like you're wearing a garbage bag – ew! Look for rain jackets built with materials that breathe well while also offering ample protection from wet conditions.
HOOD ADJUSTABILITY
Adjustable hoods are clutch. Your rain jacket can have the best waterproofing material money can buy, but if you can't shield your face from getting pelted with raindrops, you're going to be miserable. Look for a hood with adjustable points that can be cinched down to fit your dome. This will help keep the rain out and the wind from exposing your melon to the elements.
Also, if you're a climber and you plan on hitting the crag in iffy conditions, check to make sure that the rain jacket you buy has a helmet compatible hood. We included two on our list with this feature (the Outdoor Research Interstellar and the Norrona Falketind).
HAND POCKETS
Hand pockets are a major bonus for a few reasons. They can help keep your hands warm, store gear for quick access, and in some cases, aid in ventilation. If you plan on keeping your phone or other electronics in the pockets of your rain jacket, be sure they are fully waterproof.
While most rain jackets include hand pockets, some ultralight and minimalist rain jackets won't. If you can't live without hand pockets, this is something to keep in mind.
FEATURES EXPLAINED
GORE-TEX
Gore-Tex is an innovative lightweight and breathable fabric that provides supreme waterproof protection.
PIT ZIPS
Precisely like it sounds, pit zips are zippers located underneath the armpits that increase ventilation and help regulate body temperature.