Updated on April 12, 2021
Are you looking for an easy way to navigate or to keep track of essential data like your altitude while on the trail? Forget about old-school compasses, maps and notepads. What you need is a altimeter watch for hiking. But, how do you know what's the best hiking watch for you?
One of our big goals here at The Adventure Junkies is to help make your life easier when it comes to buying outdoor gear. In this guide, we'll walk you through how to choose a hiking watch and show you our selection of the best models of the year.
For more of our top hiking gear recommendations, check out the Best Hiking Headlamps.
Quick Answer

-

The Best Hiking Watches
Casio Pro Trek Tough Solar

LAD Weather's Sensor Master
Comparison Table

-

Best Hiking Watch

For the best experience turn your device horizontally
Reviews

-

The Best Watches for Hiking
Garmin Fenix 6
Specs
Altimeter

:

Yes

GPS

:

Yes

Thermometer

:

Yes

Water Resistant

:

Yes
Features
Heart rate tracking and Pulse Ox sensing
Supports multiple global navigation satellite system (GPS, GLONASS and Galileo)
Always-on, sunlight-readable display
Garmin Pay™ contactless payments
BEST HIKING WATCH OVERALL
PROS: Water resistant up to 100 meters and provides for up to two weeks of battery life.
CONS: Expensive
Casio Pathfinder
Specs
Altimeter

:

Yes

GPS

:

No

Thermometer

:

Yes

Water Resistant

:

Yes
Features
51-mm stainless steel case,
Resin band with buckle closure,
100-meter water resistance,
Barometer
Backlight with afterglow
Solar-powered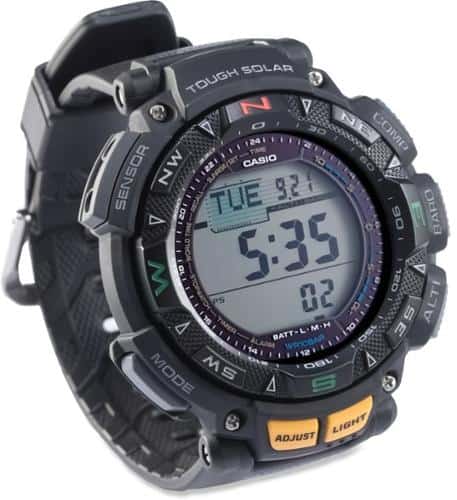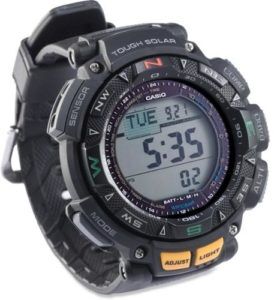 BEST FOR: DAY AND LONG DISTANCE HIKING
PROS: Amazing value for money, affordable, solar-powered battery, incredibly long (6-month) battery life
CONS: No GPS
Casio Pro Trek
Specs
Altimeter

:

Yes

GPS

:

No

Thermometer

:

Yes

Water Resistant

:

Yes
Features
Barometer
200-meter water resistance
Efficient, large-capacity solar battery
Duplex LCD layout provides a 2-layer display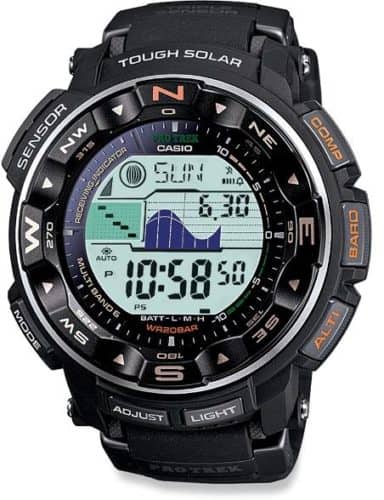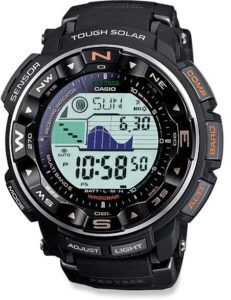 BEST FOR: ULTRALIGHT HIKERS
PROS: Compass supports magnetic declination correction, barometer
CONS: No GPS, pricey
Suunto Traverse
Specs
Altimeter

:

Yes

GPS

:

Yes

Thermometer

:

Yes

Water Resistant

:

Yes
Features
Barometer
Digital compass
Calorie and step counter
Wireless connection
Hunrise and sunset times
Heart rate monitor connection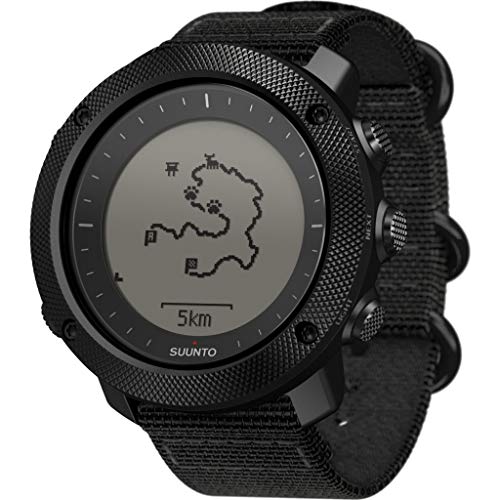 BEST FOR: FITNESS ENTHUSIASTS
PROS: Versatile, comes with five different sports modes, data tracker and overviews, Bluetooth connection
CONS: Short battery life when using the most advanced features
Garmin Forerunner 935
Specs
Altimeter

:

Yes

GPS

:

Yes

Thermometer

:

Yes

Water Resistant

:

Yes
Features
Heart rate monitor
1.7 oz weight
Barometer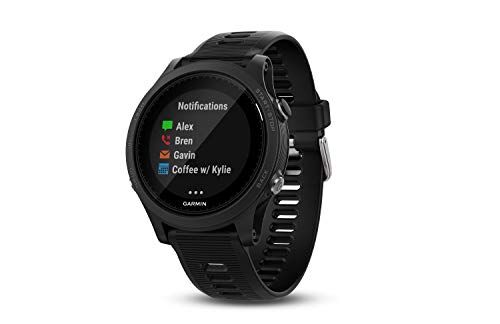 BEST FOR: MULTI-SPORT USE
PROS: Easy to learn how to use, ideal for a wide range of users
CONS: Doesn't provide for consistently accurate altimeter readings and also has a relatively short battery life for hiking
Garmin Fenix 5
Specs
Altimeter

:

Yes

GPS

:

Yes

Thermometer

:

Yes

Water Resistant

:

Yes
Features
Wrist-based heart rate monitor
Wireless connectivity
100-meter water resistance
Pre-loaded activity profiles for sports
Stainless steel bezel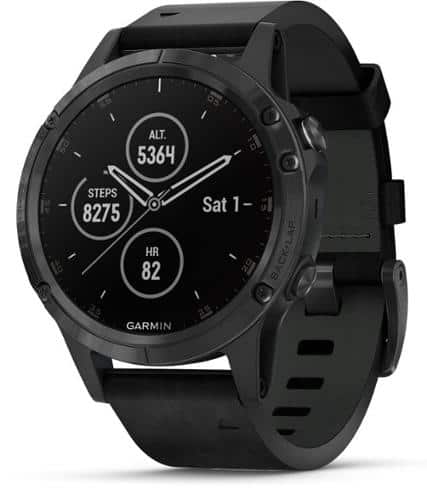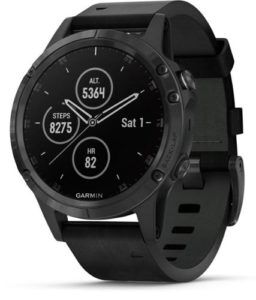 BEST FOR: MULTI-SPORT USE
PROS: Built-in heart rate monitor, feature-rich
CONS: Shorter battery life due to the heart monitor, expensive
Casio Pro Trek Tough Solar
Specs
Altimeter

:

Yes

GPS

:

No

Thermometer

:

Yes

Water Resistant

:

Yes
Features
Stainless steel rotating bezel
Titanium band
Water resistant to 200 meters
Barometer
Digital compass
Power-saving function
Weather alarm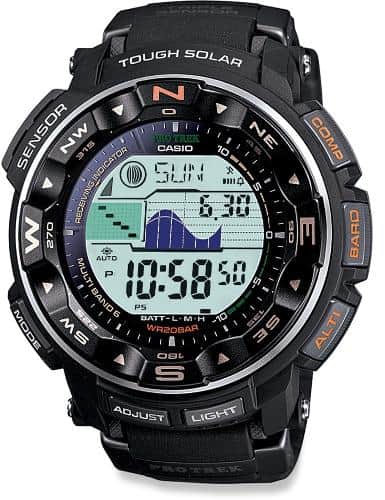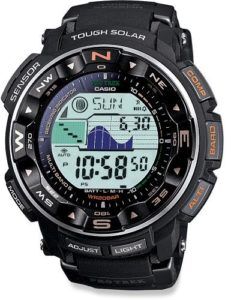 BEST FOR: RACERS
PROS: Solar-powered, great value for money, atomic clock, solar-powered, lots of features
CONS: No GPS, not for hikers on a budget
Garmin Epix
Specs
Altimeter

:

Yes

GPS

:

Yes

Thermometer

:

No

Water Resistant

:

Yes
Features
Touch screen
Built-in maps
50-meter water resistance
8GB memory
3-axis compass
Smart Notifications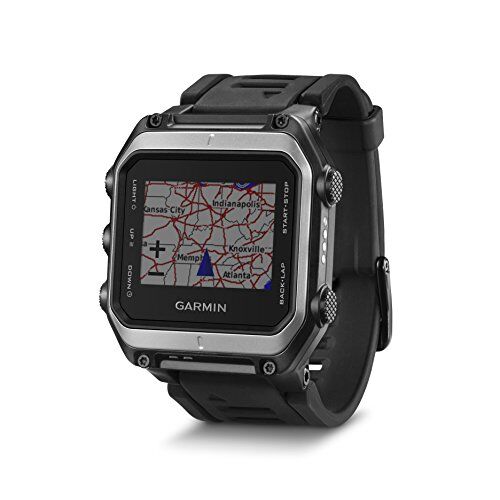 BEST FOR: HIKING AND MOUNTAINEERING
PROS: Wireless connection, detailed worldwide maps, exceptionally long (16-week) battery life
CONS: Expensive, no thermometer
LAD Weather's Sensor Master
Specs
Altimeter

:

Yes

GPS

:

No

Thermometer

:

Yes

Water Resistant

:

Yes
Features
Weather sensor function
Negative display
Digital compass
Barometer
24-hour graphs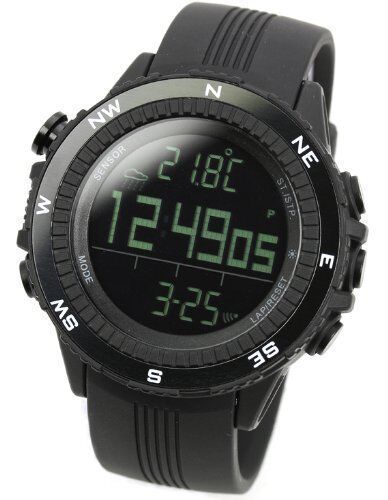 BEST FOR: HIKERS ON A BUDGET
PROS: Very accurate compass, affordable, great price/quality ratio, useful weather sensor function
CONS: Thermometer can be off a few degrees, no GPS
Garmin Tactix Bravo
Specs
Altimeter

:

Yes

GPS

:

Yes

Thermometer

:

No

Water Resistant

:

Yes
Features
GPS that calibrates altitude and air pressure
Compass
100-meter water resistance
Wireless Bluetooth connectivity
Hunting and fishing calendar
Information about tides, sunrise and sunset, and moon phases
BEST FOR: ADVENTUROUS HUNTERS AND FISHERMEN
PROS: Loads of useful and accurate information, 50-hour battery life, durable
CONS: No thermometer
HOW TO CHOOSE THE BEST HIKING WATCHES
The newest hiking watches come with a wide variety of features, ranging from GPS functions and compasses to weather alarms. Some even have heart rate monitors.
Finding the best hiking watch for your specific needs involves some consideration. Some have unique functions that make them more suitable for particular outdoor pursuits. Fitness-focused people might consider getting a watch with a calorie and step counter. Adventurers heading to remote areas, on the other hand, will want to look for a watch with a built-in GPS and weather alarm. Here are some tips on how to choose electronics for hiking.
FEATURES
Hiking watches have three main features an altimeter, barometer and compass. That's why they are also known as ABC watches. Basic models will have a temperature sensor and lap timers.
What does more money buy you? More information. You'll get more advanced tracking of elevation gained and lost. They will display graphs for changes to barometric pressure.
Here will talk about common watch features so you can decide which ones are essential for you and which ones you can live without.
ALTIMETER
Altimeters measure the air pressure to calculate your approximate altitude. The great book, Mountaineering: The Freedom of the Hills puts why an altimeter is useful simply, "Since mountains are not two-dimensional…the altimeter is sometimes as helpful as the compass, particularly where topographic maps are available. With altitude known, point-position can often be found with only one visible feature recognized; in any other case, altitude provides a check against map and compass orientation."
Often times an altimeter is more reliable and more accurate, than a GPS device for measuring altitude. This is because you might not always be able to get a GPS signal if you are inside a canyon or in the bush.
Some hiking watches let you track your altitudes and upload them on a computer. Providing an informative overview of your hike, this fun function is great for data junkies.
BAROMETER
A barometer measures atmospheric pressure. These readings can help you determine if there is a storm coming. You will be able to tell that rain is on its way if the pressure suddenly drops.
If you plan on heading deep into the wilderness for a few days of time, you'll want this extra feature. If you're in an exposed area you'll be able to use the pressure reading to decide if you should hurry up and seek shelter.
COMPASS
Arguably the most useful feature on the trail is a compass. Nowadays, essentially all hiking watches come with a compass.
What you should consider is the type of compass you want on your hiking watch. There are 2D and 3D compasses. 2D compasses work only if the watch is held perfectly horizontal while 3D compasses are accurate in every angle.
This built in compass is designed to be used solely for a general point of reference. If you're planning a more serious backcountry adventure, bring a standard compass because it will be much more accurate.
THERMOMETER
Not all hiking watches have a thermometer. Probably the main reason for this is that it's difficult to keep them accurate. Because a watch is worn on your wrist, your body temperature might influence the temperature readings. Nevertheless, this might be a nice additional feature to have.
GPS
While there are specific GPS devices for hiking, some hiking watches offer you the chance to hit two birds with one stone. A wrist-wearable GPS is one of the greatest innovations in outdoor gear.
Some of the best hiking watches have a built-in GPS, which is exceptionally useful in remote areas. The GPS feature doesn't only show you the way. Often, they are also able to track valuable data, such as distance, speed and location.
WI-FI CONNECTIVITY
Being able to connect your hiking watch with your smartphone or laptop definitely has its perks. This way, you can exchange data between your devices.
You can upload trail data such as distance, altitude and route to your laptop for a detailed overview of your adventure. Additionally, it's possible to download useful information such as GPS updates and the weather forecast to your watch.
WATER RESISTANCE
Almost all hiking watches are water resistant. The only difference between them might be the depth up to which they keep their water resistance.
Water resistance isn't just for keeping your watch safe during a downpour. Some watches like the Suunto Ambit3 Sport, are designed for triathletes. These watches can resist 10 ATM of water.
DESIGN AND STYLE
Are you worried you won't be able to wear your hiking watch everyday? No worries, many of these watches blend in well with casual wear and even business casual.
If design and style is a real concern for you, be aware of the face size. You'll want to look for one that has less plastic and has a lower profile design. For a watch you can take from the trail to the office, we recommend the Suunto line of watches.
Some watches survival-style hiking watches are designed specifically for outdoor adventures. They're durable and tough, but don't always look stylish.
Women will want to have a look at the Garmin Fenix or Suunto Core. Both of these options have a sophisticated design and don't look as bulky on a smaller wrist like many other hiking watches tend to do.
BUDGET
The variation in price between the cheapest and the most expensive hiking watch can be huge. With a price range between $150 and $600, you should really consider all the features mentioned above. Typically, a hiking watch's price increases greatly if it comes with a GPS.
So, if you're comfortable using a map and compass, you should be able to save a good chunk of money while still keeping all the other features. On the other hand, a GPS can be extremely useful on the trail. It's also worth considering that a hiking watch with built-in GPS is basically two expensive pieces of gear in one. This may make it worth your money.
Here's a break down of what you can expect to get for your money.
$70 -$200: Basic no frills ABC hiking watch – Altimeter, barometer, compass, timers and alarms. Watches that fall into this price range are the LAD Weather's Sensor Master and the Casio Pathfinder. These options are great for hikers on a budget or the outdoorsman who just likes to keep things simple.
$200 – $500: Atomic timekeeping for greater accuracy and GPS capability in some models. Watches in this price range also tend to have more stylish designs (less plastic, low profile and sleek look) than less expensive models. This makes these watches more practical for everyday wear. The Suunto Core, Suunto Traverse and Garmin Tactix are all great options for adventurers who want a quality watch they can wear on the trail as well as at the office.
$500+: High-end watches that are basically a GPS wrist computer – think downloadable routes, GPS tracking to load your profiles and travels, heart rate monitor capability and bike sensors. The Garmin Fenix 3 and Garmin Epix fall into this price range. These watches are great for ultra marathon runners, triathletes, and extreme backcountry adventures such as ski touring and remote trekking.