Updated on June 10, 2022
It's 9am and you're preparing for your first run of the day. You woke up early to get to the mountain and even packed a lunch too. Everything is perfect. Everything except for the weather. It's raining, or it's hailing, or it's snowing or windy, or just really, really cold. And so, the most important thing to ask yourself is, is your jacket good enough? If you're like the rest of us, then the last thing you want is to get cold on the mountain. That's why you need to make sure you know how to find the best snowboard jacket for you!
Jackets vary in style, function, and protection, but no matter your intentions, there's a jacket for you. Whether fashion or warmth is your priority, we've compiled a list of the best snowboard jackets out there for any rider looking to stay warm and dry on the mountain. Read through our list below to find out which one you should choose.
For more of our top snowboarding gear recommendations, check out the Best Women's Snowboard Jackets.
Quick Answer

-

The Best Snowboard Jackets
Burton AK Gore-Tex Cyclic
Comparison Table

-

Best Snowboard Jackets

For the best experience turn your device horizontally
Reviews

-

The Best Jackets for Snowboarding
Patagonia Powder Bowl
View Women's Version
Specs
Fit

:

Regular

Insulation

:

None (Shell)

Hood

:

Removable

Powder Skirt

:

Yes
Features
Ski Pass Pocket
Adjustable Powder Skirt Prevents Snow From Getting Into Your Pants
Watertight Coated Zippers Make This Jacket Ideal For Wet Weather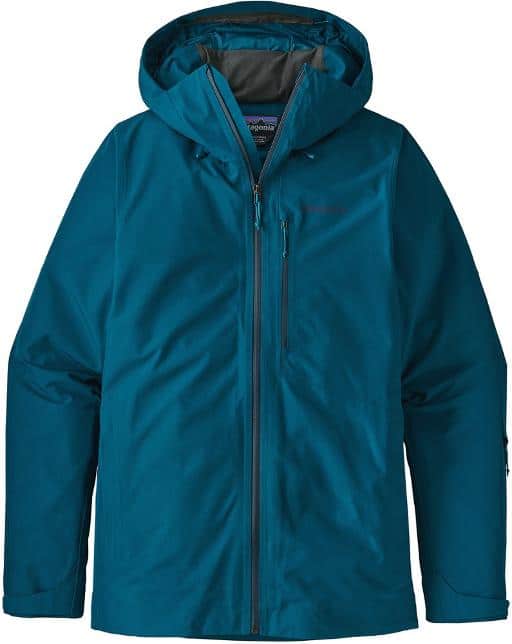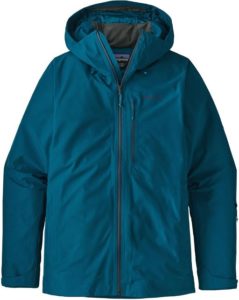 BEST FOR: WET WEATHER RIDERS
If you're planning on hitting a lot of powder this year or journeying into rather snowy regions, Patagonia's Powder Bowl jacket may be the perfect jacket for you. With a low hanging adjustable powder skirt and watertight coated zippers, you never need to worry about snow or water sneaking into your jacket or degrading the zipper metal.
Take note that this jacket does not come with as many features as the others on this list. Its purpose is to keep snow and rain away from your body, and it's one of the best on the market for doing that.
REI Co-op Powderbound
View Women's Version
Specs
Fit

:

Regular

Insulation

:

Synthetic

Hood

:

Yes

Powder Skirt

:

Yes
Features
80g synthetic insulation
Helmet-friendly hood
Pit zips
Articulated elbows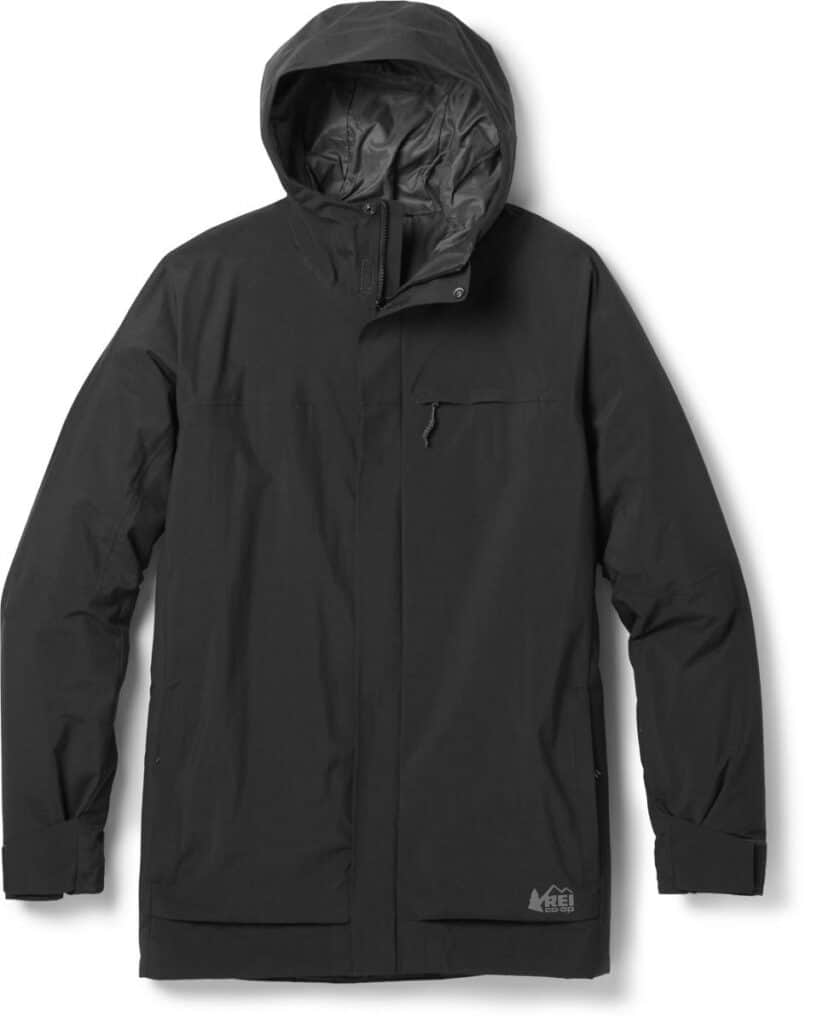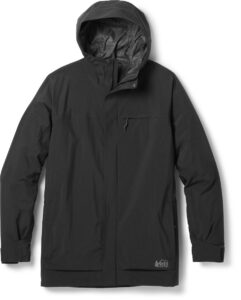 BEST FOR: BOARDERS ON A BUDGET
For $200, it's completely possible to get your hands on a quality jacket made to withstand the elements while keep you warm.
The Powderbound features a relaxed, longer fit coveted by many snowboarders. The brand's proprietary Peak 2-layer waterproof membrane doesn't have the same lasting protection as GORE-TEX alternatives but it definitely does its duty. This jacket features 80 grams of synthetic insulation in the core and 60 grams throughout your extremities.
What I like most about the Powderbound is that it's Fair Trade sewn and Bluesign-approved, a testament to REI's dedication to sustainability.
Burton Covert
Specs
Fit

:

Regular

Insulation

:

Yes

Hood

:

Fixed

Powder Skirt

:

Yes (removable)
Features
Thermolite Insulation Keeps You Extremely Warm On The Slopes
Pit Zip Vents Will Cool You Down If You Break A Sweat
Handwarmer Pockets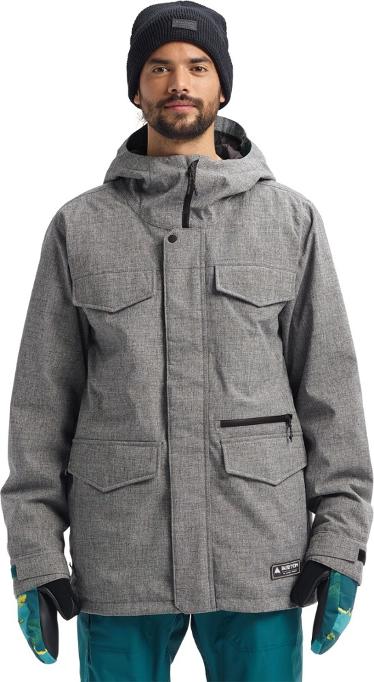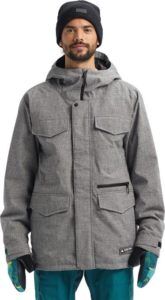 BEST FOR: CASUAL RIDERS
As one of only few multi-functional and fully insulated jackets on the market, Burton's Covert is not only one of the most affordable jackets out there, but also one of the most reliable. With a removable snow skirt, you can take this stylish jacket into town with only a T-shrit on underneath and still stay warm. And if you're out on the slopes, a bevy of features including a jacket-to-pant interface, pit zip vents, and unique Taffeta fabric will leave you feeling crispy, dry, and eager to tackle any slope, no matter the weather.
The North Face Resolve
Specs
Fit

:

Regular

Insulation

:

No (Shell)

Hood

:

Fixed

Powder Skirt

:

No
Features
Mesh Lining
Adjustable Hood stores in collar
Wind Protection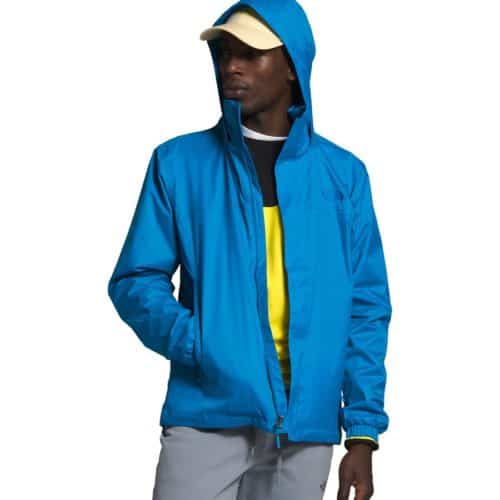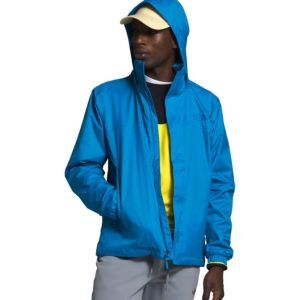 BEST FOR: RAIN
The North Face Resolve is by far one of the best jackets for any torrential storm. A powerful outer layer of patented DryVent waterproof, breathable material will keep you dry in even the heaviest of rains. Without a snowskirt or insulation, however, we recommend this jacket to those who find more enjoyment out and about in the city than on the slopes. It's primary purpose is as a rain jacket.
Mammut Kento HS
Specs
Fit

:

Regular

Insulation

:

No (Shell)

Hood

:

Fixed

Powder Skirt

:

No
Features
Drawcord Hood Adjustments
Two Hand Pockets
Packable and Lightweight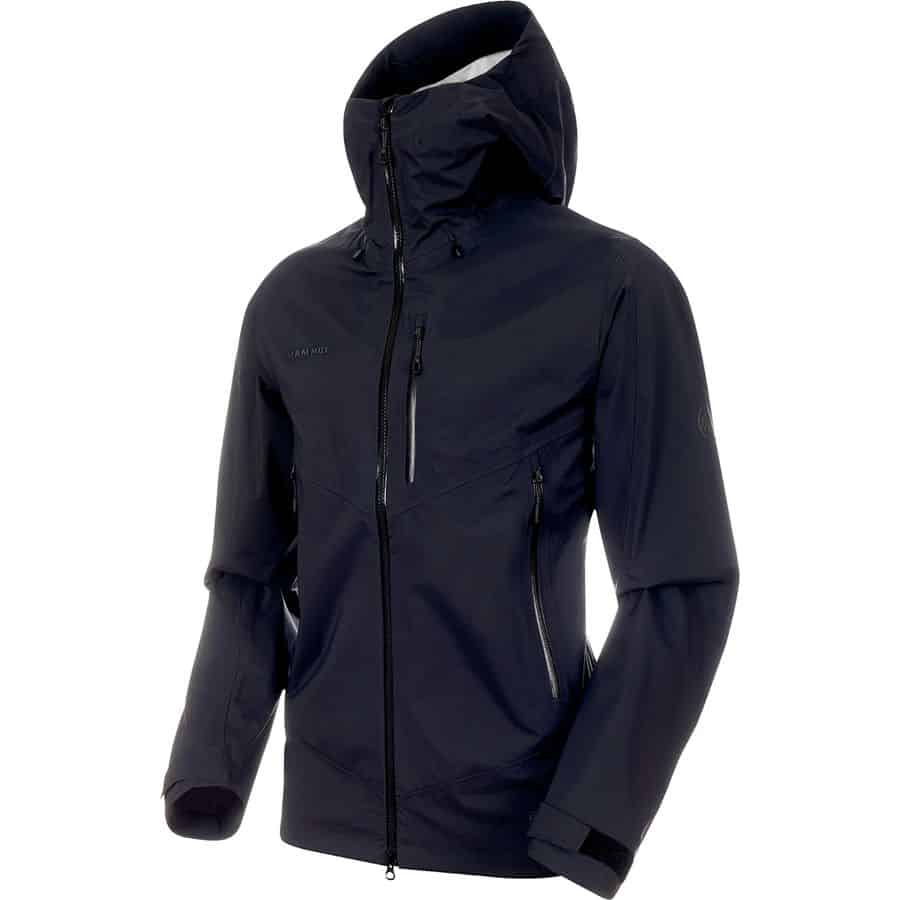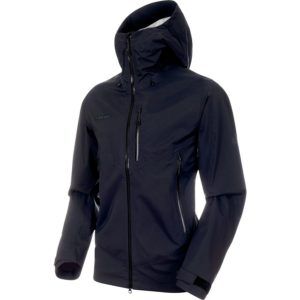 BEST FOR: MULTI-SPORT ATHLETES
Thin but extremely water resistant, the Mammut Kento Rain Jacket is the second most affordable jacket on our list and is a perfect jacket for multi-sport use. With pit zippers and a premium DryTech fabric, you'll stay dry and aerated in any environment. And with a few layers on underneath, this jacket will fair just fine in more serious weather conditions as well. A slight bump up from the North Face Resolve, the Mammut Kento is a great jacket for a multi-sport athlete.
686 Hydra Thermagraph
Specs
Fit

:

Regular

Insulation

:

Yes

Hood

:

Fixed

Powder Skirt

:

Yes
Features
Synthetic Insulation
Ski-Pass Pocket
Mesh Goggle Pocket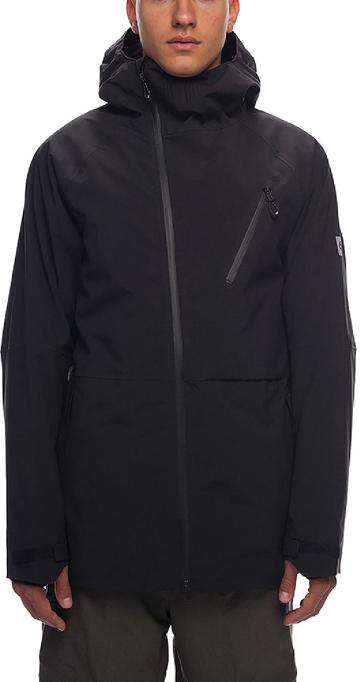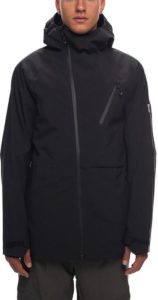 BEST FOR: COLD WEATHER RIDERS
With a great InfiDry water resistant layer and a synthetic polyester insulation, the unique 686 Hydra Jacket can handle any environment you put it in. Wrist gaiters paired with inner thumb holes add to its comfortability and a full stretch powder skirt will keep snow out of your pants. Few reviewers have anything bad to say about this jacket.
We highly recommend this jacket for aggressive, cold weather riders that anticipate both hiking in the backcountry and bashing their way through some rugged trees.
Burton AK Gore-Tex Cyclic
Specs
Fit

:

Regular

Insulation

:

None (Shell)

Hood

:

Fixed

Powder Skirt

:

Yes
Features
Soft Taffeta Lining for Comfort
Water Resistant Zippers
Rear-Hood Cinch To Secure Your Hood Over Your Helmet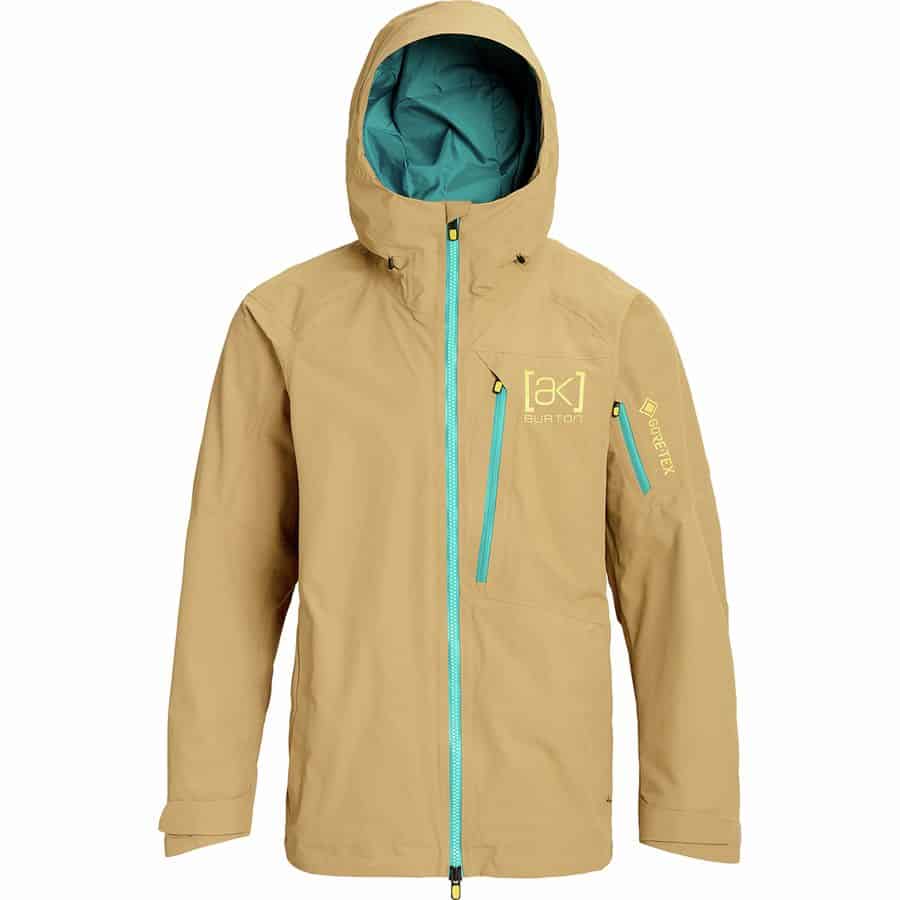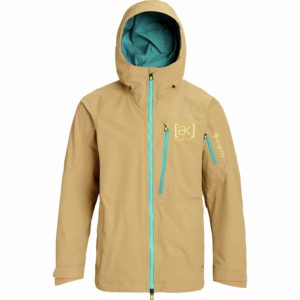 BEST FOR: ALL ENVIRONMENTS
Sleek, stylish and well-equipped, Burton's AK Cyclic Jacket is a comfortable shell for any riding expedition. The articulated fit and removable snow skirt gives you a stylish design that doubles in the city as well as on the mountain, while the water resistant zippers and Gore-Tex lining will keep you warm and dry when the weather worsens.
If you're looking for a reliable shell that looks great and functions just the same, Burton's Cyclic is a strong, safe bet for you. And, it won't break your wallet.
VOLCOM L GORE-TEX
Specs
Fit

:

Regular

Insulation

:

None (Shell)

Hood

:

Fixed

Powder Skirt

:

Yes
Features
Integrated Facemask System Keeps Your Face Warm In The Spray
Goggle Clips Ensure Your Hood Doesn't Obscure Your Vision
Chin Guard Prevents Chafing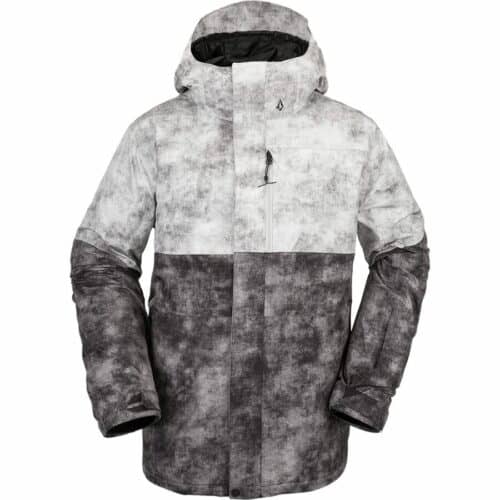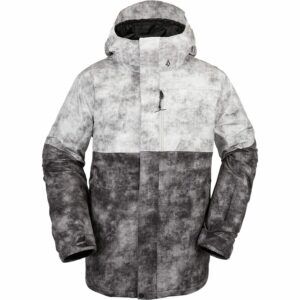 BEST FOR: COLD WEATHER RIDERS
This jacket may not come with any insulation, but this three layer shell with an integrated facemask and chin guard may be enough to hold off the cold on its own. Breathable Gore-Tex material prevents your body from overheating while hiking or riding in vigorous conditions. You may want to consider pairing it with a mid-layer so you don't get too cold between runs, but this jacket can work as a stand-alone in warmer conditions too.
Perhaps most notably is the jacket's unique Zip Tech to Pant interface which allows you to connect your jacket to snow pants so that unwanted snow doesn't ruin your day on the mountain. This jacket is best for cold weather riders who are looking to hike and enjoy some adventurous backcountry terrain.
THINGS TO CONSIDER WHEN BUYING SNOWBOARD JACKETS
Buying a snowboard jacket can be daunting. But don't get carried away solely by aesthetics. There are heaps of features that can impact your ride, so make sure to read through a few articles about how to choose the best one for you. We've picked out a few of the most notable features to consider when buying your next jacket.
USE
Where do you intend on using your new jacket and how? If you're an avid rider, what type of rider are you? Those who often hike may want to purchase a shell and lining separately to reduce overheating, whereas those who find themselves in the North East skiing or riding at places like Sugar Loaf in Maine may want a fully insulated jacket.
WEATHER
Does it rain a lot where you ride or is it usually pretty sunny? When snow falls, is it wet or dry? These conditions will undoubtedly impact your ride, so you want to make sure you have the best jacket to protect yourself against them. Sometimes a thicker jacket isn't always better in wet climates. Maybe you'll want a sleek rain jacket on top and a few layers underneath. Consider your environment before buying any jacket.
COST
Some jackets cost a lost. Some not as much. But you should always try to buy a jacket that will last you a few years at least. Look hard and you can find a jacket that will fit into any budget!
FEATURES EXPLAINED
POWDER SKIRT
A tight fitting waste strap that prevents snow from lifting under and up into your jacket or down into your pants.
GORE-TEX
A waterproof, breathable fabric that keeps out rain but lets water vapor travel through to keep you cool and dry.
WRIST GAITERS
A layer of insulation that extends up your wrists to protect them from the cold.
CHIN GUARD
A layer of padding at the top of your jacket to prevent chafing of your chin, lips, and cheeks in the cold.
READ MORE
For more of our top snowboarding gear recommendations, check out these popular buyer's guides: