Updated on October 2, 2020
The sounds of ice climbing: kick, kick, step…repeat. It's all in the feet. When you put so much focus and trust in your feet, you need a solid pair of boots so you can perform well and be precise. So we here at The Adventure Junkies have made a list of the ten best ice climbing boots to make sure you are solid on your feet, and well, warm too!
From single boots to double boots and leather boots to plastic boots, there is something for everyone. Whether you are just getting into ice climbing or you are a seasoned veteran on the steep water ice; or you are climbing in the drier, warmer air out west or battling the more humid and colder climate of the east, we have a boot for you. So sharpen those tools and get ready for ice climbing season!
For more of our top ice climbing gear recommendations, check out the Best Ice Climbing Backpacks.
Quick Answer

-

The Best Ice Climbing Boots
La Sportiva Nepal Evo GTX

Scarpa Mont Blanc Pro GTX
Comparison Table

-

Best Ice Climbing Boots

For the best experience turn your device horizontally
Reviews

-

The Best Boots for Ice Climbing
Scarpa Phantom Tech
Specs
Closure

:

Quick Lace Inner and Zip-up Outer

Weight

:

1 lb 15 oz

Sole

:

Vibram Zero Gravity

Waterproof Lining

:

Outdry Membrane

Boot Style

:

Single
Features
Built-In Gaiter To Keep Ice And Snow Out Of Your Boots
Single Speed Lace On Inner Liner Makes Tightening Your Boots Super Easy
Easy Zip And Snap Closure Simplifies The On/Off Process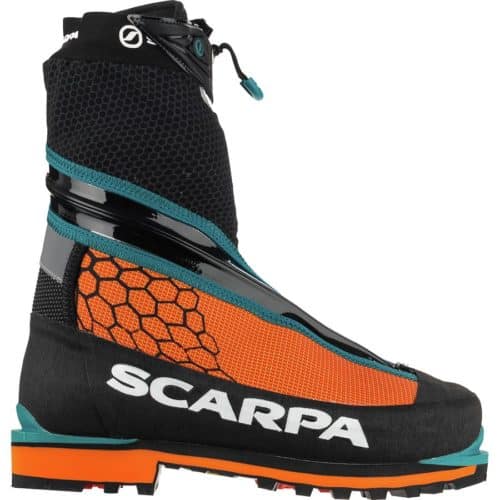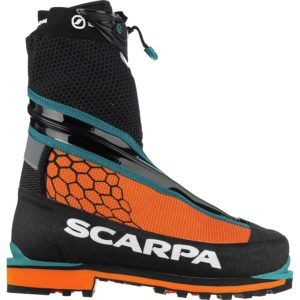 BEST FOR: OVERALL PERFORMANCE
The Scarpa Phantom Tech is becoming one of the more dominating ice climbing boots out there, performing solidly on any ice conditions under 6,000 meters. The Phantom 6000 is a similar boot designed to go above 6,000 meters, but is geared more for mountaineering.
While only a single boot, the Scarpa Phantom Tech has an external built-in gaiter that zips around the outer portion of the boot and is secured with a single snap, making it super easy to close with gloves on. And with a tight fit of the gaiter, no water or snow will ever get in. This feature allows this boot to resemble a double boot, but without all the extra weight.
The quick, single speed lace on the inside is easy to work with and also ensures that you get a snug fit to prevent any slipping that will cause calf burn while you are climbing. Furthermore, the sole is rigid, not rockered, so these boots are comfortable to hike in during the approach, eliminating the need for another boot.
Asolo Eiger GV
Specs
Closure

:

Zipper and Laces

Weight

:

1 lb 13.8 oz

Sole

:

Vibram 1225 Mulaz

Waterproof Lining

:

Gore-tex

Boot Style

:

Single
Features
Built-in Gaiter To Prevent Snow Or Ice From Getting Into Your Boots
Tongue Cover For Added Waterproof Protection
Padded Tongue For Comfort And Support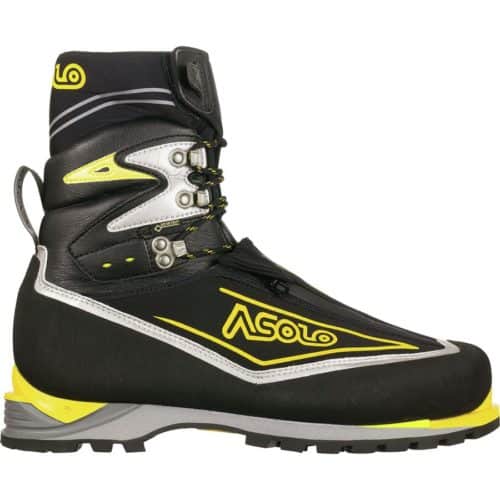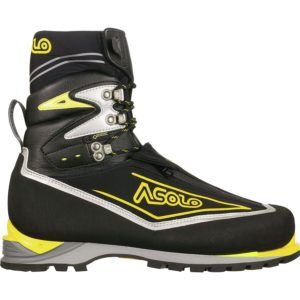 BEST FOR: ICE AND MIXED CLIMBING
Best known for hiking boots, Asolo has produced a solid ice climbing boot with the Eiger GV. Good ankle flexion and a rigid sole make this boot good for approaches and able to be used without crampons if you want to get some dry tooling in. Designed as a single boot, they are not bulky and work well for precise toe or front point placement in ice or mixed conditions.
Equipped with a built-in gaiter that closes with a simple zipper, your laces and feet will stay warm and dry. To further help you stay dry, the tongue cover of the boot is waterproof as well. While not the warmest boot out there, if you are in mixed conditions or dry tooling, temperatures are mild enough for this boot to excel.
La Sportiva Spantik
Specs
Closure

:

One Speed Lace

Weight

:

2 lb 7.8 oz

Sole

:

Vibram Montagna

Waterproof Lining

:

Water Repellent External Coating

Boot Style

:

Double
Features
Generous Foot Rocker That Fits Natural Arch Of Foot For Maximum Comfort
Single Speed Lace On Inner And Outer Boot For Easy On/Off
Velcro Tab On External Speed Lace For Attachment To Boot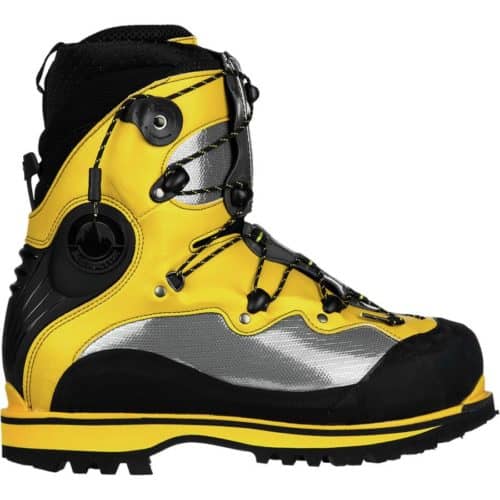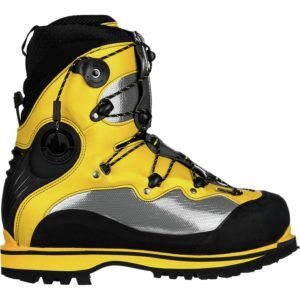 BEST FOR: FRIGID ICE CLIMBING ADVENTURES
Who says a double boot has to be bulky? Not the La Sportiva Spantik. This double boot will keep your feet warm, but also allow you to be precise with your movements on any climb at the 6000-7000 meter range. While still not as light as a single boot, the added warmth makes this boot increasingly popular, especially among women. And with a single speed lace on both the inner liner and outer boot, you get a snug fit so no rubbing or slipping on steep terrain.
The water repellent coating on the outside keeps the boot nice and dry, but is still not waterproof, so watch for puddles and water dams. But if you add a neoprene cover, these boots will happily take you to higher elevations, still toasty and dry.
La Sportiva Nepal Evo GTX
Specs
Closure

:

Laces

Weight

:

4 lbs 19 oz

Sole

:

Vibram Rubber

Waterproof Lining

:

Gore-tex Duratherm Synthetic

Boot Style

:

Single
Features
Roller Lacing System, Locking D-rings, And Lace Loops For Effortless On/Off Even While Wearing Gloves
EZ Out Pull Loops Makes It Easier For You To Take The Boots Off
Stiffer Design For Better Edging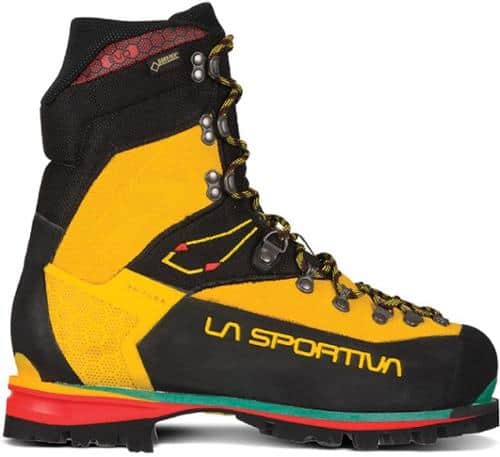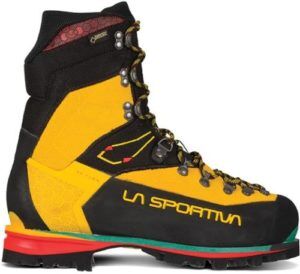 BEST FOR: LONG-TERM DURABILITY
The La Sportiva Nepal EVO GTX has a well established place in the climbing community, proving itself time and time again. Very popular with guides, this boot is designed with burly leather and reinforced with Gore-tex waterproofing. Along with the standard double lace closure, these boots also includes rollers and locking D-rings that allow the laces to run smoothly, so you are not tugging or having to remove your gloves to adjust them. And when you do go to remove them, the EZ out pull loops easily release the lace locks, once again eliminating the struggle.
While not the lightest single boot out there, this boot will definitely last you several seasons, which is something you'll want when you spend all the money and time breaking them in. But this boot will always remain a bit stiff, which is great for edging on tiny features, especially in mixed conditions. And while it is warm, it may not be a top choice for the frigid days on the east coast mountains.
Boreal Stetind
Specs
Closure

:

Laces and Zipper

Weight

:

3 lbs 8.2 oz

Sole

:

Vibram Teton

Waterproof Lining

:

Dry-line

Boot Style

:

Double
Features
Built-in Gaiter Prevents Snow And Water From Entering The Boots
Unique Pull And Cinch Laces Make These Boots Super Easy To Put On
Three Layers Of Proprietary Thinsulation Insulating Material Inside For Added Warmth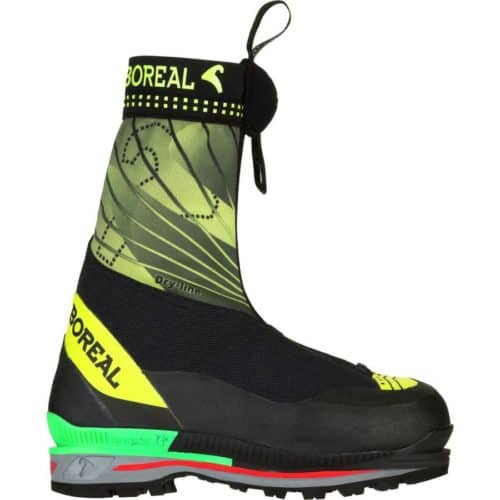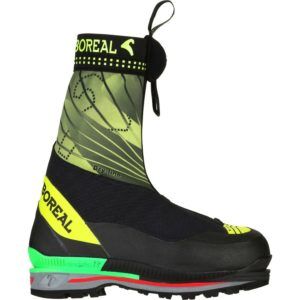 BEST FOR: TECHNICAL ICE
A lesser known brand, the Boreal Stetind is a boot that is not only lightweight, but excels on very technical ice. They are softer in the heels than most boots, so knowing how to stand and place your feet in these is crucial for performance. A unique system of speed laces with a pull tab that cinches down makes the inner boot snug and secure while the outer boot is also easily closed with a single zipper.
Warmth is something this boot ensures. Not only is there a built-in gaiter to keep the snow and water out, but the inner portion is also designed with three layers of Thinsulate insulation. And the boot is designed with a heel fit system, so you don't have to worry about your heel slipping out on climbs or approaches.
Scarpa Mont Blanc Pro GTX
Specs
Closure

:

Laces

Weight

:

2 lbs 1.5 oz

Sole

:

Total Traction

Waterproof Lining

:

Gore-tex

Boot Style

:

Single
Features
Integrated Gaiter That Snaps At Top Keeps Snow And Ice Out Of Your Boots
Extended Rand Wraps On Side Of Boot For Increased Durability
Waterproof Gore-Tex Coating Keeps The Boots Super Dry Even In Wet Conditions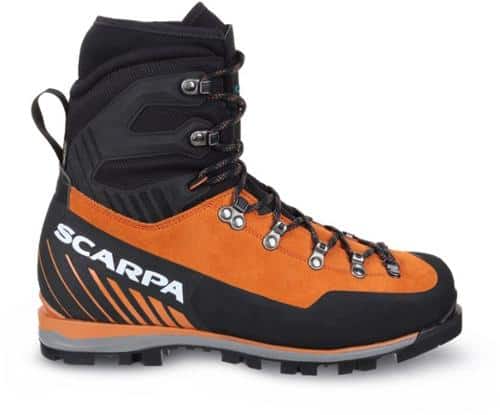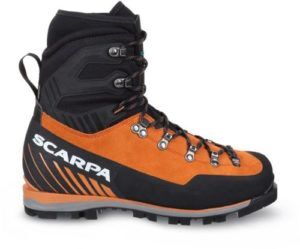 BEST FOR: WARMER CLIMBING DAYS
A single leather boot with a simple lace-up design, the Scarpa Mont Black Pro is more about getting the job done rather than looking fancy. Reinforced with a waterproof Gore-Tex coating, you feet will still stay dry even if the ice and snow is a bit slushy and wet. And this feature is certainly appreciated at the end of the day when you are drying everything out.
The boot is also designed with a gaiter that snaps at the top, giving you a sock-like fit to further ensure you stay warm and dry. The very basic design also means you can still hike in them, which is ideal for longer approaches. And all the bumps and bangs will not phase these boots, with the rubber rand extending to the sides of the boots to absorb the impact, keeping these boots durable so they'll last you for years to come.
Arc'teryx Acrux AR
Specs
Closure

:

Zipper

Weight

:

2 lbs 2 oz

Sole

:

Vibram AR

Waterproof Lining

:

Gore-tex

Boot Style

:

Double
Features
Sock-like Removable Interchangeable Inner Liner
Waterproof Gore-Tex Lining Keeps Your Feet Dry And Warm
Built-in Gaiter Prevents Water Or Ice From Entering Your Boots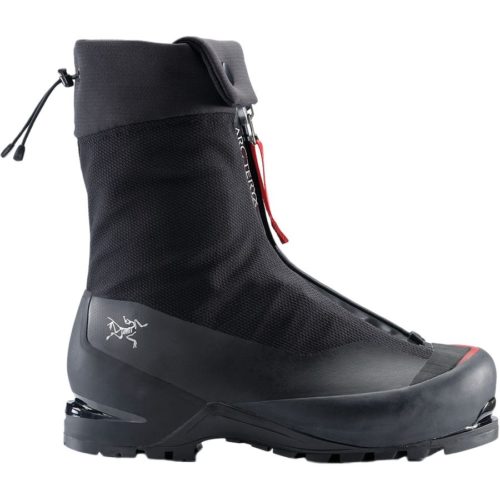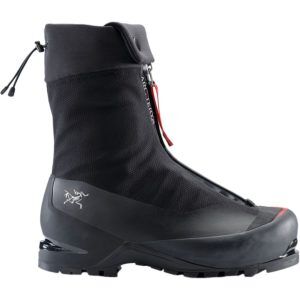 BEST FOR: LIGHTWEIGHT PERFORMANCE
Where would we be without Arc'teryx designing a stellar ice climbing boot? The Arcux AR is one of the lightest ice climbing boots you can find out there. And it is a double boot! Designed to keep you dry and going fast, the outer boot is reinforced with waterproof Gore-Tex. The inner boot fits just like a sock and can be removed for easy drying. Furthermore, the inner liners are interchangeable so you can replace them after each season.
Designed with a built-in gaiter, you feet will always be dry and the boot breathes really well, so no sweaty feet. The closures are simple too. The inner boot is a simple lace up system while the outer boot provides a tight zipper that is easy to do up with gloves. And a rigid design helps you edge on small features of steep climbs.
La Sportiva Baruntse
Specs
Closure

:

Laces

Weight

:

5 lbs 3 oz

Sole

:

Vibram Montagna

Waterproof Lining

:

Cordura Nylon

Boot Style

:

Double
Features
Removable Liners for Faster Drying
Waterproof Tongue to Keep Water Out
Lightweight Double Boot
BEST FOR: MULTI-PITCH ICE CLIMBING
The Baruntse can be deceiving because it looks like a single boot, but is really a double boot. Resembling a solid hiking boot, it can easily be used for winter hiking, but may be a bit heavy. The liner is removable, so your foot gets a snug fit and stays warm. But even better, removing the liner at the end of the day helps it to dry it faster so you don't have to stick your foot into a cold, damp boot the next day.
A waterproof tongue helps keep the snow out of the boot and repels water, all the makings for happy feet! And this boot has become very popular among women who tend to get cold feet on those long days on the ice. If you're prone to getting cold feet before or during your route, then definitely check these boots out!
Scarpa Inverno
Specs
Closure

:

Laces

Weight

:

5 lbs 10 oz

Sole

:

Vibram Stabeler

Waterproof Lining

:

Thermoplastic Shell

Boot Style

:

Double
Features
Removable Liners So You Can Warm Them Up In Your Sleeping Bag Or Wash Them Separately
Plastic Outer Shell Is Durable And Inexpensive
Waterproof Plastic Shell Keeps Your Feet Dry On The Ice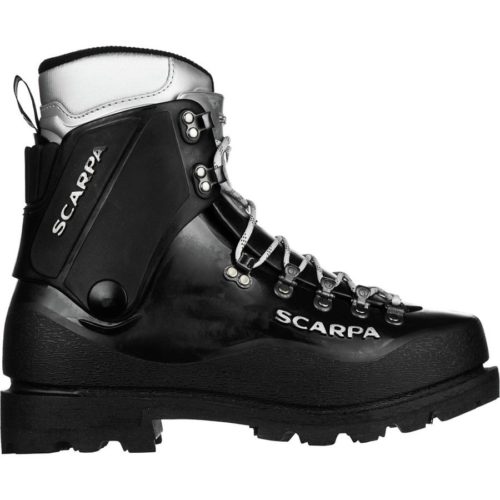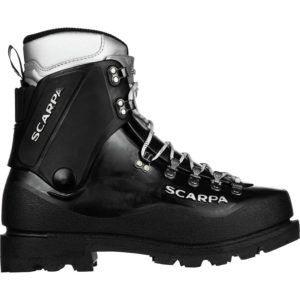 BEST FOR: BEGINNERS
If this is your first season on ice, the Scarpa Inverno is a good choice. This boot is very affordable as far as ice boots are concerned, but still is a stellar performer. Made with a Thermoplastic shell that was the go-to for many years, it still works well on this boot, especially when it comes to staying warm. Because you don't want your first experience of ice climbing to be a bad one with painfully cold feet!
The insulated liners further add warmth and can be removed for ease of drying at the end of the day. Having a plastic shell makes these boots stiffer, thus more durable, but you still need to ensure a tight lacing to prevent shin bang. And again, this is a solid starter boot, but will probably need to be replaced if you decide to get into ice climbing more seriously next season.
THINGS TO CONSIDER WHEN BUYING ICE CLIMBING BOOTS
COST
A well known fact is that a good ice climbing boot is not going to be cheap, but of course there is a reason for that. The more technical the boot and whether or not it is plastic or leather or a single or a double, all factor into the cost. So it is best to know your needs when buying a boot. But choosing the right ice climbing boot is everything when it comes to performing, and more importantly, protecting your feet from frostbite, so it is best not to be too frugal here.
WEIGHT
A double boot is going to weigh more than a single boot, but the use of synthetic materials has helped cut weight in these types of boots. Plastic boots will tend to weigh a bit more, but still perform well and keep your feet warm and dry. If you have a long, steep approach to your climb, you may want to consider the weight of your boots to avoid a bulkier boot that will give you calf burn, but you also need to make sure there is enough there to keep your feet warm and dry.
FIT
Having a boot that fits your foot is important for obvious reasons, but in the mountaineering world, there are other factors that need to be considered with fit. For one, you will probably need to go up a size from your normal street size because you will be wearing a bulkier sock (maybe more than one). You do not want to have your feet crammed into a boot because not only will it give you sores, but you also want some room to wiggle your toes to help with circulation and blood flow, especially if you are standing at a belay trying to stay warm.
CLOSURE
While laces and zippers are popular in ice climbing boots, even more so are speed laces. They enable you to get a boot on quickly, and more importantly, while wearing gloves. And many boots nowadays are designed with a single speed lace, which does not require tying at the end, but instead, wraps around a fixed feature on the side to keep it in place. Zippers are also a fast and easy choice, and are commonly seen on the outer portion of a boot with a built-in gaiter.
FEATURES EXPLAINED
DOUBLE VS SINGLE BOOT
As the American Alpine Institute will tell you, there is not one boot for everything, so know your needs. A single boot is just as it is — one boot your foot goes into. A double boot is not necessarily two individual boots, but is a harder outer shell boot with a thicker, flexible inner boot that also has laces. Some single boots are designed with liners or external, built-in gaiters that can perform like a double boot, but they're not as bulky and often times not as warm as a double boot, either.
FOOT ROCKER
If a boot has rocker, it means the bottom of the shoe is more curved, allowing it to fit the natural arc of the foot, thus adding more support to your feet as it holds the foot in a more comfortable and proper position.
GAITER
An external cover that goes over the boot and calf to help with waterproofing a boot or keeping the elements out. There are built-in gaiters that are incorporated into the external portion of a boot that eliminate the need for an extra piece of gear.
READ MORE
For more of our top climbing gear recommendations, check out these popular buyer's guides: