Updated on September 25, 2021
You've found your niche – bouldering. The gear is minimal and you don't need a partner, so you can go anywhere, anytime with few limitations. Just you and your crash pad. But the one really important thing you need other than yourself and your pad are the best bouldering shoes for you! Don't get overwhelmed with all the choices on the market. Our climbing team over here at The Adventure Junkies compiled a list of our favorite shoes for bouldering to help you find the best shoe for sending your hardest problems!
For more of our top climbing footwear recommendations, check out the Best Climbing Shoes.
Quick Answer

-

The Best Bouldering Shoes
Comparison Table

-

Best Bouldering Shoes

For the best experience turn your device horizontally
Reviews

-

The Best Shoes for Bouldering
Five Ten Hiangle
View Women's Version
Specs
Closure

:

Single Velcro Strap/Slip On

Weight

:

15.8 oz

Upper

:

Leather

Outsole

:

4.2 mm Stealth C4 Rubber

Lining

:

Unlined
Features
Stiff Midsoles For Precise Edging
Slip-Lasted For A Sensitive And Stiff Shoe
Very Comfortable For All-Around Wear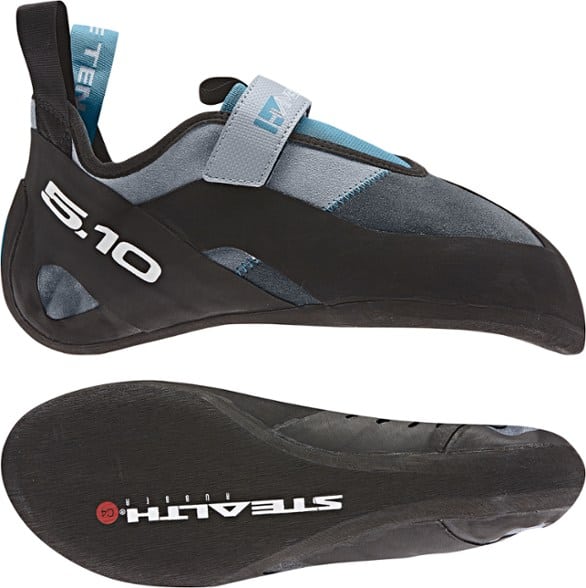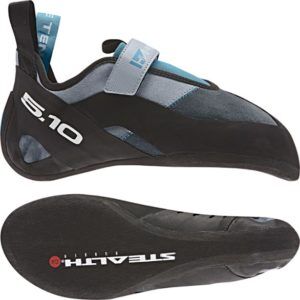 BEST ALL PURPOSE
Downturned, soft, and stiff, but not to the extreme, the Five Ten Hiangle is a well-balanced all-around climbing shoe. When it comes to sticking to the rock or plastic, the Stealth C4 Rubber does go to the extreme, offering maximum stickiness to help you "stick" your problems.
Steep and overhanging, tiny edges, or cracks, this shoe will perform well on it all. Featuring a single velcro strap closure with stretch elastic tongue, this shoe almost feel like a slipper. And with a slightly larger toe box to curl your toes into, you can keep these shoes on longer rather than taking them off between every single problem. This shoe will stretch, so size accordingly.
Mad Rock Flash
Specs
Closure

:

Velcro Straps

Weight

:

16.8 oz

Upper

:

Syn Flex, Leather

Outsole

:

Science Friction 3.0, Science Friction R2

Lining

:

Unlined
Features
Leather upper with stretchy inserts for a snugger fit
Science Friction 3.0 rubber maximizes grip and durability
Moderate curve balances between comfort and performance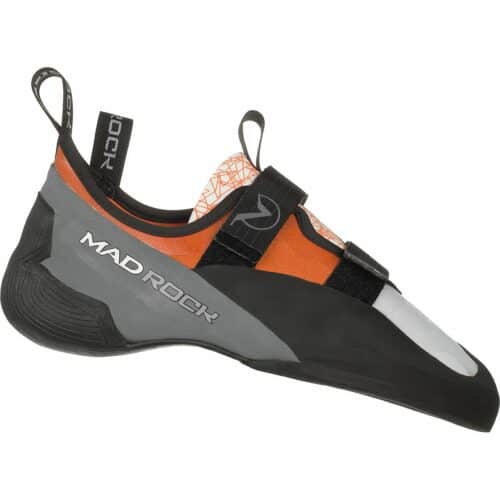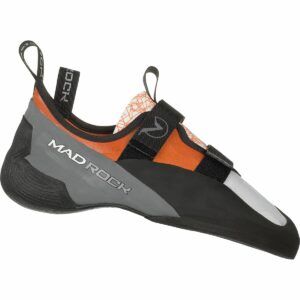 BEST FOR THOSE ON A BUDGET
For only $90 you can pick up a comfortable performance bouldering shoe with a moderately downturned shape.
The Mad Rock Flash is touted as the brand's best selling climbing shoe for beginner and intermediate experience levels. Like the Hiangles we reviewed in our top overall pick, the Flashes are slipper style shoes with two velcro closures that allow you to make the fit as snug as you please. What makes the Mad Rock Flash stand out from the rest of the pack is that it's the first climbing shoe on the market to sport a Gel Shock heel, which actually gives you a degree of impact protection if you happen to come off the rock.
What I like most about these bouldering shoes is how easily they slip on and off.
La Sportiva Solution
View Women's Version
Specs
Closure

:

Single Velcro Strap

Weight

:

1 lb 1.8 oz (men's); 15.8 oz (women's)

Upper

:

Leather/Synthetic Leather

Outsole

:

Vibram XS Grip 2 Rubber

Lining

:

Toe Box and Arch Area Only
Features
Molded 3D Heel Cup For Snug Fit And No Slipping
Midsoles In Toe Area For Added Comfort
Highly Adjustable Fast Lace System Velcro Closure For Secure Fit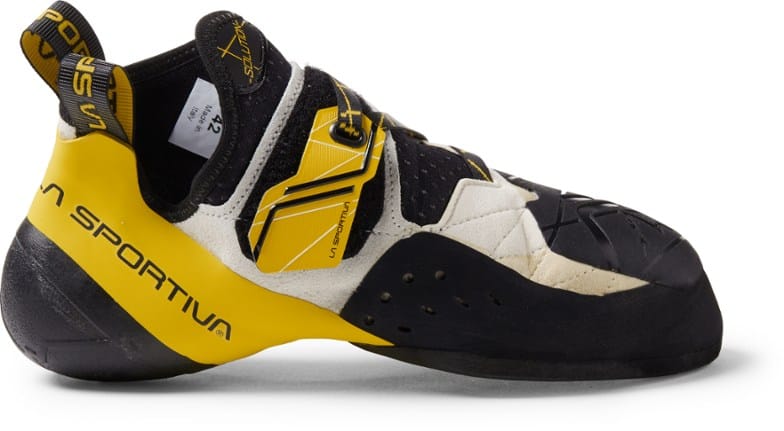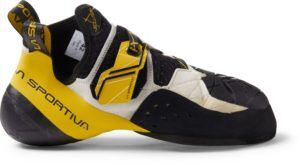 BEST FOR TOE AND HEEL HOOKING
This shoe's been around the block and has been beloved by many climbers for a long time. In 2018, the shoe got a makeover, but it was only cosmetic; a relief to its many fans. Aggressive and downturned, this shoe has been compared to a hawk's talon. Because of these features, it has a lot of versatility, but it really excels in toe and heel hooking on steep terrain. The pointy toe offers amazing precision on edges and also easily fits into those pockets you might encounter on the wall. Certainly not the most comfortable shoe out there, but that's a price worth paying for high performance. The single velcro strap makes these shoes pretty easy to take on and off between climbs.
La Sportiva Miura VS
View Women's Version
Specs
Closure

:

Triple Velcro Strap

Weight

:

1 lb 3 oz (men's); 1 lb 0.8 oz (women's)

Upper

:

Leather

Outsole

:

4 mm Vibram XS Edge Rubber

Lining

:

Dentex Synthetic Stretch Fabric
Features
Slip-Lasted For A Stiff And Sensitive Shoe
Midsole Support For Powerful Edging
Three Velcro Strap Closures For Secure Fit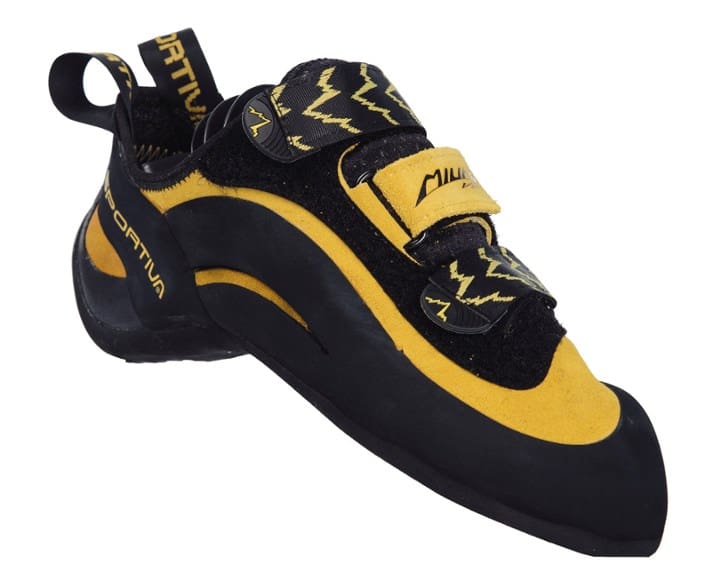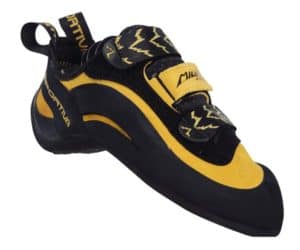 BEST SHOE FOR EDGING
Designed with Miura's Vibram XS rubber, edging performance is super sharp in these shoes. An aggressively downturned toe with the added assistance of a stiff midsole will be sure to hold you in any pocket you might come across in your climb. The hard rubber casing allows you to push down hard on the toe, which does cut down on sensitivity of the shoe. However, this then allows you to hook the downturned toe into pockets and pull yourself into the rock more easily.
Commonly used as a trad climbing shoe, if you size them tighter, then they can be perfect for sending your hard boulder problems too. Even though this is a super stiff shoe, it does soften a bit over time, and patience while learning to handle and break them in is well worth it when you are performing like a pro!
evolv Shaman
View Women's Version
Specs
Closure

:

Triple Velcro Strap

Weight

:

1 lb 3 oz Shaman; 14.4 oz Shakra

Upper

:

Synthetic Suede

Outsole

:

TRAX XT-5 Rubber

Lining

:

Unlined
Features
Toe Rand Of Varying Thickness For Durability In More Used Areas
Midsoles Add Medium Stiffness For Powerful Edging
Vegan Construction Is Good For The Environment And Your Conscience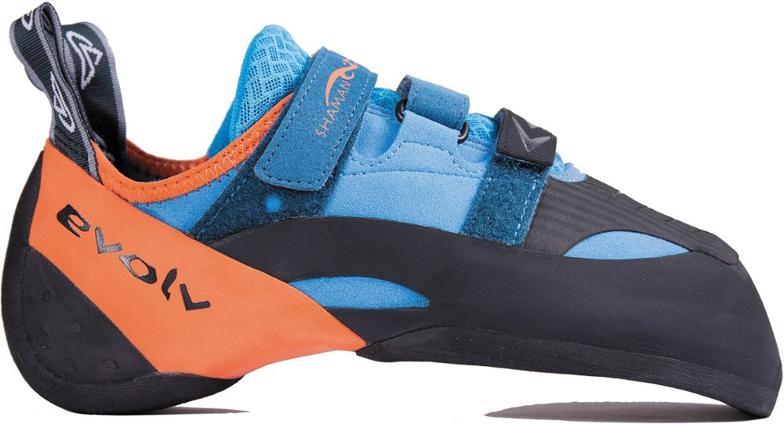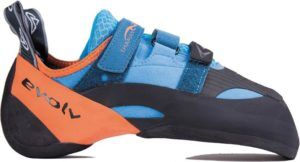 BEST PRO CLIMBER SHOE
Designed by Chris Sharma himself, you can expect the Evolv Shaman to perform exceptionally on some of the toughest climbs. The comparable women's version called the Evolv Shakra will have the ladies feet prepared for the hard stuff as well.
Designed with what is referred to as a "love bump," this shoe is downturned and will remain that way, pushing the big toe into action for maximum power and control. And paired with the "love bump," the Shaman is also equipped with midsoles so you won't experience the pain that typically comes along with a tight fitting shoe.
While designed by one of the hardest climbers in the league, this shoe can also be appreciated by beginner climbers and performs well in the gym too. Plus, wearing this shoe could give you something to grow into and aspire to as well.
Scarpa Vapor V
View Women's Version
Specs
Closure

:

Velcro Strap

Weight

:

1 lb 0.9 oz mens; 14.6 oz women's

Upper

:

Synthetic microsuede

Outsole

:

4 mm Vibram XS Edge Rubber

Lining

:

None
Features
Slip-lasted For A More Sensitive And Stiff Shoe
Can Be Resoled
Padded Mesh Tongues For All Day Comfort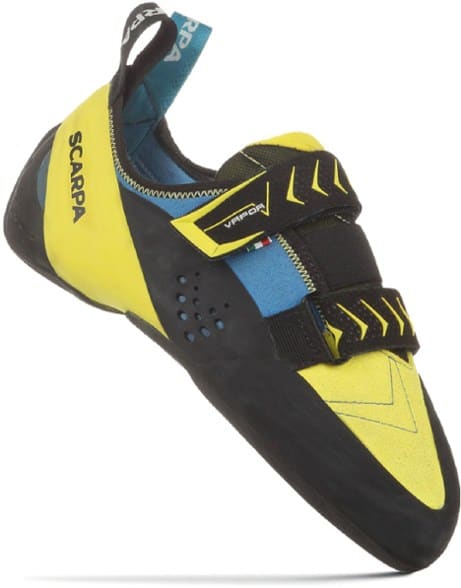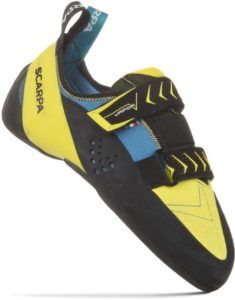 BEST TRANSITION SHOE
The Scarpa Vapor V is a bouldering shoe with medium stiffness, making it a good choice when you are starting to get into harder boulder problems, but aren't quite ready for the super aggressive shoe required to send harder problems. These shoes have just enough downturn to make them the perfect pair to try out on some aggressive features.
On less steep problems where you are relying more on edging rather than heel hooking, the wider toe box of the Vapor V will be right at home and even fit in any tiny cracks you might encounter. If you get them tight fitting, they will help you excel in bouldering, but if you get them bigger, you can wear them all day long if you want to mix it up with some other types of climbing.
Scarpa Instinct VS
View Women's Version
Specs
Closure

:

Single Velcro Strap/Slip On

Weight

:

1 lb 0.5 oz (men's); 14.1 oz (women's)

Upper

:

Synthetic Leather

Outsole

:

Vibram XS Edge Rubber

Lining

:

Unlined
Features
Uppers Made With No-Stretch Lorica Synthetic Leather
Tensioned Rand To Position Toes For Power
Rubber On Top Of Toes For Toe Hooking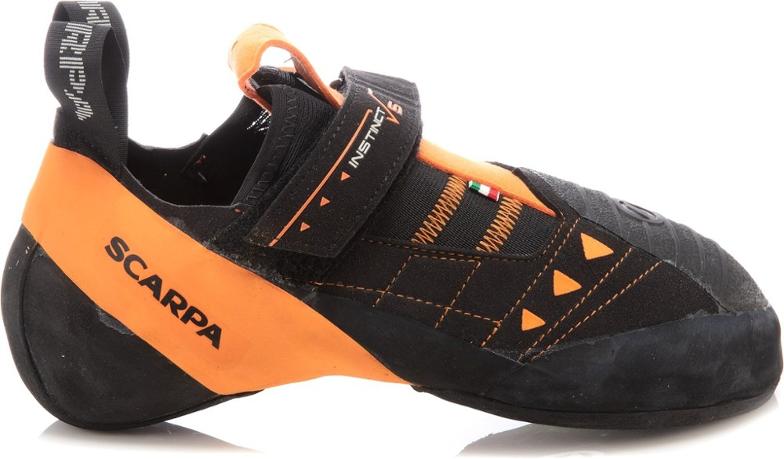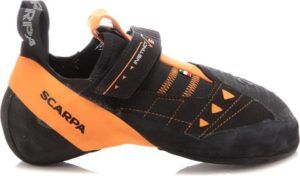 BEST ON SMALL EDGES AND CRYSTALS
When you need to edge on some of the smallest features, the stiff and supportive fit of the Scarpa Instinct VS is what you want to be wearing. The bi-tension rand of this shoe pushes your toes frontward and puts the big toe where it needs to be – in the driver's seat, so you can have all the precision to edge without all the pain. And with a large patch of rubber covering the top toes, you can also do some pretty impressive toe-hooking in these shoes. Because it's constructed with 100% no-stretch Lorica uppers, the shoe won't stretch out (so make sure you order the correct size the first time!), but it also means this shoe has great flexibility and durability without compromising its shape.
Scarpa Drago
Specs
Closure

:

Single Velcro Strap

Weight

:

14.1 oz

Upper

:

Microsuede

Outsole

:

3.5 mm Vibram XS Grip 2 Rubber

Lining

:

Unlined
Features
Designed For Wider Fit
Thin Outsole For A Softer Shoe
Lack Of Midsole For Precision And Sensitivity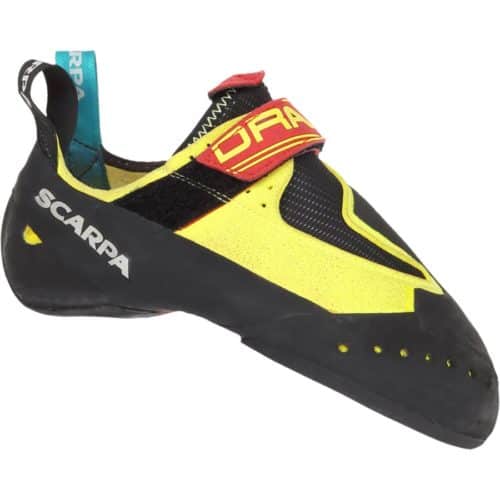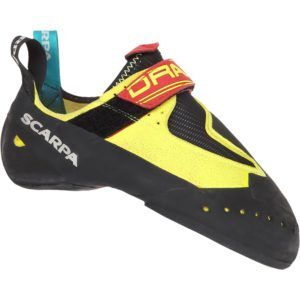 BEST SOFT SHOE
For such a high performing shoe, you couldn't ask for a softer, more comfortable fit. While being soft and sensitive is good for slab climbing, the sticky rubber that coats this shoe makes it pretty awesome for some of those ridiculously fancy gym problems too. While the sensitivity may not be what you desire on cracks, it does allow you the feeling of where your toes are being placed in pockets, and because of the softness, you can get this shoe into some larger pockets as well. You can also feel confident in downsizing a half size in this shoe for a more aggressive fit without worrying about endless pain. Though on the expensive side, the Scarpo Dragos will hold up exceptionally well and be worth the investment for bouldering.
Five Ten Team 5.10
Specs
Closure

:

Single Velcro Strap

Weight

:

7.2 oz

Upper

:

Synthetic Microfiber

Outsole

:

2.5 mm Stealth HF Rubber

Lining

:

Synthetic
Features
Super Sticky Rubber On Soles For Great Smearing
Very Aggressively Downturned For Steep Climbs
Fully Rubbered Top So You Stick To Everything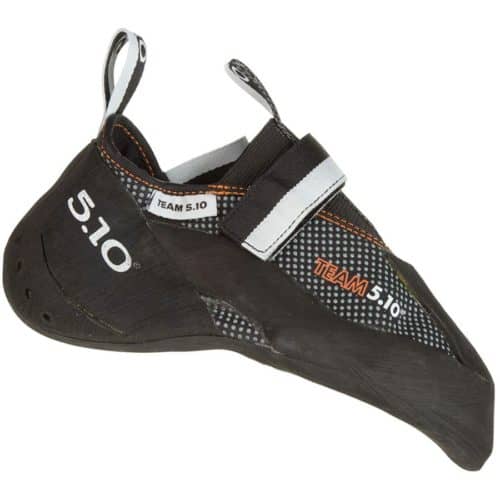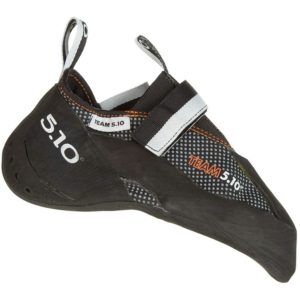 BEST FOR SMEARING
A lot of rubber went into the construction of the toe on this shoe. All that rubber paired with an aggressive and downturned shape means you can smear to your heart's content in this shoe and you can be sure you will stick! With the Stealth rubber, you will be able to edge on even the tiniest holds. If it weren't for the aggressiveness, you could almost wear this shoe slab climbing. With little stretching in the upper, you can bet you will get a tight and secure fit in this shoe. Unlike other Five Ten models, because of this feature, you will want to try a pair on prior to purchasing to make sure you are sizing it correctly. However, because of the tight fit, they can sometimes be difficult to get on and off.
evolv Agro
Specs
Closure

:

Single Velcro Strap

Weight

:

1 lb 3.2 oz

Upper

:

Synthetic

Outsole

:

3.7 mm Sensa Trax High Friction Rubber

Lining

:

Unlined
Features
Tensioned Thin Rubber Midsole For Ultimate Sensitivity
Optimal Rubber On Top Of Shoe For Great Toe Hooking
Tensioned Heel Rand To Keep Heel In Place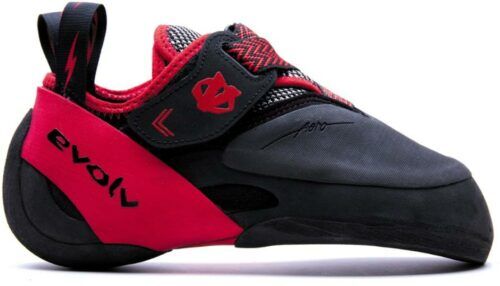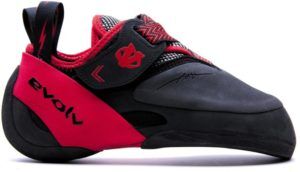 BEST ON HARD TERRAIN
The Evolv Argo has been described as the "ultimate high end bouldering shoe." This shoe has a tight fit, so make sure you get a pair that fits your foot well. That tightness and downturned shape will give you a lot of power on your climbs. The aggressive downturned will also pull you into pockets and, because of the sensitivity of this shoe, you will be able to feel the contact with the rock, keeping you in control.
A snug but comfortable heel cup is a result of the tensioned heel rand that keeps your foot locked in place so you won't have to worry about your heel slipping out of the shoe when performing heel hooks on overhanging moves. The Argo is also pretty generous with the rubber, including on the tops of the toes for all the necessary toe hooking.
THINGS TO CONSIDER WHEN BUYING BOULDERING SHOES
Boulder problems are essentially the crux of a longer climb. These short climbs are typically steep, overhung, and very pumpy. Having a climbing shoe that can perform to the max on this type of terrain is key to sending your problem. For this reason, many climbing shoes designed for bouldering have an aggressive shape for all the edging and hooking you'll be doing.
An aggressive shoe will fit tighter and have a curved shape, making them less comfortable than your all-around climbing shoes. This means you probably won't want to wear them between climbs, so most bouldering shoes have velcro closures to make putting them on and taking them off a piece of cake. Besides that one fairly consistent feature, there are a lot of different options to choose from when buying your first (or fifth) pair of bouldering shoes. Read on for some things to consider when making your selection and we'll meet you back at the wall!
COST
When you are looking for a high performing shoe, as needed to assist you in hard boulder problems, you are going to be looking at a higher price tag than you would for those all day comfort shoes. Because of this, it is best to not crunch you pennies too much and pay the little extra money up front for an investment that will make you a better climber. Keep in mind, there are still plenty of sound options that won't leave you in the poorhouse.
PROFILE/SHAPE
The profile of a good bouldering shoe is going to be vastly different than an all day trad shoe. These more aggressive shoes have downturned toes and a tighter fit, but that is exactly what is needed to get you up those hard, steep, and overhanging climbs. You can learn all about the importance of properly fitting a climbing shoe over at Rock & Ice.
STIFFNESS AND STRETCH
Any new shoe is going to require some level of breaking in and will stretch somewhat over time. Leather shoes such as the Mad Rock Drifter, La Sportiva Finale, and Scarpa Helix will stretch, so plan accordingly when purchasing. Five Ten and Evolv shoes are typically synthetic and will not have much stretch, so get as close to your fit as possible with these. Leather shoes also tend to be unlined, which allows for stretch compared to synthetic linings.
RUBBER
Rubber is huge when it comes to bouldering shoes. The placement of rubber on the shoe can make all the difference on some harder climbs. The placement of it also determines how well a shoe will edge, smear, fit into cracks and pockets, as well as overall stickiness. You should also consider if the shoe can be resoled to save you some time and money in the long run in not having to regularly purchase shoes and break them in. Learn more about the science of sticky rubber and and how it can enhance bouldering shoe performance.
CLOSURE
Of the three types of closures (velcro, laces, slippers), you will most likely want bouldering shoes with velcro so you can remove them between problems. But there are several variations of velcro you encounter when looking at bouldering shoes. Some will have the traditional two straps, while others may have just one over top of a slipper. Others will have three straps and both these and double straps can fasten in opposing directions, which will help in getting a more snug fit. All the options will work fine for all types of bouldering, so how the shoe closes is really just up to your personal preference.
WEIGHT
A lot of rubber goes into making a good bouldering shoe to give you the power and precision needed to toe and heel hook even the most overhanging rock. With this comes some added weight, but depending on the distribution of the rubber, some shoes may be lighter than others. Unless you're hoping to boulder in a very remote area with a multi-mile approach, don't worry too much about the overall weight of your shoes.
FEATURES EXPLAINED
OUTSOLE
The outer portion of the shoe that contacts the ground.
INSOLE
The bed of the shoe.
RAND
The actual rubber on the shoe that goes from the toes to the sides to the heel.
TOE BOX
The entire front section of the shoe where the toes sit.
HEEL CUP
The section the heel sits in.
BOARD-LASTED
Less sensitive and stiffer shoe, providing more comfort for all-day wear.
SLIP-LASTED
A more sensitive, less stiff shoe.
DOWNTURNED
The shape and profile of the shoe is noticeably curved down, providing a more aggressive shoe and a tighter, more secure fit.
READ MORE
For more of our top climbing gear recommendations, check out these popular buyer's guides: