Updated on October 11, 2021
Ladies, let's talk about clothes for a minute (like we needed an excuse for that?). You should give the same type of consideration to choosing a hiking shirt as you do to picking the perfect party dress. Ideally, you want a hiking shirt that fits well, flatters, and performs for the occasion. The best hiking shirts for women need to keep pace with your stamina.
The ladies' hiking shirts below provide thoughtful features like sun protection and odor and moisture-wicking performance to enhance your time on the trail. Choose a pair of hiking pants and shoes to match and you're ready to make some notable mileage.
For more of our top hiking gear recommendations, check out the Best Hiking Shirts for Men.
[thrive_leads id='68010′]
Quick Answer

-

The Best Hiking Shirts for Women
Patagonia Capilene Cool Trail

Mountain Hardwear Canyon Pro Popover

Little Donkey Andy Stretch
Comparison Table

-

Best Hiking Shirts for Women

For the best experience turn your device horizontally
[thrive_leads id='56126′]
Reviews

-

Best Women's Hiking Shirts
Patagonia Capilene Cool Trail
Specs
Type

:

Short-Sleeve Scoop Neck

Material

:

Polyester

Size

:

XS-XL
Features
Moisture wicking (allows sweat to evaporate)
Soft Like Cotton, Dries Like Polyester
Odor Control
Underarm Gussets (prevents chafing)
Droptail Hem (for better coverage)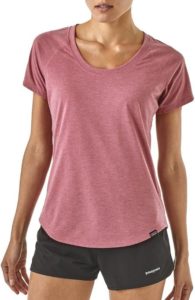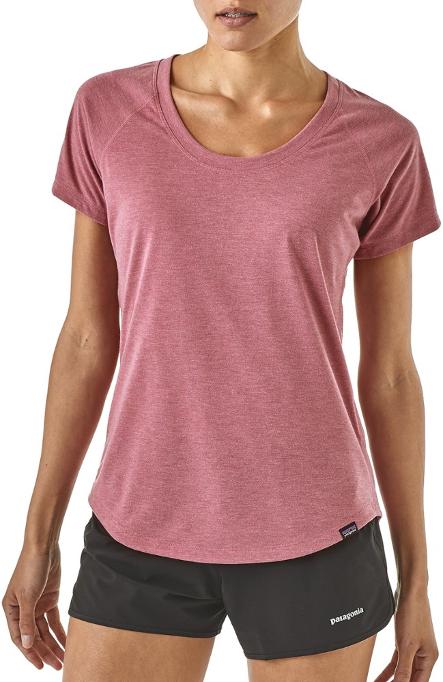 BEST FOR: EXTENDED TIME ON THE TRAILS
If you're going to be outside on the trails for a while and you want to avoid getting sweaty and stinky, this trail shirt keeps you fresh. With permanent odor control and dry-wicking fabric, you can avoid some of the hygiene pitfalls of being on the trails. The fabric helps prevent chafing from your pack or harness too.
Columbia PFG Tidal
Specs
Type

:

Long-Sleeve

Material

:

Polyester

Size

:

XS-XL
Features
Moisture Wicking (allows sweat to evaporate)
UPF 50 Sun Protection
Active Fit (for better range of motion)
BEST FOR: EXTRA COVERAGE IN DIRECT SUN
True to its name, the Deflector lets the sun's rays bounce right off the surface, giving your skin extra protection in the direct sunlight. The sun protection makes this shirt perfect for hiking, beachcombing, and SUPing. The tee can definitely keep up too with quick-drying material and an athletic fit.
Mountain Hardwear Canyon Pro Popover
Specs
Type

:

Long-Sleeve Henley (collarless pullover with buttons)

Material

:

60% Nylon / 40% Polyester

Size

:

XS-XL
Features
UPF 50+ Sun Protection
Moisture Wicking (allows sweat to evaporate)
Chest Pocket (for keys or cash)
Stretchy, Wrinkle-Resistant Fabric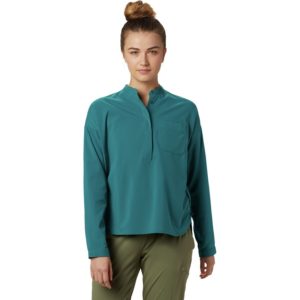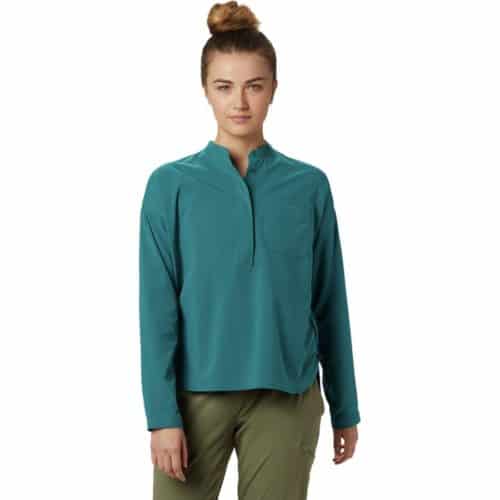 BEST FOR: LAYERING
The Canyon Pro comes in a button-down or pullover style design, both perfect when an extra layer might be necessary. It's easy to throw on and shed as the weather changes, and the shirt offers extra space to accommodate layers. The fabric features sun protection, extra stretch, and moisture wicking performance to keep up with your adventures.
ExOfficio Bugsaway Lumen
Specs
Type

:

Full-Zip Hoodie

Material

:

70% Polyester / 30% Cotton

Size

:

XS-XL
Features
Built-In Bug Repellent
Quick-Drying Breathable Material
Handwarmer Pockets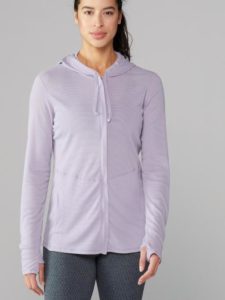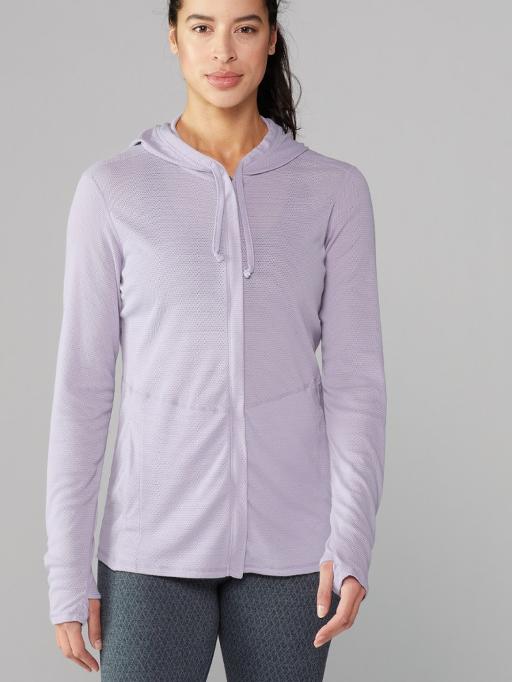 BEST FOR: NIGHT HIKES FOLLOWED BY CAMPFIRES
When the mosquitoes come out at night, your friends will be impressed how well they stay away from you. The invisible, odorless bug repellent beats smelly bug sprays any day. With a hood and handwarmer pockets, you can keep your head and hands protected too. This hoodie fits right in with the hiking and camping crowd as you explore the woods during the day and curl up around the campfire at night.
Columbia Silver Ridge
Specs
Type

:

Long-Sleeve Button-Down Shirt

Material

:

100% Polyester

Size

:

XS-XL
Features
Moisture Wicking and Ventilated (allows sweat to evaporate)
Antimicrobial Treatment (to prevent odor)
UPF 40 Sun Protection
Chest Flap Pockets (for keys and utility knife)
Roll-Up Sleeves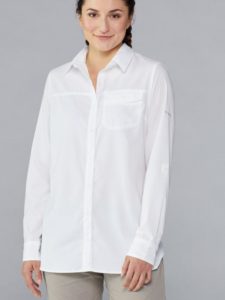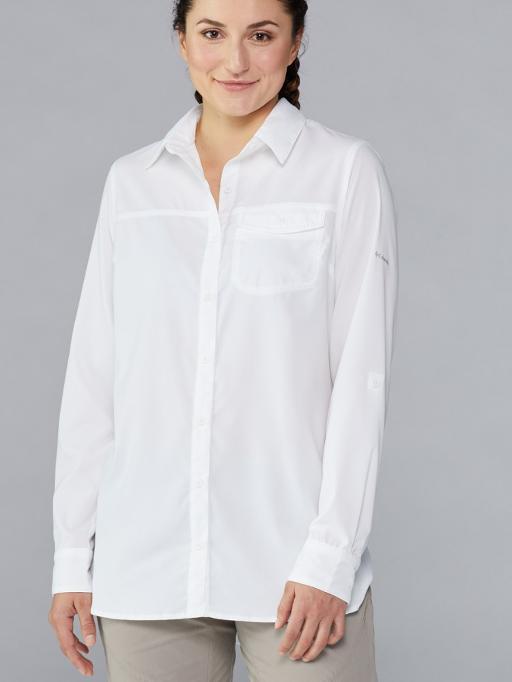 BEST FOR: TESTING YOUR HIKING ENDURANCE
You can make a new personal record and look good doing it in this neat button-down shirt. Although the shirt appears too nice to hike in at first glance, it was meant to be put to the test. The moisture-wicking performance, antimicrobial finish, and sun protection make you look like you've got it all put together. We won't reveal your secret.
Little Donkey Andy Stretch
Specs
Type

:

Long-Sleeve Button-Down

Material

:

90% Polyester / 10% Spandex

Size

:

XS-XL
Features
Two Chest Flap Pockets and Side Zippered Pocket
Four-Way Stretch Material (that moves with you)
UPF 50+ Sun Protection
Converts into Short-Sleeve Shirt
Back Air Vent (for breathability)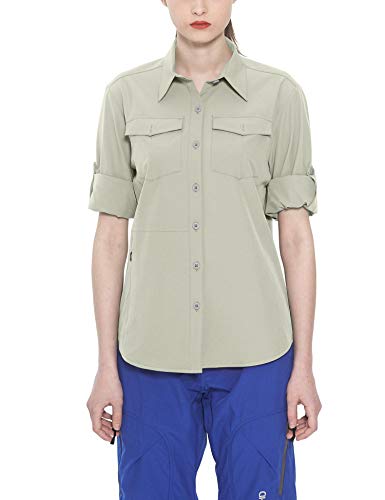 BEST FOR: COOL MORNINGS THAT TURN INTO HOT AFTERNOONS
Another Amazon favorite hiking shirt, this button-down converts from long to short sleeves with buttoned sleeve cuffs. Moisture-wicking fabric and a well-placed back vent keep you from overheating as the day–and miles–wear on. When the sun reaches its peak, UPF 50+ protection helps keep you from burning while the four-way stretch moves with you as you hike.
Miss Fortune
Specs
Type

:

Racerback Tank (also available as a short- and long-sleeve tee)

Material

:

95% Polyester / 5% Spandex

Size

:

S-3XL
Features
Moisture Wicking (allows sweat to evaporate)
Curved Hem (provides extra coverage)
Easy Fit (better range of motion)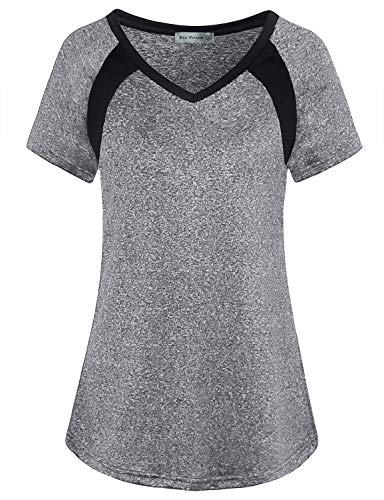 BEST FOR: HOT, VIGOROUS HIKES
This tank top is rated Amazon's #1 best-selling women's hiking shirt, and it's easy to see why. The breezy tank has an appealing heathered look with color-block panels at the shoulder, giving it major athletic appeal. But the soft, quick-drying material also makes the shirt a pleasure to work out in. The spandex in the fabric gives the tank a little stretch so you can move around unencumbered. You also have the option of buying this shirt in three different styles: racerback tank (featured here), shortsleeve T, and long sleeve.
[thrive_leads id='59716′]
THINGS TO CONSIDER WHEN BUYING A WOMEN'S HIKING SHIRT
SIZING
The difficulty with buying clothing online has always been not knowing what a shirt will look or fit like in person. However, with a little research, you can make a pretty good determination.
First, check the retailer's website to see if they have a size chart where you can compare your measurements to the sizes listed. Next, read through what reviewers are saying about sizing. Oftentimes, they'll remark whether a shirt fits true to size or runs a bit large or small. Third, check to see what your retailer's return policy is just in case the shirt doesn't fit right.
INTENDED USE
You're here because you want a good hiking shirt, but you need to know what type of hiking you plan on doing and where. If you plan on hiking for a few hours, you might choose a less feature-loaded shirt than if you're hiking for months at a time. The conditions of the trail also dictate whether you might benefit from sun protection, insect repellent, odor guard, and other added features.
Finally, you may want to use your shirt for more than just hiking. Some of the shirts here transition well to dinner while others fit in better at a yoga class. If you want your shirt to pull double duty, then consider whether or not it has the appropriate appearance.
LAYERABILITY
If you're going into an environment that changes throughout the day, you may want layers that you can shed easily. Fitted polyester tees are easy to pile layers onto when you get cold while roomy button-downs accommodate layers both underneath and over top. Consider how you might need to layer your hiking shirts before making your decision.
MATERIAL
If you have to live in your shirt for hours or days at a time, the fabric needs to be comfortable or it can throw off your entire hike. Most of today's athletic wear has some percentage of polyester mixed in because polyester wicks sweat, helps prevent chafing, and creates a nice form-fitting drape. When you add spandex, you also get a little bit of stretchiness. You want a hiking shirt with some give so you feel unrestricted when you're in motion. Learn more about athletic clothing and fabrics here.
FEATURES EXPLAINED
UPF SUN PROTECTION
Like sunscreen, some fabrics have special properties that block the sun's rays. UPF stands for ultraviolet protection factor and the number indicates the garment's effectiveness against both UVA and UVB light. A UPF 40 rating means the shirt allows 1/40th of UV rays to pass through. The higher the number, the better the protection. Learn all about UPF fabric features here.
LONG SLEEVE HENLEY
A henley is a style of pullover shirt that features a casual banded collar style. The collar typically extends down the neckline and closes with a few buttons or snaps. The short-sleeve version is usually a mix between the style of a T-shirt and the neckline of a polo. The long-sleeve version can sometimes be the style of a button-down with the neckline of a polo, as is the case with the Canyon Pro Popover.
RAGLAN SLEEVES
A raglan sleeve is a sleeve that extends in one piece all the way across the shoulder to the collar and under the armpit. Most people think of baseball shirts when they see raglan sleeves. This type of sleeve follows the natural shape of your arm and allows your arm to use its full range of motion.
DROPTAIL HEM
A drop tail hem is a hemline that's longer in the back of the shirt, across the hips and butt, than in the front. This type of hem provides extra coverage across the lower back, especially when you squat or bend over.
GUSSETS
A gusset is a strip of fabric sewn into a shirt to provide extra room. An underarm gusset, for example, fits better around your arm and gives it extra space to move in its full range of motion. Without the gusset, the shirt may lift up and expose your waist when you raise your arms overhead.