Updated on August 20, 2021
When you're climbing with ropes, whether sport, trad, or toprope, you need carabiners for so many different reasons. From belaying to rappelling, clipping bolts to racking trad gear, every climber's kit includes a variety of carabiners, and different ones are better for different applications. Here at The Adventure Junkies, we will help you determine the best carabiner for your needs.
For more of our top climbing gear recommendations, check out the Best Belay Carabiners.
Quick Answer

-

The Best Carabiners
Comparison Table

-

Best Carabiner

For the best experience turn your device horizontally
Reviews

-

The Best Climbing Carabiners
Wild Country Helium
Specs
Gate

:

Wiregate

Weight

:

82 grams

Locking

:

No
Features
Hook-Free Clean Nose Makes Unclipping a Breeze
Wide Gate Opening for Easy Clipping
I-Beam Construction Reduces Weight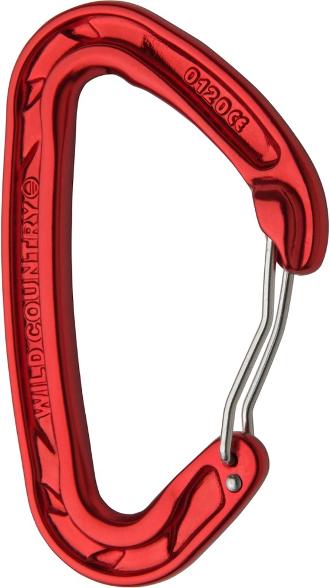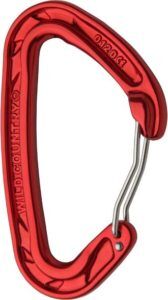 BEST FOR: ALL-AROUND
The Wild Country Helium is a non-locking wiregate carabiner that handles as well on a trad rack as it does as part of a quickdraw when you're clipping bolts. The I-beam construction of the Helium keeps it fairly lightweight even though it is a full-size carabiner. This gives it a wide gate opening which makes it easy to clip the rope. A unique feature on the Wild Country Helium is a clean hook-free nose which makes it exceptionally easy to unclip.
The Helium is also rated extremely strong for a lightweight carabiner which will put you at ease when you're taking whips. However, the great features of the Helium put it a bit on the pricey side for a non-locking carabiner.
Black Diamond RockLock
Specs
Gate

:

Screw Gate

Weight

:

89 grams

Locking

:

Yes
Features
Rounded Edges Allow the Rope to Feed Smoothly
Stays in Place on Belay Loop with Square Hinge End
Curved Spine Creates Wide Gate Opening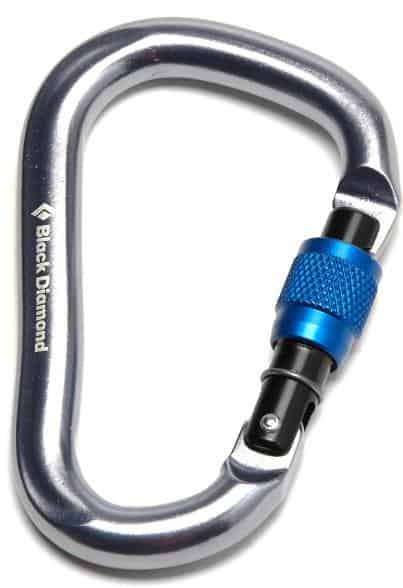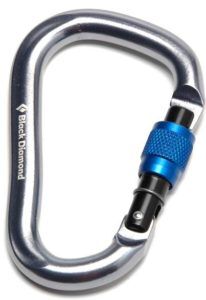 BEST FOR: BELAYING & RAPPELLING
A large, locking carabiner, the Black Diamond RockLock Screwgate is well-designed for belaying and rappelling. A slight curve in the spine gives it a wide gate opening so you can quickly set up your rope and belay device. The rounded edges of the RockLock mean the rope feeds super smoothly, which you'll definitely appreciate when you're rappelling or lead belaying, especially with a tube-style belay device such as an ATC.
The RockLock is fairly heavy, due to its large size and construction, so it is not your best choice when weight is a factor, such as for multi-pitch trad climbing. But it is an excellent option for single-pitch cragging or the gym.
C.A.M.P. USA Nano 22
Specs
Gate

:

Wiregate

Weight

:

22 grams

Locking

:

No
Features
Extremely Lightweight
Color-Coded to Correspond with Cams
Deep Basket to Allow Rope to Move Smoothly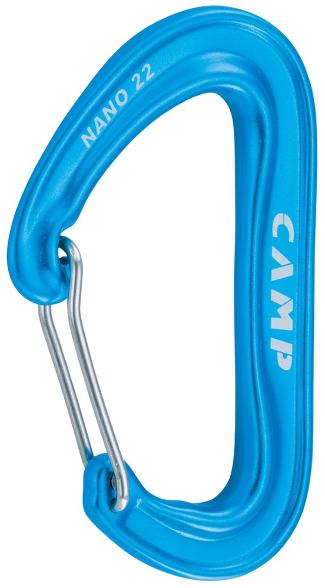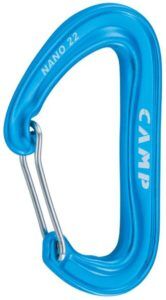 BEST FOR: LIGHTWEIGHT
The C.A.M.P. USA Nano 22 will let you rack up without weighing you down on long trad multi-pitch and alpine climbs. Though it could almost fool you with its extremely small and thin design, the Nano 22 is a full-strength climbing carabiner, and it is great for racking cams and other trad gear. In fact, you can get a whole color-coded set to correspond to the colors of your cams, which will make it easy to find the right gear on your harness while you're climbing.
In order to make it so light, the Nano 22 is quite small, and it can sometimes be a struggle to handle. But if weight is important for your objectives, you can't find a better carabiner.
Petzl Spirit
Specs
Gate

:

Bent Gate

Weight

:

39 grams

Locking

:

No
Features
Thumb Grooves on the Gate Make Clipping Easy
Keylock Nose to Keep from Snagging
Thicker Metal on the Bottom to Reduce Wear from Rope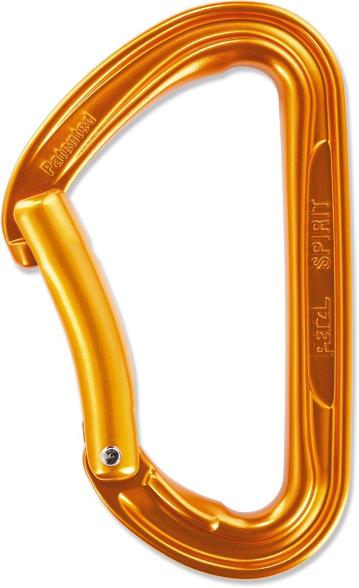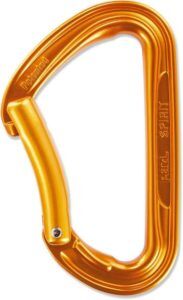 BEST FOR: SPORT CLIMBING
The Petzl Spirit has great gate action that makes it super satisfying to clip on your sport project. The bent gate version is ideal for the rope side end of a quickdraw, and it is designed to keep the webbing of a dogbone in place. Plus, it is thicker on the bottom side, which makes it extra durable to handle wear from the rope running through.
Although the keylock nose is now common on carabiners, the Petzl Spirit was the first carabiner to feature this non-snag nose, and the design stands the test of time. Although the Spirit might not be the cheapest or lightest carabiner, it is impeccably constructed, and you'll be happy to clip it at the crag.
Trango Phase
BEST FOR: CLIMBERS ON A BUDGET
The Phase is terrific all-around carabiner for trad, sport, or to serve as a handy back-up for those times you're forced to bail from routes.
This lightweight carabiner is offered in 8 different colors, making it a desirable low cost option — even for racking cams. The Phase comes in both a straight or bent gate design. Both are easy to clip — despite a slightly smaller gate clearance. The combined slim design and lightweight nature make the Phase a quality option for using in quickdraws or alpine slings, allowing for plenty of extra space on your harness for larger carabiners — such as those needed for belaying or rappelling. Despite the smaller gate design, the Phase does feature a large rope bearing area, which allows for plenty of space to clove in to anchors on multi-pitch routes.
What I like most about this carabiner — other than its outstanding value for the price — is that it offers above-average fall protection, providing for peace of mind when you're on the sharp end.
Black Diamond Neutrino
Specs
Gate

:

Wiregate

Weight

:

36 grams

Locking

:

No
Features
Color-Coded to Match Black Diamond Cams
Large Gate Opening for Easy Clipping
Freeze-Proof Gate for Use in Alpine Conditions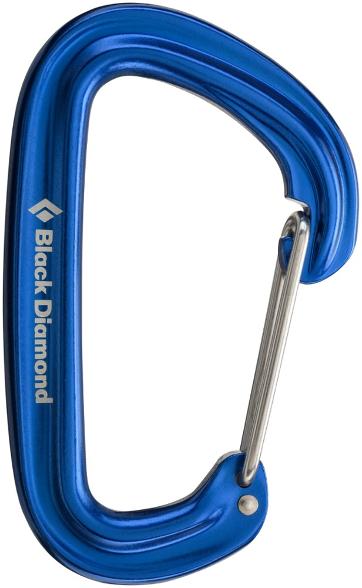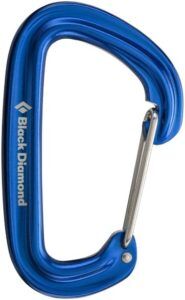 BEST FOR: RACKING CAMS
The Black Diamond Neutrino carabiners are a classic on a trad rack. They are color-coded to match Black Diamond cams, so it's very easy to identify the piece of protection you're looking for when you're pumped out and need to place some gear quickly. You can buy them individually or in a "rack pack" which contains one of each color to go with all of your cams.
The Neutrino has a large gate opening, making it easy to clip, and a wide contact surface for the rope, so it slides smoothly through. The Neutrino is also extremely durable and the gate will not freeze in alpine conditions. However, the Neutrino is on the heavy side for a racking carabiner.
Edelrid HMS Bulletproof
Specs
Gate

:

Screw Gate

Weight

:

82 grams

Locking

:

Yes
Features
Stainless Steel Insert to Prevent Wear
Keylock Nose for Easy Clipping & Unclipping
Made of Lightweight Aluminum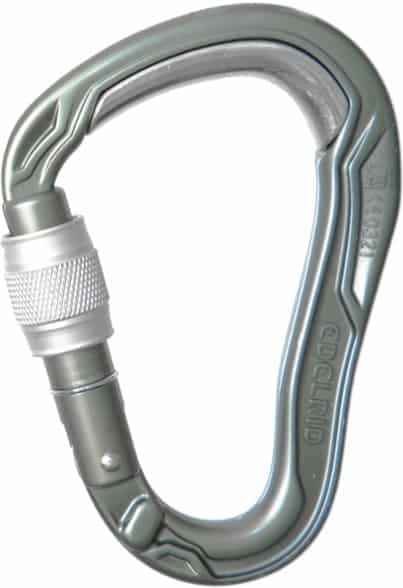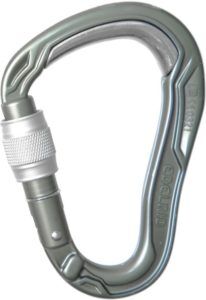 BEST FOR: DURABILITY
The Edelrid HMS Bulleptroof Screw carabiner is designed for ultimate durability, thanks to a special stainless steel insert which prevents wear from both rope friction and bolt hangers. These carabiners are excellent for constructing anchors, especially when you'll be lowering or setting up top-ropes where the rope friction would cause wear.
Since stainless steel is heavy, the rest of the Edelrid HMS Bulletproof Screw carabiner is adapted to keep the weight down with a proprietary H-profile design and aluminum construction. A keylock nose design also makes this carabiner quick to clip and unclip. The price of the Bulletproof carabiner is made up for with its long lifespan.
EDELRID Pure Slider
Specs
Gate

:

Straight Gate

Weight

:

42 grams

Locking

:

Yes
Features
Easy to Unlock When Clipping
Spring-Loaded Gate Closes Instantly
Lightweight Aluminum Construction
BEST FOR: EXTRA SAFETY ON LEAD
The Edelrid Pure Slider is a unique auto-locking carabiner that is designed to serve a very specific purpose – providing peace of mind on lead routes with falls that could lead to the rope unclipping from a standard non-locking carabiner. Using the Pure Slider on the rope side end of a quickdraw will add extra security in these situations. The locking mechanism is a slide gate, which makes it easy to open when you're leading a climb, but prevents it from opening if the rope runs over it in a fall.
This locking mechanism is less secure than a screw gate, so the Pure Slider is not the best choice for other situations where you need a locker, such as building anchors or belaying. But having one or two on your harness will make you feel safe when you really need it.
Petzl Attache 3D
Specs
Gate

:

Screw Gate

Weight

:

56 grams

Locking

:

Yes
Features
Small Size and I-Beam Construction Makes It Extremely Lightweight for a Locker
Security Stripe to Easily See When It is Unlocked
Rope Feeds Smoothly on Wide Contact Surface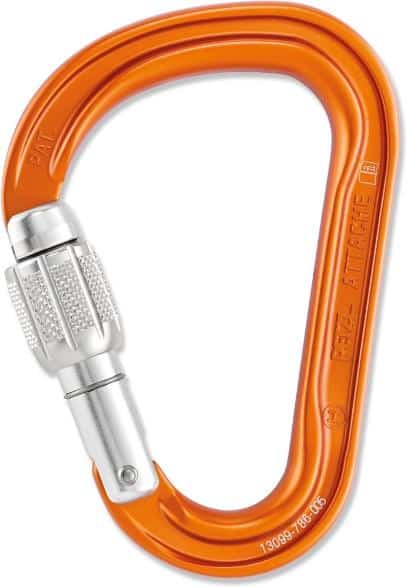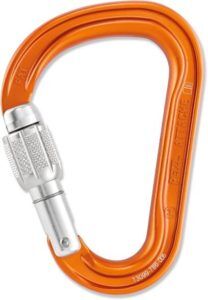 BEST FOR: VERSATILITY
The Petzl Attache 3D Screw-Lock is a very useful carabiner that you'll be glad to have at least a couple of on your rack for belaying, anchor building, and pretty much any situation you need a locking carabiner. The Attache is small for a locker and extremely lightweight thanks to its aluminum I-Beam construction, making it an excellent choice for multi-pitch applications.
One of the most useful features of the Attache is a red security stripe which is visible when the carabiner is unlocked, but covered up when it is locked, which makes it simple to visually check and provide peace of mind. One annoyance about the Attache is that the screwgate can get stuck closed if you overtwist it when you lock it.
DMM Phantom
Specs
Gate

:

Screw Gate

Weight

:

42 grams

Locking

:

Yes
Features
Extremely Lightweight for a Locking Carabiner
Smooth Screw Gate Action to Lock & Unlock
Keylock Nose for Snag-Free Clipping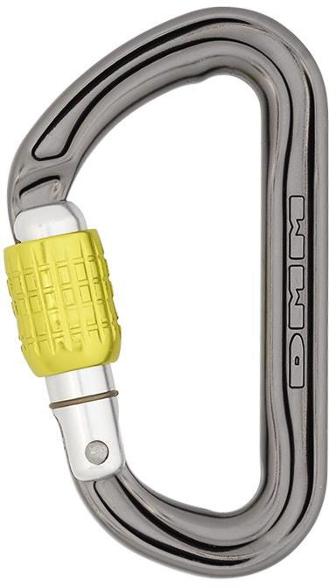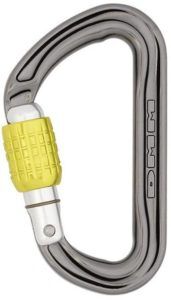 BEST FOR: ANCHOR BUILDING
The DMM Phantom is a small, lightweight locking carabiner that is ideal for building anchors or using to clip in with your personal anchor system. The screw gate action of the Phantom is super smooth, making it quick to lock and unlock whenever you need to, and the keylock nose makes clipping and unclipping snag-free.
Because the Phantom is so small, it does not have a large gate clearance, so it can't handle clipping multiple ropes. It is also not designed for belaying or rappelling, but is an excellent choice for just about anything else you need a locker for.
THINGS TO CONSIDER WHEN BUYING A CARABINER
Carabiners have so many applications in climbing, and it's important to choose the right carabiner for each situation. You'll want a different carabiner for belaying and rappelling (larger locker) than you will for racking your trad gear (small and lightweight non-locker). REI offers some in-depth info on different kinds of carabiners, and Climbing provides more knowledge about the history and safety standards of carabiners.
LOCKING VS NON-LOCKING
The two major categories of carabiners are locking and non-locking, and both have their intended purpose. You need a locking carabiner for belaying, rappelling, building anchors, and any other situation where it is imperative that the carabiner gate not open. Non-locking carabiners are primarily used for protection when leading, whether as part of a quickdraw on sport, or clipping gear on trad.
SIZE & WEIGHT
Depending on your style of climbing, size and weight may be more or less important. Larger carabiners usually are easier to handle and have larger gate openings for the rope, but they take up more room on your harness. Larger carabiners are best for belaying and rappelling.
If you're trad climbing, particularly on multi-pitch, weight can make a difference because you'll have a lot of carabiners on your rack. In that case, you'll want to prioritize lightweight carabiners over others.
DURABILITY
Although carabiners tend to be cheaper than most of your other investments in climbing gear, you still want them to last as long as possible. Friction from ropes can wear lightweight aluminum carabiners quickly, so you should always check your carabiners to make sure they are still in good condition. The Edelrid Bulletproof carabiners have a stainless steel insert that makes them much more durable than most.
FEATURES EXPLAINED
AUTO-LOCKING
A type of locking mechanism that doesn't require manual locking.
SCREW GATE
A mechanism on a locking carabiner that screws closed.
WIRE GATE
The gate is made of a loop of wire which reduces weight.
BENT GATE
The shape of the gate is bent to make clipping rope easy.
STRAIGHT GATE
The gate is constructed from a straight piece of metal which is durable and versatile.
KEYLOCK NOSE
The nose of the carabiner is at the top of the gate opening, and a keylock nose is smooth without a notch.
I-BEAM CONSTRUCTION
The outer edges of the carabiner are broader than the interior. This reduces weight while maintaining strength.
READ MORE
For more of our top climbing gear recommendations, check out these popular buyer's guides: