Updated on May 25, 2021
Hey there, girl! Are you looking for something that will keep you warm in cooler weather, that isn't too bulky, and can function as a mid-layer when it gets really cold outside? Well then, it sounds like you need…a fleece jacket! A good fleece jacket is the perfect addition to your fall wardrobe. And since here at The Adventure Junkies we always want to make sure you have the best of the best when it comes to outdoor gear, we've compiled a list of the best fleece jackets for women.
Fleece jackets come in a wide variety of styles and weights and are also designed for a number of different purposes. The fleeces on this list are primarily intended for outdoor use. We feature products ranging from the lightweight Better Sweater Hoodie to the heavy duty Flight Fleece, and everything in between. After a little bit of browsing through this list, you'll be able to find the best fleece jacket for women that suits your specific needs perfectly!
For more of our top hiking apparel recommendations, check out the Best Fleece Jackets for Men.
Quick Answer

-

The Best Fleece Jackets for Women
VOORMI Access NXT Pullover

Patagonia Re-Tool Snap T Pullover

Patagonia Better Sweater Hoodie
Comparison Table

-

Best Fleece Jacket Women's

For the best experience turn your device horizontally
Reviews

-

The Best Women's Fleece Jacket
Patagonia R1 Full Zip
Specs
Weight

:

12.6 oz

Hood

:

Yes

Fleece Weight

:

Medium

Zipper Length

:

Full
Features
Fabric stretches, traps heat and compresses to practically nothing
Stretchy cuffs push up comfortably over your forearms
Low-profile handwarmer pockets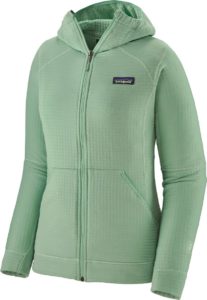 BEST OVERALL FLEECE
Combining full featured functionality with high grade materials, this fleece tops our list with ease.
Patagonia's R1 mid layer series has long been a consumer favorite — and has undergone many iterations, with noticeable improvements to each one. Patagonia constructed this lightweight layer with a grid-patterned fleece design that excels at keeping just the right amount of heat in when you're on the move. It's meant for high performance activities and features longer fabric through the arms and torso to keep you covered no matter how you're moving. Combined with the abrasion resistant exterior coating, this fleece could last you a lifetime.
What I like most about this fleece is the helmet compatible hood, which makes it suitable for rock climbing in addition to hiking and backpacking.
Columbia Benton Springs
Specs
Weight

:

13.4 oz

Hood

:

No

Fleece Weight

:

Medium

Zipper Length

:

Full
Features
100% polyester MTR filament fleece
Two side zippered security pockets
Collared neck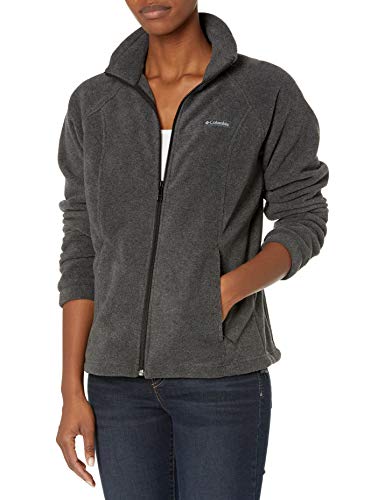 BEST CHOICE FOR YOU LADIES ON A BUDGET
If you are looking for that cozy, round-the-campfire fleece feeling without the hefty price tag attached, look no further.
Ready for lounging anywhere, anytime, the Columbia Benton Springs is the ideal mid layer for wearing on chilly morning or evening hikes. A semi-tailored fit makes this fleece stylish enough for wearing around town, but it is a bit too bulky for layering over. It's important to note this fleece is intended to keep you warm but is not breathable enough for wearing on active adventures.
What I like most about this fleece is that despite being a non-technical piece of outdoor clothing, it sure is comfortable to wear around camp.
VOORMI Access NXT Pullover
Specs
Weight

:

12.2 oz

Hood

:

No

Fleece Weight

:

Light

Zipper Length

:

Half
Features
Integrated Hidden Thumbholes
External Chest Pocket with Internal Headphone Port
Durable Water Repellent Finish
BEST FOR ADVENTURING IN WET WEATHER
If you're looking for a comfortable, high-performance, stylish fleece that ALSO performs well in inclement weather, turn to VOORMI — the NXT has you covered.
Designed for wearing during any outdoor pursuit, the Access Pullover feels exceptional against the skin and wicks away moisture with ease. The brand utilizes a unique blend of wool and nylon to provide for a durable yet lightweight fleece that delivers a midweight punch. To top it all off, the DWR finish allows you to wear this fleece as a stand alone piece — even in light rain or snow making it perfect for spring hiking and backpacking.
What I like most about this fleece is how well the athletic fit moves against your body and retains its shape, even after multiple wears in between washes.
The North Face Denali 2
Specs
Weight

:

1lb 2oz

Hood

:

No

Fleece Weight

:

Heavy

Zipper Length

:

Full
Features
Recycled fleece
Water-resistant finish
Adjustable hem keeps the cold out
Multiple zippered pockets keep essentials close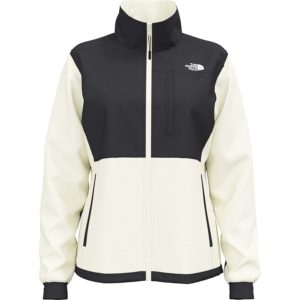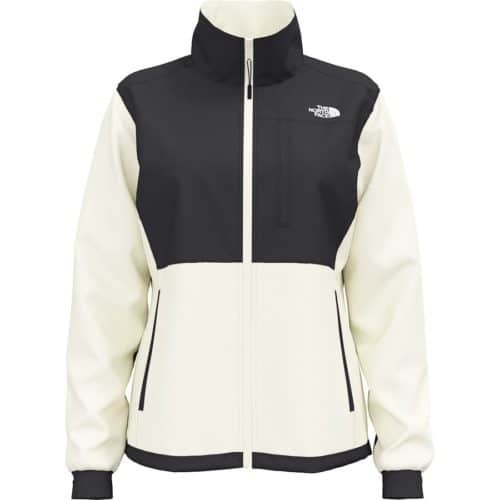 BEST FOR FRIGID TEMPERATURES
Best suited for wearing around basecamp, while at rest, or performing a low intensity activity, the Denali 2 is sure to keep you warm — no matter how fast the temperature drops.
The heavy-duty Denali 2 definitely sits on the bulkier end of the spectrum of fleece jackets, but the spacious cut allows you to add layers underneath as needed. The integrated nylon chest panel helps the jacket hold its own in inclement elements, too, namely light wind and rain.
What I like about this fleece is the incorporated recycled fleece material, which adds an element of eco-friendliness.
Patagonia Re-Tool Snap T Pullover
Specs
Weight

:

14.8 oz

Hood

:

No

Fleece Weight

:

Heavy

Zipper Length

:

Quarter
Features
Stand-up collar has doubled fleece for warmth
Front placket hides a 4-snap closure and is reinforced with nylon
Classic Patagonia chest pocket flap with stay-put envelope construction
Kangaroo handwarmer pocket
BEST FOR LOUNGING AROUND CAMP
If you are looking for a balanced combination of comfort, style, and warmth, check out this fleece — it's an all-in-one package.
Patagonia's stylish classic pullover features a chest pocket, 1/4 zip style, and a kangaroo pocket. The Snap T is woven from standard fleece blended with hi-pile Raschel fleece for a bit of added wind protection while retaining that against-the-skin comfort. It's offered in over ten different color schemes and patterns in total, making it a breeze to find your perfect match.
What I like most about this fleece is the addition of materials around the neck, which provides for extra warmth, especially for those of us ladies who aren't fans of buffs or other constrictive neck coverings.
The North Face Osito 2
Specs
Weight

:

1 lb. 3 oz.

Hood

:

No

Fleece Weight

:

Medium

Zipper Length

:

Full
Features
Looser Fit
Big Collar Keeps Your Neck Cozy And Warm
Stretchy Wrist Cuffs Lock Out Cold Air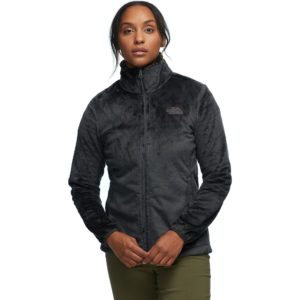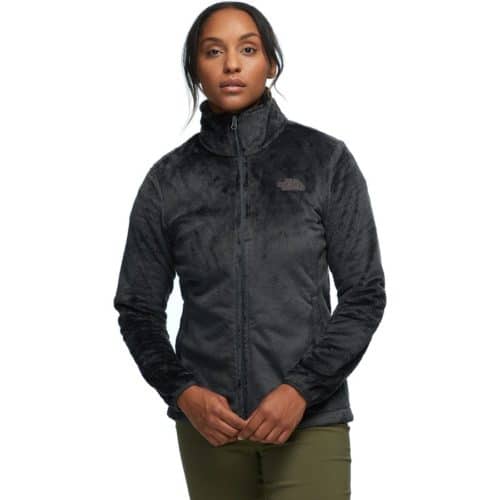 BEST BASIC WARMTH FLEECE
The North Face Osito 2 is everything you need in a basic fleece jacket without the bells and whistles, and it comes with a reasonable price tag to match its basic flare. The medium-weight fleece is built to keep you warm. It has a high collar to protect your neck from the cold, and elasticized hem and cuffs to lock in warmth. Complete with two zip pockets and a hoodless look, this fleece jacket is perfect if you are looking for a sturdy warm layer that won't break the bank.
Patagonia Woolyester
Specs
Weight

:

15 oz.

Hood

:

No

Fleece Weight

:

Medium

Zipper Length

:

Full
Features
You Know What They Say About BIG POCKETS… Warm Hands!
Stylish Waist and Wrist Cuffs Keep The Cold Out And Warmth In
Made From Recycled Materials And Fair Trade Certified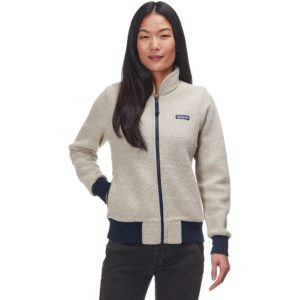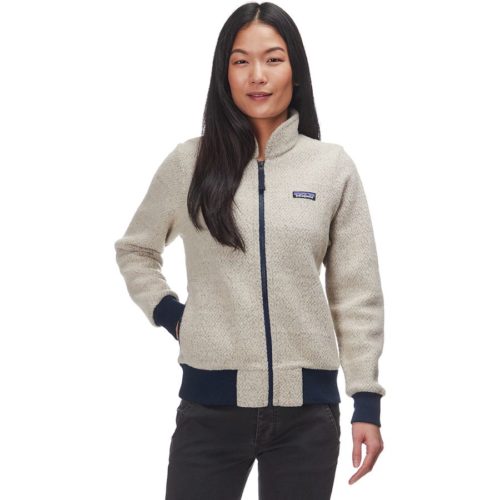 BEST OVERALL PICK
This fleece jacket does come with a higher price tag than some of the others on this list, but rest assured – it's worth the price! If you're looking for a high quality fleece jacket that soars in every category, look no further. The Patagonia Woolyester Fleece has it all. Its ribbed cuffs and hem lock out cold, its non-snag zipper is easy to manage, and its two large side pockets are perfect for stashing hand warmers or other small belongings. When it comes to fashion, this jacket has that, too. Its two-tone color makes it one of the more stylish fleece jackets on the market, and its pop-up or fold-down collar can be worn two different ways. All these factors lead us to give this fleece the seal of approval and our best overall pick.
Cotopaxi Cubre
Specs
Weight

:

1 lb. 2 oz.

Hood

:

No

Fleece Weight

:

Medium

Zipper Length

:

Full
Features
Wind and Water Resistant Fabric Protects You From Wintry And Wet Weather
Full Coverage Hood Provides Added Coziness
Button-Close Chest Pocket Fits A Phone Or Other Small Items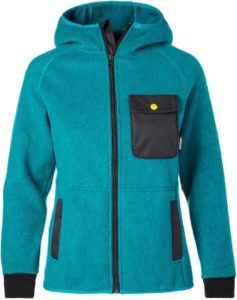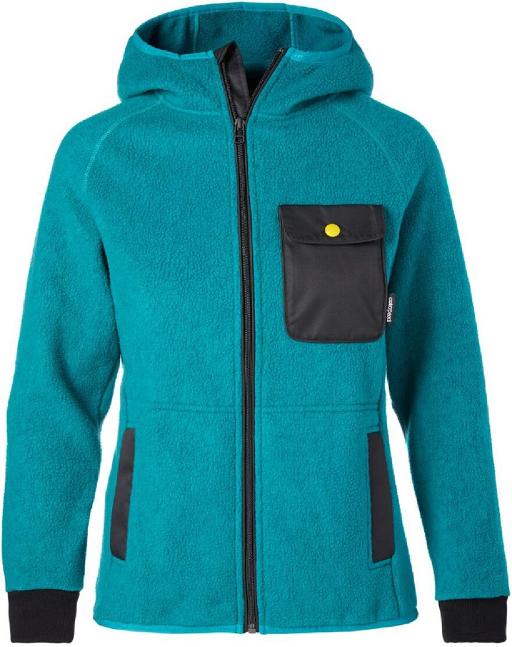 BEST HIKER FLEECE
This fleece jacket is made for the trails! It features a "scuba-style" hood for added coverage from the elements and wind and water resistant fabric that will keep you warm and dry in inclement weather. It also has a convenient snap-button chest pocket that is big enough to hold a cell phone. With warm-trapping wrist cuffs and a variety of color options, you'll be ready to hit the trails in no time. This fleece jacket is just what you need to get out there and explore some cooler-weather hikes.
Patagonia Better Sweater Hoodie
Specs
Weight

:

14 oz.

Hood

:

Yes

Fleece Weight

:

Light

Zipper Length

:

Full
Features
Thinner, Yet Warm Fabric Is Ideal For Layering
Fabric Also Has Stretch To Aid With Layering
Inner Headphone Slot Lets You Tune In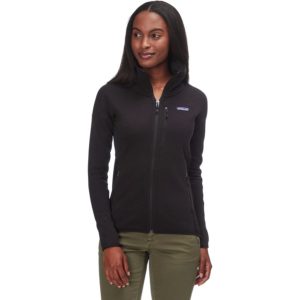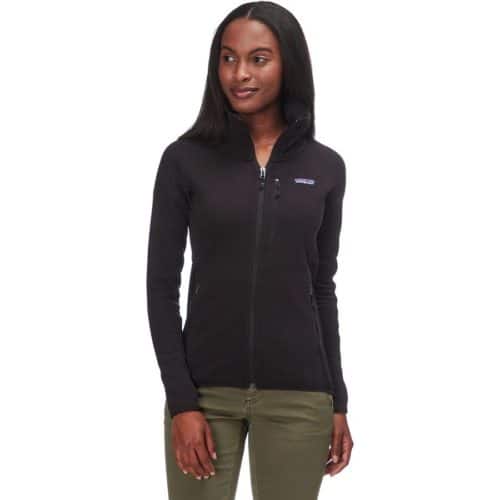 BEST MID-LAYER FLEECE JACKET
The Patagonia Performance Better Sweater is the only lightweight jacket on this list, which is why it's our pick for best mid-layer fleece. Its thin yet warm fabric fits nicely under a winter coat, but it can be worn by itself as well. It is complete with a hood, stretch fabric, and thumb holes to keep the sleeves in place. 
Perhaps its most unique feature is the headphone slot, found on the inside of the chest pocket. This feature allows you to snake your headphone wires through the hole and up through the inside of your jacket – perfect for listening to tunes or podcasts on the slopes or on the trails (or in the grocery store, or on your street, or really wherever you decide to wear this comfy fleece jacket).
Kari Traa Rothe
Specs
Weight

:

Unavailable

Hood

:

No

Fleece Weight

:

Medium

Zipper Length

:

Full
Features
High Collar Keeps Your Neck Warm
Striped And Ribbed Cuffs Add Style Points
Relaxed Fit Is Super Comfortable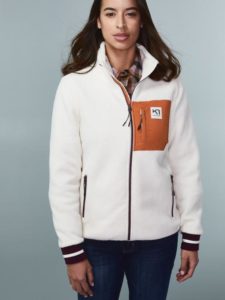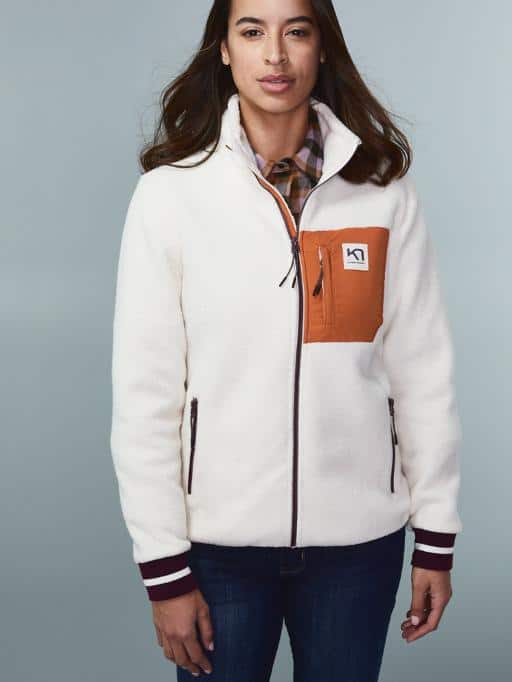 BEST STYLE FLEECE
Cozy and Cute! What more could we ask for? If you're trying to keep it trendy on your cool weather adventures, you'll want to check this one out. Many fleece jackets are a bit clunky and sometimes boring when it comes to fashion. Not this one! Kari Traa Rothe Mid-Layer Fleece has a relaxed, yet flattering fit and cute wrist cuffs that will lock in warmth. Its three pockets and many color options add the touches on this cute and comfy fleece jacket.
THINGS TO CONSIDER WHEN BUYING A WOMEN'S FLEECE JACKET
COST
Like many types of outdoor gear, fleece jackets come in a wide variety of prices. It is important to note that while a higher price does often mean a higher quality fleece, a lower price does not necessarily mean a lower quality fleece. After browsing this list, you should be able to find a fleece that fits all of your needs, including those of your budget.
HOOD AND COLLAR SHAPE
Are you a hoodie kind of gal or do you prefer a crew neck? You'll find a lot of hood variety and collar shapes on this list. Consider your preference for this category and also what you'll be using your fleece for most. If it will act as its own jacket, perhaps a hood is best. If you plan to use it as a mid layer, a hood may only get in the way.
WEIGHT
Greater jacket weight usually indicates a warmer jacket. You can also look for the fleece weight, which is most often listed as light, medium, or heavy. The difference between jacket weight and fleece weight is explained below. For more information about choosing layers for hikes (or any active outdoor activity) check out this helpful article from REI Experts.
ZIPPER LENGTH
Quarter, half, and full zip are the most popular zipper lengths for fleece jackets. Which is your preference? Consider whether you want to pull the fleece over your head with a quarter or half zip or if you're prefer to pull the jacket on by unzipping it fully.
POCKETS
Pockets are one of the most important features on any jacket. Consider what you'll want to stash in them, how many you want, and what size you like. At the very least, front pockets are great for hiking in cold weather because you can stash not your stuff, but your hands! Pockets also have several mechanisms for closing – zips, snaps, or folds. Consider what you'll use them for and which style is best for your jacket.
FEATURES EXPLAINED
FLEECE WEIGHT VERSUS JACKET WEIGHT
Fleece weight refers to the density of the fleece itself and is normally measured in terms of "light," "medium," or "heavy." Jacket weight refers to the overall weight of the jacket and may include the weight of other materials like zippers and snaps. Jacket weight is typically measured in pounds and ounces.
CHIN GUARD
Some fleece jackets have chin guards, which are made up of a soft layer of fabric and designed to protect the neck, chin, and lower face area from uncomfortable rubbing.
WOVEN LAYER
Some fleece jackets are simply made of 100% fleece, while others have an outer or "woven" layer that provides added warmth and fabric durability.
QUICK-DRYING FABRIC
Fabric that is designed to wick moisture away rather than lock it in and stay wet.
RECYCLED MATERIAL
Many products from REI use recycled materials to produce new clothing products. Recycled material clothes are clothes you can feel good about buying! For more information on Recycled Materials used in outdoor gear, check out what REI Experts have to say on the matter here.