Updated on November 26, 2021
How do you manage to keep your hands warm on the mountain? It seems like every skier has their own formula. Some prefer mittens, while others love the functionality of gloves. They make gripping poles, texting friends, and recovering from a fall much easier. If it's your first season on the slopes, don't make the mistake of trying to buy the cheapest gloves possible. After a cold morning on the mountain, you'll regret your decision.
If you've been on the slopes for a few seasons, you may want to consider upgrading your gloves. The best ski gloves age well. They will become more comfortable the more you use them, eventually molding perfectly to your hands. If you haven't experienced leather or waterproof gloves, you don't know what you're missing out on. Each company touts different features of their gloves, but we want to make your life simpler. This article will help you choose the right pair of gloves for you, no matter where you are planning to ski this season.
For more of our top ski gear recommendations, check out these popular articles:
Ski Glove Liners | Cross Country Ski Gloves | Ski Gloves for Women | Ski Gloves for Kids
Quick Answer

-

The Best Ski Gloves
Gordini GTX Storm Trooper II

Outdoor Research Lucent Heated
Comparison Table

-

Best Ski Gloves

For the best experience turn your device horizontally
Reviews

-

The Best Gloves for Skiing
Hestra Heli
Specs
Colors

:

Grey, Black

Fabric

:

Triton polyamide

Gender

:

Unisex

Insulation

:

Polyester fibers

Waterproof?

:

Water resistant

Type of Waterproofing

:

N/A

Removable Liner

:

Yes
Features
Backs of hands are made of windproof, waterproof, breathable fabric
Removable liners with polyester insulation
Cuff cinches, elastic and straps with hook-and-loop closures keep heat in and snow out
Carabiners at cuffs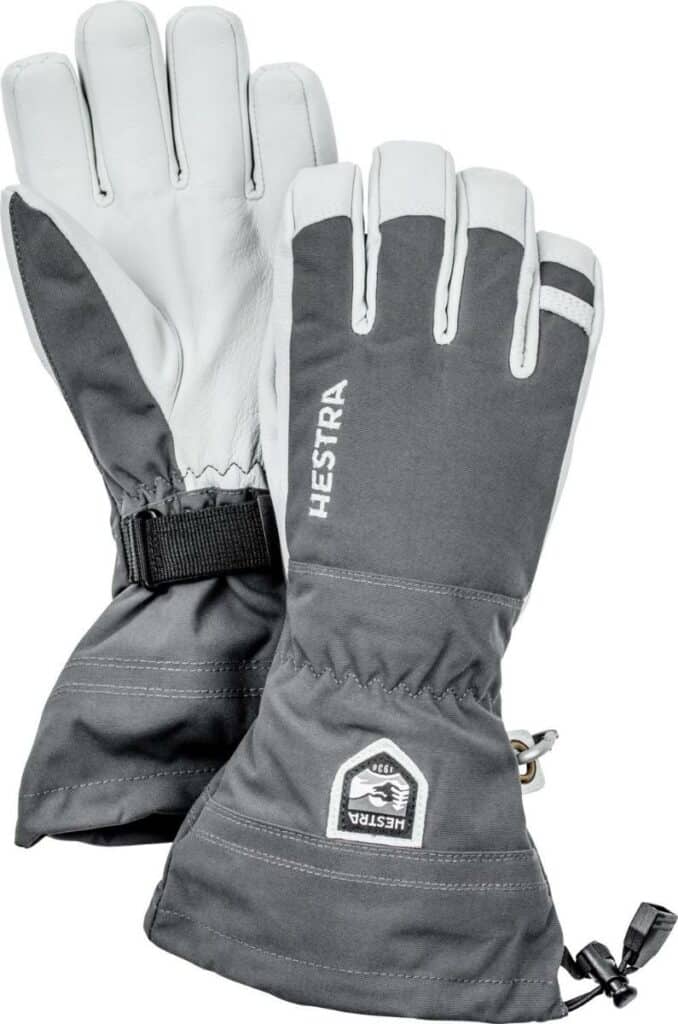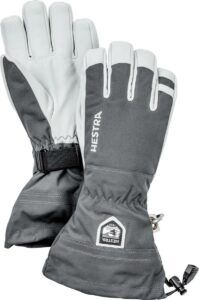 TOP OVERALL SKI GLOVE
When you don't want to settle for less than the best, trust in the hybrid leather and synthetic Helis.
The respected Swedish manufacturer designed the Helis to be stylish and functional. They feature quality gauntlet-style cuffs and a combination polyamide/goat leather shell, combining best of both worlds of synthetic and leather materials. The leather assists the glove in flexing easily as well as lending it a good amount of durability. Synthetic Fiberfill insulation integrated in all the right places ensures your hands stay warm even on the coldest of winter days.
What I like most about the Hestra Helis is how durably they're constructed, making for a glove that will last you many seasons.
Gordini GTX Storm Trooper II
Specs
Color

:

Black, Black & Tan

Fabric

:

Nylon / spandex / goatskin leather / GORE-TEX

Gender

:

Men's

Insulation

:

Megaloft

Waterproof?

:

Yes

Type of Waterproofing

:

GORE-TEX insert

Removable Liner

:

No
Features
Gore-Tex lining delivers waterproof, breathable protection
Synthetic insulation offers reliable wet winter warmth
Goatskin leather palm grips well on ski poles or bindings
Hand-compatible pockets give you options on colder days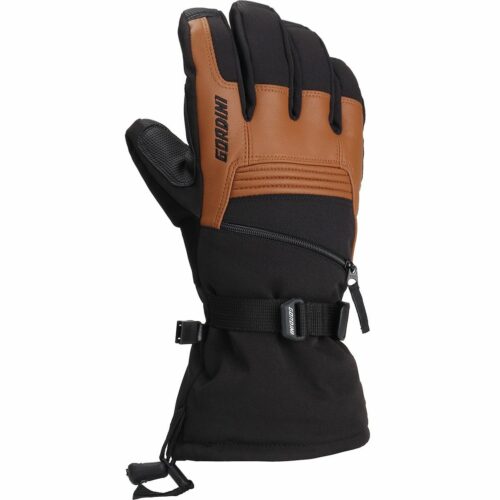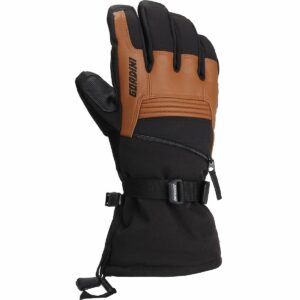 BEST BUDGET PICK
If you're a recreational skier looking for a durable, well-constructed ski glove on a tight budget, these $70 Gordinis are worth some serious consideration.
Gordini designed the GTX Storm Troopers IIs from a combination of leather and synthetic materials, resulting in an affordable glove that doesn't match the quality of premium models but does a solid job at what's important — keeping your hands warm and dy. The MegaLoft synthetic insulation is of quality build and provides for ample warmth, even when wet. The breathable, stretch-woven shell sports a GORE-TEX insert. There's a zippered hand warmer pocket, as well.
What I like most about the Storm Trooper II glove is how generously they loft despite the affordable price.
Black Diamond Mercury
Specs
Color

:

Black

Fabric

:

Polyester

Gender

:

Unisex

Insulation

:

PrimaLoft Gold with Cross Core

Waterproof?

:

Yes

Type of Waterproofing

:

BD.dry waterproof insert

Removable Liner

:

Yes
Features
4-way stretch fabric shells and long gauntlet cuffs
Shell fabrics are 100% recycled
Soft, recycled fleece linings in the liner mitts maximize warmth and dexterity
Goat leather palms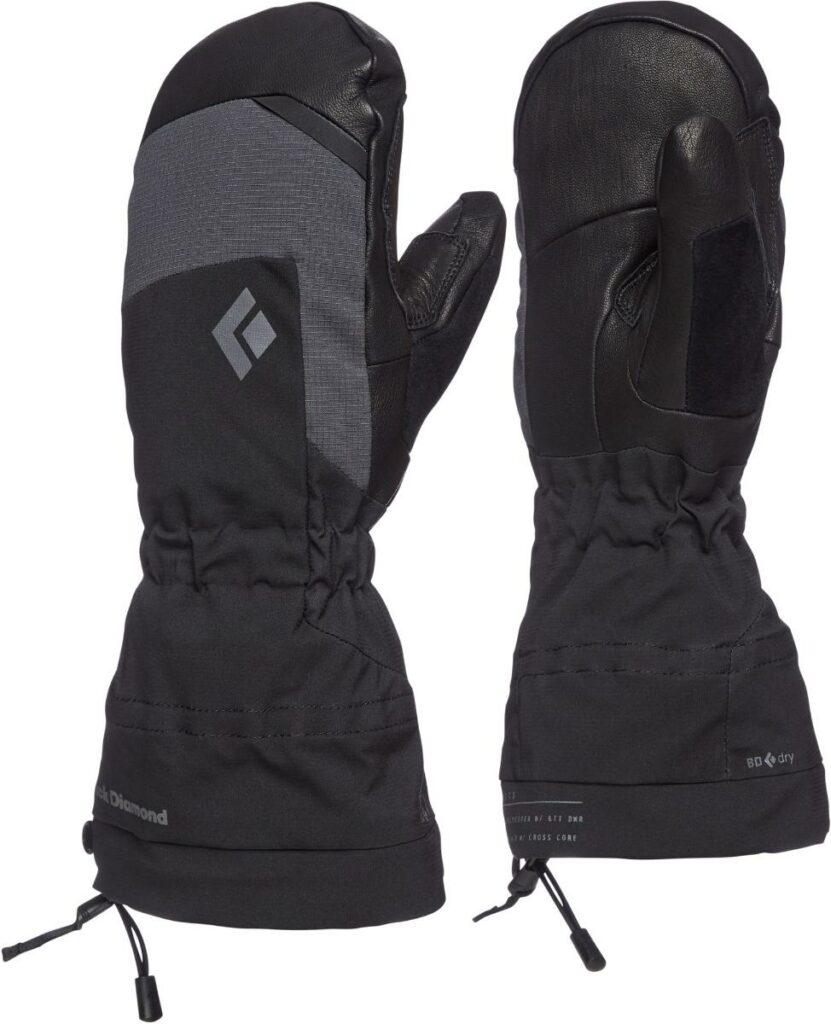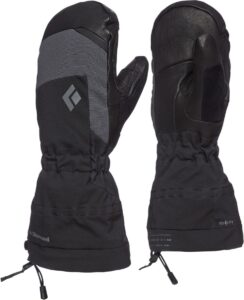 BEST SKI MITTENS
On the coldest adventures when the elements are so extreme that gloves just won't do the trick, the Black Diamond Mercury Mitts are sure to suffice.
The warmth of these mittens come from the intentionally built liner with 340 grams of PrimaLoft insulation, fleece coating, and coverage with Black Diamond's proprietary BDry waterproof fabric. These gloves come with an insulated liner and a hanging loop, which would make them a conducive choice for use on cold, alpine climbs.
What I like most about the Black Diamond Mercury Mitts is that they come with an internal index finger slot that provides for an added degree of dexterity when needed.
Hestra Power Heater
Specs
Color

:

Black

Fabric

:

Hestra Flextron polyamide

Gender

:

Unisex

Insulation

:

Fiberfill/polyester

Waterproof?

:

Yes

Waterproof Type

:

Hestra Flextron polyamide

Removable Liner

:

No
Features
Integrated heating loops
Heating control
Battery pocket
Lithium rechargeable batteries
BEST HEATED CHOICE
For those skiers who greatly benefit from a boost of heat when riding that first chair up the mountain — but don't want to sacrifice weight and dexterity for the heavy systems of warmer, battery-heated gloves — consider the perfectly balanced Hestra Power Heater.
These gloves provide for adequate weather resistance, dexterity through the fingers, and ample durability. Although not as powerful as gloves with larger heating systems, the Hestra boasts a more streamlined profile, and the heating element is virtually unnoticeable when not in use and a control button lets you adjust them to your optimal temperature.
What I like most about the Hestra Power Heater gloves is the Fiberfill insulation integrated into the construction. It does a superior job at sealing in the warmth.
Arc'teryx Sabre
Specs
Color

:

Black

Fabric

:

Nylon

Gender

:

Unisex

Insulation

:

Synthetic

Waterproof?

:

Yes

Type of Waterproofing

:

Gore-Tex Inserts

Removable Liner

:

Yes
Features
Shorter Cuffs Easily Fit Underneath Jacket To Prevent Snow From Getting Up Your Sleeves
Internal Draft Tube At Wrist Keeps Gloves Breathable And Prevents Overheating
Elastic, Adjustable Wrist Straps Offer A Precision Fit And Keep Gloves In Place
Leather Around Fingers Keeps Them Toasty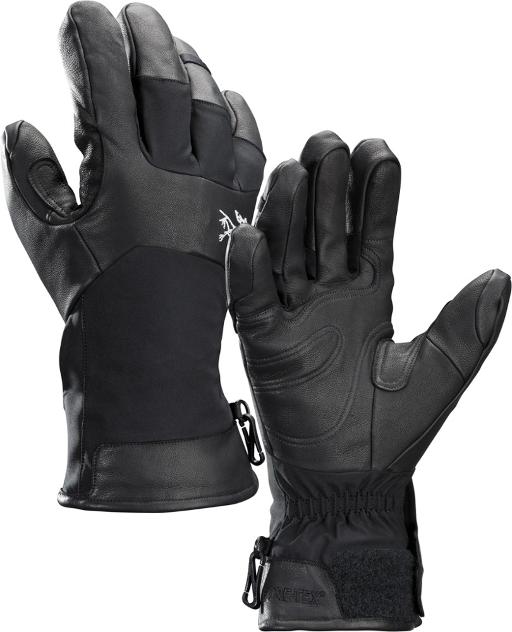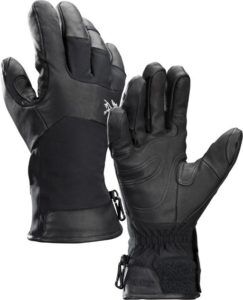 BEST SKI GLOVES FOR BREATHABILITY
Arc'Teryx has really built its reputation over the years. Their coats are some of the best on the market, and these gloves help defend that reputation. What makes this pair of ski gloves stand out is their superior breathability. The wrist strap allows you to really adjust how the gloves fit around your wrist. Even though most of the glove is made with nylon, the fingers are made from leather. This will keep your fingers warm in extremely low temperatures.
Hestra Gloves Fall Line
Specs
Color

:

Black, Brown, Flame Red, Plum, White, Forest Green, Royal Blue, Grey, Cork

Fabric

:

Cowhide Leather

Gender

:

Unisex

Insulation

:

Polyester Fleece

Waterproof?

:

No

Type of Waterproofing

:

N/A

Removable Liner

:

No
Features
Cuffs Enter Underneath Jacket To Keep Snow Out Of Your Sleeves
Natural Leather Is Extremely Durable And Long Lasting
Foam Insulation Keeps Hands Flexible And Warm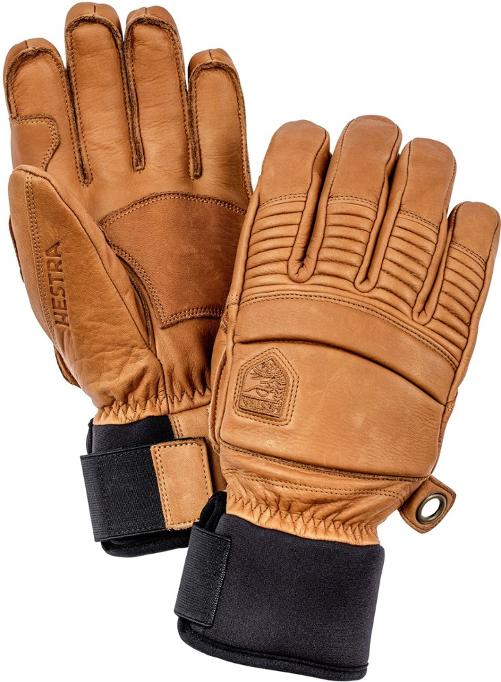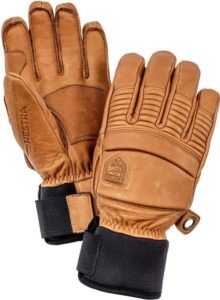 BEST LEATHER GLOVES
With each and every ski season, Hestra gloves seem to get more and more popular. Spurring their growth is an all-leather construction, which molds to your hands over time. These gloves are very comfortable and also super warm. What they lack is waterproofing abilities. However, don't let that dissuade you from buying a pair of these gloves. You'd have to soak the entire glove in water in order to feel the exterior moisture on your bare hand inside the glove. Due to their leather construction, they also last longer than polyester or nylon gloves. Scoop up this pair of high quality leather gloves if you're planning on skiing in nice weather and want superior warmth on the slopes!
Black Diamond Guide
Specs
Color

:

Black, Natural

Fabric

:

Nylon / Leather

Gender

:

Unisex

Insulation

:

Wool

Waterproof?

:

Yes

Type of Waterproofing

:

Gore-Tex

Removable Liner

:

Yes
Features
Goat Leather Palms Provide Superior Gripping Ability
Removable Liners Come With Breathable Gore-Tex That Keeps Hands Dry
Long Cuffs With Cord Adjustment Keeps The Elements (Snow/Rain) Out Of Gloves And Away From Your Hands
Fleece Lined Palm Inside The Glove Provides Superior Insulation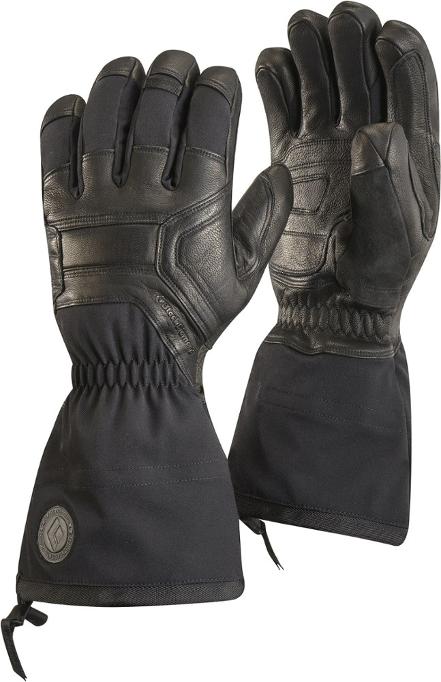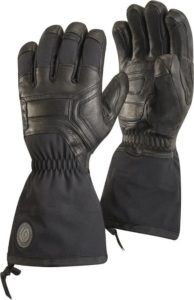 BEST GLOVES FOR BACKCOUNTRY SKIERS
Black Diamond's reputation has been built with an expert market, and these gloves fit right into that category. These gloves are expensive but perform extremely well. They are made with goat leather which allows for superior grip. Your ski poles will never slide out of your glove. These gloves will serve you on every part of the mountain. If you are a backcountry skier or mountaineer, these gloves will never let you down!
Swany X Cell II
Specs
Color

:

Black

Fabric

:

Goatskin Leather

Gender

:

Unisex

Insulation

:

Tri-Plex Synthetic Fibers

Waterproof?

:

Yes

Type of Waterproofing

:

Proprietary Dryfinger II Waterproof Breathable Membrane

Removable Liner

:

No
Features
Heat Pockets For Storing Hand Warmers So Your Fingers Never Get Cold
SpeedDraw System Cinches Cuffs To Keep Snow Out
Locking Zippers Keep Hands Warm All Day
Patented Dryfinder Waterproof Membranes Remove Moisture From Inside Gloves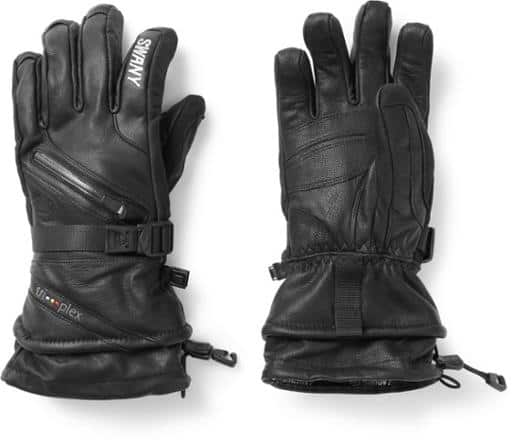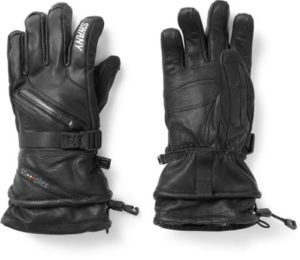 BEST HANDWARMER COMPATIBLE GLOVES
Hand warmers can be your best friend on the mountain, or they can be an unnecessary nuisance. Swany has made using hand warmers simpler and more comfortable by creating a special pocket for sliding hand warmers into. These gloves also feature locking zippers. You won't have a problem keeping snow out of these gloves. They may not be as waterproof as gloves with Gore-Tex, but they are extremely comfortable and they're sure to keep your hands toasty all day long!
Outdoor Research Lucent Heated
Specs
Color

:

Black

Fabric

:

Nylon

Gender

:

Unisex

Insulation

:

EnduraLoft Synthetic Fibers

Waterproof?

:

Yes

Type of Waterproofing

:

Gore-Tex Insert

Removable Liner

:

No
Features
Electronic Heating Inserts Keeps Hands Warm All Day Long
Lightweight Synthetic Insulation Holds Heat Independent Of Heating Inserts
Precurved Construction With Quick-Drying Palm Fabric
Glove Clips Paired With Leashes Keep All Elements (Snow/Rain/etc) Out Of Gloves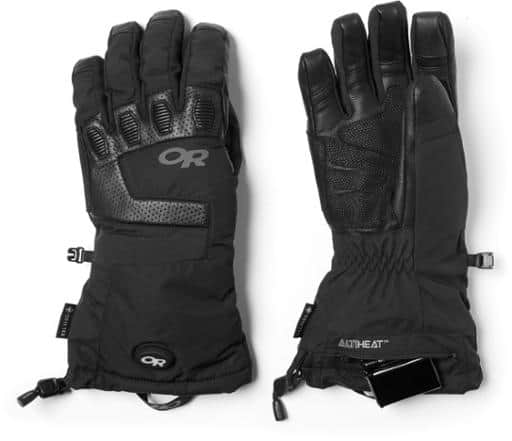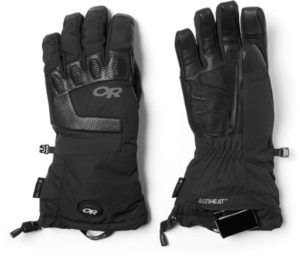 BEST SKI GLOVES FOR WARMTH
These gloves are the only ones on the list to feature a battery-powered heating insert. If you have notoriously cold hands and you've tried just about every glove out there with no success, it's time to invest in this pair of gloves. They are heavier and bulkier than others, but for good reason. The gloves have leashes and clips, which will alleviate any concern that you may lose an expensive glove. These gloves may not be the most comfortable, but they certainly are the warmest.
Marmot Randonnee
View Women's Version
Specs
Color

:

Black

Fabric

:

Nylon

Gender

:

Men's / Women's

Insulation

:

Synthetic

Waterproof?

:

Yes

Type of Waterproofing

:

Gore-Tex Inserts

Removable Liner

:

Yes
Features
Falcon-Grip Articulation Makes Gloves Durable And Easy To Use
Patented DriClime Lining Keeps Hands Moisture Free
Breathable Gore-Tex Glove Inserts For Ultimate Waterproofing Protection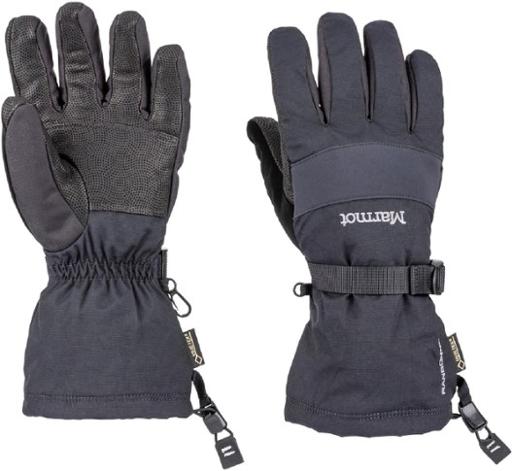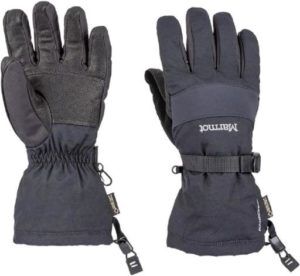 BEST SKI GLOVE FOR SWEATY HANDS
The Marmot Randonee is a very affordable glove. It has removable Gore-Tex inserts which help keep your hands dry. On top of that, their patented DriClime lining on the inside of the glove has moisture-wicking abilities. Sweaty hands aren't a good thing, especially on cold days. These gloves combat your natural perspiration better than any other gloves on the list. That being said, they do not provide as much warmth as other gloves on the list, so if you tend to run cold, look for another pair. But if you know you get sweaty palms before every descent, then these gloves are ideal for you!
THINGS TO CONSIDER WHEN BUYING GLOVES FOR SKIING
EXTERIOR FABRIC
What's better — polyester or leather? The truth is, it comes down to personal preference. Leather gloves are more comfortable, but they lock in moisture and become much heavier when wet. Polyester gloves are lighter and more waterproof, but often get much colder than leather gloves. If you want a balance between both, consider waterproofing your leather gloves.
INSULATION
The insulation of your ski glove will directly correlate to how cold or warm your hand is while you're wearing the gloves. While the reviews vary from skier to skier, Primaloft Wool is the lightest and warmest insulation available. If you've had a pair of trusted gloves for years that are ready to be replaced and you know what type of insulation they had, we recommend you try to find a replacement pair with the same type of insulation.
SHORT CUFFS VS. LONG CUFFS
This debate will never be settled. Long cuffs are bulkier, but they can fit underneath (or over) your coat and will keep moisture out of your gloves and off your wrists. Short cuffs are much less of a nuisance, but you are prone to snow getting into your gloves if you opt for the short cuffs. In the end, whether you choose long or short cuffs will be a matter of personal preference.
REMOVABLE LINERS
Removable liners are great for spring days. If the temperature gets too warm, you'll be able to remove your big, bulky gloves and enjoy the slopes with something much lighter on your hands.
WATERPROOF
Waterproof ski gloves are a lifesaver in extreme snowstorms. Most of the gloves on this list boast being waterproof, but some fabrics are better than others. If you want your hands to truly stay moisture-free, get yourself a pair of Gore-Tex gloves. This is the best waterproof fabric.
FEATURES EXPLAINED
CORD ADJUSTMENT ON CUFFS
This will allow you to tighten or loosen the cuffs of your gloves, so you can put them on and take them off easily and ensure they'll stay in place to prevent snow or moisture from entering at your wrists.
GRIPPING ABILITIES
The palm of a glove is particularly important for skiers. The better the gripping ability, the less you have to worry about having your poles slide out from under you. Pay attention to the material of the glove and make sure the glove you choose has a grippy palm material so you don't accidentally let your ski poles slip through your gloved hands.
PRE-CURVED DESIGN
Gloves with this feature will feel broken in right from the get-go. They are much more comfortable when gripping something than other, non pre-curved gloves.
READ MORE
For more of our top skiing gear recommendations, check out these popular buyer's guides: