Updated on February 1, 2022
The season of surfing is approaching somewhere, and so is the swell; it's time to get those energy-filled tykes into the water for some adventure! And what better place to start than surfing? Proven to develop coordination, strength, balance, and confidence, surfing offers tangible progress and is a sport both kids and parents can enjoy for a lifetime. But with a wide variety of boards to choose from, it can be difficult to know exactly where to start. That's why we've tasked our expert team of Adventure Junkies shredders to do the hard work for you, and narrow down a list of the best surfboards for kids.
Finding a safe and reliable surfboard for your child isn't so dissimilar from finding a good surfboard for beginners. All of the boards below will be easy to carry and balance on, and will be soft enough not to hurt your little one in the water, so their first surfing experience is sure to be a blast!
For more of our top surfing gear recommendations, check out the Best Surfboards.
Quick Answer

-

The Best Surfboards for Kids
South Bay Board Co 6' Guppy

Catch Surf Thruster Stump
Comparison Table

-

Best Surfboard for Kids

For the best experience turn your device horizontally
Reviews

-

The Best Kids' Surfboard
Bo-Toys Body Board
Specs
Type

:

Bodyboard

Length

:

2'9"

Age

:

3-6

Fins Included?

:

No
Features
Lightweight and Easy to Transport
Variety of Colors and Sizes to Choose From
Bottom Rear Channels (grooves on the underside of the board that enhance grip and prevent side-slipping in waves)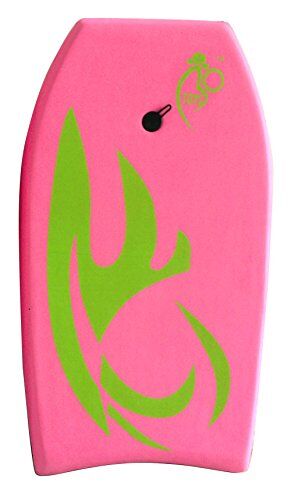 BEST FOR: TODDLERS AND INFANTS
Buying a surfboard straight away for your infant is not always the best idea. A bodyboard will allow you to stand alongside them in the whitewater and push them into the waves so they can get a flavor of what surfing might be like. The Bo-Toys Kids Bodyboard will allow you to do this in an affordable way, not to mention that it's also super lightweight and easy to sling under your arm on a trip to the beach. If they enjoy shredding little waves on this board, then you can consider moving them up to a hybrid board.
Giantex 6′
Specs
Type

:

Softboard

Length

:

6'

Age

:

9-14

Fins Included?

:

Yes
Features
Colorful Pattern And Design
3" Thick (for increased buoyancy and stability)
Can Carry Riders Up To 200 lbs (fun for the whole family!)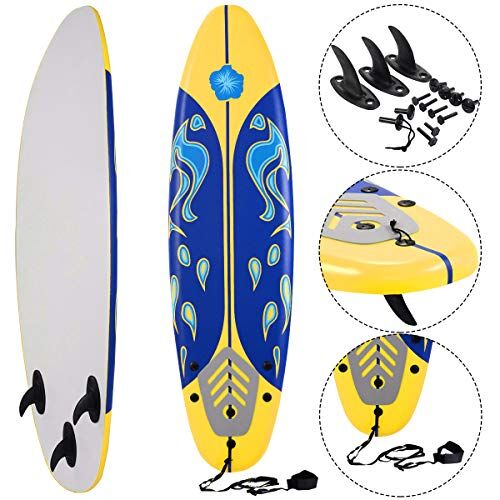 BEST FOR: FAMILIES WITH ADVENTUROUS KIDS
This board is perfect for families with multiple kids and a small budget. It's long, wide, and thick, meaning it's super floaty and easy to catch waves on. It's size and shape also means that it can accommodate a variety of different ages and abilities, so every member of the family can hop on and take it for a spin. Removable fins make the board easy for one or two people to carry under their arms.
South Bay Board Co 6' Guppy
Specs
Type

:

Softboard

Length

:

6'

Age

:

9-14

Fins Included?

:

Yes
Features
Beginner-friendly Shape (the rounded nose and slightly squared tail enhance stability and performance in the water)
Made From Long-lasting and Lightweight EPS Foam (so it's durable and buoyant)
South Bay Board Co Diamond-Weave Underside (for extra speed when charging waves!)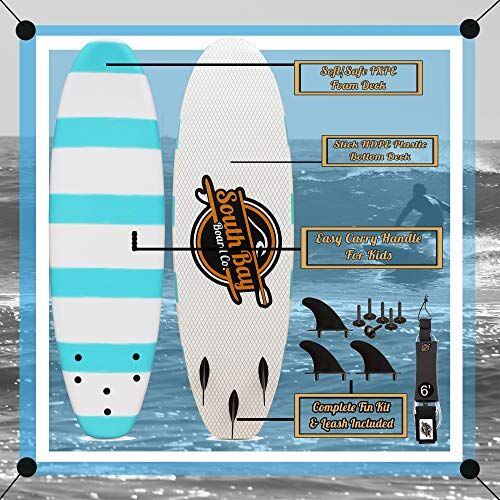 BEST FOR: BEGINNERS WITH ROOM FOR PROGRESSION
This board will be your kid's new best friend in the water. Made from strong, lightweight, and durable materials, it's guaranteed to be stable and fast in the water, and it won't break on you after a few uses. It's a great board for beginners and intermediate surfers alike; the rounded nose and Expanded Polystyrene (EPS) Core will keep the board stable and afloat, whilst the slightly squared tail will increase speed and maneuverability as you gain confidence in the water.
Rock-It 4'11" CHUB
Specs
Type

:

Softboard

Length

:

4'10"

Age

:

8-12

Fins Included?

:

Yes
Features
Manufactured in an Environmentally Sensitive Way
Zebra Patterned Bottom (apparently to deter sharks… but don't tell the kids this!)
Dual Wood Stringers (rods of wood that run down the middle of the inside of the board for increased rigidity)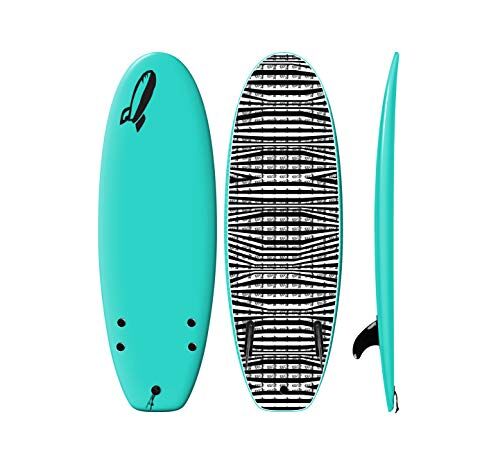 BEST FOR: YOUNG ASPIRING SURFERS
This is a fantastic board for younger kids who've had a few lessons and know they really want to give this surfing thing a go. The Rock-It board is a little more expensive than the other boards on our list, so if you just want a board that your kid can play with when you're on vacation, this probably isn't the best board for you. The board is thick and wide, giving it great stability and buoyancy. The extra width also means means it'll be really easy for your aspiring pro surfer to catch whitewater waves. What's more, there's plenty of colors to choose from and they're all bright – so you'll be able to watch your little shredder happily from the beach!
Catch Surf Odysea
Specs
Type

:

Soft Longboard

Length

:

7'/8'

Age

:

12-18

Fins Included?

:

Yes
Features
Eye-Catching Design
Large Volume (for increased float and stability)
Triple Wood Stringers (rods of wood that run down the middle of the inside of the board for increased rigidity)
BEST FOR: SMALL WAVES
This board is essentially a foam longboard. Traditionally, longboards are used on smaller waves and glide through the water effortlessly. Combining a softboard with a longboard therefore combines stability and buoyancy with a large surface area. This board will be fantastic fun in small waves and will give you a long ride, but keep in mind that these longer boards aren't made for big waves – the board could snap in half! The Odysea Catch Surf Log is the perfect board for your teenager who loves romping in the small waves close to home or on vacation at a beach with minimal surf.
Catch Surf Thruster Stump
Specs
Type

:

Softboard

Length

:

5'0

Age

:

13-18

Fins Included?

:

Yes
Features
Colorful Retro Design
3 x Maple Wood Stringers For Enhances Stability And Rigidity
Tons of Float For Easy Wave Catching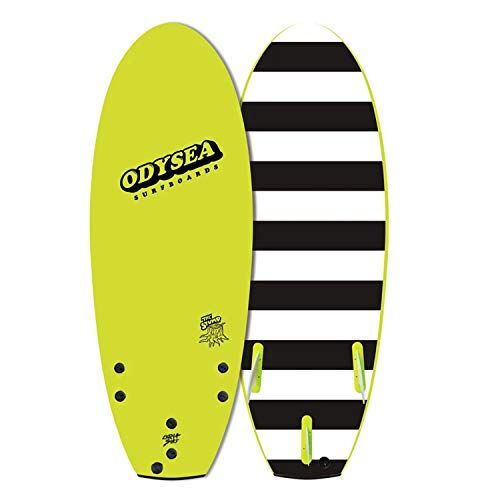 BEST FOR: REGULAR RIDERS
This isn't a cheap board, so this one is for the regular wave dwellers. If you go to surf spots on holiday regularly or live near a break and have a kid who lives to shred, this might be the board for them. Though it's still a soft board, the 3-fin setup for excellent maneuverability and speed in the water. The design and color of the board is retro and stylish, too.
Liquid Shredder
Specs
Type

:

Softboard

Length

:

7'0

Age

:

12-18

Fins Included?

:

Yes
Features
Streamlined Shape With Soft Board Composition (perfect for improving riders who need stability but want to go faster)
Dual Wooden Stringers (rods of wood that run down the middle of the inside of the board for increased rigidity)
Fins Included

BEST FOR: IMPROVING RIDERS
This board is great for total beginners and advancing novices who have a need for speed. The streamlined shape will allow for a really fast glide through the waves, while the softboard composition keeps you stable and afloat. What's more, the board has two wooden rod stringers down the middle inside; this makes the board more rigid and durable and essentially, less likely to snap!
KONA SURF CO 4-4
Specs
Type

:

Hybrid Softboard/Bodyboard

Length

:

4'4"

Age

:

6-11

Fins Included?

:

Yes
Features
Hybrid Board (can be ridden as a bodyboard or add fins to make it into a surfboard)
Wide Board (for increased stability)
Bold Colors (for fun and flair!)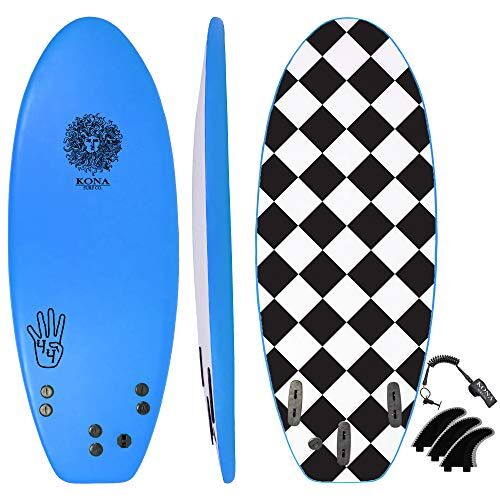 BEST FOR: BODYBOARDERS WHO ASPIRE TO BE SURFERS
This is the board for your younger children who race down to the waves with their bodyboard as soon as you arrive at the beach. It's a great budget-friendly transition board that will allow your little one to have a play at both bodyboarding and surfing. With easily removable fins and a stable amount of width, it serves as a great little hybrid board – fantastic also if you have smaller kids that want to bodyboard, and older kids that want to jump on after and try their hand at surfing!
THINGS TO CONSIDER BEFORE BUYING A SURFBOARD
Buying a surfboard for your child will be a similar process to buying a beginner's surfboard. That is, unless you have little tykes who started shredding before they could walk, in which case they'll probably tell you what they want (and if they don't – check out boards 9 and 10 in this article). If your little one's never popped-up in their life, there are a few things you should consider before coughing up the cash to pay for their first ever surfboard.
COST
Kids grow fast, there's no getting around that. And in the same way that you would buy a wetsuit a few sizes too big so it will last them while they grow, you could consider doing something similar with a surfboard. When it comes to beginner surfboards, bigger is generally better anyway. A bigger surface area means it's easier to balance and stay stable, and therefore easier to catch waves. As you progress, you usually move towards a shorter board, but hey – if your kid grows and the board stays the same, this will have the same effect!
In the same regard, you should probably aim not to spend unnecessary amounts of money on a board that will need changing up in a few years. If you're looking to help your kid have some fun in the waves while on vacation, go for a board that won't break the bank and won't matter if your kid finds that surfing isn't actually for them. Check out this Dad's guide to what you should spend on a board for you kid.
TYPE
There are a myriad of boards out there and knowing which one to go for can be confusing. Perhaps the most important thing to look for is whether the board is hard or soft (made of foam). Beginners and kids alike should go for a foam board (also known as a softboard) because they are more stable, buoyant and well, soft! These boards are generally no bigger than 7' and will allow your children to play in the waves without getting hurt.
Once your little surf star starts to progress and can consistently catch waves, they might want to make the move to a harder board. Hardtop boards are generally made of carbon or fiberglass and are less stable, but can go a lot faster and are far easier to turn. The most beginner-friendly hardboard to move to would be a Mini-mal.
SIZE
There's no easy formula to choosing which size of surfboard to get. It depends on the type of board you want to go for (i.e. soft board or hardboard), what kind of waves you'll be riding in, your height, your weight, and your ability level.
If your kid is a complete novice, you'll want a board that is at least 1-2 feet taller than them. Remember that a large surface area will give the rider more stability and flotation, but if you accidentally choose a board that's too big for your kid then they'll have difficulty getting it anywhere! Check out this sizing guide for a more thorough explanation of how to choose the proper size for your first surfboard.
FINS
The majority of surfboards will have fins attached to the bottom. Fins are located on the underside rear of the board to improve directional stability and to enable steering through foot movement.
There is much debate about what amount and configuration of fins is most effective, but to be perfectly honest, you needn't worry about the fin setup with a beginner board. In the whitewater it would be hard to tell the difference anyway.
Most beginner / kid-friendly boards will either have two fins alongside each other or three in a triangle formation. These configurations allow for hold and stability in the waves and the ability to turn the board left and right. It might be worth looking for a board with removable fins, as this means the board will be easier to carry and transport.
FEATURES EXPLAINED
EPS
Stands for Expanded Polystyrene. This is the most common material that the inside (core) of the board will be made from. It is known for its superior buoyancy and is lightweight, too.
WHITEWATER
The section of water where the waves are breaking. This is the perfect spot for soft boards as the power of the waves will easily push the board forward without too much paddling.
DECK
The top side of the board.
TAIL
The rear end of the board.
NOSE
The front end of the board.
READ MORE
For more of our top surfing gear recommendations, check out these popular buyer's guides: