Updated on January 21, 2022
Mountain biking can be an excellent form of exercise as well as an adrenaline inducing past time. There's no greater thrill than grinding those gears to reach the top of that seemingly endless climb only to come careening down the mountain with the wind whistling through the vents in your helmet. Once at the bottom, you do it all over again. Whether you're a cross-country, enduro, all-mountain, or downhill rider, having the right setup under your feet is paramount to maximizing your ride. Since many bikes come without pedals, you must then decide what type of riding you will be doing so that you can select the best combination of pedals, shoes, and cleats (where applicable). On the surface, it can seem like an impossible task to choose the best mountain bike pedals.
Don't give up! We here at The Adventure Junkies pride ourselves in helping you pick the best gear for your next human-powered adventure. In this guide, we'll speed up the process and help you find the best mountain bike pedals so you can disconnect and hit the trails in the blink of an eye.
For more of our top mountain biking gear recommendations, check out these popular articles:
Mountain Bike Flat Pedals | Mountain Bike Clipless Pedals
Quick Answer

-

The Best Mountain Bike Pedals
Shimano Deore XT PD-M8020

OneUp Components Composite Flat
Comparison Table

-

Best Mountain Bike Pedals

For the best experience turn your device horizontally
Reviews

-

The Best Pedals for Mountain Biking
HT Components T1
Specs
Material

:

Aluminum

Weight

:

368g

Style

:

Clipless
Features
Cleat Retention System Is Adjustable
Large Pedal Offers Solid Platform For Your Shoe
Four Removable (And Replaceable) Pins For Extra Grip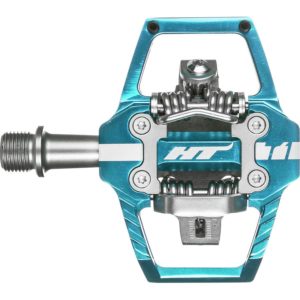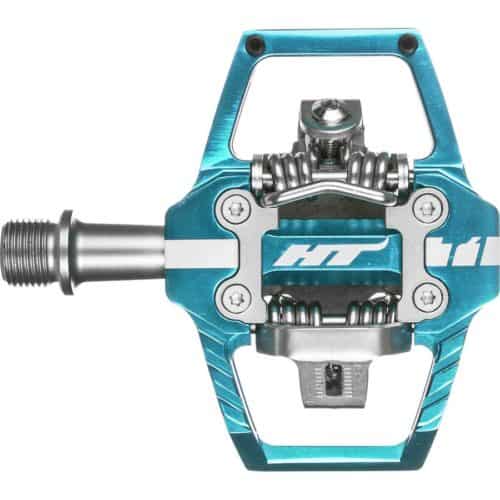 BEST FOR: ALL MOUNTAIN RIDING
Founded in 1954, this Taiwanese manufacturer has created its own line of bike pedals that provide a unique alternative to existing platforms. These pedals feature the HT exclusive cleat system. 
This all-mountain pedal is stacked with features for the serious rider. The T1 comes with four float cleats should you need a replacement or to place on two separate shoes. The pedals also include four removable (and replaceable) pins for superior grip. The exclusive cleat retention system is adjustable and the platform provides a solid and stable deck. The pedal  also features a low profile design to provide ample clearance when encountering obstacles on the trail.
Race Face Chester
Specs
Material

:

Nylon composite

Weight

:

360g

Style

:

Platform
Features
Slim, lightweight platform with a concave shape
Replaceable threaded steel traction pins (8 per side)
Durable sealed chromoly steel axle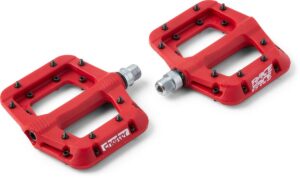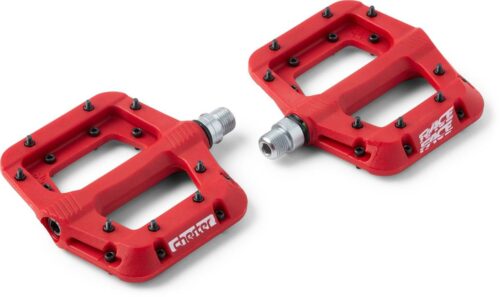 BEST FLAT PEDAL
If you're looking for a high performance flat style pedal with an impressive weight to durability ratio, look to the Race Face Chesters. These composite pedals are seriously lightweight and ultra durable — a rare combination. They weigh in at just 360 grams. The Race Face Chester pedals feature 8 replaceable hex pins per side, cartridge bearings, and DU bushings. One other bonus is that these are covered by a manufacturer 2-year warranty.
What I like most about the Chester is the variety of attractive colors it's available in.
Shimano PD-ME700
Specs
Material

:

Aluminum & chromoly steel

Weight

:

540g

Style

:

Clipless
Features
Integrated cages increase control when not clipped in and protect binding mechanisms from impacts
Robust retention claws
Rider-adjustable entry and release tensio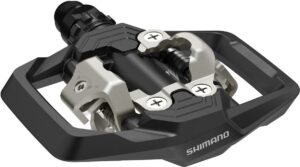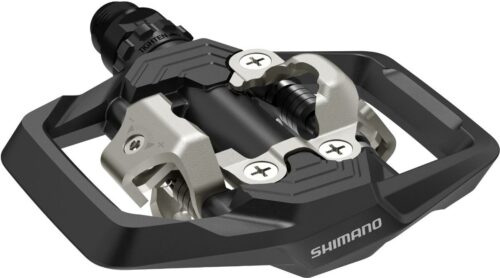 BEST BUDGET CLIPLESS PEDAL
An entry level pedal that performs like higher end alternatives, the ME700 is especially suited to trail riding.
Its dual sided platform provides for plenty of contact between pedal and shoe which increases stability and power transfer. The pedal is constructed with a chrome-molly spindle, making for a low maintenance product. The tension settings are adjustable and the retention claws designed for straightforward engagement and release.
What I like most about the ME700 pedal is how easy it is to clip in and out of.
Imrider Lite
Specs
Material

:

Nylon composite

Weight

:

408g

Style

:

Platform
Features
Replaceable traction pins
DU material washers to improve durability
Weather sealed bearings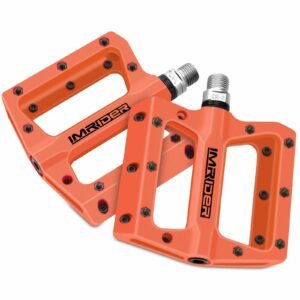 BEST BUDGET FLAT PEDAL
If you're looking for a quality performing pair of mountain bike pedals for under $25, look no further
The Imrider Lite is super grippy in all conditions thanks in part to the anti-skid surface, weather-resistant spindle, and sealed bearings. The pedal's platform is designed in a concave shape that contributes to this pedal's surprising amount of traction for the price.
What I like most about this pedal — other than the affordable cost — is the large platform it provides for your foot.
Funn Mambas
Specs
Material

:

Aluminum alloy

Weight

:

499g

Style

:

Interchangeable
Features
SPD compatible
Patented Grease Renew System lets you top up grease without getting your hands dirty
9/16" CrMo axle with sealed cartridge bearing and DU bushing
BEST FOR VERSATILITY
If you have an equal need for both flat and clipless style pedals, give the interchangeable flat/clipless Fun Mamba pedals a try.
This pedal features both a flat side and a clipless side. The clipless side sports an axle with a sealed cartridge bearing and DU bushing while the flat side has a grippy studded platform. It's an extremely versatile option suited for casual riding as well as tackling technical terrain and wet conditions.
What I like most about the Fun Mambas — other than that they function as two styles of pedal — is that the platform on this one is longer than most comparable alternatives.
Time Speciale 8
Specs
Material

:

Aluminum

Weight

:

196g

Style

:

Clipless
Features
ATAC (Auto Tension Adjustment Concept) Provides Easy Clip-in And Unclipping
Four Adjustable Spikes For Grip Even When Unclipped
Adjustable Clamping System For Tuning Spring Tension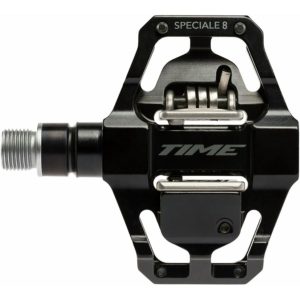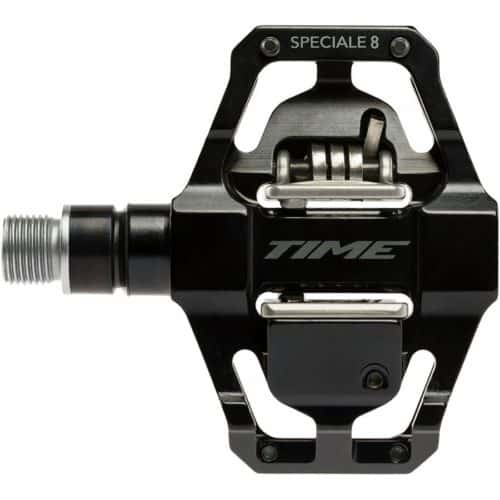 BEST FOR: ENDURO RIDING
For over 30 years, this French company has been creating high end pedals, shoes, and bikes. And while they currently only offer shoes and bikes for road riding, their mountain bike pedals and cleats cover a wide range of cycling types. 
The Speciale 8 are designed for enduro riding as they feature a stable platform with four adjustable spikes for gripping even when unclipped. The ATAC (Auto Tension Adjustment Concept) engagement system allows for easy clipping in and for flawless unclipping capabilities. A micro-adjustable clamping system allows you to dial-in the spring tension for a customized fit. The pedals are designed to be self cleaning so mud doesn't collect on the pedals.
Shimano Deore XT PD-M8020
Specs
Material

:

Stainless

Weight

:

408g

Style

:

Clipless
Features
Adjustable Entry And Release Tension Settings
Integrated Cage Increases Stability Even When Unclipped
Large Retention Claws Provide Seamless Clipping/Unclipping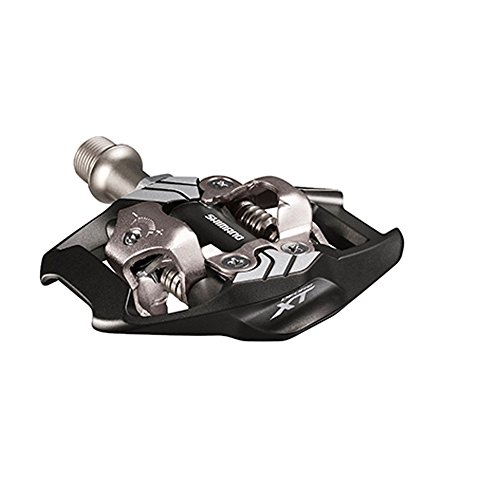 BEST FOR: ENDURO RACING
Shimano is a household name in cycling circles. For nearly a hundred years, the Japanese company has been making quality products and now the brand is well known for its cycling components. They even created the SPD pedal/cleat system. 
And while these pedals are designed for enduro racing, they are also ideal across a broad spectrum of mountain biking discipline. The beauty of SPD is that it is so widely used that it's easy to replace if something is damaged. The entry and release into the pedal is adjustable while an integrated cage improves stability even when unclipped. The large retention claws allow for smooth clipping and unclipping.
Shimano XTR PD-M9120
Specs
Material

:

Aluminum

Weight

:

398g

Style

:

Clipless
Features
Large Contact Area For Better Power Transfer
Integrated Cage For Better Stability
Cylindrical Contact Area Aids In Shedding Mud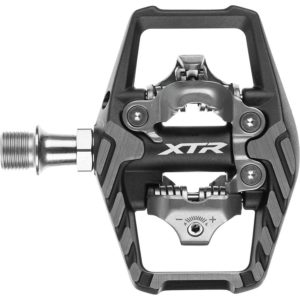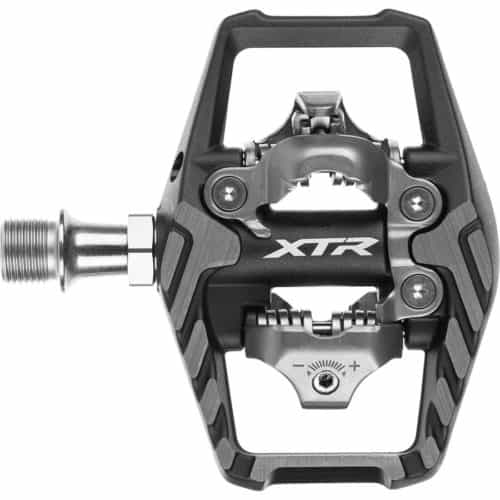 BEST FOR: CROSS-COUNTRY AND ALL-MOUNTAIN
The Shimano SPD pedal was first released almost 30 years ago. Since that time, the proverbial mouse trap design has been continually improved upon. The single biggest benefit of the SPD pedal is that it's readily available should the need arise. 
The XTR PD-M9120 is a continuation of that legacy. This all-mountain and cross-country pedal is ready to tackle the trails. The current iteration is lighter than its predecessors. It features a mud shedding cylindrical design to avoid the build up of mud on your feet and is designed to withstand frequent contact with trail obstacles. The wider platform will help ensure a better contact surface for stability.
Crankbrothers Stamp 3
Specs
Material

:

Aluminum

Weight

:

399g

Style

:

Platform
Features
Five Year Warranty
Optimal Surface Area And Minimal Profile
Ten Adjustable Pins For Maximum Grip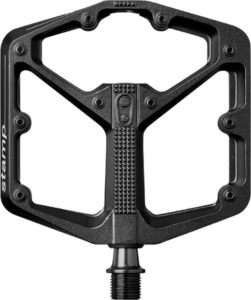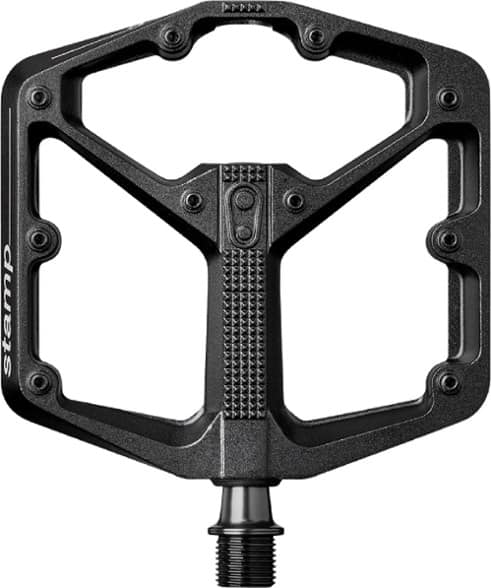 BEST FOR: DOWNHILL RIDING
Founded in 1997, Crank Brothers has become a familiar name around bike shops and cyclists. And while their take on clipless pedals have changed the look and appearance of pedals, we felt compelled to include a pair of the platform (flat) pedals in this guide as well. The main thing to keep in mind with the Stamp 3 is that they are size specific. If you wear a shoe size of 5-10, it's recommended to get the small and go with the large for any sizes above 10. These flats are relatively thin to create a minimal profile and the ten adjustable pins on each side provide maximum grip for downhill bliss.
OneUp Components Composite Flat
Specs
Material

:

Steel

Weight

:

355g

Style

:

Platform
Features
Wide Platform Design For Increased Stability
Contoured Shape For Connected Feel
Ten Removable Steel Pins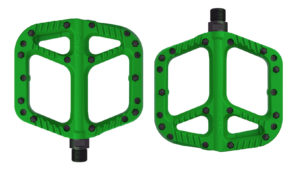 BEST FOR: ENDURO RIDING
Located in perhaps one of the best regions in the world to experience mountain biking, OneUp is based in Squamish, British Columbia. This small manufacturer is quickly making a big name for itself in the component market. 
These composite flat pedals are half the price of the brand's aluminum model. With a subtle convex shape, it is designed to fit into the natural arch of the rider's midfoot. The ten removable steel pins on either side provide exceptional grip while the low profile design assists in deflecting obstacles along the trail. They also come in a variety of colors to match your bike or your personal style.
THINGS TO CONSIDER BEFORE BUYING MOUNTAIN BIKE PEDALS
RIDING PREFERENCE
When choosing bike pedals, it's important to consider the type of riding you plan to do. While all of the above pedals can be used for mountain biking, some are preferred over others for a particular type of mountain biking. The three main types of mountain biking are cross-country (XC), all-mountain, and downhill. However, we're going to throw in a fourth type into the equation: Enduro.
Cross-Country (XC)
Cross-country mountain biking (or just XC) involves covering a lot of ground with limited technical terrain. This can be a combination of uphill climbing and downhill riding. This is the most common type of riding.
All-Mountain
All-mountain riding involves anything that you could run into during a full day of riding including steep ascents and descents.
Downhill
This type of riding is popular at ski resorts during the summer where they swap out some of the chairs on the lifts to accommodate bike holders. Once at the top, it's all downhill. This can include flow trails, berms, rocky, and technical terrain. Most trails are ranked like ski runs based on difficulty.
Enduro
Enduro mountain biking combines the physical demands of cross-country riding with the technical aspects of downhill racing. Enduro racing is typically done in stages.
TYPE
There are generally two types of pedals used by mountain bikers: Clipless and Platform. The term clipless can be a bit confusing to those new to the sport as the pedals do involve clipping into the pedal. The term "clipless" has been used for decades, but the actual name could be "clip-in". Clipless pedals require a cleat that attaches to a shoe. Platform pedals (or flat pedals) are probably the most common and perhaps you remember having something similar on your first bike. They can be ridden with regular shoes.
SHOE/PEDAL COMPATIBILITY
Choosing the right shoes for your pedal of choice will involve a little research. Platform pedals (flats) can be relatively straight forward. You can ride them with regular sneakers. However, they do make shoes that are specifically designed for riding flats. Clipless pedals are a little more complex. Cleats typically come with new pedals, but it's important to make sure you check compatibility before purchasing pedals and shoes.
COST
Since many new bikes come without pedals, you may be faced with the necessity to purchase pedals. Even if the bike you purchased did come with pedals, it might be worth the investment to find a new set as stock pedals are often not the best. The cost of pedals can range from relatively inexpensive for basic clipless or platform pedals to more expensive for technical pedals for racing.
FEATURES EXPLAINED
CLEATS
Used in conjunction with the clipless pedal system, cleats are attached to the bottom of cycling shoes and the cleat clips into the pedal. Different pedal brands often have different cleats for their pedals.
SPD
SPD is a proprietary system created by Shimano. It stands for Shimano Pedaling Dynamics.
CLIPLESS
While these pedals actual require you to clip-in, they allow for a better transfer of energy through the foot and prevent your shoes from slipping off the pedals when riding on uneven terrain.
FLATS
Flats is another term for platform pedals.
ATAC
ATAC is the engagement system used by TIME pedals. It stands for Auto Tension Adjustment Concept.
READ MORE
For more of our top mountain biking gear recommendations, check out these popular buyer's guides: