Updated on March 16, 2022
Big, clunky, and absolutely pivotal to any good ride, ski boots are the most essential component of any skier's gear. They affect your comfort, maneuverability, technique and, most importantly, happiness. So although the price of ski boots may be a bit intimidating, take a breath, do some research with us, and let us help you find the best ski boots for you off the list below. Our experts here at the Adventure Junkies rifled through the intersphere to bring you our favorite picks. With affordable, durable, and in-between options, this list offers something for everyone.
For more of our top ski gear recommendations, check out these popular articles:
Ski Boots for Beginners | Downhill Ski Boots | Cross Country Ski Boots
Quick Answer

-

The Best Ski Boots
Atomic Hawx Ultra XTD 130
Comparison Table

-

Best Ski Boots

For the best experience turn your device horizontally
Reviews

-

The Best Boots for Skiing
Tecnica Mach1 MV 120
Specs
Flex

:

Stiff, 120

Width

:

Medium

Buckles

:

4
Features
Dimples on the shells reduce surface tension and facilitate heating, making it easier to customize the shell
Celliant® in liners reflect body heat
4 micro-adjustable buckles and solid 120 flex
TOP OVERALL SKI BOOT
This boot's claim to fame is how consistent the flex is designed to be, independent of the temperature outside.
Tecnica's Mach1 MV 120 boots sport a roomier toe box than earlier iterations as well as a customizable liner that allows you to dial in the perfect fit. We chose this as our top overall ski boot in part because the mid-volume 100mm last is suited for the average foot and the shell is specifically designed to match the shape of a foot, making for a comfortable all-around ski boot that fits a wide range of experience levels.
What I like most about the Tecnica Mach1 MV 120s is just how well the technology allows you to customize the perfect fit.
Rossignol Alltrack 90
Specs
Flex

:

Medium, 90

Width

:

Medium

Buckles

:

4
Features
Dual Core technology provides targeted power transmission and shell wrapping
Releasable cuffs offer a 50° range of motion in walk mode for efficient hiking and maximum power transmission in ski mode
Full custom liners are thermomoldable for a precise fit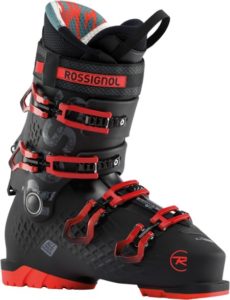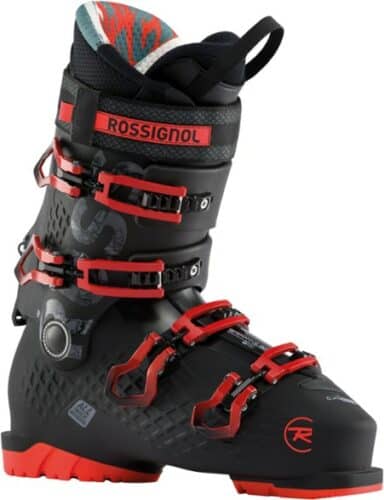 BEST FOR: SKIERS ON A BUDGET
If you're an intermediate level skier who mainly stays in bounds, this a solid pair of boots worth considering — especially for the affordable $350 price tag.
Boots from Rossignol's Alltrack line are a popular all-around choice for the average downhill skier whom might also do a little hiking. This hybrid boot is available in the standard 90 flex but includes a variety of different flexes for different levels of skiers. It features a 102mm last, a walk mode and is lightly insulated, as well, which gives the boot an added degree of comfort.
What I like most about the Alltrack 90s is that they're compatible with GripWalk soles, which allows for a more natural hiking position.
Lange RX 130 GW
Specs
Flex

:

Stiff, 130

Width

:

Medium

Buckles

:

4
Features
Liner incorporates three types of high density foam for full customization and maximum comfort.
Constructed with high energy PU for a consistent and dynamic flex.
45mm power strap adds rigidity and a more locked in feel from the cuff.
GripWalk Soles for better grip on uncertain and icy surfaces.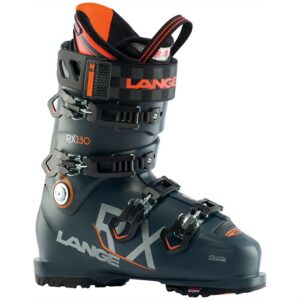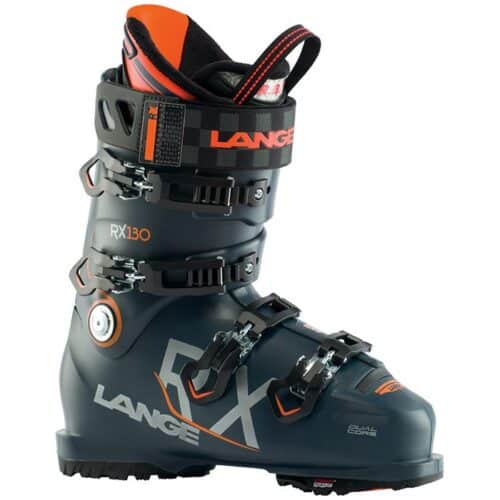 BEST FOR: INTERMEDIATE & ADVANCED SKIERS
If you're looking for a boot that charges as hard as you do, consider this all-mountain redesign of a traditional downhill racing style boot.
The Lange RX 130 is offered in 97 or 100mm lasts and best suited for advanced level skiers. Experienced skiers will be able to really appreciate the progressive flex and how comfortable the Dual 3D Full Liner feels. The boot comes standard with grip walk soles and is available in a low volume version, as well.
What I like most about this boot is how customizable the fit and shell are.
Atomic Hawx Ultra XTD 130
Specs
Flex

:

Stiff, 130

Width

:

Narrow

Buckles

:

4
Features
Prolite shell keeps the boot at a touring-friendly weight
Free/Lock 2.0 walk mode initiates a 54-degree range of motion
Skywalk rubber sole compatible with tech and GripWalk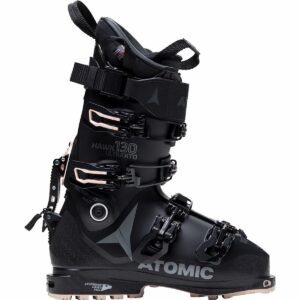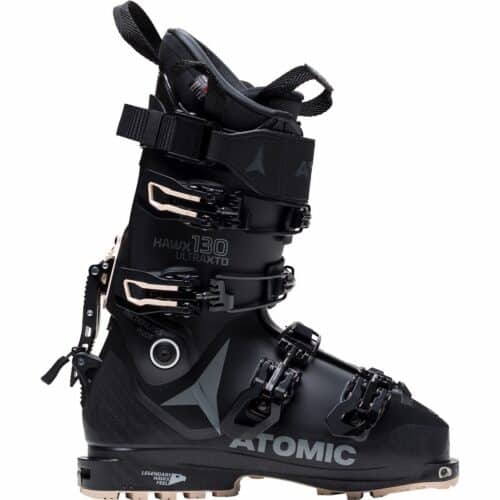 BEST FOR: COMBINATION OF RESORT & TOURING
When you're an experienced skier looking for a superior crossover resort and backcountry option, keep the Atomic Hawx in mind.
Specifically built for backcountry adventure, these high performance ski boots include a large walk/ride lever, inserts at the toe that are tech-binding compatible, and a relatively slim profile compared to other boots on this list. Atomic offers the flex in a variety of different sizes. 
What I like most about the Atomic Hawx Ultra XTDs is that they're also available in a Hawx Prime model with a little more volume for those with wider feet.
Scarpa F1
Specs
Flex

:

Medium, 95

Width

:

Medium

Buckles

:

2
Features
Embedded RECCO® reflector enhances radio signals from search-and-rescue RECCO detectors, helping speed up the search for a buried avalanche victim
Grilamid shells and cuffs deliver lightweight performance
Carbon Core technology provides outstanding torsional rigidity (resistance to twist)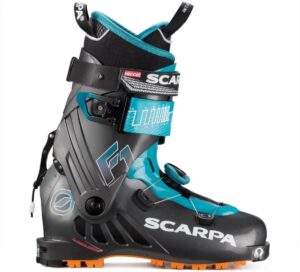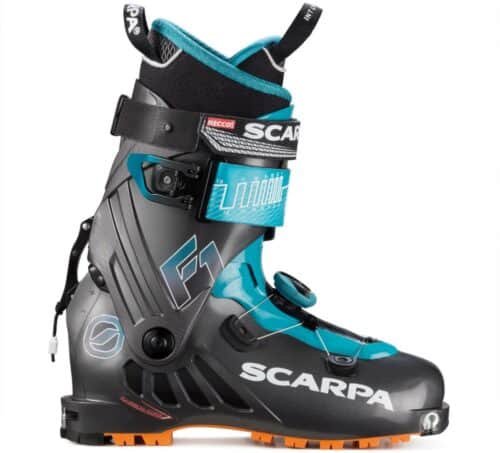 BEST FOR: ULTRALIGHT BACKCOUNTRY SKIERS
If you're looking for the lightest, high-performance backcountry boot out there, look to the F1 — it weighs in at just over 5 lbs for the pair.
Scarpa designed the F1 ski boots with top-of-the-line Boa shell closure, which provides for a quick and secure fit. The boot includes integrated RECCO reflectors, which provide a benefit in emergency situations such as avalanches. In walk mode, these provide for 62 degrees of cuff rotation. In fact, the F1's walk mode is one of its stand-out features, making this boot one mean climbing machine.
What I like most about the Scarpa F1s is the grippy Vibram sole.
Salomon QST Pro 100
Specs
Flex

:

Medium, 100

Width

:

Medium

Buckles

:

3
Features
Heat Moldable Liner For Extra Comfort
Soft Material For Lighter Skiing
Customizable Shell For Personal Preferences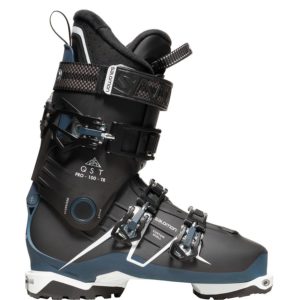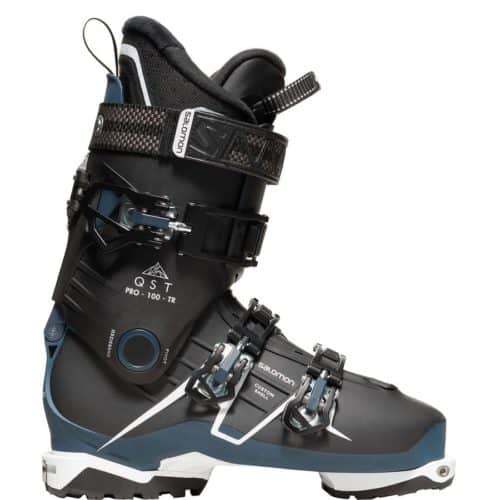 BEST FOR: RELAXED SKIERS
With a sleek, stylish, and impressive design, Salomon's QST Pro 100 ski boots are a great option for the average, relaxed rider. With a medium flex and medium width, the average foot should fit nicely into these boots. Plus with a customizable shell, you can personalize this boot to your skiing preferences. 
Unlike most boots, the QST Pro boots come with only three straps, instead of four.  This makes them a more comfortable option, but may mean they're not as durable as other models with the extra strap.
K2 Recon 120 MV
Specs
Flex

:

Medium, 120

Width

:

Medium

Buckles

:

4
Features
Foam Liners Are Fully Heat Moldable To Your Foot For Maximum Comfort
Strategically Placed Stiff Plastic To Increase Power Transfer To Mountain
Easy-Entry And Exit Design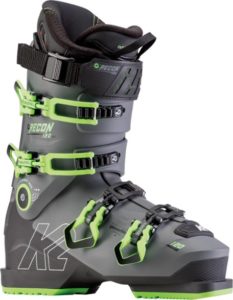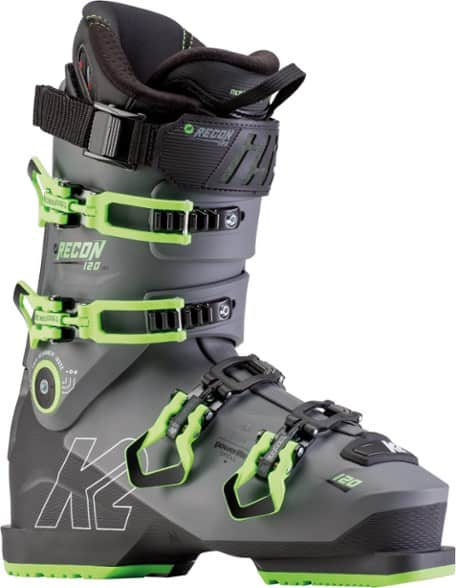 BEST FOR: INTERMEDIATE RIDERS
K2's Recon 120 MV Boots are only a fraction of the cost of other high-end boots, but come equipped with all the same features. From a powerlite shell built to reduce weight and increase performance to a soft inner design for comfort, K2's Recon boots will leave you feeling comfortable and powerful on the slopes. We recommend these budget-friendly boots to resort skiers looking for a reliable boot for their weekend trips to the mountain.
Nordica Speedmachine 110
Specs
Flex

:

Medium, 100

Width

:

Medium

Buckles

:

4
Features
Heat-Moldable Fit To Relieve Pressure For All Day Wear
Lightweight Design To Maximize Power And Comfort
Waterproof Weather Shield To Prevent A Leaky Boot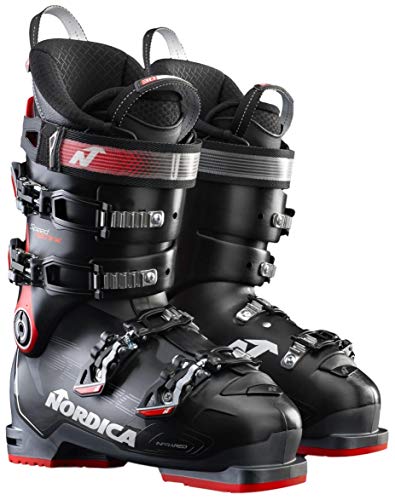 BEST FOR: BEGINNER SKIERS
The Nordica Speedmachine 100 ski boot will give you a comfortable, sturdy ride across any mountain. At a much more affordable price than other boots, the Speedmachine boots are made from a majority of recycled materials and include a built-in weather shield to prevent any unwanted leakage. 
Customizable, lightweight, and powerful like most other boots, the Nordica Speedmachine 100 boots are a great introduction to high-level boots for any beginner skier.
Rossignol Evo 70
Specs
Flex

:

Soft, 70

Width

:

Wide

Buckles

:

3
Features
Wide Shaped Design Makes This Boot A Good Choice For People With Wide Feet
Soft Plastic Around Instep For Easy Entry
Customizable Liner For Ultimate Comfort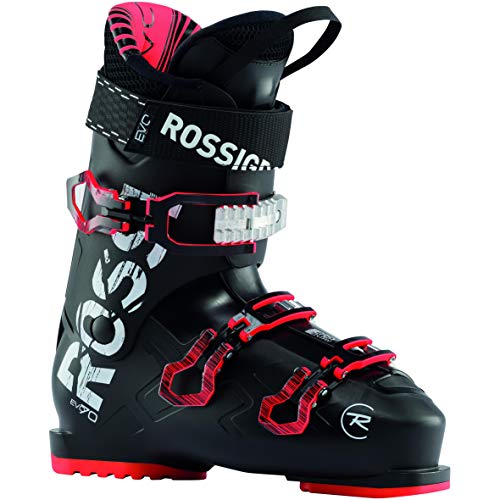 BEST FOR: COMFORT SEEKERS
With a softer flex than other boots on our list and wider dimensions to match that, Rossignol's Evo Ski Boots are one of the most comfortable pair of boots out there. Built for beginner skiers, this is a lightweight, easy-to-control boot that will mend and adjust to any movement you torque it in. 
If you do think you'll be pushing your limits or know you tend to improve quickly, we suggest you go with a stiffer, more durable boot on the list. But if price is your worry and comfort your priority, then consider these Evo ski boots as your next pair of boots on the mountain.
THINGS TO CONSIDER WHEN BUYING SKI BOOTS
Even your skis aren't as intricate in detail as a good pair of ski boots. Each pair varies widely and their features can drastically affect the boot itself. Make sure to do some research before buying your own pair of boots. We recommend checking out what REI has to say on How To Choose Ski Boots and reading along EVO's Ski Boot Buying Guide for more information. Otherwise, we've outlined a few key notes to consider when starting your search.
TYPE OF SKIING
First and foremost, what kind of skiing will you do? Do you intend to ski in-bounds at the resort, or are you thinking about hiking up to the summit every now and again for some side-country? Maybe you're even thinking about touring out into the backcountry for a week at a time. In any case, make sure you buy the right boot for you. Not all boots work best in all environments. Some are built specifically for touring. Others specialize in easy, ski-area terrain. Gauge your interests first, then look at buying boots.
PRICE
Boots can be expensive. Very expensive. Unless you're an elite skier, the $500 and above price range probably isn't for you. But if you're a true beginner, a $200 boot will do just the trick. Unlike other essentials, cheap boots will work fine at a ski area. Once you start progressing, aim for more expensive boots. Only consider the really expensive ones once you're thoroughly committed to skiing.
FLEX
Ski boots come with various different flex levels. In fact, Powderlife provides a good explanation of Everything You Need To Know About Flex for more information. But in short, the lower the number or flexibility, the more pliable the boot. The higher the number, the stiffer the boot. Soft boots create a more free-flowing experience and are meant for riders looking to seamlessly float from one feature to the other. Stiff boots, on the other hand, create a more aggressive posture that forces skiers onto their toes.
As a general rule of thumb, advanced skiers prefer stiffer boots because stiff boots give the skier more control but keep in mind they also require more effort to use. Beginners usually tend to like softer or medium-flex boots as soft boots provide more forgiveness while learning.
In any case, there are great skiers with low flex and bad skiers with high flex. But generally speaking, the stiffer the boot, the more power and control you'll have and the softer the boot, the more forgiving your experience.
WIDTH
Some boots are narrow. Some medium. Some wide. If your foot is too big, it simply won't fit into a narrow boot. But even if it does, you may not want an overly tight boot. A narrow boot is best for racers, speedsters, and more aggressive skiers, whereas a wider boot is best for stable skiers, such as those in the park or thick powder.
FEATURES EXPLAINED
FLEX
The flexibility of a boot. Soft is more forgiving. Tight is more aggressive. And medium is in between the two.
CUFF
The uppermost cuff at the top of the boot that wraps around your leg.
FORWARD LEAN
The angle that your boot forces your leg into. The higher degree of forward lean, the more aggressive your stance. Racing boots often have a high degree of forward lean to increase speed, whereas park boots have a lesser lean for a slower, more stable ride.
CANTING
An adjustment that allows your boots to sit flat on your skis. This process is meant for skiers whose feet do not naturally sit flat on the ground. Canting adjustments ensure that your feet feel natural in your boot, while the sole of the boot sits flat on the ground for maximum contact and an optimal performance.
READ MORE
For more of our top skiing gear recommendations, check out these popular buyer's guides: