Updated on July 7, 2022
Some hikers are devoted to trail runners or low-cut hiking shoes, but sometimes you just want the assurance of a boot that covers your ankles and provides extra support and protection. Especially if you're planning on carrying a good amount of weight on an overnight hiking trip, the solid foundation of a boot can be crucial for keeping your feet and joints happy from trailhead to camp and back again. Those in the market for the best hiking boots for women have come to the right place, as we've gathered a list of high-performing, rugged boots to compare to decide which is the best fit for your hiking lifestyle. Check out the full list and all their fantastic features below.
For a complete analysis of all hiking boots, check out the buyer's guide Best Hiking Boots.
Quick Answer

-

The Best Hiking Boots for Women
HOKA ONE ONE Sky Kaha GTX

Vasque Breeze III Mid GTX
Comparison Table

-

Best Hiking Boots for Women

For the best experience turn your device horizontally
Reviews

-

The Best Women's Hiking Boots
Salomon X Ultra 4 Mid
Specs
Weight

:

1.7 lbs

Upper

:

Leather / Synthetic

Waterproof?

:

Yes

Outsole

:

Contagrip

Midsole

:

EVA
Features
Backed up by waterproof, breathable GORE-TEX® protection
Women-specific design—made with softer materials, especially around the collars and heels
SensiFit™ cradles the feet from the midsole to the lacing system
Durable outsoles can handle a wide variety of surfaces, balancing the geometry and rubber compound to deliver confidence on wet, dry, hard or loose surfaces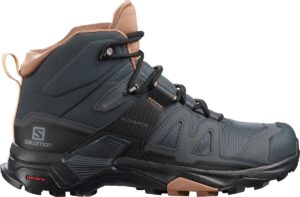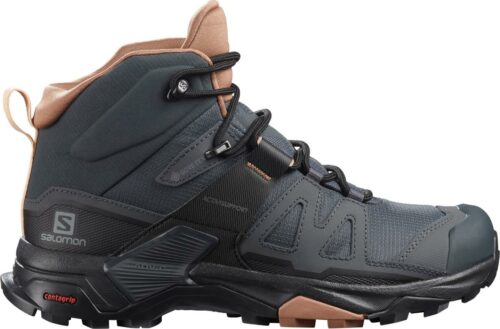 BEST OVERALL WOMEN'S HIKING BOOTS
The Salomon X Ultra 4 Mid hiking boots are lightweight, comfortable, and supportive. These boots excel in a variety of hiking conditions.
The X Ultras remain a popular go-to choice for high quality hiking boots at a reasonable price and the latest iteration does not disappoint. Salomon shaved more than 3 ounces off the previous version, setting a new standard for lightweight performance. Salomon also updated the midsole and chassis, succeeding in increasing ankle support and comfort while also helping to reduce weight.
What I like most about the X Ultra 4s is the aggressive outsole designed to grip well in almost all environments.
KEEN Targhee III Mid
Specs
Weight

:

1.7 lbs

Upper

:

Leather

Waterproof?

:

Yes

Outsole

:

Rubber

Midsole

:

EVA
Features
Uppers are built to last with leather from a tannery rated gold by the Leather Working Group (LWG) for environmental stewardship and traceability
Toe and mud guards add durability
Pesticide-free Eco Anti-Odor natural odor control keeps the boots fresh
4 mm multidirectional lugged soles deliver reliable, trail-ready traction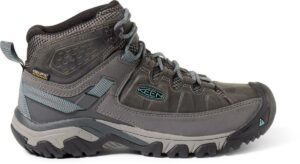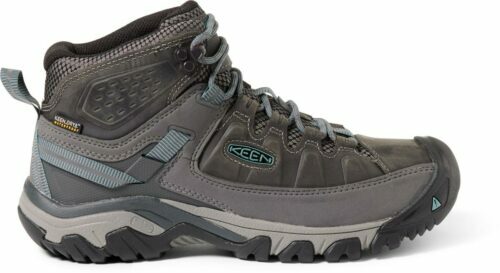 BEST FOR: WOMEN WITH WIDE FEET
When you need a high quality boot built to last for an affordable cost, consider the KEEN Targhee III Mid — they're worth every penny.
These budget boots feature a tough leather upper that provides for excellent waterproofing and durability. In terms of comfort these boots offer a unique heel capture system that secures your foot within the boot is comfortable and inspires comfort when traversing rough terrain. The heel was designed slightly shorter than other comparable models in order to increase mobility and breathability without reducing support. The well designed tread pattern boasts beefy 4mm lugs, ensuring you keep your feet when the going gets rough.
What I like most about these boots is that they are comfortable right out of the box and only get more comfortable over time.
Merrell Moab 2 Mid WP
Specs
Weight

:

2.0 lbs

Upper

:

Leather / Mesh

Type of Waterproofing

:

Proprietary Waterproof Membrane (M-Select DRY)

Outsole

:

Vibram

Midsole

:

EVA
Features
Arch And Heel Support
Air Cushion For Shock Absorption
High Breathability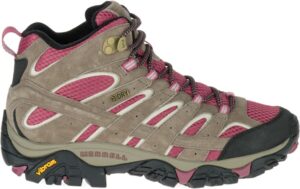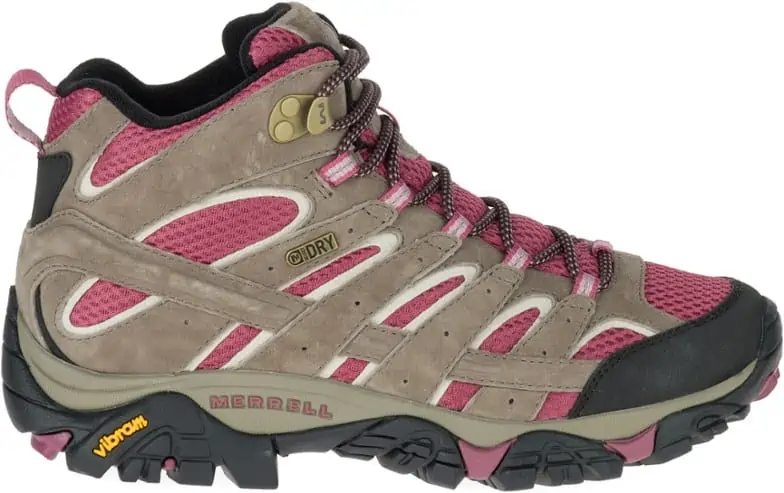 BEST FOR: HIKING ON A BUDGET
The Merrell Moab 2 Mid WP Hiking Boots are affordable, versatile, and lightweight. They are a safe choice for day hikers and backpackers walking on uneven surfaces, as they provide good cushioning, durable and gripping rubber soles, plus a waterproof membrane to keep your feet dry.
Compared to the previous model, the Moab 2 has improved the midsole to increase stability and support in both the arch and the heel, and reviewed the design of the suede leather and mesh uppers, making them even more breathable.
These boots are lighter than more expensive models on this list, meaning that while they are great for summer hikes on well maintained tracks, you may want to consider something sturdier if you're planning long backpacking trips.
Lowa Renegade GTX Mid
Specs
Height

:

Over-the-Ankle

Weight

:

2.1 lbs

Upper

:

Leather

Waterproof?

:

Yes

Outsole

:

Vibram

Midsole

:

Polyurethane
Features
Nylon shanks (for arch support)
Vibram outsole (for abrasion/slip resistance)
Gore-Tex wrapping (for waterproofing/ventilation)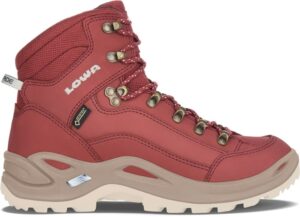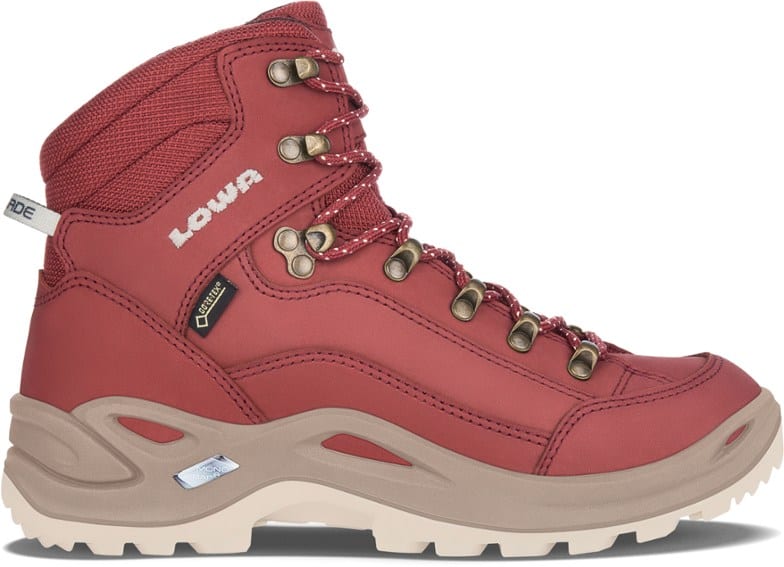 BEST WATERPROOF WOMEN'S BOOTS 
While it might not carry the lightest price tag, the Lowa Renegade GTX Mid is a boot with a lot of bells and whistles that come together to make for an excellent hiking boot for wide feet.  These boots are perfect for both casual strolls and long-distance hikes. With their super sticky Vibram rubber soles, there is no surface that these boots can't handle.
The Renegade boot also achieves high breathability and waterproofing thanks mostly to its Gore-Tex wrapping.  Lastly, the Lowa Renegade offers amazing support from its nylon shanks as well as Lowa's signature Monowrap technology that creates a rigid exterior frame for support. All-in-all, these boots get you where you need to go without making the trip cumbersome and sweat-inducing.
HOKA ONE ONE Sky Kaha GTX
Specs
Weight

:

1.8 lbs

Upper

:

Leather

Waterproof?

:

Yes

Outsole

:

Vibram

Midsole

:

EVA
Features
GORE-TEX® waterproof booties help keep your feet comfortable and dry regardless of the conditions
Vibram® Megagrip high-traction outsoles with 5mm multidirectional lugs provide traction on wet or uneven terrain
An adjustable lacing system provides a locked-in fit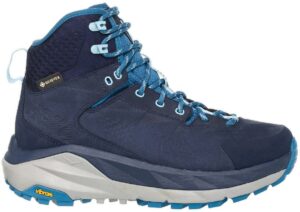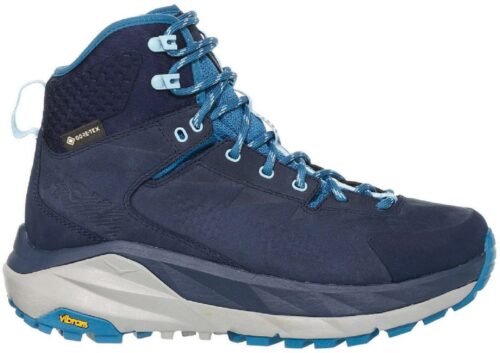 BEST FOR: COMFORT ON AND OFF THE TRAILS
Known for designing incredibly comfortable trail running shoes, Hoka is also revolutionizing hiking boots, so if comfort is your priority, give the HOKA ONE ONE Sky Kaha GTX a try.
The Kahas feature a high shaft and a plush padded upper and tongue hug the ankle, providing for full-foot support without sacrificing comfort. Two inches of foam integrated into the sole helps cushion and absorb shock from impact with rocks and other obstacles along the trail. These boots sport a wide base which serves to help you maintain stability, an essential feature when there's such a substantial amount of foam underfoot. The latest Kaha model features a water resistant and breathable eVent layer.
What I like most about these boots are the full leather upper and reinforced eyelets, making these one of the more durable boots you can wear for years to come.
Salomon Quest 4 GTX
Specs
Weight

:

2.4 lbs

Upper

:

Leather / Synthetic

Waterproof?

:

Yes

Outsole

:

Contagrip

Midsole

:

EVA
Features
GORE-TEX waterproof/breathable membrane
Inspired by trail-running shoes, these boots follow the natural flexion of your feet for a smooth ride
Protecting ankle articulations on the outer foot, the updated ADV-C 4D chassis provides stability and supports your heels to help reduce fatigue when wearing a heavy pack
Contagrip® TD rubber outsoles with deep, aggressive lugs provide extended durability and maximum traction on mixed terrain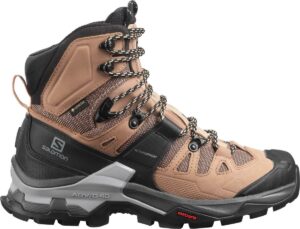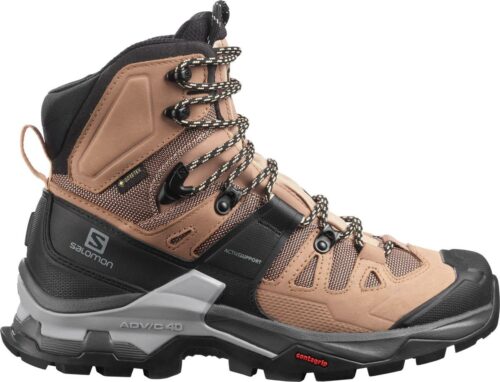 BEST FOR: ROUGH, ROCKY TERRAIN
When you need best-in-class support paired with comfort, consider the Salomon Quest 4 GTX hiking boots for your next epic adventure.
These well designed boots are built for performance on long, rugged adventures. The durable upper is constructed from a blend of synthetic and leather, allowing for adequate articulating through the ankle for more natural movement. Salomon's updated 4D chassis helps strengthen and support the heel for when you're carrying a heavy pack. The Quest 4s feature a lacing system that serves to cinch the heel in place without discomfort for when you're on the move.
What I like most about these boots is the trail-running centric focus helps ensure natural flexion of the foot even when you're wearing such a stiff boot.
Oboz Bridger Mid WP
Specs
Weight

:

2.0 lbs

Upper

:

Leather

Waterproof?

:

Yes

Outsole

:

Rubber

Midsole

:

EVA
Features
Well-Defined Arches (for high arch support)
High-Friction Rubber Outsoles (for optimal traction)
Rubber Toe Cap (to guard against rocks and roots)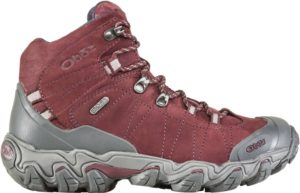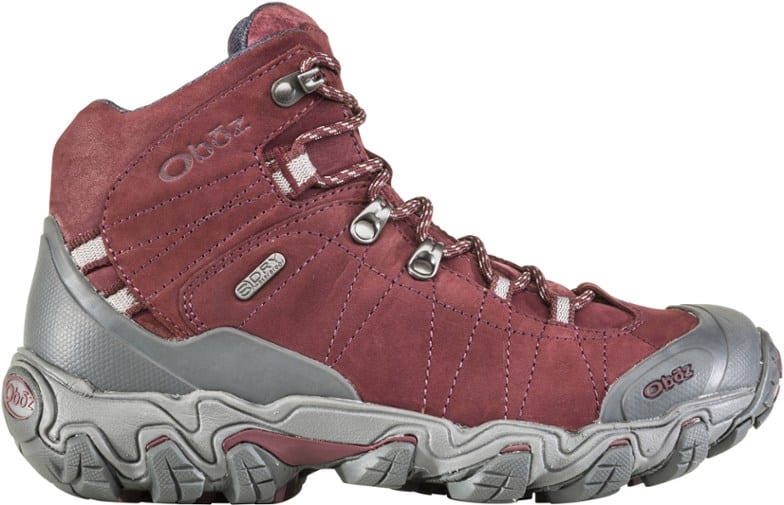 BEST FOR: COMFORT RIGHT OUT OF THE BOX
For a boot that doesn't require much breaking in, but will still protect you from rocks and roots underfoot, look to the durable Oboz Bridger Mid WP. Oboz's flagship women's mid hiker provides comfort and excellent waterproofness thanks to the soft nubuck leather uppers, creating an optimal balance between breathability and protection on the trail. This boot's proprietary BDry waterproof, breathable membranes let water vapor escape to avoid trapping sweat, yet keep exterior water out. Nylon mesh linings wick moisture even more, increasing ventilation and drying quickly.
The inside of the Bridger adds further comfort for your feet. A lightweight plate in the forefoot boosts stability without adding bulk, and the rubber toe cap and aggressive outsole will have you gliding over rough terrain with ease. The heel cup supports your heel as you hike, ensuring a great fit that's elevated by the comfortable insoles. Add in cushioning Ethylene-vinyl acetate (EVA) midsoles, and you'll be excited to get out and hike in these boots as soon as they arrive.
Vasque Breeze III Mid GTX
Specs
Weight

:

2.2 lbs

Upper

:

Leather

Waterproof?

:

Yes

Outsole

:

Vibram

Midsole

:

EVA
Features
Heel and Toe Ventilation Ports (for breathability)
High-Abrasion Mesh Panels (for durability)
Breathable Waterproof Gore-Tex Membrane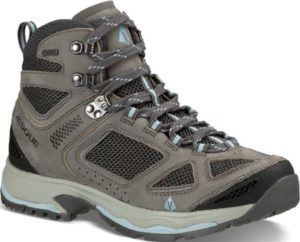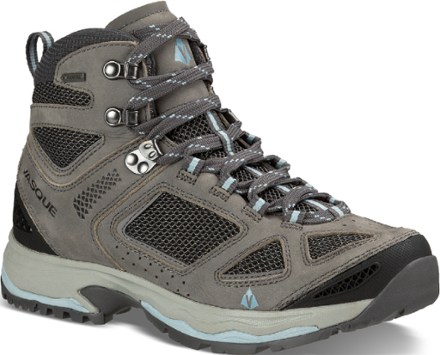 BEST FOR: THE ALL-TERRAIN HIKER
The Vasque Breeze III Mid GTX is a boot that can do it all. The high-abrasion leather uppers are supportive and durable, yet breathable thanks to the uppers' strong mesh panels that allow your feet to breathe as you hike. Gore-Tex membranes keep water out, but still allow your feet to breathe, and ports at the heel and toe add further ventilation along the footbed.
In the midsoles, dual-density ethylene-vinyl acetate (EVA) cushioning offers comfort and support no matter how many miles you're putting in. Grippy outsoles from Vibram, a company specializing in creating soles with great traction, increase your control, so you'll be stable on any varied terrain you encounter. Take these on all sorts of trails from spring to fall, and your feet will thank you.
Merrell Ontario Mid
Specs
Weight

:

1.7 lbs

Upper

:

Leather

Waterproof?

:

Yes

Outsole

:

Vibram

Midsole

:

EVA
Features
Removable Contoured Insoles (for those with special orthopedic needs)
Antimicrobial Treatment
Shock-Absorbent Heels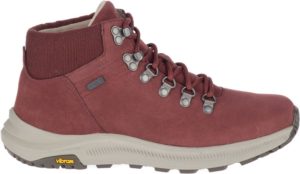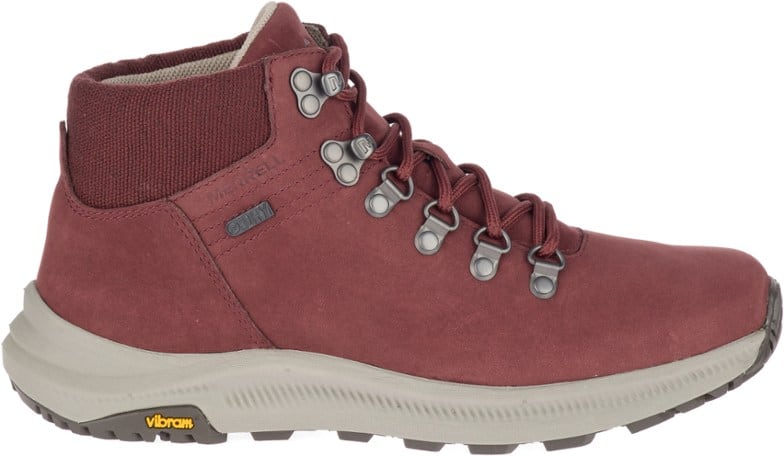 BEST FOR: FUNCTION PLUS STYLE
From the waterproof leather uppers to the breathable mesh linings, the Merrell Ontario Mid aren't messing around when it comes to keeping you dry. Ultimate comfort comes from the contoured insoles, which you can remove if you have specific orthopedic needs, for flexible and cushioned support. The midsoles are compression-molded, adding further stability and comfort on the trail. Under your heels, Merrell's proprietary cushioning absorbs shock as you scramble and hike over uneven terrain.
This boot has you covered inside and out. The internal antimicrobial agent will cut down on odors, so your feet will stay fresh as you log miles. Underfoot, grippy outsoles from Vibram, a company known for its sole traction technology, stay sticky on the most challenging terrain, so you can feel secure and enjoy the scenery without worrying about conditions.
Oboz Sapphire Mid BDry
Specs
Weight

:

1.8 lbs

Upper

:

Leather

Waterproof?

:

Yes

Outsole

:

Rubber

Midsole

:

EVA
Features
Toe and Heel Guards
Forefoot Plate (to prevent impact injuries)
Asymmetrical Collar (to comfortably fit women's ankle bones)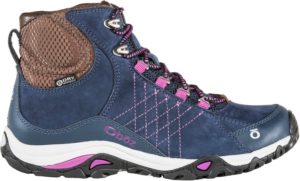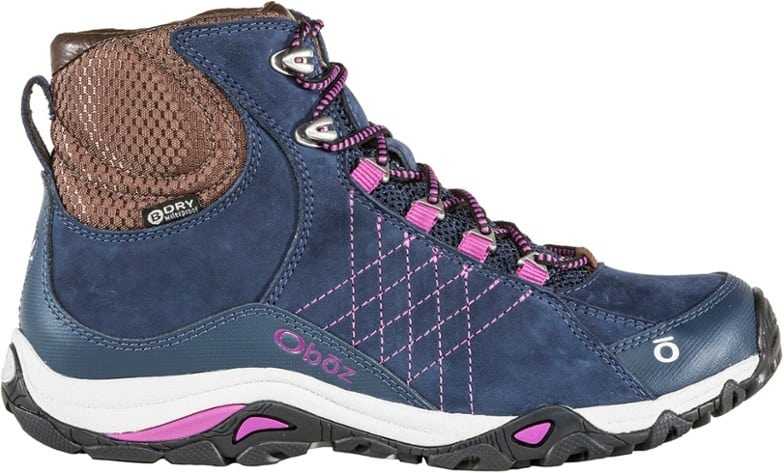 BEST FOR: A FEMALE-FOCUSED FIT
Oboz tends to put a lot of thought into designing hiking boots specifically for women's comfort, and the Oboz Sapphire Mid BDry hiking boot is no exception. Grippy rubber outsoles keep you nimble and surefooted over varied terrain, while a forefoot plate (a thin insert to protect feet from roots and rocks) and nylon shanks (thick inserts in the boot's insole to create load-bearing stiffness) add protection and stability. Single-density, women-specific midsoles offer soft cushion underfoot, and the insoles create structured support across your arches for better strength and flexibility.
Speaking of designing for women, these boots' collars are asymmetrical and engineered to accommodate the bone structure of women's feet. That means they'll comfortably move with the motion of your ankle as you hike. The uppers also allow for unrestricted forward motion while still providing ample ankle support. Add in the proprietary waterproof but breathable BDry membrane and protective heel and toe guards, and this boot will protect your feet from trailhead to peak and back again.
THINGS TO CONSIDER WHEN BUYING HIKING BOOTS
WEIGHT
Weight is key when it comes to hiking footwear, and what you need can come down to what type of hiking you'll be doing and your personal preference. Additionally, heavier boots can provide much-needed base support for heavy backpacking, while fast and light hikers may prefer less bulky, lightweight shoes.
TRACTION
When shopping for hiking boots, look for rugged, protective soles for support and grip on rugged terrain. Rubber-based soles are common, including ultra-grippy soles like those from Vibram; keep an eye out for deep and multidirectional lugs (the bumps on the outsole) that will enhance grip on slick terrain.
MATERIAL
Your ideal hiking boot material will vary based on the environments you'll be wearing them in. Most upper materials offer differing levels of ventilation, support, durability, and waterproofness. Leather, for example, tends to be more durable but less breathable than mesh. If you tend to hike in very wet environments, you may want to focus on more waterproof materials.
WATERPROOFING
There are different types of waterproof membranes in hiking boots, GORE-TEX being the most well-known. Waterproof technology has improved in hiking gear to help keep boots breathable while sealing out moisture, but waterproof boots still tend to be less breathable than non-waterproof.
FEATURES EXPLAINED
Collar
The padding where your boot hits at or above your ankle, intended to help keep debris out. Collars that are asymmetrical can account for female-specific bone structure, since women's ankle bones are often not symmetrical.
Insole
The section inside the boot that your foot rests on. Some hiking boots come with removable insoles for those with specific orthopedic needs.
Midsole
This part of the shoe is located between the insole and the outsole and determines comfort and stability.
Outsole
The outermost part of the bottom of a boot. Most hiking boot outsoles consist of grippy rubber material.
Lugs
Lugs are rubber pieces located on the outsole that help a boot grip the surfaces you step on. The depth and pattern of lugs help determine a boot's traction.
Toe cap
A protective section, usually rubber, on the outside of the toe to protect against rocks, roots, and other trail conditions.
Nubuck leather
A "rough" leather that tends to breathe better than a "full-grain" leather hiking boot.
Gore-tex (GTX)
GORE-TEX, often abbreviated as GTX, is a brand whose products are at the forefront of waterproofing technology. Therefore, this material in hiking boots is among the best options for breathable waterproofing.
EVA
Ethyl-vinyl acetate (EVA) is a lightweight material used to provide cushioning and stability in the midsole.
TPU
Thermoplastic polyurethane (TPU) is a lightweight and durable material often found in the outsole and in midfoot shanks, offering support and protection.