Updated on July 17, 2021
As you hit the trail for a warm day of hiking, boots may not always be the best option. Your particular hike may incur several water crossings or expose you to the harsh sun, making the traditional boots and wool socks combo far too hot! That's why we've gathered a list of the best hiking sandals, so you can make the most of your trek.
On hot days in the summer, do yourself a favor and let your feet breathe a little. A solid pair of hiking sandals will do wonders at keeping you cool on the trail and perform well under rugged conditions. Whether you're scrambling up the side of a rocky slope, sloshing through river crossings, or trekking through slick conditions on a hot, wet summer day, the following list will have you covered no matter the challenge.
So sit back, free those toes from their winter socks, and get ready for the coolest foot tan lines. Pro Tip: The more intense the tan line, the more trail cred you have 😉
For more of our top hiking footwear recommendations, check out these popular articles:
Hiking Sandals for Women | Water Hiking Sandals
Quick Answer

-

The Best Hiking Sandals
Comparison Table

-

Best Hiking Sandals

For the best experience turn your device horizontally
Reviews

-

Best Sandals for Hiking
Bedrock Cairn Adventure
Specs
Weight

:

1 lb. 1 oz.

Toe Style

:

Open Toe

Upper

:

Polyester/nylon webbing

Adjustment Mechanism

:

Strap

Midsole

:

Unavailable
Features
Zero-drop (0mm heel-to-toe drop), low-profile platforms
Anatomically molded footbeds, with arch and toe support
Premium webbing, 3 adjustment zones and sole-hugger wings
Plug-less toe posts and aluminum hardware provide excellent durability
Geo-patterned footbeds are designed for more grip and less slip

TOP OVERALL HIKING SANDALS
Whether this sandal is on your feet or strapped to your pack, you won't notice you're carrying them, making for the perfect companion on your next adventure.
These simple thong-style sandals are incredibly lightweight, weighing in at only 1 pound. Don't let the feather weight fool you, though — these sandals will go the distance thanks to the integration of a Vibram XS Trek outsole that won't wither away after the first hike – or 50. This is a great sandal for adjusting to a more minimalist style of footwear, as they offer little support under the foot, promoting a natural midfoot gait. The three point adjustment system allows you to easily secure your foot without any buckles to rub against your skin.
What I like most about these sandals is how durable they are, thanks to the beefy nylon straps and rubber outsoles.
Teva Hurricane XLT 2
Specs
Weight

:

1 lb. 4 oz.

Toe Style

:

Open Toe

Upper

:

REPREVE recycled polyester

Adjustment Mechanism

:

Buckle

Midsole

:

Ethylene-Vinyl Acetate (EVA)
Features
REPREVE polyester is made from recycled plastic bottles
Injection-molded strap ends offer quick and easy grip and adjustability
Easy hook-and-loop closures come on and off quickly and provide a just-right fit
Nylon shanks stabilize and support your feet on uneven terrain
Rugged Durabrasion Rubber™ outsoles stand up to abuse and supply excellent traction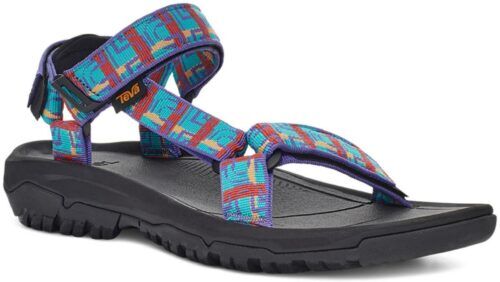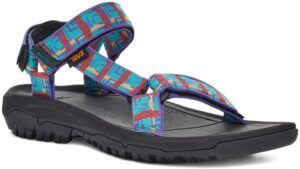 BEST FOR: THOSE ON A BUDGET
If you're looking for a quality hiking sandal with features like grippy soles and underfoot support without the hefty price tag, look no further.
Piggy-backing off the classic hiking sandal design, the Teva Hurricanes feature increased cushioning and quality support for far less than the competition. A recycled polyester upper ensures these sandals remain comfy against the skin and dry quickly when wet. A simple tread design with Teva's own Durabrasion rubber gives you the grip you need without wearing down quickly. Teva added two nylon shanks in the sole to increase rigidity and stability for when the going gets rough.
What I like most about these sandals is the padded heel incorporated into the rear strap, making these sandals comfortable enough for all-day wear.
Xero Shoes Z-Trail EV
Specs
Weight

:

10.8 oz.

Toe Style

:

Open Toe

Upper

:

Polyester

Adjustment Mechanism

:

Adjustable Strap

Midsole

:

TrailFoam
Features
Float and resist water
Dual-chevron tread gives for enhanced traction and grip
Flat, zero-drop soles mean your heels aren't elevated—allowing natural, proper posture
Super flexible—roll them up and slip 'em into your pack or pocket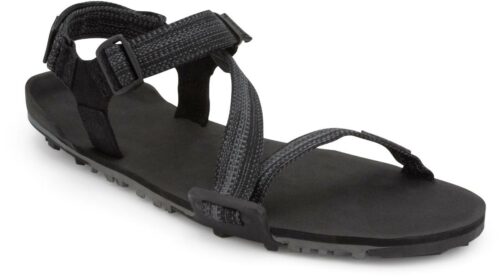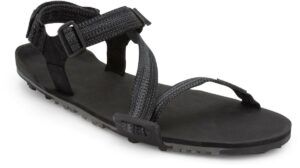 BEST FOR: LIGHTWEIGHT MINIMALISM
If you're looking for the lightest sandals you can find that still protect your feet, the updated version of the classic ultralight Z-trails are worth consideration.
Weighing less than 11 ounces with the ability to roll up into your pocket these ultralight sandals should go everywhere. Using a triple layered FeelLite sole these sandals provide surprising comfort and protection while remaining incredibly flexible. The dual chevron tread offers superb traction whether you are traveling uphill, downhill, or a bit of both. A subtle heel cup and soft recycled tubular webbing keep your foot secure and debris out.
What I like most about the Z-Trails is the fact that they float, making them a great addition for water sports.
HOKA ONE ONE Hopara
Specs
Weight

:

1 lb. 8 oz.

Toe Style

:

Closed Toe

Upper

:

Synthetic

Adjustment Mechanism

:

Bungee Lace

Midsole

:

EVA
Features
Synthetic uppers have strategic cutouts to allow for drainage
Rubberized toe caps protect your feet from trail debris
Gusseted neoprene construction provides a secure lockdown and reduces friction when wet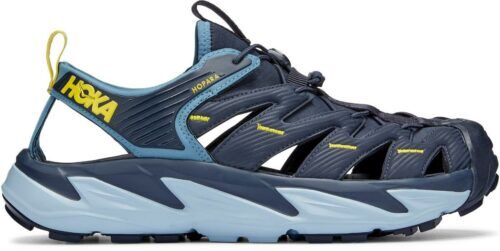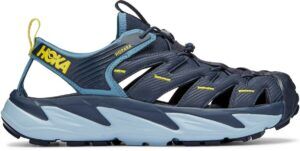 BEST FOR: TREKKING IN COMFORT
When you need the best full coverage protection and comfort you can find, slip into the Hopara sandals before your next adventure.
These multi-sport sandals take comfort to another level. A thick, multi-layered foam sole provides for the ultimate support against impacts with rocks and branches. A rubberized toe cap with a neoprene upper protects your foot from trail debris and doesn't rub when wet. Strategic cutouts along the base of the upper allows for fast drainage, making these a suitable choice for wearing during river crossings.
What I like most about these sandals is the elastic strap, which tucks into the drawstring clip into while hiking.
Chaco Z/Cloud 2
Specs
Weight

:

1 lb. 5 oz.

Toe Style

:

Open Toe

Upper

:

Polyester jaquard webbing

Adjustment Mechanism

:

Adjustable Strap

Midsole

:

Dual-density polyurethane
Features
Toe loops offer additional forefoot control
Podiatrist-certified Luvseat polyurethane footbeds for all-day comfort and support
3.5mm lug depth for great traction
Antimicrobial application for odor control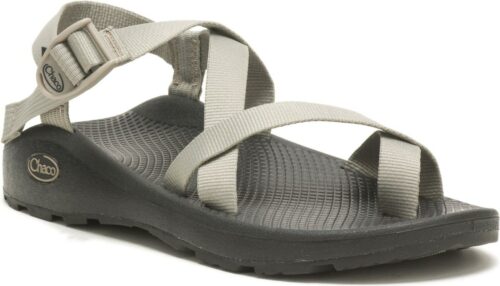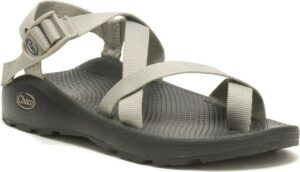 BEST FOR: LONG DISTANCE HIKES
Pairing high-end support with stability and comfort, these sandals will keep on performing — mile after mile.
The signature big toe loop on most Chacos is not only stylish, but offers greater control of your foot placements while moving in the backcountry. A podiatrist-certified Luvseat cushioning provides for all-day comfort and could serve as your go-to camp shoes after a long day hiking. A unique tread design with beefy 3mm lugs offer superior traction in wet or dry conditions. An anti-microbial coating helps keep your sandals and feet fresher for longer, a nice perk when you're hiking through hot and humid weather.
What I like most about the Z Clouds is how the strap design provides for more lateral support than most sandals in their class.
Chaco Z/2 Classic
Specs
Weight

:

1 lb. 15 oz.

Toe Style

:

Toe Loop / Open Toe

Upper

:

Synthetic

Adjustment Mechanism

:

Buckle

Midsole

:

Polyurethane (PU)
Features
Anti-Microbial Application Prevents Foot Odor
Synthetic Materials Means These Sandals Are Vegan
Podiatrist Certified Footbeds Provide Superior Support
High-Performance Sole Is Great For Hiking And Water Crossings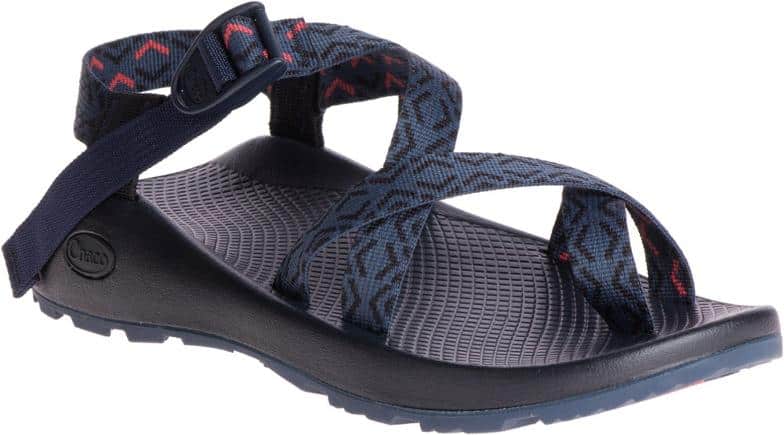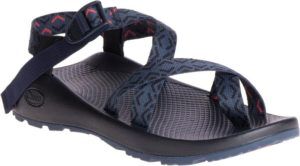 BEST FOR: LONG LASTING DURABILITY
Chacos are one of the biggest names in the sandal business for good reason. Their attention to detail using high-quality materials means these are some of the longest lasting sandals money can buy: period.
When these bad boys do begin to show signs of heavy wear, just send them off to be re-soled. Broken straps from extreme use? Send 'em off for repair! Your initial investment will pay you dividends down the road as the cost of repair is much less than buying a new pair.
The Polyurethane (PU) midsole is longer lasting, more durable, and more supportive than sandals with an Ethylene-Vinyl Acetate (EVA) midsole. The straps are also highly durable and adjustable, making them a great fit for any foot.
Lastly, it's important to be aware of The Great Chaco Debate: Toe Strap or No Strap? People get passionate and fiery about which is better. Some prefer the toe strap/toe loop because it provides more stability and control. Others dislike it because it can be hard to adjust or causes a callus to form. The toe strap wins out in our book because if you do end up disliking it, you can simply tuck it away.
KEEN Newport H2
Specs
Weight

:

1 lb. 8 oz.

Toe Style

:

Closed Toe / Covered

Upper

:

Synthetic

Adjustment Mechanism

:

Bungee Lace

Midsole

:

Ethylene-Vinyl Acetate (EVA)
Features
EVA Midsole Is Extremely Comfortable
Heel Strap Helps Foot Glide Into Sandal
Designed To Circulate Airflow And Stay Breathable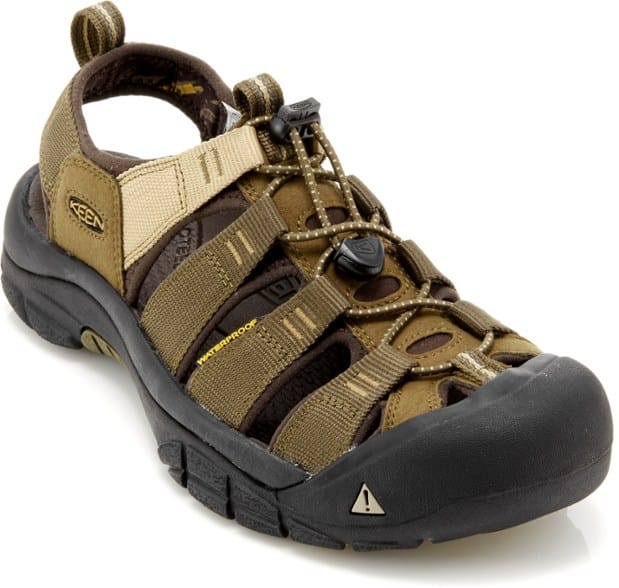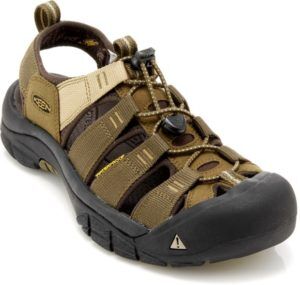 BEST FOR: SLICK SURFACES
Leave the Slip'N'Slide for lawn parties. Whether you're trekking through the woods after a downpour or just live in a wet climate, traction is what you need.
Fortunately for you, this is Keen's specialty. The Newport H2's rock a multidirectional sole that makes them extra "grippy" when tackling a trail in less than ideal conditions. The covered toe also keeps debris like sand and pebbles from slowing you down!
The H2's also sport a highly supportive webbing that covers your foot better than other hiking sandals. This a great feature when trudging through brush that would otherwise scratch up your feet.
Teva Terra Fi 5
Specs
Weight

:

1 lb. 10 oz.

Toe Style

:

Open Toe

Upper

:

Synthetic

Adjustment Mechanism

:

Velcro Strap

Midsole

:

Polyurethane (PU)
Features
Comes In 2 Different Colors
Heel Cup Provides Maximum Comfort
Synthetic Webbed Uppers Are Very Durable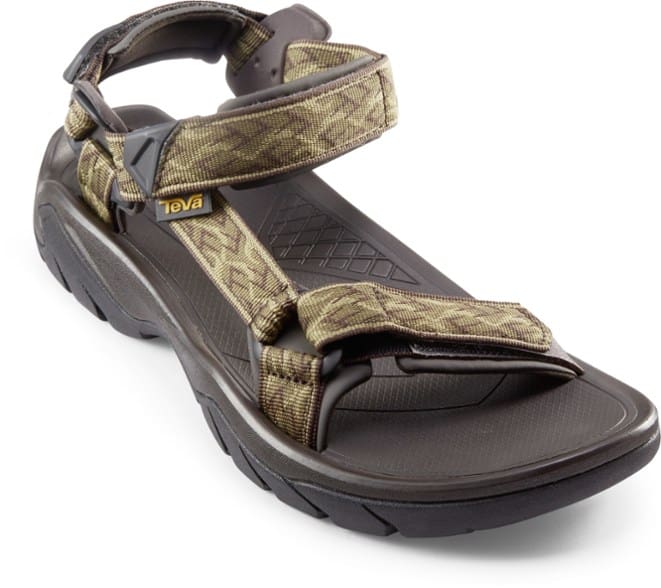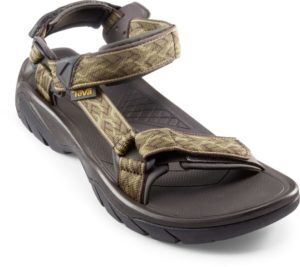 BEST FOR: RUGGED, LIGHTWEIGHT ADVENTURES
Teva Terra Fi 5 – say that 5 times fast!
While your brain and tongue are playing catch up, let me get you up to speed on these bad boys. The Terra Fi 5's meet at the intersection of rugged and lightweight. Not possible you say? Check out the details.
Starting with a highly durable and long lasting polyurethane (PU) midsole, the Terra Fi 5's offer supreme support when handling rocky terrain. It's beefy and rugged soles are counterbalanced by lightweight straps that don't make your feet feel smothered in the shoe.
It's hook and loop closure also allows your tighten down these battle shoes, er hiking sandals, and keep you feeling supported all day long.
KEEN Arroyo III
Specs
Weight

:

1 lb. 12 oz.

Toe Style

:

Closed Toe / Covered

Upper

:

Nubuck Leather

Adjustment Mechanism

:

Bungee Lace

Midsole

:

Ethylene-Vinyl Acetate (EVA)
Features
Comes In 2 Colors
Multidirectional Rubber Lugs On The Bottom of The Sandals Increase Traction
Ethylene-Vinyl Acetate (EVA) Midsole Provides Superior Cushion And Comfort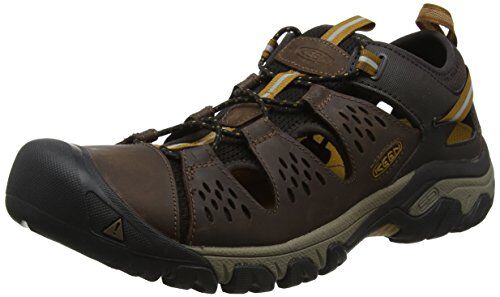 BEST FOR: ROCKY TERRAIN / SCRAMBLING
When it comes to traversing rocky terrain or scrambling up scree-filled slopes, we're pretty Keen on the Arroyo III's. More of a hybrid than a true sandal, this pair will keep your feet protected while maintaining breathable, sock-less trekking.
The Arroyo III's closed toe will keep your toes protected as you dig into cliffside holds and its mesh webbing has the rest of your foot covered while keeping out small rocks and pebbles.
The Nubuck leather uppers are also super durable, water resistant, and made from sustainably certified tannery. Lastly, the bungee lace adjustment system also supports a durable ankle strap, giving you peace of mind and keeping you sure-footed on the trail.
Teva Strata Universal
Specs
Weight

:

1 lb. 6 oz.

Toe Style

:

Open Toe

Upper

:

Synthetic

Adjustment Mechanism

:

Velcro Strap

Midsole

:

Ethylene-Vinyl Acetate (EVA)
Features
Anti-Microbial Application Prevents Foot Odor
Smart Design Reduces Weight Without Sacrificing Durability
Vibram Outsole Is Extremely Durable And Can Be Re-Cobbled When Worn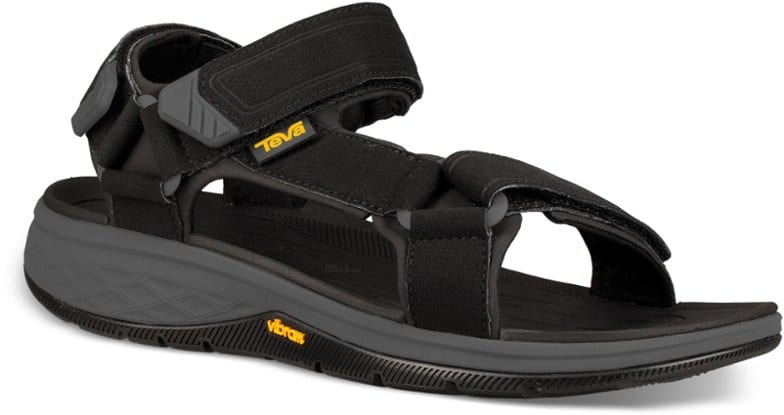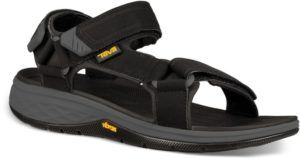 BEST FOR: WARM WEATHER HIKING
I know what you're thinking, "Teva's again??" Well, yes. They make an outstanding variety of hiking sandals and they do it well.
If casual warm weather hikes are your thing, then these are the pair you want. Comfy, rugged, and supportive all wrapped into one, the Strata Universal are a quality choice when it comes to moderate hikes.
The micro-traction lugs on the bottom of each sandal make for quality grip on the trail while the plush Ethylene-Vinyl Acetate (EVA) midsoles provides a cushiony stride as the miles wear on, leaving your feet happy at the end of the day.
THINGS TO CONSIDER WHEN BUYING HIKING SANDALS
TERRAIN
Knowing what kind of terrain you'll encounter on a hike is key to choosing the proper hiking sandal. If the terrain is rocky or full of brush, you'll probably want a hiking sandal with a covered or closed toe. This will keep your feet protected and give you better footing on the trail. If you know that river crossings will occur, you'll need a sandal that has the proper sole to effectively handle slick surfaces and wet rocks.
UPPER
Simply put, the "upper" or upper part of a hiking sandal is the strap system that holds the sandal onto your foot. Uppers for hiking sandals are typically made of either suede/nubuck or synthetic materials and each have their advantages.
Suede/Nubuck
Suede/Nubuck is a type of leather that is thinner and softer than full-grain leather and typically lasts longer than synthetic materials. However, they do not dry as quickly when wet.
Synthetic
Synthetic materials can be made of polyester, nylon, or microfiber and tend to be lighter and dry quicker. However, they do not last as long as leather. For vegans who are animal conscious about their clothing, synthetic is the way to go.
MIDSOLE
The midsole of a shoe is the middle layer between the topsole (what your foot rests on) and the outsole (what makes contact with the earth, commonly referred to as the "sole"). What makes this so important is how it impacts cushioning and durability.
When it comes to choosing the right midsole for you, we've broken down the most common materials used – Polyurethane (PU) and Ethylene-Vinyl Acetate (EVA).
Polyurethane (PU)
PROS
Longer lasting
Very supportive
Extremely durable
CONS
Longer "break-in" period
Heavier than EVA
More expensive
Ethylene-Vinyl Acetate (EVA)
PROS
Extremely soft from day 1
Lightweight
High amount of cushion
CONS
Breaks down faster than PU
Doesn't support heavy loads well
Typically lasts 3 – 6 months
LONGEVITY
It's important to note the durability and expected lifespan of quality hiking sandals. Those made with an Ethylene-Vinyl Acetate (EVA) midsole have the same longevity as atypical running shoe and thus have the same replacement requirements: every 3 – 6 months. This is because EVA, while highly shock absorbent and extremely cushiony, tends to retain the shape of the foot and molds to it. This causes it to lose its effectiveness over time.
Hiking sandals with a Polyurethane (PU) midsole last much longer than the 6-month maximum of EVA due to it's highly resilient and extremely durable design. If properly maintained, a pair of these hiking sandals can last a year or more.
FIT
Not all brands of hiking sandals are sized equally. Make sure you take a look at each brand's sizing chart or scout the Q&A section to see if a particular sandal runs small or big. Some hiking sandals may also be narrower than you'd expect, something that's common for guys. Double check the width and see if that particular model is offered in wide sizes. If not, sizing up may be your next best bet. You'll just have to ratchet down those straps to achieve a snug fit.
FEATURES EXPLAINED
OUTSOLE
Also simply known as the "sole", it's the outer portion of a hiking sandal that makes contact with the ground and has traction.
MIDSOLE
A layer between the outsole and insole that provide cushioning and support.
INSOLE
The inside of the hiking sandal where your foot rests.
LUGS
The deep indented pattern that appears on the bottom of the shoe and provides traction.
EVA
Ethylene-Vinyl Acetate: a synthetic material made of thousands of tiny bubbles that provides cushioning and shock absorption. Has a "memory" that will contour to your foot.
PU
Polyurethane: a synthetic material that is extremely durable and ideal for arch support. It has no "memory" and thus will last much longer than EVA.