Updated on December 28, 2021
Are you a hiking junkie who wants to keep hitting trails even when they are blanketed in snow? Lucky for you, you absolutely can. You just need to find a great pair of snowshoes. These special shoes allow you to hike across the snow covered ground without sinking into it. Just imagine, no more struggling to get to where you want to go. But, how do you find the best snowshoes for hiking?
One of our big goals here at The Adventure Junkies is to make your life easier when it comes to shopping for outdoor gear. In this article, we'll guide you through what to look for when choosing snowshoes and show you our selection of some of the best models of the year.
For more of our top snowshoeing gear recommendations, check out the Best Snowshoe Poles.
Quick Answer

-

The Best Snowshoes
Comparison Table

-

Find the Best Snowshoes

For the best experience turn your device horizontally
Reviews

-

The Best Snowshoes
MSR Lightning Ascent
Specs
Crampon Material

:

Steel

Frame Size

:

22", 25" or 30"

Weight

:

4.00 lbs
Features
360-Degree Traction frame
Torsion2 crampons
Modular flotation tails
Ergo Televators
Posilock AT bindings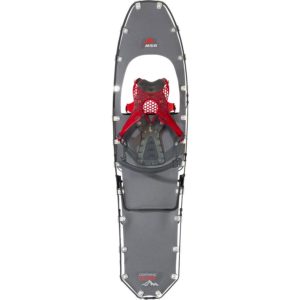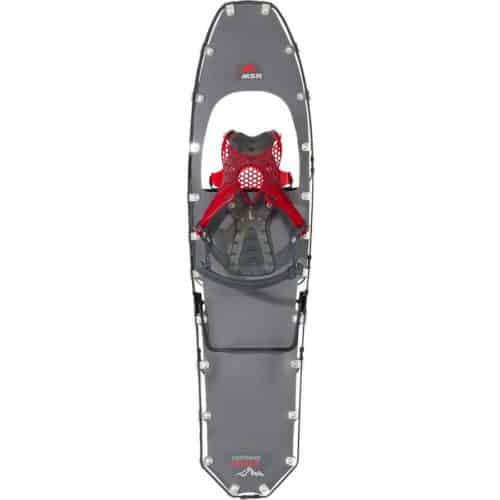 BEST FOR FOR EVERYONE FROM BEGINNERS TO EXPERIENCED HIKERS
PROS: Lightweight, easy to use, great flotation, wide range of optimal weight loads
CONS: Expensive, a lot of binding straps
Atlas Treeline
Specs
Crampon Material

:

Steel

Frame Size

:

25" or 30"

Weight

:

4.58 lbs
Features
Wrapp Lux binding
All-Trac toe crampon
Advanced aft traction
Nytex decking
Heel lift bar
LRS Light-Ride suspension
Ridged side rails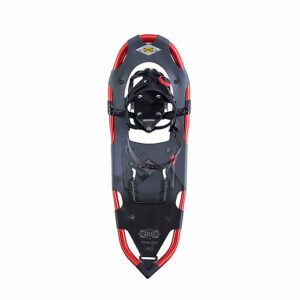 BEST FOR WINTER ADVENTURERS LOOKING FOR SIMPLE-TO-USE AND GREAT PERFORMING SNOWSHOES
PROS: Suspension, durability, ease of use
CONS: None, they are simply awesome
Tubbs Wilderness
View Women's Version
Specs
Crampon Material

:

Steel

Frame Size

:

25", 30" or 35"

Weight

:

5.00 lbs
Features
Aluminum Fit-Step frame
Soft-Tec decking
Rotating front crampons
180Pro binding
Cobra traction
Heel lifts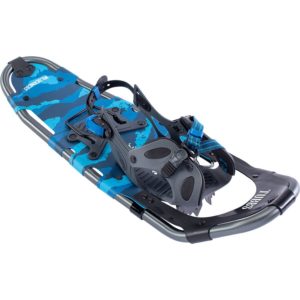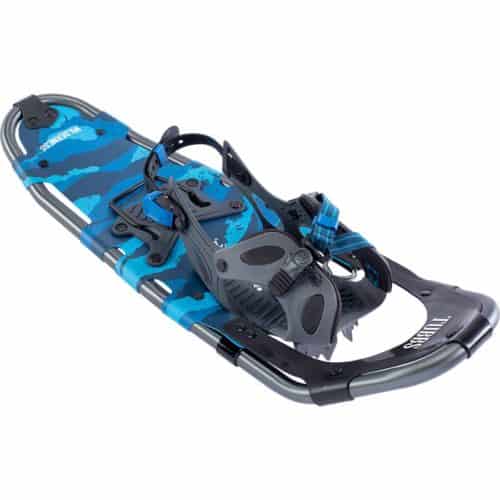 BEST FOR SNOWSHOEING ON ROLLING TERRAIN
PROS: Affordable, rotating front crampons for better traction, stable under weight,
CONS: Slightly heavier than other snowshoes, stiff heel lift
Chinook Trekker
Specs
Crampon Material

:

Aluminum

Frame Size

:

22", 25", 30" or 36"

Weight

:

4.31 lbs
Features
Aluminum frame and crampons
UV-resistant polyethylene decking
Comes with carry bag and backpack straps
BEST FOR OCCASIONAL SHORT HIKES IN SNOW
PROS: Lightweight, extremely inexpensive, good for beginners
CONS: Lower-quality materials, less durable, bindings are less comfortable
Tubbs Mountaineer
View Women's Version
Specs
Crampon Material

:

Steel

Frame Size

:

25" or 30"

Weight

:

4.69 lbs
Features
Pro-Step frame
R2 Revolution Response suspension
SoftTec decking
ActiveFit bindings
Steel Anaconda toe crampons
Python heel crampons
ActiveLift heel lift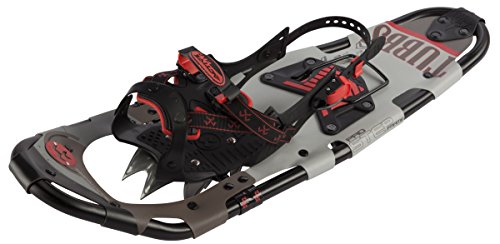 BEST FOR BOTH BACKCOUNTRY AND TRAIL USE
PROS: Versatility, easy-to-use bindings, excellent flotation, secure fit
HOW TO FIND THE BEST SNOWSHOES FOR HIKING
TYPE OF SNOWSHOE
There are three different types of snowshoes: flat terrain, sloping terrain and steep terrain snowshoes. There are also a few models that are made for specific activities such as climbing and trail running. Let's talk about each type of shoe in detail so you can learn which is the best type of snowshoe for you.
FLAT TERRAIN SNOWSHOES are the best snowshoes for beginners. They're made for easy walking on flat to gently rolling terrain and on well-groomed trails. These recreational snowshoes have simpler traction and are shorter than the other two options. They need less flotation because the trails are groomed.
SLOPING TERRAIN SNOWSHOES are ideal for those who want to do more serious winter hiking and backpacking. They are designed for use on trails on steeper slopes and rugged terrain. Their flotation is better than that of recreational snowshoes. These are arguably the most useful snowshoes for hiking because they work well for all but very steep terrain and icy conditions.
STEEP TERRAIN SNOWSHOES are specifically designed for backcountry use. They're suitable for experienced hikers, snowboarders and mountaineers. Designed for icy and steep slopes, they come with climbing-style crampons. If you're an adventurer looking to blaze your own trail, this type of snowshoe is for you.
FRAME SIZE AND FLOTATION
The size of your snowshoes is the most important feature with regards to flotation. Snowshoes distribute your weight over a larger area so that your foot doesn't sink completely into the snow, this is called flotation. In general, the lighter or drier the snow is or the heavier the hiker is, the more surface area is required for proper flotation.
Snowshoes also come in different shapes. Oval shapes provide better flotation because of their larger surface area. Narrow tapered shapes have less flotation but allow for more speed. Some types combine these two styles and feature a teardrop shape, with a wide frame and a tapered tail.
Take into account your own weight (the snowshoes will specify which weight range they support) and the most likely snow types of the region you'll be snowshoeing most often. When checking out recommended loads, it's important to know that these numbers are based on light, dry snow conditions.
Many manufacturers also make a women's specific snowshoes. These shoes feature narrower designs and sizes down to 8″ x 21″. These shoes also have bindings that are sized to fit women's footwear. While many women can use a unisex shoe, some might want to consider this option because it will fit better and be more comfortable.
TRACTION
In addition to staying "afloat" on snow, it's critical to make sure that your snowshoes have enough traction. While making your way up a slope, the last thing you want to happen is sliding back down.
Nowadays, all snowshoes come with crampons. However, it's still important to check the amount of traction they provide. The crampons are almost always placed underneath the bindings and/or on the side frame rails.
Crampons only underneath the bindings are sufficient for snowshoeing on flat groomed trails. But, if you want to take on steeper and perhaps icier slopes, you'll want all the traction you can get. Other, extra types of crampons you may find on snowshoes are heel crampons and heel lifts, which are also known as climbing bars.
Pay attention to the crampons' material and their depth. The deeper, the better the grip. Steel is a superior material because it's durable, this is essential for technical, steep and icy terrain.
BINDINGS
There are two types of snowshoe bindings—fixed and rotating bindings. The function of bindings is to secure your foot into the snowshoe. They consist of straps that go around your heel and over your foot.
Fixed bindings do exactly what their name implies. They fix your foot onto the snowshoe, keeping it aligned with the shoe at all times. This gives you greater control of your foot's movement and more comfort. It also makes it easier to navigate obstacles and objects. The downside is that these types are more difficult to use when walking and ascending (it's somewhat like walking with skis).
Rotating bindings are able to pivot at the point of attachment to the snowshoe. This is under the balls of your foot. Allowing for greater freedom of movement, it makes it much easier to walk with your snowshoes and climb mountains. The downside here is that backing up and crossing obstacles can be awkward.
WEIGHT
Weight is an important aspect of all outdoor gear, from hiking pants and backpacking tents to backpacks. However, most snowshoes for hiking that are made nowadays are quite lightweight. It's good to double-check the weight, though. So, aim for snowshoes that weigh less than 5 lbs. per pair. (All snowshoe pairs selected in this guide weigh 5 lbs. or less.)
READ MORE
For more of our top skiing gear recommendations, check out these popular buyer's guides: