Updated on July 14, 2022
Inflatable kayaks are a great option for anyone that doesn't have the storage space required for a hard-shell kayak. If you travel a lot, it's really convenient to deflate your kayak and stow it in a compact bag until you're ready to go for a paddle. Many full-time RVers love having the best inflatable kayaks on hand because they easily store underneath their rig when not in use.
Aside from packing and storage, there are a number of other compelling reasons why so many people prefer inflatable kayaks to their hard-shell counterparts. In this article, we're going to review the best inflatable kayaks and give you some helpful tips on selecting the kayak that suits your needs.
For more of our top kayaking gear recommendations, check out the Best 2-Person Inflatable Kayaks.
Quick Answer

-

The Best Inflatable Kayaks
Aquaglide Blackfoot Angler

Advanced Elements Expedition Elite

Advanced Elements Convertible Tandem
Comparison Table

-

Best Inflatable Kayaks

For the best experience turn your device horizontally
Reviews

-

The Best Inflatable Kayaks
Aquaglide Chinook 120
Specs
Length

:

12'

Weight

:

29 lbs

Paddlers

:

2-3

Weight Capacity

:

550 lbs
Features
Extra length, tracking, performance and capacity means longer day trips and overnight camping
HexShell 600-denier ripstop polyester offers strength, durability, puncture resistance and excellent UV protection
Fully covered, removable floor adds durability and allows for easy cleaning
A child's removable and inflatable booster seat lets your kid enjoy the ride


BEST OVERALL INFLATABLE KAYAK
If you need a quality inflatable boat with all the basics and plenty of room for upgrades, take a look at the Chinook 120.
The Chinook 120 is constructed from 600-denier ripstop nylon, making it extremely puncture and UV resistant. The 500 pound carrying capacity allows you to go tandem or solo — and store all the gear you need for any length adventure. It's easy to get into and out of the kayak thanks to a spacious open cockpit design and a duffel style carrying and storage bag makes it painless to compactly store and transport the boat.
What I like most about the Chinook 120 are the hook-and-loop closure strips that run along the floor of the boat, effectively latching the removable seats in place.
Aquaglide Chinook 90
Specs
Length

:

9'

Weight

:

19 lbs

Paddlers

:

1

Weight Capacity

:

250 lbs
Features
Quick-release weedless fin improves tracking through the water
Easy-to-use Boston valves inflate and deflate the 3 chambers
Seat installs easily in seconds with quick-release adjustment straps, and is anchored solidly to the floor with hook-and-loop closure strips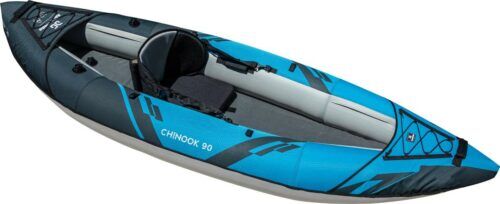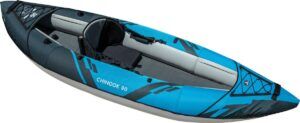 BEST FOR: PADDLERS ON A BUDGET
When you need a quality boat but you don't have much to spend, consider the $400 Chinook 90 — it's sure to meet your needs.
More compact than the Chinook 120, Aquaglide's 90 is more maneuverable and shorter in length, making it most suitable as a recreational water toy. It weighs in at under twenty pounds, topping the list as the most transportable inflatable kayak you can find.
What I like most about the Chinook 90 is how easy it is to set up — it takes just minutes to extract it from. The bag, inflate, and have the kayak out on the water.
TAHE Beach LP2
Specs
Length

:

11'

Weight

:

28 lbs

Paddlers

:

1-2

Weight Capacity

:

330 lbs
Features
Hydrodynamic hull
3 removable fins for tracking and control
3 air chambers provide rigidity and stability
2 elevated, adjustable, removable inflatable seats


BEST FOR: TANDEM PADDLING
When you're looking for a packable two-person kayak that performs well out on the water, consider this one — it might be exactly what you've been looking for.
The TAHE is a lightweight inflatable kayak option made from PU-coated nylon and tarpaulin, with three separate air chambers to provide for rigidity and stability out on the water. There are two elevated, adjustable seats that allow two passengers to sit comfortably. The kayak inflates in under five minutes, allowing for easy access to the water.
What I like about most the Beach LP2 is all the accessories that are included, namely a backpack, repair kit, pump, and two paddles.
Aquaglide Blackfoot Angler
Specs
Length

:

12' 8"

Weight

:

38 lbs 1.6 oz

Paddlers

:

1

Weight Capacity

:

600 lbs
Features
Seven Mounts (for attaching fishing rods and accessories)
Included Fishing Cooler
Extra Width (for added stability)
Self-Draining Floor (so water doesn't pool in the cockpit)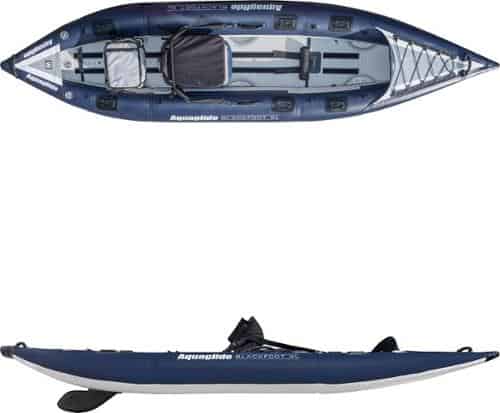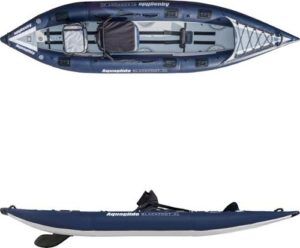 BEST FOR: THE TECHNICAL ANGLER
This inflatable kayak is designed for solo anglers that want all the performance of a hard-bottom kayak without any of the bulk. It offers seven mounts that give you plenty of opportunity to attach different rod setups and various fishing accessories. It also includes a fishing cooler that has four more rod holders built into it.
Aquaglide designed this inflatable kayak to be extra wide (39 inches total) so that the kayak remains stable even when you hook into a large catch. The self-draining floor allows any water that does enter the cockpit to drain adequately and it's also rigid enough to support standing when you're trying to cast into the perfect spot.
Aquaglide Deschutes 130
Specs
Length

:

13'

Weight

:

21 lbs

Paddlers

:

1

Weight Capacity

:

400
Features
Duffel-style storage and travel bag included
D-rings along with front and rear deck bungees
Seat has a thick padded cushion and high, supportive backrest
Solid EVA-covered floor reduces weight


BEST FOR: TOURING
When you need an easily transportable kayak that also tracks well across the water, consider the Deschutes 130.
Aquaglide designed this kayak with long and narrow tubes that are welded and airtight as well as a crosspiece support beam that adds to its overall structural integrity without weighing it down. The padded seat features a supportive backrest that's also designed to be breathable, keeping you cool on those warm days. .
What I like most about this kayak is the quick-release weedless fin, that helps it achieve such superior tracking on the water.
Advanced Elements Sport
Specs
Length

:

10' 5"

Weight

:

26 lbs

Paddlers

:

1

Weight Capacity

:

250 lbs
Features
Quick Setup
Compact for Storage
Rigid Bow and Stern (for better structure)
Rubber Handles (for easy transportation)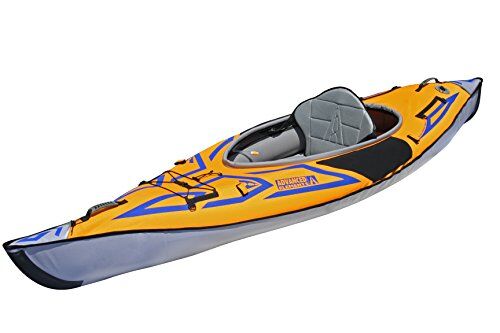 BEST FOR: SPONTANEOUS ADVENTURES
This kayak is the perfect size to store in a car, underneath an RV, or in the corner of your garage. It won't take up much room when you don't need it, but it's really quick and easy to setup and inflate when adventure comes calling. When deflated, this kayak packs down to dimensions of just 30.75 x 18 x 10.75 inches.
This inflatable kayak includes a rigid bow and stern. These front and rear areas of the kayak are reinforced with an aluminum frame, which helps the boat track through the water and makes paddling easier. When you need to lift this kayak out of the water for any reason, you'll find that the low-profile rubber handles make transporting this kayak a breeze.
Advanced Elements Expedition Elite
Specs
Length

:

13'

Weight

:

42 lbs

Paddlers

:

1

Weight Capacity

:

450 lbs
Features
Rear Storage Access Hatch
Enclosed Design (keeps you drier)
Ample Leg Room (great for taller paddlers)
Bungee Deck Lacing and D-Rings (for attaching gear)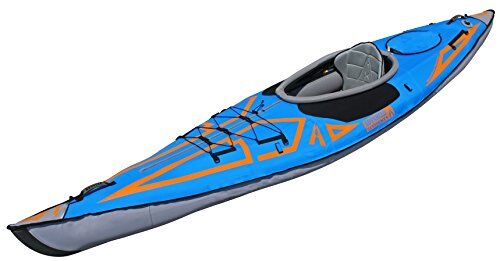 BEST FOR: TALLER PADDLERS, LONGER EXPEDITIONS
This inflatable kayak is designed to mimic the performance of a hard-shell, sit-inside kayak. It's an excellent choice for longer expeditions because of the ample amount of storage space it offers. The rear storage access hatch can be accessed from the cockpit and includes a roll-top closure to keep water out.
This kayak is also designed with paddler comfort in mind. The enclosed deck keeps more water from coming inside the cockpit and it's also compatible with a number of paddle skirts, if you want to keep water out entirely. The interior of the kayak offers ample legroom for tall paddlers (even those over 6'2") and the added bungee lacing and d-rings on the deck gives you plenty of space to attach all of your gear for a longer trip.
Aire Lynx II Tandem
Specs
Length

:

12' 6"

Weight

:

39 lbs

Paddlers

:

2

Weight Capacity

:

475 lbs
Features
Abrasion-Resistant Outer Material
Hydrodynamic Design (moves efficiently through the water)
17 Cargo Loops (for gear attachment)
Self-Bailing Drain Holes (removes water from cockpit)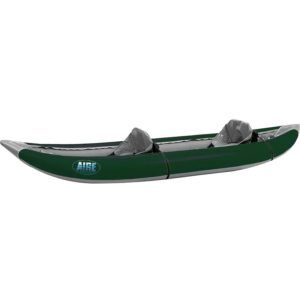 BEST FOR: MELLOW RIVER PADDLING WITH A PARTNER
If you live near a wide stretch of river and love to get out paddling with a partner, this inflatable kayak is a great choice. The exterior of the kayak is made with tough materials that's resistant to scratches and punctures, even if you do happen to run aground. It also features a sleek design that makes it effortless to paddle through the water.
The Aire Lynx II Tandem also prepares you for a longer river trip with a partner. With a grand total of 17 cargo loops, it offers plenty of places for you to secure gear and accessories so that you're comfortable and prepared throughout your trip. Finally, even if a little water splashes over the sides of your kayak and into the cockpit, it will naturally self-drain through the specifically-designed holes in the bottom.
Advanced Elements Convertible Tandem
Specs
Length

:

15'

Weight

:

52 lbs

Paddlers

:

2

Weight Capacity

:

550 lbs
Features
Easy-To-Use Inflation and Deflation Valves
Adjustable From Tandem to Solo Paddling
Generous On-Board Storage Space
Paddle Holders (for storing paddles when not in use)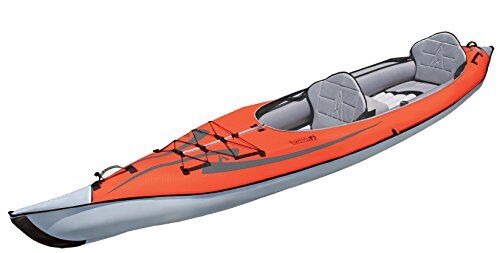 BEST FOR: TANDEM KAYAKING ON FLATWATER
Advanced Elements recently updated the design of the valves on this inflatable kayak to be easier to operate. They're also compatible with most pumps and allow you to inflate and deflate your kayak more quickly. This kayak can also be adjusted from a tandem setup to a solo setup and offers various, adjustable seat positions.
It also features a generous amount of on-board storage space so that you can store the items you'll need to be comfortable on a day-long outing. Fortunately, the designers added this storage space without significantly decreasing the amount of legroom inside the cockpit. Finally, this kayak features paddle holders that allow you to keep your paddles resting, but handy, while you take pictures or simply relax in the sun.
THINGS TO CONSIDER WHEN BUYING AN INFLATABLE KAYAK
PRIMARY PADDLING LOCATION
When considering which kayak is right for you, the first question to ask yourself is where you plan to use your new kayak. Ocean kayaking, for example, tends to require more stability and splash protection than paddling on flatwater. You'll also want to prioritize a kayak that self-drains in the event you do capsize.
Fast-moving water necessitates a kayak that can maneuver very quickly to help you avoid objects. Especially when we're talking about inflatable kayaks, be aware that fast moving water also means more likelihood to encounter sharp rocks, tree limbs, and other things that have the potential to puncture your boat.
Paddling on gentle rivers and/or flatwater generally carries much less risk to the integrity of your inflatable kayak. But in addition to location, you'll also want to consider the type of paddling you'll most likely be doing.
PRIMARY USE
The next question to ask yourself is how you plan to use your kayak. For example, if you primarily want a new inflatable kayak so that you can fish in locations that are now inaccessible to you, you're going to want to look for a model that's specifically designed for fishing. If you find a model that isn't necessarily built for fishing, you'll probably want to opt for a tandem version, even if you plan to paddle solo. You'll like the added stability and storage space that comes with a larger kayak.
Conversely, if you have no interest in fishing but really want to introduce your kids to whitewater kayaking, a shorter kayak that's easy to transport becomes a higher priority. You should also look for a model that's going to be relatively easy for your kids to help in transportation and setup, so that they learn those skills as well.
These are just a couple practical examples of how your primary use will dictate the specifications and features that you're looking for. Always remember to ask yourself whether a certain kayak fits your desired HOW before you make a final decision.
SIZE AND WEIGHT
The main consideration when it comes to the size of your kayak is whether you're going to fit comfortably and be able to maneuver the kayak you choose. Taller paddlers, for example, should make sure that the kayak they choose offers sufficient legroom in the cockpit so that they can stay comfortable throughout a full day of paddling. Conversely, smaller paddlers don't want to choose an extra-large kayak that's going to be difficult to transport and handle on the water.
Weight is mostly going to come into play when you're transporting the kayak to and from wherever you like to paddle. Keep in mind that most of the damage that kayaks sustain actually happens when they aren't in the water, so it's important to choose a kayak that you can handle safely when it's not in the water.
Fortunately, inflatable kayaks are much lighter than their hard-shell counterparts. Still, make sure you check the base weight of the kayak you're looking at to make sure you'll be comfortable carrying it to and from your vehicle.
DURABILITY
While inflatable kayaks are the most compact and easy-to-transport option out there, they generally don't offer the longevity and durability of kayaks made with polyethylene. However, more and more inflatable kayak manufacturers are supplementing their designs with things like aluminum ribs and exterior material coatings. These additions make the kayaks more resistant to punctures and scrapes, as well as to long-term damage from sun exposure. When sorting through inflatable kayaks, make sure to look for these added features if you want you the kayak you choose to last.
FEATURES EXPLAINED
HULL
The hull of a kayak is its bottom. This is the part of the kayak that sits underwater once you sit inside (or on top) of it. The design of a kayak's hull plays a large role in how it tracks (stays straight) and how easy (or hard) it is to maneuver.
BOW/STERN
The bow of your kayak is the front and the stern is the back. An easy trick to remember these terms is that we BOW forward and a STERN face is the one our mom gives us when we might want to go back and do something differently.
COCKPIT
The cockpit of a kayak is the area where the paddlers sit to maneuver the boat. Some cockpits also include storage area around the paddlers feet, or cup holders so that you can enjoy a cool beverage out on the lake.
SKEGS/TRACKING FINS
Not all kayaks have a skeg or tracking fin. But those that do are typically longer models that can have a more difficult time tracking straight in the water. Because they tend to be wider and sit flatter in the water, many inflatable kayak models also include a skeg or fins for the same reason. Skegs or tracking fins attach to the hull (bottom) of a kayak to help it stay straight, at least until the paddlers get in rhythm and are able to correct the kayak's course on their own.
STORAGE HATCHES
Kayak storage hatches give you a place to store extra gear for day-long or multi-day paddling trips. While they can seem like the perfect place to store dry goods, almost all experienced paddlers have a horror story about being let down by storage hatches that they really needed to keep their gear dry.
While storage hatches give you a great place to take more gear with you, we always recommend purchasing dry bags or boxes to store sensitive gear in before placing it in your kayak storage hatches.
SELF-DRAINING FLOOR
Some hard-shell kayaks have holes in the hull that allow water to drain. Increasingly, inflatable kayak manufacturers have included a similar feature in the design of their boats. They call this feature the self-draining (or self-bailing) floor. When water comes over the sides of your kayak and into the cockpit, this design allows it to drain back out without you having to worry about sitting in a puddle all day long.
READ MORE
For more of our top kayaking gear recommendations, check out these popular buyer's guides: