Updated on March 29, 2022
Almost nothing is worse than getting a mouthful of water while snorkeling. Your delightful water adventure is suddenly paused as you rise to the surface sputtering and coughing. But that's why we have dry snorkels, to protect your snorkel against any water intrusion. These snorkels include a water-sensitive mechanism at the top – where the air comes in – which will seal the snorkel tube as soon as you dive underwater or your snorkel top is submerged by a wave. However, dry snorkels seem to be a-dime-a-dozen, and finding the best one can be difficult. Don't worry about it, we've compiled the best dry snorkels right here for you to find the perfect fit for your next aquatic escapade.
For more of our top scuba gear recommendations, check out the Best SMBs for Diving.
Quick Answer

-

The Best Dry Snorkels
Comparison Table

-

Best Dry Snorkels

For the best experience turn your device horizontally
Reviews

-

The Best Dry Snorkels
Cressi Supernova
Specs
Best Use

:

SCUBA Diving, Snorkeling, Spearfishing

Mask Attachment

:

Single Position Quick Release

Dry Mechanism

:

Water Activated Floating Valve

Purge Valve

:

Yes

Detachable Mouthpiece

:

Yes
Features
Excellent Price
Effective Sealing Mechanism Prevents Water Entry Into Snorkel
Replaceable Mouthpiece

BEST FOR: ENTRY LEVEL DIVERS
The Cressi Supernova has a reputation as one of the most popular dry snorkels on the market, and it's easy to see why. The float mechanism quickly and effectively seals the snorkel tube from water the instant you dive underwater. On the surface, the splash guard also keeps waves at bay, making for a very effective snorkel.
If water does happen to find its way into the tube, it will be immediately funneled to the lower reservoir directly in front of a one-way purge valve. One puff from you, and any accumulated water will be expelled.
Keep in mind that a select few users report that the sealing mechanism is susceptible to sand, and may get gummed up if exposed to too much debris. So, treat it well, and you'll have the best dry snorkel for new divers and snorkelers.
Tusa Hyperdry Elite II
Specs
Best Use

:

SCUBA Diving, Snorkeling

Mask Attachment

:

Swivel Clip

Dry Mechanism

:

Water Activated Gasket

Purge Valve

:

Yes

Detachable Mouthpiece

:

Yes
Features
Swivel Attachment Allows For Greater Mounting Versatility
Comfortable Mouthpiece Reduces Jaw Fatigue
Durable Design Will Hold Up To Continuous Use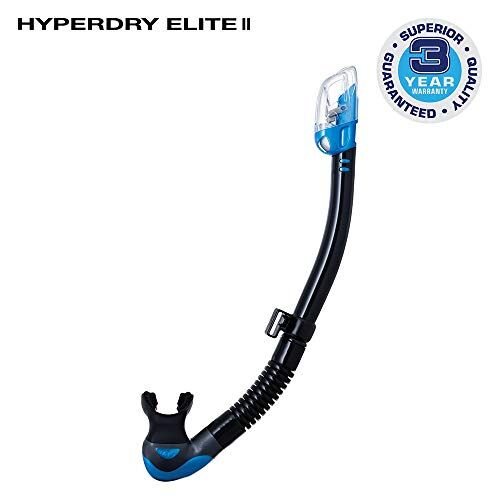 BEST FOR: OVERALL DRY SNORKEL QUALITY
The Hyperdry Elite II from Tusa has quickly won over many snorkelers and freedivers out there. We have a very effective sealing mechanism that stays dry when you're both submerged or getting doused by waves along with a very innovative swiveling attachment for improved versatility.
This swiveling attachment allows you to rotate the snorkel to a horizontal position as you switch to a SCUBA regulator or reduce your drag as you plunge under the waves. The corrugated flex tube and specially designed mouthpiece both work together to reduce jaw fatigue, making this Elite II a very comfortable option for long days in the water.
The Elite II has excellent reviews across the board and a proven track record of reliability and comfort. That's exactly why we consider this product to be the best dry snorkel for overall quality.
Phantom Aquatics Dry
Specs
Best Use

:

SCUBA Diving, Snorkeling, Spearfishing

Mask Attachment

:

Quick Release Buckle

Dry Mechanism

:

Proprietary Valve Design

Purge Valve

:

Yes

Detachable Mouthpiece

:

Yes
Features
Comfortable Mouthpiece
Very Reasonable Price
Effective Barrier Against Unwanted Water Entry Into The Snorkel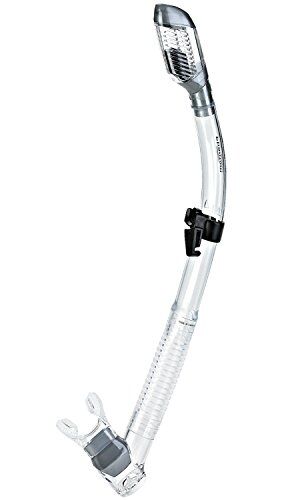 BEST FOR: LOW BUDGET SNORKELING
Effective dry snorkels don't have to be significantly more expensive than standard snorkels, as Phantom Aquatics has proven with this product. The dry snorkel does an excellent job of preventing any water intrusion and includes a self-draining water reservoir to collect any incidental water buildup.
The quick-release buckle on the side of the snorkel lives up to its name and is very easy to detach with one hand whenever necessary. Take note, however, this buckle is almost too easy to release and several users report their snorkel detaching mid-dive.
But for such an accessible price, we get what we pay for. In this case, a solid snorkel that accomplishes its goal of keeping water out for a very small initial investment. It's for that reason that we recommend this Phantom Aquatics snorkel as the best dry snorkel for divers on a tight budget.
Cressi Alpha Ultra Dry
Specs
Best Use

:

Snorkeling

Mask Attachment

:

Adjustable Dual Release Clip

Dry Mechanism

:

360-Degree Dry Top Technology

Purge Valve

:

Yes

Detachable Mouthpiece

:

Yes
Features
Larger Diameter For Easy Breathing
Easy To Use Release Clip For Simple On/Off
Angled Mouthpiece Design Reduces Jaw Fatigue

BEST FOR: EASE OF USE
Cressi has once again contributed to our list of the best dive gear, this time with their Alpha Ultra Dry Snorkel. This dry snorkel is not only effective in keeping water out in most conditions, but it also has generous dimensions that allow you to breathe very naturally.
This breathing ease is thanks to the snorkel's large inner diameter, which allows for more airflow and natural breathing. This is a literal breath of fresh air when compared to smaller snorkels that feel like you're sucking air through a straw. The dual release clip is also very handy and easy to use as you secure the snorkel to your mask.
It's important to note that several users report that the Ultra Dry does not seal as well as the competition. Any water seepage is easily ejected with the purge valve, but the potentially poor seal is worth considering when picking out the best dry snorkel for your next adventure.
Mares Ergo
Specs
Best Use

:

Snorkeling

Mask Attachment

:

Adjustable Swivel Clip

Dry Mechanism

:

Proprietary Design

Purge Valve

:

Yes

Detachable Mouthpiece

:

Yes
Features
Many Snazzy Color Options Available
Adjustable Clip Allows The Snorkel To Be Repositioned
Durable Mouthpiece Holds Up To Constant Use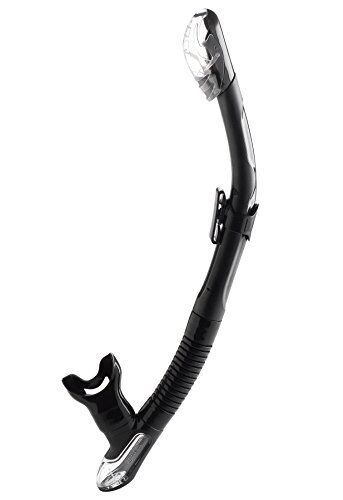 BEST FOR: SIGHTSEEING SNORKELING
The Ergo from Mares accomplishes just about everything we need in a dry snorkel. This solid mid-level product includes all the usual refinements that we're looking for but includes a very well designed mouthpiece section.
Many users report that the soft silicone mouthpiece is the perfect shape for long-lasting comfort. Furthermore, the corrugated tube flexes perfectly and doesn't pull as you turn your head to soak in the brilliant subsea views.
The Ergo's main drawback is that it's sometimes just a little too dry. Meaning that the dry-top valve has a reputation for occasionally sticking. This then requires the diver to cover the purge valve and blow to pop it open, or remove the snorkel and fix it manually. That's why we don't recommend the Ergo for entry-level divers or snorkelers but we think it can serve as a solid asset to more experienced folks looking for an excellent snorkeling experience.
Oceanic Ultra Dry 2
Specs
Best Use

:

SCUBA Diving, Snorkeling

Mask Attachment

:

Sliding Quick-Lock Clip

Dry Mechanism

:

Proprietary Design

Purge Valve

:

Yes

Detachable Mouthpiece

:

Yes
Features
Dual Hardness Mouthpiece For A Firm Connection Between You And Your Snorkel
Sliding Clip For Improved Adjustability
Very Reliable Dry Sealing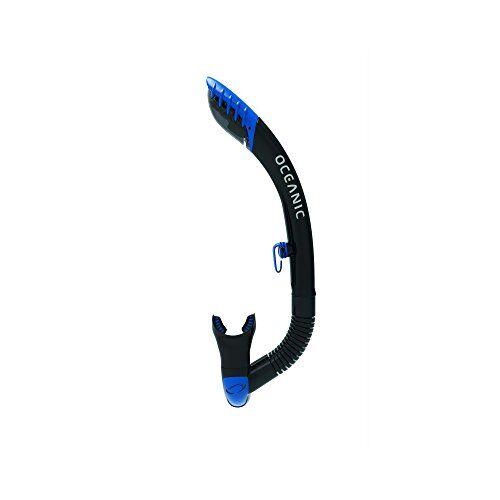 BEST FOR: ADVANCED DIVERS
Oceanic designed the Ultra Dry 2 Snorkel to be the one and only snorkel you need for almost any water adventure. From adjustability to an innovative mouthpiece, this is the best dry snorkel for you diving and snorkeling veterans.
The sliding and rotating clip system allows you to fine-tune the snorkel's position to just the way you like while the quick release system is easy to activate with just one hand. We're also very pleased with the dual-hardness silicone mouthpiece that provides a firm bite tab for a very solid connection to the snorkel.
Additionally, the sealing mechanism performs flawlessly in everything from calm to choppy waters and you'll rarely need the purge valve. The Ultra Dry 2 has phenomenal reviews across the board, and we're confident that it's the perfect addition for any water adventurer looking for the best dry snorkel.
Scubapro Phoenix 2
Specs
Best Use

:

SCUBA Diving

Mask Attachment

:

Sliding Quick-Lock Clip

Dry Mechanism

:

Proprietary Design

Purge Valve

:

Yes

Detachable Mouthpiece

:

No
Features
Drops Away From Face To Make Room For SCUBA Regulator
Quick-Lock Clip Keeps Snorkel In Place
Effective Water Reservoir And Purge Valve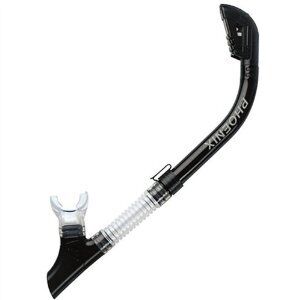 BEST FOR: SCUBA DIVING
ScubaPro's contribution to the world of dry snorkels takes shape as the Phoenix 2. Many scuba divers often notice that their snorkel will get in the way when transitioning to their regulator. Not so with the Phoenix 2!
This snorkel strikes that perfect balance in shape, flexibility, and adjustability that allows the snorkel to drop away from your face as soon as you transition to your regulator. There it will remain, without bobbing into your face or your chin, until you need it again upon surfacing after your dive.
While the Phoenix 2 isn't ridiculously expensive, we do wish it was just a tad cheaper to make it a no-brainer choice as the best dry snorkel. As it is, consider your budget before purchasing and be aware that there are cheaper options out there.
Aqua Lung Impulse Dry
Specs
Best Use

:

Snorkeling, Spearfishing

Mask Attachment

:

Push-Button Release Clip

Dry Mechanism

:

Forward Facing Valve

Purge Valve

:

Yes

Detachable Mouthpiece

:

Yes
Features
Comfo-Bite Mouthpiece To Limit Jaw Fatigue
Good Clip Attachment To Mask
Responsive Dry Mechanism To Keep Water Out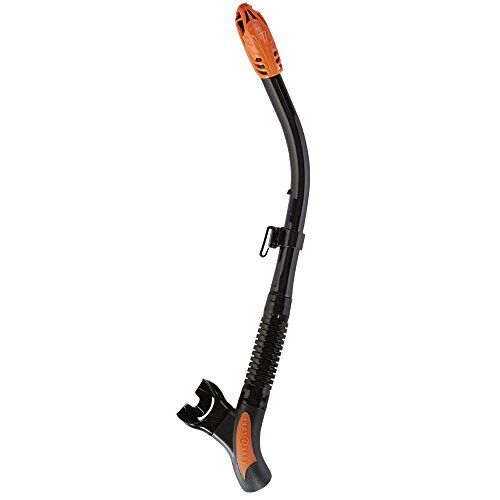 BEST FOR: COMFORT
Aqua Lung's Impulse snorkel is an excellent option in many respects, but its mouthpiece truly sets this dry snorkel apart. The Comfo-Bite mouthpiece is designed to stay secure in your mouth even when your jaw relaxes. This eliminates jaw fatigue and pain and makes for a much more comfortable aquatic experience.
Aqua Lung also boasts a forward-facing dry top system that is reputed to close more quickly than the competition and prevent any and all water intrusion. The corrugated flex portion of this snorkel also does an excellent job of dropping out of the way for a SCUBA regulator.
Overall, we're very pleased with the Impulse's performance. It functions as advertised and we love the comfortable and innovative mouthpiece that makes for a lockjaw-free experience.
Kraken Aquatics Dry
Specs
Best Use

:

Spearfishing

Mask Attachment

:

Side-Release Buckle

Dry Mechanism

:

Floating Ball

Purge Valve

:

Yes

Detachable Mouthpiece

:

Yes
Features
Very Effective Floating Ball Sealing Mechanism
Excellent Price
Secure Buckle Keeps Snorkel In Place While Attached To Your Mask
BEST FOR: SPEARFISHING
Kraken Aquatics has provided us with a very effective yet affordable dry snorkel. This snorkel features a floating ball system that does an excellent job of sealing the snorkel tube at the first hint of water submersion.
The rest of this option includes all the usual aspects of the best dry snorkel. We have a comfortable silicone mouthpiece – which some users report may run a little small – and a corrugated flex section to let the mouthpiece drop away when needed.
It's spearfishing where the Kraken Aquatics Dry Snorkel shines, however. The effective floating ball mechanism ensures that no water seeps into your snorkel while searching for your prey, which would require precious air to clear.
THINGS TO CONSIDER BEFORE BUYING DRY SNORKELS
MOUTHPIECE
As any contact sport player knows, having a piece of plastic – i.e. a mouthguard – in your mouth for hours at a time can become exceptionally uncomfortable. So, take the time to read reviews on your potential dry snorkel and determine if the mouthpiece runs large or small and is suitably comfortable or not. Also look for a mouthpiece that sits comfortably in your mouth without any sharp edges on your gums and doesn't require you to constantly bite down. Constantly biting will quickly tire out your jaw and suck all the fun out of your adventure.
DIAMETER
Snorkels come in all shapes and sizes. But the size we're most concerned with here is the inner diameter of the snorkel tube. Smaller snorkel tubes will restrict the amount of air that can pass through them, and consequently, make it harder to breathe as naturally as you would above the water. Conversely, while larger tubes are easier to breathe through, they can also be bulkier and harder to work with.
We generally recommend that beginners stick to larger snorkels as you acclimatize to snorkeling and diving. Once you've honed your skills, you'll be ready to switch to smaller and easier to handle snorkels.
Remember that the tube diameter, along with other key features, also fluctuates between snorkel types. Be sure to review a breakdown of different snorkel types to ensure that a dry snorkel is right for you.
FEATURES EXPLAINED
DRY MECHANISM
Every manufacturer has their own method for keeping water out of a dry snorkel. This could be a valve, floating ball, gasket, or some other proprietary mechanism. While we often don't know the specifics about each manufacturer's system, it's worth looking over product reviews to gauge each mechanism's effectiveness. Also be sure you know the difference between dry and semi-dry snorkels, as they behave very differently.
ATTACHMENT CLIP
Almost all snorkels include a device that allows you to attach it to your diving mask. However, this particular mechanism varies from brand to brand. Some can be rotated or adjusted to different positions that allow you to fine-tune your snorkel's position, and others cannot.
Manufacturers often include a release button or clip that allows you to disconnect the snorkel from your mask at the end of your dive. These mechanisms are sometimes very easy to handle and your snorkel can be disconnected with one hand, and other times it takes a little finagling.
Look closely at your potential dry snorkel, and determine what kind of attachment clip you prefer. Keep in mind that clips that boast very easy release buttons might be just a little too easy, and may result in your snorkel disconnecting unintentionally.
REMOVABLE MOUTHPIECE
Of all the pieces that make up a dry snorkel, the mouthpiece is often the first to go. Constantly chomping down on a little piece of silicone can cause it to wear over time, and possibly break. However, most of the best dry snorkels will also feature a removable mouthpiece. This allows you to replace the silicone mouthpiece if you accidentally bite through it over time. Replacement mouthpieces are usually available directly from the manufacturer.
PURGE VALVE
Water will sometimes find its way into your dry snorkel, despite the snorkel's best efforts. This could be a few drops that sneak in before the dry mechanism closes or ocean spray that dribbles in. However, snorkel manufacturers include a one-way purge valve that allows you to discharge this water before it can interfere with your snorkeling experience.
This is a one-way valve located near the mouthpiece of your snorkel. Gravity will naturally pull any unwanted water down to this valve, and all you have to do is give a little puff of air to push the water out through the valve.
READ MORE
For more of our top scuba diving gear recommendations, check out these popular buyer's guides: