Updated on June 10, 2022
Quite possibly considered one of the most versatile water sports in existence, stand up paddle boards (also known as SUPs) offer a variety of opportunities to hit the water and get your splash on. Whether you're looking to explore new places, reel in your next big catch, or surf the rapids at your local watering hole, we've got you covered when it comes to finding the best stand up paddle boards.
We know scouring the web for a top-notch SUP and comparing specs isn't how you want to spend your time – you'd rather be on the water! That's why we've compiled this list of stand up paddle boards from only the highest quality manufacturers and each board with a "best use" in mind.
Be sure to check out our Things To Consider section at the end of this article to get the low-down on all those snazzy features and how they'll help you get the most out of your board!
For more of our top paddle boarding gear recommendations, check out these popular articles:
SUPs for Women | Touring SUPs | SUPs for Yoga | SUPs for Surfing
SUPs for Beginners | Inflatable SUPs | SUPs for Fishing | Budget SUPs
Quick Answer

-

The Best Stand Up Paddle Boards
Comparison Table

-

The Best SUPs

For the best experience turn your device horizontally
Reviews

-

Best Stand Up Paddle Board
Boardworks Versa
Specs
Construction

:

Solid

Hull Shape

:

Planing

Length

:

10' 6"

Weight

:

26 lbs

Width

:

32"

Max Load

:

265 lbs
Features
Wide and stable for smooth water paddling
Honey Fomb heat embossed deck pad
Four Front D-ring tie downs with bungee cordage
Center Fin box comes with a 9" FCS2 Connect Dolphin Fin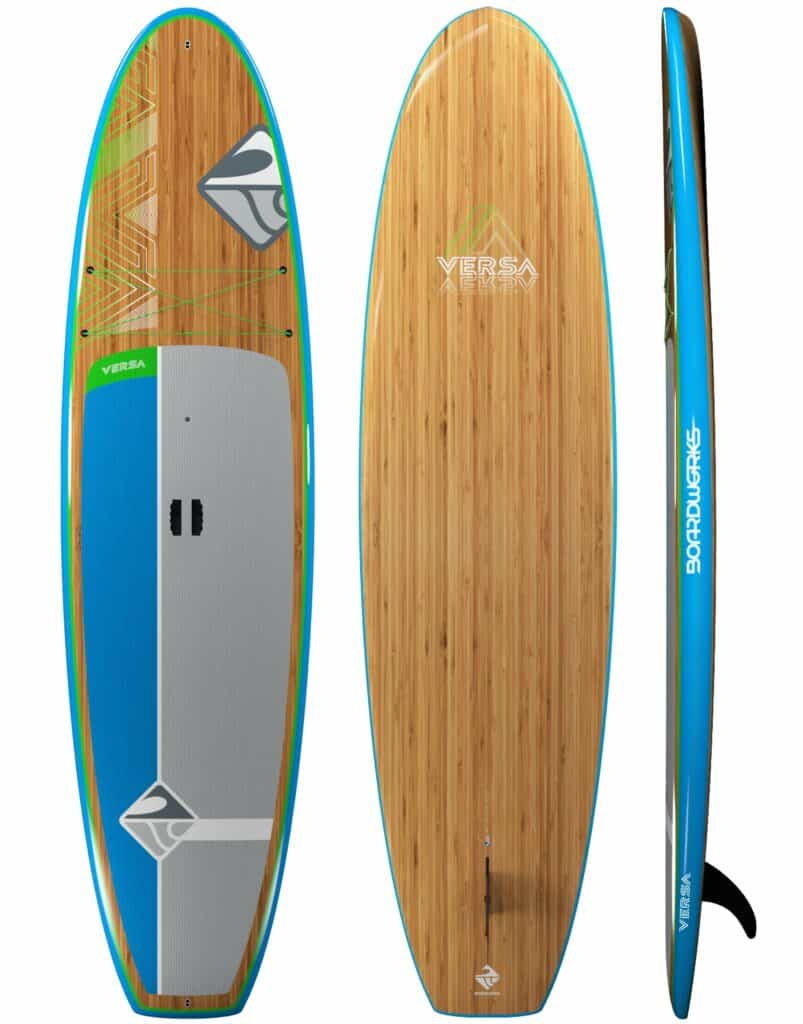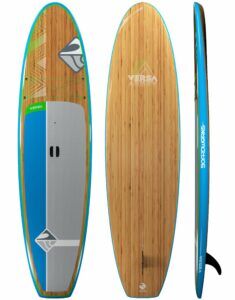 BEST OVERALL SUP
If you're looking for an all-around SUP the whole family is sure to enjoy, the Versa is worth your consideration.
This recreational paddle board is wide and stable, offering a smooth, stable ride. The honey fomb heat embossed deck is equally grippy and comfortable to stand on and there are four front D-rings tie-downs with bungees for stashing your gear. It includes a lockable ergonomic carry handle as well as a detachable fin.
What I like most about this SUP is the bamboo grain finish, which gives the board a very attractive look.
TAHE Beach Cross
Specs
Construction

:

Solid

Hull Shape

:

Planing

Length

:

10'

Weight

:

32 lbs

Width

:

33"

Max Load

:

220 lbs
Features
Lightweight TOUGH-TEC construction ensures lasting durability
Keeled nose shape provides efficient straight-line tracking
Plush EVA center deck pad
Integrated water bottle holder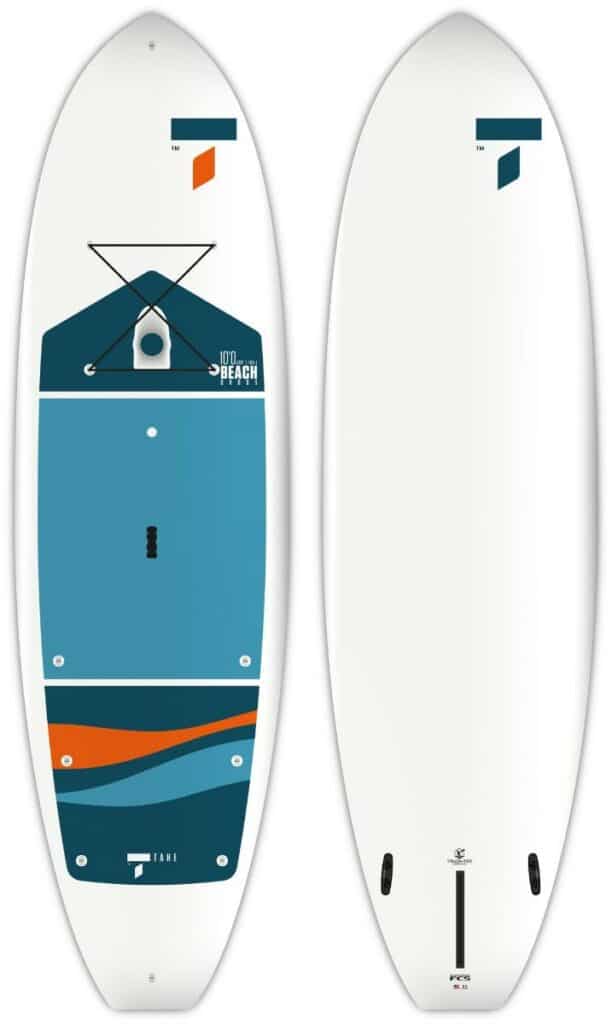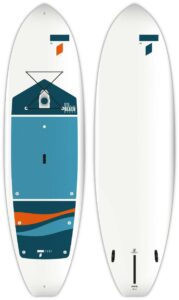 BEST FOR: PADDLERS ON A BUDGET
When you need a high quality board but you don't have a ton to spend, the $700 Beach Cross may be exactly what you're looking for.
TAHE designed the Beach Cross as a hybrid-style paddle board, meaning it features a keeled nose for tracking and performance and a full waterline for speed and efficiency. The rail to rail volume provides for excellent stability when you're out on the water and there are numerous attachment points and deck rigging for securing your accessories.
What I like most about the TAHE Beach Cross is how it performs equally well for yoga as it does for a long recreational day out on the lake.
Starboard Generation
Specs
Construction

:

Solid

Hull Shape

:

Planing

Length

:

12' 6"

Weight

:

29 lbs

Width

:

28"

Max Load

:

220 lbs
Features
Pine on the standing area offers extra impact resistance and rigidity
Flat deck with recessed pad offers comfort and stability
Deep double concave supports the round Vee nose with stability directly underfoot
For every board sold, Starboard plants a mangrove tree in the Thor Heyerdahl Climate Park, absorbing 1 ton of CO2 over 20 years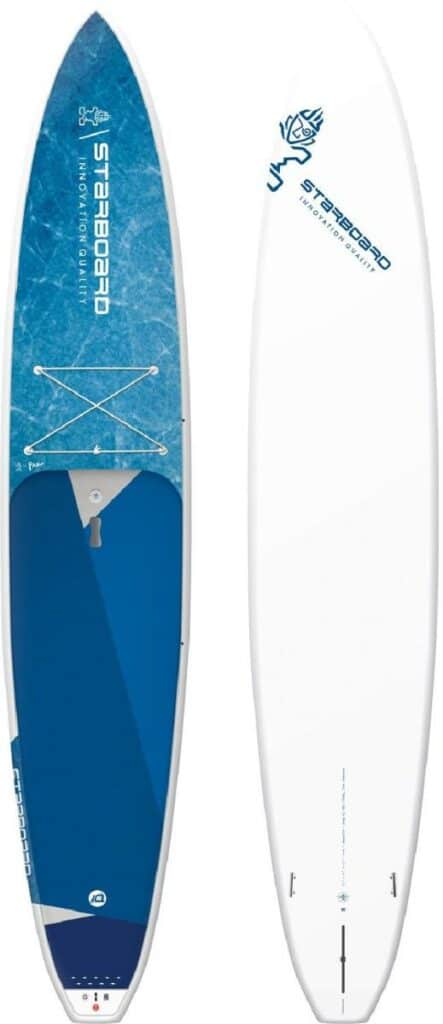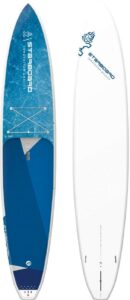 BEST FOR: LONG DISTANCE TOURING ADVENTURES
The Generation is a very stable and rigid kayak thanks to the unidirectional stringer bands and reinforcements at the rails and nose. The nose is designed to lift the board up on the water and allow you to accelerate faster while the nose kick prevents you from diving into the surf downwind and elevating you above the chop upwind. The Generation is equipped with a bungee tie-down in the front of the board for stashing supplies.
What I like most about this stand-up paddle board is how much the company is dedicated to giving back to the environment. For every board sold, Starboard plants a mangrove tree in the Thor Heyerdahl Climate Park and participates in a plastic offset program.
Bote Breeze Gator Shell
Specs
Construction

:

Solid

Hull Shape

:

Planing

Length

:

10' 6"

Weight

:

28 lbs

Width

:

32"

Max Load

:

220 lbs
Features
Includes a 2-piece adjustable paddle with fiberglass shaft
BVA textured deck pad is heat sealed to shed water
Adjustable bungee straps provide quick, easy storage of extra gear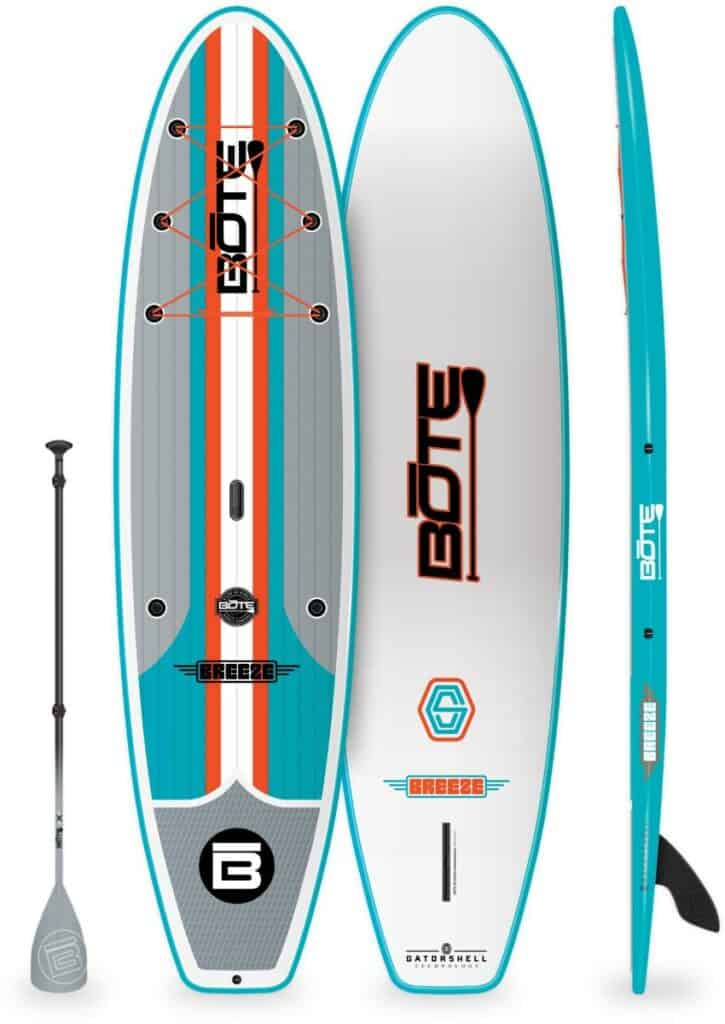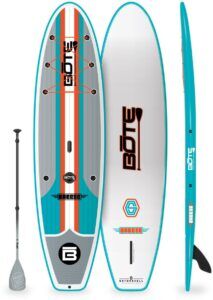 BEST FOR: SUP FISHING
If you're in need of a versatile paddle board suitable for fishing — anglers, be sure to check out the Gator Shell.
Bote constructed the Gator Shell with a flat, wide planing hull, making it a suitable choice for fishing endeavors. The heat-sealed textured deck pad sheds water and provides for nonslip traction. There are tie-downs and bungees straps for securing gear and essentials. It's comfortable to carry thanks to the ergonomic grab handle, and although not included, this board is compatible with the Traveling SUP carry system sling, which allows for hands-free transport.
What I like most about this board is that it comes with a 2-piece adjustable paddle with a fiberglass shaft.
Boardworks Flow
Specs
Construction

:

Solid

Hull Shape

:

Planing

Length

:

9' 11"

Weight

:

30 lbs

Width

:

33"

Max Load

:

270 lbs
Features
Includes A High Quality Single Fin (to keep you paddling in a straight line)
Easy Carry Handle Pops Up When Needed
Strong Bamboo Outer Layer Provides Long Lasting Durability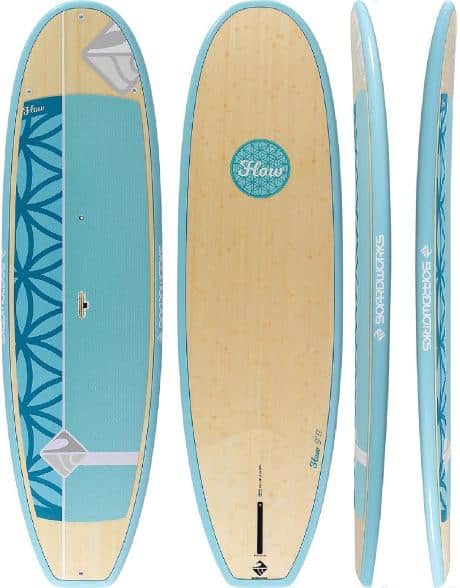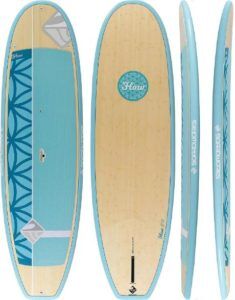 BEST FOR: YOGA
If you're looking for a new way to take your warrior pose to the next level, the Boardworks Flow is your best bet! Balance and weight distribution were specifically considered when this SUP was designed, making it the ideal board for a morning yoga sesh.
A hefty 33" wide and able to support 270 lbs., the Flow provides ample room for balance poses and strength poses alike. It also sports a full length foam deck pad to provide cushioning and act as your aquatic yoga mat. In all, this is a fantastic board for all types of beginners, even those new to yoga or stand up paddleboarding!
Hala Radito
Specs
Construction

:

Inflatable

Hull Shape

:

Planing

Length

:

10'

Weight

:

31 lbs

Width

:

34"

Max Load

:

350 lbs
Features
Includes A Backpack Carrying Case
Diamond Grooved Deck Pad For Better Traction
Rear "Stomp Pad" Increases Precision When Making Tight Maneuvers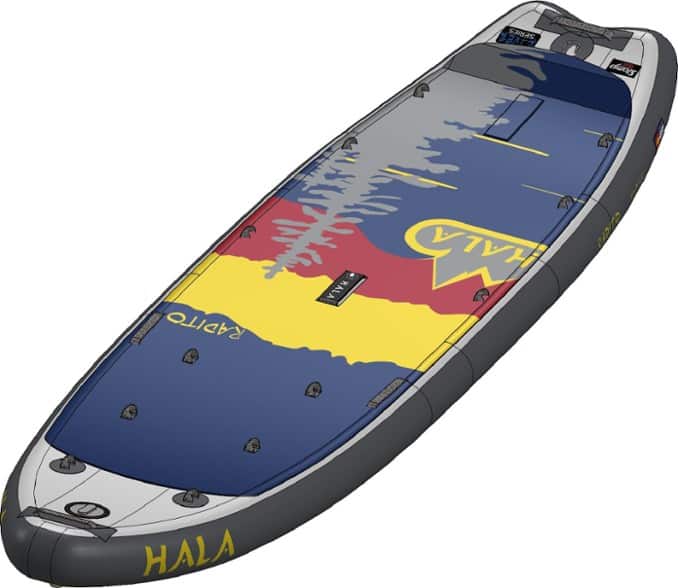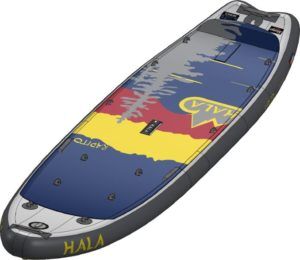 BEST FOR: WHITEWATER
For those who want to surf but lack a coastline, I have great news: you can surf in rivers with up to Class III rapids! But don't go using a solid construction SUP – you're going to need an inflatable to tackle this challenge and there's no better inflatable stand up paddle board for whitewater surfing than the Hala Radito.
When rocks would otherwise bash a well constructed solid SUP, the Hala Radito is the perfect little monster that can take a licking and keep on ticking, er, paddling. Measuring in at just 10' feet, this is one of the smaller boards on our list, lending itself to greater maneuverability on the river.
Perhaps the coolest feature of this board is it's retractable center fin that pushes back and out of the way when it comes into contact with shallow rocks. This ensures you have a smooth ride and keeps your mind at ease without worrying about breaking a traditionally styled immovable fin.
Hobie Mirage Eclipse ACX
Specs
Construction

:

Solid

Hull Shape

:

Planing

Length

:

12'

Weight

:

59 lbs

Width

:

35"

Max Load

:

275 lbs
Features
Comes In 2 Different Colors
Super Wide Design Increases Stability
Rear Cargo Bungees For Stowing Gear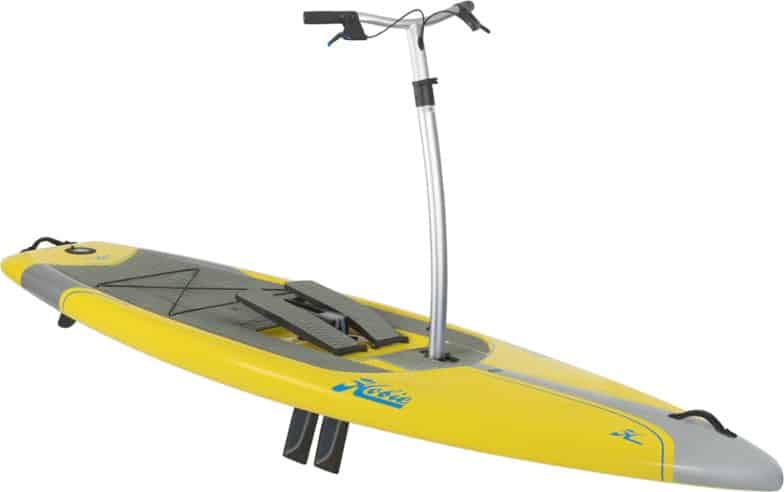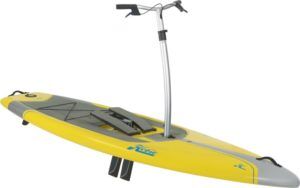 BEST FOR: "PEDAL" BOARDING
The paddling purist in me was reluctant to add this board to the list since it doesn't actually require a paddle. However, I realized that it's actually genius because you get to use your legs, the body's largest and most efficient muscle group. This opens up "paddle boarding" to an entire group of people who may not have otherwise engaged in the sport!
Looking as though MacGyver married a scooter to an elliptical and then Frankensteined it to a paddle board, the Hobie Mirage Eclipse ACX is surprisingly nimble and incredibly fast! The peddle fins sweep back and forth like the fins on a fish, making this board glide in a variety of conditions. The fins also fold flat when navigating shallow water or landing on the beach.
If you're someone who wants to enjoy the water simply and have loads of fun, then do yourself a favor and snag this pedal board!
Pau Hana Big EZ Angler
Specs
Construction

:

Solid

Hull Shape

:

Planing

Length

:

11'

Weight

:

36 lbs

Width

:

36"

Max Load

:

275 - 365 lbs
Features
Fish Finder Can Be Mounted Via Through-Hole
Extremely Durable Deck Made From Teak Wood
Planing Hull Increases Maneuverability Without Disturbing Fish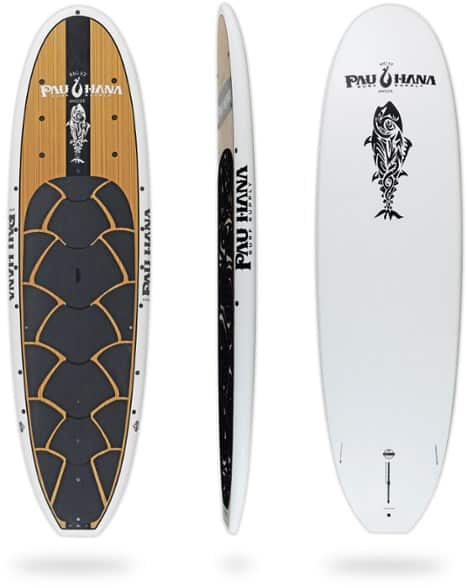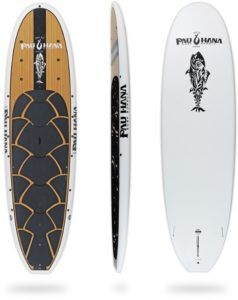 BEST FOR: FISHING
Pau Hana is one of the biggest names in aquatic boardsports and it's no wonder that 3 of their stand up paddle boards made our list! The Big EZ Angler might be the greatest fishing SUP we've seen yet.
What immediately stands out on this board are the 25 SeaMount attachment points which let you completely customize your vessel. No two Big EZ Anglers should ever look the same as there are nearly limitless options to add gear attachments, strap in coolers, position fishing rod holders, anchor bait and tackle, secure your beverage, and fasten your paddle.
The high weight capacity of this board also allows you to load it up with everything you need to reel in your next catch. Beginners may want to stick to the 275 lb weight limit while advanced paddlers can push the 365 lb max.
Pau Hana Endurance
Specs
Construction

:

Solid

Hull Shape

:

Displacement

Length

:

12'

Weight

:

31 lbs

Width

:

30"

Max Load

:

271 lbs
Features
Comfortable Foam Deck
Recessed Handle For Easy Carrying
Comes With A 9" Fin For Increased Tracking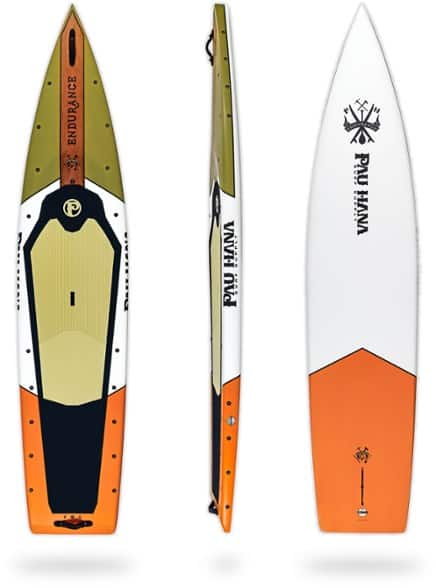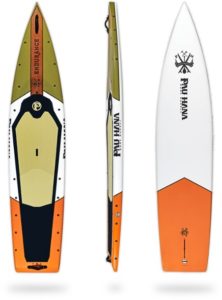 BEST FOR: OVERNIGHT TOURING / MULTI-DAY TRIPS
If you're the adventurous type that's bound to spend an entire weekend in the great outdoors, then you're going to need a heavy hauler able to carry multiple days worth of supplies. Named after explorer Ernest Shackleton's famous trans-Antarctic attempt, the Pau Hana Endurance is just the vessel for such adventures!
Able to easily handle 90+ lbs of gear, the Endurance paddles almost effortlessly on long trips. It's also loaded with 20 SeaMount anchor points, giving you the opportunity and flexibility to customize your gear stowing system to best fit your needs.
Last but not least, the hull (the underside of the board) is made from reinforced fiberglass that protects the board from rocks, logs, and other obstacles that would otherwise damage inferior boards.
THINGS TO CONSIDER WHEN BUYING PADDLE BOARDS
CONSTRUCTION
All paddle boards are either going to be an inflatable or a solid construction. They both have their benefits and it all depends on your needs.
INFLATABLE
Tend to be less expensive

Great choice when storage and transportation options are limited

Comes with a carrying case for easy travel

More forgiving if dropped or rammed into rocks on whitewater rivers
SOLID
Offers different hull types for specializing in different activities

Better center of gravity increases stability

Sits lower in the water offering streamlined performance and more efficient paddling

Usually the preferred choice for stand up paddle boarding when storage and transportation abilities permit
HULL TYPE
When choosing a stand up paddle board with specific use in mind, it's important to pay attention to what type of hull it has. The hull is the underside of a watercraft and comes in two designs.
PLANING HULL
Planing hulls are ideal for activities such as surfing, yoga, and whitewater. Their flat underside makes them easy to turn but sacrifices speed. These are the de facto hull found on inflatables.
DISPLACEMENT HULL
Displacement hulls are best for fishing and touring (long treks). As the name indicates, this type of hull displaces water by pushing it around the underside of the paddle board and vastly increases the board's ability to track straight. It also enhances speed and creates paddle efficiency, generating more distance with each stroke.
LENGTH
When determining how long of a stand up paddle board you should buy, take into consideration what type of activity you'll be doing the most.
UP TO TEN FEET
Yoga

Surfing

Children's SUP
TEN TO TWELVE FEET
Yoga

Fishing

Whitewater

Recreational Use
TWELVE FEET AND LONGER
Touring

Racing

Overnight Trips
WIDTH
The average size stand up paddle board measures in at 32". Wider SUPs will lend themselves better to beginners with little experience and to larger framed paddlers. Anglers who need more stability when reeling the big catch will also likely prefer a wider base beneath them.
Paddlers who have touring in mind and need speed while covering large distances will want to find a board that doesn't exceed the 32" standard. Also, those looking to surf with their SUP may prefer a narrower board to perform maneuvers in waves.
WEIGHT CAPACITY
The maximum weight capacity listed for each board is generally given as a guideline, but can be flexed depending on the paddler's skill and what they're bringing aboard.
Paddlers with little experience will want to respect the max weight and not exceed it, otherwise the board may be too difficult to paddle. However, those with more experience can push the limit, especially on touring SUPs when a weight range is listed.
FEATURES EXPLAINED
EPS
Stands for extruded polystyrene, which is a lightweight, buoyant, and waterproof material.
EVA
Stands for ethylene-vinyl acetate material, which offers padding and shock absorption.
DECK
The area of the board where the paddler stands.
HULL
The bottom, or underside, of the paddle board.
ABS
Acrylonitrile Butadiene Styrene – a type of hard, very durable plastic.
VOLUME
A measure of buoyancy, or how well a board will float in the water. The higher the volume, the better it will float.
FIN
Like the fin on a shark, a fin on a paddle board is mounted to the underside near the rear of the board to provide directional stability and control when steering the board.