Updated on August 25, 2020
Whether you like to ride for the sheer enjoyment or you like to push the boundaries for an adrenaline rush, mountain biking can check all of the boxes. Some shoes are designed for a specific type of riding and can often help enhance the experience for a day on the trails. Biking shoes are designed with the rider in mind, but we know that selecting the best mountain biking shoes can seem like a daunting task. 
Don't stomp your feet out of frustration. Here at The Adventure Junkies, we pride ourselves in helping you pick the best gear for your next biking adventure. In this guide, we'll break down the barriers to help you decide which mountain bike shoes are the best so you'll be ready the next time you hop in the saddle.
For more of our top mountain bike gear recommendations, check out the Best MTB Shorts.
Quick Answer

-

The Best Mountain Biking Shoes
Specialized S-Works Recon
Comparison Table

-

Best Mountain Biking Shoes
Reviews

-

The Best Shoes for Mountain Biking
Five Ten Freerider Pro
Specs
Closure

:

Lace-Up

Weight

:

1lb 8oz

Upper

:

Synthetic

Pedal Compatibility

:

Flat

SPD Pedal Compatible

:

No
Features
Impact-Resistant Toe Box
Removable Molded Sock Liner
Proprietary Rubber Sole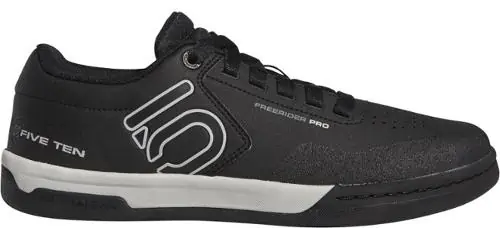 BEST FOR: DOWNHILL RIDING
Drawing its DNA from the Freerider mountain bike shoe, this completely updated model contains many of the features that Five Ten customers have come to expect. And so many more. Founded in 1985 as an approach shoe company, the proprietary Stealth Rubber has become synonymous with grip. Since those early beginnings, the brand was purchased by Adidas who has since utilized the rubber compound with other brands under the company's umbrella. This is the only true flat shoe in this guide and thanks to the grippy rubber sole, you can be assured that your shoes will remain connected to the pedal regardless of the terrain.
Giro Terraduro Mid
Specs
Closure

:

Buckle

Weight

:

14.8oz

Upper

:

Synthetic

Pedal Compatibility

:

Cleat

SPD Pedal Compatible

:

Yes
Features
Flexible Forefoot Region For Walking
Rubber Toe Cap
Lugged Outsole For Traction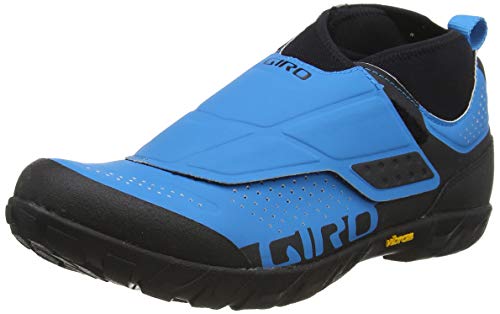 BEST FOR: ALL-MOUNTAIN RIDING
Founded more than 30 years ago, Giro was started to meet the growing needs of cyclists. Over the last three decades, the name has become a world leader in creating products across an array of categories including helmets, apparel, goggles, and of course, shoes. And while many performance racing shoes feature the stiff pedaling platform, Giro took the design of the Terraduro Mid to the next level by adding grippy rubber outsoles for those hike-a-bike sections. A low profile buckle allows for fine tuning the fit while twin straps ensure a secure feel on the trail. The reinforced toe box will provide extra protection against trail obstacles.
Sidi Dominator 7 SR
Specs
Closure

:

Buckle

Weight

:

1lb 8oz

Upper

:

Synthetic

Pedal Compatibility

:

Cleat

SPD Pedal Compatible

:

Yes
Features
Compatible With Toe Spikes For Additional Traction
Reinforced Heel Keeps Foot In Optimal Position
Carbon Composite Sole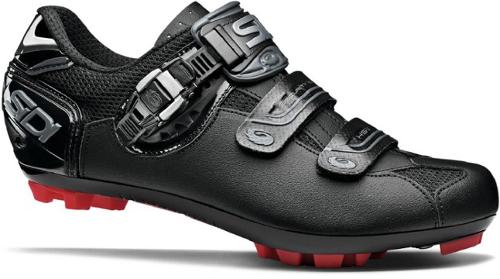 BEST FOR: ALL-AROUND MOUNTAIN BIKING
The name says it all! The Dominator truly lives up to its name on the trail. This may be one of the less budget friendly options in this guide but it's definitely a premium shoe and worth the premium price. Even while utilizing some of the features found in higher end Sidi shoes and incorporating less materials to achieve the same level of performance and design, Sidi still managed to price this shoe on the lower end of the spectrum. The upper is made with a synthetic fabric that is designed to breathe well while shedding water. The shoe is also available in a wide version to accommodate wider feet.
Pearl Izumi X-Alp Summit
Specs
Closure

:

Velcro Strap

Weight

:

1lb 14oz

Upper

:

Synthetic/Textile

Pedal Compatibility

:

Cleat

SPD Pedal Compatible

:

Yes
Features
Breathable Upper
Outsoles Provide Traction On Wet And Dry Surfaces
Low-Cut Design Feels Comfortable And Looks Cool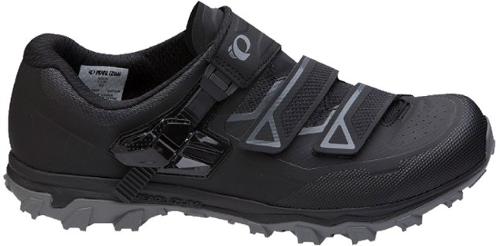 BEST FOR: MOUNTAIN BIKING ON A BUDGET
Pearl Izumi has been a household name in the cycling realm for more than sixty years. This shoe was designed from the ground up. The lugged outsoles feature a grippy rubber that is comfortable and ideal for those hike-a-bike sections. The 3-layer seamless upper is designed to breathe well while providing all-day comfort. The buckle closure allows the tension to be cranked down to the desired fit while the dual Velcro straps allow for customizing fit across the top of the foot. Aside from the obvious features that are designed for cycling, this shoe could easily be mistaken for a hiking shoe at first glance (especially if you aren't standing with or near a bike).
Giro Cylinder
Specs
Closure

:

BOA Dial / Velcro Strap

Weight

:

11.5oz

Upper

:

Synthetic

Pedal Compatibility

:

Cleat

SPD Pedal Compatible

:

Yes
Features
Sole Accommodates Toe Spikes To Provide Additional Traction While Riding Rough Trails
Mid-Foot Scuff Guard Increases Durability And Lifespan Of The Shoes
Reinforced In The Heel And Toe For Extra Protection On Rugged Trails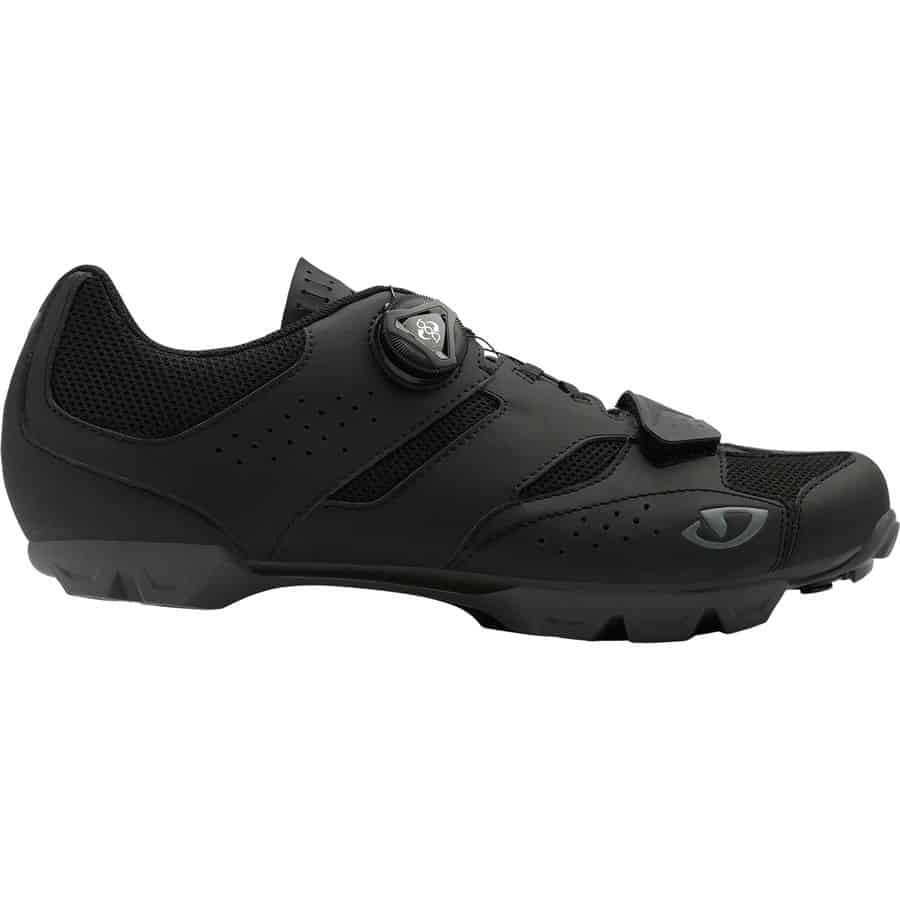 BEST FOR: TRAIL RIDING
Since 1985, Giro has been serving the cycling community by creating products that enhance the experience every time you saddle up. This entry level cycling shoe features the convenience of the BOA lacing system that allows the rider to find the perfect fit each time with a convenient dial. And with a quick pull of the dial, the tension is released and the shoe can easily be removed. The outsole is created using a combination of nylon and rubber to enhance traction when off the bike. Additionally, the outsole accommodates steel toe spikes for additional traction. Riding trails can often be rough on shoes and the Cylinder has a mid-foot scuff guard to increase durability and increase the lifespan of the shoes.
Shimano SH-ME5
Specs
Closure

:

BOA Dial / Velcro Strap

Weight

:

1lb 11oz

Upper

:

Synthetic

Pedal Compatibility

:

Cleat

SPD Pedal Compatible

:

Yes
Features
Breathable Upper Keeps Feet Cool
Durable Rubber Soles Provide Excellent Traction
Reinforced Midsoles Enhance Power Transfer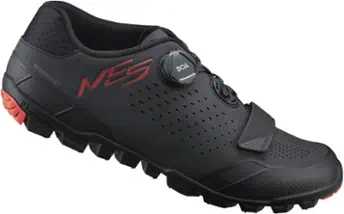 BEST FOR: MOUNTAIN BIKING
Founded almost a century ago, Shimano is a household name for almost anyone who's ever ridden a bicycle. Let's face it, sooner or later on most rides, we all end up walking the bike whether on a washed out section of trail or perhaps even through an area off-limits for riders. Shoes that excel at pulling double duty are a bonus. The SH-ME5 is just such a shoe. The shoes possess reinforced uppers that provide additional protection and durability while still remaining breathable for long hot rides. Utilizing a combination of the BOA dial lacing system and a Velcro strap, this low-profile shoe can be dialed in for a perfect fit every time you hit the trail.
Specialized S-Works Recon
Specs
Closure

:

BOA Dial

Weight

:

1lb 9oz

Upper

:

Synthetic

Pedal Compatibility

:

Cleat

SPD Pedal Compatible

:

Yes
Features
Rubber Heel And Toe Tread Provide Excellent Traction Off The Bike
Roomy Toe Box So Your Feet Don't Feel Cramped
Proprietary Heel Construction Cradles The Heel And Keeps It In Place While Riding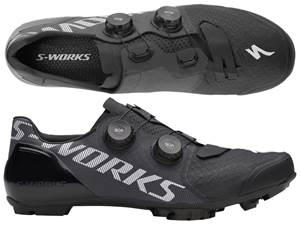 BEST FOR: MOUNTAIN BIKE RACING
Specialized makes a wide range of footwear but this is the Cadillac of cycling shoes. The Specialized S-Works Recon checks all the boxes you would expect from a premium cycling shoe: excellent power transfer, lightweight construction, and extremely stylish design. A stiff carbon plate offers excellent power transfer while the dual, independent BOA dials create an excellent fit. The heel and toe tread feature a proprietary rubber that provides excellent traction when you're off the bike as well as while you're riding. And while you might naturally gravitate towards the black model, the white shoe is exceptionally stylish. Why blend in when you were born to stand out?
Five Ten Hellcat Pro
Specs
Closure

:

Lace And Velcro Strap

Weight

:

1lb 3oz

Upper

:

Synthetic

Pedal Compatibility

:

Cleat

SPD Pedal Compatible

:

Yes
Features
Breathable Mesh Tongue And Side Panel Help To Keep Your Feet Cool
Proprietary Rubber Sole For Extra Grip On The Pedal And While Walking
Great Traction Off The Bike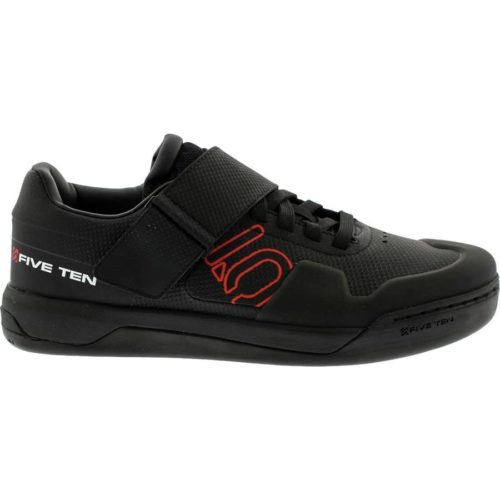 BEST FOR: DOWNHILL AND ALL-MOUNTAIN 
Five Ten has made a name for themselves in the mountain biking world. And with a name like the Hellcat Pro, it sets a precedent that it can definitely live up to on the trails. The upper comes with a DWR (Durable Water Repellent) finish to make the shoes hydrophobic to repel the water you will ultimately encounter on your rides. The brand's proprietary sticky rubber soles will provide reliable traction on any surface, wet or dry, riding or walking. The shoes are secured to your foot via a combination of laces and a strap. A breathable mesh tongue and side panel will expedite the transfer of moisture away from the foot, keeping your dogs cool while you ride.
Specialized 2FO Cliplite
Specs
Closure

:

BOA Dial

Weight

:

1lb 10oz

Upper

:

Synthetic

Pedal Compatibility

:

Cleat

SPD Pedal Compatible

:

Yes
Features
Easy To Ride Clipped In Or Out
Molded Heel Cup For Extra Comfort And Security
Proprietary Rubber Sole Is Soft And Grippy, Providing Both Comfort And Traction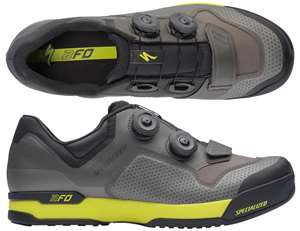 BEST FOR: RIDING CLIPPED IN OR OUT
You might be an excellent rider but if your feet don't have the right connection to the pedal, you may have a hard time leaving the starting line. That won't be an issue with the 2FO Cliplite as they provide excellent pedal-to-shoe connection. The cleat pocket makes it easy to ride clipped in or out of the pedal. Unlike other shoes, this model features two independent BOA dials that allow the ability to dial in the tension needed at different locations across the top of the foot. The proprietary rubber sole is soft and grippy for traction off the bike.
Five Ten Kestrel Pro BOA
Specs
Closure

:

BOA Dial

Weight

:

16.3oz

Upper

:

Synthetic

Pedal Compatibility

:

Cleat

SPD Pedal Compatible

:

Yes
Features
Proprietary Rubber Sole Provides Superior Traction
Single BOA Dial To Tighten Shoes Provides The Perfect Fit, Every Time
Low-Profile Design
BEST FOR: TRAIL RIDING AND RACING
Building on the success of the Five Ten BOA Kestrel, the Pro BOA steps it up a notch. This model is designed for delivering ultimate power transfer from the shoes to the pedal. And like other Five Ten shoes in this guide, they feature the proprietary rubber soles for the ultimate grip and traction on and off the trail. A single BOA dial provides superior fit while the perforated toe area and mesh tongue provide extra breathability for all day comfort. Come race day, the cushiony midsoles provide excellent shock absorption as you barrel down the trail pinballing from rock to rock.
THINGS TO CONSIDER BEFORE BUYING MOUNTAIN BIKING SHOES
RIDING PREFERENCE
The style of riding typically dictates the type of mountain bike shoe best suited for that particular style without getting too technical, we will break it down into just two main categories: clipless and flats.
Clipless: Contrary to its name, you are clipped into the pedal. The bottom of the shoe accommodates cleats that will 'clip' into the pedal. There are a variety of pedal manufacturers and SPD may be one of the most widely used. The misleading term clipless has a long history but we'll save that story for another day. 
Flats:  Flats are truly that. They don't accommodate cleats and/or have the option to use both options. Flats are great for downhill riding, bike parks, lift assist, etc… Because the shoes don't have a clipping mechanism, the pedals are usually larger to provide a more stable platform.
COST
Mountain bike shoes prices can range all over the spectrum. Shoes like the Pearl Izumi X-Alp Summit are a great entry level shoe that won't break the bank while the Specialized S-Works Recon are a premium shoe and are usually reserved for those that know what they want in a shoe and perhaps veteran riders or competitors. 
FEATURES EXPLAINED
CLEATS
When used in conjunction with the clipless pedal system, cleats are attached to the bottom of cycling shoes and the cleat clips into the pedal. If you have a specific brand of pedals already, make sure that the shoes accommodate those particular cleats. 
SPD
SPD is a proprietary system created by Shimano and it stands for Shimano Pedaling Dynamics. It is one of the most prominent styles in biking.
CLIPLESS
Despite the irony in the name, these pedals actual require you to clip-in, they allow for a better transfer of energy through the foot and prevent your shoes from slipping off the pedals when riding on uneven terrain. They are ideal for cross-country and all-mountain riding.
FLATS
Flats is another term for platform pedal shoes. They are much beefier shoes to protect your foot and can be worn for normal use, unlike shoes with cleats. 
READ MORE
For more of our top mountain biking gear recommendations, check out these popular articles: