Updated on April 19, 2022
Surfing may be portrayed as a chill, relaxed sport. Don't be fooled. Surfing is tiresome, grueling, and requires much more than a chill attitude. The first thing you'll need in order to enjoy surfing is a wetsuit. Without one, you'll be back at the beach in a few minutes trying to warm up. The best surfing wetsuits, however, are for much more than simply keeping you warm. They also protect your chest, knees, and shoulders from shin rash and injury. A wetsuit won't make you a better surfer, but it will keep you out on the water longer. If you're new to buying wetsuits, don't worry! This list was compiled just for you by our surfing experts over here at The Adventure Junkies. Surf through this list and we'll see you on the waves!
Disclaimer: If you're new to wetsuits, there may be features you don't quite understand. In order to make things simpler, check out the "Things to Consider" and "Features Explained" sections below.
For more of our top surfing gear recommendations, check out the Best Surfboards.
Quick Answer

-

The Best Surfing Wetsuits
Phantom Aquatics Men's Marine Shorty

O'Neill PsychoTech 5.5/4 mm
Comparison Table

-

Best Surfing Wetsuits

For the best experience turn your device horizontally
Reviews

-

Best Wetsuits for Surfing
Vissla 7 Seas 3/2 mm
Specs
Material

:

80% Neoprene / 20% Nylon

Seams

:

Double Blindstiched

Temperature Range

:

56°F to 65°F

Thickness

:

3/2 mm
Features
Fabric Blend Is Soft And Flexible
Abrasion Resistant Knee Pads For Protection
Key Cord Keeps Your Keys Safe In Your Wetsuit
Thermal Lining Dries Fast And Keeps You Warm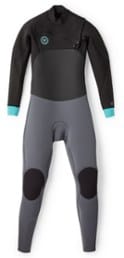 BEST QUICK-DRYING WETSUIT
The Vissla 7 Seas is an all-around performer. To start, the wetsuit is constructed with a thermal lining. As temperatures drop, your body will generate more heat. This heat is then trapped by the thermal layer to keep you warm.
The seams of this wetsuit keep excess water out due to the fact that they are double stitched, glued, and then taped over. The fabric of this wetsuit is also unique. Most wetsuits on the list are made with neoprene, but this wetsuit was made with nylon as well. This helps the wetsuit dry quicker than most, but also makes it very flexible and comfortable. To top things off, a front entry zipper makes the wetsuit easy to take on and off.
Phantom Aquatics Men's Marine Shorty
Specs
Material

:

Neoprene

Seams

:

Flatlock

Temperature Range

:

65°F to 80°F

Thickness

:

2.5 mm
Features
3-Dimensional Anatomic Modeling Allows The Wetsuit To Fit Very Comfortably
Velcro Neck Fastener Keeps Water Out At the Neck
2.5 mm Of Neoprene Combined With Flatlock Seams Is Extra Flexible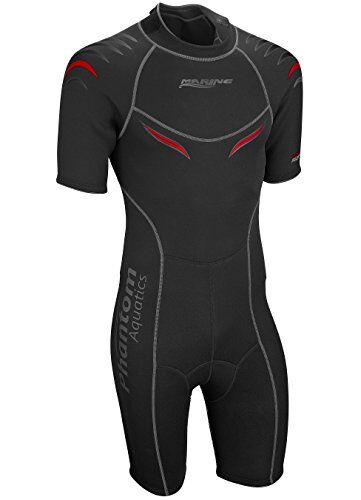 BEST FOR COMFORTABLE WARM WATER SURFING
If you are planning to surf in warm water, you may prefer a short-sleeved wetsuit like this one. This wetsuit was designed to fit the body better than others. The anatomical design will hug your body, which will prevent chafing underneath the arms and other sensitive areas.
The flatlock seams of the wetsuit are more flexible than blindstitched seams, even though they won't keep water out as well. That being said, you won't need to worry as much about keeping cold water out of your suit because you'll be surfing in warmer conditions. If you want a short-sleeved wetsuit that is comfortable and affordable, this wetsuit is for you.
O'Neill Reactor II 2mm
View Women's Version
Specs
Material

:

83% Nylon / 17% Spandex

Seams

:

Flatlock

Temperature Range

:

60°F to 80°F

Thickness

:

2 mm
Features
Patented Ultraflex Premium Neoprene Gives The Wetsuit Great Mobility
Seamless Paddle Zones Reduces Chafing At Important Areas
Foam Around The Neck Keeps Water Out And Wetsuit Comfortable
Features UV Protection To Keep Your Skin Safe In Extreme Sun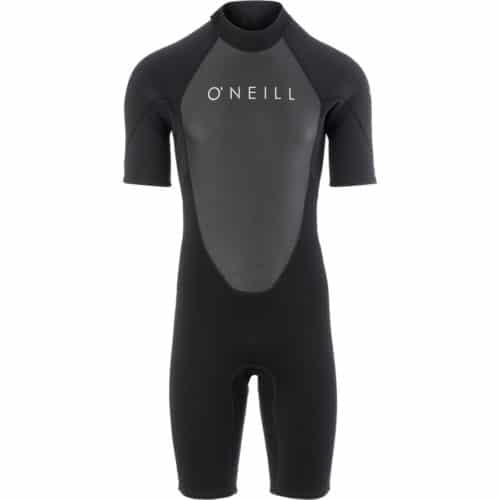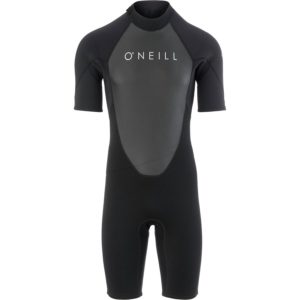 BEST SHORT SLEEVED WETSUIT
If you consistently surf in warm water, this is the wetsuit for you. It's a short sleeved wetsuit, which means the sleeves stop before the elbows and the legs stop right above the knee. However, it also features UV protection that keeps your skin safe in direct sunlight.
Spandex is used in the construction of this wetsuit, which makes it very comfortable and flexible. This may be one of the most mobile wetsuits on the list. With this wetsuit, seams were removed from areas that are traditionally prone to chafing. O'Neill is constantly improving its products, but this one is near perfect for warm water surfers.
Hevto 3 mm
View Women's Version
Specs
Material

:

Neoprene/ Nylon Elastic

Seams

:

Flatlock

Temperature Range

:

50°F to 67°F

Thickness

:

3 mm
Features
Suitable For Surfing, SCUBA Diving, Kayaking, Swimming, And Other Water Sports
Extra Long Leash On Back Zipper Makes Wetsuit Easy To Put On And Take Off
Lifetime Replacement Guarantee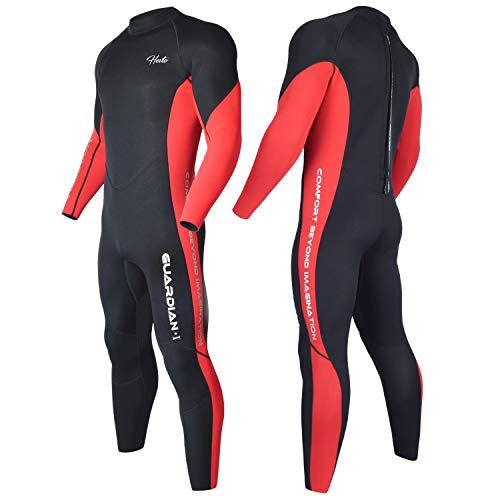 BEST FOR BUDGET MULTI-SPORT ATHLETES
The Hevto 3 mm wetsuit is the most affordable full-body wetsuit on the list. Even though it doesn't keep water out as well as other suits, it is a wetsuit that can be used for much more than surfing. This is due to the fact that the suit is built with buoyancy in mind. It helps you float in the water. Beginners will also love this wetsuit because of how easy it is to put on and take off. We recommend this suit to new surfers because you will be able to get a feel for if a wetsuit is necessary without spending a fortune.
Seavenger 3 mm Odyssey
Specs
Material

:

Neoprene

Seams

:

Flatlock

Temperature Range

:

65°F - 80°F

Thickness

:

3 mm
Features
Super Stretch Panels In The Knee And Armpit Makes Wetsuit Great For Multi-Sport Athletes
Tough Chest Fabric Withstands Continual Rubbing On The Surfboard
Knee Pads And Shoulder Pads Offer Ultimate Comfort And Protection
Extra Long Leash On Zipper Makes Wetsuit Easy To Put On And Take Off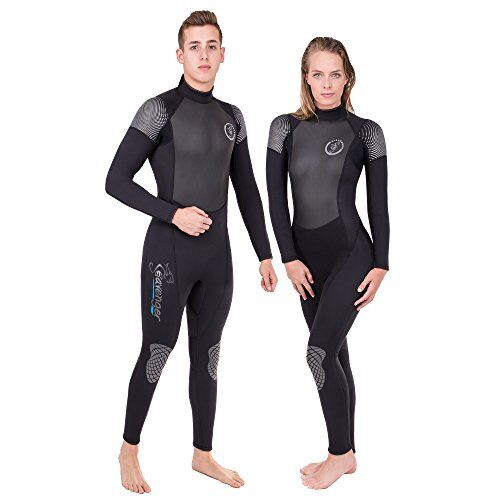 BEST FOR BUDGET, WARM WATER SURFERS
This wetsuit is the only full-length wetsuit on this list that is designed for warmer temperatures. It won't keep you warm in cold waters, but it will be comfortable. The fabric that is used underneath the armpits and knees stretches more than the fabric used in other areas of the wetsuit.
The fabric used on the chest is also unique. It provides more padding and grip than other wetsuits. There are also pads at the shoulders and knees. All of these features combined make this wetsuit durable and long lasting. At a low price point, this wetsuit is ideal for beginners who want a full bodysuit.
O'Neill Epic 3/2 Full
Specs
Material

:

Neoprene

Seams

:

Blindstitched

Temperature Range

:

50°F to 68°F

Thickness

:

3/2 mm
Features
Very Comfortable Neck Closure With 2 Different Points Of Closure
Seams Are Glued To Keep Water Out
Internal Chest Panel Keeps You Warm And Comfortable When Paddling
Protective Internal Flap Between Skin And Zipper Protects Your Skin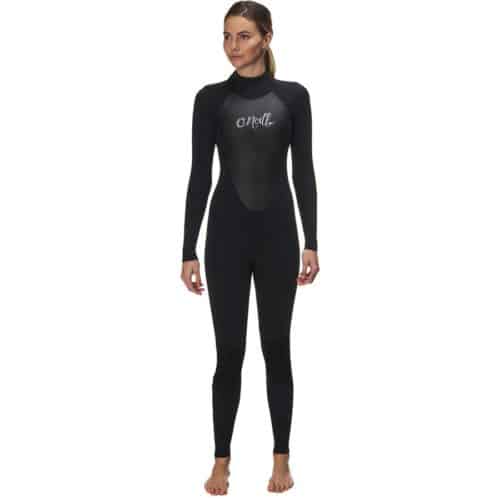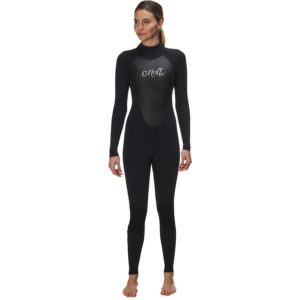 BEST FOR A VARIETY OF COLOR OPTIONS
This O'Neill wetsuit is ideal for women who want a stylish wetsuit. There is a large variety of color options available, so you'll be able to find a wetsuit that fits your vibe. The wetsuit has a wide temperature range because it keeps water out better than other wetsuits. The seams are blindstiched and glued. The neck also has two closures, which also helps to keep water out. This wetsuit is comfortable, stylish, and durable.
O'Neill PsychoTech 5.5/4 mm
Specs
Material

:

Hydrophobic Neoprene and Rubber

Seams

:

Blindstitched

Temperature Range

:

40°F to 64°F

Thickness

:

5.5/4 mm
Features
Foam Rubber Core For Warmth And Comfort
Trapped Air Technology With Quick-Dry Properties For Ultimate Warmth
Super-Seal Cuffs Provide Secure Fit
Includes A Hood For Keeping Your Head Warm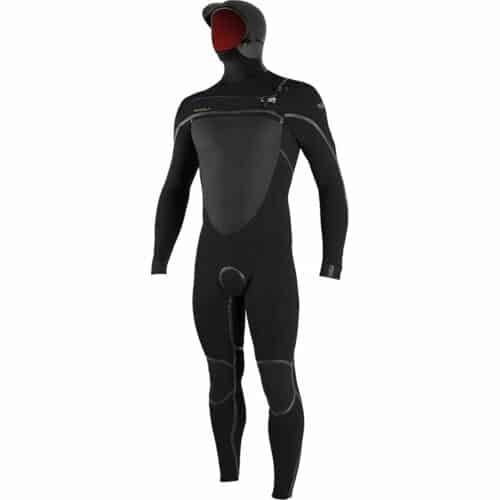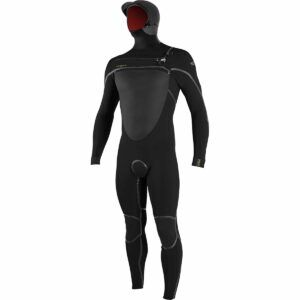 BEST FOR COLD WATER
This wetsuit is a beast and is ideal for frigid temperatures. Instead of being made with just neoprene, it has a rubber layer to keep water out extremely well.
There are multiple things that set this wetsuit apart from others. First, it's the thickest wetsuit on the list but is also made with an internal firewall. This thermal lining generates more heat the longer you stay out in the cold.
Second, it also comes with a hood to keep your head warm. Finally, the cuffs at the wrists and ankles will seal out water better than any other wetsuit. If you're going on a nordic surfing adventure, get this wetsuit. You'll freeze otherwise.
THINGS TO CONSIDER WHEN BUYING A SURFING WETSUIT
MATERIAL
Most wetsuits on the list are made with neoprene. Neoprene is a synthetic rubber that is very water resistant. It also is very flexible, making it ideal for usage in water sports.
Companies like O'Neill and Roxy specialize in wetsuits and make their own unique fabric. This often features a blend of neoprene and spandex, which allows the wetsuit to fit tighter while remaining flexible.
However, wetsuits made with higher-end fabrics tend to be much more expensive than the rest. If you want a cheaper wetsuit, consider buying one that isn't made with 100% neoprene. In order to make the wetsuit more affordable, companies use a combination of neoprene and nylon. The one benefit of this, other than the lower cost, is that they dry more quickly so you won't be hanging out in a soaking wet suit for long.
SEAMS
In order to fit snugly on your body, a wetsuit is made by stitching multiple fabric panels together. These panels are sewn together in a variety of different ways. The type of seams that your wetsuit has will impact the comfort and flexibility of the suit, as well as the ability for water to enter into your wetsuit. The types of seams are explained below:
BLINDSTITCHED
Blindstitched means that the two seams are glued together, and then sewn halfway through the material. Water stays out of seams very well, but the wetsuit is also more flexible and durable with blindstitched seams. The only downfall to these seams is that they tend to cause more chafing on the skin.
DOUBLE BLINDSTITCHED
This sort of stitching is used on thicker wetsuits. The seam is sewn halfway through on both sides, but typically features tape or glue to keep water out. These seams keep water out extremely well, but tend to chafe more than any other type of seam.
FLATLOCK
This sort of stitching includes one piece of fabric overlayed slightly on the other, and then the two are stitched completely together. This seam is very strong and durable. However, there are a lot of holes made in the process, making it more ideal for warm surfing as water is more likely to enter due to the holes. One benefit of flatlock seams is less chafing on the skin.
TEMPERATURE RANGE
Each wetsuit is promoted as having a specific temperature range, which is very important to keep in mind as you are deciding which wetsuit is for you.
There are a few different factors that make certain wetsuits warmer than others. Thicker wetsuits are warmer than thinner ones. Be sure to review if your wetsuit is the same thickness throughout the entire suit or only thicker at the chest.
A thick wetsuit will be warmer, but also more constricting in terms of mobility. Also, the types of seams will impact how much water enters into your suit. Wet suits with flatlock seams will be a bit more chilly than suits with blindstiched or double blindstitched seams.
THICKNESS
What does #/# mm mean? The first number is the thickness of the wetsuit at the chest, and the second number is the thickness of the material at the limbs and back. Higher quality wetsuits are thicker at the chest for two reasons. First, they keep the chest warmer and in turn, keep the entire body warmer. Second, surfing wetsuits wear down at the chest fastest because of all the time spent paddling on a board.
The thicker your wetsuit is, the warmer it will be. That being said, thicker wetsuits aren't as flexible as thinner ones.
SPECS AND FEATURES EXPLAINED
EXTRA LONG LEASH ON BACK ZIPPER
The zippers on wetsuits are typically on the back. Without a leash on your zipper, you'll need a friend to help you take your wetsuit on and off.
INTERIOR KEY POCKET
Leaving your keys at the beach is never a good idea. A small key pocket allows you to keep your keys with you while surfing. They are typically at the ankle so they stay out of your way while paddling or surfing.
INTERNAL THERMAL LINING
As water temperatures drop, your body will work harder to generate body heat. A thermal lining on the inside of your wetsuit will trap in this heat. In colder temperatures, this is an essential feature to have.
KNEE PADS AND SHOULDER PADS
Wetsuits with pads at the shoulders and knees are not just more comfortable when paddling – they can save you from a serious injury when wiping out. The worst feeling is having a board crush into your knee or shoulder, but having pads on your wetsuit will keep you safer.
SEAMLESS PADDLE ZONES
The paddle zones are at the shoulders and armpits. They take on the most strain when paddling out to catch waves and are very prone to chafing. Removing the seams makes chafing less likely to occur.
READ MORE
For more of our top surfing gear recommendations, check out these popular buyer's guides: