Updated on October 8, 2020
Whether you're a competitive racer or a weekend warrior, mountain biking is a highly technical and exhilarating sport. You'll need the best mountain biking brakes to ensure a safe and enjoyable experience, but choosing the right ones for you can be a challenge. Mountain bikes can be expensive and extensive consideration should be taken when pulling the trigger on that purchase. The components on modern bikes are highly technical and choosing the right package (and price point) can be overwhelming and daunting. Then, when the need arises and you need to replace a component like brakes, you are once again faced with the task of finding the right product for your needs as well as your wallet.
Take a "break"! Here at The Adventure Junkies, we pride ourselves in helping you pick the best gear for your next two-wheeled adventure. In this guide, we'll break everything down into simple and understandable jargon to help you decide which brakes are the best for slowing you down on that next steep descent.
For more of our top mountain biking gear recommendations, check out the Best MTB Hydraulic Brakes and Best MTB Disk Brakes.
Quick Answer

-

The Best MTB Brakes
Magura MT7 HC Next Flip Flop
Comparison Table

-

Best MTB Brakes

For the best experience turn your device horizontally
Reviews

-

The Best Brakes for Mountain Biking
Hope Tech 3 E4
Specs
Claimed Weight

:

400g

Individual or Set

:

Individual

Number of Pistons

:

4

Rotor Included

:

No

Lever Material

:

Aluminum
Features
Top Entry Pad Fitting
Compatible With 160, 183, And 203mm Rotor Sizes
Split Clamp Design Makes For Easy Installation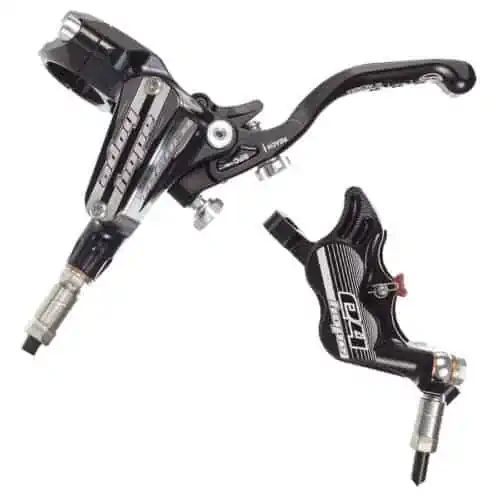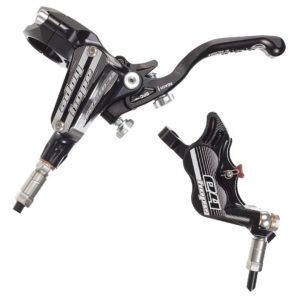 BEST FOR: ANY RIDING STYLE
While some brakes are specifically designed for a particular type of mountain biking, the Hope Tech 3 E4 is suitable for any and all. It is compatible with 160, 183, and 203mm rotors which covers the gamut of rotor sizes and riding types. What we truly like about this brake is that the lever features a split clamp design that is easy to install without having to remove anything additional from the handlebars. And while this individual brake component is a little on the heavy side, doesn't everyone need a little HOPE (that the brakes are going to work) when careening down the mountain?
Sram Code RSC
Specs
Claimed Weight

:

443g

Individual or Set

:

Individual

Number of Pistons

:

4

Rotor Included

:

No

Lever Material

:

Aluminum
Features
Ambidextrous Mount
Tool Free Adjustment
One Finger Operation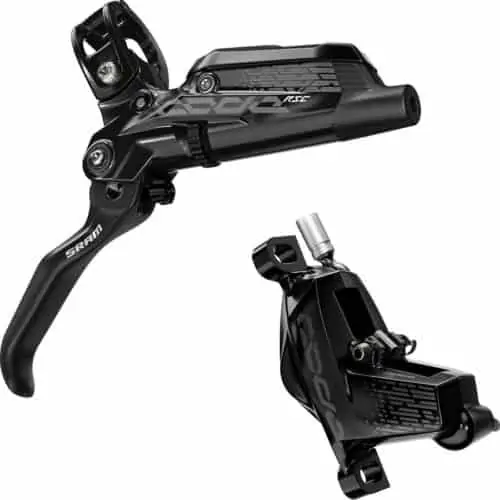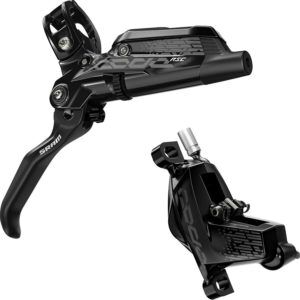 BEST FOR: ROUGH TERRAIN
Okay, bonus points if you knew this. SRAM is an acronym for the company's founders and the letters are a combination of their first names. Founded in the late 1980s, SRAM has now grown into a high-end component brand that has also acquired other brands throughout the years, including some other well known industry names.
The SRAM Code RSC brake can be fine tuned to dial-in the rider's preferences. The brakes provide more pad contact and control with less lever action. This is ideal when barreling down a technical trail where you want a brake that will perform under extreme conditions and with excessive use.
Sram Guide RSC
Specs
Claimed Weight

:

375g

Individual or Set

:

Individual

Number of Pistons

:

4

Rotor Included

:

No

Lever Material

:

Aluminum
Features
One Finger Control
Stainless Steel Hardware
Compatible Rotor: 140 (Rear), 160, 170, 180, 200mm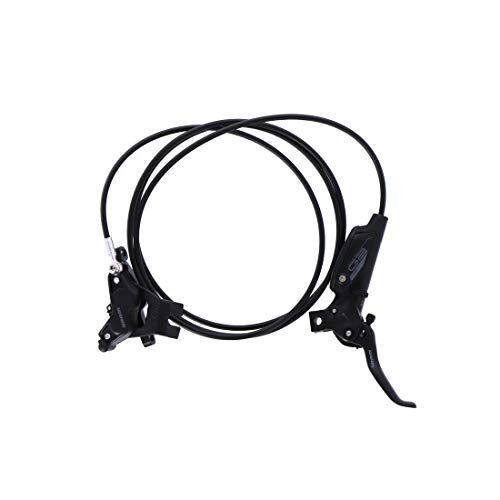 BEST FOR: TECHNICAL RIDING
There comes a time in every rider's life where they question whether they have the skillset to ride a particular trail or line. The same should not hold true when it comes to the reliability of your bike and its components. This will never be the case when the SRAM Guide RSC brakes are connected to your bike. Multiple proprietary features allow for fine tuning the braking to match your preferences without extensive knowledge and tool usage. The newer design also allows the brake to operate immediately when the lever is depressed, thus providing excellent modulation for a very responsive feel.
Hope Tech 3 V4
Specs
Claimed Weight

:

344g

Individual or Set

:

Individual

Number of Pistons

:

4

Rotor Included

:

No

Lever Material

:

Aluminum
Features
Fits 160-203mm Rotors
Top Entry Pad Replacement
Shifters Can Be Fitted Directly To Brake Levers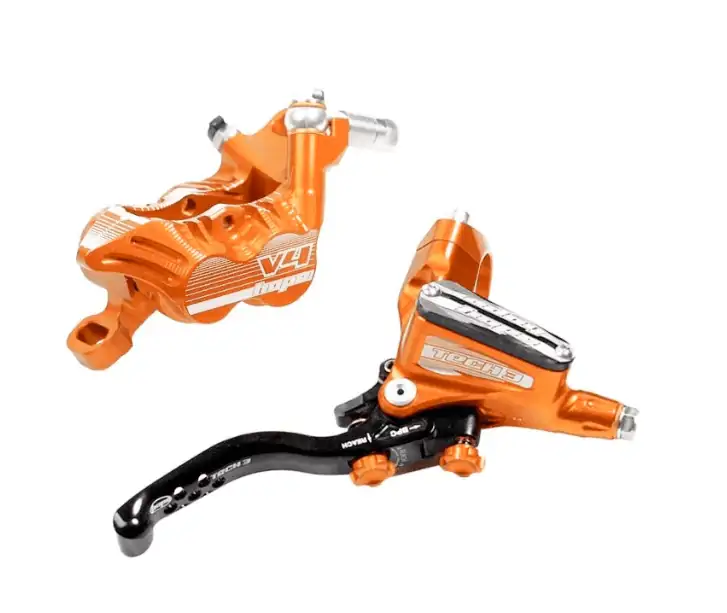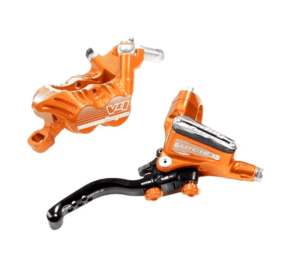 BEST FOR: DOWNHILL RACING
If it wasn't already evident, Hope is perhaps one of the most respected names in mountain bike braking systems. This one piece caliper is light, strong, and super reliable which makes it ideal for downhill racing. Paired with the Hope Tech 3 lever, this system provides more power and adjustability for serious riders. The calipers are designed to accommodate a wide range of rotors depending on your riding type. While weighing in at under 350 grams, they weigh more than some other models in this guide, but their durability and advanced technology make the extra weight worth it come race day.
Shimano Saint BR-M820
Specs
Claimed Weight

:

306g

Individual or Set

:

Individual

Number of Pistons

:

4

Rotor Included

:

No

Lever Material

:

Aluminum
Features
20% More Stopping Power Than Previous Models
Tool Free Lever Adjustment
Superior Heat Management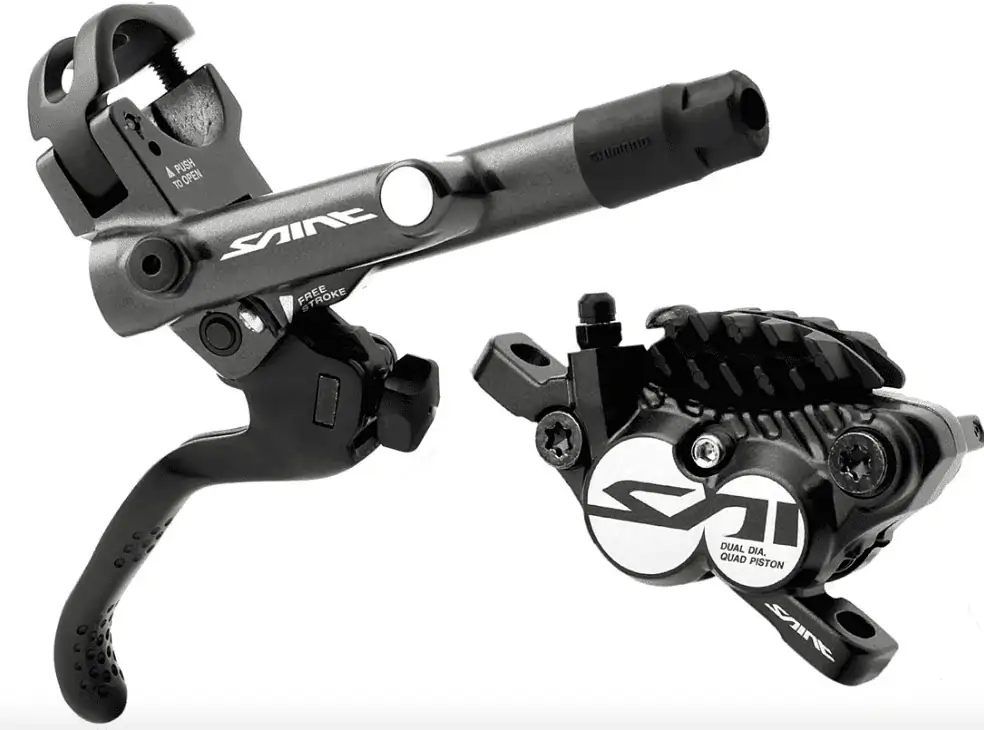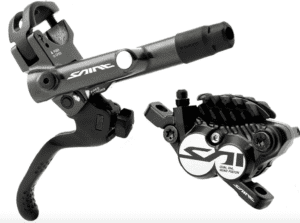 BEST FOR: EXTREME DOWNHILL RACING
Founded almost a century ago, the Japanese brand Shimano may be one of the most recognized names in bicycle components. This is the third generation of the Shimano Saint series. The newest generation is designed specifically for downhill racing. The caliper features superior heat management utilizing self insulating ceramic pistons. This translates to a reduction in operating temperature of 50-degrees F and a 20% increase in stopping power. For a downhill specific brake, this is huge. Everything must be ideal in a race setup and this system rounds out the features with ergonomic levers that are easily customizable with tool free adjustment.
Shimano XTR BL-M9100
Specs
Claimed Weight

:

312g

Individual or Set

:

Individual

Number of Pistons

:

2

Rotor Included

:

No

Lever Material

:

Carbon
Features
Adjustable Lever
Updated Brake Lever Shape
Lighter Than Previous Models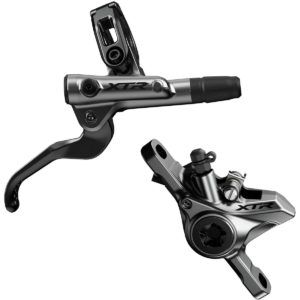 BEST FOR: ALL RIDING STYLES
Shimano, a Japanese component manufacturer, has been making technical components for nearly a century. The Shimano XTR brakes may arguably be the best performing hydraulic disc brakes on the market and The Race model is the brand's lightest hydraulic brake ever. So what makes it so light? The lightweight caliper is made of magnesium while the lever is made of carbon, creating a system that is the lightest setup in this guide. This, paired with the heat reducing full ceramic pistons in the caliper, allows the brakes to maintain a cooler temperature during intense braking on a technical course.
Magura MT7 HC Next Flip Flop
Specs
Claimed Weight

:

255g

Individual or Set

:

Individual

Number of Pistons

:

4

Rotor Included

:

No

Lever Material

:

Aluminum
Features
Interchangeable (Will Work As Either Front Or Rear Brake)
Tool Free Adjustable Lever
One Finger Lever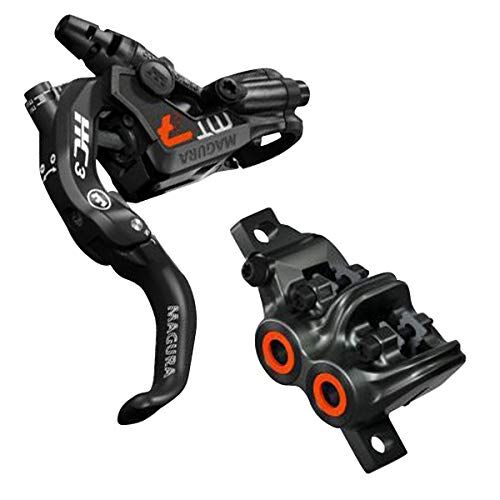 BEST FOR: DOWNHILL RIDING
Founded in the 1890s, Magura features German engineering at its finest. The Magura MT7 HC Next Flip Flop is ideal for downhill and all-mountain riders. Accommodating rotors at 180 and 203mm, this is the ideal setup for technical and steep terrain. The lever features a one-finger blade that modulates the braking power for an ultra-reliable system from start to finish. While not the lightest in the guide, it's still well below others in the race category. While some brakes are sold as either front or rear, the Flip Flop can be used for either the front or the rear. And like other brand's, the lever offers tool free adjustment for dialing in that customized feel.
Magura MT Trail Sport
Specs
Claimed Weight

:

485g

Individual or Set

:

Set

Number of Pistons

:

4/2 (4 in the front and 2 in the rear)

Rotor Included

:

No

Lever Material

:

Aluminum
Features
Easy Brake Pad Replacement
Ergonomic Lever
German Engineered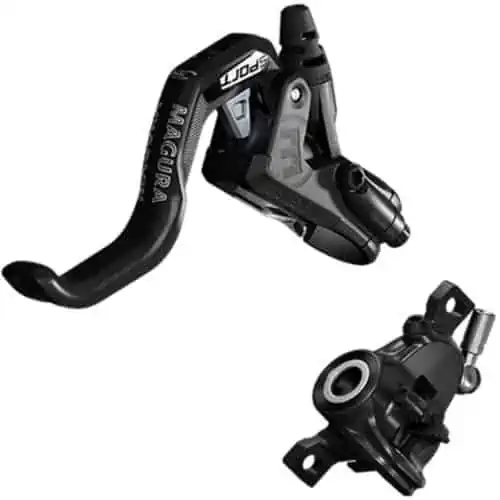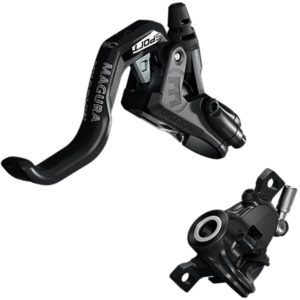 BEST FOR: ALL-MOUNTAIN RIDING
The only set in this guide, the Magura Trail Sport is the perfect complement between performance and price. The set costs approximately the same as many of the other individual brake components in this guide. Also, at 485g (for the set), they are a lightweight package that delivers superb braking power. With a 2-piston system in the rear and a 4-piston system in the front, the setup is ideal for extreme riding under any conditions without concern over performance. So whether you're bombing down a technical descent or cruising the cross-country trails, this German engineered brake set will provide the confidence needed to get you down the mountain.
Sram Guide Ultimate
Specs
Claimed Weight

:

218g

Individual or Set

:

Individual

Number of Pistons

:

4

Rotor Included

:

Yes

Lever Material

:

Carbon
Features
Top Loading
Rotor Sizes: 140, 160, 170, 180, and 200mm
Tool Free Pad Replacement
BEST FOR: EXTREME STOPPING POWER
This is the Cadillac of the SRAM offerings in this guide (hence the ULTIMATE moniker). This also ensures that that they are the ultimate choice when paired with other SRAM components. Take your riding to the next level with a trusted brand and premium brake that will provide you extreme stopping power when you need it the most. The proprietary adjustment allows you to pick the position you desire your fingers to be in when you engage the brakes and easily customizes the feel of the brakes without having to move the pads. You may get that warm (re: uneasy) feeling when staring down a steep technical drop, but the excellent heat management capabilities of the caliper ensure that your brakes won't overheat as you begin your descent.
THINGS TO CONSIDER BEFORE BUYING MOUNTAIN BIKING BRAKES
RIDING PREFERENCE
Brakes for bikes are almost as varied as the bike themselves. Modern mountain bike brakes are designed for the particular riding style or terrain. The three main types of mountain biking are all-mountain, cross-country (XC), and downhill.
All-Mountain
This type of riding involves the same terrain that you might encounter while cross-country riding with perhaps some steep and technical descents.
Cross-Country (XC)
Cross-country mountain biking (or just XC) involves a lot of riding with very little technical terrain with a combination of uphill climbing and downhill riding.
Downhill
Popular at ski resorts, downhill riding takes place a lot during the summer where riders can take advantage of lift assist to get to the top. Once there, it's all downhill and this can include flow trails, berms, rocky, and technical terrain.
ROTOR SIZE
Rotors come in an array of sizes and the type of riding you are participating in can dictate the size of the rotor. Generally, cross-country bikes utilize 160mm while all-mountain bikes use 160-180mm (some riders even use a combination with a larger rotor up front and smaller in the rear). Downhill bikes typically use the largest rotors at 200mm or larger.
COST
The price of brakes varies greatly. It's important to make sure that the price you are willing to pay includes everything you need to replace the parts desired. Some products may include lever, caliper, rotor, and cables. Others may include any combination of the aforementioned components.
BIKE MAINTENANCE
Bikes contain a lot of moving parts. Having a working knowledge of how these parts interact and how to best maintain your bike can be advantageous. Bike shops are a great resource when looking for help with bike maintenance. However, if you're on the trail or encounter a problem before a planned ride, it's also a good idea to have a basic understanding of bike maintenance and brake adjustment.
FEATURES EXPLAINED
ROTOR
The metallic disc mounted in the center of the wheel that's inserted between the brake pads.
LEVER
The brake lever attaches to the handlebar. It is connected to the brake caliper. When the lever is depressed, the caliper tightens on the rotor, causing the bike to brake.
CALIPER
The caliper is where braking occurs. It contains a number of pistons that when engaged, push the brake pads into the rotor.
HYDRAULIC VS MECHANICAL BRAKES
With mechanical brakes, a tensioned cable connects the lever to the caliper. In hydraulic setups, the cable is replaced with hydraulic fluid. Mechanical brakes are typically less expensive and are easier to maintain.
MODULATION
When the brake lever is depressed, modulation is the amount of braking force that is applied and how that translates to stopping power.
READ MORE
For more of our top mountain biking gear recommendations, check out these popular buyer's guides: