Updated on November 21, 2021
Ah, the climbing harness. The central colonnade on which any successful and enjoyable climbing adventure is built. There's no denying that it's crucial to find the absolute best climbing harness for your climbing escapades in terms of safety, comfort, and convenience. But as you begin researching, you'll find tens of hundreds of different options out there. But what separates the best climbing harnesses from the 'also-rans'?
Well, crag crushers, that's why we're here. To weed through the plethora of options on the market and present the absolute best climbing harnesses for you to choose from. So strap in, check your knots, and let's get moving.
For more of our top climbing gear recommendations, check out these popular articles:
Women's Climbing Harnesses | Kids' Climbing Harnesses
Sport Climbing Harnesses | Climbing Harnesses for Beginners
Quick Answer

-

The Best Climbing Harnesses
Comparison Table

-

Best Climbing Harness

For the best experience turn your device horizontally
Reviews

-

The Best Harnesses for Climbing
Arc'teryx AR-395a
Specs
Leg Loops

:

Adjustable

Weight

:

13.9 oz

Gear Loops

:

4
Features
Warp Strength Technology balances weight distribution for comfort
Burly Double Weave material offers a four-way stretch and durability
Adjustable leg loops and drop seat ensure a secure fit
Self-locking buckles for quick-and-easy tightening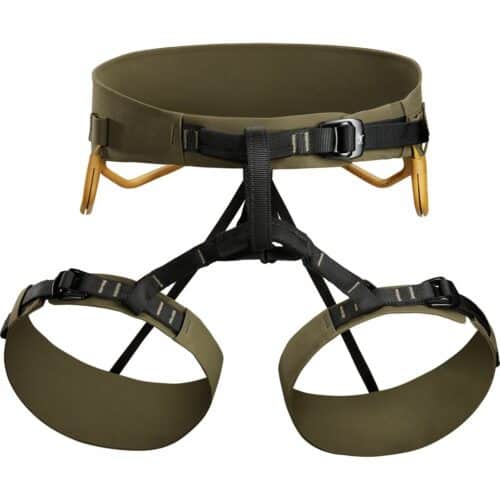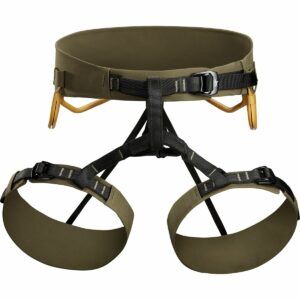 TOP OVERALL MEN'S HARNESS
When it comes to space, this harness is king. It can can handle your double rack with ease thanks to the four large gear loops and rear haul loop. The brand integrates its Warp Strength technology to balance the weight of your gear across the entire length of the nylon webbing, which takes weight off specific points, making for for comfort that last the entire pitch — and then some. The durable, double-weave construction allows the harness to twist and move with the body, while adjustable leg loops and self-locking buckles allow individual climbers to dial in their perfect fit.
What I like most about the AR-395a are the added accessories for ice climbing, including ice clipper clots and a carabiner loop for stashing ice screws.
Black Diamond Momentum
Specs
Leg Loops

:

Adjustable

Weight

:

10.7 oz

Gear Loops

:

4
Features
Prethreaded Speed Adjust waistbelt buckle
Bullhorn-shaped waistbelt is built with Dual Core Construction™ for maximum comfort
Adjustable rear elastic riser sits close to your body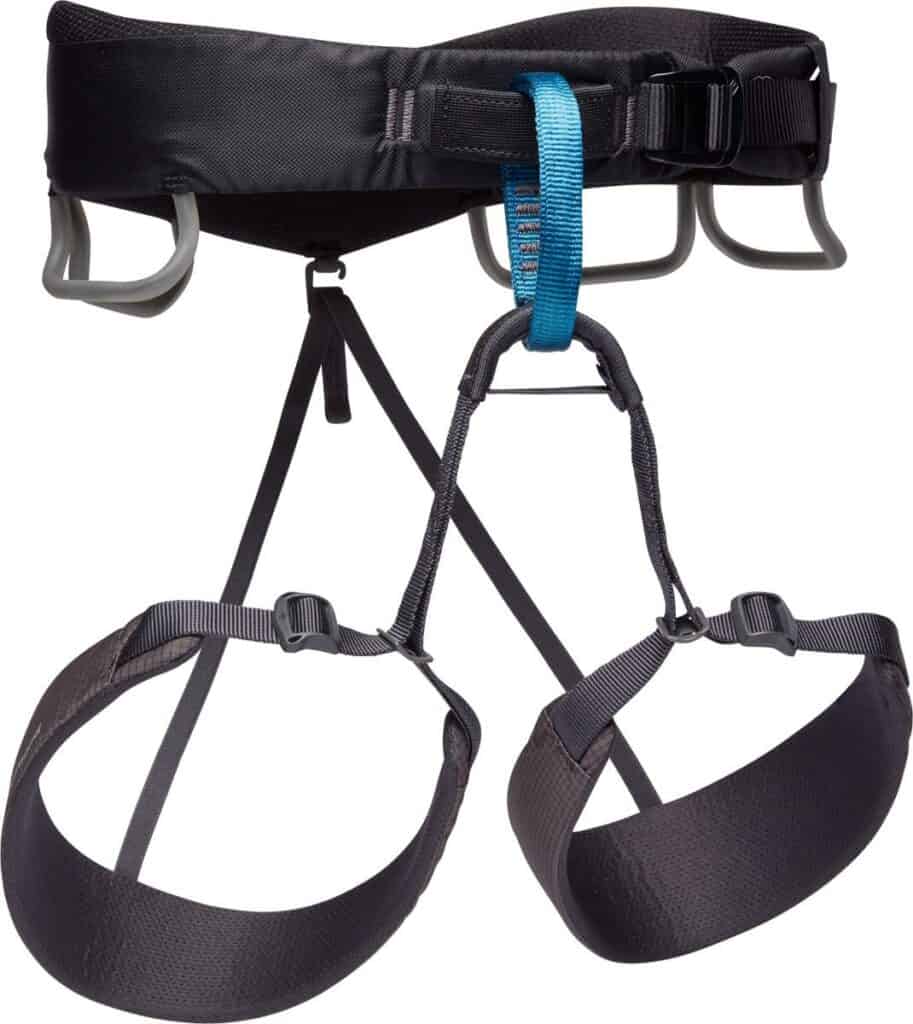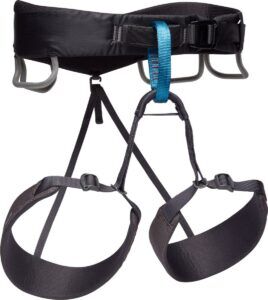 BEST FOR: CLIMBERS ON A BUDGET
Black Diamond fit all the right features in a comfortable, low cost harness suitable for any style of climber. The bullhorn construction ensures extra padding in the places where you need it and the easy-to-adjust leg loops help you dial in the perfect fit. One of the most noteworthy features of the Momentum? It weighs in at just 10.6 ounces, making for quite the affordable contender in the alpine class.
What I like most about the Momentum — other than how affordable it is — are the thick foam pads integrated into the waist that provides for much-appreciated added comfort, especially for hanging belays.
Petzl Sitta
Specs
Leg Loops

:

Fixed

Weight

:

9.5 oz

Gear Loops

:

4
Features
Very Lightweight for Intense Climbs
Durable Construction
Excellent Weight Distribution for Comfort
Half of the Gear Loops Have Separators For Gear Organization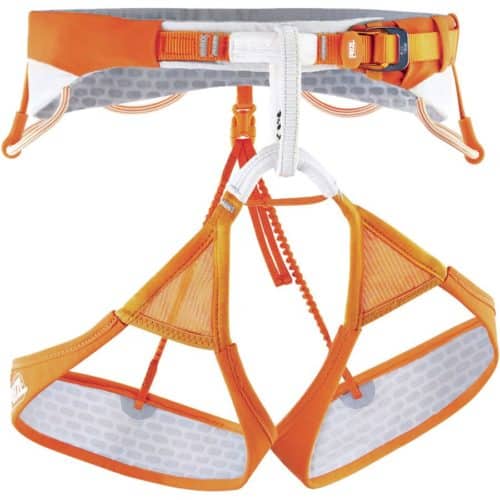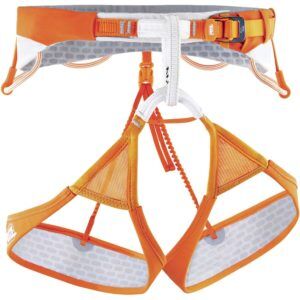 BEST FOR: LIGHTWEIGHT MOUNTAINEERING
When every ounce counts in high alpine or intense lead situations, we have the Petzl Sitta. This harness weighs in at only 9.5oz, making it absolutely ideal to keep bulky weight to a minimum. But at such a low weight, you may be questioning the harness's overall strength. Never fear! Petzl's WireFrame technology adds superb strength that distributes weight throughout the entire harness body.
This weight distribution furthermore improves the Sitta's overall comfort, making it easy to spend a day on the wall without that classic tight hip syndrome. These three features – comfort, strength, and weight – therefore work together to make the Sitta our top recommendation for you mountaineers out there, and certainly one of the best climbing harnesses on the market.
Black Diamond Solution
Specs
Leg Loops

:

Fixed

Weight

:

11 oz

Gear Loops

:

4
Features
Excellent Comfort
Breathable And Quick-Drying Mesh
Moves Easily With Your Body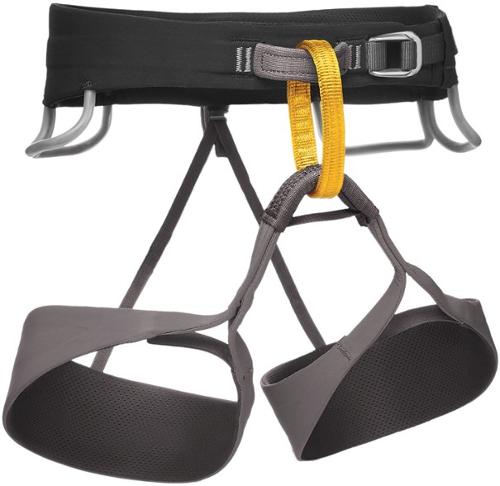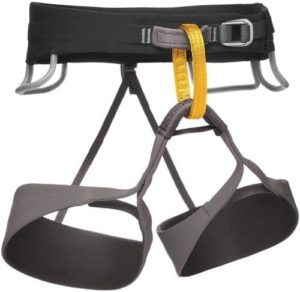 BEST FOR: COMFORT ON THE CRAG
Nothing quite ruins a climbing day than constantly having to readjust your harness because it's pinching here, or chaffing there, or scratching God knows where. Well, we have a solution for this, as well as a penchant for puns. The Black Diamond Solution features a soft mesh lining that works in tandem with three internal bands of webbing – high strength fabric – to evenly distribute weight for a comfortable climb.
The mesh is additionally quick drying and breathable, further adding to the Solution's comfort level. What's more, the whole harness is designed to move naturally with your body. Because we all know that fighting both gravity and your harness while reaching for a tough clip falls firmly within the 'things we'd rather avoid' category. For climbers who are on the hunt for an incredibly comfortable harness, the Black Diamond Solution is for you.
Edelrid Jay III
Specs
Leg Loops

:

Adjustable

Weight

:

14.5oz

Gear Loops

:

4 + 2 Ice Screw Attachment Points (For Ice Climbing)
Features
Very Adjustable Design
Durable and Long Lasting
Budget Friendly Price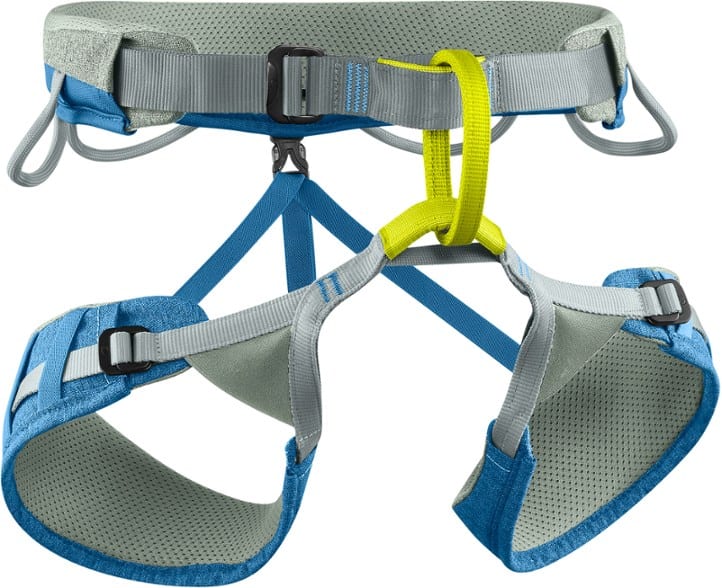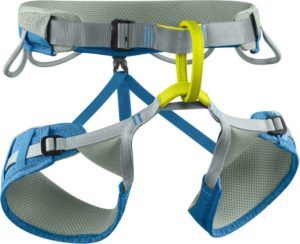 BEST FOR: BUDGET CONSCIENCE CLIMBERS & ICE CLIMBERS
Edelrid – a German climbing company – has been making climbing gear for over 150 years. All those years of experience and expertise shine through their products, and the Jay III is certainly no exception. The harness boasts an exceptionally durable construction making it a long-lasting investment. That initial investment is very low, a definite breath of fresh air for budget conscience climbers.
The Jay III also features fully adjustable leg loops. This will allow you to cinch the harness down to exactly the right fit, and so you're not bound by a set leg diameter. While it's certainly not a lightweight or low-profile harness, it still gets the job done from the gym to traditional climbing and everything in between!
Mammut Ophir 3 Slide
Specs
Leg Loops

:

Adjustable

Weight

:

10 oz

Gear Loops

:

4 + 1 Haul Loop
Features
Excellent Mesh Breathability
Comfortable Mesh Padding
Includes Haul Loop For Hauling A Second Rope When Needed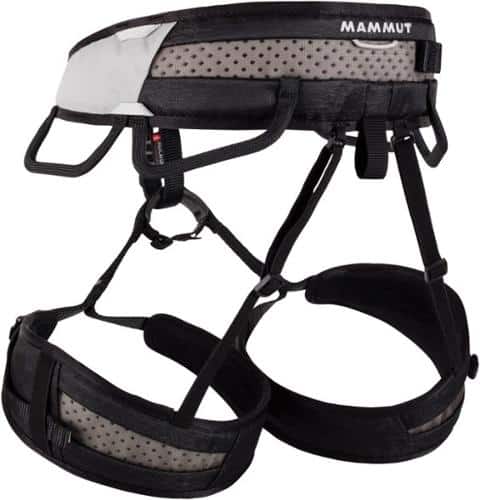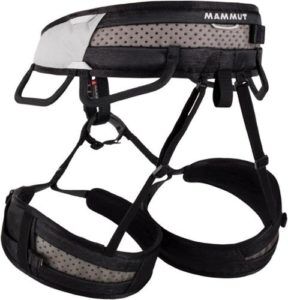 BEST FOR: OUTDOOR BEGINNERS
When you're first hitting the crags outdoors, you'll be looking for a rock solid harness that has everything needed to hone your skills and stay comfortable for those inevitable falls. The Ophir 3 Slide from Mammut fits perfectly into this niche with its comfortable foam leg and waist padding along with a solid and durable design.
These padded leg straps are also adjustable, to get that perfect fit for your first few climbs, and breathable to cut down on that sticky sweaty feeling on hotter days. The Ophir 3 Slide is certainly one of the best climbing harnesses out there for beginners tackling their first outdoor routes.
Black Diamond Big Gun
Specs
Leg Loops

:

Adjustable

Weight

:

23.2 oz

Gear Loops

:

7
Features
Extra Gear Loops For Plenty of Tools
Excellent Padding For Long Days
Very Durable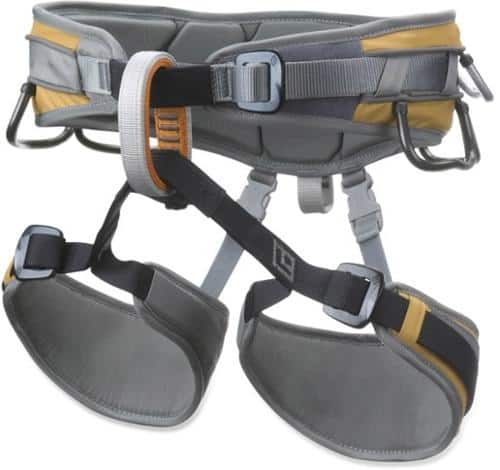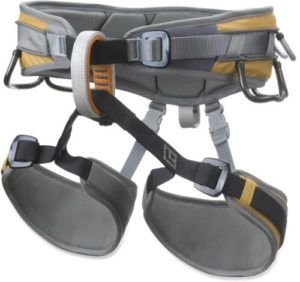 BEST FOR: TECHNICAL AND BIG WALL CLIMBING
When your climbing begins taking you to big walls where you need big gear racks, big tools, and big ambition; you'll need to bring out the big guns. Black Diamond has supplied just that with this harness. Two layers of gear loops – 7 total – ensure that you have plenty of room for each and every item you'll need to tackle your biggest climb yet.
Big wall climbing means spending hours or days sitting in your harness, and Black Diamond has allowed for that with an excellent plush padding system to keep you comfortable for your entire adventure. All this combined with superior durability easily makes this one of the best climbing harnesses on the market, albeit a very heavy one.
Edelrid Orion
Specs
Leg Loops

:

Adjustable

Weight

:

15.4 oz

Gear Loops

:

4 + 2 Ice Screw Clip Point (For Ice Climbing)
Features
Very Breathable Mesh
Good Weight Distribution
Includes Two Ice Screw Clip Points For Ice Climbing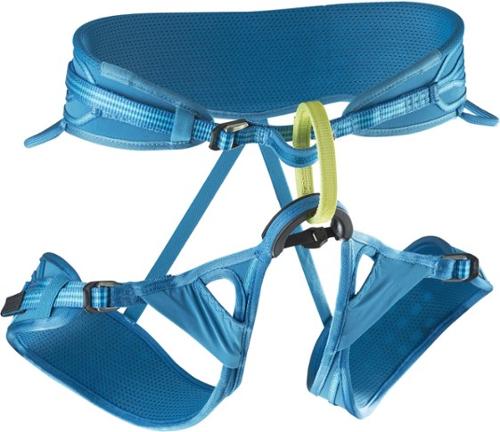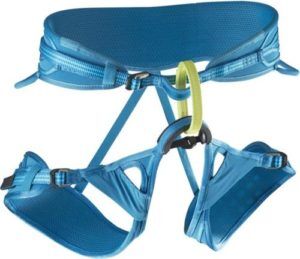 BEST FOR: HOT WEATHER OR DESERT CLIMBING
Ever take off your harness and have those unsightly bands of sweat in your clothing? Or have the nasty feeling of sweat building up in your harness while you're on the wall? If you do a lot of climbing in hot destinations, this can definitely temper your fun. Edelrid, however, has designed the Orion and its 3D Vent Technology just for you!
The entire harness is exceptionally breathable to promote constant airflow and drying, keeping you nice and cool on the wall. The mesh padding and load distribution are also top quality for a comfortable and chaff-less experience. This is undoubtedly one of the best climbing harnesses for those looking to stay cool as a cucumber on the crag. Just be aware, however, that the sleek design with exposed webbing may result in premature wear-and-tear.
Arc'teryx FL-365
Specs
Leg Loops

:

Fixed

Weight

:

12.9 oz

Gear Loops

:

4 + 1 Haul Or Extra Gear Loop
Features
Excellent Weight Distribution
Leg Loops Fit A Variety Of Sizes
Includes Extra Loop for Carrying Extra Gear or Hauling a Second Rope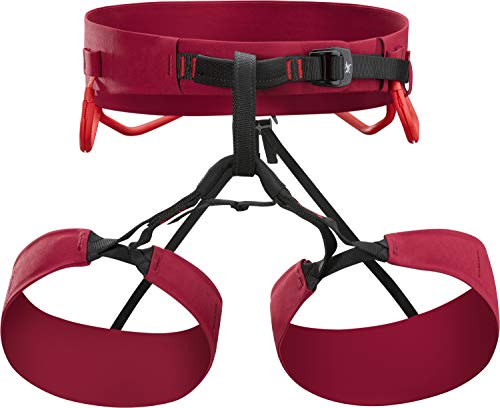 BEST FOR: LOW PROFILE CLIMBING
Arc'teryx has a reputation for providing top-notch gear for nearly every niche of adventurers out there. In the climbing harness department, this is the FL-365. This harness is very comfortable thanks to Warp Strength Technology that evenly distributes your weight throughout the entire harness and durable to keep you safe and on the wall for as long as possible.
This comfort and durability comes wrapped in a high-performance and slim construction that easily moves with you through every move you need to make on the wall. The harness is also fairly lightweight – weighing in at just under 13oz – which makes it an easy choice for nearly any type of climbing. Arc'teryx has once again hit a homerun with this product, and it easily earns its title of one of the best climbing harnesses.
Black Diamond Chaos
Specs
Leg Loops

:

Fixed

Weight

:

12.6 oz

Gear Loops

:

4 + 1 Haul Loop
Features
Thick Padding For Comfort
Very Supportive
Includes Haul Loop For Hauling A Second Rope When Needed
BEST FOR: LONG DAYS ON THE WALL
Black Diamond has once again produced one of the best climbing harnesses with their Chaos. This particular item zeros in on comfort and support with a Kinetic Core Construction to flawlessly distribute your weight for best comfort, and adding a plush layer of mesh padding on top of this. These two features work in tandem to make this an incredibly supportive and comfortable option whether you're climbing, belaying, setting, or just taking in the views.
The rest of the harnesses includes all the usual refinements that make the best climbing harnesses on the market. Four gear loops for everything you need on the wall, plus a 12kN rated (AKA very strong) haul loop, along with a lightweight design to keep you climbing flawlessly on every crag!
THINGS TO CONSIDER BEFORE BUYING A CLIMBING HARNESS
DURABILITY
Buying a shiny new climbing harness only to see it deteriorate and become a safety hazard is about as disappointing as dropping your favorite carabiner off a cliff. The best climbing harnesses will therefore use high-quality materials and construction methods to ensure their products retain optimum strength for as long as possible.
We highly recommend you look for harnesses from well established and reputed manufacturers that will last the longest. Alas, all harnesses must be retired at some point. To know when that is, run an eye over this useful article from Rock and Ice.
FIT AND COMFORT
Like wetsuits to a diver and running shoes to a runner, we climbers tend to spend a lot of time in our harnesses. To make that as pleasant an experience as possible, please ensure that you purchase a harness that properly fits you!
Take the time to look at the manufacturers sizing charts, especially in the case of non-adjusting leg loops. Also pay attention to the harness's comfort when trying it on. Because, once again, you'll be spending a lot of time in it and it pays to find a comfy harness that you can tolerate wearing for hours on end. Check out REI's guide to properly fitting and checking a harness to make sure you get the best fit possible!
WEIGHT
While this won't pertain too much to strictly gym climbers, we recommend that everyone glance at the weight of the harness you're considering. Some harnesses are built with bulk and extreme use in mind, while others go the minimalist route to trim all extraneous frills and weight. Both types can certainly be considered amongst the best climbing harnesses out there, but be aware of the type of climbing you have in mind.
If you have a long hike into the crag for some sport climbing, then a particularly bulky harness with all the bells and whistles may not be for you. On the other hand, if you're jumping on multi-pitch trad climbs then extra gear loops, padding, and a haul loop may be just what you're looking for. Therefore friends, always consider your particular needs before buying a harness.
FEATURES EXPLAINED
ADJUSTABILITY
In the world of climbing harnesses, the leg loops will sometimes feature adjustable webbing so you can tighten and loosen as needed and sometimes they won't. The adjustable leg loops allow to you perfectly fine tune the fit to just what you need while the non-adjustable versions will feature more supple/stretchy material to provide a very secure fit for your legs.
In the end, whether you choose adjustable or non-adjustable leg loops will often come down to personal preference as you find the system that works for you. However, we recommend that beginners opt for an adjustable version simply so you can hone in on the type of fit you want. Regardless of your choice, always look at the sizing chart to make sure you'll get a size that fits!
GEAR AND HAUL LOOPS
Unless you're taking those first exciting steps into climbing, you'll likely be needing some gear on the wall. This can be anything from quick-draws and webbing, to a PAS (Personal Anchor System), to a belay device, and more! To hold this gear, manufacturers will include gear loops on their harnesses where you can clip carabiners to hold your climbing equipment.
The number and quality of these gear loops vary from harness to harness. Therefore, if this is an important aspect to your climbing life, be sure to check our reviews and manufacturer information to ensure you're satisfied with the gear toting capabilities of your new harness.
You may also see some harnesses that feature a haul loop, which is an additional loop on the back of the harness that can be used to clip in another rope for hauling gear up long or technical routes.
WEIGHT DISTRIBUTION
This refers to how evenly the harness spreads out the force/weight of your body when you're dangling in mid-air during a climb or while belaying. The best climbing harnesses will feature their own proprietary methods/technology to evenly distribute this force throughout the whole harness, and therefore eliminate painful or uncomfortable pressure points where your entire weight would otherwise be concentrated.
READ MORE
For more of our top climbing gear recommendations, check out these popular buyer's guides: