Updated on May 10, 2021
You've decided you want to try canoeing, so you're considering the best canoe options available. First, you need to determine what features matter most to you, how much you want to spend, and what type of canoeing you plan to do (river touring, recreational paddling, etc).
Once you decide what's important for you and your family, this list of the 10 best canoes is the most sensible place to start. These beginner canoes get you on the water right away, no motor or gas required. If you're ready to paddle through nature's waterways alone or with a few others, make your selection from the list below and get paddling!
For more of our top kayaking gear recommendations, check out these popular articles:
Sea Kayaks | Touring Kayaks | Kayaks for Beginners
Kayaks for Kids | Kayaks for Dogs | Sit-On-Top Kayaks
Kayaks for Women | Kayaks for Lakes | Tandem Kayaks
Lightweight Kayaks | Sit In Kayaks | River Kayaks | Kayaks Under $500
Quick Answer

-

The Best Canoes
Wooden Boats Columbia 12'
Comparison Table

-

Best Canoe

For the best experience turn your device horizontally
Reviews

-

The Best Canoes for Paddling
Aire Traveler
Specs
Type

:

Inflatable

Capacity

:

2-person

Length

:

15' 1"

Weight

:

72 lbs
Features
Two removable or repositionable paddling seats included
Deflates and rolls up
Thick base provides additional support for heavy loads
Motor-compatible design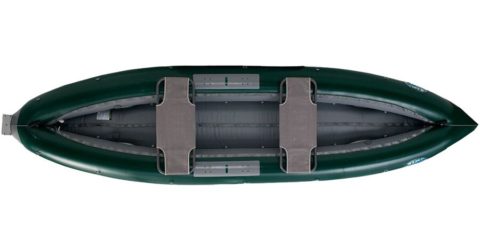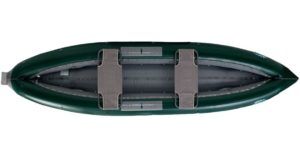 BEST OVERALL CANOE
If you're looking for an extremely versatile boat for floating, fishing, or whitewater adventures, the high performance Traveler is sure to meet your every need.
This 3-chamber inflatable canoe features an impressive 800 pound load capacity, two removable and reposition-able padded seats, and is designed to be compatible with a small motor for those desiring faster travel. The canoe comes with plenty of accessories including a repair kit, two carry handles, and 16 sets of cargo loops for securing your gear out on the water.
What I like most about the Aire Traveler is that it can easily be converted from a solo boat to a tandem watercraft, making for a canoe you can paddle alone or with friends and family.
Old Town Saranac 146
Specs
Type

:

Solid

Capacity

:

3-person

Length

:

14' 6"

Weight

:

79 lbs
Features
Extra width boosts stability
Flat bottom
Thermoformed polyethylene construction
Storage area under center bench seat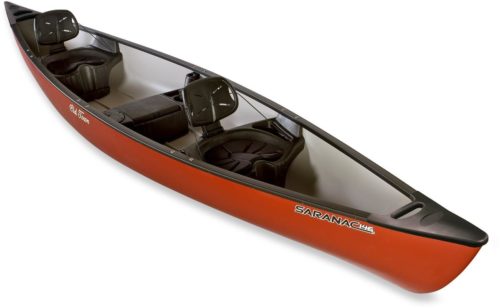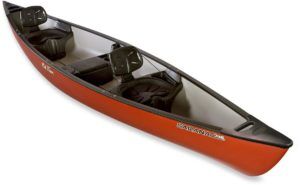 BEST SOLID-STYLE CANOE
Whether you're an angler or a casual canoeist searching for a feature-rich quality product at an affordable price, the Saranac 146 is hard to beat.
Old Town designed the Saranac to be super comfortable thanks to contoured seats with seat backs. In addition, there's a center bench seat that offers extra storage compartments, a 6" center hatch, molded-in rod holders for fishing, storage trays, cup holders, and paddle rests, as well.
What I like most about this canoe is how stable it feels out on the water — whether you're paddling solo or with a companion.
Pelican Boat Intruder 12
Specs
Type

:

Solid

Capacity

:

2-person

Length

:

12'

Weight

:

126.75 lbs
Features
Four vertical rod holders
Carrying handles
Multiple storage compartments
Shallow draft design with a flat hull


BEST CANOE FOR FISHING
When casting lines is your top priority, you need a watercraft designed just for that — and the Pelican Intruder fits the bill.
This Jon-style fishing canoe can hold up to 36 cubic feet of cargo. It features four vertical rod holders, built-in motor mounts, bench seats, carry handles, and oarlock receptacles.
What I like most about the Intruder 12 is the 3-channel, multi-layered hull which provides for superior durability and impact resistance. It also makes for a super stable watercraft you can literally walk around in.
Wooden Boats Columbia 12'
Specs
Type

:

Solid

Capacity

:

2-person

Length

:

12'

Weight

:

35 lbs
Features
Handcrafted using traditional methods
Lightweight
Cedar, fiberglass & epoxy construction
Paddles included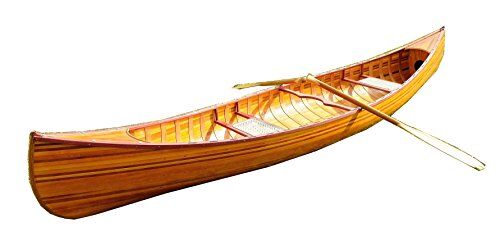 BEST TRADITIONAL STYLE CANOE
Wooden Boats USA individually handcrafts its canoes using traditional methods to make for a line-up some of the most exquisite wooden canoes on the market — and the Columbia 12 serves as the ideal mid-range vessel, perfect for spending weekends out on the water.
Wooden Boats' Columbia canoes require about 400 hours to handcraft using fiberglass-encapsulated strips of cedar bound together with epoxy resin and coated with a clear marine varnish. The result is an eye-catching boat that is both durable and lightweight. The Columbia 12 features a slightly rocked design and a curved bow.
What I like most about the Columbia 12 — in addition to how aesthetically pleasing it is — is how lightweight it is, weighing in at just 37 pounds.
EPROSMIN Inflatable
Specs
Type

:

Inflatable

Capacity

:

2-person

Length

:

10' 8"

Weight

:

20 lbs
Features
The tubular I-beam floor
5-air chamber system with safety valves
High-quality and wear-resistant PVC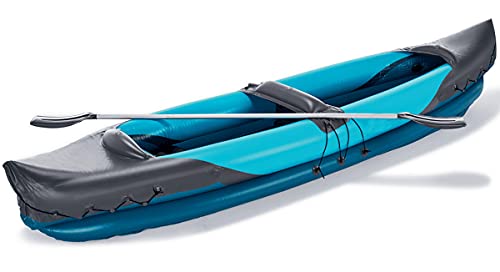 BEST BUDGET OPTION
If you're looking for a two-person boat that's lightweight, easy to store, and costs under $200, take a look at this one — it's definitely worth your consideration."
This inflatable-style canoe features 5 air chambers with safety valves. It's designed for two people to paddle comfortably. Front and rear moisture covers increase the craft's tracking and buoyancy while a lengthwise bar base provides for extra stability when you're out on the water.
What I like most about the EPROSMIN Inflatable is that its easy to deflate and stow away when not in use and even comes with its own storage bag for painless transportation.
THINGS TO CONSIDER WHEN BUYING A CANOE
PRICE
We know price is one of the primary factors when choosing a canoe, so we included canoes from both ends of the cost spectrum, from a few hundred dollars to over 1K. If you have the budget for it and wish to seriously pursue canoeing, then you may consider investing in a quality model. If you're just canoeing for fun, then a less expensive model will do the trick.
CAPACITY
Think about how many people you may want to paddle with in your canoe. If you prefer canoeing solo, check to see if you can handle the canoe alone. Otherwise, most of the boats on the list can take an additional 1-2 people along for the ride. You may also want to check to make sure your boatload (your weight combined with the weight of passengers and gear) doesn't exceed the weight capacity of the canoe.
WEIGHT
Canoes tend to weigh more than solid or inflatable kayaks, so you need to make sure you can safely haul the boat to the water with another person or by yourself if you plan on paddling alone. If you or your passengers have physical limitations or you need to carry the canoe a long distance, then you may want a lighter weight or inflatable model.
TYPE
Two types of canoes are available on the market right now: inflatable and solid. Inflatable canoes usually need to be blown up with a manual pump before they can be ridden whereas solid models can go straight into the water. Inflatable canoes are much easier to store and carry, and today's technologies make them more puncture-resistant than ever. Solid versions are made of a variety of different materials to enhance their performance, durability, and portability.
Check this out for a more in-depth explanation of canoe buying considerations.
FEATURES EXPLAINED
YOKE THWART
A yoke thwart is a bar that reaches across the canoe to provide a brace. The thwart usually runs between two riders, but a single rider can sit on the thwart to row. The thwart also tends to have a curved indentation so one person can carry the canoe over their shoulders.
BOW/STERN
The bow refers to the front of the canoe while the stern refers to the back. These terms are commonly used in the boating world, so familiarizing yourself with them makes it easier to understand the language.
COCKPIT
The cockpit is the name for the inside of the canoe, the place where you ride. The size of the cockpit determines how much leg room and storage space you have available. If you're tall or you want to take long trips, you may need a larger cockpit.
FOOT BRACES
Some canoes have foot rests where you can place your feet during the ride. Foot rests allow you to brace your lower body and give your upper body more rowing power. Foot braces are usually adjustable and sometimes padded for the most comfortable ride.
HULL
Hull is the term for the bottom of the canoe. The hull shape affects how the canoe reacts to the water and your paddling. Flatter hulls tend to be feel less tipsy but also move slower while V-shaped hulls offer better tracking and speed with less stability. Flat hulls tend to be more beginner-friendly. Learn more about canoe hull shape here.
KEEL
The keel refers to the centermost part of the hull, usually a beam that runs from the bow to the stern. The function of the keel is to help the canoe track and prevent the canoe from being pushed sideways in the wind.
READ MORE
For more of our top kayaking gear recommendations, check out these popular buyer's guides: