Updated on October 27, 2020
When it comes to adventurous sports, surfing has a long and rich history. From Ancient Pacific Islander cultures to 20th century Southern California, surfing has captivated a wide array of people. It's said that even Mark Twain gave it a shot! But even professional surfers had to start somewhere, which is why we've pulled together a list of the best surfboards for beginners, so you can experience the rush of the waves for the first time too.
The last 50 years have seen traditional logging (longboarding) give way to the short board revolution of the 1970's, then to the neon-clad performance surfing of the 1980's, to the professional world of the 1990's. Even into the early 2000's, surfing has continued to evolve with advancements in board design and lightweight technologies.
With such a broad selection of boards to choose from, varying in length and style for particular wave applications and rider styles, it can seem overwhelming when trying to pick the right board. But fear not my surf-enthused friend – The Adventure Junkies took the time to curate the gnarliest list of the best surfboards for beginners. Read on and ride out, surf's up dude!
For more of our top surfing gear recommendations, check out the Best Surfboards.
Quick Answer

-

The Best Surfboards for Beginners
South Bay Board Co. Verve

South Bay Board Co. Ruccus

South Bay Board Co. Razzo

South Bay Board Co. Big Betsy
Comparison Table

-

The Best Beginner Surfboards

For the best experience turn your device horizontally
Reviews

-

Best Surfboards for Beginners
Modern Surfboards Falcon
Specs
Length

:

Medium (7'6 ft)

Thickness

:

2.875"

Weight Capacity

:

200 lbs

Fins Included?

:

Yes
Features
Includes 3 Fins
Super Floaty
Durable Construction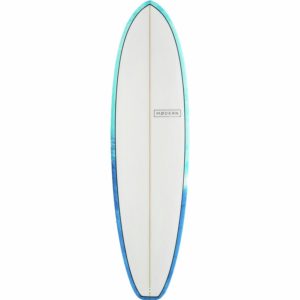 BEST FOR: JACK-OF-ALL-TRADES BOARD
The Falcon is a stable and buoyant board that helps beginners progress quickly. Pop up with confidence and turn with ease in smaller waves.
The rocker helps the board paddle quickly into waves and maintain speed once you're up. This is the perfect board for beginners wanting a board that gets better as your skills improve.
BIC Sports G-Board EVO
Specs
Length

:

Long (8 ft)

Thickness

:

3.5"

Weight Capacity

:

200 lbs

Fins Included?

:

Yes
Features
Includes 3 Fins
Flat, Stable Deck
Wax-Free Soft Top

BEST FOR: SHARING WITH THE FAMILY
I know what you're thinking. It was my first thought too: "BIC? Don't they make pens, lighters, and razors?" The answer is yes – but they also have a sister company that's been producing high quality surfboards since 2002. You're welcome for the random fact, btw.
The G-Board EVO is an excellent choice for any beginner and is perfect for sharing with the whole family. At 8' feet in length, it provides stability for a wide range of ages. It's high-volume design also lends itself for a parent teaching a child to surf while riding on the same board. The soft-top construction also makes the G-Board EVO a safe choice, especially when kids are riding.
The thruster fin setup on this board is a solid choice for beginners learning the complexities of surfing and provides maximum stability and maneuverability. Although wax isn't needed for the soft-top construction, you will need to snag an ankle leash.
South Bay Board Co. Verve
Specs
Length

:

Long (8 ft)

Thickness

:

3"

Weight Capacity

:

230 lbs

Fins Included?

:

Yes
Features
Action Camera Mount
Wax-Free Textured Soft Top
Ankle Leash And Fins Included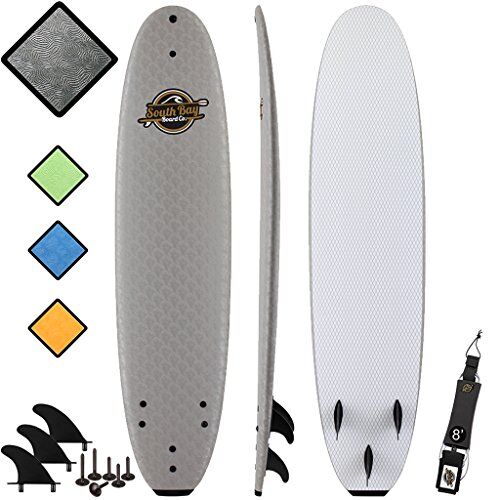 BEST FOR: FAST LONGBOARDING
Let's be real, sometimes you just wanna go fast! The Verve is the perfect longboard for channeling your inner Ricky Bobby while maintaining stability at high speeds. At 8' feet in length, this "mini-log" is a sweet cruiser that will step up your mph while stepping down in size from a more traditional longboard.
The Verve has a smartly styled egg-shape that lends itself to a balanced and proportional ride. This design choice makes it a fantastic choice for true beginners as well as intermediate beginners. With the ability to boogie in surf up to 5' feet tall, this torpedo will be a staple in your quiver even long after you've graduated to more advanced boards!
Wave Bandit Ben Gravy
Specs
Length

:

Medium (6.5 ft)

Weight

:

210 lbs

Thickness

:

3.125"

Fins Included?

:

Yes
Features
Lightweight Design
High-Density, Hard Bottom
Easy Attach Leash Plug Included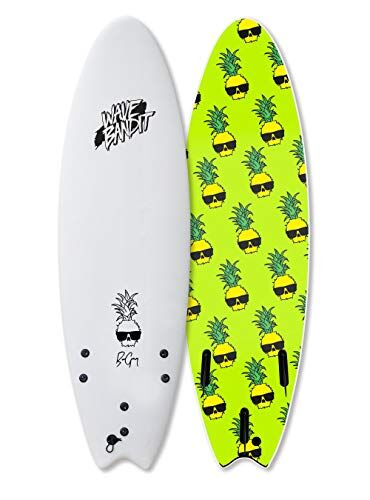 BEST FOR: SMALL, CHOPPY SURF
All aboard the gravy train! Endorsed and ridden by Pro Surfer Ben "Gravy" Graeff, this fish board is a must have in your quiver. This board will keep the good times rolling when the swells don't pan out the way you want, leaving you with just a bit of whitewash. A whopping 3 ⅛" thickness, the Ben Gravy board offers up greater buoyancy to make quick work of small waves.
Measuring in at 6 ½' feet in length and sporting a thruster fin setup, this board also has the size and aggressive features to unleash fury on swells up to 7' feet tall. Although it falls into the smaller end of the "Medium length" category, the added thickness and shape of the Ben Gravy make this board ideal for true beginners who desire a hard top board and for intermediate beginners who need a more nimble board to practice their turning.
Be forewarned though, this is a hardboard that requires waxing before use and you'll need to purchase an ankle leash separately.
South Bay Board Co. Ruccus
Specs
Length

:

Medium (7 ft)

Thickness

:

2.85"

Weight Capacity

:

200 lbs

Fins Included?

:

Yes
Features
Easy Connect Screw-In Fins
Rubber Bumper Protects Board During Vertical Storage
Heat Release Valve Prevents Delamination and Bubbling (to keep the board looking and feeling great)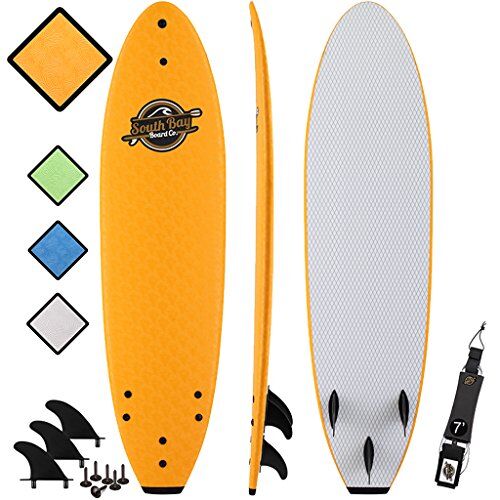 BEST FOR: LEARNING HOW TO TURN QUICKLY
Ah… sweet, buttery carving – no, not the Thanksgiving kind. But we can certainly give thanks at all times of the year for the Ruccus! At 7' feet in length, this beginner friendly board gets our juices flowing just thinking about all the gnar we can shred.
The Ruccus is right in the sweet spot when it comes to length and has all the trappings of a traditionally styled funboard: narrow front and rear sections that increase maneuverability and a wide midsection that lends itself to greater stability.
These traits translate into smooth turns and polished gliding at a reasonable speed. Pair that with South Bay's soft top style and you have a board that is undeniably forgiving when you inevitably wipe out. Seriously, for an intermediate beginner looking to add some soul and style to your surf game, this is the board you'll want as you perfect your transitions.
South Bay Board Co. Razzo
Specs
Length

:

Medium (6 ft)

Thickness

:

2.85"

Weight Capacity

:

200 lbs

Fins Included?

:

Yes
Features
Slightly Wider Midsection For Increased Stability
Real Bamboo Underside Increases Board Strength
Universal Detachable Fins Can Be Swapped For Bigger/Smaller Sizes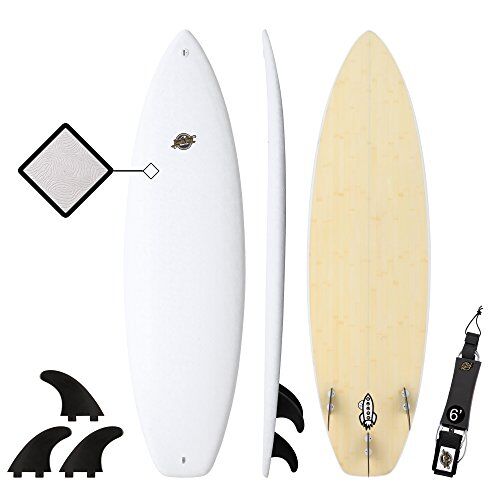 BEST FOR: PURE SPEED
If speed is your need, we've got a board that will do the deed! Literally translated from Italian as "Rocket", this speed demon of a board will be sure to excite. The Razzo screams performance with it's aggressive styling as you cross into the realm of shortboards. At just 6' feet in length and sporting a sharply pointed front section, the Razzo is able to make quick work of waves in the 3' to 7' foot range.
While the shortboard is typically considered more of an advanced board, South Bay couples this classic shape with their signature soft top design, providing maximum floatability, and making it accessible to first timers. The Razzo does a stellar job at shortening the learning curve for beginners while introducing them to a whole new style of play.
NSP Funboard
Specs
Length

:

Medium (7 ft)

Thickness

:

3.75"

Weight Capacity

:

230 lbs

Fins Included?

:

Yes
Features
Includes 3 Universal Fins
Epoxy Finish Is Extremely Durable
3 Fin Thruster Setup Is Great For Beginners
BEST FOR: ALL SKILL LEVELS
Whether you're just beginning your foray into surfing or have taken your skill set to the next level, NSP delivers top-quality in it's Funboard. At just over 7 feet in length, the Funboard is long enough to keep a new surfer feeling stable but short enough to play in waves up to 6 feet tall.
The shape of this board lends itself to giving all beginners a helping hand. The rounded front and rear make turning the board a breeze and the classic design will last you for years to come.
The best thing about the Funboard is that as you develop your skills and buy other boards for specific uses, this classic will always be in your quiver as your trusty "Go-To" board. Have fun with it!
South Bay Board Co. Big Betsy
Specs
Length

:

Short (5 ft)

Thickness

:

2"

Weight Capacity

:

170 lbs

Fins Included?

:

Yes
Features
Small Size Is Perfect For Children
Extra-Rigid Design Increases Durability
Blunted Front End Increases Speed In Small Waves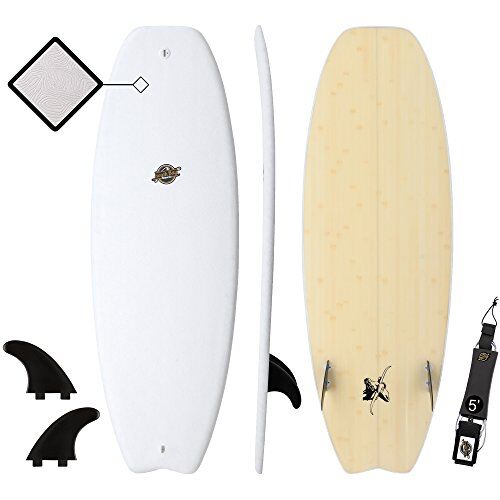 BEST FOR: WAKESURFING / CHILD'S FIRST SURFBOARD
Not everyone can get to the coast to snag some waves at a moments notice, which is why we've included the Big Betsy as a solid choice for wakesurfing! At just 5' feet in length, this board is short enough to hone your surfing skills on weekend trips to the lake. The twin fin setup provides better maneuverability and performance and is ideal for waves between 3' and 5' feet.
If you do live near a beach, this board is also a great choice as a child's first surfboard. The limited weight capacity and length ensure that it won't be too much board to handle and will allow them to grow into shortboards as their skills progress.
Catch Surf Odysea Log
Specs
Length

:

Medium (6 ft)

Thickness

:

3.125"

Weight Capacity

:

180 lbs

Fins Included?

:

Yes
Features
Includes 3 Fins
Tons of Float For Easy Wave Catching
Wax-Free Soft Top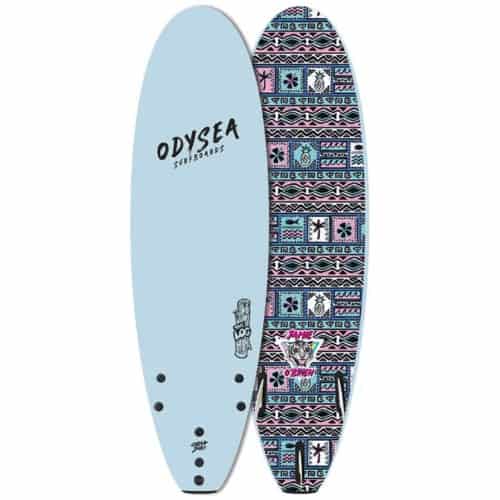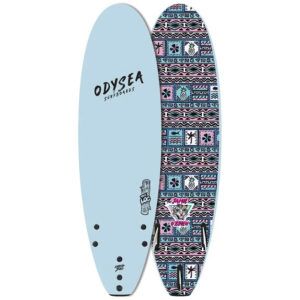 BEST FOR: SHORE BREAKS (NEWBIE TERRITORY)
The Catch Surf Odysea Log makes catching waves so easy it almost feels like you're cheating. The thin midsection and sharp cutoff tail give you plenty of control. The log is easy to paddle, light and nearly indestructible.
At only 6ft, this board gives you the feel for paddling and riding a shorter board, but you still have the mega float performance of a longer board. Keep it in your arsenal even as you progress because it's perfect for days when the waves are weak.
Softech Flash
Specs
Length

:

Medium

Thickness

:

2.66"

Weight Capacity

:

200 lbs

Fins Included?

:

Yes

Fin Setup

:

Thruster (3-fin)
Features
Includes 3 Fins
Ankle Leash Plug Included
Wax-Free Soft Top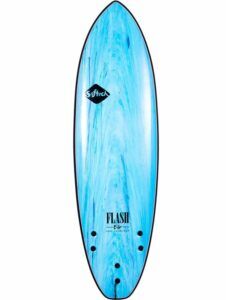 BEST FOR: ALL DAY, EVERY DAY SURFING
The Softech Flash is a great all-rounder offering shortboard performance, and a perfect option for anyone wanting to hone their turning skills. This hybrid shape has a wider nose and plenty of volume for easy paddling. The Flash is built with a slick soft deck and bottom that glides over the water, making it a super quick board that catches everything
With the FCS II system, you don't need any screws or tools to secure the fins. You can easily insert and remove the fins based on the wave conditions or the riders skill level.
THINGS TO CONSIDER WHEN BUYING YOUR FIRST SURFBOARD
COST
When you're just breaking into surfing, you might not want to throw all your money at a top-of-the-line board until you're better acquainted with brands, performance type, and other factors that might impact your buying decision. It's great to have reliable budget options that you can test the waters in before you go all-in. The selection we've curated is both budget friendly and crafted from quality materials. Even as you advance in skill, these boards will advance with you and provide years of shredding.
CONSTRUCTION
When it comes to construction, there are 2 types of boards: soft top and traditional hard top. Each have their pro's and con's alike, but generally speaking a soft top board is going to be best for a beginner. But don't let that sway you away from soft tops; even pro surfers use them in certain wave conditions.
SOFT TOP
PROS
Safer than hard tops – if you bail or wipe out, a blow to the head from your board will be less dangerous than on a hard top. This reason alone makes soft tops the best choice for beginners with no experience

Less expensive and have a high resale value compared to hard tops

Extremely durable and less prone to rail dings, which adversely affect the performance of hard tops
CONS
Heavier than hard tops, making the trek to the beach a little more tiresome

Some soft tops can cause board rash in warmer water. This can be mitigated by wearing board shorts or a t-shirt

Are more prone to waterlogging and do not last nearly as long as a hard top board