Updated on July 7, 2022
If you're looking for one of the best backpacking sleeping pads, you're in the right place. We've surveyed the market and hand-selected a range of pads then shared some of our top picks for specific categories like lightweight, budget-friendly, and best for side sleepers. Aside from the top picks, we've included some runner-ups you might want to consider.

We featured the regular size version of each sleeping pad to put all the options on a level playing field so that you can easily compare them. We included other size options of the same model and mentioned if there is a women's specific pad available.
Each sleeping pad we've selected has its pros and cons, and there's not a single one out there that will be perfect for every hiker, so we did our best to give you an honest opinion to help you decide if it's the right choice for you and your style of backpacking.
QUICK RECOMMENDATIONS
Best Sleeping Pad Overall >> Nemo Tensor Insulated
Best Sleeping Pad For Tall & Big People >> Big Agnes Q-Core SLX
Most Comfortable Sleeping Pad For Side Sleepers >> Sea To Summit Ether Light XT
Best Ultralight Sleeping Pad >> Therm-a-Rest NeoAir UberLite
Best Sleeping Pad For Cold Weather>> Therm-a-Rest NeoAir XTherm
Most Affordable Sleeping Pad >> Therm-a-Rest Z Lite SOL
Best Foam Sleeping Pad >> Nemo Switchback
Best Self-Inflating Sleeping Pad>> Therm-a-Rest ProLite Plus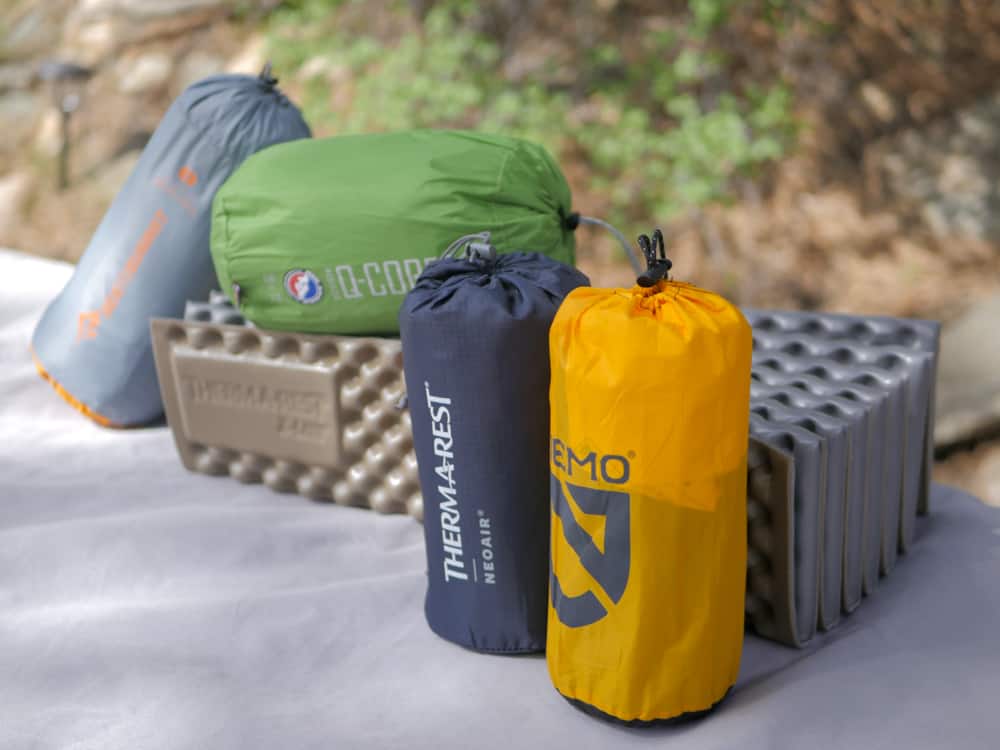 * Weight, thickness, volume and price shown for the men's regular size.
* Volume refers to compressed volume.
For specific sleeping pads buyer's guides, check out:
Self-Inflating Sleeping Pads >>
Sleeping Pads for Side Sleepers >>
Reviews

-

Best Backpacking Sleeping Pads
THINGS TO CONSIDER WHEN BUYING THE BEST BACKPACKING SLEEPING PADS
TYPE OF SLEEPING PAD
There are 3 general types of sleeping pads that each have their own pros and cons. There is no single best backpacking sleeping pad type, just the right piece of gear for the job. As you learn about the different types of pads, keep in mind your particular preferences and needs when choosing the best fit for you.
Air Pads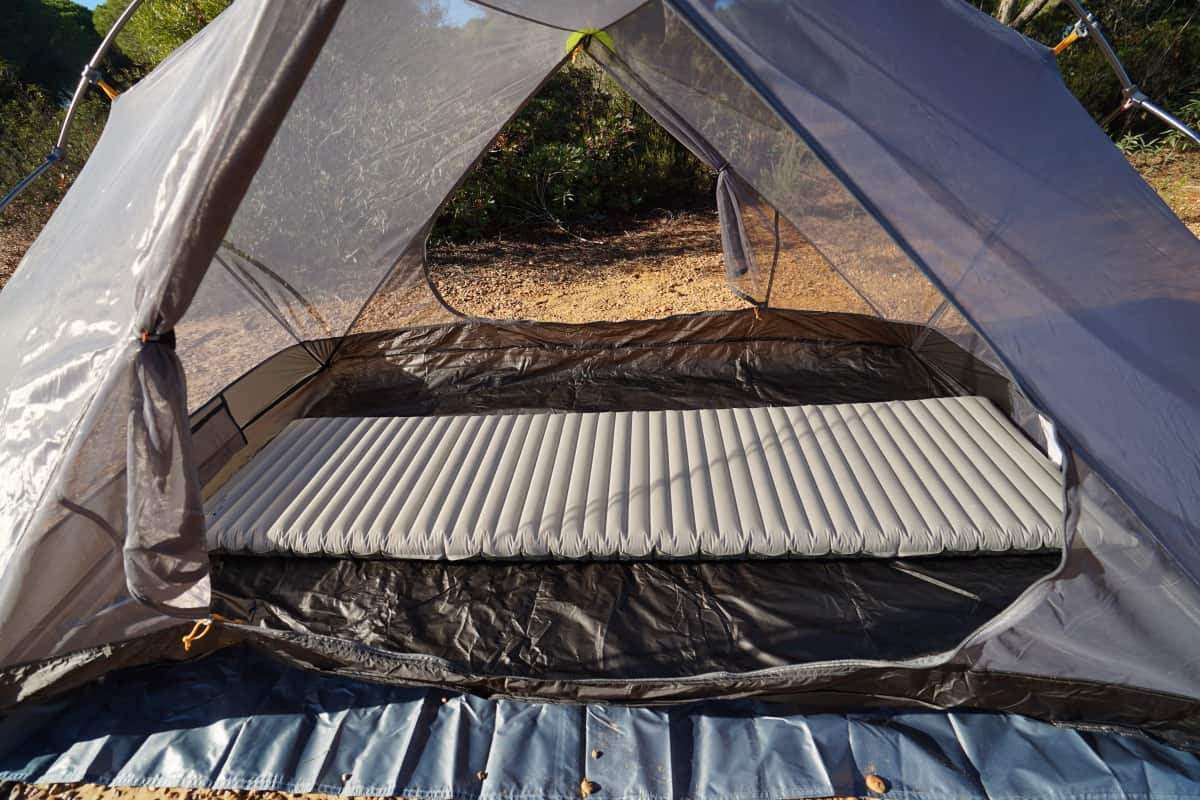 Comfortable, lightweight, and compact, air pads provide some of the best bang for your buck and are offered in a range of price points. These lightweight sleeping pads inflate with air to create a soft and buoyant sleeping surface. An inflatable air pad will lift your body far enough off the ground that you'll stay warm and cozy all night long if you pair it with the appropriate sleeping bag for the season.
Summer air pads are typically less expensive than winter air pads and provide a modest amount of insulation value. Winter air pads, although pricier, provide a huge insulating advantage in extremely cold climates. Some winter pads have been known to insulate so well that backpackers actually had to unzip their sleeping bags to cool off.
Downsides to using an air pad include a higher price tag versus other types of pads, especially the more lightweight and compact they get. They are also susceptible to punctures but can be repaired in the field with ease. Lastly, air pads aren't the quietest choice and can be somewhat noisy when turning over.
Closed-Cell Foam Pads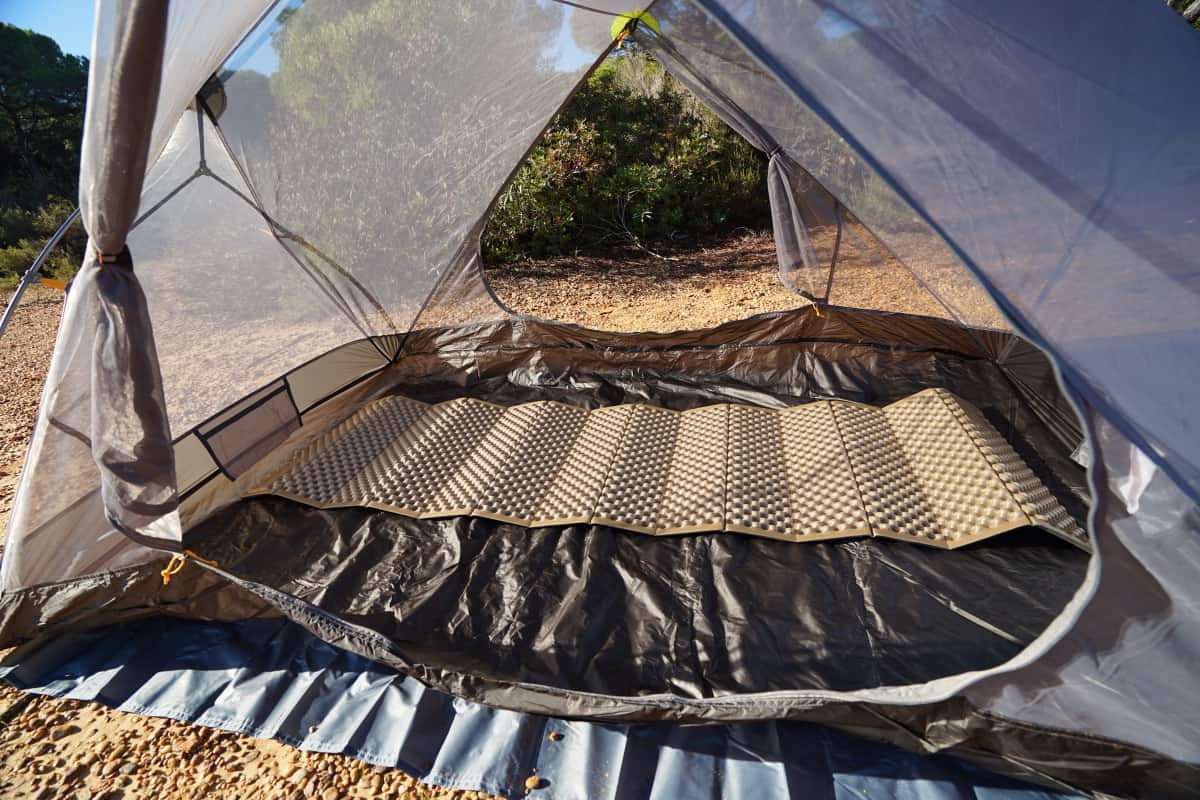 The most basic sleeping pad you can buy is a closed-cell foam pad. Lightweight and inexpensive, these pads are highly durable and can be lashed to the outside of your backpack, freeing up precious space inside. These sleeping pads offer the best entry-level price point.
Their singular size makes them bulkier than other options and while durable, they tend to be the least comfortable option available. They are very easy to deploy as they don't require any inflation – just roll it out and you're good to go!
Closed-cell foam pads are often used in conjunction with other types of sleeping pads to add extra insulation on extremely cold nights or another layer of padding for car camping trips. One major benefit is that they can be cut to size, so if you want to carry the lightest weight possible you can trim the pad to cover only the length of your torso instead of lugging around a full body-length pad.
Self-Inflating Pads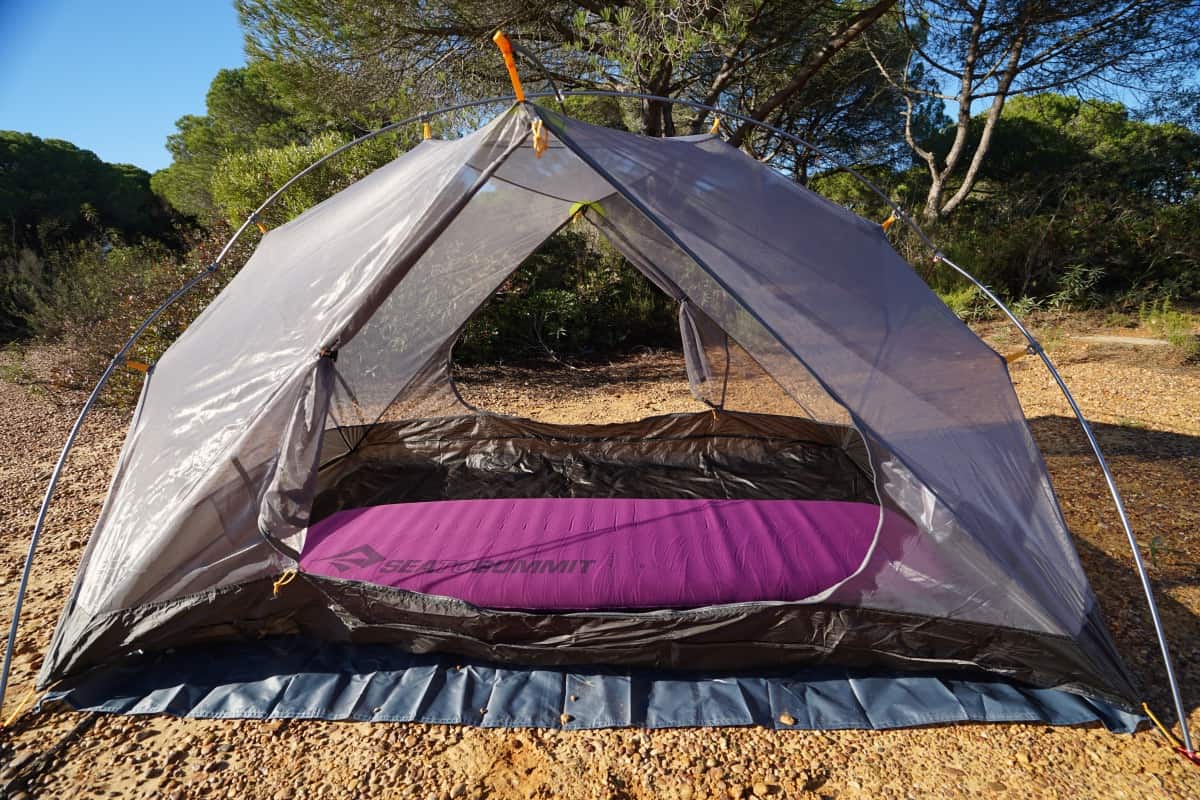 A cross between air pads and closed-cell foam pads, self-inflating pads are a more luxurious option if you have the space to pack one and don't mind the extra weight. They tend to be wider and thicker than other options and are some of the warmest pads you can buy. Priced in the middle of the road, these pads offer a huge bump up in comfort from closed-cell foam pads, but their bulk and weight can be a downside.
Arguably the biggest advantage self-inflating pads have over air pads is their reliability. Since self-inflating pads have an open-cell foam pad within their core, they will provide some comfort and still insulate even if punctured. If you're unable to repair your self-inflating pad on the trail, you'll still have a decent night's sleep.
INTENDED USE
Consider what type of backpacking or camping you'll be doing most often. Choosing the right ground pad is as much about how you'll be using your pad as it is about your personal needs and preferences.
Backpacking
After a tough day on the trail, an air pad or self-inflating pad is going to provide the best night's sleep to help you recover for the next day's adventure. There is a wide variety of options within these two types of pads. Therefore, you can choose the best intersection of price, weight, size, and warmth.
Minimalist Backpacking
Lightweight enthusiasts looking to shed ounces and keep their overall pack weight down should stick to air pads. For the extreme minimalist, consider getting a "short" pad that will trim size and weight from your knees down, saving precious ounces.
Thru-Hiking
If you're completing a through-hike of several hundred or even a few thousand miles, such as the Appalachian Trail or the Camino de Santiago, you're going to need a combination of light weight and durability. A closed-cell foam pad is your best choice, eliminating the need for repairs and saving space in your bag.
Winter Backpacking
If you'll be in extreme wintery conditions with snow and sub-freezing temperatures, the best possible choice is an air pad with a high R-value. Some manufacturers add a reflective layer that returns heat to your body, so keep an eye out for that. It's also a good idea to bring a second pad as a backup, such as a closed-cell foam pad, in case your air pad gets punctured. It can also be doubled up to maximize your insulation power.
Car Camping
When your campsite isn't far from where you parked, a self-inflating pad will be your best bet. As the warmest and most comfortable type of pad available, weight and space shouldn't be as big of a concern.
SPECS
After deciding on what type of sleeping pad is best for you based upon your specific needs and intended use, there are a few key features that are important to keep in mind. You'll have to weigh the importance of each of these and balance them accordingly.
Insulation (R-Value)
How well a material insulates is rated by a metric called R-value, which is a measure of thermal resistance. The higher the R-value number, on a scale from 1 – 10, the better a material is able to insulate you.
Weight
Although weight is highly scrutinized by ultralight enthusiasts, all backpackers should take it into consideration. Being strategic with your packing and keeping your multi-day pack relatively light can save you on a long hike and help you go further each day. Look for pads that come in a mummy shape or have a short version to trim down on precious ounces.
Length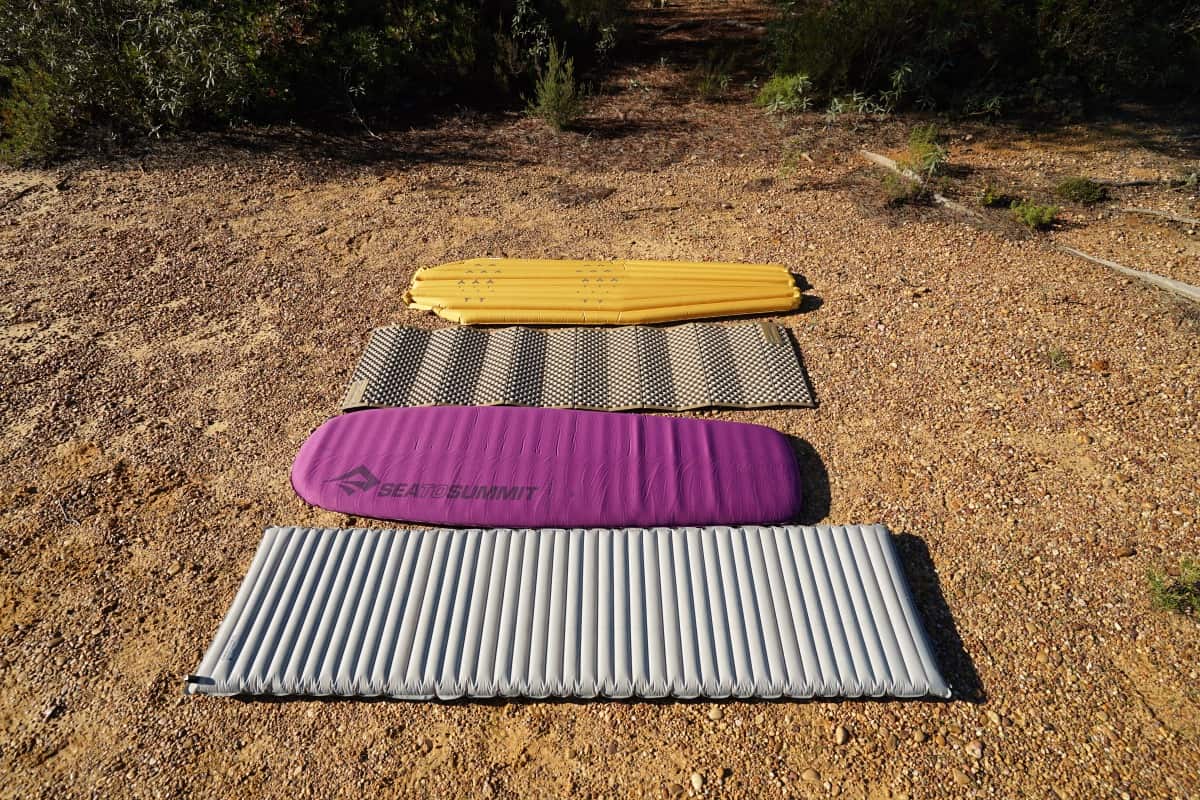 This feature relates to both insulation and weight depending on what type of conditions you'll be backpacking in. If the weather is warm, consider a short sleeping pad to reduce weight. If the weather is cold, you'll need to keep your legs warm with a regular length pad (72" inches) or a long sleeping pad (78" inches) if you're above 6' 0" feet tall.
Width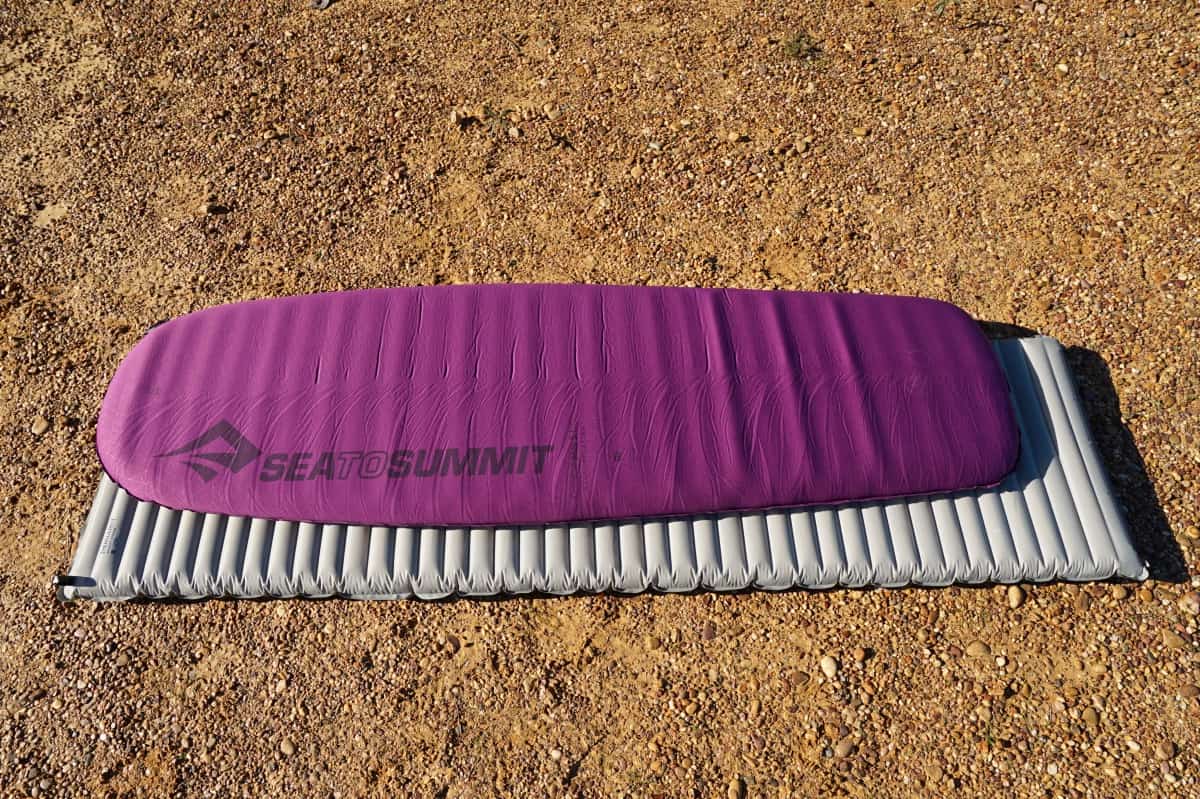 The best backpacking sleeping pads have a standard width of 20". If you need something wider, a regular length pad can sometimes be found in wide sizes up to 30", or you can opt for a long sleeping pad that includes a few extra inches of width.
ADDITIONAL EXTRAS
Integrated Sleeping Systems
When buying your sleeping bag, check to see if there is an option to integrate a sleeping pad. Some manufacturers have a built-in sleeve that will keep your sleeping pad from sliding out from under you during the night. This can be a good choice for restless sleepers who move a lot in the night.
If you prefer to sleep in a hammock, check to see if there is an integrated slip for a pad. Some brands, such as the ENO Double Nest hammock, offer this feature to help insulate you against cold air beneath your hammock.
Hand Pumps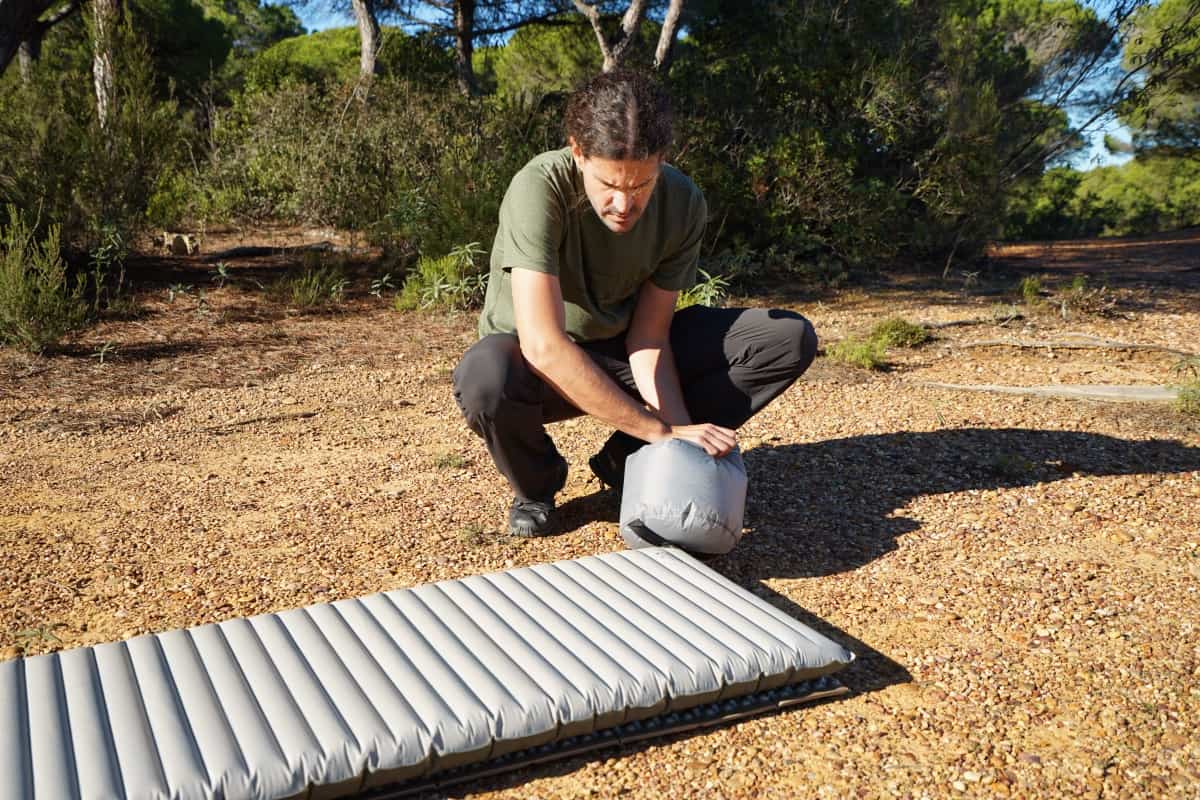 When inflating an air pad, using a hand pump can make the task much simpler. Other reasons to consider using one are to prevent the buildup of moisture from your breath inside the pad. Although rare, the moisture could freeze in extremely cold environments or even cause bacteria to grow in very hot weather. Some of the best backpacking sleeping pads come with a pump sack, to help you inflate your mat.
Repair Kit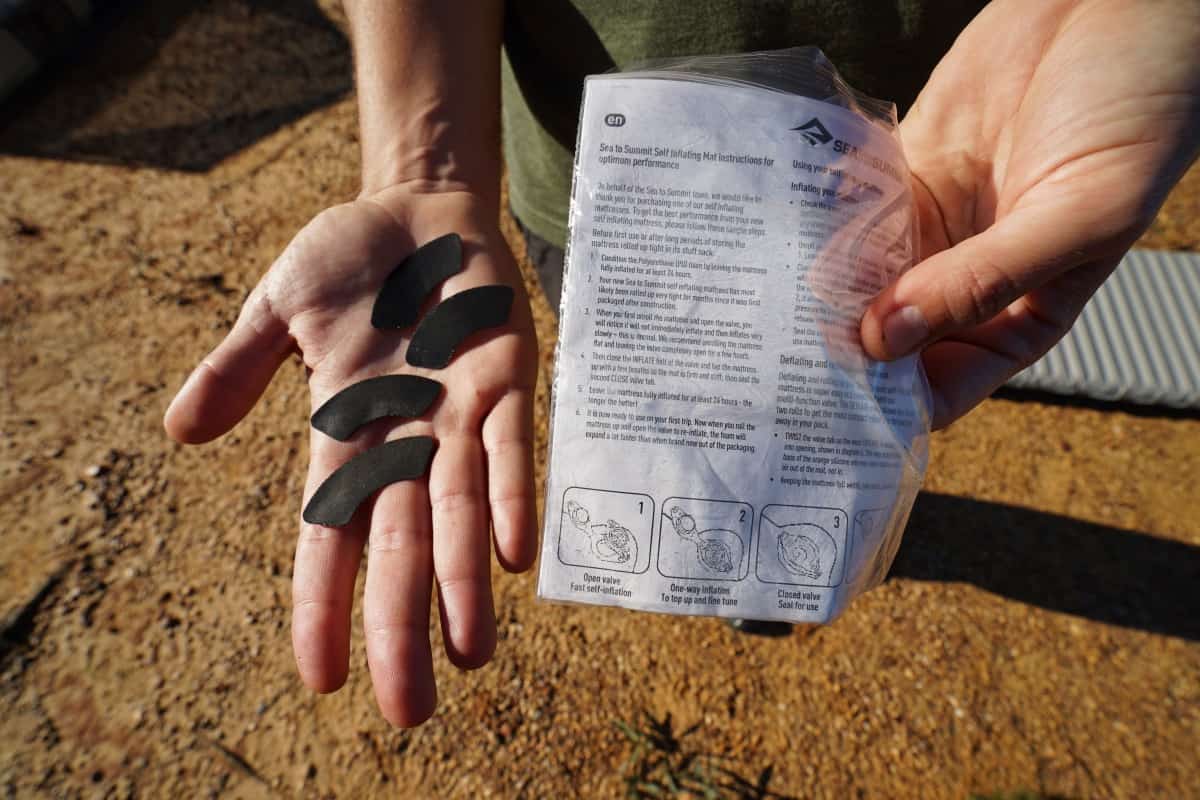 If you've chosen an air pad or a self-inflating pad, a repair kit is a good way to protect your investment and help you out in a pinch while on the trail. Many pads come with a basic repair kit but it's always a good idea to have a backup or a better quality kit that can aid in a variety of repairs.
FEATURES EXPLAINED ABOUT THE BEST BACKPACKING SLEEPING PADS
R-Value
The number used to determine the warmth of a sleeping pad based on its ability to resist (hence the "R") heat loss. A higher R-value equals a warmer sleeping pad. R-values are based on a scale that ranges from 1 (minimally insulated) to 11 (maximum insulation).
Stuff Sack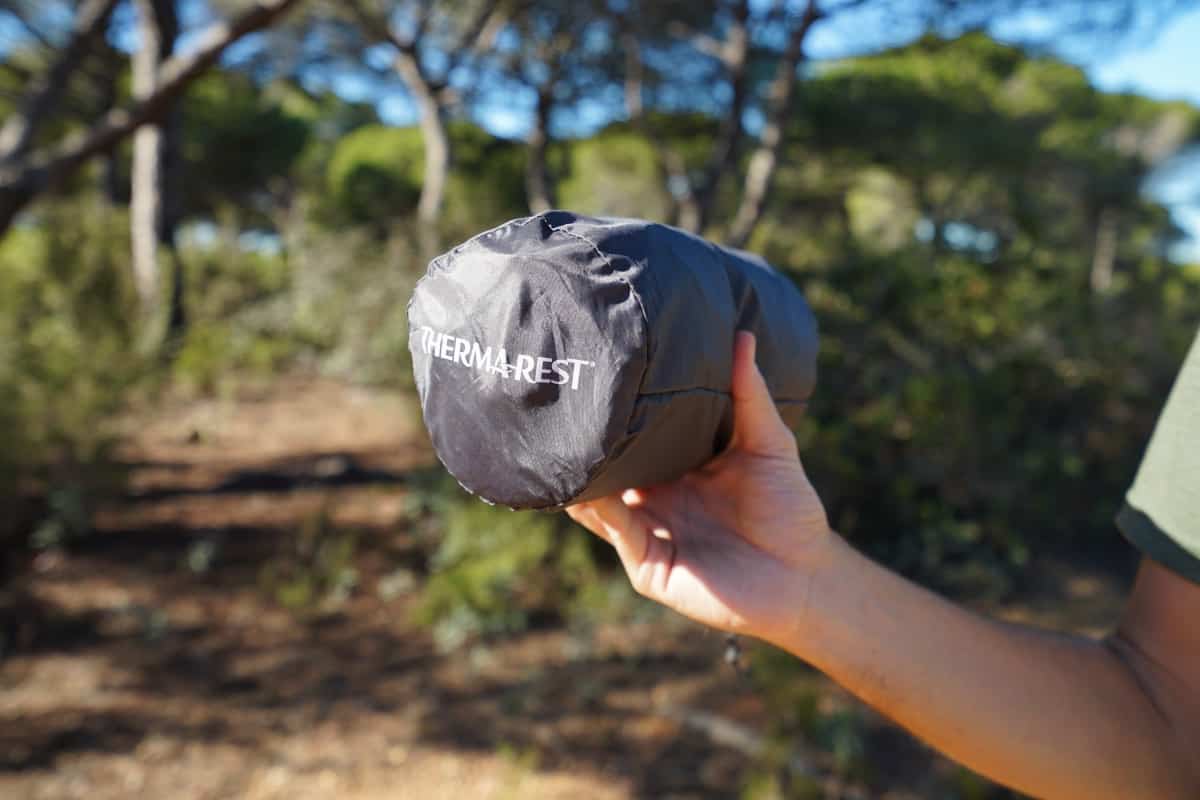 A compact protective pouch where you can store your sleeping pad when not in use.
High-flow Valve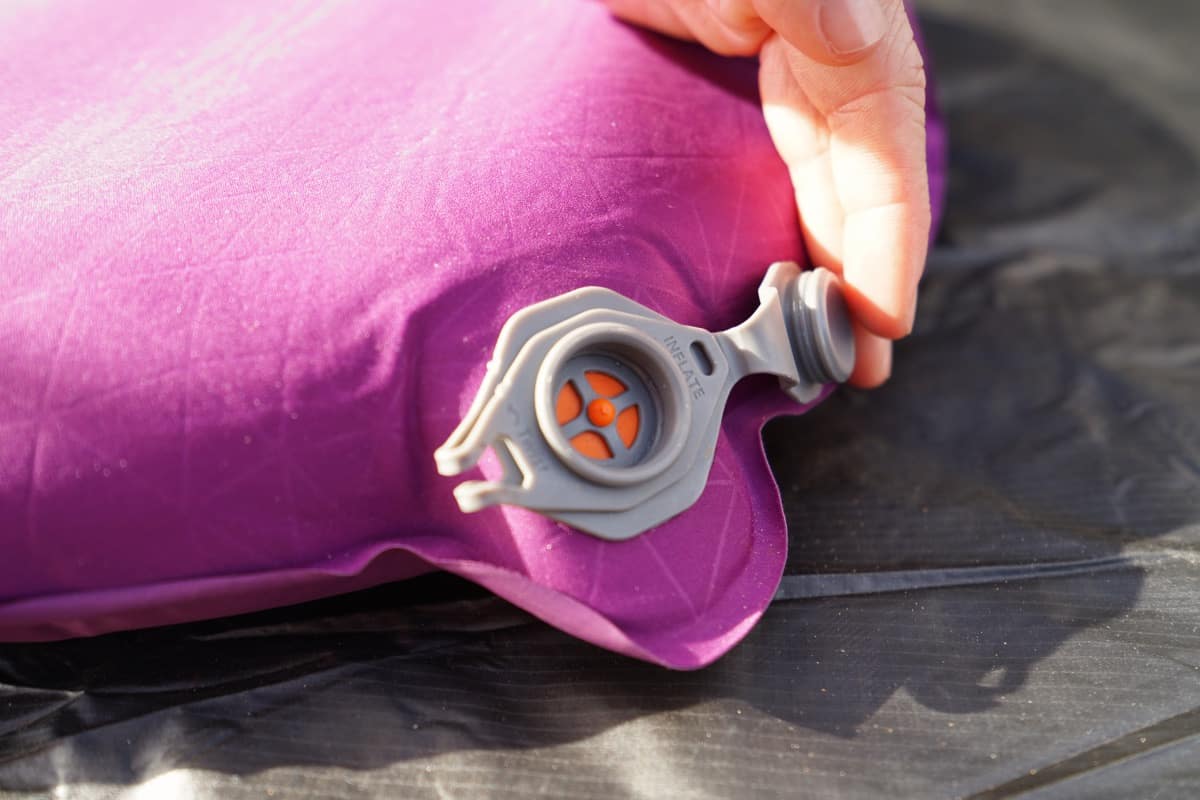 In self-inflating sleeping pads, a high-flow valve is the mechanism that allows air to rush in and inflate the pad. Twist the valve again and compress the pad to force air out and deflate for travel.
Accordion-style Design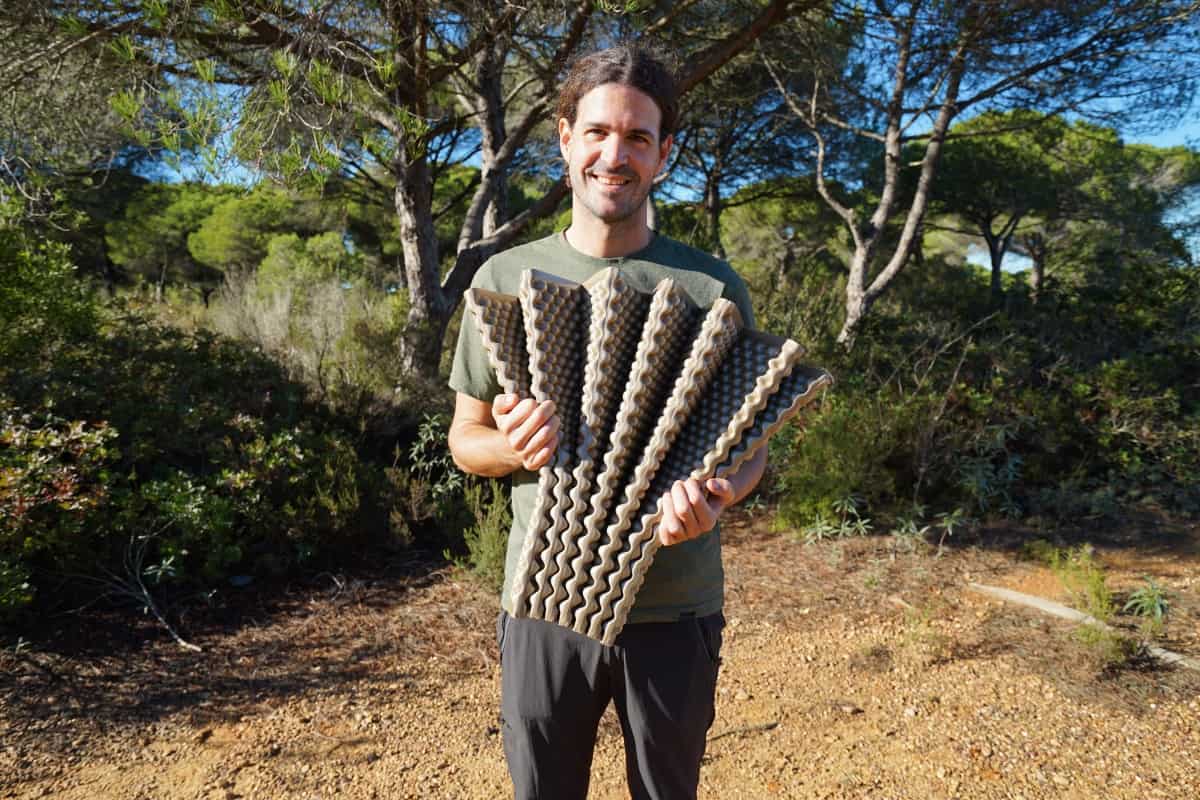 A closed-cell foam sleeping pad with an accordion-style design means that the pad folds up in a Z-like pattern instead of being rolled up. This helps it pack down in a more minimal way.
F.A.Q. ABOUT THE BEST SLEEPING PADS FOR BACKPACKING