Updated on November 11, 2020
If the sounds of crashing waves has inspired you to pursue surfing, then you've come to the right place! No matter the time of year or skill level involved, small waves abound in every surf locale and are the ideal setting to improve your surfing. Whether you're a true "kook" (surf speak for beginner) that has zero experience or someone who's learned the basics and looking to progress, we've got you covered with the best surfboards for small waves!
Small waves are awesome for two big reasons: 1. You can learn any style of surfing on them, and 2. They provide the opportunity for beginners to really feel the difference in board type. The list that we've crafted here offers a variety of board types across a spectrum of skills.
If you're a true beginner with no experience, stick to the top of this list. As the list goes on, it scales up to intermediate surfers who have had a few lessons or learned on vacation. The last few boards are aimed at advanced beginners who have a decent skill set and are looking to add some variety to their surfing.
Variety is the spice of life and the boards we've chosen reflect that! Your smorgasboard of surfboards await…
For more of our top surfing gear recommendations, check out the Best Surfboards.
Quick Answer

-

The Best Surfboards for Small Waves
ECS Boards Bulldog V-Flex

South Bay Board Co. – Casper

South Bay Board Co. – Mahi
Comparison Table

-

Best Surfboards for Small Waves

For the best experience turn your device horizontally
Reviews

-

The Best Surfboard for Small Waves
ECS Boards Bulldog V-Flex
Specs
Length

:

Short (5 ft 8 in)

Thickness

:

2.75"

Weight Capacity

:

200 lbs

Fins Included?

:

No
Features
Universal Fin Mounts
Epoxy Finish Is More Durable
Highly Buoyant Design Make Floating Easier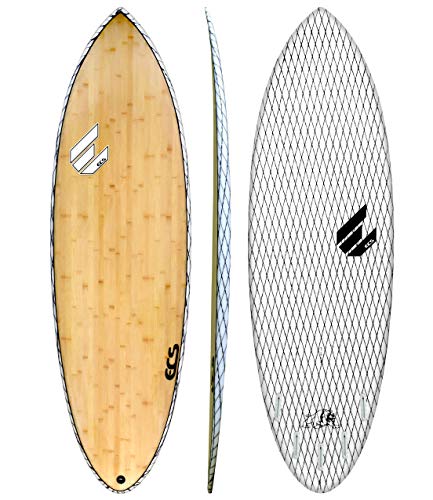 BEST FOR: PROGRESSING PAST THE BEGINNER STAGE
Speed and control are two words that come to mind when asked to describe this board by both pros and amateurs alike. Performing best in smaller waves, but certainly more than capable of scaling up, the Bulldog V-Flex is designed to give some extra punch when the waves are otherwise just plain bad. 
It achieves this through it's short and wide design, giving it some extra lift and allowing it to "skate" atop the waves, sitting higher and lighter than other boards would in the same conditions. It's for this design reason that we recommend this board for the advanced beginner – it will keep you buoyant and having fun as you take your skills to the next level. 
Use the 5-fin box to your advantage and be sure to test out a few different fin setups! When you're getting creative and playful with your surfing, different setups can make all the difference.
NSP Elements Longboard
Specs
Length

:

Long (10 ft)

Thickness

:

3"

Weight Capacity

:

250 lbs

Fins Included?

:

Yes
Features
Single Fin Included
Super Thick Shaping Makes Floating Easier
Ankle Leash Plug Is Ready For Quick Attachment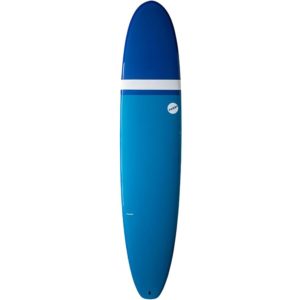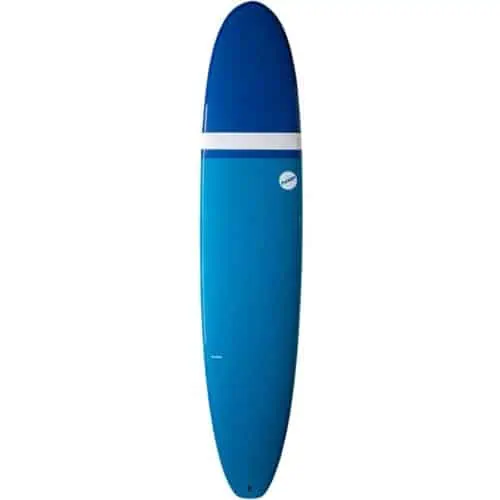 BEST FOR: TRUE BEGINNERS
If you're just making your foray into surfing, then big boards and small surf is exactly what you want! Generally speaking, the longer, wider, and thicker a board is, the shorter your learning curve will be. Do yourself a favor and snag the NSP Elements Longboard as it fits all three of these criteria.
Exceptionally thick for a longboard, the NSP Elements Longboard provides superior buoyancy which will help keep you afloat. Its width also lends itself to more stability, giving you a helping hand as you learn balance. All in all, this board is an exceptional choice for anyone, regardless of their skill level.
South Bay Board Co. – Casper
Specs
Length

:

Medium (6 ft 8 in)

Thickness

:

2.75"

Weight Capacity

:

220 lbs

Fins Included?

:

Yes
Features
Action Camera Mount
Wax-Free Textured Soft Top
Heat Release Valve (prevents delamination and bubbling for long lasting quality)
BEST FOR: CATCHING ANY AND EVERY WAVE
Fun, fast, and snappy, this crossover board might be one of the best all around boards with the biggest bang for your buck! At just under 7' feet in length, the Casper is a hybrid board that can catch almost any and every wave in swells up to 6' feet tall.
What makes this board so versatile is its unique styling that offers a variety of possibilities:
It's the perfect board for a beginner transitioning to smaller boards

It's big enough to handle the power of larger waves

It's small enough to practice turning and be playful in smaller surf
This board truly caters to beginners of all skill levels – he's a friendly little ghost that will never let you down!
Scott Burke Baja
Specs
Length

:

Medium (7 ft 6 in)

Thickness

:

3.5"

Weight Capacity

:

250 lbs

Fins Included?

:

Yes
Features
Includes 3 High Quality Fins
Lightweight Design Weight Just Under 11 Lbs.
Ankle Leash Is Included To Help You Keep Track Of Your Board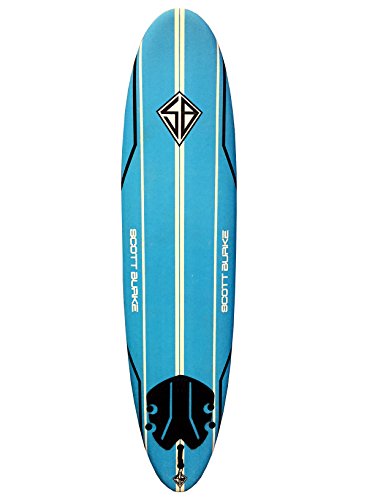 BEST FOR: PICKING UP FROM YOUR LAST LESSON 
If you've been surfing once or twice on vacation and were left feeling confident in your novice abilities, chances are you don't need a surfboard the size of a farmhouse table. Although bigger is better, the Scott Burke Baja Surfboard measures in at the upper end of the Medium size range. 
This means that while it's technically not a "longboard", it has enough length to keep you feeling stable as you get back into the groove of things. I'd label this board as Beginner +, ideal for someone who isn't a true beginner but just a few sessions away from the Intermediate Beginner badge.
Empire Ehukai
Specs
Length

:

Medium (7 ft)

Thickness

:

3"

Weight Capacity

:

220 lbs

Fins Included?

:

Yes
Features
Includes 3 Universal Fins
Available In 3 Different Colors
Soft Top Construction Is Perfect For Beginners

BEST FOR: ADVANCING YOUR SKILLS QUICKLY 
Known as a "small-wave utility board", the Empire Ehukai Soft Board is a great choice for intermediate to advanced beginners looking to expand their repertoire of surfing skills. If you're a rider who can stay up on a wave 90% of the time and you're ready to start mixing in a little move here and there, look no further. 
This board has a flat, stable deck that will provide great security for any beginner and it's higher volume design provides maximum floatability. Where the Empire Ehukai Soft Board excels is in maintaining buoyancy on smaller waves that would otherwise knock you down.
Liquid Shredder
Specs
Length

:

Short (5 ft 5 in)

Thickness

:

3"

Weight Capacity

:

215 lbs

Fins Included?

:

Yes
Features
Universal Fin Mounts
Fish Shape Means This Board Excels On Small Waves
Ankle Leash Plug Is Ready For Quick Attachment

BEST FOR: GETTING MORE OUT OF SMALL WAVES
This is certainly one of the more unique boards we've ever seen but we are SO stoked that we simply cannot contain our excitement! This funky little board will be warmly welcomed by intermediate beginners who are looking for something fresh. That's because The Liquid Shredders Fish Board excels on small waves that would typically call for a longboard. 
Simply put, there are no bad days on this Fish Board! Powerful and fast, this board literally makes small waves work to your advantage when they would otherwise frustrate you. Its design also makes you feel more grounded in the wave, adding a touch of security and confidence to your ride.
South Bay Board Co. – Mahi
Specs
Length

:

Short (5 ft 8 in)

Thickness

:

2.75"

Weight Capacity

:

200 lbs

Fins Included?

:

Yes
Features
Ankle Leash And Fins Included
Universal Fins With Key For Removing
"Fish" Shaped Board Is Ideal For Small Waves
BEST FOR: LEARNING HOW TO TURN
Aptly named after one of the most delicious fish in the sea, the Mahi serves up a slice of power in small surf while packing a punch in larger waves.
The shape is known as a fish board due to its decidedly thick, super wide, and especially short design. The extra thickness provides greater buoyancy when the surf isn't quite as big as you'd like and the quad fin setup delivers superior stability when hitting swells in the 7' foot range.
Intermediate beginners with some decent surfing experience will find this board perfectly suitable for learning how to turn on small waves. True beginners without any experience should look for something longer.
NSP Elements Fish
Specs
Length

:

Short (5 ft 6 in)

Thickness

:

2.5"

Weight Capacity

:

205 lbs

Fins Included?

:

Yes
Features
Epoxy Finish Is More Durable
Unique Design Is Great For Waves Up To 3' Tall
3-Fin Thruster Set Up Helps Beginners Make Their Transition To A Shorter Board Easier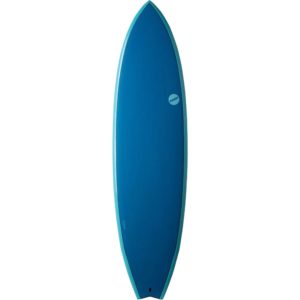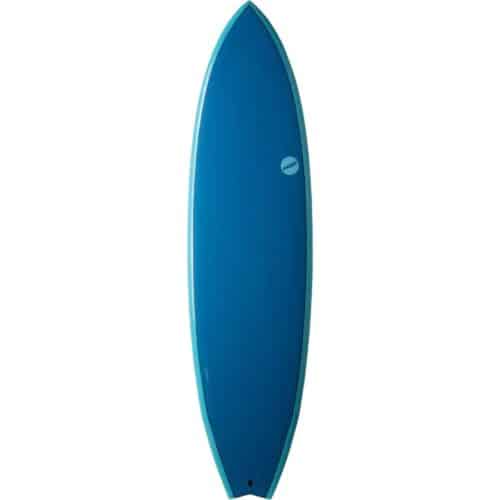 BEST FOR: TRANSITIONING DOWN FROM LONGBOARDS
So there's a rule in surfing that we've covered both in this article and elsewhere that the longer, wider, and thicker a board is, the better it is for beginners. And that's still true 99% of the time. However, as always, there is an exception. 
The NSP Elements Fish Shortboard is our exception in that it has managed to make this board a much easier shortboard for intermediate to advanced beginners to handle. There's a sweet spot that gives the beginner more control with less board. If that isn't exceptional then I don't know what is!
There's a lot of technical design features that they've pulled off to make this happen, but trust us on this one – if you want to side skirt the system and progress your skills quicker, this is your board.
THINGS TO CONSIDER WHEN BUYING SURFBOARDS
CONSTRUCTION / FINISH
Surfboards are made of two different types of finishes, or construction, and each have their advantages. While soft tops, or "foamies", are generally better suited for beginners, take the time to compare the benefits of each and determine which will be best for you. For example, if you're accustomed to board sports such as skateboarding or snowboarding, you may want to consider skipping the soft top as you will progress faster than the average beginner.
SOFT TOP ADVANTAGES:
True beginners, who are prone to wiping out, will be much safer on a foamie

Soft tops can easily be re-sold once outgrown

Foamies are better equipped to handle the wear and tear that can occur when first learning the sport
HARD TOP ADVANTAGES:
Turns easier in small waves due to lighter construction

Small wave wipeouts can damage boards just as much as big waves – hard tops can be repaired when this happens whereas soft tops end up in the trash if broken

Tougher materials and superior shaping means hard tops are long lasting
FIN SETUP
Small waves pose their own unique challenges and deciding which fin setup is best for you will be determined by what kind of beginner you are and what style of surfing you're looking to master.
TRUE BEGINNERS
Single Fin: If you're a true beginner with no experience, chances are you've chosen a longboard from this list. Good on you. Most longboards utilize one very large center fin to keep you "grounded" in the wave. This is a great choice as it will limit your speed and increase stability.
INTERMEDIATE BEGINNERS
Twin Fin: Small wave enjoyment can be thoroughly maximized when using a Twin Fin setup. Most popular on "Fish" boards, the lack of a center fin allows your board to skate or glide across the top of smaller waves and help you turn quicker.
Quad: Similar to the Twin Fin design, a Quad Fin setup utilizes two fins on each side while forgoing the center fin. This translates to more speed and stability than a traditional Twin Fin, but sacrifices some maneuverability to achieve those results.
ALL BEGINNERS
Thruster: By far the most popular fin setup, the Thruster arrangement will scale up as a beginner progresses in skill. Used by professionals and total newbies alike, the Thruster utilizes a single center fin (although much smaller than the traditional Single Fin setup) to provide stability while also relying on two flanking offset fins to maximize maneuverability and speed. It is the most balanced in terms of capabilities.
Many surfboards offer a "5-fin box" that lets you choose just what type of fin setup you want. Make the most of these boards by purchasing an additional set of fins and experimenting with which works best for you.
LENGTH
When choosing a surfboard to take on small waves, the length of your board can be a determining factor in how well you handle those waves. The equation is a combination of your experience level and what type of surfing you'd like to succeed at. Check out our breakdown below.
LONG
Length: 8 ft or longer
Type Of Surfing: Traditional longboarding
Who It's Best For: Beginners with no experience and intermediate beginners who want to master the basics
MEDIUM
Length: 6 ft – 8 ft
Type Of Surfing: Funboarding
Who It's Best For: Intermediate beginners looking to add some "spice" to their surf game
SHORT
Length: Anything shorter than 6 ft
Type Of Surfing: Shortboarding and Fishboarding
Who It's Best For: Intermediate and advanced beginners who have a solid foundation of basic skills and are wanting to explore new ways of surfing
WIDTH AND THICKNESS
Width and thickness are especially important specs to look at when surfing small waves. Due to the way small waves behave, thicker boards (3+ inches) are going to be more helpful to true beginners as they will float better. Intermediate and advanced beginners can get away with boards of average thickness (2 – 2 ½ inches).
Beginners without experience will benefit from using a longboard, which tends to be wider, thus providing better stability overall. Intermediate beginners may want to rock a fishboard in small surf as the increased width will make up for the shorter length.
WEIGHT CAPACITY
The weight capacity of a surfboard is generally a guideline and is useful in determining if a specific surfboard will accommodate your skill level.
Beginners without experience will want to stay under a board's maximum weight limit which makes you more buoyant and thus able to catch more waves.

Intermediate beginners can comfortably reach a board's weight limit without adversely affecting their performance.

Advanced beginners are able to exceed a board's weight limit, within reason. Their skills give them the ability to deftly manipulate the board into doing what they want.
FEATURES EXPLAINED
DECK
The top side of the surfboard where the surfer stands. Surfers sometimes use a traction pad here for extra grip. 
FIN
A fin is mounted on the tail of the surfboard to provide for directional control and stability.
FIN MOUNT
The groove in the board where fins can be inserted. 
RAILS
The edges of the surfboard that run from the tail to the nose. Different rail shapes determine the type of surfboard performance. 
ANKLE LEASH
The cord that attaches from the tail of the surfboard to the ankle of the surfer, typically with a Velcro strap. 
ANKLE LEASH PLUG
The connection point in the rear of the surfboard for the ankle leash. 
BUOYANT DESIGN
The more buoyant the surfboard, the easier it will be to surf small waves. A more buoyant surfboard will float with less effort.  
EPOXY FINISH
Epoxy is a resin used to coat the top of a hard top surfboard. An epoxy finish makes a board more durable. 
TAIL
The back of the surfboard. Tail shapes differ from board to board and include squashtail, thumbtail, and pintail shapes. 
FISH TAIL
A fish tail shape features two points that provide for extra hold and traction, adding surface area which is especially useful while paddling. 
READ MORE
For more of our top surfing gear recommendations, check out these popular buyer's guides: