Updated on February 7, 2020
The first piece of advice that almost every nature and landscape photographer will give you is to pack light. Sure, you could lug a separate backpack up the mountain with you to fit all the lenses, tripods, and filters you'll need for your bulky DSLR camera. Alternatively, you could take some time to research the best point and shoot camera for landscape photography to save yourself both money and weight.
Some camera snobs will scoff at the sight of a "professional" utilizing a point and shoot camera. For quite some time, point and shoot cameras were viewed as amateur devices, meant only for half-blurry family photos. But in recent years, the technology in point and shoot cameras has improved so well that many newer models are comparable even to some DSLRs. And, with the added benefit of a less-cumbersome object to transport, every adventure photographer should seriously consider purchasing a point and shoot. If you're on the fence about picking up a high-quality point and shoot camera, step inside and see what The Adventure Junkies has in store for you.
For more of our top landscape photography gear recommendations, check out the Best Landscape Cameras.
Quick Answer

-

The Best Point and Shoot Cameras for Landscape Photography
Canon PowerShot G7 X Mark II
Comparison Table

-

Best Point and Shoot Camera for Landscape Photography

For the best experience turn your device horizontally
Reviews

-

The Best Landscape Photography Point and Shoot Cameras
Fujifilm FX10
Specs
Weight

:

9.8 oz

Megapixels

:

24.2 MP

Viewfinder

:

Fixed LCD Touchscreen

Zoom

:

1X
Features
High-resolution Imaging
Timelapse Functions
Excellent Low-light Capabilities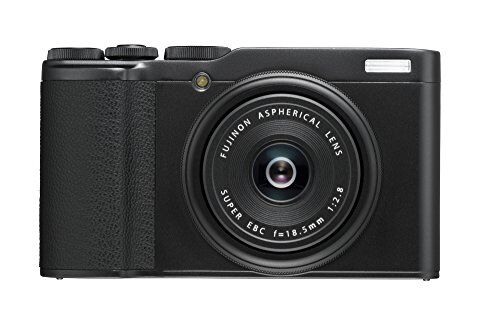 BEST FOR: VALUE PURCHASE
The overall quality of Fujifilm's FX10 makes it one of the most-underrated point and shoot cameras available on the market. This camera is perfectly designed for the photographer who is seeking high-quality landscape photos without undertaking a cumbersome journey.
With a 24.2 megapixel sensor, this camera captures incredibly crisp photos and vibrant colors in a compact, pocket-sized device. The built-in flash and noise reduction technology also helps with achieving unmatched shot clarity in low-light settings, making this camera a feasible option for usage at almost any time of day.
If you are desperate for a camera with an impressive optical zoom, sadly, the Fujifilm FX10 should not be near the top of your list. This is a camera built, quite literally, for pointing and shooting at what's nearby. As with many point and shoot cameras, the FX10 uses a fixed touchscreen LCD monitor as a viewfinder. With all this considered, this might not be the right camera for you if you expect to be using it for undertaking strenuous angles and positions in your photos.
Sony DSCHX80
Specs
Weight

:

8.7 oz

Megapixels

:

18.2 MP

Viewfinder

:

Hinged Digital LCD

Zoom

:

30X
Features
Superb Stabilization
High Optical Zoom (for further & more crisp zoom shots)
Lock-On Auto Focus (for keeping subject in focus)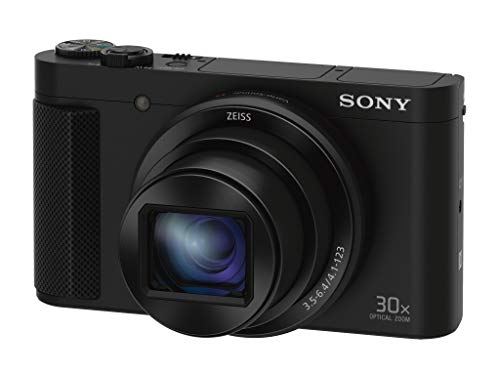 BEST FOR: ZOOM
It may not have the highest-resolution of point and shoot cameras, but very few come even close to the zoom and intuitiveness available in Sony's DSCHX80. It seems that Sony designed this camera for the casual photographer –someone who wants good photographs but doesn't need to manipulate every little mechanism in the camera.
30x optical zoom gives you the ability to capture much further distances than most point and shoots can achieve while not sacrificing clarity. However, the rule of thumb usually goes that deep zoom will trade off for poor stability. Fortunately, Sony's superb stabilization technology makes this problem nearly non-existent, even at full zoom. The DSCHX80 is perfect for situations when stability and distance are the enemies, making it a well-fitting camera for anyone looking to bring this camera along on the trail or for animal watching.
Panasonic Lumix LX10
Specs
Weight

:

10.9 oz

Megapixels

:

20.1 MP

Viewfinder

:

Hinged LCD Display

Zoom

:

3X
Features
Optical Stabilization (for less motion blur)
180° Tilting LCD Display (for self portraits or awkward shooting angles)
Aperture Control (for controlling depth of field)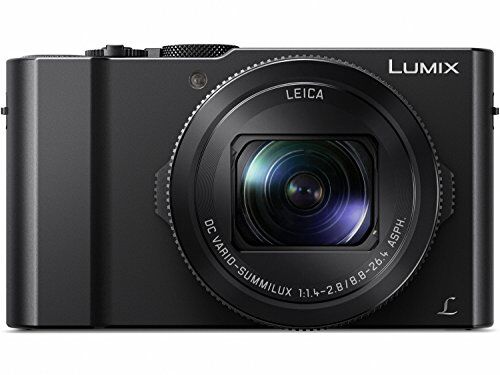 BEST FOR: VERSATILITY
Panasonic's Lumix has been a poster child option for high-quality point and shoot cameras for quite some time. There's no shortage of good reasons why the LX10 joins the ranks. A 20.1 megapixel sensor allows for incredibly vivid images and colors, and the manual-aperture function gives you even more control over light levels and depth of field. Moreover, the LX10 features 3x zoom capabilities coupled with impressively effective optical stabilization, giving you the power to zoom long distances with confidence in the outcome and clarity of your shot.
Its price tag may seem high, but the features this camera offers are well worth the cost. The LX10 almost achieves all the standard functions of DSLR's that make them so adept at exceptional photography. And the added benefit of having a smaller and more lightweight camera makes the LX10 a worthy contender for an adventure photographer of any skill level.
Canon PowerShot G7 X Mark II
Specs
Weight

:

10.4 oz

Megapixels

:

20.1 MP

Viewfinder

:

Digital LCD Display

Zoom

:

4.2X
Features
Tilting LCD Screen (for self portraits & high shots)
Optical Stabilization (for less motion blur)
1" Sensor (for higher quality & pixel count)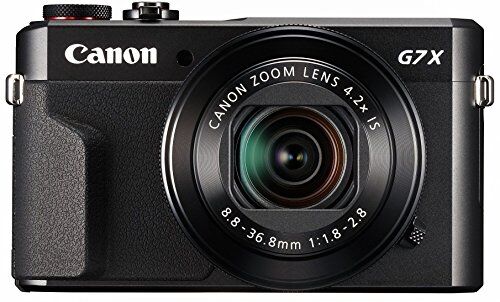 BEST FOR: RAW RESOLUTION
Don't let the price tag scare you away from considering this point and shoot camera. Canon is a brand name that has become synonymous with the camera market due to the reliability and performance of their cameras. The clarity of the photographs that the G7 X Mark II camera is capable of taking is unmatched, aided heavily by a one square inch sensor that reaches 20.1 megapixels. The 4.2x magnification of the lens will allow for some noticeable zoom. And motion blur won't be much of a problem thanks to the beefy optical stabilization. The optical stabilization keeps the camera balanced enough to get a clear shot, no matter how shaky the photographer.
The digital LCD screen acts as a viewfinder for the G7 X Mark II. Canon even designed the screen to tilt a full 180° upward for self-portraits and 45° downwards to assist with shots taken above the head. The MSRP is above average, for understandable reasons; this camera packs a punch. So while it may not be a feasible option for those looking for the best deal, anybody serious about getting breathtaking landscape photos in a compact package should consider the G7 X Mark II.
Olympus TG-5
Specs
Weight

:

8.8 oz

Megapixels

:

12 MP

Viewfinder

:

Fixed LCD Display

Zoom

:

4X
Features
Shock Protection/Waterproofing (for protection from the elements)
Impressive Noise-Reduction (for low-light shooting)
Threaded lens (for lens accessories)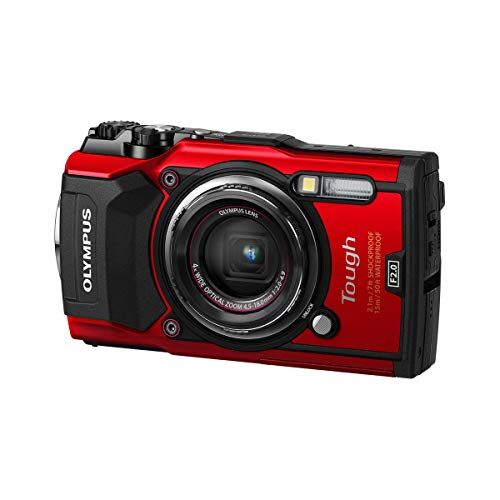 BEST FOR: DURABILITY
It would be remiss of us not to mention an option geared towards the hardcore adventurer. You know who you are. The diehard Adventure Junkie who wants to bring your new camera to the edge with you and expose it to all the elements that you yourself thrive in – snow, rain, dust, and wind. It's okay. We're right there with you. And that's why this camera is on the list.
Olympus has managed to strike a beautiful balance with the TG-5 by creating a camera that is both incredibly durable and surprisingly high-performance. The quality of this camera is made evident by its 12-megapixel sensor and powerful noise-reduction technology. These two features combine to minimize unsightly static in your photos (the fuzziness you get when shooting in low light situations).
The threaded lens also allows for a wide range of different types of lens attachments and filters to be screwed-on around the brim, such as a fisheye lens or a UV filter. As a bonus, Olympus even installed GPS software into this camera, turning it into far more than just your basic point and shoot.
The unfortunate truth is that designing a camera that can capture high-resolution photos while also being able to take a hit or two is very difficult. The TG-5 is a clear example of a camera that's breaking the trend at a more than fair price point. In a world where GoPro seems to dominate the field of adventure photography, be sure to keep your eyes on the Olympus TG-5.
THINGS TO CONSIDER WHEN BUYING POINT AND SHOOT CAMERAS FOR LANDSCAPE PHOTOGRAPHY
MEGAPIXEL COUNT
Megapixels are a jargony and technical concept to approach. In simple terms, they are digital squares that make up a camera's sensor, which themselves are made up of even smaller digital squares called "pixels." Pixels act as a middleman between the capturing of light rays on the sensor and the image you see on your screen. Therefore, the higher the count of megapixels, the more pixels there are that can be used to translate the sensor's image into a digital image. There is a common misconception that the higher the megapixel count, the clearer the image; this is not always true. An image's clarity is also dependent on a myriad of other factors, but most notably, the sensor's sensitivity and quality, lens quality, and megapixel count.
VIEWFINDER
The viewfinder of a camera is the mechanism that allows you to see the framing of a photo before it is taken. On larger DSLR cameras, a viewfinder is typically optical, requiring the photographer to look through an eyepiece, yet they often also feature a digital display as well. Most point and shoot cameras utilize the digital LCD display as viewfinder instead of an eyepiece to compensate for the additional size and weight of an eyepiece. This can actually be an advantage for some landscape photographers as the digital LCD viewfinders typically display lighting levels better than optical viewfinders.
LIGHTING CONTROL
The simple fact about cameras is that they are all about controlling lighting. Therefore, having more variability with factors that control light levels — namely aperture, ISO and shutter speed — will allow for greater control over the outcome of each photo you take. Lighting levels affect color balance, image quality, depth of field, and contrast. Not having control over these things can lead to some disappointing results from your new camera. Having control over how much light enters the camera, the sensitivity of the sensor, and the speed of shutter motions will give you more options for creating pristine and crisp images.
ZOOM
Sometimes, just a little bit of zoom can make or break a photograph. When it comes to DSLR cameras, zoom has to do entirely with the different lenses you can attach. However, with point and shoot cameras, changeable lenses are very rarely a feature; this results in digital cameras that feature two different types of zoom. While the technology has been slowly getting better, digital zoom is usually not the optimal choice for a crisp, sharp photograph. However, point and shoot cameras do still feature some degree of optical zoom, which is the type of zoom that occurs from the expansion and contraction of the lenses in a camera.
PRICE
Pricing for digital cameras can be tricky sometimes; deals come and go and camera models can age quickly. The spread of prices for point and shoot cameras is pretty wide, and the digital camera market can be admittedly sketchy at times. Some camera manufacturers like to develop useless features that cause the price of certain models to skyrocket.
Be particular when shopping around and make sure not to overspend on features that you might never use. A good way to circumnavigate this is by reading user reviews and doing thorough research on each camera you consider, as honest reviews can be a wellspring of knowledge for this problem (and always make sure the reviews you read are written by verified customers).
STABILIZATION
Chances are that if you are looking to purchase a point and shoot camera for landscape photography, you are not going to be lugging around a tripod. You will probably be using your new camera with your hands for the most part, which means you will need something to combat the natural shake of your hands. A fast shutter speed can help with this, but you instantly sacrifice more light accessing the sensor. Fortunately, newer camera models often feature some sort of stabilization technology that help reduce blur resulting from camera shake and sway. Because of this, consider buying a camera that features technology that can better prevent frustratingly blurry photos.
FEATURES EXPLAINED
SENSOR
A photosensitive surface in the center of a camera that is exposed to a focused beam of light which captures an image.
SHUTTER
A mechanical cover for a sensor that opens up when a picture is taken. When the shutter is open, it allows light to affect the sensor, which captures the image. The longer a shutter is open, the more light the sensor absorbs.
ISO
The sensitivity of the camera sensor to light. Runs in exponential increments; usually 100 being the lowest.
APERTURE
Several panels that overlap, forming a ring that allows more or less light to enter the camera (imagine like the Google Chrome logo). The aperture remains constantly open, unlike the shutter, but similarly allows more or less light to saturate the sensor.
VIEWFINDER
What you are able to preview the framing of a photograph with before a picture has been taken. Most point and shoots use a digital LCD, which have the added benefit of previewing light levels, unlike most optical eyepiece viewfinders.