Updated on March 24, 2021
Don't get caught in the dark without the best hiking headlamp by your side. Whether you plan to be out on the trail well after dark or not, a hiking headlamp is a must for every hiker. The problem is, how do you find the best headlamp? That's where we come in. We'll navigate you through the process of buying a hiking headlamp as well as shine a light on the best hiking headlamps so you can get back to the trail in no time!
For more of our top hiking gear recommendations, check out these popular articles:
Hiking Solar Chargers | GPS for Hiking
Hiking Watches | 2-Way Radios for Hiking
Quick Answer

-

The Best Hiking Headlamps
Black Diamond Spot Lite 160
Comparison Table

-

Best Hiking Headlamp

For the best experience turn your device horizontally
Reviews

-

The Best Headlamps for Hiking
Black Diamond Spot 350
Specs
Battery Life

:

High - 25 hr, Low - 180 hr

Beam Distance

:

85 meters

Weight

:

3.9 oz. (with batteries)

Lumens

:

300

Output Capacity

:

350 lumens

Run Time

:

3hrs. 45 mins/200hrs. (High/Low)

IPX Rating

:

IPX8
Features
Waterproof
Brightness Memory For On/Off At Chosen Brightness
Red-Night Vision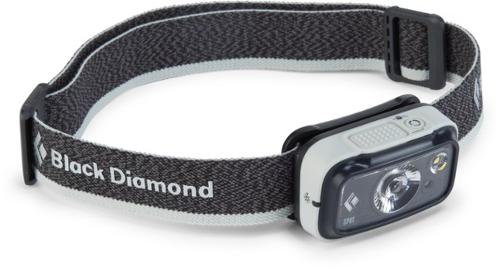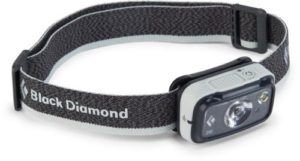 BEST FOR: BACKPACKING
When it comes to weight and performance, the Black Diamond Spot 325 outshines the competition in its price range. Weighing in at 3-ounces, this hiking headlamp has all the features you need for a backpacking trip.
To start, the Black Diamond Spot 325 can shed light on 80 meters worth of trail, which is plenty of light to guide your way. At the click of a button, you can go from high to dimming mode or shift over to one of the other modes like the red light to preserve your night vision. Either way, you can still return to your previous mode of choice after you turn the headlamp off. Waterproof and compact, this headlamp is built for adding up overnight miles on the trail.
Petzl Tikkina
Specs
Battery Life

:

High - 60 hr, Low - 220 hr

Beam Distance

:

60 meters

Weight

:

3 oz. (with batteries)

Lumens

:

150

Output Capacity

:

250 lumens

Run Time

:

2 hrs./120 hrs. (High/Low)

IPX Rating

:

IPX4
Features
Easy To Use
Water-Resistant
Affordable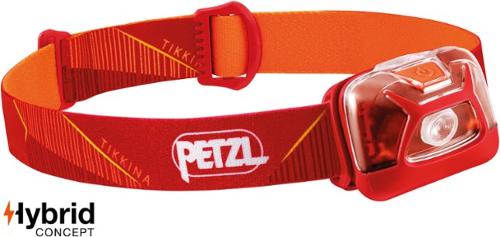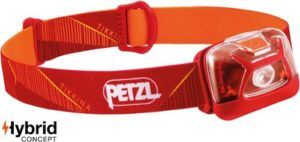 BEST FOR: BUDGET
Petzl has been in the headlamp business for over 30 years. Featuring everything from classic to specialized, there's something in their headlamp product line for everyone. For the budget hiker, we recommend their Petzel Tikkina.
The Petzl Tikkina offers three lighting modes at the push of a button. With 250 lumens worth of light, it's bright enough to light the trail and set up camp at night. Although this model doesn't come rechargeable, it is compatible with Petzl's proprietary rechargeable battery so you can swap that out if you'd like. Easy to adjust and water-resistant, this headlamp is a viable option for the headlamp user looking for an affordable price.
Petzl Bindi
Specs
Beam Distance

:

36 meters

Weight

:

1.2 oz

Lumens

:

100 - 200

Output Capacity

:

200 lumens

Run Time

:

2 hrs/50hrs. (High/Low)

IPX Rating

:

IPX4
Features
Cord headband lets you wear it on head or around neck
Can be tilted upwards
Two Lock functions to avoid it accidentally turning on in pack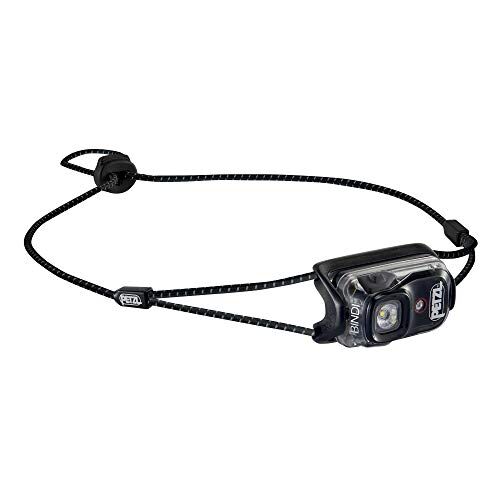 BEST FOR: ULTRALIGHT HIKERS
If you're looking for a high performance headlamp that fits in the palm of your hand and weighs only 35 grams, the Bindi sure fits the bill. Petzl designed the Bindi to be lightweight above all else, but the brand didn't skimp on the important features, either. The Bindi features three different lighting modes — proximity, distance, and movement.
What we love most about the Bindi — other than its size — is that it can be tilted upwards and includes two locking features.
BioLite Headlamp 330
Specs
Beam Distance

:

74 meters

Weight

:

2.43 oz. (with batteries)

Output Capacity

:

330 lumens

Run Time

:

3.5 hrs./40 hrs. (High/Low)
Features
Multiple Modes
Slim
Moisture-Wicking Headband
Bounce-Free Design For Secure Fit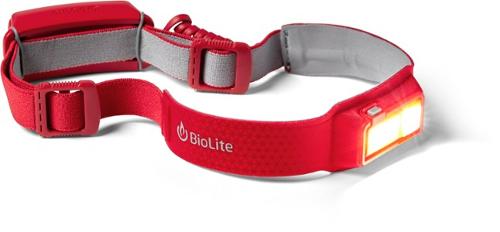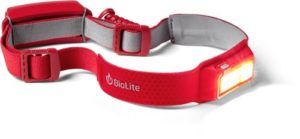 BEST FOR: SECURE FIT
The slim design of the BioLite 330 has an attractive look about it that stands out among the competition. The product of a Kickstarter campaign, the lightweight BioLite 330 fits flush to your forehand to optimize comfort and light direction. This way you can focus on the trail in front of you rather than an annoying bouncing headlamp.
Featuring five modes, you'll have plenty of options to choose from when encountering varying terrain. Charge up the battery and get ready to tackle the trail. You'll have up to 40 hours worth of running time which is more than you'll need to hike at night.
Fenix HL60R
Specs
Beam Distance

:

116 meters

Weight

:

4.2 oz

Lumens

:

950

Output Capacity

:

950 Lumens

Run Time

:

48 mins/100 hrs (High/Low)

IPX Rating

:

IPX8
Features
Rechargeable battery included
Super Bright
High-grade aluminum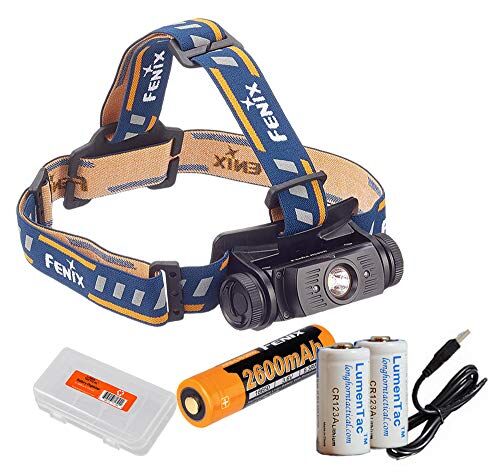 BEST HIGH PERFORMANCE HEADLAMP
If you're looking to have the combined option of one of the brightest lights and longest beam distances available on the market, the Fenix HL60R has you covered. This Fenix headlamp features an impressively durable construction and an over-the-top of-the head strap for extra security. It's ideal for use in rescue scenarios, night biking, night hiking, spelunking, and any other activities that call for serious illumination needs. The HL60R includes five adjustable brightness levels, a red-light mode, and a USB-rechargeable battery.
What we like most about the Fenix HL60R is its turbo mode, which provides for a 950 max lumen output and 116 meter beam distance. On this setting, you'd be hard pressed to pick out something around camp that you can't see clearly.
Petzl Actik Core
Specs
Battery Life

:

High – 2.5 hr, Low – 15 hr

Beam Distance

:

90 meters

Weight

:

2.8 oz. (with batteries)

Lumens

:

300

Output Capacity

:

450 lumens

Run Time

:

2 hrs./130hrs. (High/Low)

IPX Rating

:

IPX4
Features
Rechargeable Batteries
Detachable Reflective Headband
Water-Resistant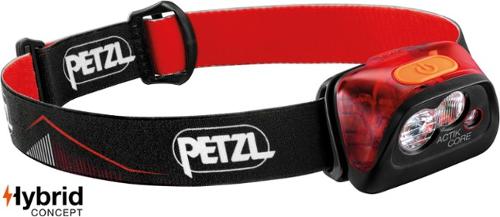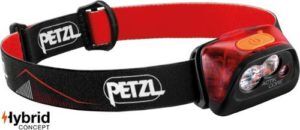 BEST FOR: BATTERY HYBRID
The Petzl Actik Core delivers solid performance at a reasonable price. Packing 450 lumens worth of radiant light into 2.8-ounces, this headlamp is efficient yet lightweight.
The flood and mixed beam pattern come in several brightness levels along with red light mode. This allows you to adjust between a flat or concentrated light source as well as light strength so you choose your visibility. When you're not lighting your path, plug the headlamp into a USB port and charge the core battery in as little as 3-hours. No USB access? This headlamp is also AAA battery compatible.
Fenix HM50R
Specs
Beam Distance

:

80 meters

Weight

:

2.2 oz. (with batteries)

Output Capacity

:

500 lumens

Run Time

:

2 hrs./128 hrs. (High/Low)
Features
Rechargeable
Waterproof
Dust-Proof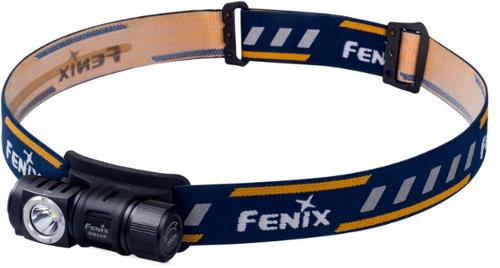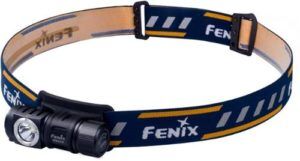 BEST FOR: SHORT FORESTED HIKES
Equipped with 500 lumens worth of light, the Fenix HM50R can go from dim to blaring when you need it most. Turn it on turbo mode and use the super bright light to gather your trail bearings. Then, when you're ready to hike, you can utilize the high or medium mode while low gives you ample light to rummage through a pack.
Easy to use and adjustable, you can simply tilt the headlamp to get the perfect angle of light. While the rugged and waterproof body is built to handle trail conditions, this headlamp comes with a few spare parts just in case so you never have to worry about going without a light.
Petzl Nao+
Specs
Battery Life

:

High – 1 hr 30 min, Low – 15 hr

Beam Distance

:

140 meters

Weight

:

6.5 oz

Lumens

:

750

Output Capacity

:

750 lumens

Run Time

:

1.5hrs/12hrs. (High/Low)

Waterproof Type

:

IPX4

IPX Rating

:

IPX4
Features
Bluetooth Compatible
Extremely Bright
Rechargeable
Lock Mode To Save Battery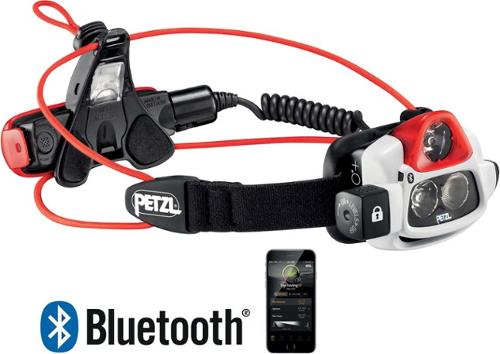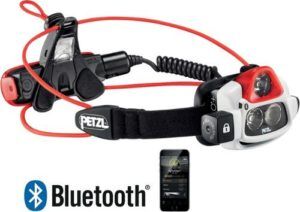 BEST FOR: TECH SAVVY HIKERS
Don't let poor visibility slow you down. The technologically advanced Petzl NAO+ emits a powerful light that adjusts to your surroundings.
Whether you're examining the trail or searching through your pack, this headlamp will automatically adjust the brightness and beam pattern according to your focal point. This means you can operate hands-free while saving battery life. The Petzl NAO+ also features Bluetooth so you can use a phone app to customize your headlamp settings.
Black Diamond Icon
Specs
Beam Distance

:

110 meters

Weight

:

8.1 oz.

Output Capacity

:

500 lumens

Run Time

:

50hrs./250hrs. (High/Low)
Features
Removable Battery Pack
Dustproof And Waterproof
Red/Green/Blue Night Vision Modes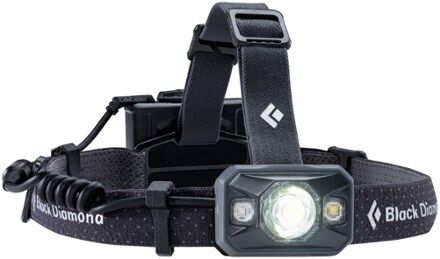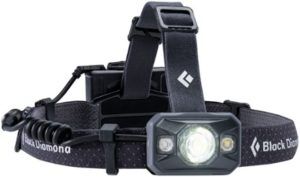 BEST FOR: HARSH WEATHER
Black Diamond features some of the highest-rated headlamps on the market. For the hiker in need of some serious performance, consider the Black Diamond Icon. Waterproof, dustproof, and powerful, the Black Diamond Icon is designed to handle harsh trail conditions.
This headlamp features one of the highest headlamp beam distances at 110 meters with a strong 500 lumens worth of light. It also offers red, green, and blue night-vision along with 2 strobes and multiple distance modes. When not in use, stash the removable battery pack in your pocket to preserve battery life by keeping it warm.
Black Diamond Spot Lite 160
Specs
Beam Distance

:

60 meters

Weight

:

1.9 oz. (with batteries)

Output Capacity

:

160 lumens

Run Time

:

28hrs./60hrs. (High/Low)
Features
Lightweight
Easy To Adjust
Waterproof


BEST FOR: MINIMALIST HIKERS
If you're the type to ditch all the fancy features for a streamlined design, you'll appreciate the Black Diamond Spot Lite 160. This super lightweight headlamp skips the bulk and narrows down your light beam options to concentrate all the power on a single LED light.
With the activation of a single button you can find which mode suits you best between the high, dimming, strobe, and red-night vision mode. With a long running time, you'll find the light output at 60 meters is plenty for a late or early morning hike.
THINGS TO CONSIDER WHEN BUYING A HIKING HEADLAMP
COST
When you're determining how to choose a headlamp, there are a plethora of features you'll encounter. As these features add up, so does the cost.
If you plan on using your hiking headlamp for a short amount of time during dawn or dusk, you may find the less expensive options suit you just fine. On the other hand, if you're a long-distance backpacker who plans on doing a lot of night hiking, you'll probably benefit from a more expensive headlamp.
WEIGHT
A few ounces may not seem to make a difference, that is until you're carrying it on your head. How light or heavy your headlamp will be is all a matter of use and preference. If you're looking to hike fast and light, a lighter option will be in your favor. For casual use, you're likely to be wearing your headlamp less, so a heavier option that shines more brightly or lasts longer may be right for you.
AVERAGE RUNNING TIME
Do you plan on hiking at night for long distances? Or would you rather be back at the trailhead by dusk? Your hiking headlamp will be the light that guides you, so you'll want to ensure you have ample light for the trek. The average running time of your light should be long enough to last you the length of your hike before needing to recharge.
BEAM DISTANCE
Beam distance is relative to the use of your headlamp. A far beam distance can be useful in backcountry navigation. You can use it to scan your surroundings and find things off in the distance like trailheads. A short beam distance is more useful for rummaging through your pack or shining light on objects in your immediate area. A combination of both works best. However, keep in mind the further your beam goes, the faster it depletes the battery in max mode.
BRIGHTNESS
Most hiking headlamps come with a variety of modes that alter how bright your headlamp gets. This typically ranges from a high to dim setting. The maximum brightness you need your headlamp to be will vary according to use.
For instance, if you plan on using your headlamp at dusk, you won't need an incredibly bright light compared to hiking in pitch black. However, it's good practice to plan ahead in case of an emergency. In this case, we recommend a hiking headlamp bright enough to handle the dark once the sun has gone down.
FIT
Nothing is more annoying than a hiking headlamp that needs constant readjustment. Before deciding on a hiking headlamp, make sure it fits comfortably and securely enough for the activity for which you'll be using it.
FEATURES EXPLAINED
LUMENS
Unit of measurement representing the brightness of light omitted. This will tell you how bright a hiking headlamp is.
FLOODLIGHT
Wide light that does not go a very long distance.
SPOTLIGHT
Focused light that can be used for long distances or rummaging through your pack.
RED NIGHT VISION
This is the best color to preserve our eyes at night because our eyes are less sensitive to red light. Red light also minimizes the attraction of pesky insects to your headlamp (and thus your head).
BLUE NIGHT VISION
Blue light helps see through fog as well as read maps at night while preserving vision.
GREEN NIGHT VISION
This is a popular light used in hunting because it doesn't disturb wild animals and helps to preserve vision.