Updated on September 28, 2021
Colder weather is right around the corner, and what does that mean? Down! The superior insulating properties of down are very well documented throughout the adventure community. This, combined with being extremely lightweight and packable, makes down ideal for nearly any sport. Furthermore, one of the best ways to enjoy down yet maximize packability is the iconic down vest.
But there are just so many out there, right? Puffy vests, slim vests, hooded vests, and the list goes on. We've gone ahead and waded through all these options, and now present the absolutely best down vests on the market for your consideration. So read on, and pick out the vest that will work best for you!
For more of our top hiking apparel recommendations, check out the Best Down Vests for Women.
Quick Answer

-

The Best Down Vests
The North Face 1996 Retro Nuptse

Outdoor Research Transcendent
Comparison Table

-

Best Hiking Down Vest

For the best experience turn your device horizontally
Reviews

-

The Best Down Vests for Hiking
Patagonia Down Sweater
Specs
Material

:

Polyester Ripstop

Fit

:

Trim

Fill Power

:

800-Fill

Hood

:

No

Packable

:

Yes, fits into internal pocket

Weather Resistance

:

Durable Water Repellent (DWR) Finish
Features
Nice Trim Fit
Very Comfortable For Any Activity
Adjustable Hem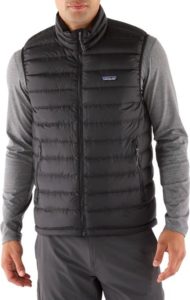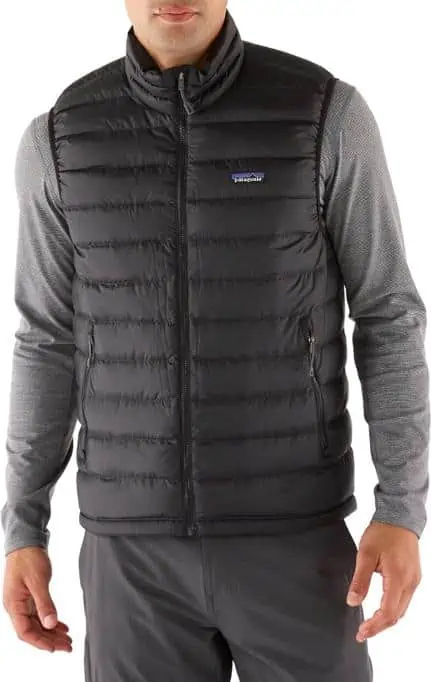 BEST FOR: VERSATILE USE FOR ANY SPORT
Patagonia's reputation for high quality and eco-friendly products is near legend in the adventure community. It therefore comes as no surprise that their Down Sweater Vest is one of the best down vests out there. 800-fill down provides excellent warmth while the comfortable fit and durable material make it an ideal addition to almost any adventure wardrobe. 
The durable – and 100% recycled – ripstop polyester shell will hold up to most active use, and its DWR finish will also help keep that inclement weather at bay. The vest's hem is also adjustable through drawcords accessible through the two pockets, so you can cinch in that warmth without even taking your hands out of your pockets! 
This premium construction and plethora of features comes at significant cost however. But if you're in the market for an adventure vest that can add warmth to your next ski trip, snow-shoeing excursion, or any other cold weather endeavor, then the Patagonia Sweater Vest may well be worth the cost.
REI Co-op 650
Specs
Material

:

Nylon And Ripstop Polyester

Fit

:

Boxy

Fill Power

:

650-Fill

Hood

:

No

Packable

:

Yes, fits into hand pocket

Weather Resistance

:

DWR And Slight Wind Resistance
Features
Very Accessible Price
Packs Down Nice And Small
Comfortable For All-day Wear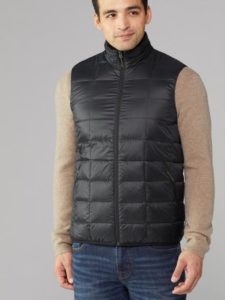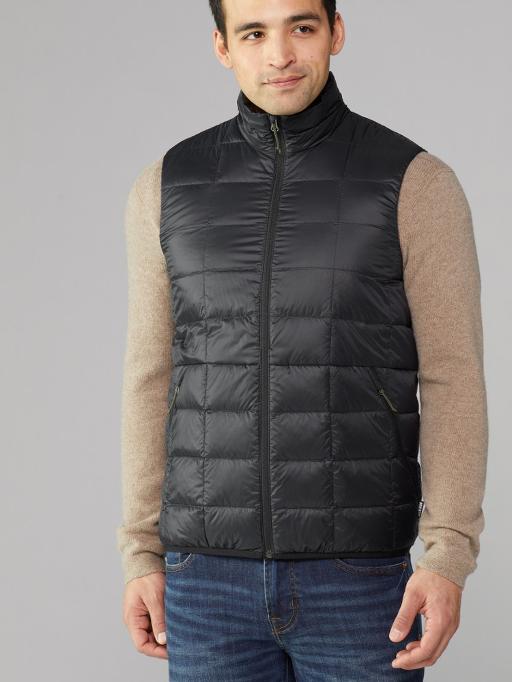 BEST FOR: FINDING A DOWN VEST ON A BUDGET    
Many exceptional down vests come with an exceptionally large price tag to match, but not the REI Down Vest. The many benefits of a quality down vest are here for the taking at a very reasonable cost. These benefits include excellent insulation for the colder days along with a durable and weather resistant outer material to make the vest last. 
The lower price does come with a few sacrifices, however. The look comes out a little boxy and lacks the premium trim fit that we often look for in vests destined for activewear. The material itself is also not quite as soft to the touch as its higher end competitors. 
But when looking for a reliable vest that checks all the boxes for a standard layering addition, the REI Down Vest is perfect. While the 650-Fill down may not be quite as insulating as other vests on our list, it still gets the job done for cooler fall and spring days. It also packs down into its own pocket for easy toting.
Arc'teryx Cerium LT
Specs
Material

:

100% Nylon

Fit

:

Trim

Fill Power

:

850-Fill

Hood

:

No

Packable

:

No, but very lightweight

Weather Resistance

:

Durable Water Repellent (DWR) Finish
Features
Athletic Trim Fit
Internal Zippered Security Pocket
Low-Profile For Active Use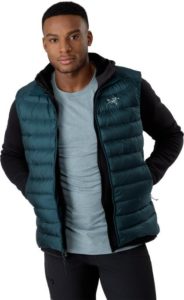 BEST FOR: LIGHTWEIGHT INSULATION
On almost the exact opposite end of the spectrum from the classic oversized and puffy leisure vest, we have the trim Cerium LT from Arc'teryx. This vest expertly combines a low-profile design with exceptional 850-fill down insulation and all in a lightweight 6.5oz package. 
Such powerful insulation with an equally powerful lightweight construction easily makes the Cerium one of the best down vests for you active adventurers out there. It barely adds any bulk or weight to your active wardrobe, and yet provides significant insulation wrapped up in a durable nylon exterior and DWR finish. Arc'teryx also went the extra mile to include synthetic insulation in areas where moisture tends to reduce down's effectiveness. 
It's important to note that the very trim cut of this vest may not suit everyone, especially if you prefer to throw on your vest over several other layers or even a coat. Therefore plan on going up a size if you're unsure, or even consider checking out other vests that aren't quite so tight – or expensive. But for those of you looking for a slim vest to keep you warm and avoid extra bulk, you can't go wrong with the Cerium LT.
Patagonia Nano Puff
Specs
Material

:

Recycled polyester ripstop

Fit

:

Trim

Fill Power

:

60g PrimaLoft Gold Insulation

Hood

:

No

Packable

:

Yes

Weather Resistance

:

Durable Water Repellent (DWR) Finish
Features
Brick quilting pattern for stable insulation & durable thread for abrasion resistance
Center-front zipper has wicking interior storm flap
Two zippered handwarmer pockets
Drawcord-adjustable droptail hem seals in warmth
BEST SYNTHETIC PICK
If you're looking for something that feels similar to down but breathes better and dries quicker, consider the Nano Puff.
Patagonia designed the Nano Puff as a versatile, sleek, and affordable down vest option. This vest features highly advanced PrimaLoft Gold Eco insulation that makes for a great three season piece that layers well, is decently warm, and packs down small.
What I like most about the Patagonia Nano Puff Vest is its considerably slimmer-looking profile when compared to down alternatives in its class.
Cotopaxi Fuego
Specs
Material

:

20D Ripstop Nylon

Fit

:

Boxy

Fill Power

:

950-Fill

Hood

:

No

Packable

:

Yes, comes w/ separate stuff sack

Weather Resistance

:

Durable Water Repellent (DWR) Finish
Features
Two Interior Stash Pockets
Drawcord Adjustable Hem
Very Warm Insulation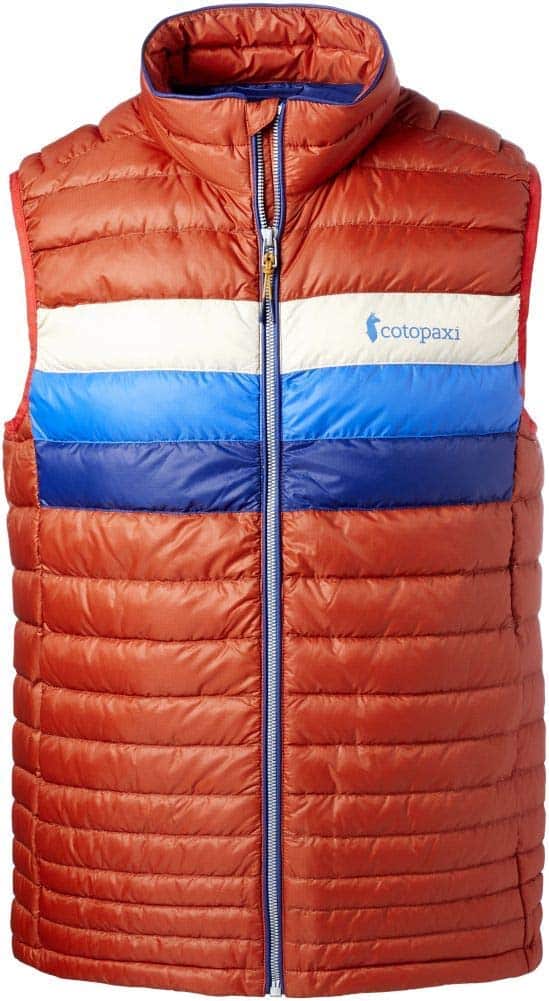 BEST FOR: EXCEPTIONAL INSULATION FOR VERY COLD DAYS 
At an impressive 950-fill, the Fuego has some of the highest insulation powers of any down vest on the list, making it your perfect sidekick for any cold weather adventures this winter. It functions perfectly as your primary outer layer on slightly cool days, or as an additional layer under your coat on those very cold occasions. 
What's more, the adjustable drawcord hem allows you to lock in that heat anytime conditions dictate, and the DWR finish will help keep rain and snow from soaking in. The two interior stash pockets are also very handy for keeping your essentials safe and tucked away while skiing, hiking, or simply walking around town. 
We're also very taken with the attractive color schemes that are available for the Fuego, making it a slick choice for a night out as well as skiing in the mountains. The premium insulation combined with a durable yet attractive nylon shell therefore makes the Fuego the last but certainly not least on our list of the best down vests.
The North Face 1996 Retro Nuptse
Specs
Material

:

Nylon Ripstop Or Polyester Taffeta - Color Dependent

Fit

:

Boxy

Fill Power

:

700-Fill

Hood

:

Yes (stowable)

Packable

:

Yes, fits into hand pocket

Weather Resistance

:

Durable Water Repellent (DWR) Finish
Features
Extremely Warm And Boxy Fit
Very Large Baffle Design To Retain Heat
Durable Ripstop Shell Material Withstands Heavy Use
Stowable Hood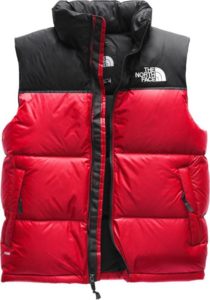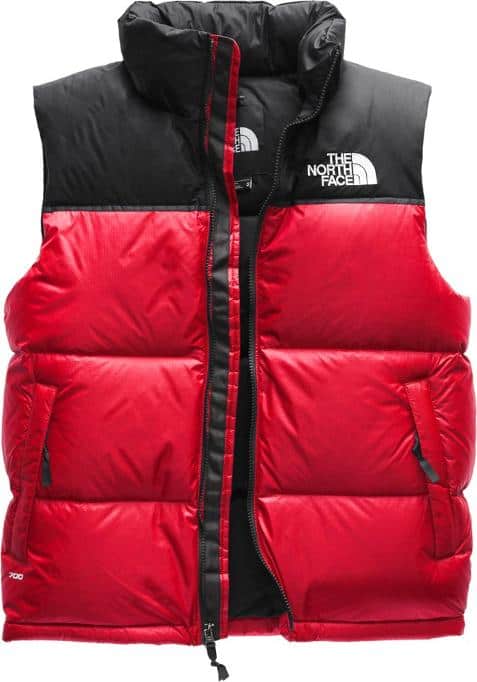 BEST FOR: CLASSIC PUFFY VEST STYLE 
For those of you out there who love the puffy comfort of the classic boxy vests, The North Face has crafted the Retro Nuptse Vest just for you. The baffles – down filled sections – are oversized and extra puffy. The overall fit is furthermore very boxy to promote comfort and warmth.  
The Nuptse is almost guaranteed to keep you nice and cozy through chilly city winters, and provides an excellent outer layer for colder walks and day hikes. Keep in mind that the boxy design of this vest won't be well suited to more extreme alpine, hiking, or climbing adventures. 
Nevertheless, the DWR finish will help keep any precipitation from wicking into the down while the extremely durable outer shell will hold up to daily use for your commute, walks around town, or simply a chilly office. What's more, the collar hides a very comfortable hood to further lock out the cold.
Outdoor Research Transcendent
Specs
Material

:

20D Polyester

Fit

:

Boxy

Fill Power

:

650-Fill

Hood

:

No

Packable

:

No

Weather Resistance

:

Water And Wind Resistant
Features
Very Stylish Design And Color Options
Snazzy Snap Pockets And Zip Chest Pocket
Internal Media Pocket
BEST FOR: STYLISH VEST-WEAR      
It seems that the vest has recently been falling out of fashion, but the Transcendent injects fresh life into the world of stylish yet functional down vests. With a very sharp design and color options to match, this vest boasts large snap pockets and a trim fit that looks good from the city to the mountains. 
But the Transcendent isn't just for show! The 650-fill down provides ample insulation for most cool weather adventures and the low profile design easily allows this garment to be worn under your coat for added warmth retention. The vest furthermore includes an internal media pocket to make it just as functional for those daily commutes. 
For such a powerful vest design, we really wish Outdoor Research has upped the fill power to perhaps the 750 or 800 mark to make this vest invincible in just about all temperatures. However, we'll settle for the 650-fill down and a very swish design that makes this one of the best down vests to cut a dash on every occasion.
Eddie Bauer Downlight
Specs
Material

:

20D Ripstop Polyester

Fit

:

Boxy

Fill Power

:

800-Fill

Hood

:

No

Packable

:

Yes, fits into hand pocket (w/ carabiner loop)

Weather Resistance

:

StormRepel Super DWR And Windproofing
Features
Media Compatible Chest Pocket
Adjustable Hem
Windproof
Stylish Design That's Neither Bulky Nor Too Tight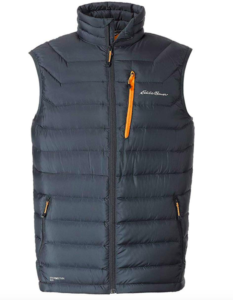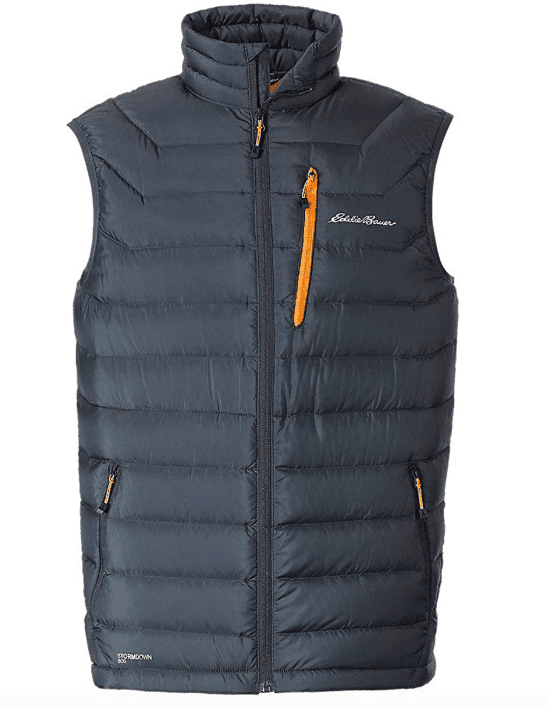 BEST FOR: CITY LIVING
Eddie Bauer has produced an exceptional vest that checks all the boxes we look for in a city-going layer. The design is straightforward, yet still attractive. The cut is neither too boxy nor too tight, making it fit comfortably and stylishly. The chest pocket and media port is the perfect place to stash your phone and listen to some tunes while walking or taking the bus or subway. 
The durable ripstop shell is also impervious to those chilling winter winds, and sheds moisture thanks to its DWR finish. Both these items work in tandem to make this vest a solid performer in all types of weather. When the weather gets extra cold, the adjustable drawstring hem can be cinched down nice and tight to lock in all the warmth that the 800-fill down provides. 
The Downlight Vest is therefore our top recommendation for looking good and taking on chilly days with impunity. A hood would have been a very welcome addition to this ensemble, but this is nevertheless one of the best down vests on the market at a very reasonable price.
Marmot Zeus
Specs
Material

:

Ripstop Polyester

Fit

:

Trim

Fill Power

:

700-Fill

Hood

:

No

Packable

:

Yes, fits into hand pocket

Weather Resistance

:

Durable Water Repellent (DWR) Finish
Features
Drawcord Hem Adjustment
Down Proof Shell To Keep Feathers From Poking Out
Trim Cut To Fit Under Coat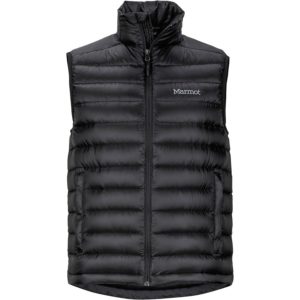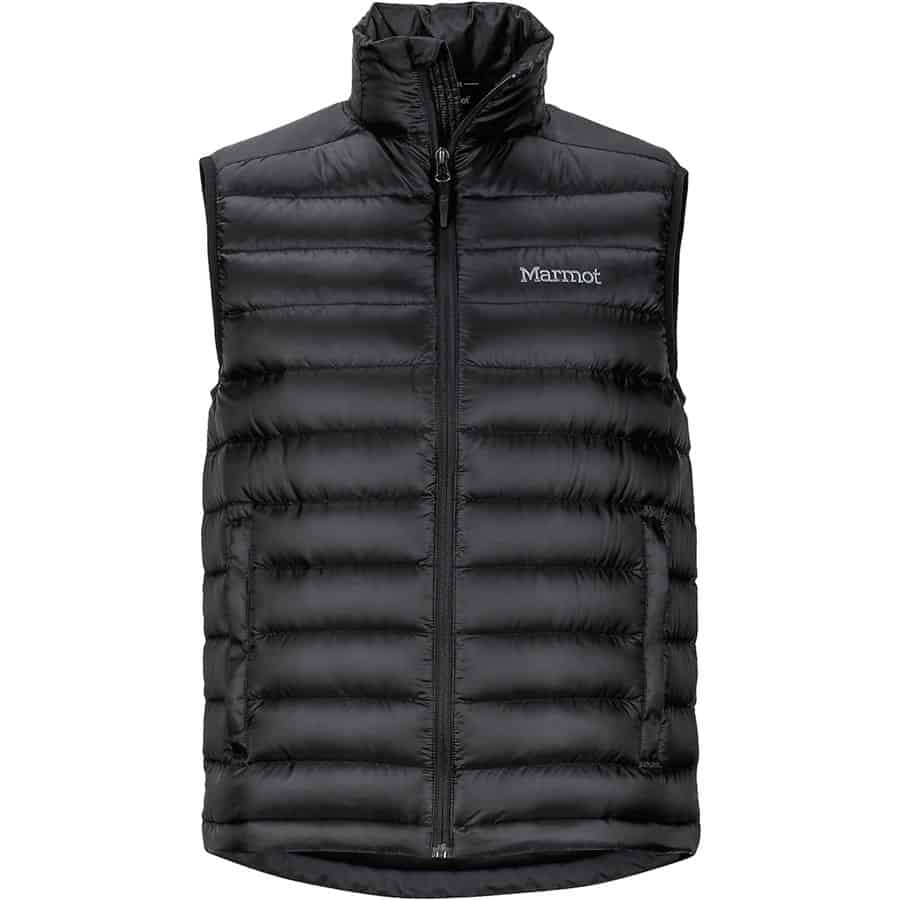 BEST FOR: LAYERING ON SKI AND SNOWBOARD ADVENTURES
Streaking down those slopes with the wind whistling through your clothing can be a very chilly experience! So do yourself a favor and add the Marmot Zeus to your ski or snowboard layering system. The trim design can fit perfectly under your jacket to give your insulation the boost it needs with very comfortable 700-fill down. 
The outer polyester shell is also downproof to keep that pesky plumage from poking out and getting stuck on your other clothes. This shell features the standard DWR finish to help keep any rain or snow from seeping in. You can also cinch the hem nice and tight to keep that precious heat from spilling out when you pull off those tight turns on the slopes. 
A nice puffy hood would round this particular vest off very nicely, but we can't argue with its decent midrange price and excellent insulating properties. So stay warm out there this winter with one of the best down vests on the market!
Columbia Flash Forward
Specs
Material

:

100% Polyester

Fit

:

Trim, Long

Fill Power

:

650-Fill

Hood

:

No

Packable

:

Yes, fits in hand pocket

Weather Resistance

:

Water Resistant With Columbia Heat Seal To Reduce Water Penetration
Features
Packs Down Into Its Own Pocket
Very Shiny And Sleek Appearance
Long Design Suited For Tall Men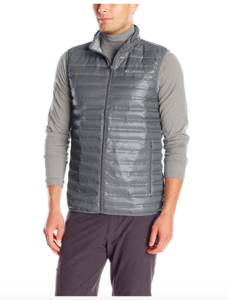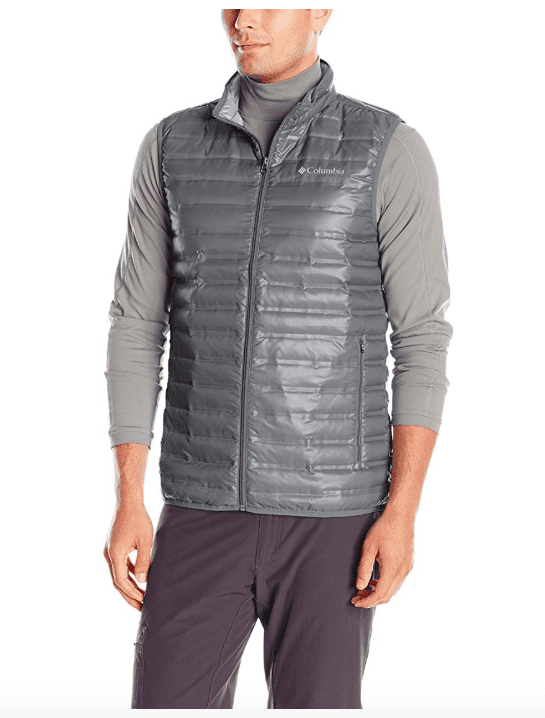 BEST FOR: TALLER GENTLEMEN 
There's almost nothing worse than slipping into a new top where everything is just perfect, except it ends awkwardly high right around your waistline, right? Well you tall gents out there have nothing to worry about with the Columbia Flash Forward. The cut for this particular item distinctly favors the long side, making it an ideal choice for the 'can you reach the top shelf?' folks out there. You know who you are. 
But catering to the tall isn't the Flash Forward's only strength. The 650-fill down provides excellent insulation while the slimmer profile makes it easy to slip into any layering system. Columbia's Heat Seal technology furthermore eliminates seams between the baffles – down filled pockets – which in turn reduces avenues for water to seep in. 
This Heat Seal combined with the standard weather resistance finish has resulted in a distinctly shiny appearance for the Flash Forward. We believe this to be a very acquired taste, so look closely before ordering! 
All in all, this is a solid item that is certainly the best down vest for taller gentlemen looking for a warm layer on their adventures.
THINGS TO CONSIDER BEFORE BUYING DOWN VESTS
INSULATION AND FILL POWER
The fill power number is the primary indicator you have for a down garment's insulating ability, but what exactly does the number mean? That number, generally anywhere from 500 to 900, is the number of cubic inches of loft that a single ounce of that particular down occupies.
The higher the number, the greater the insulating capacity of that particular vest. For more information about how the fill power test is conducted and how fill power can affect your warmth, check out this article from REI.
VEST CUT – TRIM VS. BOXY
The thought of a down vest likely brings an image of those huge puffy garments that are delightfully reminiscent of the pillsbury dough-boy. These classic vests are indeed very warm and have terrific insulation, but are just too boxy and bulky to be practical when climbing, mountaineering, hiking, or completing any outdoor adventure activity. That's why boxy vests are best suited for wearing around town, or short day hikes in cold weather.
But these days, the boxy cut isn't your only option anymore. More and more outdoor gear manufacturers are shifting to a much more athletic cut down vest that has a significantly slimmer profile than their boxy brothers. These vests are your ideal layering option to wear under a coat, or stand alone in only slightly cool weather.
Therefore consider why you need a down vest, and pick out the best style from there based on your own personal preference. If you're an avid outdoor adventurer who needs minimal bulk but significant insulation, opt for an athletic (or trim) cut vest designed for winter escapades. If, on the other hand, you need a cozy vest to wear around town, then the more puffy/boxy version may be for you.
BUDGET
The plethora of different styles and features associated with the best down vests unfortunately drives a wide range of prices. Premium down vests that are designed for maximum warmth retention and durability for high-intensity activities are often head-and-shoulders more expensive than their less fancy cousins.
Consider your intended use very carefully and plan your budget accordingly before deciding which vest is right for you. Spending $250 for a down vest designed for the mountains but only using it to drive to and from work is a cringe worthy waste of your hard-earned money. There are plenty of very warm and functional vests available at very accessible prices. But if you are planning to put your down vest through the wringer, then by all means go for the best.
FEATURES EXPLAINED
MATERIAL DURABILITY
The outer shell of the vast majority of down vests is either nylon or polyester. These lightweight materials easily keep the down where it should be, and resist general use wear and tear. This material's thickness is measured in deniers and the larger the number, the thicker the material – i.e. a 20D nylon is thinner than a 40D. Thick materials typically indicate increased durability, along with increased weight.
However, if you're taking your new down vest climbing, or up into the mountains, or on a hiking trip, then a heavier but more resilient material may well be worth the extra cost and added bulk. But regardless of the thickness, a nick or tear or dirty smear is almost inevitable. Check out Backcountry's advice on how to properly care for your vest in order to keep it in tip-top shape.
WEATHERPROOFING
Almost all adventurers agree that down's achilles heel is moisture. Down works so well by trapping air inside the garment, and therefore creating a warm buffer between you and the elements. But if the down was to get wet it would collapse and clump up, and therefore remove your warm air pockets.
Many of the best down vests therefore feature some level of weather resistance in order to keep the rain and snow at bay. This most often takes form as a Durable Water Repellent (DWR) finish that will add at least some water resistance to the outer material. It's important to note that this DWR finish may need a boost from time to time, and REI has excellent advice on how to care for and reapply this DWR coating.
PACKABILITY
One of the many benefits of down is that it squishes down very easily for transport, and then pops back up without losing any of it's fluffy insulating characteristics. Many manufacturers will therefore include a stuff sack with their down vest for you to pack it down into. This is a very handy feature to look out for, and definitely makes it easy to stash your down vest in a bag for a day out in the elements.
Lacking this stuff sack, many down vests can simply be packed into one of their own pockets until you need it!