Updated on April 15, 2021
When you're backpacking, water is the number one necessity. Water is also incredibly heavy, so you don't want to – and simply won't be able to – carry all the water you need for a trip on your back. That's where backpacking water filters come in. They provide clean water anywhere you find a water source. But with all the different types, how do you choose the backpacking water filter that's right for you? Here at The Adventure Junkies, we have sifted through an assortment of water filters to provide you with clarity in water and in your choice of the best backpacking water filter.
For more of our top backpacking gear recommendations, check out the Best Backpacking Water Purifiers.
Quick Answer

-

The Best Backpacking Water Filters
Aquamira Water Treatment Drops

LifeStraw Universal Bottle Adapter
Comparison Table

-

Best Backpacking Water Filter

For the best experience turn your device horizontally
Reviews

-

The Best Water Filters for Backpacking
Katadyn BeFree
Specs
Weight

:

2.3 oz

Filter Action

:

Squeeze

Removes/Eliminates

:

Protozoa, Bacteria, & Viruses
Features
Collapsible Water Bottle is Easy to Pack When Not in Use
Simple to Clean by Shaking or Swishing
Cap Keeps Drink Nozzle Clean


BEST FOR: PORTABILITY
Combining a water filter with a collapsible bottle, the Katadyn BeFree is an extremely portable system that you can carry with you on the trail or squish down to fit in your pack. Filling the BeFree is as simple as dunking it in a water source, and then sipping fresh clean water through the filter. You can also use it to fill other water bottles if you need more volume.
Although the Katadyn BeFree is easy to stow and throw in a pack, the collapsible bottle is not the most durable, so you should be a bit careful when using it and putting it away with a bunch of other gear.
MSR Trail Base
Specs
Weight

:

1 lb 0.3 oz

Filter Action

:

Gravity/Squeeze

Removes/Eliminates

:

Protozoa & Bacteria
Features
Includes Both a Gravity and Squeeze Filter System
3-in-1 Cap Makes It Easy to Fill, Pour, and Drink
Can Fill From Lots of Water Sources With Hand Pump or Bag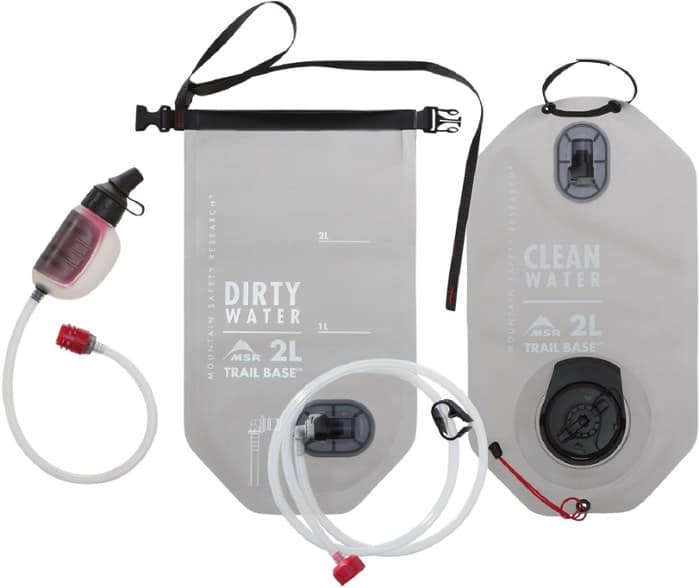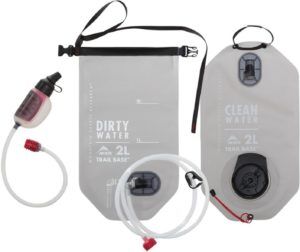 BEST FOR: VARIETY OF ADVENTURES
The MSR Trail Base combines a gravity filter with the MSR TrailShot pump filter, so you can use it for large groups at base camp or take the TrailShot with you on solo or smaller adventures. The gravity system is set up using the TrailShot as the filter and provides up to 4L of water quickly.
As might be expected, the MSR Trail Base is quite heavy, so it isn't ideal to take the whole system if you're out on your own. However, because you can use the TrailShot on its own, having the Trail Base in your gear closet gives you a great option for any kind of adventure.
Sawyer Squeeze
Specs
Weight

:

3 oz

Filter Action

:

Straw/Squeeze

Removes/Eliminates

:

Particulates, bacteria, protozoa
Features
Built-in push/pull cap
Fills most water bottles in only 30 sec
Includes Inline Adapters for use with a hydration pack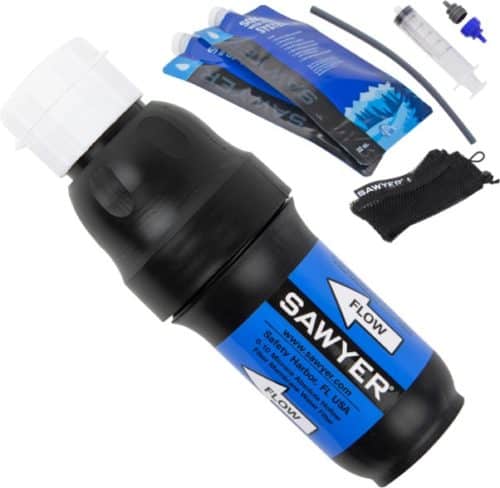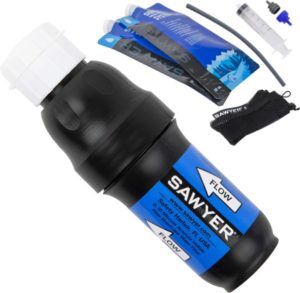 BEST FOR: ULTRALIGHT BACKPACKERS
While chemical water treatment tablets may be lighter in weight, this squeeze-style filter weighs in at just three ounces and unlike chemical alternatives, won't leave your water tasting funny. Sawyer designed the Squeeze with efficiency in mind. It treats one liter of water in 40 seconds via a hollow fiber filter that's effective against particulates, bacteria, and protozoa. It's a versatile product that can function as either a squeeze filter or in-line filter for a water bottle or hydration reservoir."
What we like most about the Sawyer Squeeze — other than its light weight — is that it's one of the most time-tested designs on the market.
Aquamira Water Treatment Drops
Specs
Weight

:

1 oz.

Filter Action

:

Chlorine dioxide

Removes/Eliminates

:

Protozoa, bacteria, viruses
Features
Includes part A and part B drops that you mix together before adding to water
Chlorine dioxide is iodine and chlorine free
Does not discolor water or give it an unpleasant taste
Small size and long shelf life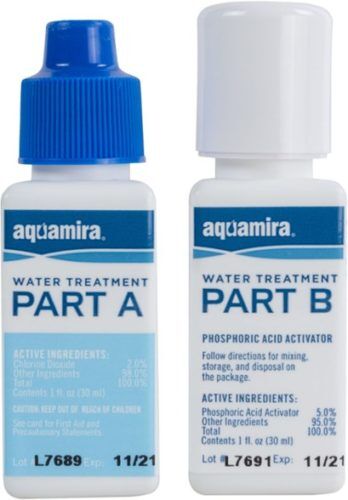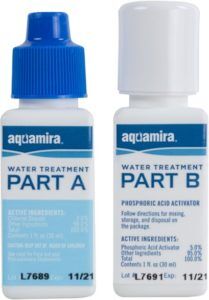 BEST FOR BUDGET BACKPACKING
When price is your biggest consideration, water treatment drops are hands down the most affordable way to filter your water.
Aquamira's water treatment system includes two different components and bottles — part A and part B. The liquid chlorine dioxide solution is effective against protozoa, bacteria, and viruses. The purifying process involves mixing 7 drops of solution from each bottle, letting it sit for five minutes, then adding it to 1L of water at a time. After 15 minutes you have clean water to drink.
What we like most about the Aquamira Water Treatment Drops — other than its affordable cost — is how reliable it is compared to water filters with moving components that are prone to breaking or malfunctioning over time.
MSR Thru-Link
Specs
Weight

:

2.5 oz

Filter Action

:

Gravity

Removes/Eliminates

:

Protozoa and Bacteria
Features
Engineered for high-flow, easy drinking
2-stage filtration
Combination of hollow-fiber technology and activated carbon is effective against bacteria, protozoa and particulate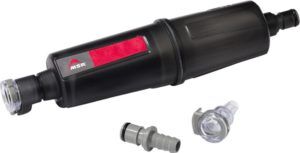 BEST IN-LINE OPTION FOR PAIRING WITH A HYDRATION RESERVOIR
If you consistently hike with a water reservoir, an in-line filtration option is by far the most convenient way to go. The MSR Thru-Link In-Line style water filter attaches directly to the hose of your water bladder, filtering as you go. It boasts an impressive flow rate of 1.5 liters per minute and a filter life of about 1000 liters.
What we like most about the MSR In-Line Water Filter is that it doubles as a gravity-style system for pump-free filtration when you're settled at camp.
Sawyer Micro Squeeze
Specs
Weight

:

2.5 oz

Filter Action

:

Straw/Squeeze

Removes/Eliminates

:

Protozoa & Bacteria
Features
Can Drink Directly From Water Source with Straw Attachment
Attaches to Hydration Pack Tube and Some Water Bottles
Included Drinking Pouch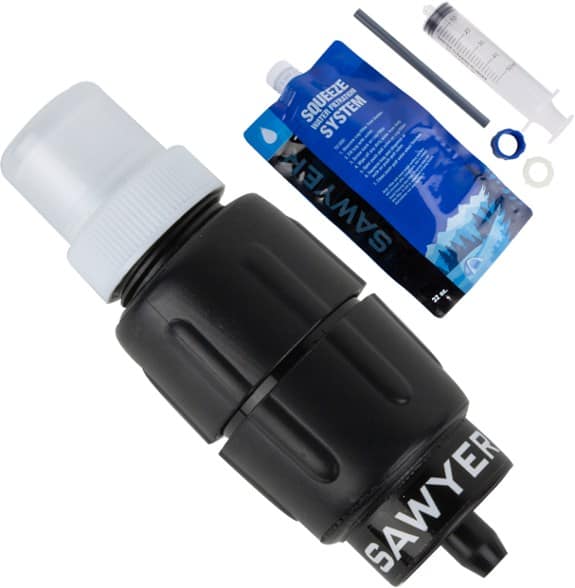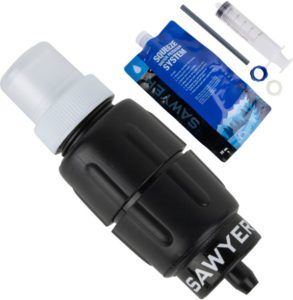 BEST FOR: HYDRATING ON THE MOVE
If you're out on a solo backpacking trip and want your water on the go, the Sawyer Micro Squeeze is the perfect backpacking water filter to keep in your pack. The Micro Squeeze filters water quickly, although its ideal use is for one person. You can use the included straw to drink directly from a water source if you need immediate hydration, or you can fill the included 32oz drinking pouch and drink from that. The filter can also attach to standard size water bottle threads as well as to your hydration pouch, so it is quite adaptable.
The Sawyer Micro Squeeze can be prone to clogging, especially if you're filtering water with a lot of sediment. A syringe is included to wash out the filter after each use, and it is a good idea to bring it with you on a multiple day trip.
LifeStraw Universal Bottle Adapter
Specs
Weight

:

3.7 oz

Filter Action

:

Straw

Removes/Eliminates

:

Protozoa & Bacteria
Features
Interchangeable Caps & Mouthpieces to Fit a Range of Water Bottles
Carbon Filter Improves Taste of Water
Comes with a Carry Bag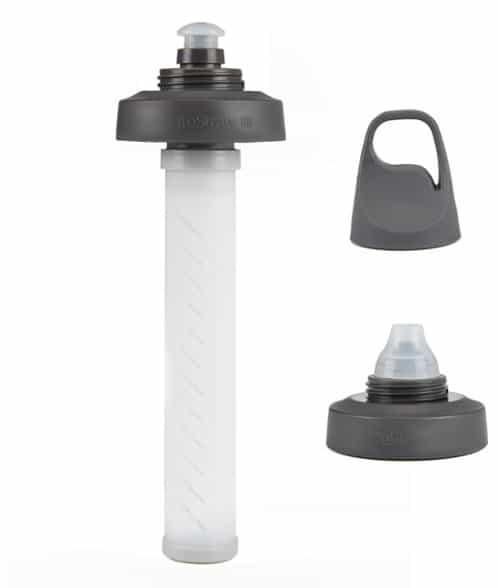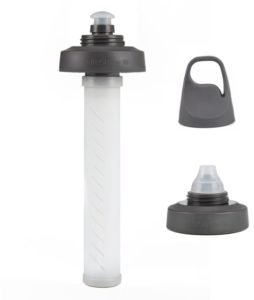 BEST FOR: COMPATIBILITY WITH WATER BOTTLES
The Lifestraw Universal water filter turns your own water bottles into a source of fresh and clean water. The Lifestraw kit comes with two sizes of caps and two different mouthpieces, so it works with just about any water bottle that is tall enough to fit the Lifestraw. Once you attach the cap, mouthpiece, and LifeStraw itself, you simply drink out of the bottle, so you're good to go as you hike.
One concern with the LifeStraw is that the straw filter can be prone to getting disconnected from the cap, so you'll want to check and make sure it is securely in place before drinking from it (especially if your water bottle is not translucent so you can't keep an eye on it).
Platypus GravityWorks
Specs
Weight

:

Protozoa & Bacteria

Filter Action

:

Gravity

Removes/Eliminates

:

11.5 oz
Features
Filters Up to 4 Liters of Water in a Few Minutes
Shutoff Control Valve to Easily Fill Bottles & Other Containers
Antimicrobial Treatment Keeps Water Reservoirs Clean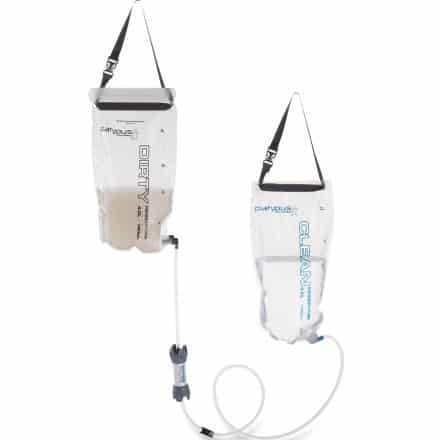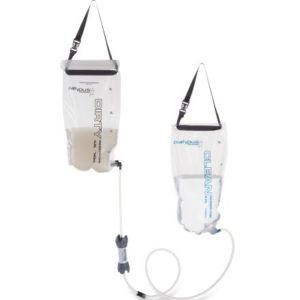 BEST FOR: GROUP CAMPING
When you're backpacking and camping with a group, the Platypus GravityWorks system is a great choice to filter a lot of water quickly. You can easily fill the designated dirty water reservoir with untreated water, then simply hang it above the clean water reservoir, and gravity does the work of passing the water through the filter between them, giving you 4 liters of filtered water in just a few minutes. You then can fill water bottles, pots, and other containers from the clean water reservoir without spilling thanks to a shutoff control valve.
The Platypus GravityWorks does best with deeper water sources, such as lakes or rivers, since you need to be able to scoop up the water with the dirty reservoir.
MSR TrailShot
Specs
Weight

:

5.2 oz

Filter Action

:

Squeeze

Removes/Eliminates

:

Protozoa & Bacteria
Features
Easy to Clean in the Field with No Tools Required
Can Drink Straight from Water Source
Simple to Set Up and Use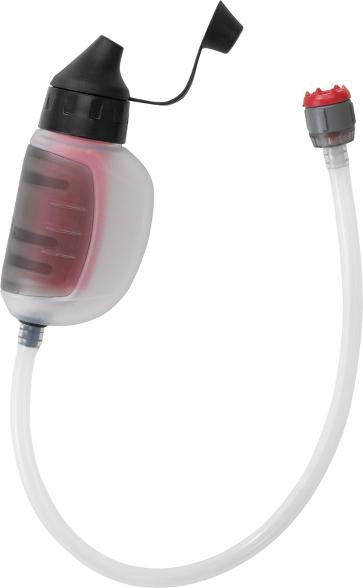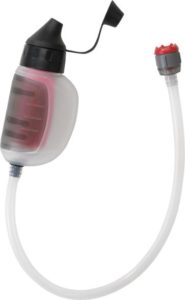 BEST FOR: COMPACTNESS
Though you'll probably stow it in your pack most of the time, the MSR Trailshot is small enough to fit in your pocket and is very lightweight. It also is extremely simple to use – with the included tube, you can drink straight from a water source or pump from the source into a water bottle or hydration pack to take with you as you head down the trail. The Trailshot doesn't require any setup or have any extra parts that you might lose or forget.
While the MSR Trailshot offers simplicity, the pump can tire your hand out over time, so if you need lots of water or are on a long trip, it might not be your best choice.
Katadyn Hiker Pro
Specs
Weight

:

11 oz

Filter Action

:

Pump

Removes/Eliminates

:

Protozoa & Bacteria
Features
Can Directly Connect to Hydration Reservoirs
Comes with Carry Sack and Bottle Adapter
Included Field Maintenance Kit to Keep Filter Running Smoothly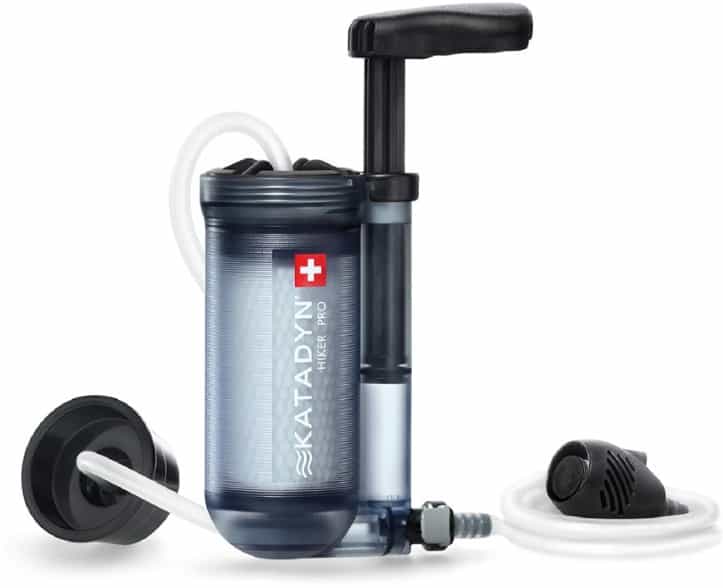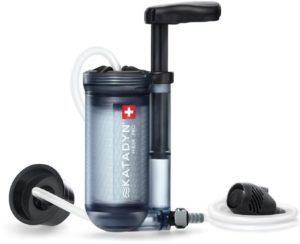 BEST FOR: SHALLOW WATER
The Katadyn Hiker Pro is a standard pump filter that requires some manual labor to get your water but works well, especially in areas without high flowing water. Thanks to its long intake tube, you can access shallow pools and small crevasses of water very easily. A clear container lets you see when the filter needs cleaning or replacement. The Katadyn Hiker Pro comes with a field maintenance kit for when it does need cleaning, and you'll probably have to use that a lot when filtering silty water.
The Hiker Pro comes with a carry bag to stow all the elements of the kit, including a bottle adapter. Though it is a reliable and simple filter, it does run on the heavy side, so a solo backpacker should look for a lighter option.
THINGS TO CONSIDER WHEN BUYING BACKPACKING WATER FILTERS
Water filtration is one of the most important considerations on a backpacking trip. If you get dehydrated, it could at the very least make your hiking miserable, and if you're way out in the backcountry and run out of water, it could be life-threatening. But if you drink contaminated water, you could get extremely sick, so not filtering your water is really not an option. REI explains the basics of filtering water and the different methods to do so. Depending on your needs, different factors will affect your choice of the right backpacking water filter for you.
WHAT IT REMOVES
Most water filters remove both protozoa and bacteria, which is what is important when you're in the backcountry in the United States. However, if you often travel internationally, you'll want a filter that also removes viruses, which are more common to find abroad. Also, some filters use activated charcoal to improve the taste of the water, if that is a concern for you.
SPEED OF FILTERING
When you're thirsty, you want water right away, so it's key to consider the speed of your water filter. With a straw filter, you can drink directly from a water source, but it won't be as useful if you're with a group. A hand pump requires you to work for your water, while a gravity system gives you a lot of water quickly without much hands-on action. Additionally, some filters handle sediment-filled water well, while others slow or stop if there is too much silt.
WEIGHT
The weight of your gear is always a consideration when you're backpacking, and water filters are no exception. If you're traveling solo and want to keep things super light, look for a small squeeze filter or perhaps the SteriPen. However, if you're heading out to the backcountry in a group and need water at your basecamp, it's worth the extra weight to bring a gravity system that can supply you with a large volume of water for everyone.
FEATURES EXPLAINED
STRAW FILTER
Allows you to drink directly from a water source.
GRAVITY FILTER
Hanging hydration bags with a filter in between doesn't require manual pumping or squeezing.
HYDRATION RESERVOIR
A flexible plastic water bag that you can put in a pack and drink through a tube.