Updated on September 21, 2021
Whether you're planning on using them on the trail, as part of your photography kit or are a keen bird or wildlife spotter, investing in a pair of the binoculars is essential. But the technical vocabulary to help you choose between a pair of 8×22 and 10×42 can feel beyond overwhelming – and leave you struggling when it comes to selecting the best compact binoculars to suit your needs.
One of our big goals here at The Adventure Junkies is to help you out when it comes to gearing up for the outdoors. In this guide, we'll walk you through everything you need to know to find the best binoculars and show you our selection of the best models of the year.
For more of our top hiking accessory recommendations, check out the Best Hiking Poles.
Quick Answer

-

The Best Compact Binoculars
Steiner Safari UltraSharp

Swarovski Optik El Swarovision
Comparison Table

-

Best Compact Binoculars

For the best experience turn your device horizontally
Reviews

-

The Best Compact Binoculars for Hiking
Nikon Trailblazer ATB
Specs
Weight

:

0.75 lbs

Magnification

:

8x25mm
Features
O-ring sealed and nitrogen-filled to be waterproof and fog proof
Rubber coated shell for a comfortable grip
Lenses covered in multiple anti-reflective layers for crisp image quality
Full lifetime warranty
10mm eye relief
3.13mm exit pupil
130m field of view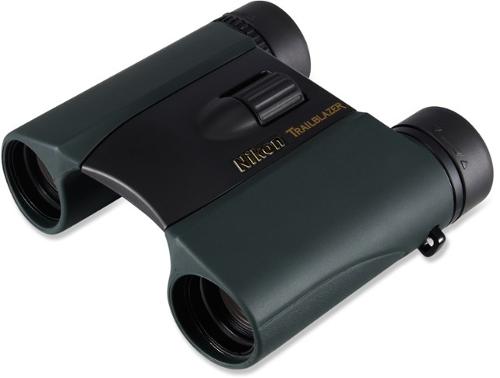 BEST FOR: ALL OUTDOOR ADVENTURES
PROS: Very durable and solidly made, compact and will fit into a jacket pocket, exceptional image clarity for their size
CONS: Not ideal for those with shaky hands
Bushnell 138005 H2O
Specs
Weight

:

0.75 lbs

Magnification

:

8x25mm
Features
BaK-4 roof prisms for clear viewing
Multi-coated optics to aid light transmission
O-ring sealed to be 100% waterproof
Nitrogen purged to be fog proof
Twist up eyecups
12mm eye relief
3.13mm exit pupil
114m field of view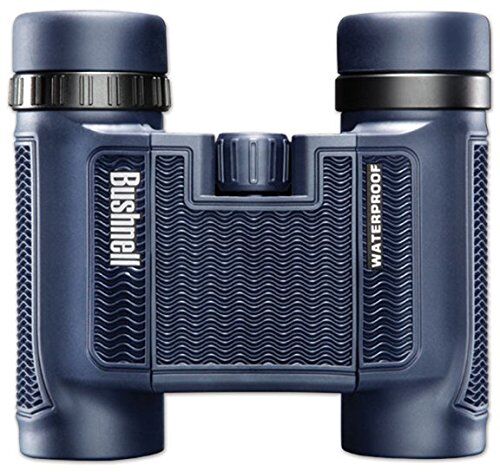 BEST FOR: ALL-AROUND USE
PROS: Can set focus adjustments so that you can use them without glasses, very lightweight, dual hinges on main body allow them to be folded very small so they can fit in a jacket pocket
CONS: Due to how compact they are, every hand movement is noticeable, they are better for long distance images than short distance
Steiner Safari UltraSharp
Specs
Weight

:

0.50 lbs

Magnification

:

8x22mm
Features
Anti-glare coated optics
Fold-down rubber eyecups
10 year warranty
Durable polycarbonate with long life rubber armoring
Waterproof/fog proof
UV coated lenses and high contrast lenses
11mm eye relief
2.75mm exit pupil
125m field of view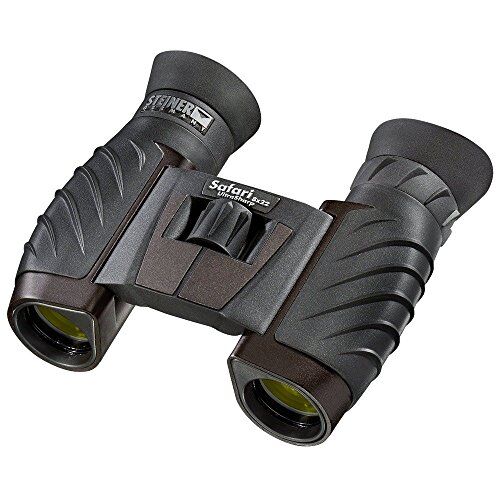 BEST FOR: PORTABILITY
PROS: Waterproof, excellent in daytime conditions, very lightweight and durable, can fit in a jacket pocket
CONS: Images not as crisp when focusing on objects that are 2-20m away
Bushnell Powerview
Specs
Weight

:

0.44 lbs

Magnification

:

8x21mm
Features
Roof prism design
Fold down eyecups for glasses wearers
All air to glass surfaces are anti-reflective coated to aid light transmission
Rubber armored for protection
10mm eye relief
2.6mm exit pupil
115m field of view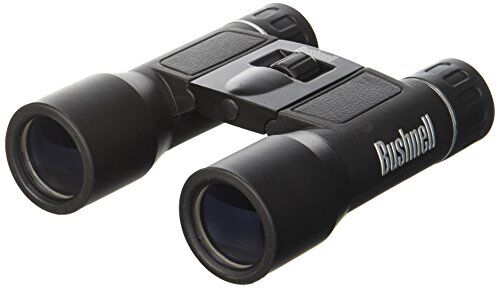 BEST FOR: LIGHTWEIGHT GEAR LOVERS
PROS: Good magnification and hand shaking not noticeable, can easily fit in a pocket
CONS: Are not fog/waterproof, cannot be used with a tripod (but probably don't need to be), don't work well in lowlight situations
Tasco Essentials
Specs
Weight

:

0.64 lbs

Magnification

:

10x25mm
Features
Fully coated lenses
Roof prism system
Fold-down eyecups
Rubber-armored housing for shock absorption
2.5mm exit pupil
88m field of view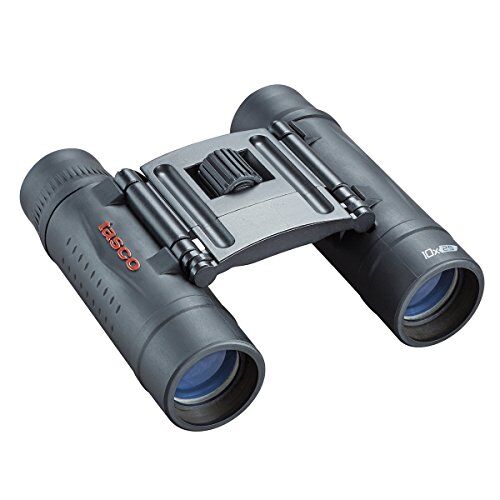 BEST FOR: HUNTING
PROS: Folds completely to be very compact
CONS: Slightly larger than models with a smaller objective lens, not great in low light situations, small field of view makes them less suitable for wildlife watching, not ideal for those who wear glasses as you cannot see all of the field of view because of the small eye relief
Swarovski Optik El Swarovision
Specs
Weight

:

1.70 lbs

Magnification

:

8.5x42mm
Features
High-definition optics for good contrast
HD lenses
Enhanced coating on all lenses and prisms
Twist-up eye cups
20mm eye relief
4.9mm exit pupil
133m field of view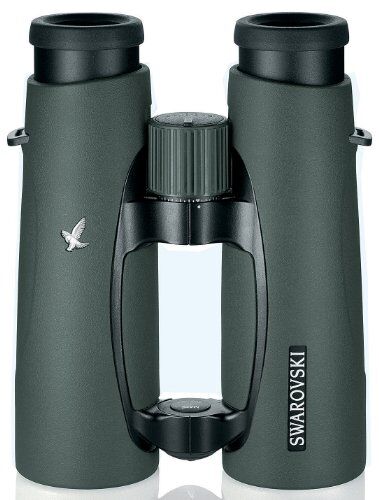 BEST FOR: HIKERS WANTING A HIGH QUALITY PRODUCT
PROS: Excellent for people with glasses thanks to the large eye relief, excellent in dim light, images are exceptionally precise and clear
CONS: Price – these are the Rolls Royce of the binocular world
BNISE Asika
Specs
Weight

:

1.37 lbs

Magnification

:

10x42mm
Features
Fully multi-coated lenses
BaK-4 roof prisms
Rubber-armored housing
O-ring sealed and nitrogen purged to make them 100% waterproof/fog proof
Soft-touch thumb grips
Protective by flip covers
Twist-up eyecups
15mm eye relief
4.1mm exit pupil
101m field of view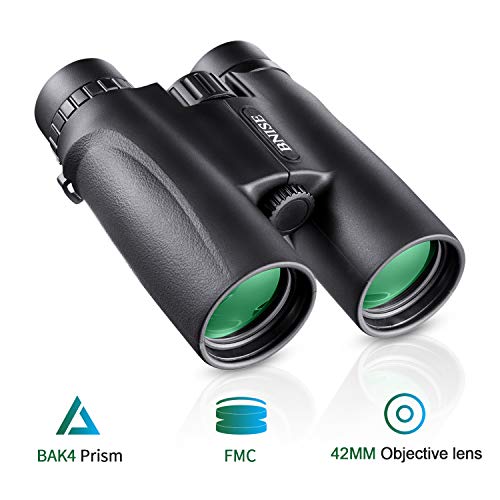 BEST FOR: BIRD WATCHING
PROS: Sturdy construction, lightweight, optics are very high quality for this price range
CONS: Size (but this is a consequence of the larger magnification)
HOW TO CHOOSE THE BEST COMPACT BINOCULARS
MAGNIFICATION AND OBJECTIVE LENS DIAMETER (APERTURE)
The first thing you'll notice when looking to buy a pair of compact binoculars is the set of two numbers attached to their name, such as 8×22. The first number indicates the magnification of the binoculars (the number of times larger the objects seen through the binoculars will appear than with the naked eye) and the second relates to the size of the objective lens (the front lens) of the binocular in millimeters. The larger the objective lens is, the more light that enters the lens, making images brighter and clearer.
It is the objective lens size that affects the overall size of the binoculars. As a result, compact binoculars will generally have a far smaller objective lens than in larger models and therefore dimmer images – the price you pay for buying a portable type of binocular that can easily fit in your jacket pocket or a day backpack.
When investing in a pair of compact binoculars, it's important to realize that those with magnifications over 10x aren't ideal for people with unsteady hands as they actually increase the amount of hand shake that you see as you're looking through the lens.
Because of their more compact size and ease of use, binoculars with smaller magnifications and objective lenses are generally more practical for most people. However, if you want brighter, clearer images when bird or wildlife watching, consider either using a tripod to steady the binoculars or invest in a more expensive pair of binoculars.
EXIT PUPIL DIAMETER
Another key consideration is the size of the exit pupil diameter. Worked out by dividing the objective lens size by the binoculars' magnification, the exit pupil diameter is the size of the hole through which the light passes in the binocular. The larger this number, the more light can enter the binoculars and the brighter the image appears.
In the case of 8×22 binoculars, the exit pupil diameter is 2.75mm which is usable in daylight but not ideal in low light conditions or for astronomy.
FIELD OF VIEW
Depending on how you intend to use your binoculars will affect how large a field of view you need to have. The field of view is basically how wide the scene you can see through your binoculars is and this decreases as the magnification of the binoculars increases.
If you're looking to use binoculars for field sports or wildlife watching (situations where you want to be able to see more of what is going on or be able to scan the horizon), you want to have a pair of binoculars with a wider field of view.
This information is normally given in the number of meters that can be seen at a range of 1000m or in degrees.
EYE RELIEF
Not all binoculars are usable by all people and, particularly if you wear glasses, another important measurement to check when choosing a pair of compact binoculars is their eye relief. This is the distance that your eyes need to be from the ocular lenses of the binocular (those that you look through).
If your eyes are too close to the lenses, you will see a black crescent moon shape appearing at the bottom of the field of view. If your eyes are too far away, you will see a dark ring around the field of view. Instead, binoculars with the correct eye relief show a clear image.
If you wear glasses, you already have a bit more distance between your eyes and lenses than none glasses wearers, so try and buy a set of binoculars that have 15mm eye relief and which include eye cups that can be twisted or folded down as by wearing glasses.
LENS COATINGS
When looking at different compact binoculars, you'll also notice that many indicate that their lenses are coated. Lens coatings affect how much of the light is reflected away from the lens and can help to improve the brightness and clarity of the image that you see through the binoculars.
Modern binoculars now have at least eight lenses and light can be lost at each one of these. Binoculars that indicate they are fully coated will have coating on each lens, whereas those that have 'multilayered coatings' have several layers on each lens, which means the brightness and clarity of the image is better.
FOG AND WATER PROOFING
Finally, if you're planning on using your binoculars in the outdoors on hiking and backpacking trips, it's important to look at whether they are waterproof. Many models indicate that they are 'O-ring sealed' which helps to prevent moisture from entering the binocular.
Similarly, fog proofing can be crucial. To be fog proof and to prevent them from steaming up in humid conditions, the air inside the binoculars is replaced with a gas that has no moisture content, such as nitrogen or argon. In this case, they may be described as being "nitrogen purged".