Updated on August 7, 2021
A kayak is an invitation to explore. There's always another island, another crossing, another coastline, another bay waiting for us, beckoning us onward to the point where we've completely lost track of where we are and how to get back to where we started. Navigation on the water has been a problem ever since the first boat was designed, but modern technology has stepped up with a host of high-tech solutions. With GPS on your side, you'll never get lost again! Modern technology has also stepped up with a dizzying range of options, and it's hard to know what to buy. This list of the best kayak GPS units should help you get started.
For more of our top kayaking gear recommendations, check out the Best Kayaking Dry Bags.
Quick Answer

-

The Best Kayak GPS
Simrad Cruise-5 Chart Plotter
Comparison Table

-

Best Kayak GPS

For the best experience turn your device horizontally
Reviews

-

The Best GPS for Kayaking
Garmin GPSMAP 64st
Specs
Waterproof Rating

:

IPX7

Internal Memory

:

8GB Internal, 1 SD Card Slot

Power

:

2 AA batteries or rechargeable NiMH battery pack

Display

:

2.6" Sunlight Readable

WAAS enabled

:

Yes
Features
Preloaded TOPO U.S. 100K maps plus a 1-year BirdsEye Satellite Imagery subscription
3-axis compass with barometric altimeter
Wireless connectivity via Bluetooth or ANT+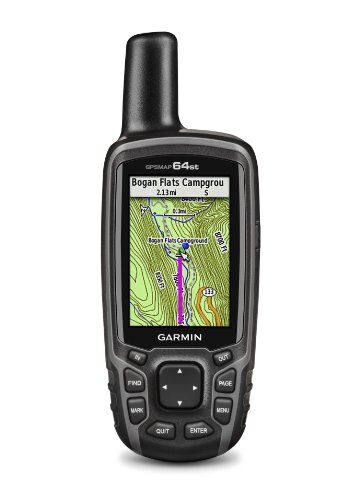 BEST OVERALL KAYAK GPS
When you need accuracy in the deepest of ocean canyons, place your trust in the GPSMAP 64st.
This handheld GPS unit uses standard GPS satellites with the added security of GLONASS. The 64st comes preloaded with the 100K TOPO featuring the entire U.S. plus a 1 year subscription to BirdsEye Satellite Imaging, which allows you to research terrain in advance of your adventure. A bonus feature of the 64st is the ability to add Marine Maps to your Garmin, opening the door for even more adventures. A dual battery system gives you the option to choose when is the right time to use a rechargeable battery or traditional AAs.
What I like most about this kayak GPS is the smart notifications tool that can pair with external components to provide for temperature, heart rate, and speed readings, among others.
Garmin eTrex 22x
Specs
Waterproof Rating

:

IPX7

Internal Memory

:

3.7GB Internal, 1 SD Card Slot

Power

:

2 AA Batteries, 25 Hrs

Display

:

2.2" Sunlight Readable

WAAS enabled

:

Yes
Features
Rapid Satellite Acquisition
Preloaded Worldwide Basemap
High-Resolution Color Display For Easy Reading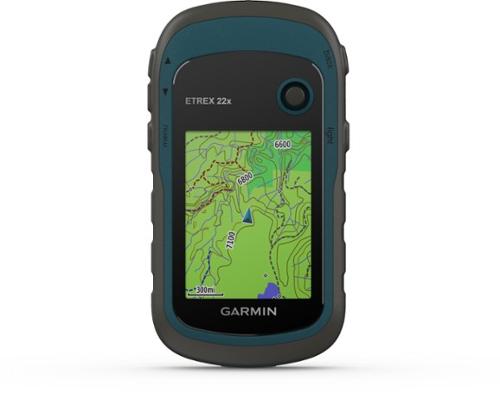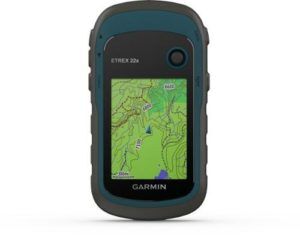 BEST BUDGET GPS
The Garmin brand is synonymous with GPS, and it's no surprise to see Garmin on board with a high quality affordable all-around GPS unit. This compact, water-resistant device will tell you where you are, where you've been, how far you've gone and how fast you got there.
The combination of GPS and GLONASS connectivity and the HotFix Satellite predictor keeps you located even in deep canyons, an ideal feature for river paddlers. A wide range of maps is available through the memory card slot. The display is readable even in bright light.
The eTrex 22x won't give you many of the bells and whistles that you'll find on more expensive units, but for an entry-level device it's durable, effective, and does what it's designed to do. You'll have to decide how much those upgraded features really mean to you and how much you're willing to pay to get them!
Garmin Fenix 5 GPS Watch
Specs
Waterproof Rating

:

100m

Internal Memory

:

64MB

Power

:

Rechargeable Battery, 20 Hrs In GPS Mode

Display

:

1.2" Full Color Screen

WAAS enabled

:

No
Features
Full-Color Mapping And Navigation Features
3-Axis Compass, Gyroscope, And Barometric Altimeter
Group Track Lets You Track Companions
PPS and GLONASS Sensors For Accurate Tracking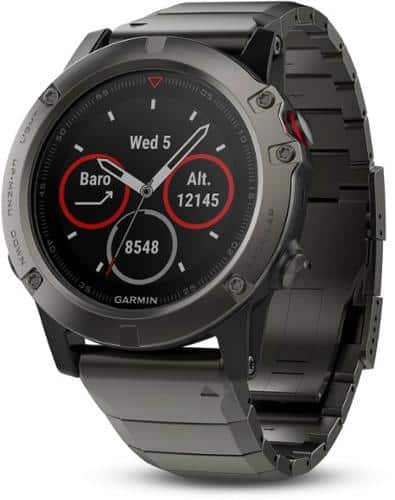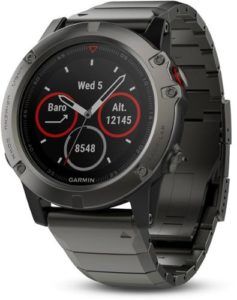 BEST WEARABLE GPS
If you're looking for a full-featured marine GPS that you can wear on your wrist, Garmin has delivered it with the Fenix 5. It's hard to imagine how Garmin fit so many features in a rugged, durable wrist-mounted chassis, but they did. And now you can have everything from a heart rate monitor and blood oxygen saturation sensor to full chart and map support with GPS, GLONASS, and Galileo satellite reception to altimeter, barometer, and compass features to 500 songs and a built-in contactless payment system… and it all sits on your wrist. You can record routes and waypoints, plot your position on a chart, track your physiological metrics, and listen to your favorite tunes, all at the same time!
The Fenix 5 does a lot, and that's a bit of an understatement. It does almost everything but your laundry. As a result, the built-in menus can be complex and it takes some time, effort, and study to fully exploit all the features. It's also on the pricey side, but if you need it, it's worth it. If you just want it, that's OK too, as long as you can afford it!
Magellan eXplorist 510
Specs
Waterproof Rating

:

IPX7

Memory

:

2GB

Power

:

2 AA batteries

Display

:

3"

WAAS enabled

:

Yes
Features
3.2 Mega-Pixel Camera with Auto Focus
Integrated Microphone and Speaker
16 Hours of Battery Life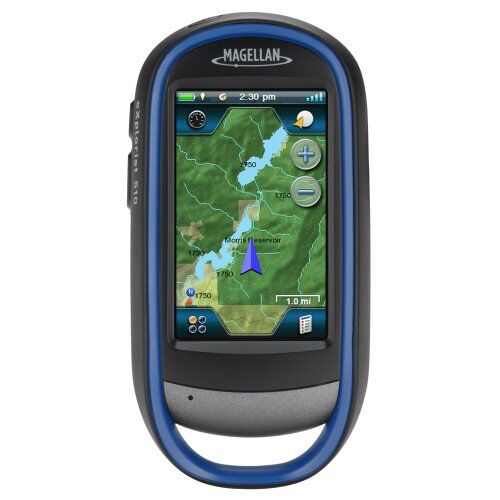 BEST FOR KAYAK FISHING
When you want the best marine grade maps in an easy to use device, the eXplorist 510 will show you the way.
The high end quality of this GPS unit comes featured with over 12000 lakes around the US, with high resolution marine maps available as well. A built in camera, microphone, and speaker makes geo-tagging your favorite fishing spots simple and hands-free. Fishing gets dirty — and using touch screens can be difficult — so the eXplorist 510 comes with two programmable hard buttons, allowing you to access must needed information with ease. With only GPS and WAAS navigation systems, this device is not as accurate as others on this list, but fully capable of ensuring you don't get lost.
What I like most about this GPS is the large touch screen that is great unless you're reading it in direct sunlight.
Simrad Cruise-5 Chart Plotter
Specs
Waterproof Rating

:

IPX7

Memory

:

1 Micro SD slot

Power

:

10 - 17 V DC

Display

:

5"

WAAS enabled

:

Yes
Features
Simple menus plus easy-to-use rotary dial and keypad controls
Pre-loaded US coastal map
Pre-selected split screens to keep important data in view
Display depth, position, battery voltage and more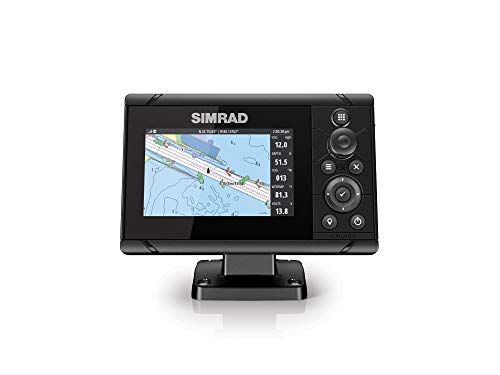 BEST CONSOLE-MOUNTED STYLE GPS
Capable of a lot more than just tracking your location, the Cruise-5 Chart Plotter could become your next best kayak fishing friend.
This GPS navigation device uses traditional GPS satellites with support from WAAS and other international satellite systems, providing for the highest degree of accuracy possible. The standard dual beam sonar allows you to track depths up to 1000 feet and uses a slew of functions to help dial in on the fish. Make navigation easy by recording waypoints into the device then using the route creation software to design the perfect fishing adventure. The large five inch screen offers a split screen setting, allowing you to observe multiple information streams simultaneously.
What I like most about the Cruise-5 is the compatibility with C-Maps and Navionics, allowing for the uploading of more detailed maps.
Polar M200 GPS Watch
Specs
Waterproof Rating

:

30m

Memory

:

4MB Flash Internal

Power

:

Rechargeable Battery, Up To 6 Days

Display

:

Round, 26mm Diameter

WAAS

:

No
Features
Polar Flow Desktop And Mobile App Tracks Training Data
Built-In Heart Rate Monitor
GPS Tracking Of Pace, Distance, Altitude, And Route
Customizable Sport Profiles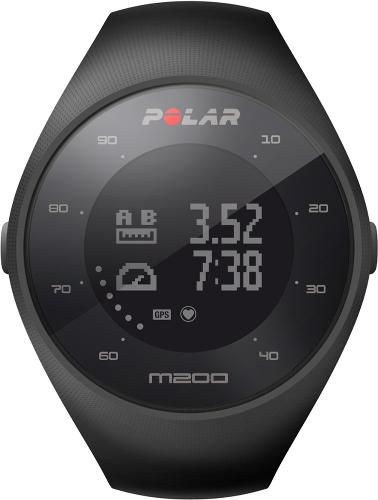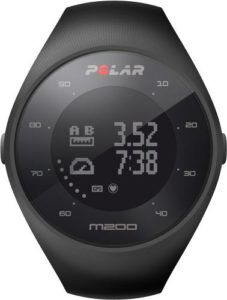 BEST BUDGET WEARABLE GPS
Wearing a GPS on your wrist has obvious appeal for kayakers. You always know where it is, it's easily accessible and easily visible, and you don't need to secure it to your boat or worry about what happens if you're separated from your boat.
There are also downsides, of course: display space and memory are always limited in a wearable unit, and there's simply no space for the features you'll find in larger units. Again, this choice comes down to what you need: if you're after a basic feature set and convenience is a priority, it's worth considering a wearable unit, and if you want to keep your spending down the Polar M200 is an obvious choice.
This is not a sophisticated navigational device, but it will give you basic GPS functions like route tracking, progress, and speed. It also has a built-in heart rate monitor and a variety of fitness tracking functions, making it an excellent choice for monitoring your training routine and for multi-sport use. If you like the idea of a wrist-mounted GPS and you're more about keeping tabs on regular paddling than navigating unfamiliar waters, this one delivers good value.
Garmin GPSMAP 78SC
Specs
Waterproof Rating

:

IPX7

Memory

:

1.7GB Internal, 1 SD Card Slot

Power

:

2 AA Batteries, 20 Hrs

Display

:

2.6" Full Color Screen

WAAS enabled

:

Yes
Features
It Floats!
Comes With An Integrated Compass
Barometric Altimeter Gives Altitude And Pressure Readings
US/Bahamas/Great Lakes Coastal Charts Built In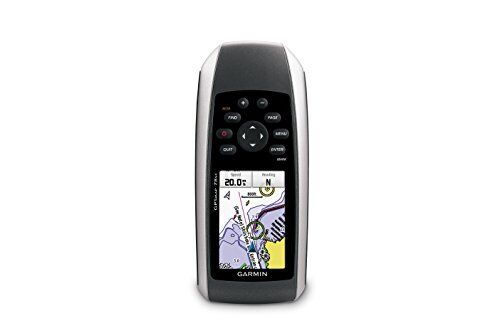 BEST ALL-AROUND KAYAK GPS
Garmin steps up to the plate again with the GPSMAP 78SC, a marine-specific handheld unit that delivers features in the same league as the console-mounted chartplotters found on yachts. The display emphasizes visibility over resolution and is easily readable in even the brightest conditions. The menu setup is sensible and intuitive, with fast access to key features.
The unit arrives with an extensive chart library already installed and supports access to a huge number of charts and maps, many of them available for free. Track navigation and tracklogs are extremely accurate, an important feature for paddlers who want an accurate record of exactly where they've been. It even floats, a feature that's more useful than many of us would like to admit (yes, we all drop stuff).
If you're looking for a first-class marine navigation tool to accompany you on long trips in unfamiliar areas, the GPSMAP 78SC is what you need!
Humminbird Helix 5 SI
Specs
Waterproof Rating

:

IP67

Memory

:

1 SD Card Slot

Power

:

External, 8-20v DC

Display

:

5" Full Color Screen

WAAS enabled

:

Yes
Features
CHIRP Sonar With Low, Medium, and High Frequency Ranges
Compatible With Multiple Map Packages
Stores 2500 Waypoints, 45 Routes, 50 Tracks, 20k Track Points
Comes With US Coastline, Lake, And River Charts Installed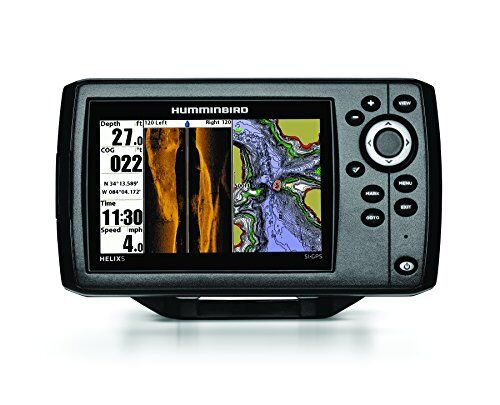 BEST KAYAK FISHING GPS
The Hummminbird Helix 5 SI introduces a whole new dimension to kayak GPS units. That dimension is underwater, and it's of particular interest to kayakers who use their boats as fishing platforms.
The Helix 5 integrates a sophisticated down imaging/side imaging sonar package that gives a detailed 3-dimensional picture of underwater features and underwater creatures! That capacity is mated to a sophisticated GPS chartplotter with access to a wide range of maps, providing global navigation capacity. If you fish from your kayak and you want fish finding and modern navigation at your fingertips in a single package, this is your device!
The Helix is not a handheld unit, and it will appeal mainly to boaters who don't mind complex gear on their kayaks and have some DIY chops. You'll need to install a mounting bracket that doesn't interfere with paddling or fishing, and you'll need to mount the included transducer to use the sonar capability. The unit needs an external power supply, so you'll need a battery. Some paddlers enjoy having items like this on board, some don't: it's your choice!
THINGS TO CONSIDER WHEN BUYING A KAYAK GPS
GPS is a great navigational aid, but modern GPS units do a lot more than tell us where we are. Many wrist-mounted units include heart rate monitors and other fitness tracking features. GPS units communicate with mobile phones and computers to analyze your data and keep you in touch when you're on the water. Some GPS systems integrate sonar and fish-finding abilities, others include modern chartplotters suitable for expedition use. You'll need to focus on the features that fit your paddling style and your needs, and select the kayak GPS system that's best for you!
WHAT DO YOU NEED
There are hundreds of GPS devices on the market, and they advertise all kinds of features. Many of these features are important to different buyers, but your concern is determining which features fit your paddling style and needs. An expedition paddler venturing into new territory has a very different set of requirements from a paddler who wants to keep track of evolving speed and physical metrics on regular paddling routes. If you use your kayak for fishing, your priorities will be very different from those of a paddler who prefers adventure racing.
Before laying out money for a GPS you need to think about what you need it to do. Will you be using it only for kayaking, or will it be a multi-sport device? Are you more concerned with navigation or with fitness tracking? Will you be using the device close to home or overseas? Clarify your needs and you'll have a better chance of finding a product that makes you happy.
WRIST, HANDHELD, OR CONSOLE?
Marine GPS units come in three basic styles: wearable, usually on the wrist, handheld, and console-mounted.
Wearable devices are essentially wristwatches with added features. They are extremely convenient: you always know where they are and you aren't likely to drop one! They are also in close contact with your body, so they can integrate heart-rate monitors and other physical measurements that are useful for training records. On the downside, their small displays and small size limit the features they can contain.
Handheld devices are the most common choice for paddlers. They are small, convenient, and often kept in a foredeck bag or hung on a lanyard around a paddler's neck. They are small enough to be easily used (and dropped) but large enough to offer an adaptable display and contain generally more features than wearable units.
Console-Mounted devices are bulky and usually rely on external power sources, and are not commonly used on kayaks. The exception is in the kayak fishing community, where small console-mounted devices integrating sonar and fishfinding functions are widely used.
LEARN MORE
REI has a good guide to choosing a GPS device in general, and West Marine offers this marine GPS buyer's guide.
SPECS AND FEATURES EXPLAINED
WATERPROOF RATINGS
There are several operating standards for water resistance. The IPX standard indicates only water resistance, the IP standard indicates water and dust resistance.
IPX7 indicates that the device is safe from immersion in up to 1 meter of water.
IP67 means that the dust resistance is 6, which is essentially dustproof, and the device is rated for 30 minutes of immersion at 1 meter.
Some manufacturers simply issue a water resistance depth rating.
WHAT'S A WAAS?
WAAS stands for Wide Area Augmentation System, and it's an air navigation system that the Federal Aviation Administration developed to make GPS more accurate and reliable. Everyone else jumped on board and now many civilian GPS devices are WAAS-equipped.
WAAS uses a network of ground stations to measure minute differences in readings and, through a process too complicated to describe here, give you more accurate GPS readings even in adverse conditions. WAAS stations only exist in the Western Hemisphere and won't help you if you're on the Barrier Reef or the inner Himalayas.
GPS, GLONASS, GALILEO
We all know what GPS is, but what about those others? No, GLONASS is not a booty measurement and Galileo has nothing to do with Bohemian Rhapsody.
GPS is an American satellite navigation system, GLONASS is a Russian satellite navigation system, and Galileo is a European satellite navigation system. Connecting to all three makes satellite navigation faster and more reliable ad gives backup in the unlikely event that one system is offline. The three systems are interoperable and you can use them all at once.
CHIRP
CHIRP stands for Compressed High-Intensity Radiated Pulse. It's a military technology that combines sonar signals of multiple frequencies to give an exceptionally detailed picture of the underwater environment. It's now in wide use for civilian applications, notably fishfinders and underwater scanners of all types.
HOTFIX
HotFix Satellite Prediction uses data collected through recent use to predict satellite positions over the next few days, giving you a faster connection. If you haven't used your GPS recently HotFix will not work and your unit will acquire its connection conventionally.
READ MORE
For more of our top kayaking gear recommendations, check out these popular buyer's guides: