Updated on July 7, 2022
Whether you're new to hiking or have been backpacking for years, if you're looking for the best hiking boots, you're in the right place. We've surveyed the market and hand-selected a range of boots then shared some of our top picks for specific categories like lightweight, budget-friendly, and best for wide feet. Aside from the top picks, we've included some runner-ups you might want to consider.
Each boot we've selected has its pros and cons, and there's not a single boot out there that will be perfect for every hiker, so we did our best to give you an honest opinion to help you decide if it's the right choice for you and your style of backpacking.
QUICK RECOMMENDATIONS
Best Hiking Boots Overall >> Salomon Quest 4 GTX
Best Lightweight Hiking Boots >> Salomon X-Ultra Mid 4 GTX
Most Affordable & High Quality Hiking Boots>> Timberland Mt. Maddsen Mid
Best Waterproof Hiking Boots >> Lowa Renegade GTX Mid
Best Hiking Boots For Wide Feet >> Merrell Moab 2 Mid Ventilator
Weight is shown for a men's pair.
Price is shown for the men's models size.
For more specific hiking boots recommendations, check out the following buyer's guides:
Reviews

-

The Best Boots for Hiking
THINGS TO CONSIDER WHEN BUYING HIKING BOOTS
So many factors go into choosing the right hiking footwear that it can be a little overwhelming. But if you take the time to thoroughly consider your options and how they can help or hinder you on the trail, both you and your feet will be much happier on your hikes.
COMFORT
Comfort is a huge factor in choosing hiking footwear, but comfort can be a very individual consideration, based on the anatomy of your foot. Ideally, you can try on various brands and models of both shoes and boots to determine what works best for you.
Overall, lighter hiking boots or hiking shoes will be more comfortable than stiff hiking boots, especially on shorter hikes. But without as much support as stiff hiking boots, flexible boots actually will end up feeling less comfortable over longer distances.
For hiking footwear to be comfortable, new shoes and boots require a break-in period. Generally, hiking shoes and light hiking boots will require a much shorter timeframe to break in than the sturdiest hiking boots. If you are planning to do a long-distance hike with hiking boots, you'll want to give yourself plenty of time to break them in on shorter trails before you head out into the backcountry.
WEIGHT
A potentially overlooked factor in choosing hiking footwear is the weight of the boots, shoes, or sandals. Those same sturdy soles that keep your feet stable also tend to be heavier than the lighter, more flexible soles of hiking shoes or trail runners. Your legs have to lift your hiking boot each time you take a step, so heavier footwear can contribute to fatigue over time. Also, if you have different pairs of shoes and plan to carry your boots on or in your pack at times, you'll be carrying extra weight with heavier boots and shoes.
MATERIALS
Hiking boots are built with different fabrics and plastic materials, which affect both performance and durability.
Uppers are normally produced with leather, mesh, or synthetic fabrics that guarantee durability and resistance to abrasion, while allowing your feet to breathe. Waterproof hiking boots are often made with Gore-Tex, a special kind of fabric that provides ventilation while protecting against water.
Nubuck leather is a thick and durable material used for the upper part of many hiking boots, and is ideal for thru-hikers trekking on rugged terrain. Split-grain leather, on the other hand, is more affordable and lighter in weight, but tends to wear out faster. Vegan hiking boots built with synthetic fabrics are also available, but they are less durable.
The midsole of a hiking boot is the component that provides cushioning. In most cases, the midsole is made with synthetic materials, while outsoles (the bottom, external part of the boot) are built with rubber and are designed to reduce the risk of slipping.
PROTECTION
Hiking boots are usually cushioned thanks the midsole. This feature protects you from the shock caused by trekking with a heavy backpack. However, boots with a lot of cushioning tend to lack flexibility. Because of this, lighter shoes with less cushioning are recommended for short and well-maintained trails.
When hiking on rugged terrain you often happen to hit your toes against exposed roots or rocks. Boots with heel and toe caps protect your feet with an extra layer of rubber in the areas that are more prone to suffer these kinds of injuries.
There is nothing more annoying than covering long distances in wet socks, so look out for Gore-Tex fabric if you plan to walk in mud or cross low rivers.
TYPE OF SOLE
The sole is the bottom part of the shoe that supports your foot. The soles of hiking footwear range from rigid to flexible. Hiking boots tend to be more rigid for extra support while trail runners are much more flexible. Rigid soles require longer to break in but are more durable and better for long hikes with a heavy pack. It's a good idea to try out some sturdier and stiffer boots to compare to more flexible hiking shoes to see what feels best on your feet. While you might think hiking sandals would be extremely flexible, some of them actually have very sturdy soles to provide support.
TRACTION
Speaking of soles, traction is an important consideration to pay attention to in your hiking footwear. While pretty much all boots, shoes, and sandals designed for hiking should have decent traction, they will have different treads. You'll need more traction, such as Vibram soles and sticky rubber, for rocky trails, as well as for wet conditions. For trails that are primarily dirt, you can choose shoes with less intense traction.
PRICE
Hiking footwear is generally not cheap, but it is an investment worth making. High quality, well-designed footwear will keep your feet happy on the trail and help keep you safe on your adventure. Make sure to balance your budget with your comfort and safety when deciding which type of hiking footwear is right for you.
SIZE
It is often recommended to buy your hiking footwear in a half size larger than your normal street shoes. Your feet tend to swell on the trail, and a slightly bigger boot will provide room to accommodate the swelling. Wearing a half size up in your hiking shoes will also let you wear thicker hiking socks.
WATERPROOFING
If you plan to hike a lot in rainy or even snowy conditions, you'll want to think about water protection when choosing your hiking footwear. Water resistant boots are designed to repel water but won't completely protect you in torrential downpours or when wading through puddles or even creeks and rivers. Waterproof hiking boots have a liner that will keep your feet dry through these conditions (unless water enters the boot from the ankle).
BREATHABILITY
On the flip side of water protection is breathability, and you usually have to make a tradeoff between the two features. If your hikes will primarily be in warm and dry conditions, breathability will be much more important to you than waterproofing. Ventilation will help keep your feet dry when they sweat, though mesh and other ventilated areas will let in more water from outside elements.
DURABILITY
Another thing to think about when choosing hiking footwear is durability. Hiking boots and shoes will definitely take a beating on the trail, and you certainly don't want to constantly replace them due to wear and tear.
Boots – Extremely durable (will last ~1,000 miles)
Shoes – Durable (will last ~750 miles)
Trail Runners – Less durable (will last ~500 miles)
Sandals – Less durable
ANKLE SUPPORT
One of the main differences between the types of hiking footwear is ankle support. Spraining an ankle in the middle of your hike is not fun and could also leave you stranded. Hiking boots have higher ankles than hiking shoes and will provide the most support. If you plan to do a lot of backpacking, which means long distances carrying a heavy load, you will definitely appreciate the ankle support. Ankle support is also important if you plan to do a lot of hiking on uneven terrain like rocky trails.
VERSATILITY
A final factor to keep in mind when choosing hiking footwear is versatility. A lot of the pros and cons of certain choices depend on the conditions you'll be in, and if you plan to hike in a lot of different environments, you might want to compromise on a versatile boot or shoe that will be pretty good at everything, but maybe not the best in all conditions. Or, if you have a bigger budget, you can buy multiple types of hiking footwear, and then wear the best one for each adventure you take.
HOW CAN I TEST MY BOOTS AT A STORE?
A smart hiker will ignore the appearance of the boot or how fancy the brand is. How well the boots adapts to your foot shape is much more important.
Let's go over a few ways to test if the boots are made for your feet:
1. The finger test – This is also the beginning of a proper fit testing. Put the boot on, leave it unlaced and try to slide your finger behind your foot. It should fit right in.
2. The sensory test – You'll have to put your bare foot into your boot of choice for this one. Try and feel all the places where the boot feels tight (if any). You can't really do this properly with socks on.
*note: Focus especially on the small toes and the big toe bone and if you feel pinching or pressure there.
3. The stride test – What happens with the boots while you're walking? Does the top break as it should or jamming the area behind your toes too much? Is the heel moving together with the boot or sliding around? If your heel and the boot moving as one, the boots are too large and will cause blistering.
4. The test on the slant board – To top it all off, ask the salesman for a slant board. We must test how the boot performs on an incline. Try walking down and see how it feels. If your toes are touching the front, ask for a half size bigger pair. If they're jammed, move on to the next model.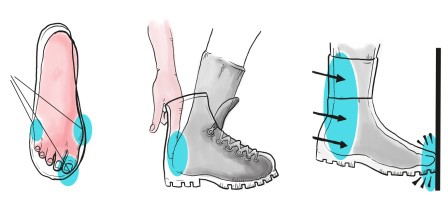 FEATURES EXPLAINED
Collar
The padding where your boot hits at or above your ankle, intended to help keep debris out. Collars that are asymmetrical can account for female-specific bone structure, since women's ankle bones are often not symmetrical.
EVA
Ethyl-vinyl acetate (EVA) is a lightweight material used to provide cushioning and stability in the midsole.
Gore-tex (GTX)
A special kind fabric used in waterproof clothing and shoes. Gore-tex offers maximum breathability while keeping your feet dry.
Heel brake
Raised heel area that reduces slippage and makes it easier to come to a stop.
Insole
The section inside the boot that your foot rests on. Some hiking boots come with removable insoles for those with specific orthopedic needs.
Lugs
Lugs are rubber pieces located on the outsole that help a boot grip the surfaces you step on. The depth and pattern of lugs help determine a boot's traction.
Midsole
The layer of fabric that provides cushioning, placed between footbed and outsole.
Nubuck leather
A "rough" leather that tends to breathe better than a "full-grain" leather hiking boot.
Outsole
The layer of rubber found at the bottom of the hiking boot designed to provide traction and grip.
Seam-sealed
A treatment that seals the stitch holes on sewn material to make them waterproof.
Toe box
The area of the shoe that covers the toes; should be roomy enough to wiggle your toes.
Toe cap
A protective section, usually rubber, on the outside of the toe to protect against rocks, roots, and other trail conditions.
TPU
Thermoplastic polyurethane (TPU) is a lightweight and durable material often found in the outsole and in midfoot shanks, offering support and protection.
Vibram
One of the largest producers of rubber outsoles.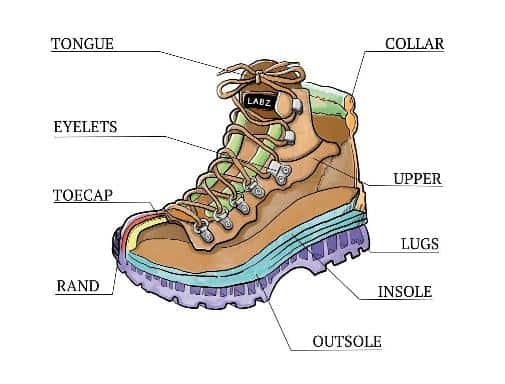 If you want to learn more about these features, check out the Anatomy of a Hiking Boot. This resource offers useful information on the features mentioned above and more detail on the different parts of a hiking boot.