Updated on July 11, 2021
With so many models and technical specifications to navigate, choosing the best hiking boots can be a tricky business. Whether you are an experienced mountaineer or weekend enthusiast, a reliable pair of quality hiking boots is essential for the success of your next backcountry adventure.
It doesn't matter if you are off to tackle a Himalayan trail or visiting a local national park, keeping your feet safe is something you should always think about before leaving. With waterproof, insulated, and anti-shock boots available, there is something out there for every type of hiker.
We have selected the best hiking boots to help you get your head around what product is best for you, accounting for budget, performance, and terrain. Hopefully, thanks to this guide you'll be spending less time on terminology and more time planning your journey.
For more of our top hiking footwear recommendations, check out these popular articles:
Hiking Boots for Women | Budget Hiking Boots
Hiking Boots for Wide Feet | Lightweight Hiking Boots
Waterproof Hiking Boots | Winter Hiking Boots
Quick Answer

-

The Best Hiking Boots
Hoka One One Sky Kaha GTX

The North Face VECTIV Exploris

Salomon X Ultra Winter CS

Zamberlan Trail Lite EVO GTX
Comparison Table

-

Best Hiking Boots
Reviews

-

The Best Boots for Hiking
Salomon X Ultra 3 Mid
Specs
Height

:

Medium

Weight

:

1 lb. 15.6 oz

Type of Waterproofing

:

Gore-Tex
Features
Soft textile linings wick moisture away from feet
Mid-cut profile adds ankle support and protection
Injection-molded EVA midsoles provide excellent cushioning underfoot
Specifically placed lines on the outsoles increase flexibility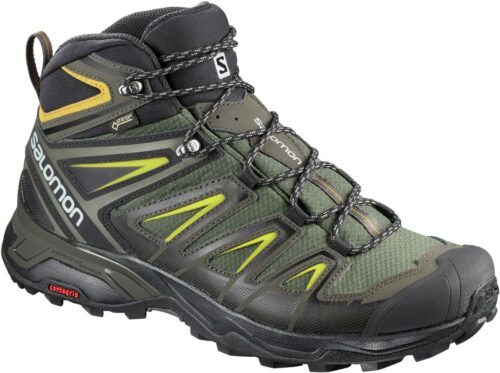 BEST OVERALL MEN'S HIKING BOOT
This is a lightweight boot that delivers heavy-duty performance — on both day hikes and extended adventures.
The Salomon X Ultra 3 Mids are comfortable and built to last, a combination that earned our top spot on this list. They're available in both a waterproof and more breathable, non-waterproof model. These boots boast an impressive lug designs that really bites the ground, providing for excellent grip on any terrain.
What I like most about the X Ultras is the peace of mind from knowing that these well-built boots will last a long time.
Merrell Moab 2 Mid WP
Specs
Height

:

Low

Weight

:

2 lbs. 4 oz.

Type of Waterproofing

:

M-Select Dry Membranes
Features
Foam Tongue Keeps Moisture And Debris Out
Proprietary Waterproof Membranes Seal Out Water And Let Moisture Escape
Air Cushion In The Heels For Shock Absorption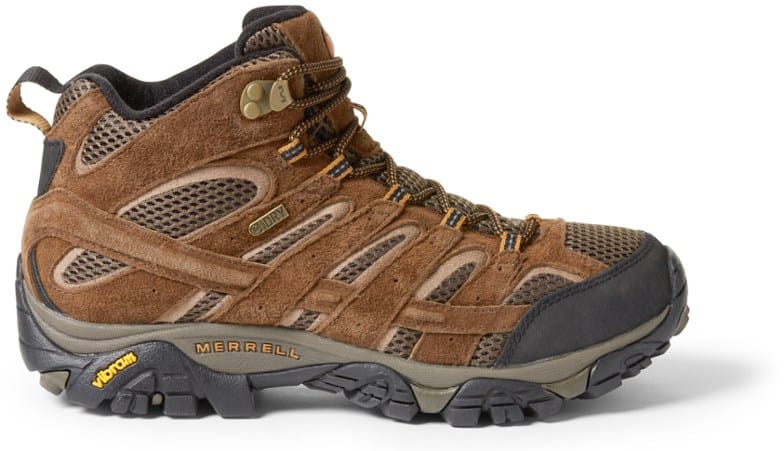 BEST FOR: THE STYLISH ADVENTURER
While there is nothing wrong with the rugged look on a hike, there are some of us who prefer to look a little more stylish. The Merrell Moab 2 Mid WP hiking boots are the epitome of wilderness chic with their brown suede, leather and mesh outsides. However, they don't just look good — they're comfortable too! With contoured foot beds that mold to your feet and cushioned heels that absorb shock, you won't want to take these off any time soon.
The outsoles on these boots are great for traction, especially on sandy or rocky trails. With these on your feet, climbing up a huge sand dune will become an easy feat to achieve. These boots even provide waterproofing, enabling you to walk through puddles on a rainy day with no worries at all.
Hoka One One Sky Kaha GTX
Specs
Height

:

Medium

Weight

:

2 lbs. 4.4 oz.

Type of Waterproofing

:

Gore-Tex, waterproof leather
Features
Full-grain, waterproof leather uppers offer durability while fending off the elements
Vibram® Megagrip high-traction outsoles with 5mm multidirectional lugs provide traction on wet or uneven terrain
An adjustable lacing system provides a locked-in fit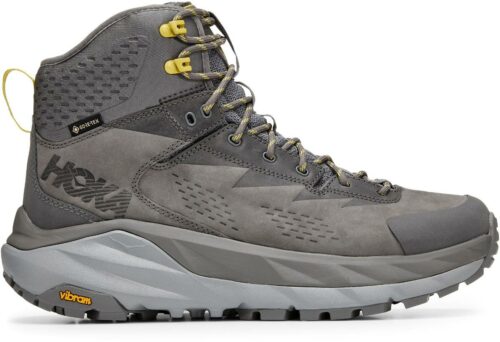 BEST FOR: ALL-DAY COMFORT
When you need complete ankle support and ample underfoot cushioning, reach for the Sky Kahas — they'll tackle any trail with ease.
Built by a brand best known for its running shoes, these hiking boots were constructed as the most comfortable selection in the line-up and remain lightweight, weighing in at just over 2lbs and 4 ounces. The amazing comfort of these boots begins with Hoka's proprietary layer of cushioning through the sole. A soft synthetic upper that snugly wraps around the foot and ankle compliments the sole and reduces the chances of chafing. Finally, an oversized toe box provides for ample stability for hiking across varied terrain.
What I like most about the Sky Kaha boots is the Vibram MegaGrip sole that grips exceptionally.
The North Face VECTIV Exploris
Specs
Height

:

Medium

Weight

:

1 lb. 11.3 oz.

Type of Waterproofing

:

3-layer FUTURELIGHT waterproof, breathable membrane
Features
Abrasion-resistant CORDURA® ripstop mesh uppers
Integrated, protective toe caps, rands and heel overlays
Supportive OrthoLite® footbeds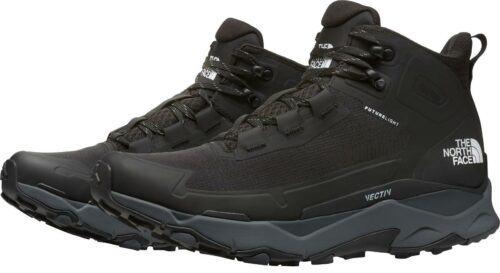 BEST FOR: ULTRALIGHT HIKERS
If you enjoy going light and fast with the added benefit of quality ankle support, consider the VECTIV Exploris.
Weighing in at just 1 pound and 11 ounces, these boots are among the lightest on the market. A triple layer waterproofing system provides for adequate weather resistance while also allowing your feet to breathe. The VECTIV model is designed for long lasting trail performance and sports a slight rocker design, high rebound mid soles, and a highly stable underfoot.
What I like most about these boots is that the lug design provides for traction in all the right places, making them suitable for wearing on almost any trail.
Salomon Quest 4 GTX
Specs
Height

:

Tall

Weight

:

2 lbs. 14.4 oz.

Type of Waterproofing

:

Gore-Tex
Features
Inspired by trail-running shoes, these boots follow the natural flexion of your feet for a smooth ride
Protecting ankle articulations on the outer foot, the updated ADV-C 4D chassis provides stability and supports your heels to help reduce fatigue when wearing a heavy pack
Contagrip® TD rubber outsoles with deep, aggressive lugs provide extended durability and maximum traction on mixed terrain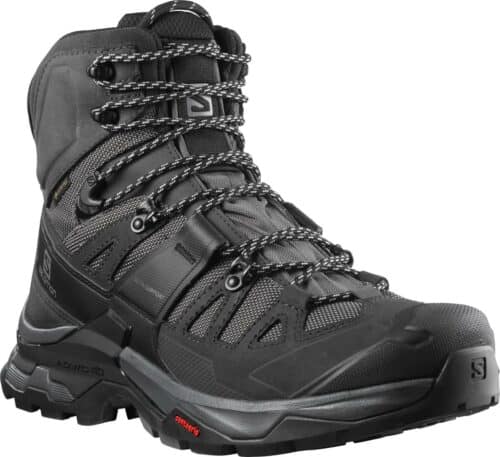 BEST FOR: ROCKY CONDITIONS
When you a fully supportive boot you can comfortable wear all day long, slip into the Quest 4 GTX — you won't be disappointed.
These boots were built for hauling you and your heavy load wherever the adventure takes you. The Quest 4s feature comfort-enhancing extras. like a heel cinching lacing system, padded ankle and tongues, and plush interior. The rigid sole inspires confidence when hiking rugged terrain under the weight of a heavy load while maintaining enough flexibility to allow you to move nimbly.
What I like most about the Quest 4s is the substantial waterproofing that lets you cruise through river crossings and mud without a second thought.
AKU Alterra GTX
Specs
Height

:

Medium

Weight

:

2 lbs. 15 oz.

Type of Waterproofing

:

Gore-Tex
Features
Double Density Midsole With Anti-Shock Properties (to protect your feet from harsh impact on hard ground)
Waterproofed With Gore-Tex Performance Comfort Lining
Vibram Rubber Sole Ensures Traction Even On Slick Surfaces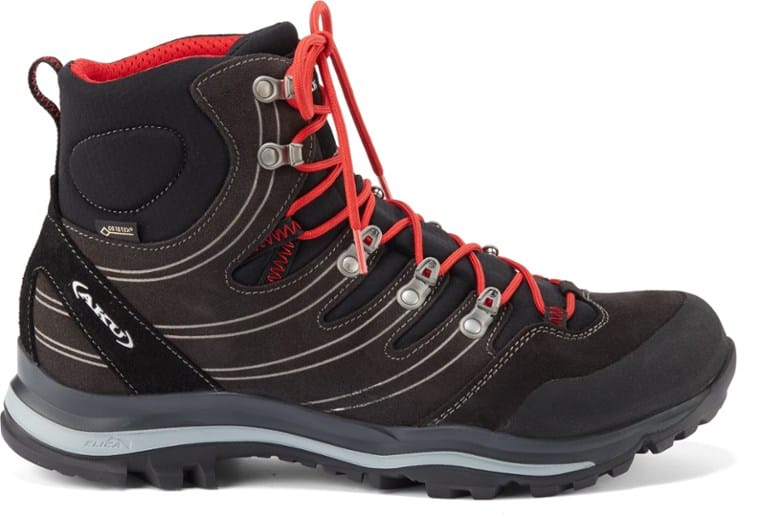 BEST FOR: THE HIKER THAT'S ROARING TO GO
The AKU Alterra GTX hiking boots are made for a rough and ready explorer who isn't afraid to get their feet dirty. There's no need to worry about the state of your socks — these boots are completely waterproof. Unlike some hiking boots that need a few practice runs to break in, these AKU boots are fitted with custom-fit footbeds that mold to the shape of your feet and are ready to wear straight out of the box. 
AKU really thought of everything with these boots, even providing specially engineered eyelets (the holes through which the laces are threaded) that use a pulley system to ensure you aren't stumbling around a trail due to a loose fitting boot. The rugged outsole on these boots provides grip and traction whether you're hiking up the side of a snowy mountain, or going for a sunny afternoon stroll.
La Sportiva Pyramid GTX
Specs
Height

:

Medium

Weight

:

2 lbs. 1.6 oz.

Type of Waterproofing

:

Gore-Tex
Features
Midsole Designed For Extra Stability And Comfort
Abrasion-resistant Nubuck Leather Uppers
Breathable Waterproof Protection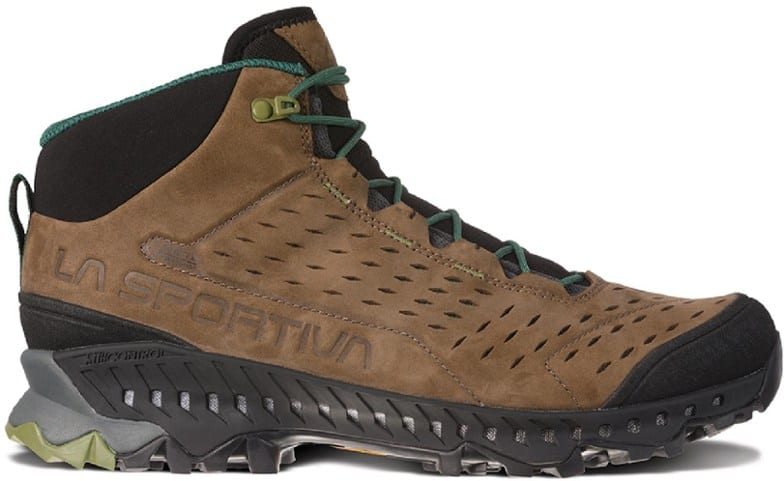 BEST FOR: RAIN, HAIL OR SHINE!
The La Sportiva Pyramid GTX Hiking Boots should be your go to hiking boots for any terrain you were afraid to tackle before. These boots have a shock absorbing outsole as well as a unique impact brake system on the heel to prevent any slips or falls. As your feet adjust to these boots, you will notice how easy it is to cross even the rockiest mountains without worrying about tumbling down the slope.
The Gore-Tex Surround three-layer laminate provides water and weatherproofing to the boots while still allowing your feet to breathe, wicking away any sweat or heat that you'd normally be feeling after hiking for hours. You don't have to worry about trails scuffing these boots, as the nubuck leather uppers are abrasion resistant!
Salomon X Ultra Winter CS
Specs
Height

:

Tall

Weight

:

1.25 lbs.

Type of Waterproofing

:

ClimaSaloman Waterproof Membrane
Features
Light Insulation For Keeping Your Feet Warm In All Conditions
Increased Ankle Stability
Traditional Lace System With Locking Eyelets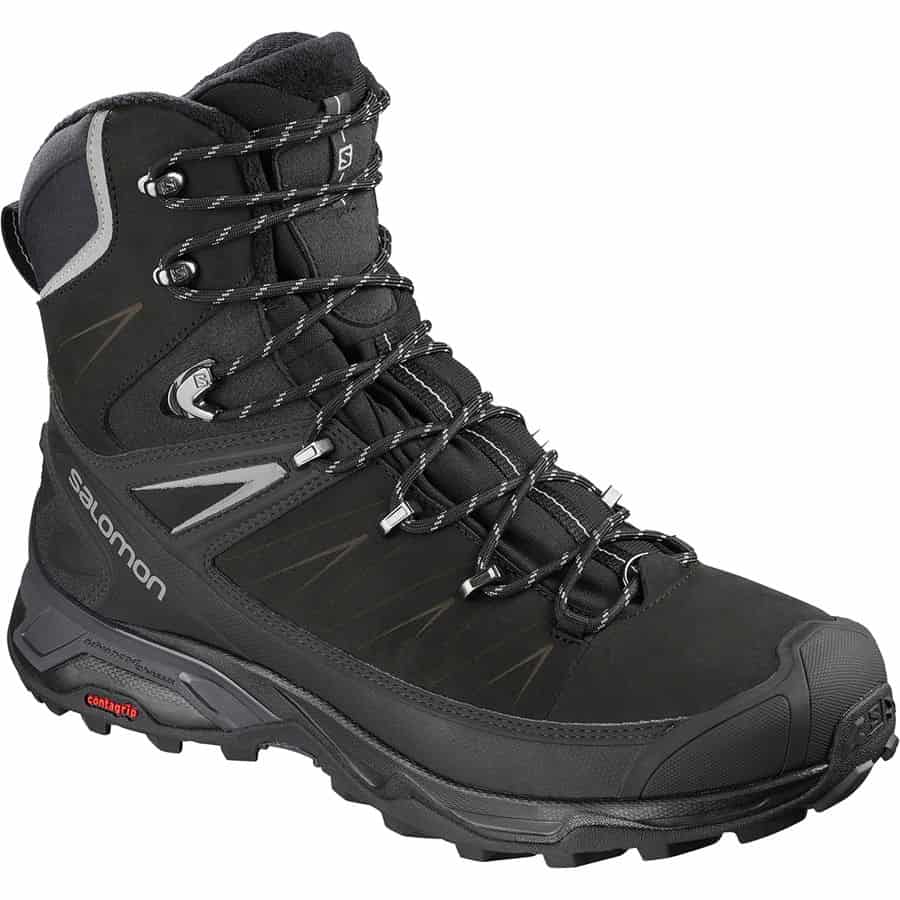 BEST FOR: LONG WINTER HIKES
The Salomon X Ultra Winter CS WP 2 boots are perfect for those day trips out to the snow capped mountains. The Thinsulate insulation ensures that your feet will stay warm and cozy, even when you're trudging through the snow and ice. These boots come up over your ankles, giving you extra stability for those rocky climbs.
These boots come equipped with molded heel pads, making it easy to attach them to snowshoes when needed. The waterproof tongues seal into the upper of the shoes, ensuring that wet snow or debris can't get inside and ruin your day with wet socks. 
If you're worried about being bogged down in the snow, worry no more! These boots, even with all of their amazing features, are extremely light-weight and provide excellent movability, even in the coldest of winters.
Zamberlan Trail Lite EVO GTX
Specs
Height

:

Low

Weight

:

2 lbs. 7 oz.

Type of Waterproofing

:

Gore-Tex and Nubuck Leather
Features
Excellent Traction Both On And Off Trail
Gore-Tex Performance Comfort Membranes For Waterproof Protection And Breathability
Durable Collars Lined With Calf Leather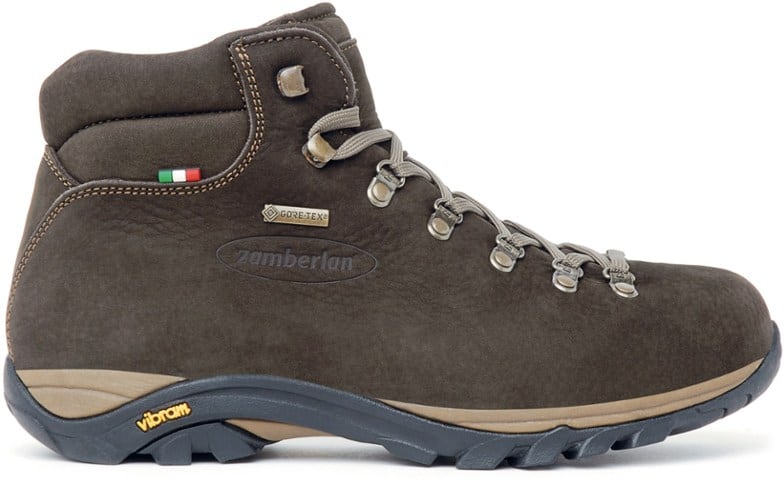 BEST FOR: THE LIGHT PACKER
Do you want a hiking boot that provides a bang for your buck in terms of quality, but is also extremely light weight? Look no further than the Zamberlan Trail Lite EVO GTX Hiking boot! Handcrafted in Italy, these boots provide the comfort and durability that you would expect from an expertly crafted shoe. The Zamberlan HRT hardware prevents corrosion over time, and the Vibram outsoles provide high quality performance on any terrain.
Don't be fooled by the light-weightedness of these boots, as they are jam packed with features that ensure you won't be falling off the side of a mountain anytime soon, so you'll have plenty of traction in even the rockiest or snowiest of terrains.
Merrell Phaserbound 2
Specs
Height

:

Tall

Weight

:

2 lbs. 15 oz.

Type of Waterproofing

:

M-Select Dry Membranes
Features
Protective Rubber Toe Caps
Metal Hooks And Webbing Loops For Secure Lacing
Compression-molded EVA Midsoles For Stability And Comfort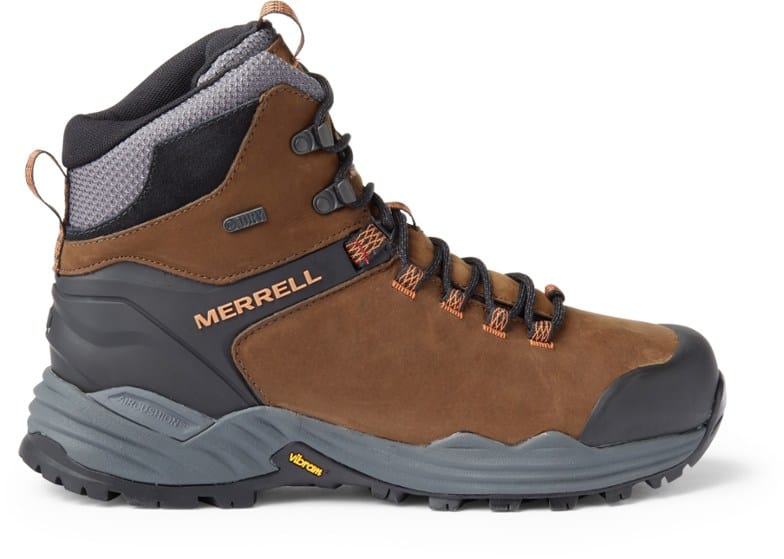 BEST FOR: STURDINESS AND DURABILITY
The Merrell Phaserbound 2 Tall Waterproof hiking boots provide the sturdy strength you need to conquer long day hikes or backpacking trips without the aches and pains you may experience with other boots. With little to no break in needed, these boots are equipped with removable contoured insoles that mold to the shape of your foot from the first wear, which ensures you won't be walking away with any blisters or hot spots.
As well as being full grain leather (that means they're really sturdy), these boots are built with breathable mesh linings that seal out water from getting in, while wicking away any moisture that forms inside. The Merrell Air cushion built into the heel of the boot absorbs shock and adds to the stability of the boot.
THINGS TO CONSIDER WHEN BUYING HIKING BOOTS
FIT
It may sound obvious, but the first thing to do when buying hiking boots is make sure they fit. On top of knowing your size, take into account that you will be wearing thick hiking socks and more space than usual will be needed, so you may need to size up a bit. Hiking boots should be comfortable while fitting tightly around your feet to prevent blisters or abrasion.
MATERIALS
Hiking boots are built with different fabrics and plastic materials, which affect both performance and durability.
Uppers are normally produced with leather, mesh, or synthetic fabrics that guarantee durability and resistance to abrasion, while allowing your feet to breathe. Waterproof hiking boots are often made with Gore-Tex, a special kind of fabric that provides ventilation while protecting against water.
Nubuck leather is a thick and durable material used for the upper part of many hiking boots, and is ideal for thru-hikers trekking on rugged terrain. Split-grain leather, on the other hand, is more affordable and lighter in weight, but tends to wear out faster. Vegan hiking boots built with synthetic fabrics are also available, but they are less durable.
The midsole of a hiking boot is the component that provides cushioning. In most cases, the midsole is made with synthetic materials, while outsoles (the bottom, external part of the boot) are built with rubber and are designed to reduce the risk of slipping.
PROTECTION
Hiking boots are usually cushioned thanks the midsole. This feature protects you from the shock caused by trekking with a heavy backpack. However, boots with a lot of cushioning tend to lack flexibility. Because of this, lighter shoes with less cushioning are recommended for short and well-maintained trails.
When hiking on rugged terrain you often happen to hit your toes against exposed roots or rocks. Boots with heel and toe caps protect your feet with an extra layer of rubber in the areas that are more prone to suffer these kinds of injuries.
There is nothing more annoying than covering long distances in wet socks, so look out for Gore-Tex fabric if you plan to walk in mud or cross low rivers.
FEATURES EXPLAINED
MIDSOLE
The layer of fabric that provides cushioning, placed between footbed and outsole.
OUTSOLE
The layer of rubber found at the bottom of the hiking boot designed to provide traction and grip.
GORE-TEX (GTX)
A special kind fabric used in waterproof clothing and shoes. Gore-tex offers maximum breathability while keeping your feet dry.
NUBUCK LEATHER
A type of full-grain leather similar to suede.
VIBRAM
One of the largest producers of rubber outsoles.
READ MORE
For more of our top hiking & backpacking gear recommendations, check out these popular articles: