Updated on November 2, 2021
Whether you're an entry-level photographer or a pro-shooter looking to capture the next NatGeo cover image, you won't regret carrying a DSLR up a mountain trail. While they might be heavier than a smartphone or a point-and-shoot, the best DSLR cameras for landscape photography can't be beat when it comes to image quality.
Shooting landscapes is all about timing and patience, but without a reliable camera to freeze the moment with, Golden Hour alone won't help you bring home the perfect picture. In order to help you decide what to invest in before you set out for your next backcountry adventure, our photography experts selected the best DSLR cameras for landscape photography, accounting for different price ranges, low light performance, and ease of use.
For more of our top landscape photography gear recommendations, check out the Best Landscape Cameras.
Quick Answer

-

The Best DSLR Cameras for Landscape Photography
Comparison Table

-

Best DSLR for Landscape Photography

For the best experience turn your device horizontally
Reviews

-

The Best Landscape Photography DSLR Cameras
Nikon D5600
Specs
Dimensions

:

12 x 8 x 5 in

Weight

:

1.2 lbs

Resolution

:

24.2 Megapixels

Shooting Speed

:

5 Frames Per Second

ISO Range

:

100 - 25600

Weather Sealed

:

Yes
Features
Budget Friendly
Built-in Wi-Fi and Bluetooth
Outstanding Auto-focus System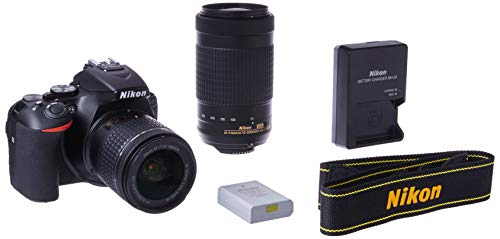 BEST FOR: THE ALL-ROUNDER
This small camera is quite a find for advanced photography enthusiasts. The D5600 features an array of autofocus settings, including 3D-tracking and Live View that uses contrast for precise focus. These features are excellent for wildlife and outdoor photography as the focus follows an object even off-frame. Furthermore, the lens provides a smooth, quiet, and fast autofocus, which is also helpful in those situations where you'd rather be discreet.
A D-lighting feature keeps the highlight-to-shadow balance in check, producing correctly exposed photos in any environment. The D5600 offers a tilting LCD screen that will help you to experiment by shooting from angles you wouldn't be able to reach by looking through the viewfinder. For those who are looking for a performing DSLR camera that is both lightweight and easy to use, the D5600 is a safe bet.
Canon EOS Rebel T6i
Specs
Dimensions

:

5.2 x 3.1 x 4 in

Weight

:

1.22 lbs

Resolution

:

24.2 Megapixels

Shooting Speed

:

5 Frames Per Second

ISO Range

:

100 - 12800

Weather Sealed

:

No
Features
Great Low-Light Performance
Tilting LCD Touchscreen
Autofocus With Subject Tracking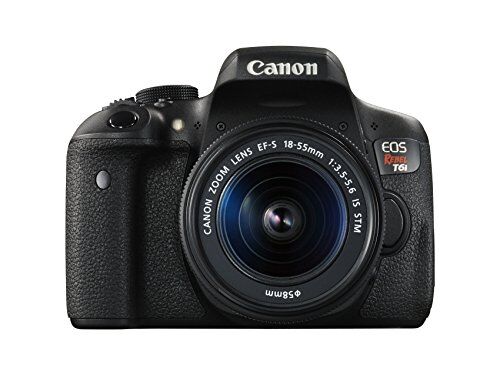 BEST FOR: LOW-LIGHT PERFORMANCE
The Rebel T6I is a fairly compact but powerful camera that allows shooting in a variety of situations, ranging from bright sunlight to cloudy twilight. This camera can detect near-infrared and flickering light, automatically adjusting the exposure for every scene. This feature is especially useful in nighttime or astrophotography, where any artificial light pollution is an issue.
This entry-level DSLR comes with a vari-angle touchscreen that facilitates shooting from difficult angles. Its small size and affordability make it a great option for outdoor enthusiasts and agile nature photographers. The controls and interface are easy to navigate even for beginners, and the battery promises to last for up to 440 shots. The Rebel T6I also produces full high-definition video with a Hybrid Autofocus mode that quickly tracks moving objects – great for wildlife videography.
Pentax K-70
Specs
Dimensions

:

2.9 x 4.9 x 3.7 in

Weight

:

2 lbs

Resolution

:

24.24 Megapixels

Shooting Speed

:

6 Frames Per Second

ISO Range

:

100 - 204800

Weather Sealed

:

Yes
Features
Built-in WiFi
Weatherproof and Dustproof
Shake-reduction Mechanism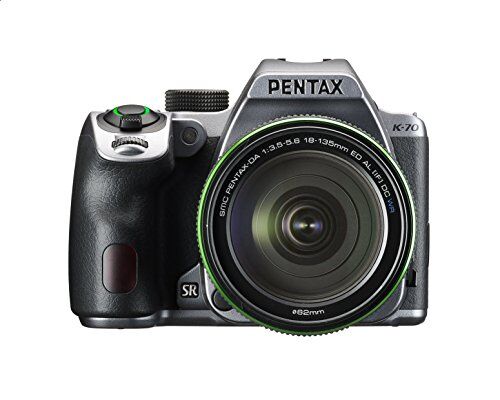 BEST FOR: THE STAR-GAZER
The Pentax K-70 is a sleek camera designed to be versatile. It features an internal mechanism that reduces the risk of blur resulting from shaky hands and slow shutter speeds. Additionally, the Pixel Shift Resolution function allow you to combine several exposures to create perfectly balanced images in any light condition.
The Pentax K-70 takes low-light performance to the next level with its Night Vision setting. It colors the screen in red hues to compensate for dark areas in the frame. On top of this, the K-70 comes with integrated GPS technology and a unique AstroTracer function. At longer exposures, it synchronizes the camera's sensor with the natural movement of stars, resulting in beautiful and sharp photos of celestial bodies.
Nikon D850
Specs
Dimensions

:

5.8 x 3.1 x 4.9 in

Weight

:

2.02 lbs

Resolution

:

45.7 Megapixels

Shooting Speed

:

9 Frames Per Second

ISO Range

:

64 - 25600

Weather Sealed

:

Yes
Features
Large Sensor For Incredibly Detailed Images
Super Long Battery Life
Weather Sealed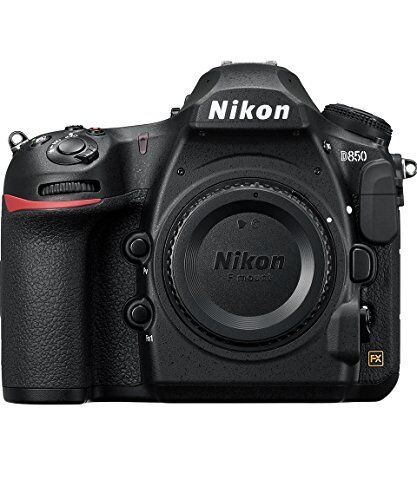 BEST FOR: THE FULL-TIME EXPLORER
The Nikon D850 is a professional-grade camera with fantastic speed and resolution. With a weather sealed body that resists both rain and dust, unfavorable environments are no longer an obstacle to your shooting sessions.
The D850 comes with a Nikon battery that promises to last up to 1,840 shots, meaning that you won't need to be frugal with the number of photos you shoot, even on multi-day expeditions in remote destinations. Furthermore, the full-frame sensor design allows for significantly reduced noise (image fuzziness) in low light conditions.
The autofocus of the D850 includes 99 sensor points, resulting in precise focus and subject tracking. For reference, consider that some DSLRs only have 19 focus points. With 4K Ultra HD video capabilities, this camera is great for both outdoor photography and videography.
THINGS TO CONSIDER WHEN BUYING A DSLR CAMERA FOR LANDSCAPE PHOTOGRAPHY
If you're used to shooting with a smartphone or a compact camera, you will immediately notice the increased quality of your landscape photos when you switch to a DSLR. However, not all DSLR cameras are made equal and knowing what characteristics to look for as you choose which model to buy is essential.
CROP SENSOR VS. FULL-FRAME
In short, full-frame DSLRs are professional cameras, while crop-sensor DSLRs are either entry-level or advanced cameras. The difference between these two categories is found in the size of the sensor. Full-frame cameras come with a 35mm sensor, while crop-sensor DSLR cameras have a sensor that is 1.5 times smaller.
The size of the sensor affects the quality of the image, with larger sensors creating sharper, more detailed images. Full-frame DSLRs, however, come at a price, with top-level models costing thousands of dollars.
Crop-sensor cameras can still produce exceptional images and are usually more than enough for serious enthusiasts. If you decide to invest in a full-frame camera take into account that lenses will also be more expensive.
RESOLUTION
When we talk about resolution we refer to the quality of the image, measured in megapixels. A large number of megapixels produces images that are richer in detail. While all the cameras on our list offer a great resolution of more than 20 megapixels, some models reach a staggering 40+ megapixels, useful if you are planning to print your photographs in large format or want to crop out details in post-production.
SHOOTING SPEED (FPS)
The number of pictures a camera can shoot continuously within the span of a second determines the shooting speed of the DSLR. The ability to capture a high number of frames per second (FPS) is useful when you are trying to freeze a fast-moving object. However, a high shooting speed is not fundamental in landscape photography.
SIZE AND WEIGHT
DSLR cameras are traditionally bulkier than point-and-shoot and mirrorless cameras. When shopping for a new DSLR, keep in mind how much space it will occupy in your backpack and the weight it will add to your shoulders. While modern DSLR cameras are designed to minimize size and weight, remember that lenses will add a few pounds to the total weight.
LENS AVAILABILITY
Landscapes are traditionally shot with wide-angle lenses that are capable of framing ample scenes, but not all wide-angle lenses are made equal. When investing in a camera brand, consider the availability of lenses and make sure that the lenses specific for the type of photography you want to focus on are compatible. Nikon and Canon, the biggest brands on the DSLR market, offer the largest choice of lenses, while other brands tend to have a more limited selection.
FEATURES EXPLAINED
DSLR
Digital single lens reflex camera. A camera that directs the light to the sensor through an internal mirror.
FPS (FRAMES PER SECOND)
Frames per second. The number of photographs a camera can capture in one single second when the shutter button is pressed down.
AUTOFOCUS
The technology that allows the camera to automatically focus on a given subject when the shutter button is pressed.
FULL-FRAME
A professional-grade camera employing a sensor equivalent in size to traditional 35mm film.
CROP-SENSOR
An entry-level or semi-professional DSLR camera employing a sensor that is 1.5 times smaller than full frame sensor.