Updated on January 11, 2022
Softshell jackets are like the multi-tool of outerwear, and you definitely want one in your outdoor adventure arsenal. Water and wind resistant, yet breathable and stretchy, a softshell will keep you warm and dry and move with you on the toughest trails. Softshells offer a variety of different features and fabrics, so here at The Adventure Junkies, we will help you sort through the options and find the best softshell jacket for women to protect you from the elements and keep you comfortable and cozy on your next hike.
For more of our top hiking gear recommendations, check out the Best Softshell Jackets.
Quick Answer

-

The Best Softshell Jackets for Women
Black Diamond Alpine Start

Black Diamond Dawn Patrol

Mountain Hardwear Kor Preshell

The North Face Apex Risor
Comparison Table

-

Best Softshell Jacket for Women

For the best experience turn your device horizontally
Reviews

-

The Best Women's Softshell Jacket
Outdoor Research Ferrosi
Specs
Weight

:

11.7 oz

Hood

:

Yes

Thumbholes

:

Yes
Features
Reinforced Shoulders and Sleeves to Resist Abrasion
Adjustable Hem Cord to Protect from Inclement Weather
Thumbholes Keep Sleeves in Place to Protect Wrists & Hands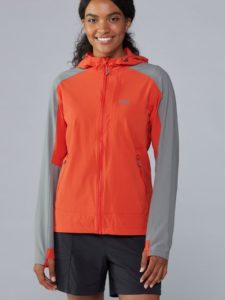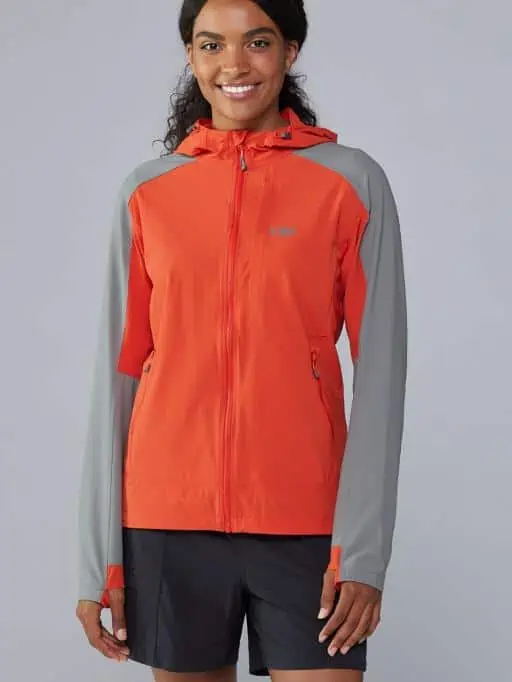 BEST FOR: ALL-AROUND USE
The Outdoor Research Ferrosi is a softshell hoodie that keeps you comfortable in the variable weather conditions you could encounter out on the trail. The main body of the jacket is stretchy to keep from restricting your mobility, while the shoulders and arms are made of reinforced proprietary Cordura fabric to prevent abrasion when you're bushwhacking through trees or scrambling up rocks. The fabric is also water and wind resistant to keep the elements out and warmth and dryness in.
The Ferrosi features zippered hand pockets as well as a zippered chest pocket to keep your valuables from falling out on the trail. Thumbholes keep the sleeves in place, and an adjustable hem cord cinches up at the waist.
Black Diamond Alpine Start
Specs
Weight

:

6.7 oz

Hood

:

Yes

Thumbholes

:

No
Features
Large Zippered Chest Pocket for Storing Valuables
Gusseted Underarms Provide Extra Mobility
Stuffs Down to Stow in Chest Pocket
BEST FOR: LONG ADVENTURES
The Black Diamond Alpine Start is perfectly packable for all your alpine objectives. It packs down to fit into its own chest pocket, and a loop for a carabiner attachment makes it easy to clip to a pack or a harness. Black Diamond's Schoeller fabric is stretchy and durable, and it is treated with Nanosphere technology to repel water and dirt.
The Alpine Start features gusseted construction in the underarms, which allows for exceptional freedom of movement. The longer torso and adjustable drawcord at the hem provide extra protection to seal out wind. The hood is also made to wear over a helmet if necessary.
Black Diamond Dawn Patrol
Specs
Weight

:

6 oz

Hood

:

Yes

Thumbholes

:

No
Features
Ultralight layer blocks alpine winds and snow spray
Nanospher technology repels moisture, dirt, and oil
Underarm gussets ensure freedom of movement
Zippered chest pocket stows jacket for compact storage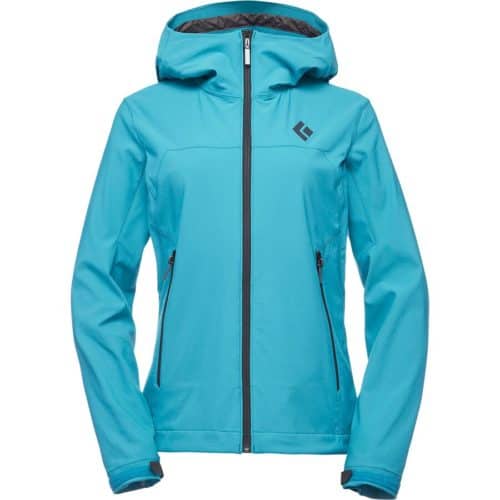 BEST FOR: WET WEATHER CONDITIONS
When you need a softshell with better weather resistance than traditional alternatives and the same breathability, you should take a look at the Black Diamond Dawn Patrol — it might be just what you find yourself reaching for.
The Dawn Patrol is a technical piece that serves to blur the line between a soft-shell and a rain shell. It boasts a fleece lining, large internal stash pockets, and a zippered exterior chest pocket. 
What I like most about the Dawn Patrol is how backcountry-specific it is.
Marmot ROM 2.0
Specs
Weight

:

14.4 oz

Hood

:

Yes

Thumbholes

:

No
Features
Gore-Tex laminate seals out moisture while releasing excess sweat
Stretchy nylon face fabric ensures you can move freely and easily
Fixed hood blocks out rain and ice cold winds while trapping heat
Packable design helps you adapt to the weather while you move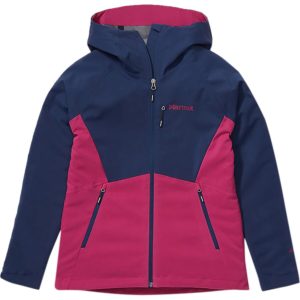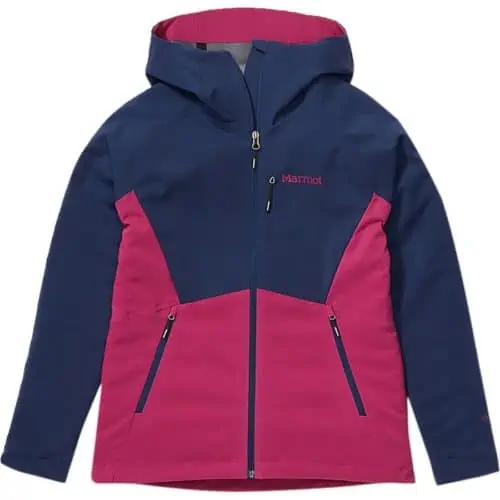 BEST FOR: WEARING ON EXTREMELY ACTIVE ADVENTURES
For the best combination of breathability and durability, this soft-shell tests above the rest. 
The Marmot ROM 2.0 is the brand's latest iteration in its line of highly popular performance apparel, especially designed for climbing and backcountry skiing. Marmot integrated newer Gore-Tex Infinium Windstopper fabric into the shell, making for added weather resistance without detecting from its coveted degree of breathability.
What I like most about the Marmot ROM 2.0 is how harness-friendly the pockets are designed to be.
Mountain Hardwear Kor Preshell
Specs
Weight

:

4.3 oz

Hood

:

Yes

Thumbholes

:

No
Features
Elastic Keeps Hood, Hem, and Wrist Cuffs in Place
Chin Guard and Windflap Offers Extra Protection from the Elements
Packs Up Small and Stuffs into Front Pocket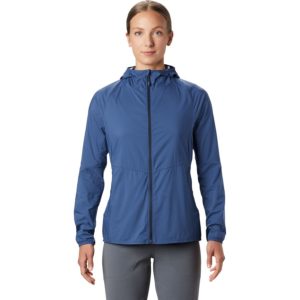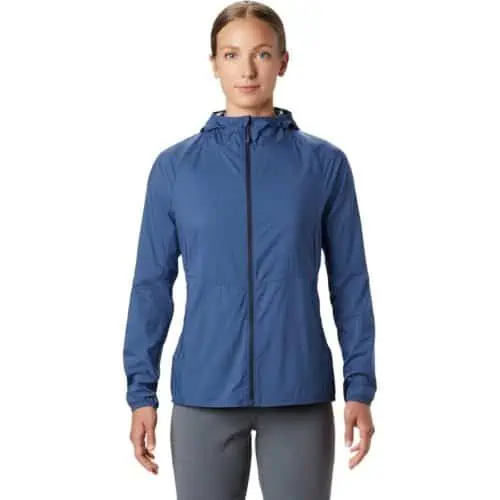 BEST FOR: MINIMAL & LIGHTWEIGHT HIKERS
The Mountain Hardwear Kor Preshell is an extra light layer that is made from a proprietary Pertex Quantum Air fabric which manages to be exceptionally breathable while also blocking the chill of wind. It is treated with a durable water resistant coating to repel water if you get caught in an unexpected rainstorm while you're hiking.
Strategically placed elastic on the hood, hem, and cuffs keep everything in place without constant fiddling. Zippered hand pockets keep your items secure, and the jacket stuffs down small enough to fit into one of the pockets when you're not wearing it. The Kor Preshell is also designed to fit over base and midlayers, so you can customize your layering system to suit the weather conditions.
The North Face Apex Risor
Specs
Weight

:

1 lb 5.5 oz

Hood

:

No

Thumbholes

:

No
Features
Extremely Wind Resistant
Fleece Backing for Extra Warmth
Forearm Pocket for Keeping Essentials at Arm's Reach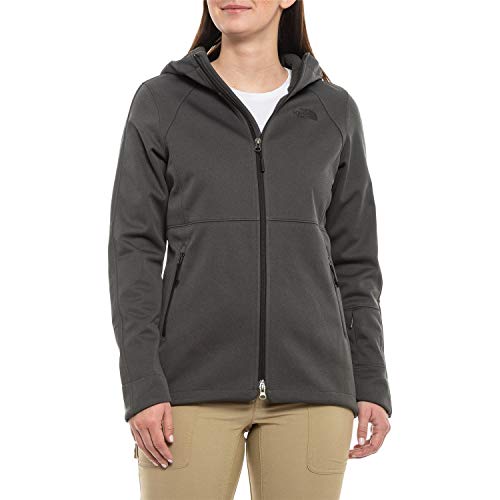 BEST FOR: WINDY SUMMITS
If you're hiking to summits above tree line, the North Face Apex Risor will keep you cozy despite the wind you're bound to encounter. The jacket is made from a proprietary WindWall fabric which prevents external air permeation, and it is backed by a fleece liner for even more insulation. The fabric is also treated to be water resistant if a storm arises and you get caught in the rain.
The hand pockets of the Apex Risor are zippered for security, and instead of a chest pocket, the jacket has a small zippered pocket on the forearm, so you can keep small important items close at hand for easy access.
Marmot Gravity
Specs
Weight

:

1 lb 5.8 oz

Hood

:

No

Thumbholes

:

No
Features
Lots of Zippered Pockets for Secure Storage
Fleece-Lined for Warmth
Collar is Lined with Moisture-Wicking Fabric
BEST FOR: EXTRA WARMTH
The Marmot Gravity is a fleece-lined softshell, making it a good choice if you run cold or spend some time not in motion, such as stopping for breaks on a hike or belaying during climbing. The front zipper has a full-length flap to keep air from seeping in, and an adjustable waist hem also helps with this.
The Marmot Gravity is designed with patented Angel-Wing Movement to give you extra mobility through the arms. However, the cut of the jacket tends to fit tight, especially across the shoulders, so you might want to size up, especially if you're planning to wear other layers underneath.
Mammut Ultimate V
Specs
Weight

:

9.9 oz

Hood

:

Yes

Thumbholes

:

Yes
Features
Moisture-Wicking Lining Keeps You Dry
Full Length Side Zippers for Ventilation
Extremely Windproof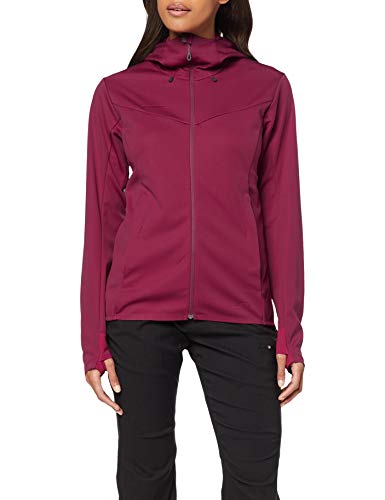 BEST FOR: SWEATY ACTIVITIES
The Mammut Ultimate V is meant for those who are working up a sweat, so it's a great go-to for challenging hikes and other strenuous adventures. The lining is moisture-wicking so sweat doesn't make you clammy and uncomfortable, and there are full-length zippers on each side so you can adjust the ventilation as you're on the go.
The Ultimate V is made from water repellent Gore Windstopper fabric, so when the wind gusts pick up, your temperature won't drop. Thumbholes keep the sleeves in place when you need a little extra protection from the chill.
Columbia Heather Canyon
Specs
Weight

:

15.2 oz

Hood

:

Yes

Thumbholes

:

No
Features
Binding on Hood and Cuffs to Keep Them in Place
Hem Drawcord for Adjustability
Zippered Hand Pockets
BEST FOR: PLUS SIZES
A thin softshell jacket, the Columbia Heather Canyon is made for when you need a little extra warmth and rain protection, but it's not going to be a good option for more extreme alpine conditions. It does come in plus sizes, so it can fit a wider variety of body types than some standard softshells.
Binding at the hood and cuffs keeps out the cold, and the fabric is water repellent if you get caught in a sprinkle or a shower. The hand pockets are zippered to keep your stuff safe, and the hem features a drawcord so you can cinch it up to fit tight and keep cold air out.
THINGS TO CONSIDER WHEN BUYING SOFTSHELL JACKETS FOR WOMEN
A softshell jacket is a versatile outer layer that keeps you warm and dry, while still being breathable and stretchy to give you freedom of movement. Most softshell jackets are made to repel water, though they are not going to stand up to extreme winter conditions where you really need a hardshell jacket. This article from Section Hiker explains the differences between a hardshell and a softshell jacket.
WARMTH
Although one of the main reasons to wear a softshell jacket is for warmth, you will be using the jacket while you're active outdoors, so you want to make sure you don't overheat. Some softshells have a fleece lining for extra warmth if you're hiking in colder conditions, while others have a moisture-wicking lining to keep you comfortable and dry when you sweat. Choose a softshell jacket that has the right warmth level for the activities you do and the climate you do them in.
WATER PROTECTION
Pretty much all softshells are treated to be water repellent, but very few are actually waterproof. If you're recreating in extremely wet conditions, a hardshell could be a better choice, though the Rab Kinetic Plus is an exception as a true waterproof softshell.
HOOD
Some softshells have hoods, which might be right for you if you want extra head protection without having to bring a hat. Hoods also offer more protection in the rain. However, they can get in the way and be a little bulky, so take into account the conditions you are usually in and think about whether a hood is necessary. Also, if you are a climber, you'll either want a helmet-compatible hood or a softshell without a hood at all.
FEATURES EXPLAINED
WATER REPELLENT
Fabric is treated with a DWR (Durable Water Repellent) so water doesn't soak in. It is not fully waterproof.
WIND RESISTANT
Fabric that stops some of the wind from permeating but is still breathable.
HELMET-COMPATIBLE HOOD
A hood that is designed with room to fit over or under a helmet.