Updated on February 7, 2020
As professional photographers say, it's good timing and skill that makes a great landscape shot, not high-end gear. However, it's hard to deny that adding a wide-angle lens to your equipment will significantly improve the quality of your images. But what are the best Canon lenses for landscape photography?
Considering how expensive photography equipment can be, choosing which lens to invest in can be tricky. Wide-angle lenses vary in size, weight, and low light performance, with advanced models designed for astrophotography and more traditional products built for versatility. In order to help you shop stress-free and prepare for your next outdoor photo session, we have selected the best five Canon lenses for landscape photography available online today.
For more of our top landscape photography gear recommendations, check out the Best Landscape Lenses.
Quick Answer

-

The Best Canon Lenses for Landscape Photography
Comparison Table

-

Best Canon Lens for Landscape Photography

For the best experience turn your device horizontally
Reviews

-

The Best Landscape Canon Lenses
Canon EF 11-24
Specs
Aperture

:

f/4

Focal Length

:

17-40mm

Length

:

3.8 inches

Weight

:

1.1 lbs
Features
Low Distortion
Affordable
Lightweight And Compact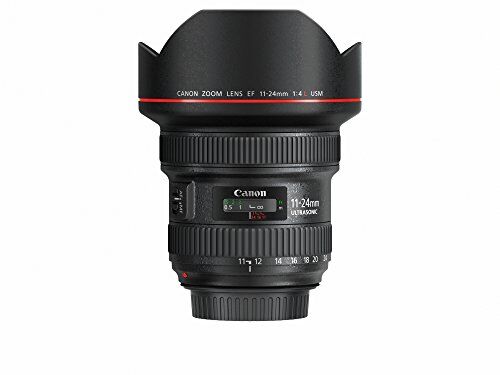 BEST FOR: THE ALL-AROUND EXPLORER
The ultrasonic motor of the Canon 17-40mm provides fast and silent autofocusing that will allow you to shoot discreetly without disturbing any wildlife you may find in the surroundings. The weather resistant coating ensures that you'll get that perfect shot in rain, hail, or shine.
Compared to most of Canon's wide-angle lenses, the 17-40mm is extremely affordable, listed at just under $500. It is a great all-around lens for beginners planning to shoot in new and unpredictable environments without breaking the bank. The lens is also lightweight and relatively compact, making it easier to catch the moment every time the opportunity presents itself.
Canon EF 8-15
Specs
Aperture

:

f/4

Focal Length

:

8-15mm

Length

:

3.3 inches

Weight

:

1.9 lbs
Features
Extreme Wide-angle For Fisheye Photography
Unique Focal Length Range
Instant Switching From Af To Manual Focus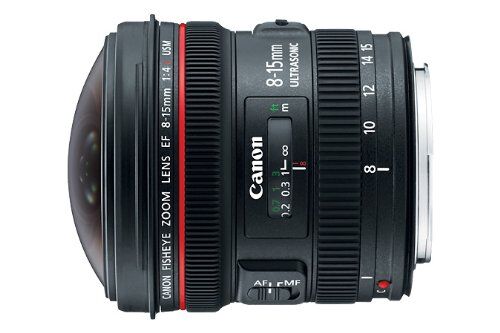 BEST FOR: THAT PERFECT FISHEYE LOOK
The Canon EF 8-15mm f/4L Fisheye USM provides advanced optical capabilities that deliver truly unique images. While this lens is designed to be used on full-frame cameras, it works impressively well on crop-sensor bodies as well, retaining it's ultra-wide focal length.
Shooting such wide and circular images comes with the challenge of keeping yourself and your tripod out of the photos, which may take some getting used to. On the other hand, this lens performs extremely well without the need for an image stabilization system, even when experimenting with longer exposures in low-light conditions. Fisheye lenses can be an acquired taste, but this lens allows you to let your imagination run wild and capture amazing landscapes like no other lens can.
Canon EF 16–35mm
Specs
Aperture

:

f/2.8

Focal Length

:

16-35mm

Length

:

5 inches

Weight

:

1.74 lbs
Features
Fast, Constant Aperture For Optimal Low Light Performance
Brilliant Design
Dust- & Water-resistant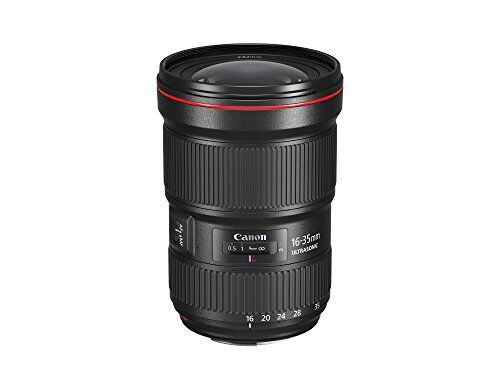 BEST FOR: EXTREME SHARPNESS AND CLARITY
The Canon EF 16-35mm f/2.8L III USM lens is on the expensive end of the spectrum, costing just under $2,000, but for this high price point you get a lens with brilliant optical design that will provide extreme sharpness and clarity in any setting. The sub wavelength and air sphere coatings on the lens help to drastically reduce the amount of flare, ghosting, and reflections in your images, enabling you to get those beautiful beach shots without having to worry about the midday sun. This ultra-wide angle lens allows the user to capture a full landscape in each shot without compromising on quality.
Canon EF 24-70mm
Specs
Aperture

:

f/2.8L

Focal Length

:

24-70mm

Length

:

4.45 inches

Weight

:

1.77 lbs
Features
Large Aperture
Fast Autofocus
Good Color Balance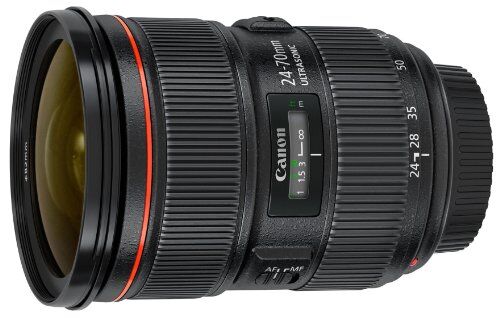 BEST FOR: SHOOTING LIKE A PRO
The Canon EF 24-70mm f/2.8L II USM is a great lens for those looking to take the plunge into buying a big lens with professional capabilities. This Canon lens performs extremely well on most, if not all, Canon camera bodies.
It is a powerful all-rounder lens, small in size and light in weight, but is also weather sealed, which makes it perfect for any kind of shooting conditions. The sharpness of the lens is infallible, even when used to get those close up macro shots of the flowers in your garden. This sturdy little lens weighs just under 2lbs and is aimed at experienced photographers or serious enthusiasts. The one feature that this lens lacks is image stabilization, however, all of the other exceptional features make up for this.
Canon EF 11-24mm
Specs
Aperture

:

f/4

Focal Length

:

11-24mm

Length

:

5.2 inches

Weight

:

2.6 lbs
Features
Highly Dust And Water Resistant Design
Expansive Wide-angle Focal Range
Compact Design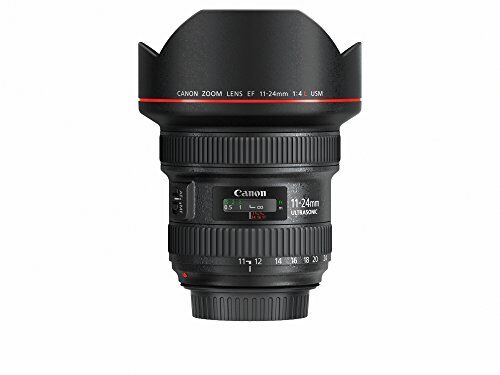 BEST FOR: THE ULTIMATE WIDE-ANGLE SHOT
The Canon EF 11-24mm f/4L USM lens provides the ultimate experience in wide-angle photography. It is one of the widest zoom lenses that Canon produces, designed to correct any chromatic aberration and combat distortion.
Priced at just below $2,700, this lens is definitely not for the faint of heart. However, the Canon EF 11-24mm really does provide the bang for your buck — allowing creative photographers to capture amazing landscape shots like they never have before. The stunning colors and sharpness produced by this lens are a result of its solid construction with the highest quality glass. This lens also performs extremely well in low light conditions, enabling you to create gorgeously wide images of all the stars in the night sky.
THINGS TO CONSIDER WHEN BUYING CANON LENSES FOR LANDSCAPE PHOTOGRAPHY
SIZE AND WEIGHT
Landscape photography always involves spending a long time in the outdoors, often carrying your camera gear to remote destinations to shoot scenes never captured before. When buying a Canon lens for landscape photography, check its size and weight. Many wide-angle zoom lenses can be heavier than the camera itself, and while the bulkier models do provide exceptional results, it's good to keep in mind what type of activities they will be used for.
LOW LIGHT PERFORMANCE
The low light performance of a lens depends significantly on its aperture. With the term "aperture" we refer to the channel that allows external light to reach the sensor and capture the photograph. A wide aperture, measured in f-stops, means that the camera will take a clearer picture even when light conditions are not optimal. Photographers shooting at twilight or attempting to capture star trails will prefer a lens with a wide aperture, as it will produce images crisp and free of grain even when the sun is absent. This type of lenses is expensive — probably not worth the investment if you are a beginner shooting mostly in daylight.
FOCAL RANGE
Wide-angle lenses are the most commonly used to shoot landscapes. Their ability to frame ample scenes is what makes them preferable over medium or telephoto lenses, however not all wide-angle lenses are equal. Depending on what you want to achieve, you may opt for an ultra-wide lens or something closer to a medium telephoto. Choosing a lens for landscape photography is mostly a matter of personal taste, and while traditionally landscapes are captured at 24mm or lower, you may decide that a 35mm or even a 50mm better suits your style.
COST
Canon's wide-angle lenses are generally expensive, often out of budget for beginners. But there are good exceptions for those wanting to step up their landscape photography game without breaking the bank. The price of a lens depends on a number of factors, including build quality, maximum aperture, and features such as image stabilization, weather sealing, or anti-glare coatings. All of these characteristics affect the quality of the photographs, but they may not be essential for those who are just starting out.
FEATURES EXPLAINED
WIDE-ANGLE
A lens commonly used in landscape photography for its ability to capture vast scenes in a single frame.
APERTURE
The channel that allows external light to reach the sensor and capture the photograph.
FOCAL LENGTH
The space between lens and sensor, measured in millimeters, which affects how wide or narrow the field of view will be.
DISTORTION
The type of warping visible in an image captured with an ultra-wide-angle lens.
ZOOM
The ability to change the focal length manually, by twisting a ring position on the exterior of the lens.
AUTOFOCUS
The technology that allows the lens to automatically adjust the focus on a given subject.