Updated on February 7, 2020
Birds are among the most interesting subjects in nature photography, but capturing them in their environment can be tricky. The best lenses for bird photography are designed to let you capture the animals without disturbing them. Many parks provide huts designed specifically to give a hiding place to the photographer, however, your shooting position will make a difference only if you have the right gear.
The first rule of a good bird photographer is to try and not be noticed by the animals that they are trying to "capture" with their lens. Because of this, long telephoto lenses are more suitable for bird photography, as they allow you to maintain distance between you and your subject while capturing incredibly detailed images. We've rounded up the best lenses for bird photography in order to help you get closer to your little (or not so little) subjects without being intrusive.
For more of our top wildlife photography gear recommendations, check out the Best Lenses for Wildlife Photography. 
Quick Answer

-

The Best Lenses for Bird Photography
Tamron SP 150-600mm F/5-6.3 Di VC USD

Sigma 70-300mm f/4-5.6 DG APO

Sony FE 100-400mm F4.5–5.6 GM OSS

Sony FE 70-200mm f/2.8 GM OSS

Fujinon XF 55-200mm F3.5-4.8 R LM OIS

Fujifilm XF 100-400mm f/4.5-5.6 R LM OIS WR
Comparison Table

-

Best Lens for Bird Photography

For the best experience turn your device horizontally
Reviews

-

The Best Bird Photography Lenses
Canon EF 100-400mm IS II
Specs
Aperture

:

f/4.5-5.6L

Focal Length

:

100-400mm

Length

:

7.6 inches

Weight

:

3.46 lbs

Mount

:

Canon
Features
Creates A Beautiful Background Blur
Versatile
Fast And Silent Focusing System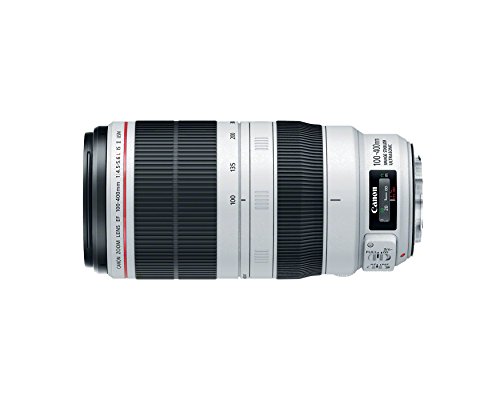 BEST FOR: CRISP RESULTS
The Canon 100-400mm IS II lens has an advanced build, incorporating special elements that reduce distortion that often creep into zoomed images. A special coating has also been included to prevent lens flare and blur. Not only these, but many other features as well make your photos detailed and rich. Plus, the lens is weather-sealed and protected against smudges – perfect for shooting outdoor scenes and subjects besides birds. 
Another notable feature is stabilization. The Canon IS II lens has 4-stop stabilization, meaning that it reduces camera shake to make it appear as though the shutter speed is higher and the images are crisper. This is crucial for wildlife bird photography since birds move very quickly, and any shake will turn into blurring. However, for times when you need a blurred background, IS II has a 9-blade diaphragm – the part that controls aperture – that provides a smooth depth of field, helping your feathered friend to stand out even more.
Nikon 200-500mm f/5.6 VR
Specs
Aperture

:

f/5.6E

Focal Length

:

200-500mm

Length

:

10 inches

Weight

:

5 lb 1.2 oz

Mount

:

Nikon
Features
More Than 500mm Of Zoom Power Allows You To Get (Visually) Closer To The Animals
Great Image Quality And Fast Autofocus
Most Affordable Telephoto Lens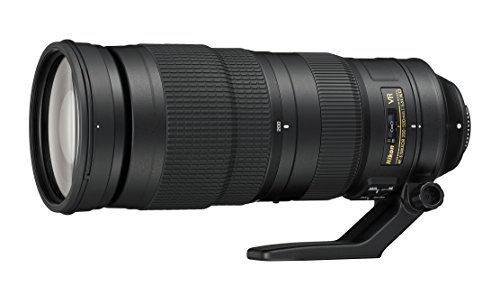 BEST FOR: EXPOSURE CONTROL
As opposed to focusing on the sharpness of the image, the Nikon 200-500mm f/5.6 VR lens specializes in exposure control. It has an electromagnetic aperture mechanism that provides a lot of control and stability over the exposure of the image. This is especially great if you are shooting continuously, for example when you are taking photos of birds in flight. Plus, the lens' motor results in silent and fast autofocus, capturing the moments you need without scaring your subject away with noise. 
Since this is a telephoto lens, it is prone to color fringing, where magenta lines appear in areas of contrast, and distortions at higher zooms. However, the VR lens has dispersion elements in its optic design. This allows for higher color accuracy and contrast. While all this sounds good, this lens is heavy, weighing 5 pounds, and it is not weather-sealed. Thus, it is not too comfortable for outdoor shooting in non-dry conditions.
Nikon 80-400mm VR
Specs
Aperture

:

f/4.5-5.6D

Focal Length

:

80-400mm

Length

:

6.73 inches

Weight

:

2.95 lbs

Mount

:

Nikon
Features
Compact, Lightweight Lens With Vibration Reduction
Superior Sharpness
Great Image Stabilization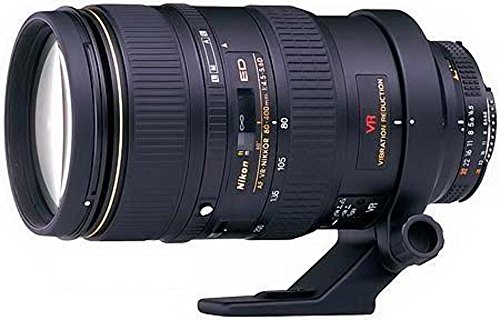 BEST FOR: THE ALL-AROUND BIRD-WATCHER
While this is not the lens with the highest zoom capabilities, the Nikon 80-400mm VR lens is one that has the largest range. Its zoom covers the ground from portrait and wide-angle scenes to impressive telephoto shots. This versatility lets you experiment with your style; you can photograph birds from up-close in zoos, or from afar in parks. Plus, you can take macro photos of birds, emphasizing their feathers, eyes, and so on. 
Similarly to other lenses on this lists, this one has image stabilization up to 4 shutter speed stops, dispersion elements, and a Silent Wave motor. All these help with wildlife photography, reducing blur, correcting color distortions, and improving autofocus. Focus can also be improved with a versatile depth of field, which this lens allows with its 9-blade aperture diaphragm. A Nano Crystal coating enriches colors in bright and backlit scenes.
Canon EF 400mm f/5.6L
Specs
Aperture

:

f/5.6L

Focal Length

:

400mm

Length

:

10.12 inches

Weight

:

2.8 lbs

Mount

:

Canon
Features
Built-in Hood And A Detachable Tripod Mount
Amazingly Fast Autofocus
Superb Build Quality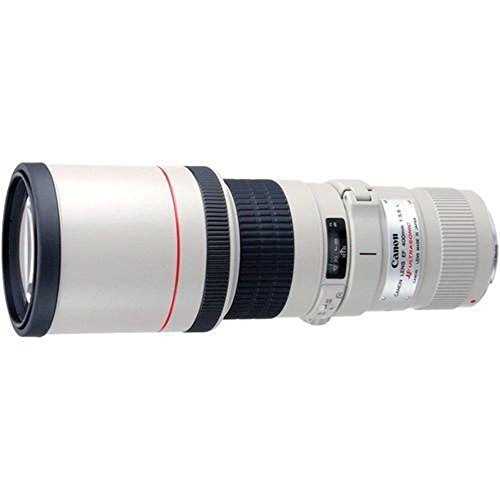 BEST FOR: THE PROFESSIONAL 
Canon 400mm f/5.6L – the only prime lens on this list – integrates efficiency and light weight in its design. It is roughly twice as light as most other telephoto lenses, weighing just 2.8 pounds. This allows you to effortlessly operate it outside. Another reason you can work with it in the outdoors without worries is that it is dust-tight and protected against inclement weather. So, you don't have to worry about ruining your lens in humid conditions. 
As mentioned, this is a prime lens, which is fixed with no zoom options. However, these types of lenses are faster and provide better background blur. Added to that is an Ultrasonic motor for fast autofocus, so you will not miss the perfect shot of such speedy creatures as birds. If you are worried about lens flare since you want to photograph birds in the sky, the lens has that covered. It offers a Super Spectra coating that reduces flare and corrects color, and a lens hood that prevents too much light from entering the shot.
Tamron SP 150-600mm F/5-6.3 Di VC USD
Specs
Aperture

:

f/5-6.3

Focal Length

:

50-600mm

Length

:

10.2 inches

Weight

:

4.4 lbs

Mount

:

Nikon
Features
Increased Sharpness
Captures Realistic Colors With No Aberrations
Well-designed Tripod Collar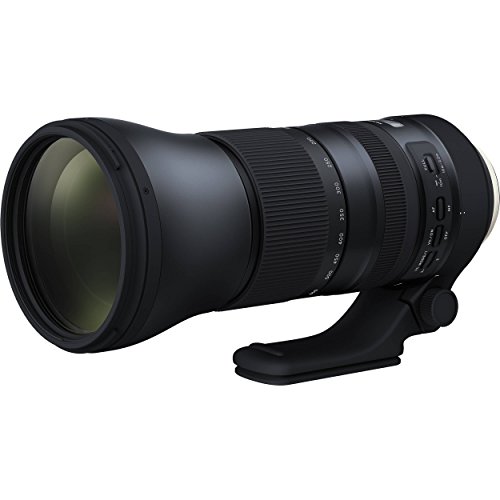 BEST FOR: THE DISTANT BIRD
The Tamron SP 150-600mm F/5-6.3 Di VC USD is the lens with the biggest zoom on this list. Such telephoto ranges are perfect for bird photography, as you may be shooting far into the sky or zooming into a distant nest. However, there is a tradeoff for that, which is a less controlled exposure. Despite the zoom of the lens, it is more compact than you would expect since it is engineered so that optical elements don't move, conserving space and weight.
This lens is typically used with Nikon cameras, providing great performance. Naturally, it has vibration reduction that is effective enough to support long shutter speeds, small apertures, hand-held shooting, and low-light conditions. Various coatings protect the lens from flare, color distortions, and dull contrast. Another feature of the lens is its Ultrasonic motor that makes autofocus fast and nearly silent. To expand its outdoor use, Tamron Di VC is weather-sealed, letting you remain bird-watching during inclement weather.
Sigma 70-300mm f/4-5.6 DG APO
Specs
Aperture

:

f/4-5.6

Focal Length

:

70-300mm

Length

:

4.8 inches

Weight

:

1.21 lbs

Mount

:

Nikon / Canon
Features
Great Price For A Telephoto Zoom Lens
Extremely Compact Design
Macro Shooting Function To Capture Small Subjects From A Near Distance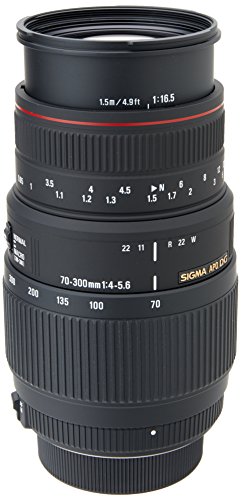 BEST FOR: THE ONE KEEN ON COLOR
If you are looking for a third-party lens with great color fidelity, then the Sigma 70-300mm f/4-5.6 APO is the one for you. Firstly, the Sigma 70-300 is designed to reproduce colors as realistically as possible, reducing to a minimum the risk of aberration. Another major feature of this lens is that it functions as a tele-macro lens, working well with both. Thus, you can zoom into the distance or zoom into a close-up of a bird, and the lens will support you either way. 
Besides these main points, the Sigma 70-300mm has multiple layers of coating and a 9-blade aperture diaphragm. Multiple layers of coating protect your images from flare and improve contrast. Meanwhile, the 9-blade diaphragm gives you control over the depth of field. It does not matter if you have a Nikon or a Canon, this lens is compatible with many cameras since it has a built-in autofocus motor.
Sony FE 100-400mm F4.5–5.6 GM OSS
Specs
Aperture

:

f/4.5–5.6

Focal Length

:

100-400mm

Length

:

11.93 inches

Weight

:

3.08 lbs

Mount

:

Sony
Features
Optical Steadyshot Image Stabilization Significantly Reduces Blur
The 9-blade Circular Aperture Contributes To Gorgeous Background Blur
Double Motor System For Fast And Precise Focusing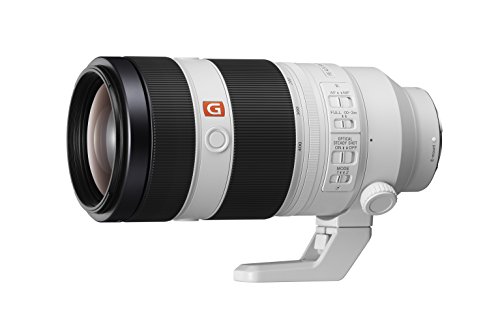 BEST FOR: THE ON-THE-GO ARTIST
Being part of Sony's G Master line, the FE 100-400mm lens offers great resolution with rich sharpness. This telephoto lens also has an E-mount, so you can use it with full-frame mirrorless cameras. You can further adjust how stiff the zoom ring is – or how much force you need to apply to zoom in. This can be great if you switch between using the zoom a lot to picking one setting and sticking with it, or if you are always on the go. 
In bird photography, the lens needs to perform well in tracking moving subjects. Thus, Sony F4.5-5.6 GM OSS has a few focus-related features just for that. Firstly, it has a focus range limiter and different focus hold controls that result in better precision. As for more standard specifications, the lens has an anti-smudging coating, SteadyShot image stabilization, and anti-flare coatings. For outdoor bird shooting, the lens is weather-sealed, and has a compact build, weighing just 49.2 ounces.
Sony FE 70-200mm f/2.8 GM OSS
Specs
Aperture

:

f/2.8

Focal Length

:

70-200mm

Length

:

11.93 inches

Weight

:

4.91 lbs

Mount

:

Sony
Features
Dust And Moisture Resistant For Robust Reliability
High-Performance Optical Image Stabilization
Mechanical Focus System For Precise Manual Focus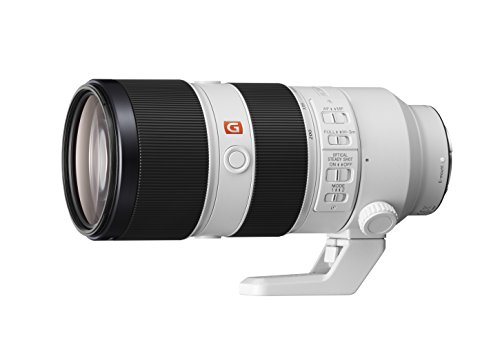 BEST FOR: FAST-MOVING BIRDS
Another member of the G Master series, the FE 70-200mm has a similar optical design than the previous lens but with a set of different features. As already mentioned, this lens provides sharp and clean photos that catch a professional's eye. However, it also has a smaller zoom range and less magnification in general. 
While this does mean that it won't be able to photograph subjects as far away as a 300mm lens can, this GM OSS has a better aperture range, giving you faster shutter speeds up to f/2.8. Thus, you can capture images of fast-moving birds in all their details. This aperture range is also an asset in low-light conditions and hand-held photography. If you want to experiment with background blurring, the lens has an impressive aperture diaphragm with 11 blades. What this does is it works fast and creates a smooth bokeh (background blur) effect, making your bird model stand out.
Fujinon XF 55-200mm F3.5-4.8 R LM OIS
Specs
Aperture

:

f/3.5-4.8

Focal Length

:

55-200mm

Length

:

4.65 inches

Weight

:

1.27 lbs

Mount

:

Fujifilm
Features
Creates Sharp And Crisp Images Across Its Entire Zoom Range
Superior Control Over Chromatic Aberration
Image Stabilization Function To Reduce The Risk Of Blur
BEST FOR: VISITS TO THE AVIARY
The Fujifilm XF 55-200mm f/3.5-4.8 R LM OIS is a standard telephoto lens that can be mounted onto mirrorless Fujifilm cameras and is fairly affordable. While it is not a superzoom lens, it has the basics covered, which are great for visits to the aviary or a park. The lens' optical design focuses on reducing chromatic aberrations, such as magenta lines along the areas of contrast or color inaccuracies in distant scenes. It also provides sharp images and decent control over the depth of field. 
As for other features, this XF 55-200mm lens has a Super EBC coating, a 4.5 stop image stabilization, and a silent autofocus system. The coating ensures that your photos are not compromised by flare or color distortions. The stabilization reduces camera shake to make it seem like you were shooting with a higher shutter speed. And the linear motor is great for fast-moving subjects like birds. And since you will be spending lots of time outdoors, you might appreciate the light weight of this lens – just 20.5 ounces!
Fujifilm XF 100-400mm f/4.5-5.6 R LM OIS WR
Specs
Aperture

:

f/4.5-5.6

Focal Length

:

100-400mm

Length

:

8.29 inches

Weight

:

3 lbs

Mount

:

Fujifilm
Features
Efficient Autofocus Motor For Fast Performance
Weather-sealed Construction To Guard Against Dust And Moisture
Excellent Background Blur Effect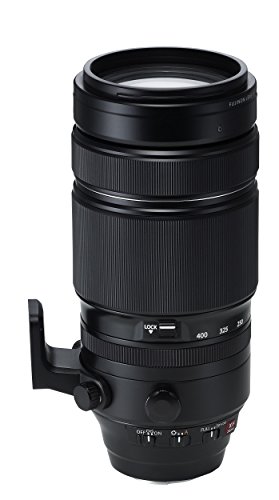 BEST FOR: FOCUSED WORK
An improved version of the previous lens, the Fujifilm XF 100-400mm f/4.5-5.6 R LM OIS WR offers many features, but also a hefty price. First off, this lens has twin linear motors, meaning that the performance of autofocus is much better, and more equipped for quick birds. Secondly, the lens has better image stabilization, reaching 5 stops for even sharper photos. Another noteworthy point is that it is compatible with Fujifilm mirrorless cameras.
Besides these, there are different zoom and focus features as well. The lens has a focus limiter switch, letting you choose how far you want to focus. This makes autofocus much faster and more efficient, especially with distant subjects like birds. Plus, a zoom lock will help you maintain needed zoom settings without fear of accidentally changing them. And lastly, the lens is equipped with 13 weather seals, so you can take photos in inclement and cold conditions.
THINGS TO CONSIDER WHEN BUYING A LENS FOR BIRD PHOTOGRAPHY
FOCAL LENGTH
The focal length determines from what distance the lens is capable of capturing a subject. Since birds tend to be easily disturbed, telephoto lenses are preferred over short and medium range lenses. Telephoto lenses allow you to shoot small animals even from far away. The downside is that they tend to be less effective in low light conditions.
WEIGHT
Telephoto lenses come in a variety of sizes, but the larger, professional ones can weigh much more than the camera body. If you decide to splurge in pro-lens, keep in mind that on top of having to carry it everywhere, you may need a tripod to mount it on. Budget telephoto lenses are a valid option if you are just starting out as a bird photographer. They allow you to get fairly close to the animals and shoot excellent pictures if enough light is available. They are slower than top-grade lenses, but usually enough for a beginner to experiment with.
WEATHER SEALING
Since you'll be spending a lot of time shooting in the outdoors, consider investing in a weather-sealed lens. Weather-sealed lenses are protected against dust, moisture, and light rain. They will allow you to keep shooting even if conditions are not ideal, with the opportunity of capturing unique images that are normally unseen.
COST
When we talk about lenses there is really no limit in terms of pricing. Professional lenses can cost much more than a camera body and the difference between a cheap and an expensive lens can be seen clearly in their output. Beginners can opt for an affordable third-party lens to start shooting wildlife, however, this will perform poorly in a dark environment. Too shoot small birds in a forest, for example, a low-end lens might not be enough to produce clear, sharp pictures of distant animals. Speed and capacity to shoot grain-free pictures in low-light are what you pay for.
FEATURES EXPLAINED
FOCAL LENGTH
The distance between the lens and sensor, measured in millimeters. A higher focal length allows for shooting distant subjects without getting closer.
BOKEH
Bokeh is the background blur effect resulting from images with a shallow depth of field.
APERTURE
The channel that lets the light reach the sensor and capture the image.
ZOOM
The ability to adjust the focal length to get closer to a subject by twisting a ring on the lens.
TELEPHOTO LENS
A telephoto lens is a type of lens designed to capture distant subjects.