Updated on November 2, 2021
When choosing the best MTB jacket for your cycling excursions, the main factors to keep in mind are comfort, performance and durability. A mountain biker needs all of these working together in order to remain warm and dry for extended periods in a variety of riding conditions. So, consider these questions: Will the design allow for movement and breathability? Will its features maximize convenience and momentum? Will its materials protect against the weather and elements?
Meeting these requirements can help you find the right style for hitting those trails. Here at The Adventure Junkies, we're taking out the guesswork with a breakdown of our favorite MTB outerwear picks. Whether you're conquering the steep elevation and frigid climate of the Rockies or navigating the rugged desert landscape of Phoenix, we've got you covered with the best options available––no matter where that love for nature and passion for mountain biking takes you!
For more of our top mountain biking gear recommendations, check out the Best Mountain Bike Shorts.
Quick Answer

-

The Best MTB Jackets
Pearl Izumi Elite Barrier

Gore Bike Wear Phantom Windstopper
Comparison Table

-

Best MTB Jackets

For the best experience turn your device horizontally
Reviews

-

The Best Jackets for Mountain Biking
Showers Pass Elite 2.1
View Women's Version
BEST FOR:

LONG-DISTANCE RIDING
PROS: This jacket is body-mapped to keep you ventilated on the inside and protected from the weather outside, while the large pockets and reflective trim maximize both storage and visibility
CONS: Due to its impressive safety and performance features, this jacket is among the most expensive currently on the market
Pearl Izumi Elite Barrier
View Women's Version
BEST FOR:

EXTENDED SEASON RIDING
PROS: This jacket is excellent for year-round usage in a variety of altitudes and conditions due to its contoured and semi-form fitting ergonomics that create an elasticized, weather-tight seal
CONS: Because the structure of this jacket tends to feel snug on the body, those who want a breathable fit should consider sizing-up
Marmot 41200 PreCip
View Women's Version
BEST FOR:

BACKCOUNTRY TRAIL RIDING
PROS: This jacket is both affordable and multi-functional, offering unrestricted movement, reducing moisture build-up, and compressing into its own pocket for convenient portability
CONS: The construction of this jacket is on the looser, baggier side which might not be ideal for bikers who prefer a more athletic fit
Gore Bike Wear Phantom Windstopper
View Women's Version
BEST FOR:

SPEED RIDING
PROS: This jacket is engineered for the technical athlete who needs moderate protection in cool or damp environments without feeling weighed down, and its detachable zipper sleeves offer just that
CONS: Since its main purpose is to elevate performance and momentum, this jacket likely won't sustain body heat over long periods of time
Columbia OutDry Ex Eco
View Women's Version
Specs
Weight

:

340.20 g

Waterproof?

:

Yes

Windproof

:

Yes
Features
MATERIALS: Polyester/OutDry Extreme Membrane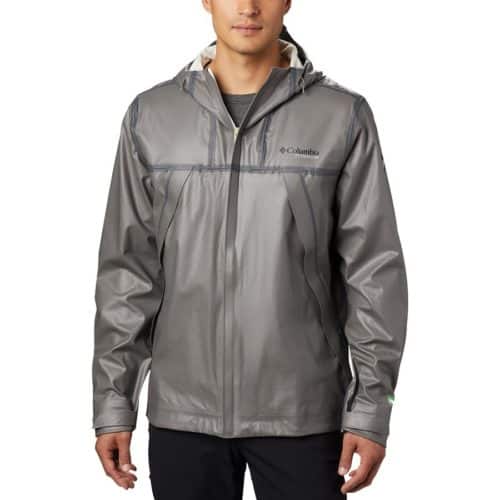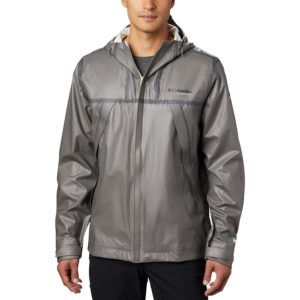 BEST FOR:

BACKCOUNTRY TRAIL RIDING
PROS: This jacket is not only a proven line of defense against rain, it's also among the most eco-conscious biking garments available, thanks to a process of turning plastic bottles into weather-tight fabric
CONS: Earth friendly gear doesn't often come cheap due to labor intensive manufacturing, so this jacket might not work within your budget
The North Face Venture 2
View Women's Version
BEST FOR:

BACKCOUNTRY TRAIL RIDING
PROS: This jacket is made with innovative water repellent technology to ensure multi-layer protection and moisture permeability and breathable comfort, no matter the season or trail conditions
CONS: The cut of this jacket is more relaxed which could be a hindrance to cyclists who don't like their outerwear to flap or billow on the descent
Wolfbike Fleece Thermal
BEST FOR:

SPEED RIDING
PROS: This jacket is an economical option for winter riding, as the windproof outer shell and fleece inside layer retain body heat, while the streamlined jersey fit optimizes your speed training
CONS: The materials are not waterproof, so this jacket won't shield you from precipitation, making it more conducive to drier, low-humidity climates
HOW TO CHOOSE THE BEST MTB JACKETS
COMFORT
According to Road.CC, a MTB jacket should allow the upper-body to bend over the handlebars for optimal steering in high-altitudes. Lightweight ergonomics help you maneuver through uneven surfaces, abrupt turns or sharp inclines without restricting speed and agility. The most practical jackets combine a streamlined fit, relaxed comfort and weight compression to support your range-of-motion.
PERFORMANCE
When you're pedaling in mountainous terrain, it's crucial to keep the hands free, so you can focus on safety and efficiency. So, you need an MTB jacket with convenient storage for all that gear and equipment. The Clymb suggests front or rear pockets with simple closure and waterproof lining to stash your wallet, keys, phone, GPS, snacks and other items. This feature promotes the accessibility and functionality to perform on all cylinders.
DURABILITY
Venturing off-the-grid means you'll encounter unexpected weather and temperatures. So, prepare for environmental shifts with a jacket made of materials that offer insulation and ventilation. Choose fabrics with rain- and wind-proof membranes to protect yourself in climate extremes. Also, consider the jacket's moisture wicking, or breathability, since your internal temperature rises with exercise. The goal is conserving warmth, but not to a stifling degree.
BUDGET
High-quality jackets range from $120 to over $200, so consider this a long-term investment. A higher price equals better function and lifespan, so if you can afford a more expensive option, it's the ideal choice. For bikers on a budget though, you can forego certain features to reduce the cost. For instance, waterproof is pricier than water-resistance, so if you ride in mild conditions, this tradeoff makes sense.
READ MORE
For more of our top mountain biking gear recommendations, check out these popular buyer's guides: