Updated on November 26, 2021
There are a few items that are essential to any successful snowboarding expedition. A good bar of chocolate for a snack on the mountain. A better pair of socks so that your feet don't get too cold. And the best snowboard helmet money can buy.
We all fall now and again, and when you're snowboarding, that's no exception. Whether the trail is bumpy or the light is flat, we can catch an edge and topple over at any time. So to prevent that concussion you're dreading, you need a good helmet. Because apart from adding some much needed style, a proper helmet may just save your life.
We know that choosing the perfect helmet for you can seem like a daunting task, especially with all of the features they come with now-a-days. Fortunately, we here at The Adventure Junkies have picked out the ten best snowboard helmets for you, so you can protect your brain without stressing over which one to buy. Read through the list below and find the best one for you.
For more of our top snowboarding gear recommendations, check out the Best Snowboarding Helmets for Women.
Quick Answer

-

The Best Snowboard Helmets
Sweet Protection Ascender MIPS
Comparison Table

-

Best Snowboard Helmet

For the best experience turn your device horizontally
Reviews

-

The Best Helmet for Snowboarding
Smith Vantage MIPS
Specs
Adjustable

:

Yes

Material

:

Koroyd

Weight

:

1 lb. 1.5 oz.

Vents

:

Adjustable
Features
Lightweight Hybrid SL shell construction
Adjustable climate control with 21 vents
Offers goggles integration for maximum airflow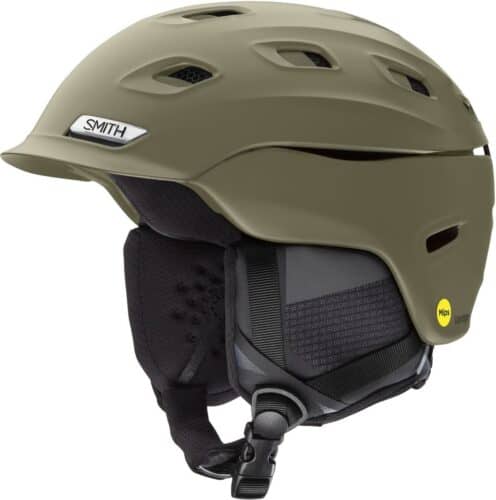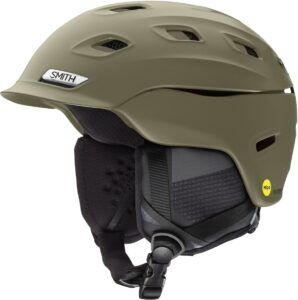 BEST OVERALL HELMET
If you're looking for equally functional and feature-rich head protection, you'll find the Vantage offers the best of both worlds.
The Vantage is one of the warmest helmets on the market and yet ventilates well thanks to twenty-one adjustable vents. This goggle is extremely compatible with most brands of helmets. MIPS technology mitigates rotational impact forces and the BOA system makes for one of the most adjustable fits on the market.
What I like most about the Smith Vantage MIPS is how stylish it is.
Giro Ledge
Specs
Adjustable

:

Yes (Auto Loc 2)

Material

:

Polycarbonate

Weight

:

Unavailable

Vents

:

Yes
Features
Stack Vent aligns with the center vent of your goggles to keep them fog-free
On-the-fly vertical tuning accommodates different goggles
Removable goggle retainer and earpads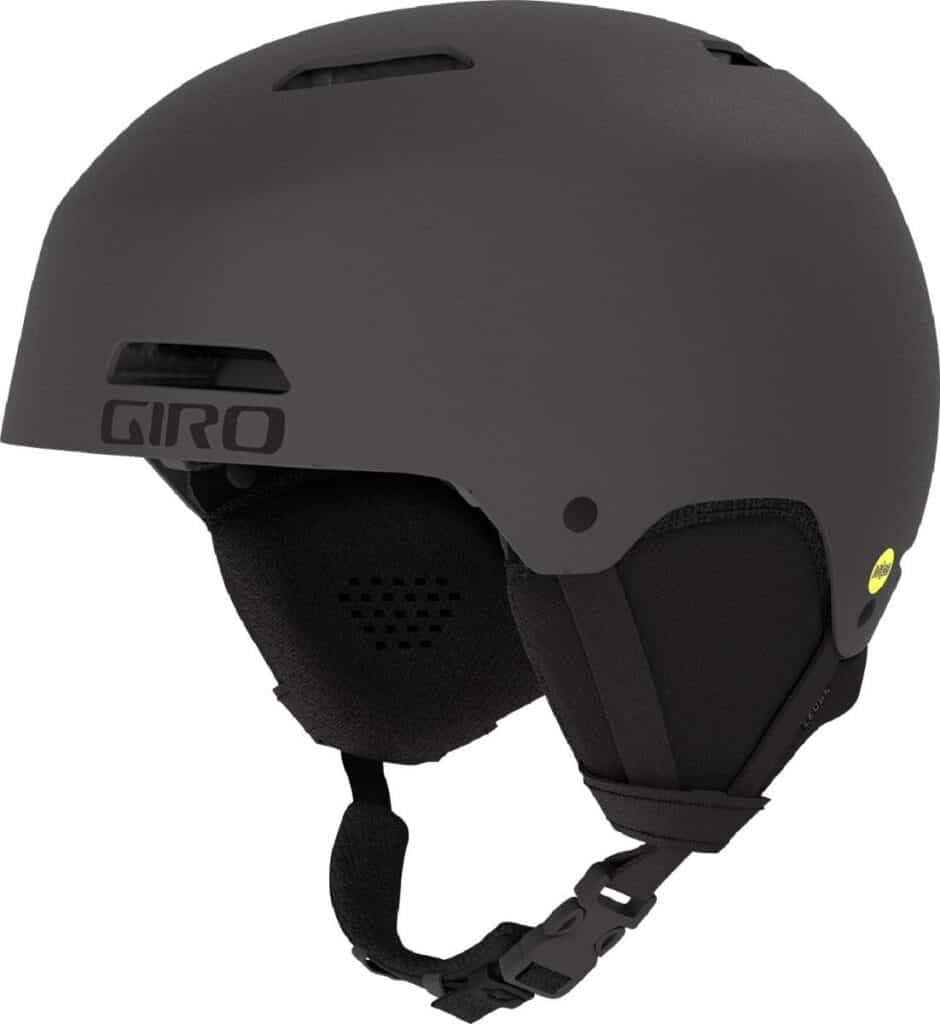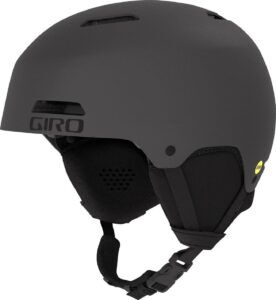 BEST FOR BUDGET
For under $75, you'd be hard pressed to find higher quality or better performing head protection.
The Giro Ledge boasts a minimalist feel and no frills design. Hard shell construction is complimented by 8 fixed open vents which provide for ample ventilation. It features a removable auto loc 2 fit system that allows you to dial in the ideal fit.
What I like most about this helmet is the quality coverage that it provides for.
Pret Cynic X2 MIPS
Specs
Adjustable

:

Yes (Ripcord System)

Material

:

Polycarbonate

Weight

:

15.5 ounces

Vents

:

Yes
Features
Audio-ready pockets
X-Static® XT2 lining inhibits growth of odor-causing bacteria
Fidlock® magnetic buckle is easy to open with one hand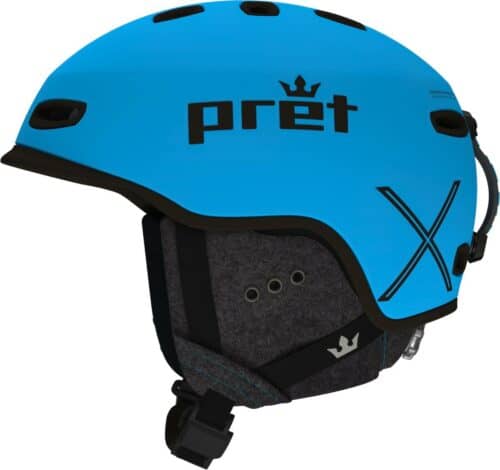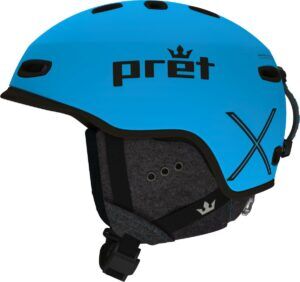 BEST FOR: RESORT RIDING
When you need low profile, lightweight protection, reach for the Pret Cynic X2.
The brand designed the X2s with direct level 1 ventilation and 12 vents in total. A quick-release ripcord system provides for 4 centimeters of micro adjustment for the most precise fit.
What I like most about the Pret Cynic is that it includes an antimicrobial lining which keeps things smelling fresh when you're riding hard.
Sweet Protection Ascender MIPS
Specs
Adjustable

:

Yes

Material

:

Polycarbonate

Weight

:

14.1 ounces

Vents

:

Yes
Features
108 penetration-proof vents—including large internal ventilation channels
Integrated clips for headlamp and goggles
Compact design packs away with ease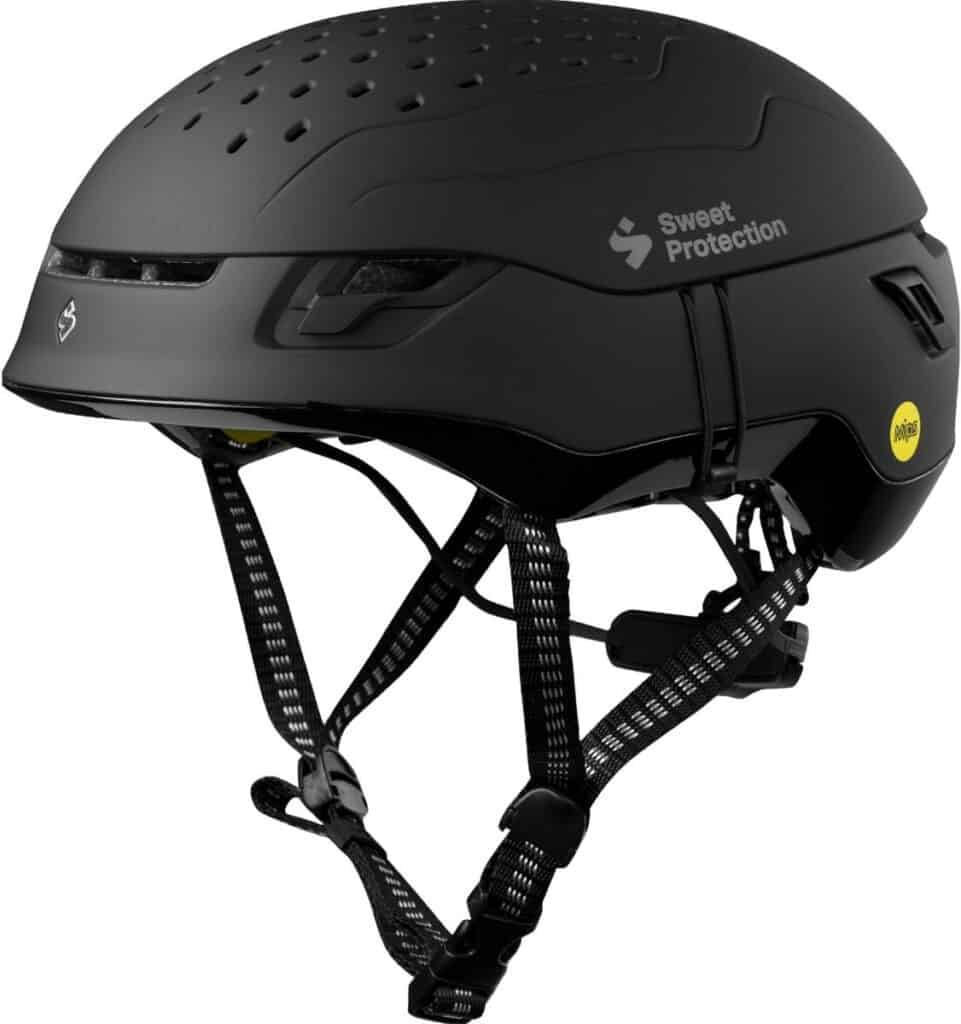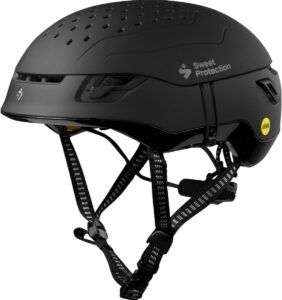 BEST FOR: THE BACKCOUNTRY
Backcountry conditions require special head protection — and the Ascender fits the hybrid mountaineering boarding bill.
This triple certified helmet includes a multifaceted, 108 vent system that performs equally well on high output days as slower backcountry expeditions. There are also internal vent channels and forehead ventilation.
What I like most about this helmet is that the vents are designed to be penetration proof — so rocks, sticks, and other debris have a hard time penetrating.
Smith Mirage MIPS
Specs
Adjustable

:

Yes (Tension Dial)

Material

:

Polycarbonate

Weight

:

1 pound

Vents

:

Yes (Adjustable)
Features
Fleece liner
Lightweight in-mold helmet incorporates Aerocore™ construction and Koroyd® material
Snapfit SL earpads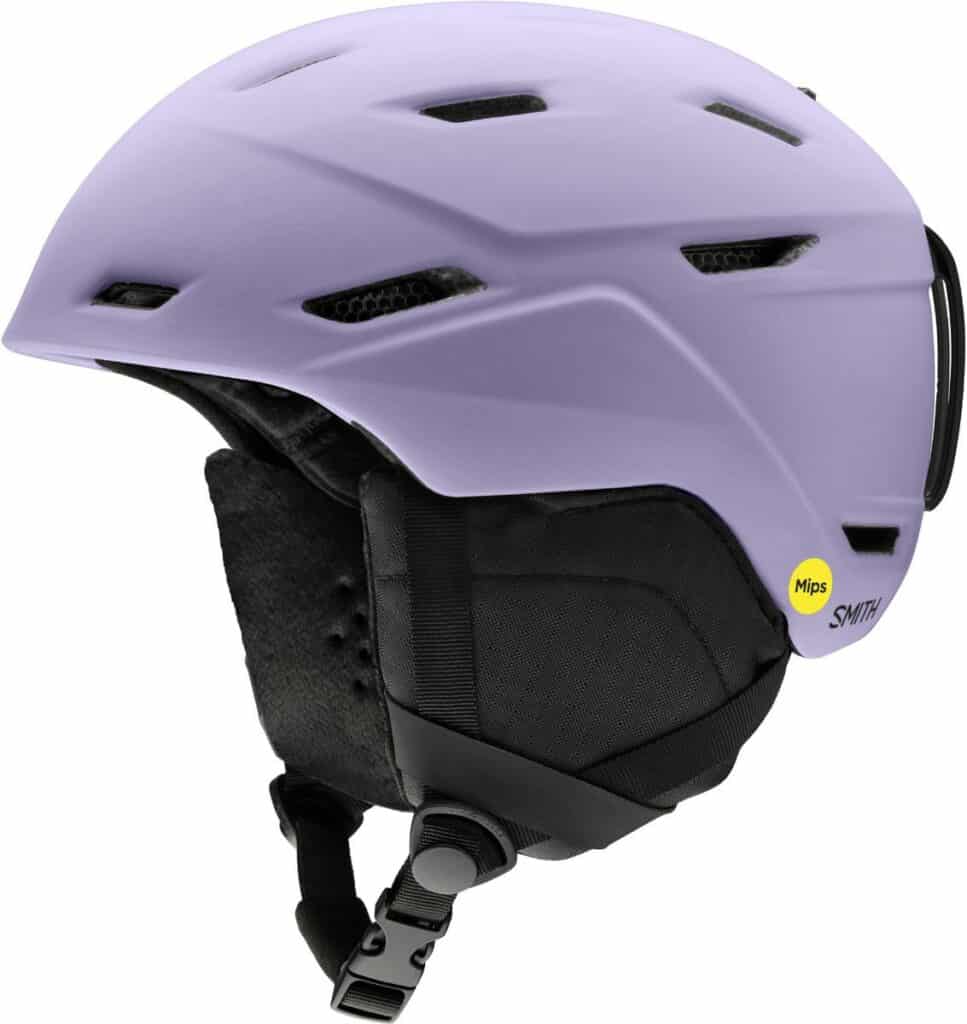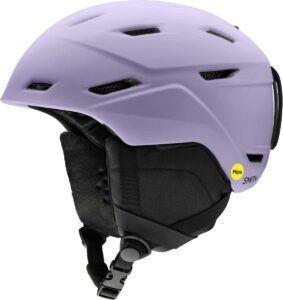 BEST FOR WOMEN
If you're looking for a women's specific product to keep you warm and comfy on long days on the slopes, look to the Smith Mirage MIPS.
This helmet is designed to be no-frills, with a reliable dial adjuster to help you achieve that perfect fit. A slider system allows you to change the amount of airflow — even when you're wearing gloves. 14 total vents function together to provide for adequate ventilation on those warmer weather days.
What I like most about the Mirage is how light weight it is, weighing in at 450 grams.
Smith Maze MIPS
Specs
Adjustable

:

Yes (Self-Adjusting)

Material

:

Polycarbonate

Weight

:

12 oz.

Vents

:

Yes (9)
Features
MIPS Technology To Reduce Rotational Motion In Case Of Impact
Adjustable Vents For Control Of Airflow
Compatible With Skullcandy Audio Systems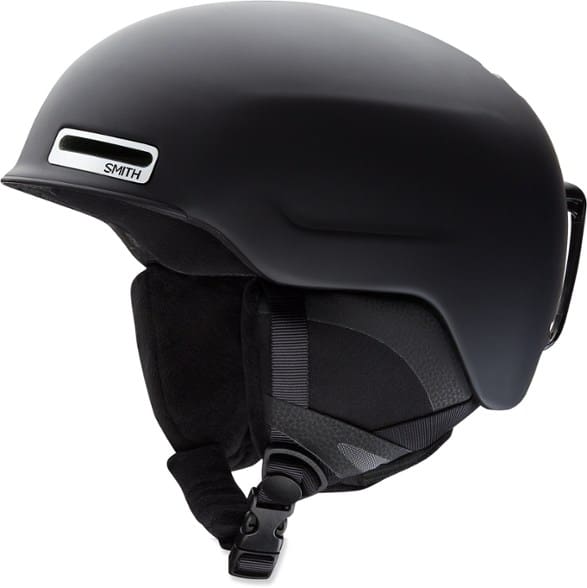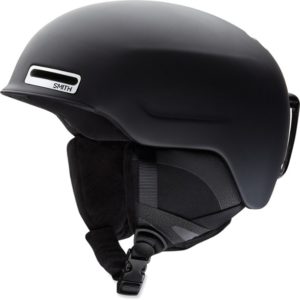 BEST FOR: SHREDDERS WHO LIKE TO ZONE OUT AND TUNE IN
Smith has been a leading helmet manufacturer for quite some time now and the Maze MIPS helmet is no exception. With nine different vent settings make this helmet suitable for any environment, you're sure to stay cool and collected while wearing this helmet on the mountain. And with the removable goggles lock, you won't have any trouble taking off your goggles when it comes time for lunch at the lodge.
Like other leading helmets, the Maze helmet comes with MIPS technology to reduce any unwanted rotations of your head and the resulting impact of any whiplash you may not have intended for. Equipped with Skullcandy audio system compatibility, this helmet is great for experienced riders who want enhanced protection with quality sound.
Burton Anon Prime
Specs
Adjustable

:

Yes (Tension Dial)

Material

:

N/A

Weight

:

1.09 lbs.

Vents

:

Yes (23)
Features
ICEdot Emergency ID Service Stores Contact Medical Information For First Responders
23 Vents Provide Maximum Ventilation
Goggle Ventilation Outlet To Prevent Goggle Fog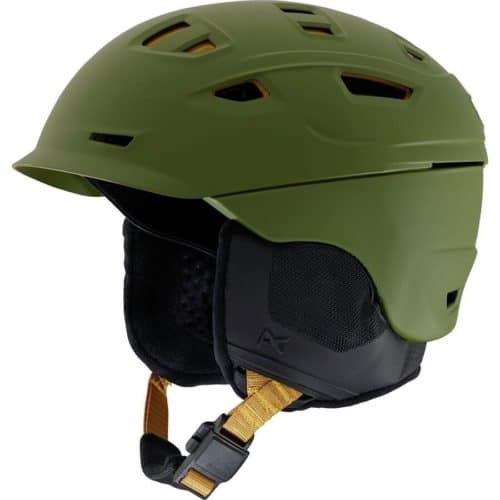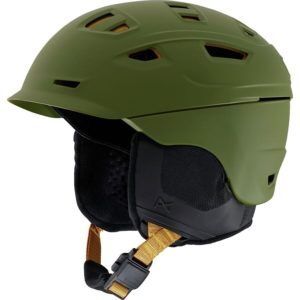 BEST FOR: EXPERT BACKCOUNTRY RIDERS
It may be the most expensive helmet on our list, but with Burton's Anon Prime Helmet, you get more than you pay for. With every safety certification out there, 23 adjustable vents, and a comfortable inner fleece lining, this helmet is best for expert riders looking to take their riding into the backcountry.
Perhaps most notable is the helmet's unique ICEdot Emergency Identification technology that stores emergency contact and medical information in your helmet for first responders. If that's too much for you, don't worry. There are plenty of other helmets on the list for you. But if you're looking to shred some insane terrain in the back-country, this may be the perfect helmet for you.
AKASO
Specs
Adjustable

:

Yes (Tension Dial)

Material

:

Expanded Polystyrene

Weight

:

1.8 lbs

Vents

:

Adjustable
Features
ASTM Certified, The Official U.S. Standard For Helmet Safety
Adjustable Vent On Helmet Allows You To Change Airflow As Needed
Adjustable Dial On Rear For Easy Size Adjustment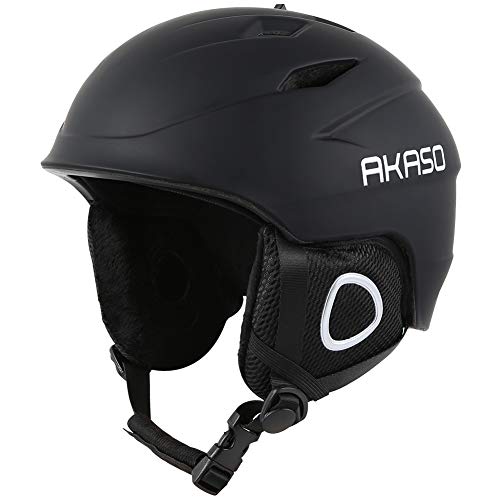 BEST FOR: CUSTOM FIT
The Akaso Helmet is a great, well-rounded helmet for any rider looking for an added level of customizability in more frigid temperatures. With an adjustable vent on the top of the helmet, riders can control how much air comes into and out of their helmet. The removable inner liner and ear pads allow for added comfort control as well.
Perhaps the most important feature on this helmet is the adjustable dial located at the rear of the helmet, which means that you can not only adjust it to fit your size, but if you're ever looking to pass-it-on, the helmet will easily readjust to any head. We recommend it for all beginner riders and boarders looking for their perfect fit.
Giro Nine MIPS
Specs
Adjustable

:

Yes (Tension Dial)

Material

:

Polycarbonate

Weight

:

N/A

Vents

:

Yes (Stack Vent)
Features
MIPS Rotation Protection For Maximum Safety And Protection
Venting Control For Superior Comfort On The Slopes
Compatible With All Giro Audio Systems So You Can Listen To Music While You Shred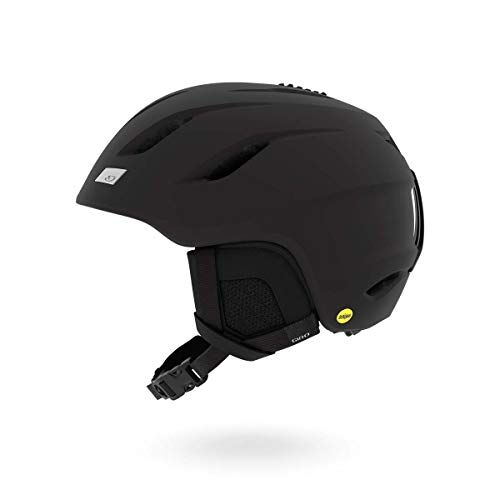 BEST FOR: EXPERT RIDERS
The Giro Nine MIPS Helmet's sleek and streamlined designed fits its use. It is a strong, reliable helmet for more advanced riders looking to test their limits a bit further than most. The helmet's unique MIPS features reduces any rotational motion of your head upon impact which means, in other words, more protection for your brain.
Much like other helmets, the adjustable vents allow for controlled temperature within your helmet, but unlike other helmets, the Giro Nine comes compatible with all separately sold Giro audio systems. That may not sound so appealing at the onset, but as you continue riding, you may want some killer music to join you, and if you helmet is already compatible with an audio system, that could save you time and a good chunk of money.
Demon United Phantom
Specs
Adjustable

:

No

Material

:

Industry Standard ABS Shell

Weight

:

3 lbs.

Vents

:

Yes (2)
Features
Built-in Audio System
Comes with Goggles
ASTM and CE certified - Europe and U.S. Standards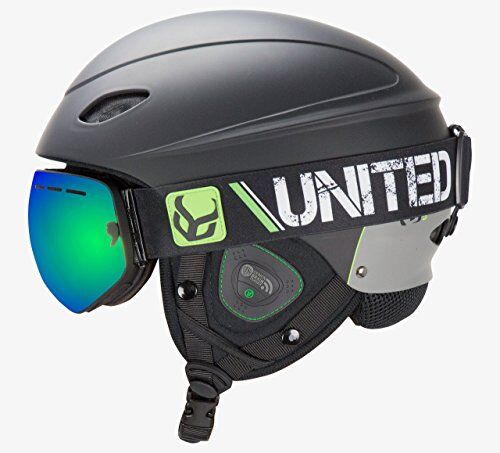 BEST FOR: ALL-IN-ONE ON A BUDGET
If the process of finding the right goggles, headphones, and helmet is overwhelming, look no further. The Demon United Phantom Helmet comes complete with everything you'll need and more! An integrated audio system allows you to listen to music through your helmet while riding, while the included Demon Supra goggles will spare you the extra time and cash of finding goggles on your own.
If convenience and safety are your priorities, this is the perfect helmet for you. And at such a low cost, this all-in-one helmet is a steal for anyone.
THINGS TO CONSIDER WHEN WHEN BUYING A SNOWBOARD HELMET
When buying a snowboard helmet, safety should always be your number one priority. Snowboards, boots, and bindings are important, but if you value your noggin', a good helmet is essential. You should ask yourself questions like: What material is the helmet made of? How many vents are there for air ventilation? Will this helmet suit my type of riding? We've assembled a few key notes to consider when buying your helmet, but check out some more information about how to choose a helmet for more knowledge.
RIDING STYLE
Are you an aggressive rider? A casual rider? A cautious rider? If you're a beginner, check out these snowboarding tips. It may be hard, but ask yourself what type of rider you are and gauge your helmet based on that. Aggressive riders may want a less comfortable, more durable helmet to protect against their falls, whereas casual riders may seek comfort first. Gauge your style and then pick a helmet accordingly.
COST
Helmets can vary drastically in pricing, but if there's one item you shouldn't cut costs on, it's your helmet. It will literally save your life. This isn't to say you need the most expensive helmet with the most features, but you do need a safe helmet. One with a durable structure that's capable of protecting your head from the hard mountain.
MATERIAL
What is your helmet made from? Most use the same plastics, and while the specifics aren't as important as you may think, the texture and style of the material will drastically affect your comfort and safety. A thin outer-shell of a helmet may be best if you wear a hat under your helmet, whereas a thick, layered helmet is best if you want maximum protection.
VENTILATION
How many vents does your helmet have? If you overheat quickly, you may want added ventilation, but if you wear a hat under your helmet, you may not want as much ventilation. In any case, the amount of control over ventilation is always something you should consider.
FEATURES EXPLAINED
EPS OR EXPANDED POLYSTYRENE
A lightweight plastic that is composed of small hollow, spherical balls to cushion impact.
ABS CONSTRUCTION
A layer of hard plastic is combined with a softer foam.
VENTS
Tiny adjustable holes around the helmet that provide ventilation.
READ MORE
For more of our top snowboarding gear recommendations, check out these popular buyer's guides: