Updated on November 4, 2020
Ah, surfing. Just mentioning the word conjures images of California and Hawaii set to a low-key soundtrack of surf rock amidst beach parties and Tiki torches. Looking back at the brief history of paddle boarding, surfing is where it all began. And today, it's possible to choose the best paddle board for surfing and shred waves like a pro without having to invest in an expensive surfboard.
It's no surprise that the earliest paddle boards were essentially just surfboards, but that history has propelled us to today where a variety of options exist. Nowadays, picking the best paddle board for surfing requires a lot of factors and each manufacturer has their own philosophy as to what makes a great board.
Although it can be somewhat daunting with literally thousands of paddle boards to choose from, we've reduced the complexity of that task and done the heavy lifting, er paddling, for you. Curating the 5 best paddle boards for surfing, we focused on choosing high quality boards at an affordable price, made by the most reputable companies.
For more of our top paddle boarding gear recommendations, check out the Best SUP Boards.
Quick Answer

-

The Best Paddle Boards for Surfing
Comparison Table

-

Best SUPs for Surfing

For the best experience turn your device horizontally
Reviews

-

Best Paddle Boards for Surfing
Boardworks Kraken
Specs
Length

:

10' 3"

Weight

:

29 lbs

Width

:

34"

Max Load

:

230 lbs
Features
Comes With A 9" Fin
Comfortable Foam Deck
Lift Up Handle For Easy Carrying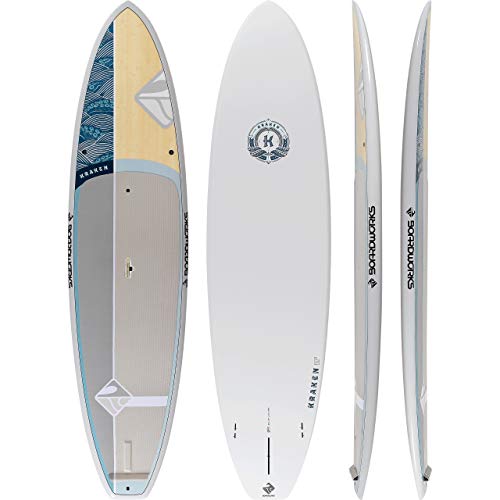 BEST FOR: LEARNING HOW TO CARVE WAVES
Based out of their Carlsbad, CA home, Boardworks has been producing quality products since the early 90's. The Boardworks Kraken sports all the elements of a quality paddle board made for surfing.
Starting with a lightweight Extruded Polystyrene (EPS) foam core, the Kraken features a bamboo "sandwich" that is then layered with hand-laminated epoxy resin and fiberglass, giving you a quality foundation underfoot to tackle ocean waves. It's also the widest board on this list, lending itself to more stability when maneuvering choppy surf.
The Kraken also sports a 5-fin box that gives each paddler the ability to experiment with different setups or customize their carving for different types of waves. Overall, this is a classic board that inspires those who thirst to hit plenty of waves.
Starboard GO Starlite
Specs
Length

:

10' 8"

Weight

:

26 lbs

Width

:

31"

Max Load

:

220 lbs
Features
Diamond Grooved Deck Pad
Bungee Inserts For Gear Storage
Balanced Contour And Designed For Speed
Impact Resistant And Ethically Sourced Australian Pine Construction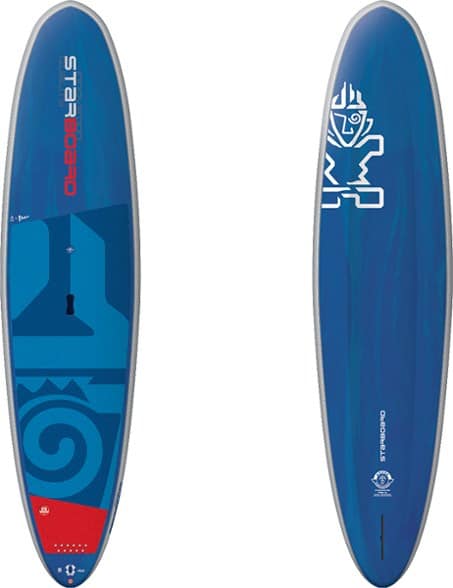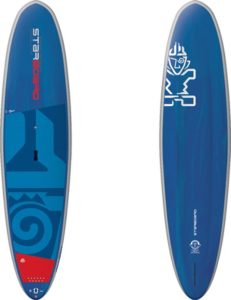 BEST FOR: THE ENVIRONMENTALLY CONSCIOUS PADDLER
With over 25 years of experience building quality boards, Starboard delivers top-notch quality paired with innovative technology. The GO Starlite earns a perfect rating by creating a stellar surfing design and then collaborating with Parley (a movement that recycles ocean trash into cool products to bring awareness about plastics in our oceans) to deliver a paddle board that is made of recycled and ethically-sourced materials.
The GO Starlite's impact resistant outer layer is constructed from PEFC-certified sustainably sourced Australian Pine, making it both beautiful and durable. Plus, this board trades in the paint job for a natural water-based dye and resin swirl that resists chipping. Sporting an aggressive 3-fin setup for superior maneuverability through waves, the plastic side fins are upcycled from fishing nets. Forget being "one with nature," the GO Starlite is nature and it's truly the best paddle board for surfing that money can buy.
Surftech Catalyst
Specs
Length

:

11' 2"

Weight

:

27 lbs Men's / 25.5 lbs Women's

Width

:

32.5" Men's / 29'' Women's

Max Load

:

215 lbs Men's / 185 lbs Women's
Features
Deck Bungees For Stowing Gear
Extremely Durable Bamboo Veneer
Hybrid Hull Design Maximizes Performance
Matching Paddle And Leash Sold Separately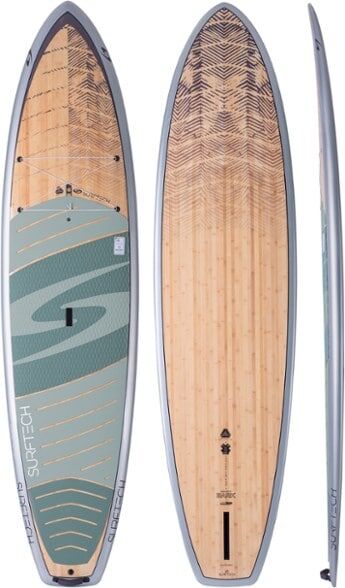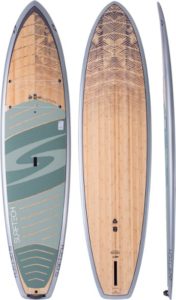 BEST FOR: SMALL TO MEDIUM SIZED SURF
The Surftech Catalyst boasts the perfect confluence of three major players: crafted by Surftech, shaped by legendary standup paddle board designer Joe Bark, and styled by prAna.
Surftech has been churning out quality surfboards since 1989 and produced the first commercially available SUP in history. Meanwhile, Joe Bark has recorded more hours on the water than any other surf/paddleboard designer and his boards have won more races than any other brand.
What makes this board unique is that it begins with a displacement hull design before transitioning into a planing hull. By incorporating the design aspects of both hull types, you get the best of both worlds: a world-class surfboard that also cuts through flatwater and waves without slowing you down!
Intertwining these fabled lineages, the Surftech Catalyst is a new creation unlike anything seen before and matches perfectly with prAna's 2019 swimwear collection. Moreover, it sports the classic single fin setup for improved tracking.
Pau Hana Oahu Woody
Specs
Length

:

10'

Weight

:

29 lbs Men's / 22 lbs 12 oz Women's

Width

:

32" Men's / 29" Women's

Max Load

:

263 lbs Men's / 260 lbs Women's
Features
Extremely Durable Bamboo Veneer
EVA Deck Pad For Improved Stability
Optional Leash Attachment (Sold Separately)
Accessory Attachment System Expands Capabilities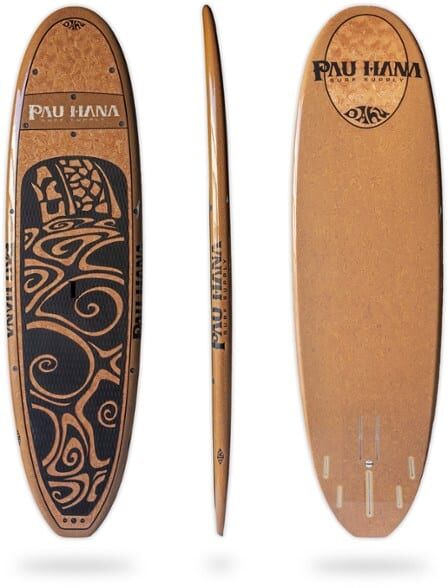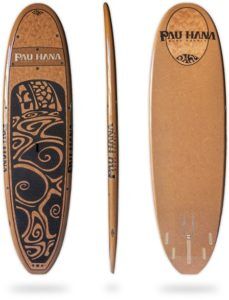 BEST FOR: LARGER FRAMED PADDLERS
You can't mention surfing without including some reference to the sport's Hawaiian origins. That said, we had to include this gorgeously styled board that looks just as good on display as it does carving waves. Designed in the spirit of play, Pau Hana is a Hawaiian phrase that roughly translates as "time after work," lending a certain philosophical aspect to its all-around design.
Coming in as the shortest board on this list, the Oahu Woody strategically sports a 5-fin box, meaning you can completely customize it to your personal preference whether you need more tracking or better maneuverability. Check out our "Things to Consider" section below for more details on each fin setup. Last but not least, this board boasts the largest weight capacity (263 lbs.), meaning it's an ideal choice for larger framed paddlers.
Bote Flood Gatorshell
Specs
Length

:

12'

Weight

:

38 lbs

Width

:

32"

Max Load

:

300 lbs
Features
On-Board Watertight Storage
Attachment Points For Fishing
Front And Rear Cargo Bungees
Board Comes In 3 Color Patterns
Includes: A Carbon Fiber Paddle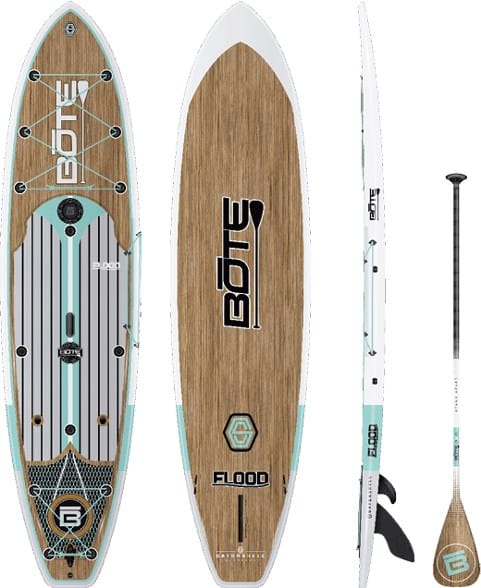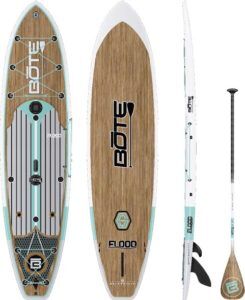 BEST FOR: VERSATILITY
Need a little variety in your water-based diet? The Bote Flood is an excellent choice for those wanting to warm up in the morning with a little surf and unwind in the evening by casting a line and keeping it "reel." Puns aside, this crossover board doesn't sacrifice quality for versatility.
Instead, Bote focuses first on creating one of the best paddle boards for surfing and then expands on that by ingeniously adding versatile attachment points to rig it up for a day filled with angling. Lastly, a 5-fin box allows each paddler to customize their board specifically for each activity.
THINGS TO CONSIDER WHEN BUYING PADDLE BOARDS
COST
When looking for the best paddle boards for surfing, specialization comes into play. Specific board contouring leads to a minimum quality standard in the materials used. Although there are less expensive, and also more expensive, paddle boards that can be used for surfing, the selection that we have carefully curated represent the best paddle boards you can buy without breaking the bank.
The principle "you get what you pay for" applies here. All of the options mentioned here are made by reputable companies with long histories in the surfing and paddle boarding industry.
CONSTRUCTION
All paddle boards are either going to be an inflatable or a solid construction but when it comes to selecting the best paddle board for surfing, solid is the way to go. This is because solid boards tend to have a better center of gravity as they sit lower in the water and provide better maneuverability.
Solid boards for surfing are made from a variety of materials, some more expensive than others. A hard plastic outer shell is the least expensive but tends to be heavy and is not recommended for surfing.
Fiberglass and epoxy are most commonly used and are typically used in conjunction with one another. These are your best bet for a quality paddle board that doesn't break the bank. Many of these types of constructions will also include a lightweight yet durable wooden exterior to help reinforce the board and are highly recommended.
Carbon fiber is a top of the line option that makes for a lighter and more durable board, but will cost vastly more.
HULL TYPE
When choosing the best paddle board for surfing, you'll need a specific type of hull (the bottom of the board) to achieve the results you want.
A planing hull will be your best bet when surfing. What makes this design unique is its flat underside that helps you maneuver easily in waves. Planing hulls also tend to be wider than average, lending itself to great stability.
Steer clear of paddle boards with a displacement hulls when specializing in surfing. Although these are outstanding hulls with a host of benefits, leave them for the long distance treks.
FIN SETUP
There are four basic types of fin setups that paddle boards utilize for surfing and it depends on each individual as to what you may prefer. If your board allows the option to customize, we recommend buying some extra fins and playing with each setup to determine which feels best to you.
Single Fin – This classic style was the first available set up in the early days of surfing. It's an ideal choice for generating speed in a straight line and for traction to hold that line.
Twin Fin – The Twin Fin setup is much faster than the original Single Fin design and provides more maneuverability in small to medium-sized waves. However, because there is no fin in the center of the board, this setup is more prone to "spinning out" and losing traction if taking a tight bottom turn in a bigger wave.
Thruster – Splashing onto the scene in the early 80's, the Thruster setup utilizes one large fin in the middle with two smaller fins flanking the sides in an offset shape (like a triangle). It's basically a Single/Twin combo, providing the best elements of each. This is by far the most popular setup in all of surfing due to its well rounded and balanced nature.
Quad – Hitting the scene more recently, the Quad setup is for those whose surfing style isn't characterized by crazy moves. Instead, it focuses more on speed and power by doubling down on the Twin Fin design – two fins on either side of the board. It still maneuvers really well and is a great choice for larger framed surfers.
LENGTH
Standup paddle boards come in three ranges of lengths that contribute to the overall specific purpose of the board. When it comes to surfing with a SUP, the shorter length, the better. Boards between 8' and 10' long are ideal for advanced surfing. These boards are usually special order or typically found in local surf shops.
Medium length boards between 10' and 12' are a versatile length that also work great for surfing, especially for larger paddlers. The benefit of having a slightly longer paddle board for surfing is twofold: first, you have the ability to also paddle flatwater or cruise around without having to buy a totally different board; and second, they are typically less expensive and easier to buy online without having to find an actual surf shop.
WIDTH
Choosing the proper width for surfing a paddle board will depend on a paddler's experience. The average width of a SUP is 32", but beginners with little experience may want to opt for a wider board, such as the Boardworks Kraken. At 34", this board will provide more stability and lead to more success when catching waves. For those who have more experience and prefer more maneuverability, consider the Bote Flood's narrower 30" width
VOLUME AND WEIGHT CAPACITY
A SUP's overall weight capacity, or total weight it can carry including the paddler, is usually determined by its volume. High volume SUPs = High weight capacity.
When choosing the best paddle board for surfing, you want a weight capacity that is higher than your bodyweight but with no more than a 60 lb difference. The weight capacity given is a maximum and shouldn't be exceeded or performance will suffer. On the flipside, too big of a board will not only be difficult to paddle but also difficult to maneuver on waves.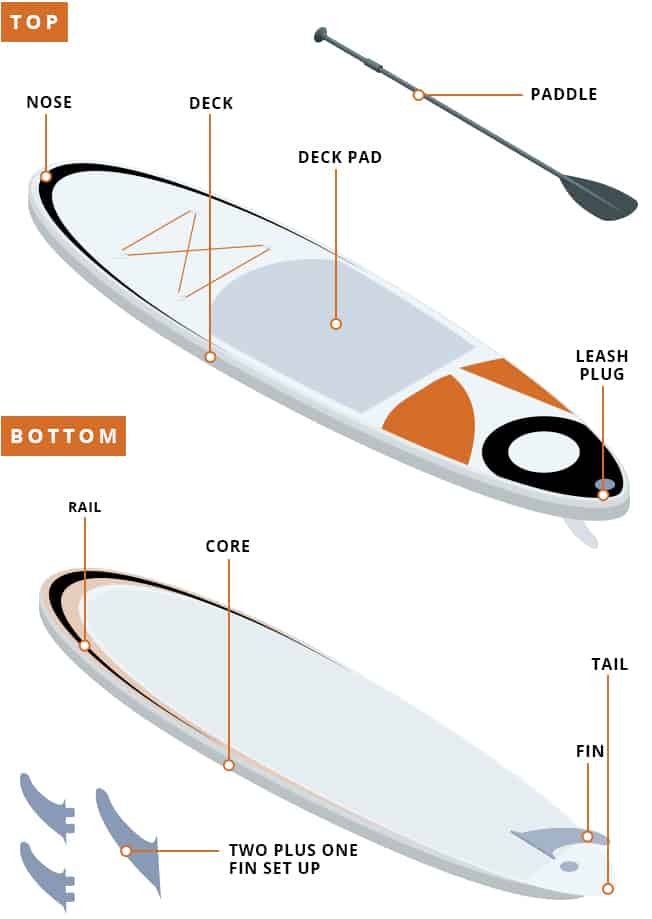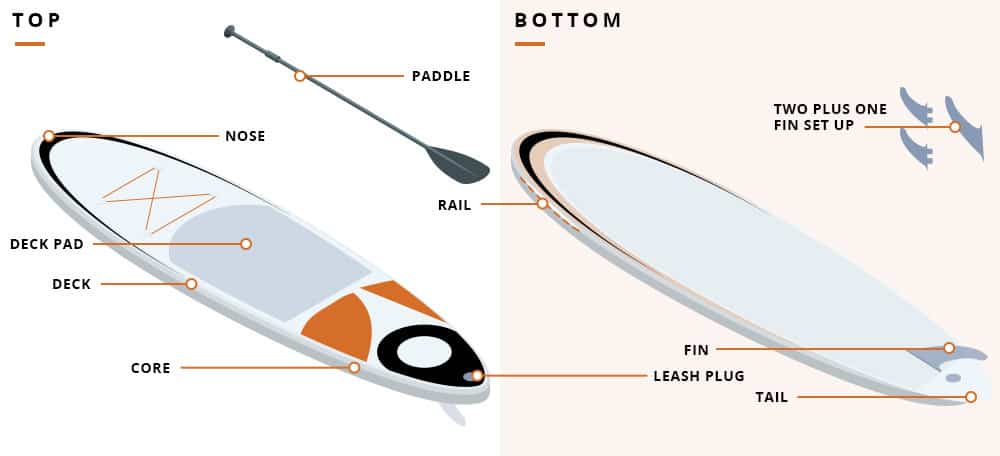 FEATURES EXPLAINED
EPS
Stands for extruded polystyrene, which is a lightweight, buoyant, and waterproof material.
EVA
Stands for ethylene-vinyl acetate material, which offers padding and shock absorption.
DECK
The area of the board where the paddler stands.
FIN BOX
The area underneath the tail of the board that offers options to add or remove additional fins in order to customize a particular fin setup.