Updated on December 7, 2021
More and more women are turning to leggings for everyday wear. They are a surefire way to feel comfy while you do your thing, whether your thing is making a store run, hitting the gym, or lounging on the couch. But what about wearing leggings to hike? At The Adventure Junkies, we say "heck yeah" to that! Leggings are a great choice for many outdoor hiking adventures. They're super comfortable, totally in style, and they come in so many different cuts and styles, you're sure to find a fit that works great for you. But with so many options to choose from, it can be hard to know where to begin on your leggings-purchasing journey, and that's why we've gone ahead and compiled a list of the best hiking leggings for you!
Whether you're looking for something that offers full coverage, partial coverage, warmth, cooling capabilities, extra pockets, compression, or a looser fit, we've got you covered. This comprehensive list will help you pick out your dream pair of hiking leggings – and we bet you won't want to change out of them even after you get off the trail.
For more of our top hiking gear recommendations, check out the Best Hiking Pants for Women.
Quick Answer

-

The Best Hiking Leggings
REI Co-op Active Pursuits

Prana Pillar Printed Capri

Beyond Yoga Tri-Panel Spacedye

Vuori Elevation Performance
Comparison Table

-

Best Hiking Leggings

For the best experience turn your device horizontally
Reviews

-

The Best Leggings for Hiking
REI Co-op Active Pursuits
Specs
Fabric

:

Polyester and Spandex

Length

:

Ankle

Pockets

:

1

Pants Rise

:

Mid
Features
Sun-Protective Fabric With UPF Rating Of 50 (Meaning 1/50 Of UV Rays Can Reach Your Skin)
Reflective Fabric Improves Visibility
Special Seam Construction Prevents Chafing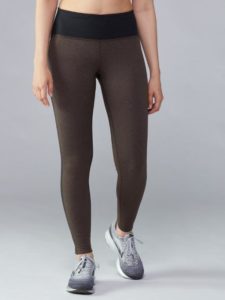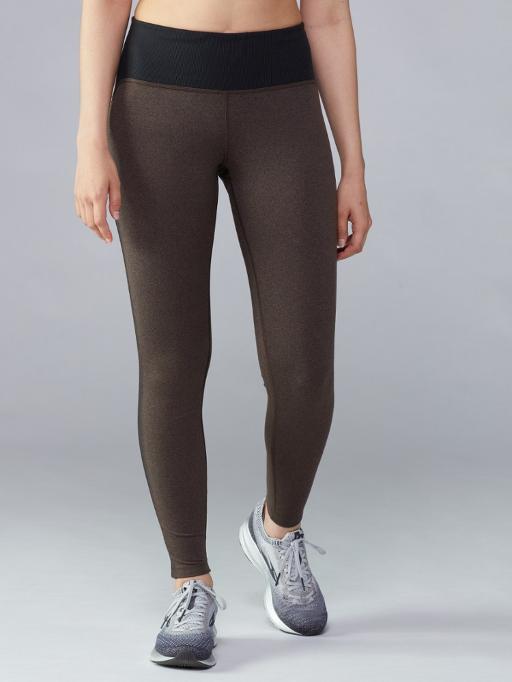 BEST NON-CHAFING LEGGING
These leggings are built for ultimate comfort, especially for those who chafe easily. They have a specially designed seam that sits flat against your legs to prevent uncomfortable rubbing while you hike and sweat. Plus, they feature a super-comfy wide waistband that stays in place, and a zippered pocket that easily stores your keys, cards, or cash. These leggings are also built to wick sweat and keep you from catching a chill.
Prana Pillar Printed Capri
Specs
Fabric

:

Polyester and Spandex

Length

:

Capri

Pockets

:

1

Pants Rise

:

Mid
Features
Waistband Stays Put
Seamless Sides Provide Superior Comfort And Stretch
They Come In Fun Patterns!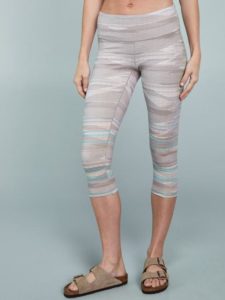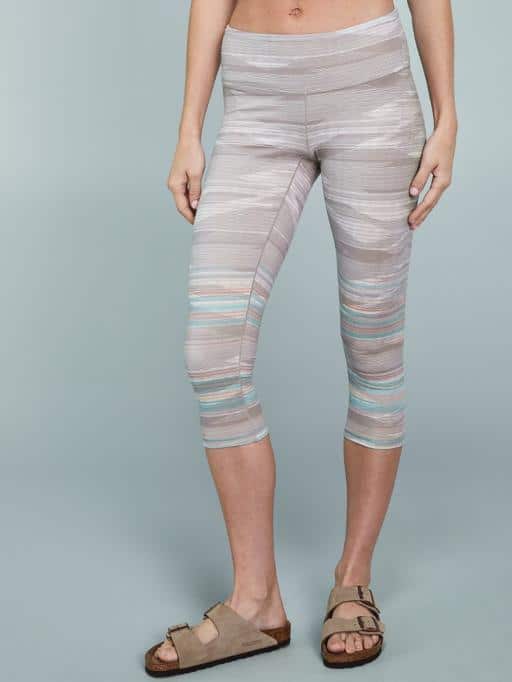 BEST RANGE OF MOVEMENT LEGGINGS
Slip into a pair of PrAna Pillar's and you're going to want to do a split! These leggings are designed for superior stretch and mobility. They're seamless, which means they won't rub uncomfortably on your skin. They're quick drying, moisture wicking, and they're a great length for those who don't want to sport full coverage. And since they come in a number of fun prints and are made of 87% recycled material, we're not sure what's not to love here.
Patagonia Centered Crop
Specs
Fabric

:

Polyester and Spandex

Length

:

Mid-calf

Pockets

:

1

Pants Rise

:

Mid
Features
Hidden Side Key Pocket Stores Your Key Or Other Small Belongings
Soft Thread and Rounded Seams Promote All Over Comfort
Fair Trade Certified Recycled Fabric Means These Leggings Are A Purchase You Can Feel Good About!
Unique Mid-Calf Length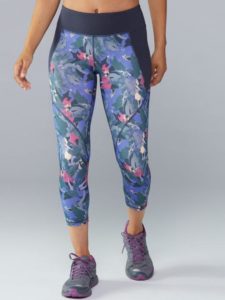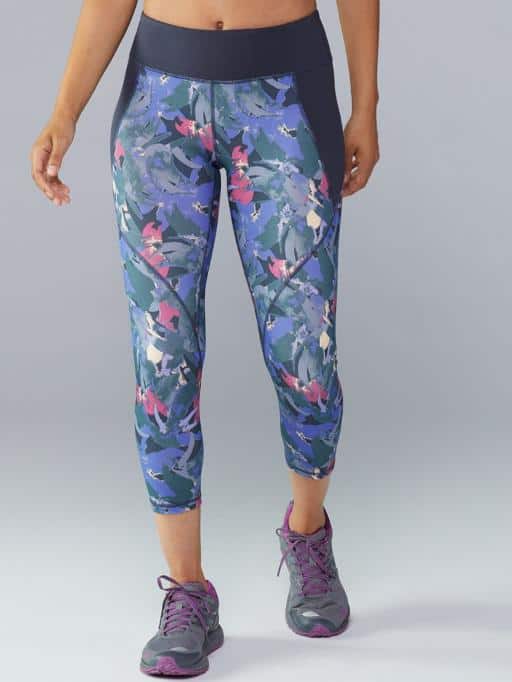 BEST OVERALL HIKING LEGGINGS
Alright ladies, these Patagonia leggings steal the show. They are high scoring in every category, from comfort, to durability, to odor control. They are designed to prevent chafing at the seams, and their fair trade recycled fabric is as comfortable as it is sustainable! They're a great length for those who like a little less coverage or plan to wear their leggings in warmer weather. They also feature a hidden pocket that is perfect to store a key or card.
Beyond Yoga Tri-Panel Spacedye
Specs
Fabric

:

Polyester and Spandex

Length

:

Ankle

Pockets

:

None

Pants Rise

:

High
Features
4-Way Stretch Fabric Helps To Maintain Elasticity and Shape Wash After Wash
Wide Waistband Sits Comfortably At Your Natural Waist
Dryer Safe
BEST EXTENDED USE LEGGING
The Tri-Panel Spacedye leggings from Beyond Yoga are built to last! Try as you might, you can't give these leggings too much love. Their unique 4-way stretch fabric helps them hold elasticity and shape no matter how many times you send them through the wash cycle (and dry cycle, too!). They also have a super-wide waistband (5 whole inches) to ensure your leggings stay put while you climb. And as an added bonus, their multicolor design and singular diagonal stripe are way flattering. Strut your stuff, girl.
Nike Power Crop Racer
Specs
Fabric

:

Polyester

Length

:

Mid-calf

Pockets

:

3

Pants Rise

:

Mid
Features
Three Places To Stash Your Tiny Belongings: Front Waist, Back, And Right Leg
Mesh Design On the Back Of The Legs Allows For Breathability And Airflow
Popular Brand Name At An Affordable Price

BEST WET WEATHER HIKING LEGGINGS
Okay, so these leggings are not waterproof. But here's why they're great for hiking in misty or damp conditions: they have a breathable mesh from the back of the knee down, promoting ventilation and comfort even when wet. They also have a large back pocket that can hold phones as large as the iPhone 6, and that pocket has a protective layer to keep everything in it dry. Nike is a top sportswear brand, and at the price these leggings are going for, you shouldn't hesitate to add them to your arsenal of hiking and fitness pants.
Odlo Active F-Dry Light
Specs
Fabric

:

Polyester and Polypropylene

Length

:

Ankle

Pockets

:

None

Pants Rise

:

High
Features
Trademarked Technology Whisks Sweat From Skin and Forces It to The Exterior Of The Legging
Trademarked Fabric Treatment Helps Block Odor-Causing Bacteria Buildup
Sun-Protective Fabric With UPF Rating Of 40 Shields Your Legs From The Sun


BEST SWEAT-WICKING LEGGINGS
Since we've picked out the very best of the best hiking leggings for you, many of the products on this list feature moisture-wicking technology. However, the Odlo Active F-Dry's are the only pair that actually has trademarked sweat-whisking technology and fabric treatment. These leggings are the real deal for those who really like to break a sweat. The fabric itself actually blocks the buildup of odor causing bacteria, in addition to its powerful moisture-wicking technology. If you like to get after it, but don't want to stink while doing it, these are the leggings for you.
Vuori Pace 7/8
Specs
Fabric

:

Polyester and Spandex

Length

:

Ankle

Pockets

:

1

Pants Rise

:

High
Features
Super Soft Moisture Wicking Fabric
Zip Waist Pocket Is Designed To Hold Cards Or Keys
Compressive Fabric Offers A "Slimming" Feel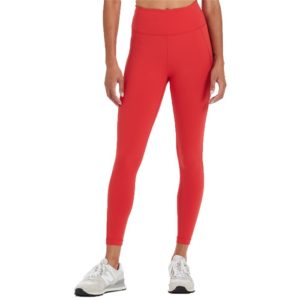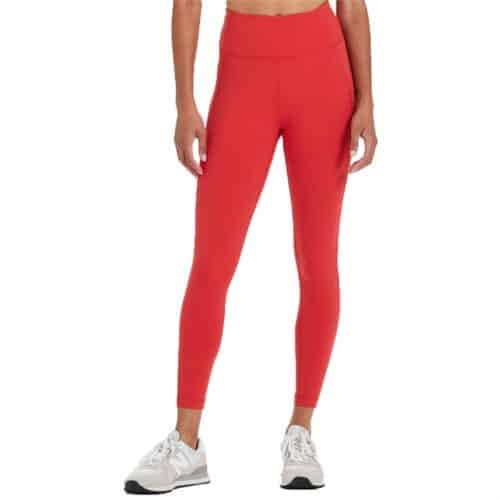 BEST COMFY COMPRESSION LEGGINGS
These leggings are designed to keep every part of you locked in tight-from your belly button down to your ankles. They are compression leggings made to fit snuggly and softly. Those who wear them say they are some of the comfiest leggings they have ever owned! These leggings also have reflective logos on the back waistband and ankles to make you visible in low light. The one downside of these leggings compared to others is that they only have one small zippered pocket. So, if you're looking to store your iPhone in your leggings, keep shopping. But if that's not important to you, these are a great buy for comfort and value.
Vuori Elevation Performance
Specs
Fabric

:

Polyester and Elastane

Length

:

Ankle

Pockets

:

3

Pants Rise

:

High
Features
Moisture Wicking and Quick Drying Fabrics Keep You Cool And Dry While Sweating
The "Buttery-Soft" Feel Of This Fabric Feels Like Your Pants Are Giving You A Hug
Small Waistband Pocket In Addition To Larger Side Pockets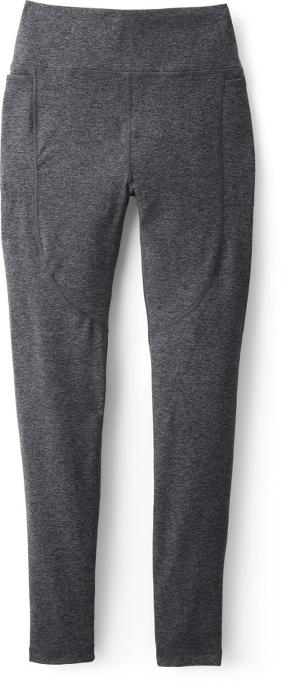 BEST MOUNTAIN-TO-MOVIE-NIGHT HIKING LEGGINGS
If you're all about chilling out after a long day spent in the hills, these leggings are a perfect fit (pun definitely intended). They are said to be so "buttery soft," you'll feel like they're giving you a hug. No need to change out of them after you get off the trail and head for a bite – you won't want to take them off! Plus, the fabric is moisture-wicking, so you'll stay cool and dry while you sweat.
THINGS TO CONSIDER WHEN BUYING HIKING LEGGINGS
FABRIC
When selecting hiking leggings, or any kind of workout clothing for that matter, it is extremely important to consider the fabric! Did you know that cotton locks in sweat and other moisture? You wouldn't want to wear it on a hike. Instead, look for fabrics that are "moisture-wicking" and "quick-drying" like spandex and polyester. Almost all of the leggings on this list have these drying and cooling properties.
LENGTH
Hiking leggings also come in a number of different lengths. Perhaps you're looking for full length coverage, or maybe you want to show off a little calf action. When considering length, think about the kind of style you want to wear, but also the climate you will be hiking in. For example, if you're going to take on a bunch of dessert hikes, you probably want to opt for a shorter legging that will keep you cooler. The opposite is true if you plan to seek out peaks in cooler climates. For a general overview of how to choose hiking clothes, check out this helpful article from REI Expert Advice.
WAISTLINE
Think about how you like your everyday pants to fit. Are you the high-waisted type or do you like the hip-huggers? The waistlines on hiking leggings are designed to fall in several places along your torso, so before you buy, think about where your sweet spot is for comfort and confidence.
FEATURES EXPLAINED
UPF
UPF stands for Ultraviolet Protection Factor. It is a measure of how well the fabric blocks radiation from the sun. A UPF of 10 means that 1/10th of UV radiation can penetrate the fabric. Higher UPF's mean stronger protection. For more information on UPF and how to choose sun-protective clothing, read this article from REI Expert Advice.
PANTS RISE
The point at which the waistband of the leggings sits.
DRAWCORD
A string in the waistband, used to make fine adjustments to the fit of the pants around your hips or waist.
SEAM CONSTRUCTION
The way with which thread is woven to hold your leggings together.
REFLECTIVE FABRIC
Patches of material that reflect light to make you visible when visibility is low, like in dark or cloudy weather.
COMPRESSION
A feature of some hiking leggings that is designed to put light pressure on you for a snug and secure fit.