Updated on July 7, 2022
Whether you're new to hiking or have been backpacking for years, if you're looking for one of the best backpacking tents, you're in the right place. We've surveyed the market and hand-selected a range of tents then shared some of our top picks for specific categories like lightweight, budget-friendly, and best for 4-season camping. Aside from the top picks, we've included some runner-ups you might want to consider.
We featured the 2-person model of each tent to put all the options on a level playing field so that you can easily compare them. We included other variations of the same model as well as mentioning if there are 1-person and 3-person options available.
Each tent we've selected has its pros and cons, and there's not a single tent out there that will be perfect for every hiker, so we did our best to give you an honest opinion to help you decide if it's the right choice for you and your style of backpacking.
QUICK RECOMMENDATIONS
Best Tent Overall >> Big Agnes Copper Spur HV UL 2
Best Ultralight Tent >> Nemo Hornet Elite 2
Most Affordable & Good Quality Tent >> REI Co-op Half Dome SL 2 Plus
Best Tent For Heavy Rain >> MSR Hubba Hubba NX 2
Best 4-Season Tent >> The North Face VE 25
* Weight, floor area and price are shown for the 2-person models.
For more specific backpacking tent recommendations, check out the following buyer's guides:
Reviews

-

Best Backpacking Tents
THINGS TO CONSIDER WHEN CHOOSING THE BEST BACKPACKING TENT
CAPACITY
Most backpacking tents can comfortably sleep between 1 – 4 people. The number of sleepers a tent can hold is known as the tent's capacity. There are several things you should keep in mind when considering the capacity of the tent you plan to purchase.
Most tents are designed to sleep exactly the number of people specified with no extra room. Consider how much gear you plan to pack with you as well as your sleeping style and your potential companions (2-legged or four!).
Sleepers who require extra elbow room or who sprawl out at night may want to add +1 person to their expected tent size. Also, if you plan on hiking with a pet or want to have plenty of space for your backpack in the tent, we recommend to go for a bigger capacity.
If you're a solo backpacker needing some extra space and have no extra companions, it may be more cost and weight effective to look for a 1-person tent in a wide or plus model. And if you're hiking or camping solo with your dog, we suggest opting for a 2-person tent – pups can take up a lot of precious space!
While couples may be fine with a snug fit in a 2-person tent, friends sharing a tent may want to opt for a 3-person tent to allow for extra space. If you're a family with children, then we recommend looking for at least a 4-person tent. And if you have four people total plus gear and pets, then we definitely suggest considering buying a 6-person tent to make sure everyone has plenty of space to sleep at night.
SEASONALITY
Tents are made with a few different "seasonality" ratings depending on the weather in which it will primarily be used. While most campers and backpackers prefer to use 3-season tents, there are some cases where an extended or 4-season option is certainly needed.
3-Season
Made to handle most seasons and weather conditions, 3-season tents will keep you comfortably covered through spring, summer, and fall. Lightweight and dependable, these tents are designed to shield you from bugs and moderate weather including rain, light snow, and modest winds. Anything beyond these limits will require a heavier duty tent.
Extended Season
Also known as 3+ season tents, these in-between models offer more strength and warmth than their 3-season counterparts. By employing an extra tent pole or two, adding more fabric layers to zippered seams, and reducing mesh fabrics, extended season tents offer added protection in early spring and late fall when unexpected snows or unseasonably low temperatures may surprise you.
Extended season tents are also a great option for those who backpack and camp at higher elevations where intense bouts of wind and snow are more likely. However, if extreme weather such as strong winds and heavy snow are expected, an upgrade to a 4-season tent is highly recommended.
4-Season
Designed to tackle harsh conditions like heavy snow and strong winds, 4-season tents employ heavy duty fabrics and more tent poles than 3-season and extended season tents to increase durability, comfort, and warmth. Also known as mountaineering tents, these shelters are created with a dome style to keep snow from accumulating on the roof and deflect extreme winds.
And extra warmth doesn't exclude 4-season tents from summer use. Removing the rainfly will allow these types of tents to breathe and increase airflow during hot summer nights.
COST
How you decide on a backpacking tent will be a matter of what features you want within your budget. On average, you'll spend between $100-$500 on a backpacking tent. Entry-level tents will be on the lower end of the price scale. These tents tend to offer minimal features with a heavier weight and less durability. Meanwhile, the more money you spend, the more you'll gain in durability, weather protection, and decreased weight.
WEIGHT
When choosing a backpacking tent, weight is a major selling point that shouldn't be ignored. Unlike car camping tents, backpacking tents skimp on weight wherever possible. This helps keep pack weight to a minimum while reducing space.
In terms of how heavy your tent should be, that's really up to you. The lighter the tent, the less space it is likely to have and vice versa. When it boils down to it, it's a matter of how much you're willing to lug around to sleep comfortably at night.
ADDITIONAL FEATURES
Style
Dome Style: Best suited for all types of backpacking due to their lighter weight and thoughtfully engineered design, dome style tents have sloping walls to deflect wind and curved tops to prevent rain and snow from collecting.
Cabin Style: Better suited for families and those staying put for a few nights, cabin style tents offer more "livable" space and tend to be larger. Some models can include dividers for privacy to create multiple rooms within the dwelling. Because they are larger, heavier, and have flat roofs, these are best used in pleasant weather and as a base camp. Packing up and traveling with these tents night after night will become cumbersome.
Rainfly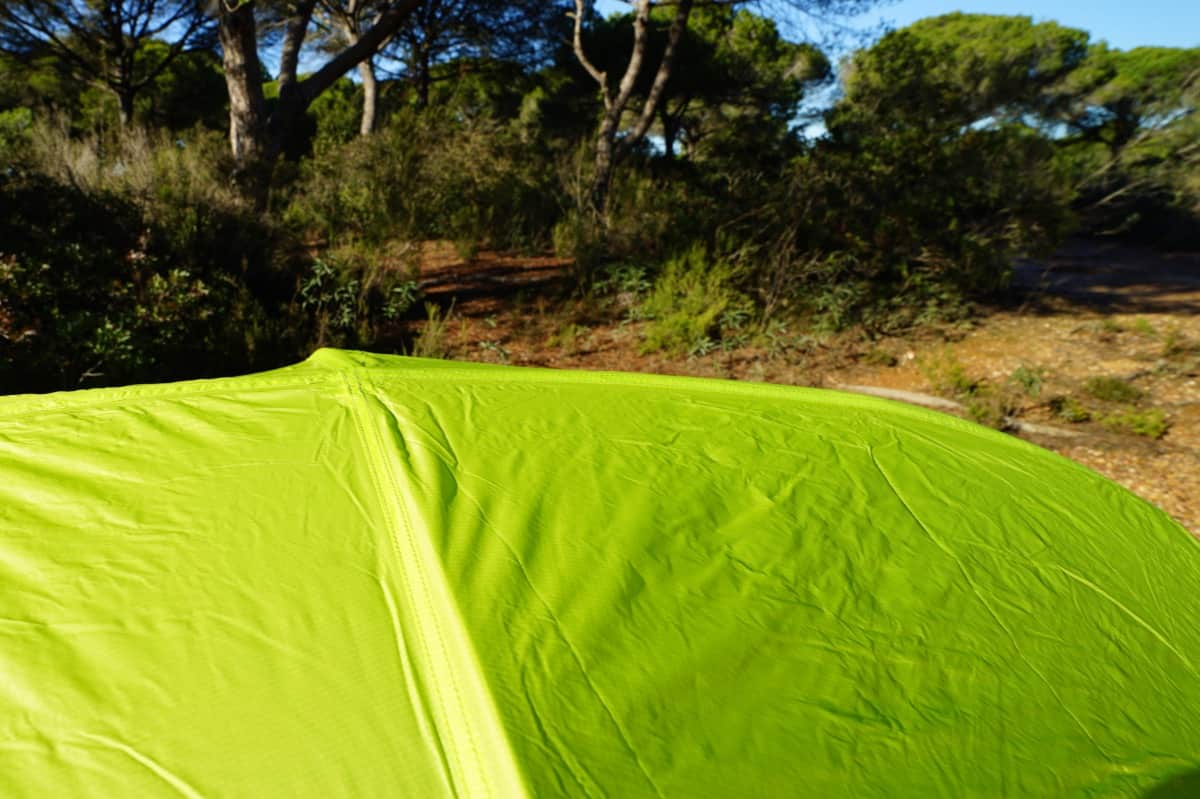 Rainflys do more than just keep sudden rain showers off you while you're sleeping – they can also help insulate your shelter by trapping warm air and prevent winds from creating a chill in your tent. They're also a good way to keep you dry by preventing morning dew from collecting on you and your belongings.
Doors & Vestibule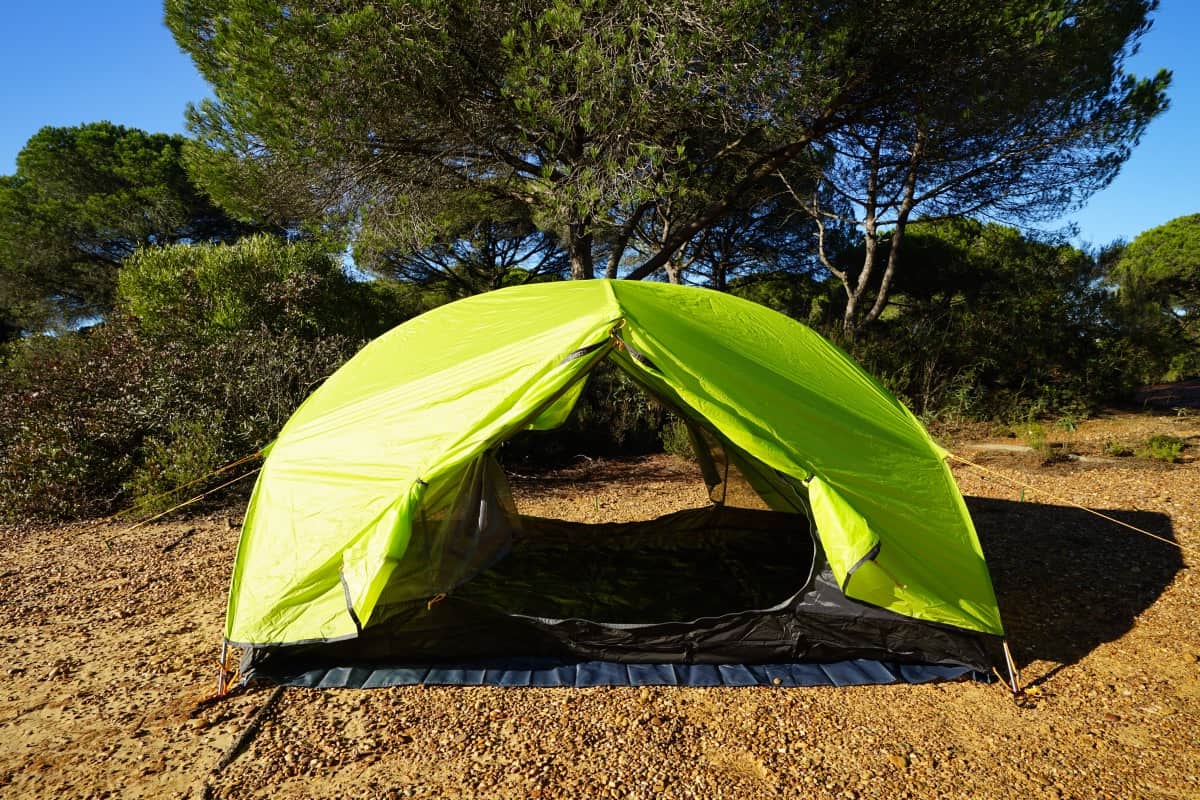 When sharing a tent with other people, the number of doors and their placement can help create easy access for bathroom breaks without disturbing your tent-mates.
The addition of a vestibule outside the tent doors is also a useful feature. Typically built into the rainfly, a vestibule is an extended bit of fabric that adds extra covered space separate from the main tent. This is a highly desirable feature as it can act as a "garage" to store muddy, dirty, and/or wet gear such as hiking boots. You may also choose to store your pack in the vestibule on a dry night to give you extra space inside the tent for stretching out and relaxing.
Ventilation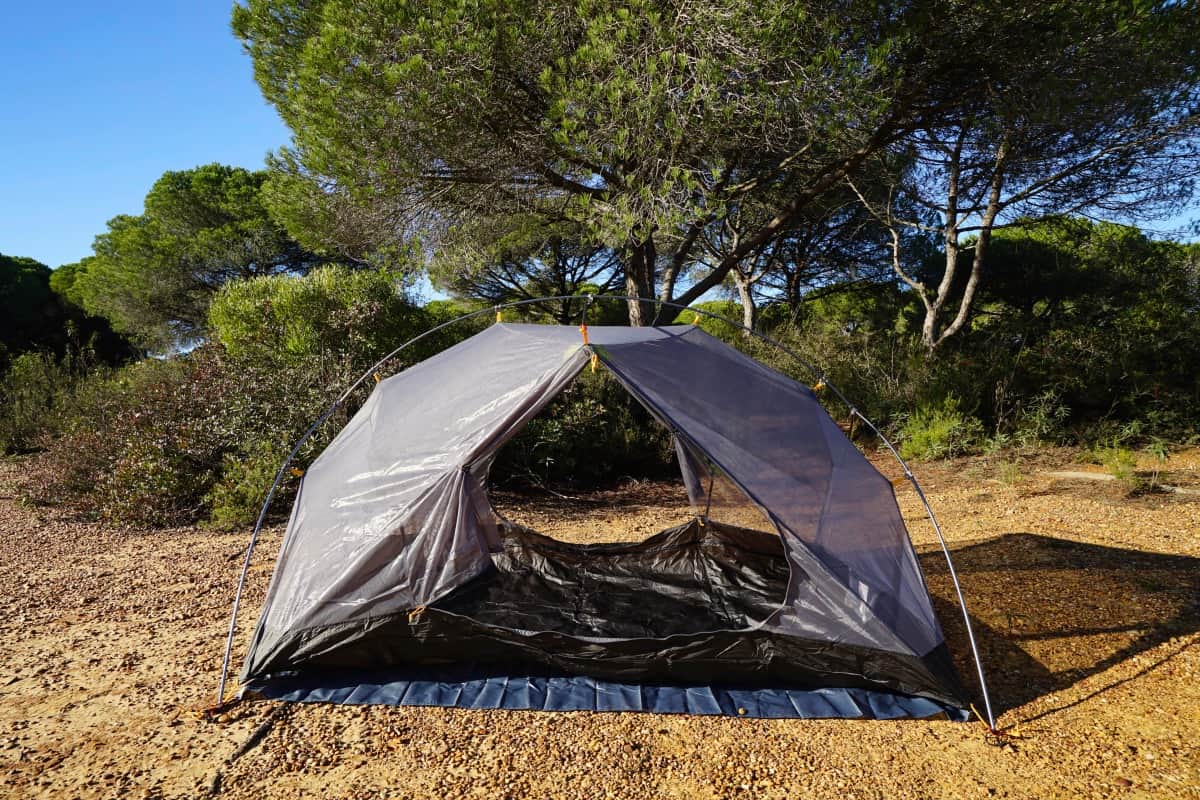 Mesh fabric is primarily used as a way to ventilate camping shelters. Some tents include a removable rainfly that allows the mesh to breathe and create more airflow. Other tent designs include flaps built into the tent that you can open to increase ventilation.
We all know that ventilation is important for creating a cooler atmosphere in warm weather. But did you know that proper ventilation can also help keep you warm in cold temperatures by reducing condensation? When you breathe and move in your tent, warm air is trapped. The colder outside air can create condensation that gets you and your gear wet. Properly ventilating your tent in cooler weather will help keep you cozy and dry!
OPTIONAL ACCESSORIES
Footprint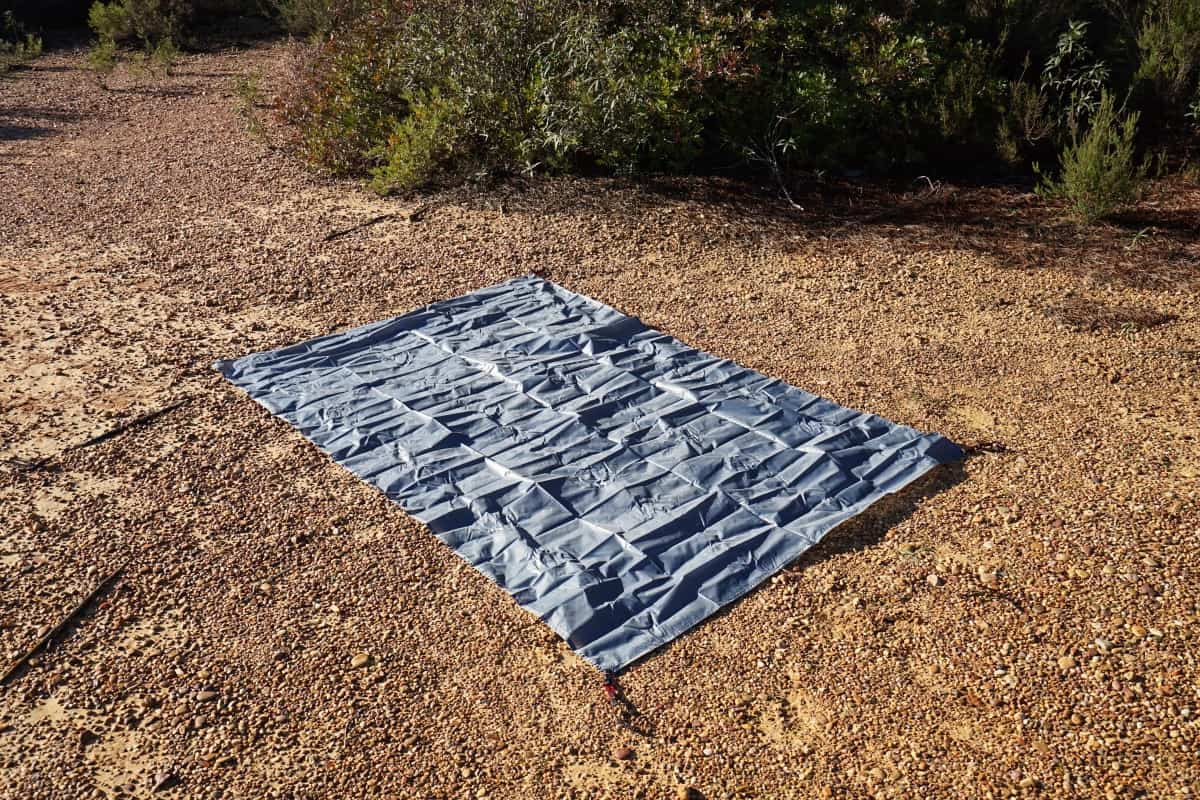 A footprint is a ground cloth that provides an extra layer between the tent's floor and the ground. It can help reduce wear and tear on the tent floor, allowing it to last longer and eliminate the need for repairs. Footprints are also useful in preventing groundwater and excess moisture from soaking your tent's floor and subsequently you and your belongings.
Many, if not most, tents have an option to purchase a custom-fitted footprint. Although you could create your own, we suggest buying a matching footprint for your tent to obtain a perfect fit. A footprint that's too big will stick out from beneath the tent and capture water, soaking your floor in the process. If it's too small, only a limited portion of your tent floor will be protected from the wet ground and you're more likely to end up wet if the whole bottom of your tent isn't covered by the footprint.
Gear Loft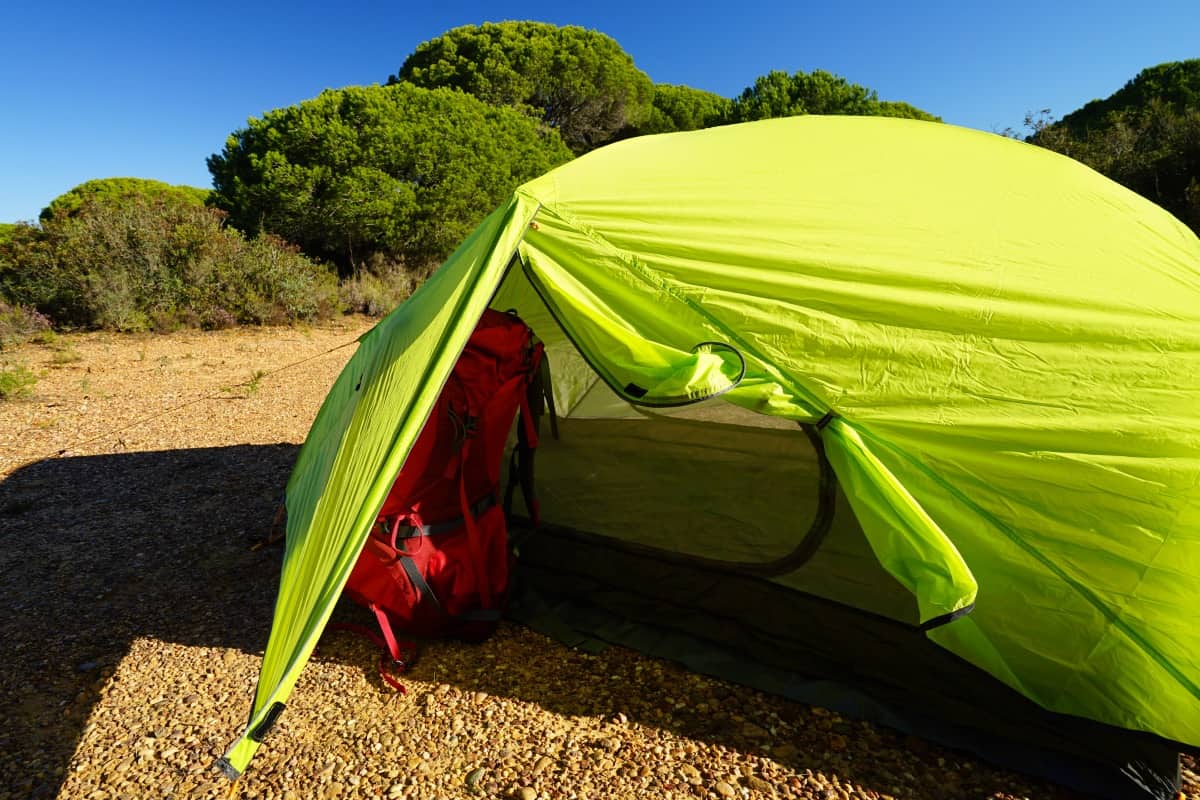 Usually found as a built-in accessory on most tents, a gear loft offers extra space overhead to store quick-access items such as your car keys or a headlamp for midnight bathroom breaks. Gear lofts can also be purchased separately with additional features, such as pockets and gear loops.
Tent Repair Kit
We highly recommend including a tent repair kit with the purchase of your tent, considering how lightweight and inexpensive they are. Usually consisting of an extra swatch or two of fabric, adhesive glue, a tent pole splint, extra zippers, and a sewing needle and thread among other items, a tent repair kit can mend holes, tears, rips, broken poles, and busted zippers. It can mean the difference between a wet and dry tent or the ability to keep bugs out.
FEATURES EXPLAINED
Footprint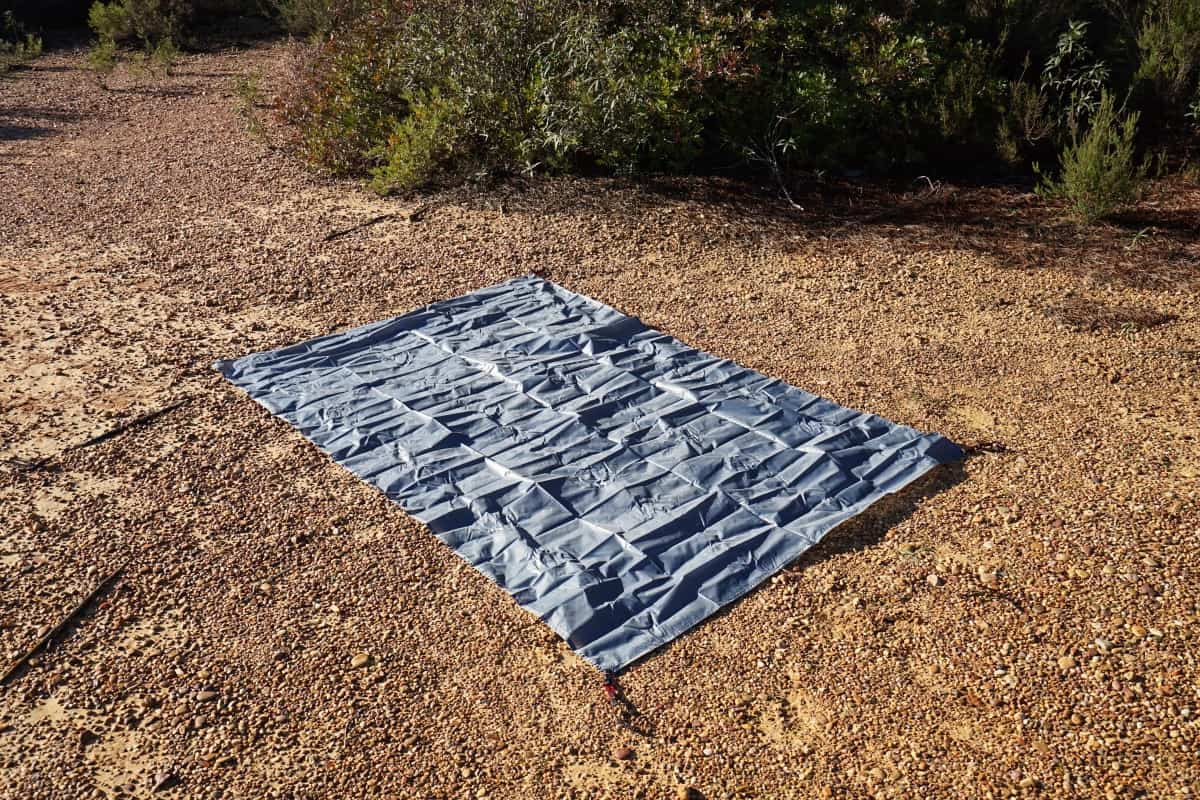 A layer of cloth that goes beneath a tent to prevent tearing and scratching of the tent floor and minimize leaking from excess water underneath your tent.
Freestanding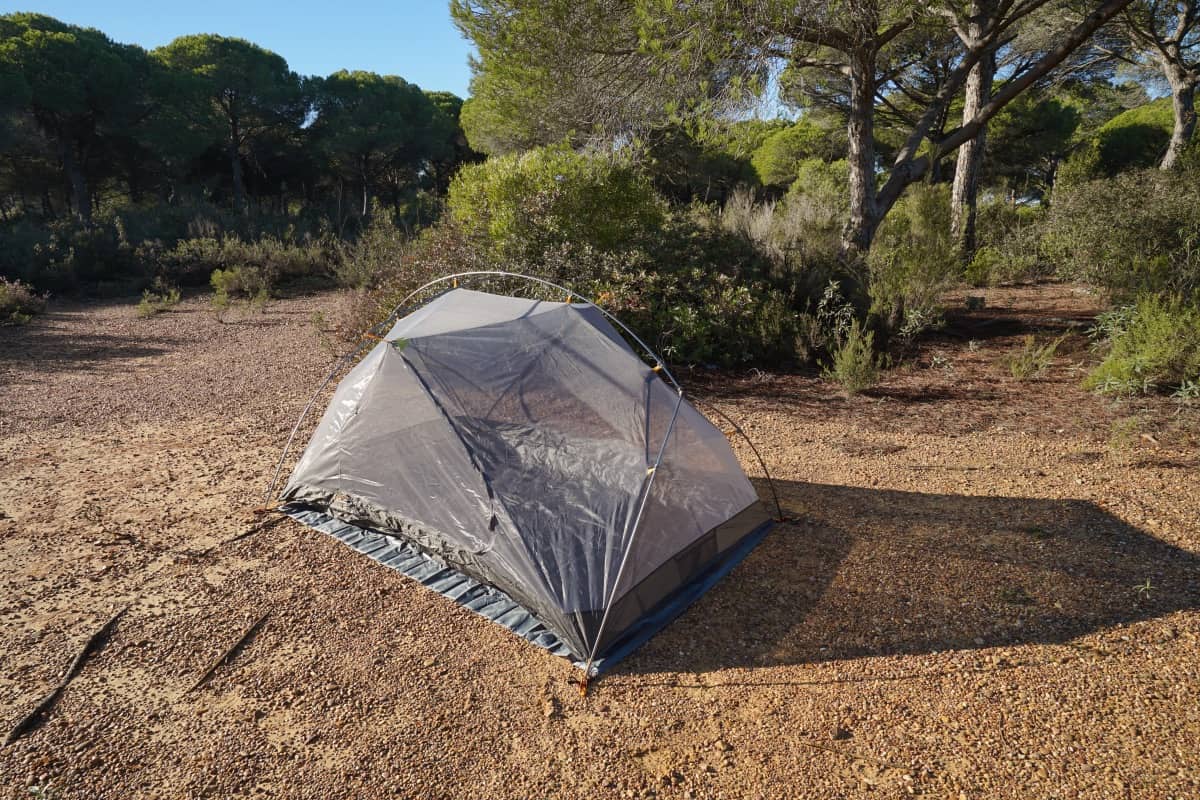 A tent that stands upright without the need for tent stakes.
Guyout Loops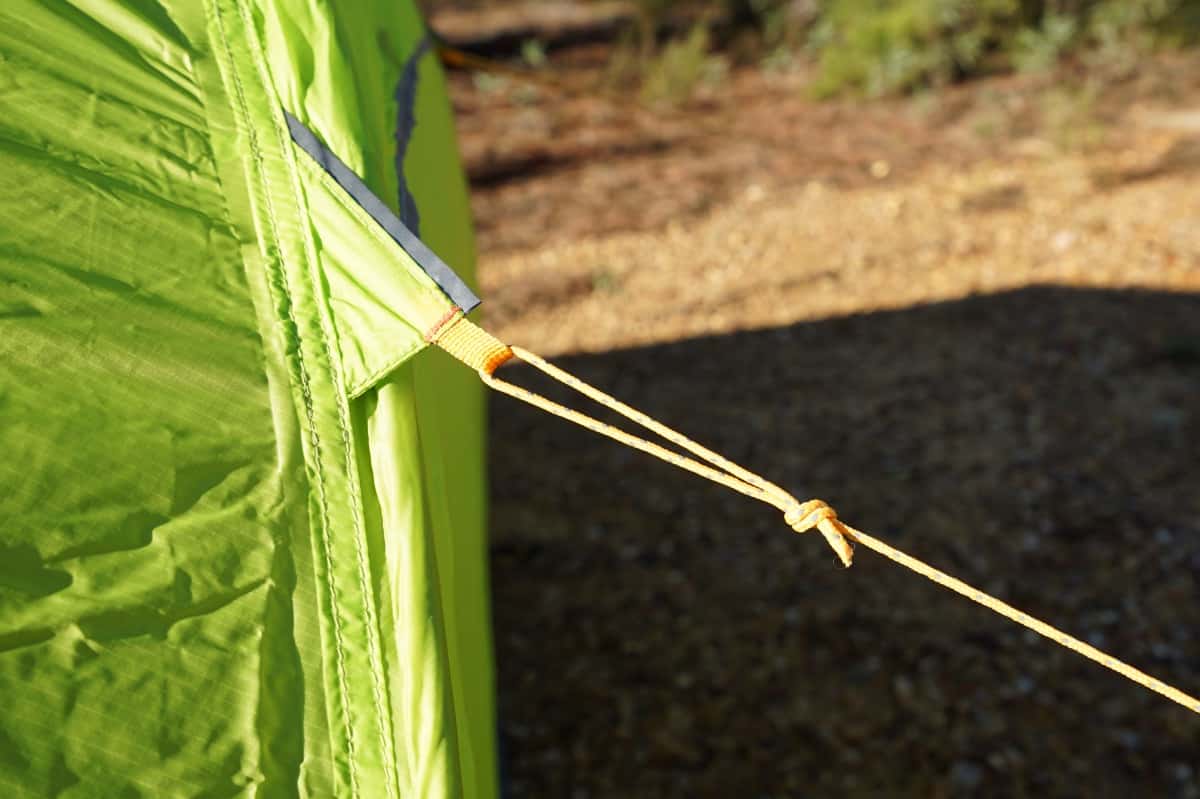 These loops are found on the exterior of a tent or rainfly and allow small ropes called guy lines to be attached. Guy lines help to keep your tent and rainfly taut and prevents them from flapping in the wind. A properly anchored guy line can also help prevent condensation inside your tent by creating a layer of air between the two materials of the tent body and its corresponding rainfly.
Loop & Clip System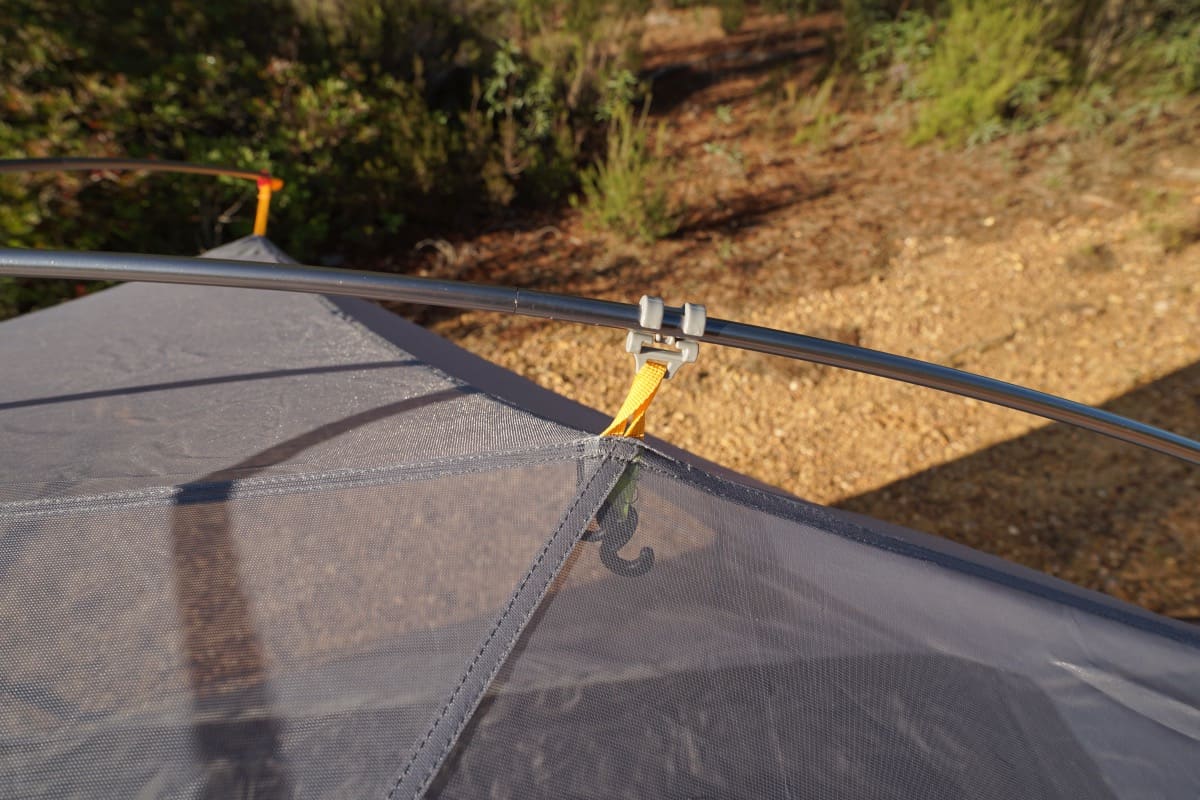 The features (loops and clips) on the tent body that are used to assemble your tent.
Rainfly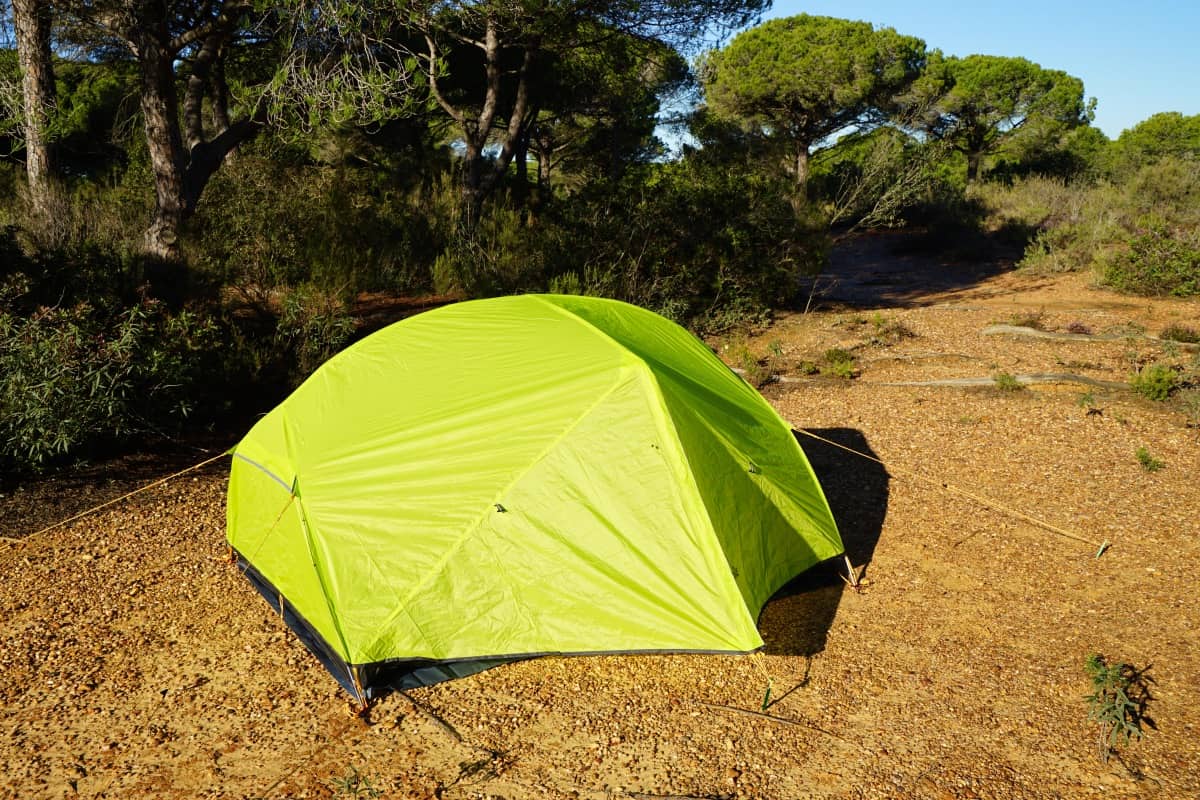 A piece of fabric separate from the tent body used to add protection from the wind and rain.
Stakes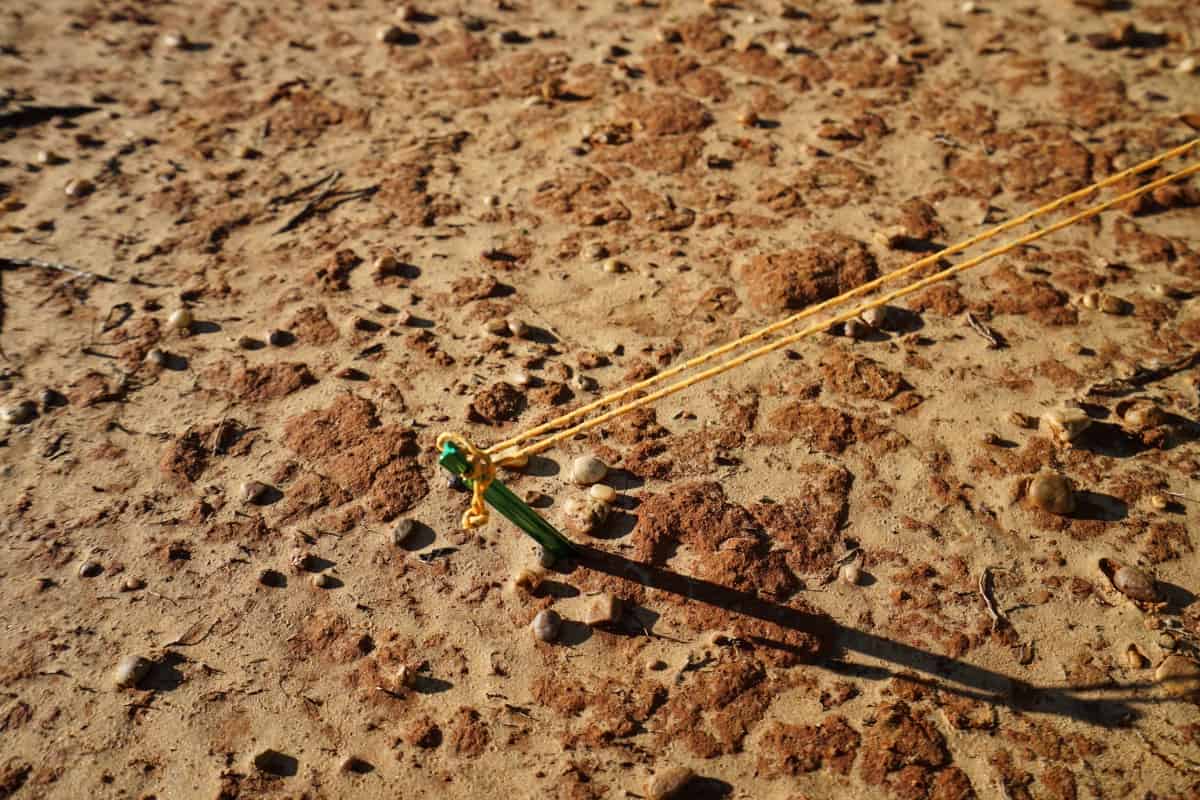 A tent stake is a plastic or metal rod that you dig into the ground to anchor a tent and rainfly. Stakes keep your tent from shifting or flying away in inclement weather. We recommend that you stake out your tent as soon as setting it up, regardless of how pleasant the weather is at the time of arrival. You never know when a sudden wind or rainstorm might appear!
Tent Body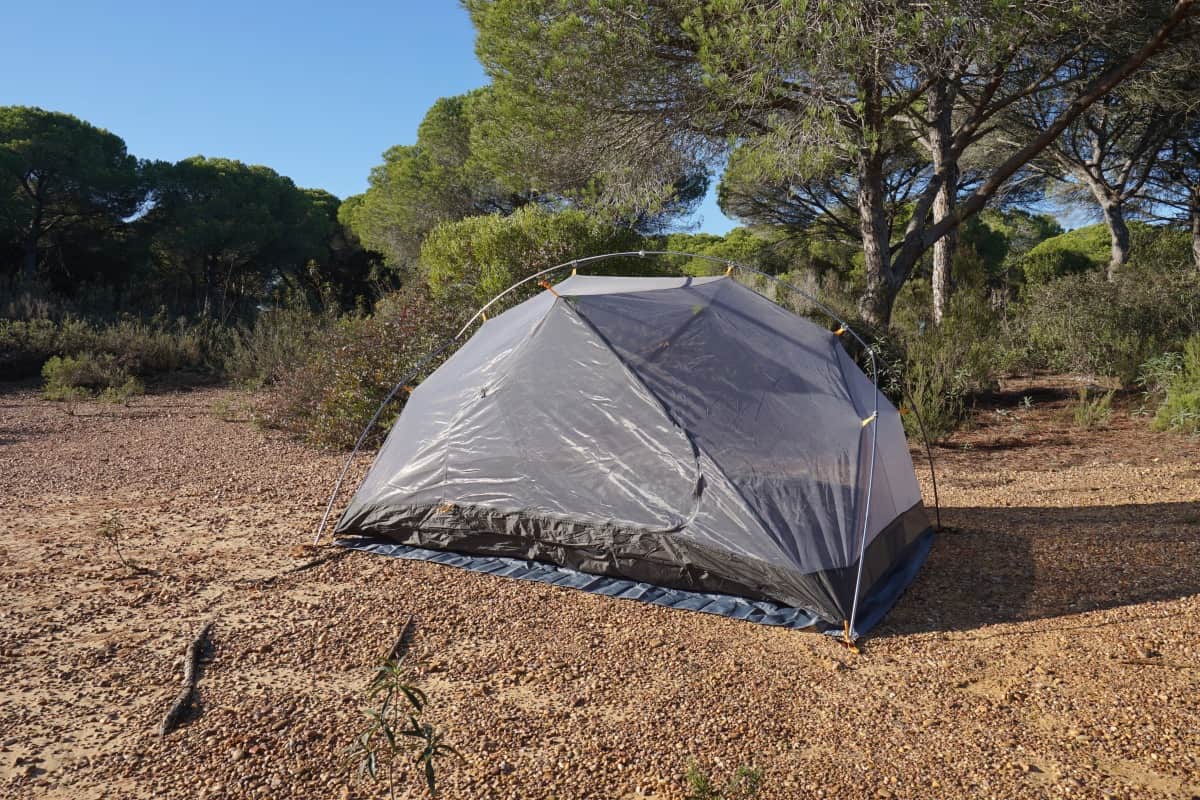 The main area of the tent. The body is held up by the tent poles to create the interior.
Tent Pole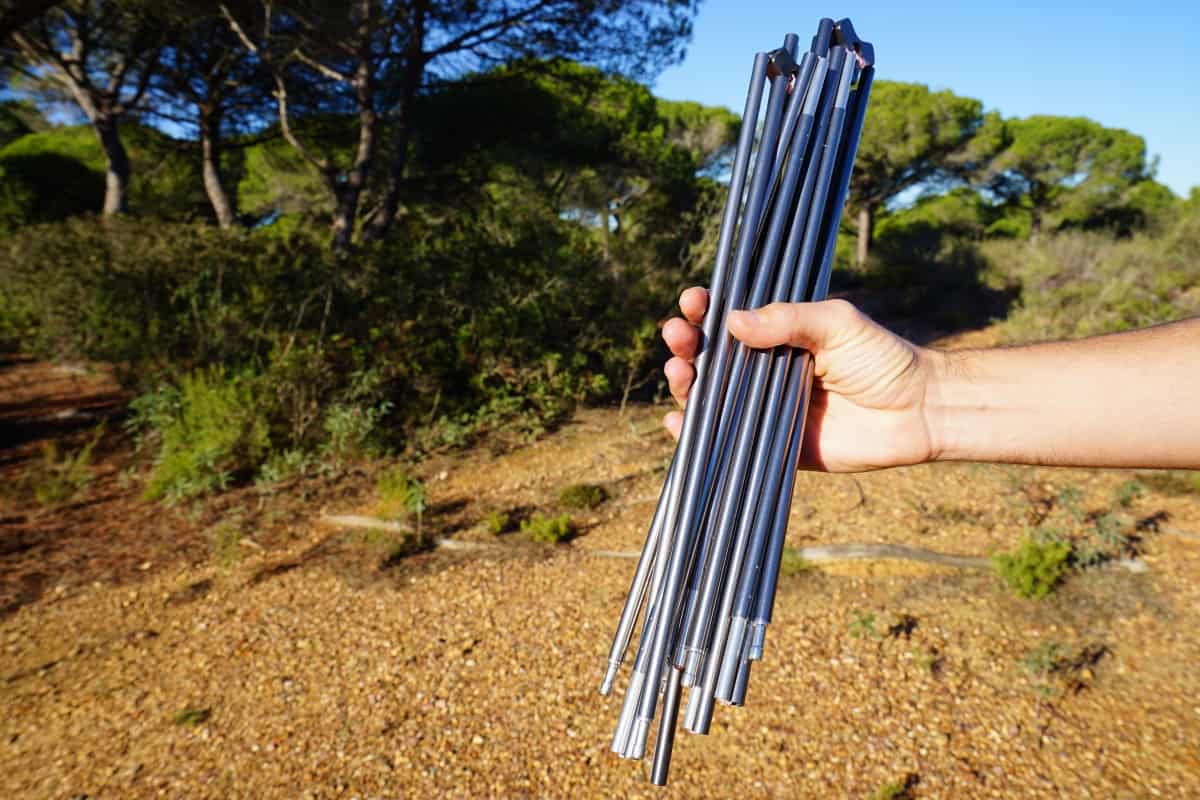 Lightweight plastic or metal poles that snap into place to create a frame for the tent. Tent poles create structure and stability for the tent. Some lightweight backpacking tents allow you to use trekking poles instead of proper tent poles. This will reduce weight and decrease set-up time.
F.A.Q. ABOUT THE BEST BACKPACKING TENTS