Updated on March 16, 2021
As your home away from home deep in the backcountry, your backpacking tent will be one of the most important pieces of gear you pack so you'll want the best of the best. The question is, how do you find the best backpacking tents?
That's where we come in. Here at the Adventure Junkies, we strive in finding the best outdoor gear options available for you so you can get back to adventuring faster. We want to help you make the most of your backpacking experience, so we put together this helpful backpacking tent guide as well as rounded up the best backpacking tents so you can sleep better at night.
For more of our top backpacking gear recommendations, check out:
Budget Backpacking Tents | Lightweight Backpacking Tents 
1-Person Backpacking Tents | 2-Person Backpacking Tents 
3-Person Backpacking Tents | 4-Person Backpacking Tents 
Quick Answer

-

The Best Backpacking Tents
Big Agnes Copper Spur HV UL 2

REI Co-op's Half Dome SL 2+

Hyperlite Mountain Gear Echo 2

Hyperlite Mountain Gear Dirigo 2

Hyperlite Mountain Gear UltaMid 2
Comparison Table

-

Best Overall Tents for Backpacking
Reviews

-

10 Best Backpacking Tents
Big Agnes Copper Spur HV UL 2
Specs
Doors

:

2

Floor Area

:

29 sq. ft.

Weight

:

2 lbs. 12 oz.

Season

:

3-Season
Features
Increased Livability
Large Zippered Doors
Ample Gear Storage
Privacy Mesh Body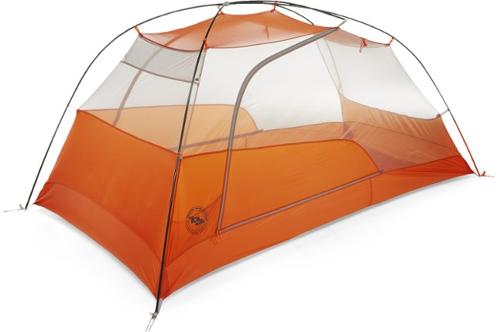 BEST FOR: LONG-DISTANCE BACKPACKING
The Big Agnes Copper Spur HV UL has been a long-standing favorite in the backpacking community for decades. Time and again this tent has proven its worth on the trail, making it an excellent option for long-distance trips. 
This tents strikes a nice balance between space and weight so you don't have to toss a coin to decide whether or not to bring the bigger tent that's slightly heavier or the smaller tent that weighs less than a pound. With a peak height of 40 in. and increased volume around the head, the Big Agnes Copper Spur HV UL ramps up livability which makes it easier to maneuver around inside. Equipped with waterproof seams and a 2-tone mesh tent body, this backpacking tent fairs well in bad weather while offering more privacy when you decided to ditch the rainfly during clear skies.
REI Co-op's Half Dome SL 2+
Specs
Doors

:

2

Floor Area

:

35.8 sq. ft.

Weight

:

4 lbs. 13.5 oz.

Season

:

3-Season
Features
Superlight construction
Pre-bent pole architecture
Interior pockets and hangloops
BEST FOR: BACKPACKERS ON A BUDGET
After years of iterations, the Half Dome line-up remains the brand's most exemplary tent offering, and the SL (superlight) products are no exception. The SL 2+ is an unbeatable combination of performance and price. This backpacking tent features a 40-denier floor fabric, making it twice as durable as our overall pick. REI designed the SL 2+ with nearly 36 square feet of livable space, two large D-shaped doors, two double-stake vestibules, and a set of upper and lower mesh panels that create for a combination of excellent ventilation while effectively preventing drafts.
What we like most about the REI Co-op Half Dome 2+ — offer than its affordable price — is all of the features, including plenty of interior pockets and hangloops and the hubbed, color-coded pole assembly that makes setting up the tent a breeze.
Hyperlite Mountain Gear Echo 2
Specs
Doors

:

1

Floor Area

:

24 sq. ft.

Weight

:

29 oz.

Season

:

3-Season
Features
Durable seam sealed bathtub floor
No-see-um bug mesh net ceiling
Three versatile components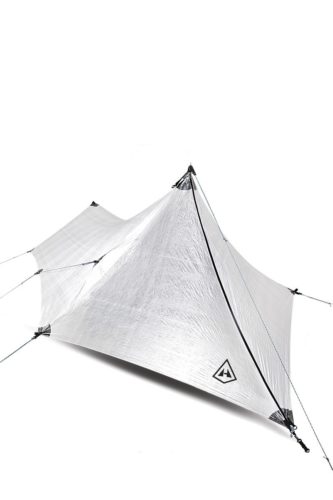 BEST FOR: ULTRALIGHT BACKPACKERS
Weighing in at just under 2 pounds, this is a lightweight and spacious backpacking tent system you won't be disappointed by — especially when you need to cover ground on long adventures.

Hyperlite Mountain Gear is a household name among ultralight backpackers. The Echo sleep system features a variety of independent components that you can opt to carry or leave behind depending on individual trip needs. If you're looking to go as light as possible, consider carrying the tarp alone. Hyperlite designs its shelters from the strongest fabric currently on the market — Dyneema — which inherently means they're meant to withstand the roughest of conditions.
NEMO Hornet 2
Specs
Doors

:

2

Floor Area

:

27.5 sq. ft.

Weight

:

1 lb. 15 oz.

Season

:

3-Season
Features
Well Ventilated
Great Wind Protection
Volumizing Clips Increase Space
Super Lightweight
BEST FOR: WINDY CONDITIONS
When the wind begins to howl, seek shelter in the Nemor Hornet. Weather-resistant and sturdy, the Nemo Hornet provides a cozy space when you encounter less than stellar conditions thanks to the durable tent pole construction and flexible rainfly bar attachment. 
For increased ventilation and weather protection, the Nemo Hornet incorporates a blend of breathable, bug blocking no-see-um mesh with nylon flooring that extends up the tent walls. This does well in keeping the draft out while allowing air to circulate. Attach the volumizing tent body clips to the rainfly and boost your living space while hunkering down.
Hilleberg Nallo 2
Specs
Doors

:

1

Floor Area

:

28 sq. ft.

Weight

:

85 oz.

Season

:

4-Season
Features
Very lightweight
Tunnel construction
Separable inner and outer tent for simultaneous pitching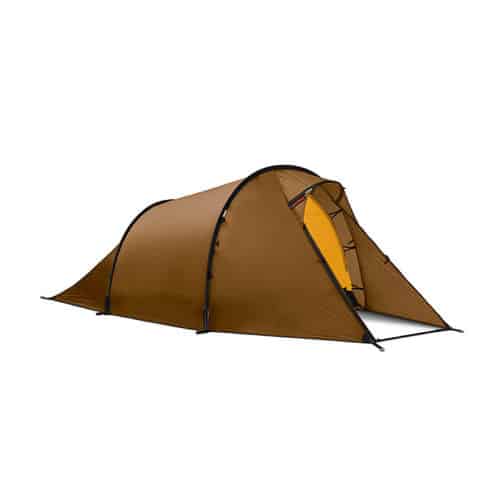 BEST FOR: WINTER CONDITIONS
The Nallo series is regarded for how lightweight it is for a 4-season product. The Nallo 2 — like most of the Hilleberg tents available — is spacious and strong. It features an intuitive combination of a removable inner and outer tent. The poles insert from the outside, making set-up a breeze. Spectra guy lines equipped with camping adjusters help make this your best choice in inclement winter weather.
What we like most about the Nallo 2 is the extra spacious tunnel design and high quality materials used in construction — namely the Kerlon 1200 outer tent fabric.
MSR Hubba Hubba NX 2
Specs
Doors

:

2

Floor Area

:

29 sq. ft.

Weight

:

3 lbs. 8 oz.

Season

:

3-Season
Features
Durable
Ventilating
Flexible Tent Poles For Increased Wind Performance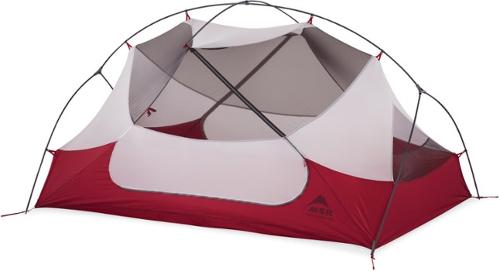 BEST FOR: DURABILITY
The Hubba Hubba is one of MSR's best-sellers and it's not hard to see why. This backpacking tent features MSR's exceptional quality so you can rely on its performance year after year.  
MSR's proprietary waterproof coating keeps the elements out while the ample mesh body and side vents allow air to circulate. As a bonus, these vents also aid in keeping condensation at bay. Featuring a unique symmetrical design, you'll find the MSR Hubba Hubba NX doesn't trade foot room for headspace.
Hyperlite Mountain Gear Dirigo 2
Specs
Doors

:

2

Floor Area

:

32.5 sq. ft.

Weight

:

1 lb. 12 oz.

Season

:

3-Season
Features
Super Strong Construction
Completely Waterproof
Lightweight
Reliable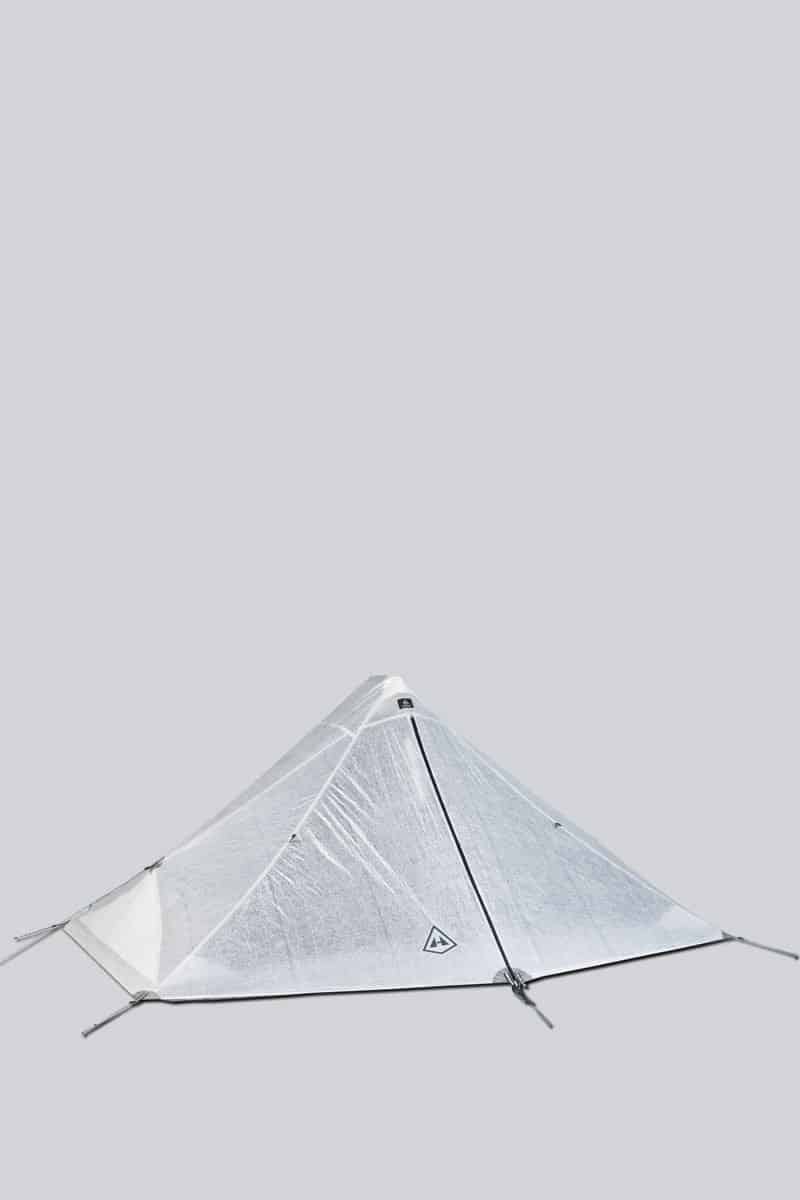 BEST FOR: EXPERIENCED BACKPACKERS
Moisture is no match for the HyperLite Mountain Gear Dirigo. This pyramid-shaped backpacking tent is constructed from five different Dyneema composite fabrics which means it's not only made from the strongest, lightest fabric around, but it's also 100-percent waterproof. 
Pitch the tent via trekking poles and stake it down. The unique construction is strong and secure so you will have peace of mind when inclement weather strikes. With ventilating large mesh doors and breathable panels, you'll stay comfy inside the Hyperlite Mountain Gear Dirigo.
Marmot Limelight
Specs
Doors

:

2

Floor Area

:

33 sq. ft.

Weight

:

5 lbs. 2 oz.

Season

:

3- Season
Features
Super Wide Doors
Roomy
Great Head Room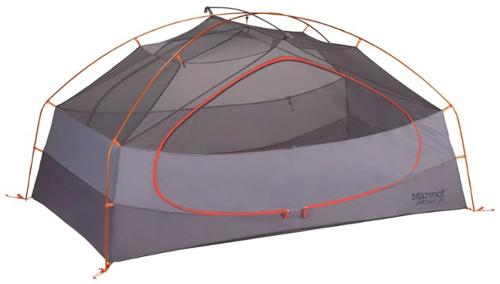 BEST FOR: WEEKEND BACKPACKING
If you don't mind a little extra weight for increased living space, you'll want to check out what the Marmot Limelight has to offer. This backpacking tent offers a roomy interior, increasing comfort for those who like to sprawl out. 
To achieve a more spacious feeling, the Marmot Limelight features vertical sidewalls with increased headspace. This means you can fully sit up without feeling cramped even when you're sharing your tent with your buddies. The exceptionally large doors are also a nice feature as they make it easier to get yourself and your gear in and out.
Big Agnes Tiger Wall UL2
Specs
Doors

:

2

Floor Area

:

28 sq. ft.

Weight

:

2 lbs. 3 oz.

Season

:

3-Season
Features
Lightweight
Headspace For Two
Ample Pockets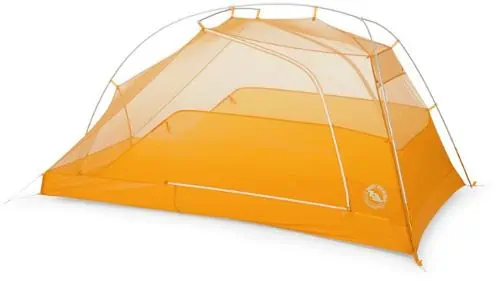 BEST FOR: MINIMAL WEIGHT WITH MAXIMUM COMFORT
For those who prefer minimal weight with added comfort, consider the Big Agnes Tiger Wall. The lightest tent in the Big Agnes line-up, the Tiger Wall incorporates comfortable features that can be hard to find in ultralight tents. 
The Big Agnes Tiger Wall features a volumizing cross pole to create even headspace so two people can sit up comfortably at any given time. There's also the addition of structured corners at the base so your feet can air out without being stifled by the tent. With plenty of pockets, you and your partner can easily stash gear without fighting for space.
Hyperlite Mountain Gear UltaMid 2
Specs
Doors

:

1

Floor Area

:

63 sq. ft.

Weight

:

1 lb. 7 oz.

Season

:

4-Season
Features
Outstanding Durability
Exceptional Quality
Super Lightweight
Incredibly Roomy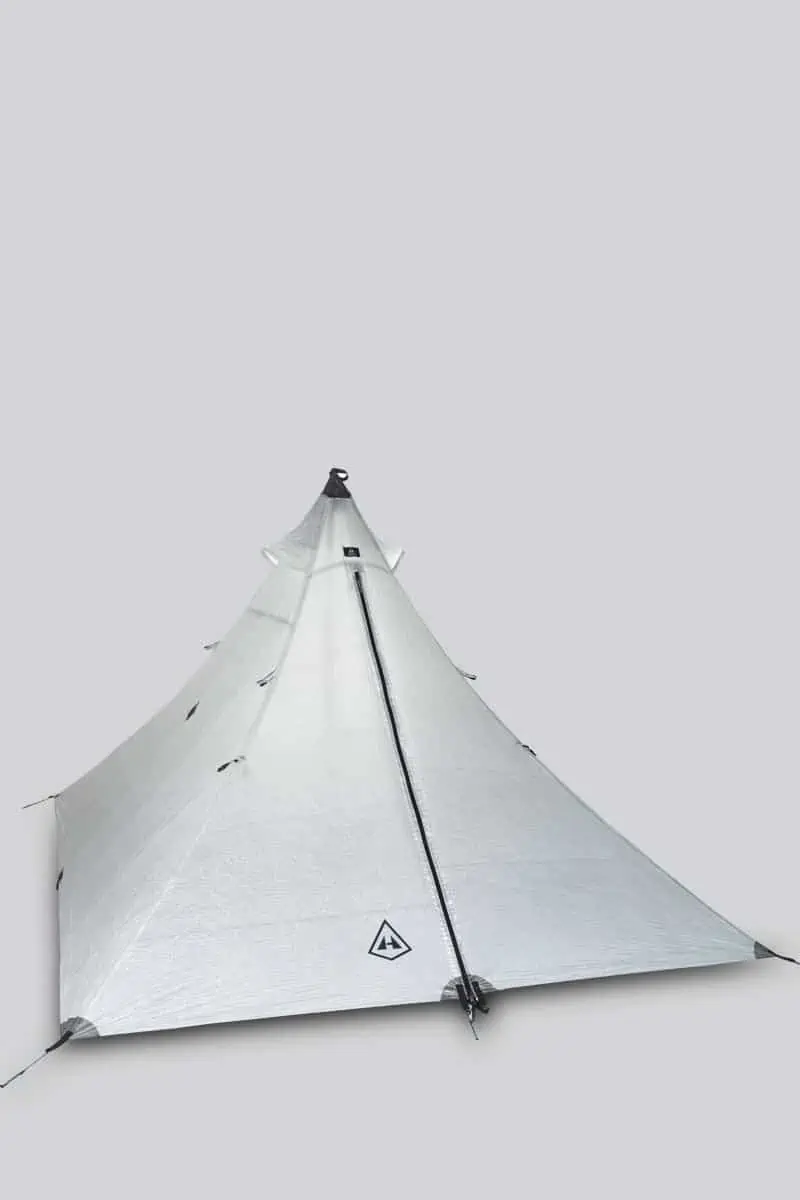 BEST FOR: AMPLE INTERIOR SPACE
The strength to weight ratio of the Hyperlite Mountain Gear UltaMid is astounding. This innovative backpacking tent weighs in at less than 2lbs. while the strength of the fabric is unmatched by the competition. 
When it comes to weather protection, the UltaMid is hard to beat. This backpacking tent is fully waterproof and can withstand heavy wind. Rain or shine, you'll be elated to sprawl out inside thanks to the exceptionally large living space. Pitched via trekking poles, the UltaMid is easy to set up meaning you can be sleeping like a baby in no time.
THINGS TO CONSIDER WHEN BUYING BACKPACKING TENTS
COST
How you decide on a backpacking tent will be a matter of what features you want within your budget. On average, you'll spend between $100-$500 on a backpacking tent. Entry-level tents will be on the lower end of the price scale. These tents tend to offer minimal features with a heavier weight and less durability. Meanwhile, the more money you spend, the more you'll gain in durability, weather protection, and decreased weight.
WEIGHT
When choosing a backpacking tent, weight is a major selling point that shouldn't be ignored. Unlike car camping tents, backpacking tents skimp on weight wherever possible. This helps keep pack weight to a minimum while reducing space.
In terms of how heavy your tent should be, that's really up to you. The lighter the tent, the less space it is likely to have and vice versa. When it boils down to it, it's a matter of how much you're willing to lug around to sleep comfortably at night.
SLEEPING CAPACITY
The sleeping capacity of your tent refers to the maximum amount of people the tent is designed to sleep. This typically varies between 1-, 2-, 3-, and 4-person backpacking tents. However, this doesn't mean you need to max out capacity. For instance, if you're hiking alone yet want more space to sprawl out in full starfish fashion, then a 2-person capacity may suit you better. The one thing to keep in mind is the higher the capacity, the heavier the weight.
WEATHER PROTECTION
Backpacking tents vary in weather protection. If you're going to be hiking in dry conditions in warmer months, this is less likely to be a concern. Meanwhile, you bet your freezing cold bottom that the moment the clear skies turn to torrential frigid rain, you're going to want full protection. Consider when and where you'll be hiking to determine just how much protection you'll need from mother nature's wrath.
SEASON RATING
Along with weather protection comes season rating. Most backpackers opt for a 3-season rating, which means these tents are intended to be used during spring, summer, and fall. The other option you'll encounter is a 4-season rating, which means it's also equipped for winter use. 4-Season tents are built for lower temperatures and harsher weather. This also makes them heavier and more durable. While 4-season tents can certainly be used all year-long, you're better off utilizing their burlier features only in the winter and then relying on a 3-season tent the rest of the year.
FEATURES EXPLAINED
PEAK HEIGHT
The highest point inside the tent, which will determine how comfortably you can sit or stand inside the tent.
RAIN FLY
Similar to a tarp, a rainfly is a waterproof fabric constructed to fit over the tent body, keeping the interior dry while also helping to seal in warmth. For more tent waterproofing advice, consult this helpful REI guide.
VESTIBULES
Extra storage space for gear located underneath the rainfly and directly outside of the tent body. Think tent mudroom, if you will.
DYNEEMA
A proprietary fabric that offers an incredible strength to weight ratio, making it the world's lightest, strongest fiber.
NO-SEE-UM MESH
A tightly woven lightweight mesh that offers incredible insect protection along with ventilation.
READ MORE
For more of our top hiking & backpacking gear recommendations, check out these popular articles: