Updated on November 21, 2021
Whether you're new to kayaking or desire a specific use from your vessel, sit on top kayaks are a relatively recent innovation with an immense number of benefits. An excellent choice for both novices and experts alike, we've rounded up the best sit on top kayaks to get you out on the water in no time!
Fishing, touring, recreational use, and paddling in pairs, this list rounds out a wide array of kayaks that are sure to help you get the most out of your days on the water. In our expertly crafted rundown of the top 10 sit on top kayaks, we've focused on key details and specific applications to make sure you get exactly the boat you need.
Pro Tip: So what's with those numbers next to kayak model? It's an easy way to know a kayak's length! A 9.5 means the kayak is 9 ½' feet in length while a 106 means the boat is 10' 6".
For more of our top kayaking gear recommendations, check out these popular articles:
Lake Kayaks | Sea Kayaks | Tandem Kayaks | Canoes | Sit In Kayaks
Touring Kayaks | Kayaks for Beginners | Lightweight Kayaks | Kayaks Under $500
Kayaks for Kids | Kayaks for Dogs | Kayaks for Women | River Kayaks
Quick Answer

-

The Best Sit On Top Kayaks
Comparison Table

-

Best Sit On Top Kayak

For the best experience turn your device horizontally
Reviews

-

Best Sit On Top Boats for Kayaking
Pelican Sentinel 100X
Specs
Type

:

Solo

Length

:

9'6"

Style

:

Recreational

Weight Capacity

:

275 lbs.

Width

:

30"
Features
Anti-slip carpet
Molded footrests
Extra-thick, adjustable seat
Storage platform with bungee cords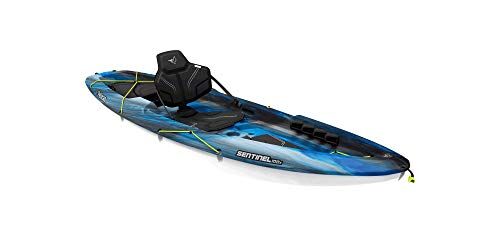 BEST OVERALL SIT-ON-TOP KAYAK
Combining a compact design with lightweight materials makes the Sentinel 100x a great overall choice for any paddler.
Thanks to a super stably designed hull, the Sentinel 100x is perfect for paddling calm waters on those warm sunny days. A spacious cockpit allows for easy entry and exit from the land or water. Weighing in at only 42 pounds and measuring just over 9 feet long, transporting or storing the Sentinel is painless.
What I like most about the Sentinel 100x is the 13L removal storage compartment.
Perception Tribe 9.5
Specs
Type

:

Solo

Length

:

9' 5"

Style

:

Recreational

Weight Capacity

:

300 lbs.

Width

:

31.25"
Features
Thick, ventilated seat padding with adjustable seatback
Multiple footrests
Spacious front and rear compartments with bungee cord lashes
Molded cup holder

BEST BUDGET OPTION
Combining thoughtful features with a no frill design, this kayak is ideal for budget minded consumers.
The Tribe 9.5 is designed to be highly stable while providing for just the right amount of playfulness. It offers extremely customizable features including the seat, footrests, and cockpit. The center storage hatch is a great addition for stowing personal items that you might want easy access to.
What I like most about the Tribe 9.5 is the integrated mount system for a camera, phone, or fishing rod.
eMotion Spitfire Tandem
Specs
Type

:

Tandem

Length

:

12'

Style

:

Recreational

Weight Capacity

:

500 lbs.

Width

:

35"
Features
Self-bailing scupper holes
Quick-release seat backs
Easy roll skeg wheel
2 paddle keepers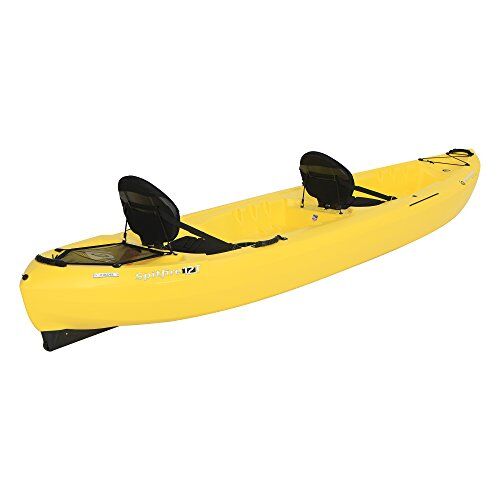 BEST FOR: PADDLING IN PAIRS
Offering enough space for 2 to lounge and enough storage for a long day out on the water, this kayak is the perfect choice for you and your favorite paddling partner.
Transporting this kayak could be a pain, but a built-in wheel in the skeg allows you to easily move this kayak solo. When headed to the water, four integrated handles make carrying the kayak easy — as a team. The integrated skeg and a continuous rocker design makes for decent tracking and efficiency out on the water.
What I like most about this kayak are the comfortable, padded, quick-release padded seats.
Sun Dolphin Journey 10
Specs
Type

:

Solo

Length

:

10'

Style

:

Fishing

Weight Capacity

:

250 lbs.

Width

:

29.5"
Features
Two flush & one swivel mount rod holders
Adjustable foot braces
Self-bailing and storage compartments
Protective thigh pads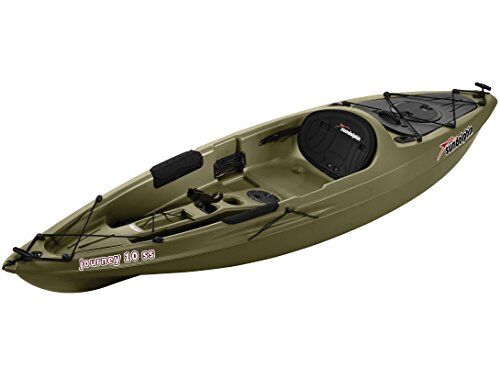 BEST FOR ANGLERS
Combining a sleek design with all the extras an angler needs, the Journey 10 could be the 'perfect catch'.
Equipped with two flush mount and one swivel rod holder, this kayak is ready for your next fishing adventure. Multiple storage compartments and different configurations allow you to design the perfect storage system for your specific gear arsenal. The open cockpit design allows for easy entry, too, no matter how much gear you might have on you.
What I like most about the Sun Dolphin Journey 10 are the built in thigh pads – a thoughtful touch for added comfort and stability.
Ocean Kayak Venus 11
Specs
Type

:

Solo

Length

:

10' 8"

Style

:

Women's Specific

Weight Capacity

:

225 lbs.

Width

:

28.5"
Features
Comfort Hybrid seat
6" Cam Lock Hatch with storage bucket
Molded-in cup holder
Seat well designed to accommodate female center of gravity
Low deck profile perfect for women
Click seal hatch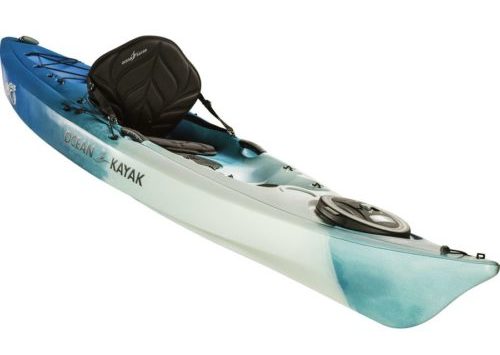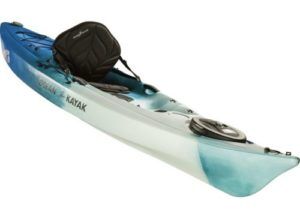 BEST WOMEN'S-SPECIFIC DESIGN
The brand thoughtfully designed this kayak to better accommodate a women's particular body type and make for a more comfortable sit-on-top ride.
The Venus 11 is a great idea for you women to try out who don't feel comfortable in unisex kayaks. This kayak has a women's specific seat designed to account for a lower center of gravity and provide for exceptional lumbar support. Coupled with a highly stable hull design that tracks and cuts through the water with ease, this kayak may have thinking differently about comfort while paddling. Weighing in at 44 pounds, this boat isn't light by any means, but with a little patience and creativity, should be able to be handled solo.
What I like most about the Venus 11 is the added grip in the front of the kayak that greatly assists with the loading and unloading process.
Perception Tribe 13.5
Specs
Type

:

Tandem

Length

:

13' 6"

Style

:

Tandem

Weight Capacity

:

500 lbs.

Width

:

33.75"
Features
Backed By A Manufacturer's 5-Year Warranty
Self-Bailing Scupper Holes Easily Drain Water From Boat
Extra-Padded Seating Provides A Comfortable Ride For Two

BEST FOR: PADDLING IN PAIRS
Whether you're bringing along a friend for a casual paddle or teaching a child the joys of kayaking, the Tribe 13.5 Tandem makes the most out of its whopping 13 ½ foot length.
With plenty of room aboard, this kayak is a great choice for families with smaller children. There's an extra third seat in the middle and a 4th child can easily be tucked in the front! The Tribe also sports cargo bungees in both the front and rear, making snacks, water, and gear quickly accessible.
The Tribe's 500 lb weight capacity lends itself to performing more like a canoe than a kayak when fully loaded, but also means that you'll never have to leave that cooler full of goodies behind.
THINGS TO CONSIDER WHEN BUYING KAYAKS
PADDLING LOCATION
It's important to keep in mind where you will be doing most of your paddling as it will help inform your purchase. We suggest doing a little research on the bodies of water in your area (or where you plan on paddling) to help determine the right kayak for you.
SMALL RIVERS
As a general rule, small rivers tend to move quicker than larger rivers, and sit on top kayaks can be used in up to Class II rapids. They're a great way to learn a local river and are easy to recover if flipped. The self-bailing scupper holes found in sit on top kayaks are also a huge advantage when small rapids wash over the deck. The strategic holes let water drain back out of your boat without any extra effort.
LARGE RIVERS AND LAKES
Larger rivers and easy going lakes tend to be slow moving and can easily be handled by a sit on top kayak. These locations offer the widest variety of activities and are great for fishing, touring, day trips, and overnight camping. Any of the kayaks on this list would fit in perfectly in this setting.
LAKES
Most sit on tops should be able to handle the average sized lake. The larger the lake, the more boat you'll need – more length and width will help keep you feeling stable. Fishing sit on top kayaks excel in this environment as they are made to handle heavy gear and keep paddlers stable. If the lake produces waves with whitecaps, then it's too big – sorry, Great Lakes!
COAST
This is where sit on top kayaks are pushed to their upper limit but still have a place. If you're kayaking in warmer waters and don't mind swimming, or if you're paddling in the coastal inlets that tend to be calmer, then a sit on top kayak will work great.
CATEGORY
When it comes to sit on top kayaks, there are 5 unofficial categories that help determine the best use. Although sit on tops are technically their own category, there are still enough differences among sit on tops to classify them for a best use.
RECREATIONAL
Recreational sit on top kayaks are the perfect boat for the casual paddler and the generalist interested in using their vessel for a variety of different uses. Characterized by a wider frame, recreational sit on tops provide more stability while paddling and entering/exiting the boat.
TOURING
Sit on tops that fall into the touring kayak category tend to be longer and slightly narrower than their recreational counterparts. Filled with an ample amount of storage space, these boats typically have a large semi-dry storage hatch in the bow for packing overnight gear such as sleeping bags, hammocks, and tents.
TANDEM
These are an awesome choice for families looking to introduce their children to the sport and also serve well for paddling pairs who'd like to save money rather than buying two individual kayaks. Tandem sit on tops are usually long and wide, lending themselves to extra stability.
FISHING
Typically outfitted to handle a variety of gear, fishing sit on top kayaks boast generous weight capacities and typically offer an aggressive seat position to reel in your next catch. Numerous and creative storage options abound on these vessels, making it a breeze to keep equipment readily accessible at all times. Color schemes are typically earthy colors and/or camouflaged.
PEDAL
Relatively new to the world of paddling, pedal kayaks are an increasingly popular choice amongst casual paddlers. Relying on a bicycle-like pedal system, these sit on top kayaks allow you to leverage the body's strongest muscle group to achieve your destination and are usually paired with a rudder to aid in steering.
These are best used in wide, open spaces where tight turns aren't necessary. Also, due to the heavy overall weight of pedal kayaks, it's best to use a trailer or truck for transportation as rooftop racks will prove difficult to transport safely.
FEATURES EXPLAINED
BOW
A kayak's front end.
STERN
A kayak's rear end.
CAPSIZE
The act of being flipped over while paddling.
HULL
The underside of an aquatic vessel.
DECK
The topside of a boat where the paddler sits and gear can be stored.
COCKPIT
The seating area from which kayakers control their vessel.
HATCH
A compartment where gear and belongings may be stored.
RIGGING
The tactical placement of rope/bungees that can be used to lash down gear, belongings, and an extra paddle.
SELF-BAILING SCUPPER HOLES
A passive system of drainage holes that allow water to pass through the kayak to prevent it from flooding and sinking. These are especially useful in rough conditions that wash water aboard your craft and after capsizing.
TRACKING
How straight a vessel can go when paddling.
READ MORE
For more of our top kayaking gear recommendations, check out these popular buyer's guides: