Updated on March 16, 2022
Stand-up Paddle Boarding (SUP) paddles are quite different than canoe or kayak paddles because of the standing position you're in when you paddle. A SUP paddle is a one-sided paddle with an extra-long shaft that should reach the water without the user bending over. So, what makes the best SUP paddles stand out from the others?
The best SUP paddles are lightweight, durable, adjustable, and affordable. They also tend to carry the best ratings and feature the best quality construction. Taking all these factors into consideration, here are our top picks.
For more of our top paddleboarding gear recommendations, check out the Best SUP Roof Racks.
Quick Answer

-

The Best SUP Paddles
Boardworks Kraken Adjustable
Comparison Table

-

Best SUP Paddle

For the best experience turn your device horizontally
Reviews

-

The Best Paddles for Stand Up Paddleboarding
Werner Flash 85
Specs
Material

:

Fiberglass Shaft, Injection-molded Blade

Floatation

:

Unknown

Grip

:

Palm Grip

Length

:

Adjustable from 54-70"

Weight

:

1 lb 10 oz

Blade Offset

:

Yes, 10 Degrees
Features
Length And Height Are Printed On The Shaft For Easy Reference
Slender, Rectangular Blade That's Easier For Kids To Handle
Impact- And Wear-resistant Blade Tolerates Rough Handling
Kid-sized Handle That Fits Better In Smaller Hands
Two-piece Paddle Comes Apart For Transport And Storage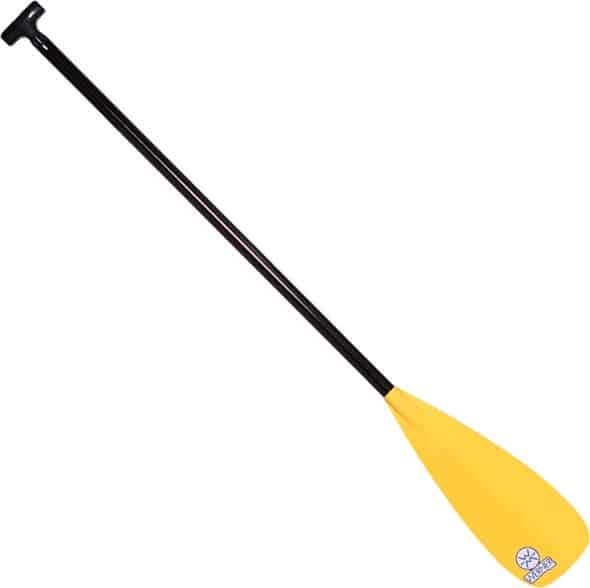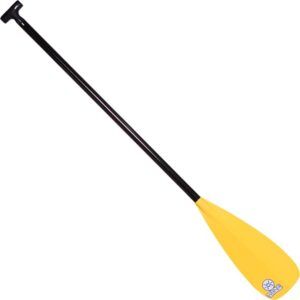 BEST KIDS' PADDLE
This paddle is the perfect choice for kids from about ages 6-13 to learn on. The adjustable height grows with your child from 3 ft 8 in to 5 ft, when they graduate to an adult-sized paddle. The light swing weight and small blade are easier for kids to maneuver without getting worn out.
The straightforward paddle makes paddleboarding accessible to younger crowds with its straight shaft, simple adjustment system, and affordable price. Kids tend to be tough on their "toys" too, but this paddle is ready for it with its reinforced blade. Get the whole family in on SUP-ing this year!
Airhead
Specs
Material

:

Aluminum Shaft and Plastic, Fiberglass-reinforced Blade

Floatation

:

No

Grip

:

T-Shaped Handle

Length

:

Adjustable from 63" to 86"

Weight

:

2.75 lbs

Blade Offset

:

Unknown
Features
Lightweight Oval Shaft Minimizes Arm Fatigue
Blade Is Reinforced With Fiberglass For Durability And Lightweight
Bright Summer-Friendly Colors
Adjustable One-Piece Shaft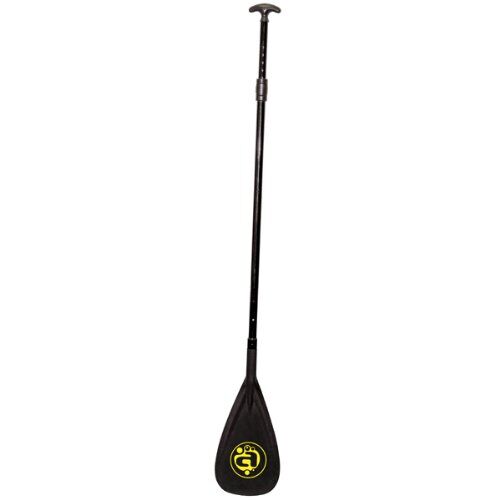 BEST CHILDREN'S AND DABBLER'S PADDLE
You'd be hard-pressed to find a used paddle for the cost of this brand-new one. If you just want to get out on the water and aren't picky about how, then this paddle is a great place to start. Children and those who just want to try stand-up paddleboarding should find this paddle works just fine for their needs.
Because it's made out of inexpensive materials, the paddle is a little on the heavier side and may not stand up to rigorous everyday use. Even still, the paddle is still manageable and sufficient for even small paddlers if they're just looking for some uninhibited fun.
Aqua-Bound Lyric
Specs
Material

:

Carbon Fiber Shaft, Polymer Blade

Floatation

:

Yes

Grip

:

Contoured Palm Grip

Length

:

Adjustable from 64-74" (small) or 70-80" (large)

Weight

:

1 lb 7.5 oz

Blade Offset

:

Yes, 10 Degrees
Features
Low Swing Weight And Flex Reduce Arm Fatigue
Polynesian Blade Graphic Enhances Aesthetic Appeal
Breaks Down Into 2 Pieces For Portability And Storage
Designed For Women With A Smaller Blade And Lighter Weight
Two Sizes And Adjustable Length To Accommodate More Riders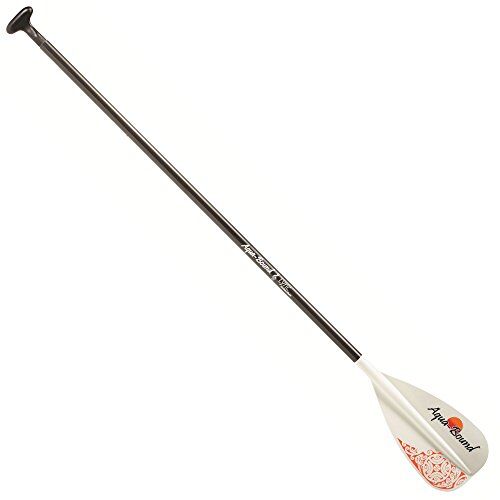 BEST LADIES' PADDLE
The Lyric was made specifically with a woman's smaller frame in mind. The smaller features and lighter weight enhance usability without being wimpy. The blade has a powerful force with a forgiving flex that makes for a smooth, enjoyable experience.
Carbon fiber has some of the most durable qualities while maintaining a light weight, so it's no wonder the material was chosen for this particular paddle. Combined with the reinforced blade, this paddle isn't for the dainty of heart. It can withstand the rigors your hardcore stamina places on it.
Boardworks Kraken Adjustable
Specs
Material

:

Carbon Fiber Shaft And Fiberglass Blade

Floatation

:

No

Grip

:

Palm Grip

Length

:

Adjustable from 70-86"

Weight

:

1 lb 6 oz

Blade Offset

:

Yes
Features
Separates Into 2 Pieces For Easy Storage And Transport
Features A Bamboo Print That Matches The Kraken SUP Boards
Reinforced Blade Edging Protects Against Damage
Palm Grip Fits The Contour Of Your Hand To Reduce Fatigue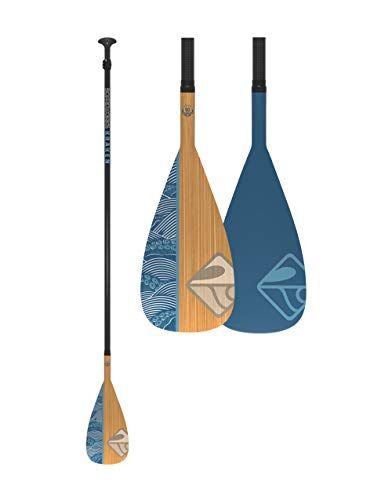 BEST LIGHTWEIGHT SUP PADDLE
At 1lb 6oz, the Kraken paddle is one of the lightest weight models on this list of top paddles, which means it's one of the easiest to manage. It practically floats with you through the water as each stroke gives you a good boost. The weight also allows you to test your endurance because it won't fatigue your arms as fast as heavier varieties.
Its lightweight qualities aren't the paddle's only notable features: the paddle is also durable and stylish like its namesake board. The bamboo veneer around the blade features the same seafaring design as the Kraken board for a coordinated look.
BPS Adjustable Two-Piece
Specs
Material

:

Aluminum Shaft, Nylon Blade

Floatation

:

Yes

Grip

:

Ergonomic T-Shaped Handle

Length

:

Adjustable from 71" to 84"

Weight

:

2.1 lbs

Blade Offset

:

Yes
Features
Strong, Reliable Construction With Lightweight Feel
Two-Piece Paddle Comes Apart for Storage and Transfer
Ergonomic Handle and Paddle Shape for User-Friendly Use
Easy Length Adjustment That Locks Into Place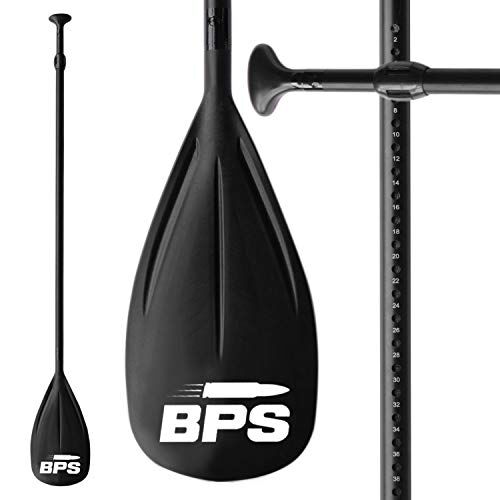 BEST INEXPENSIVE, RELIABLE PADDLE
This popular paddle has high ratings and scores of fans on Amazon because of its inexpensive price and practical construction. In fact, this paddle is a prime choice if you need multiples for groups or rental purposes. The adjustable height accommodates almost every paddler in your group.
The company offers a 12-month "bulletproof" guarantee should anything happen to the paddle, which takes some of the pressure off of your decision. This SUP paddle floats, weighs less than a baseball bat, and works efficiently in the water with its ergonomic design, so you shouldn't have any problems favoring it.
Abahub 3-Piece
Specs
Material

:

Aluminum Shaft, Fiberglass And Polymer Blade

Floatation

:

Yes

Grip

:

Oval Ergonomic Handle

Length

:

Adjustable from 68-84"

Weight

:

35 oz

Blade Offset

:

Yes, 10 Degrees
Features
Carbon Composite Shaft Keeps The Paddle Lightweight And Forgiving
Ergonomic Handle Reduces Hand Fatigue
Quick-adjust Shaft With Pin-button Locking Mechanism
Comes With A Travel Bag To Carry The Disassembled 3-piece Paddle
Offset, Concave Blade Shape For Smooth, Powerful Strokes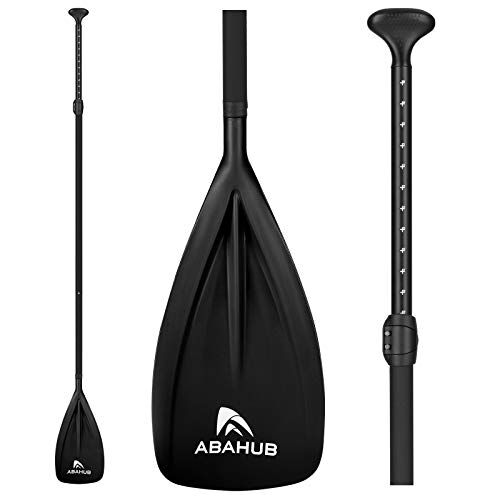 BEST ALL-PURPOSE SUP PADDLE
You're looking all over for a SUP paddle, unsure what to pick with all the information you have to sift through. Well, my friend, this Abahub model won't do you wrong, especially if you're wavering about price or user-friendliness. It has a middle-of-the-line seriousness about it that meets your most basic needs (as long as you're over 5' tall).
The paddle offers reasonable mechanics with its lightweight, durable design. The blade powers you through the water with a level of flexibility that prevents it from breaking or yanking. Meanwhile, your hands rest comfortably up against the ergonomic grip. When it's time to pack up, the paddle breaks down into 3 pieces and fits inside the included storage case for convenience.
KIALOA Makai FG
Specs
Material

:

Fiberglass Shaft And Blade

Floatation

:

Yes, When Assembled

Grip

:

Palm Grip

Length

:

Adjustable from 70-86"

Weight

:

2 lbs

Blade Offset

:

Yes, 8 Degrees
Features
Shaft Is Reinforced With A Carbon Layer And The Blade Is Reinforced With Nylon
Palm Grip Fits The Contour Of Your Hand To Reduce Fatigue
Simple Palm Lever Allows You To Adjust The Length On-the-go
Two-piece Construction Makes The Paddle Easier To Transport And Store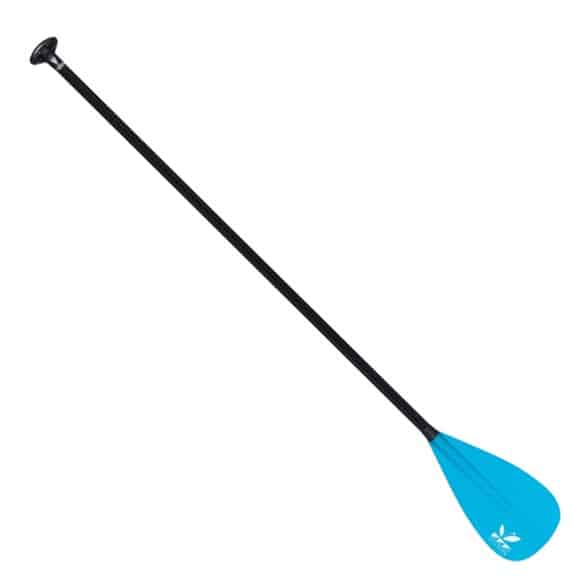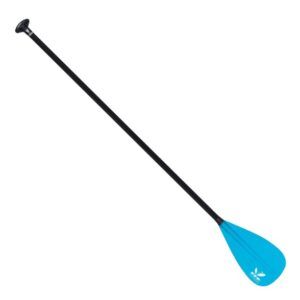 BEST PADDLE FOR DURABILITY
The main design focus of the Makai was on durability, especially for limit-pushing riders and renters. You know the kind, the ones who give meaning to "ride it like a rental." The reinforced blade and shaft stand up against the rocks, tree trunks, and sand bottoms you'll inevitably push up against anyway.
The adjustable handle accommodates riders of different sizes. All you have to do is lift the lever on the handle and pull the shaft to lengthen it. Switching between riders is a cinch! The same lever disconnects the two pieces of the paddle so you can slide them into your trunk or storage cubby.
THINGS TO CONSIDER WHEN BUYING A SUP PADDLE
MATERIALS
SUP paddle shafts and blades are usually made out of some combination of plastic, carbon fiber, aluminum, fiberglass, and nylon. Each material has its advantages and disadvantages, but the desired final product is always a lightweight yet durable paddle. Aluminum and nylon tend to be on the cheaper and slightly heavier side while fiberglass and carbon fiber increase the price but are even lighter and higher quality.
LENGTH
The best SUP paddle should reach the water without having to bend over (too short) or reach too high (too long). To get the length right, you typically want to add 8-12" to your height. When you stand the paddle on end next to your body, you should be able to hold the grip with your hand straight above your head. You just need to find an adjustable paddle within this correct size range.
BLADE
The shape, size, and offset of the blade affects how you move through the water. Generally, larger people do well with larger, more powerful blades and smaller blades are easier for smaller people to wield. The bottom of the blade will either have an arching teardrop shape or a rectangular shape. Teardrops provide a more powerful stroke while rectangular blades take less effort for leisurely paddling. Finally, the offset has a subtle effect on your stroke and most recreational paddles have around a 10 degree offset.
STORAGE
SUP paddles can be pretty long and cumbersome when you consider your storage options at home. A paddle that breaks down into two or three pieces is easier to transport in a vehicle and store in a basement or garage than a long one-piece paddle. If your space is limited, consider whether or not your paddle will fit.
WEIGHT
The difference between a 1lb paddle and a 2lb paddle may sound trivial until you multiply it by thousands of strokes over the course of a single trip. The lighter the SUP paddle, the less fatigued your arms get, so choose a lighter model especially if you plan to be on the water for awhile.
REI offers a more in-depth explanation about how to choose the perfect SUP paddle.
FEATURES EXPLAINED
SHAFT
The shaft of an SUP paddle is the long handle portion between the grip and blade. The length and material the shaft are made out of influence how well you paddle.
BLADE
The blade is the wide, lower part of the paddle that dips into the water and propels the paddleboard forward. The blade's offset angle, surface area, and shape affect the power of your stroke.
BLADE OFFSET
The offset of the blade is the angle it forms in relation to the shaft. An offset around 10 degrees is practical for most recreational paddlers while a 12 degree offset is best for racing.
GRIP
The portion at the top of the paddle that you hold in your hand is refered to as the grip. A T-shaped grip looks the way it sounds with a bar that crosses the handle. An oval or palm grip fits right into the middle of your hand. Some grips are rubberized to make them easier to hold.
ERGONOMICS
Ergonomics is the study of efficiency. As it pertains to SUP paddles, ergonomics refers to how easy the paddle is to use, how friendly the grip is on your hands, and how well the paddle maintains your posture. Proper ergonomics help prevent strain and misalignment.
Check out this link for a visual representation of the anatomy of an SUP paddle.