Updated on June 1, 2022
There's no denying that when warm weather strikes, it's time to trade in your beloved hiking pants for a good pair of hiking shorts. However, finding the best hiking shorts for women is no easy task. The ideal pair will be super functional, incredibly comfortable, and sport a flattering fit at just the right length. Where do you find such a perfect pair of hiking shorts?
That's where we come in. Here at The Adventure Junkies, we take the guesswork out of the equation by making it our mission to help you find the best option for you. We'll tell you precisely what to look for in a good pair of women's hiking shorts along with our top 10 recommendations.
For more of our top hiking gear recommendations, check out the Best Hiking Shorts.
Quick Answer

-

The Best Hiking Shorts for Women
Columbia Sandy River Cargos

REI Co-op Active Pursuits

Mountain Hardwear Dynama Bermuda
Comparison Table

-

The Best Women's Hiking Shorts

For the best experience turn your device horizontally
Reviews

-

Best Hiking Shorts for Women
Patagonia Baggies
Specs
Material

:

Nylon

Inseam

:

5 in.

Style

:

Pull-On
Features
Durable, comfortable, and versatile summer favorite
Nylon with DWR-coating keeps up with adventures
Adjustable drawstring provides just the right fit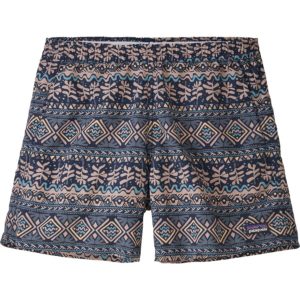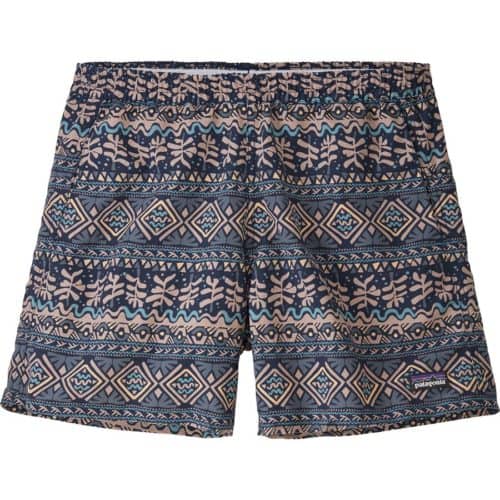 BEST OVERALL WOMEN'S HIKING SHORTS
If you're looking for the optimal blend of performance, comfort, and breathability, these shorts are sure to fit the bill.
Offered in a variety of colors and patterns, the Patagonia Baggies are a longtime outdoor industry women's favorite. These shorts feature an old school look and feel and provides for maximum ventilation on those sticky summer days. The 5 inch inseam offers just the right amount of coverage for comfort. An elastic waist band with an integrated drawstring helps keep these shorts snug, although a soft lining on the waistband would serve to help increase comfort, in my opinion. Fast drying and highly water resistant, you will find these shorts useful for wearing during almost any outdoor activity.
What I like most about these shorts are the deep front pockets, perfect for your phone and keys.
Columbia Sandy River Cargos
Specs
Material

:

Nylon

Inseam

:

6 in.

Style

:

Trouser
Features
Quick-dry synthetic fabric sheds water after a swim
Omni-Shade fabric for long exposure to the sun
Adjustable waistband for a secure, comfortable fit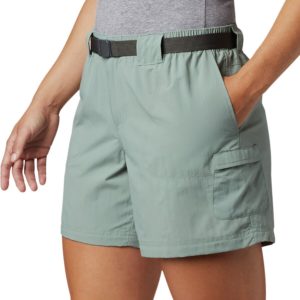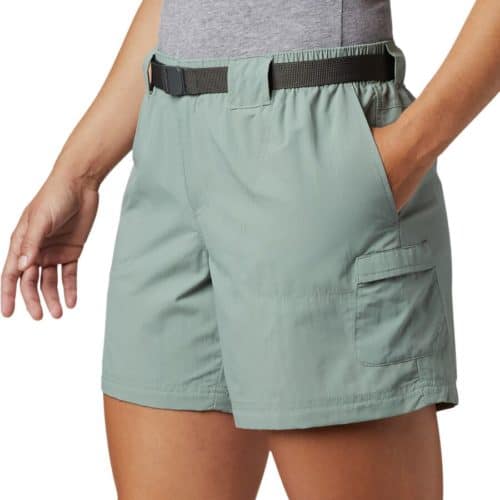 BEST FOR: THOSE ON A BUDGET
With an emphasis on ventilation and mobility, these affordable shorts serve as an ideal choice for the aspiring hiker.
Costing only 25 dollars, these outdoor shorts may not be the most comfortable or stylish model on the market, but they are functional — for the price. Constructed from 100% nylon with a proprietary quick dry treatment, these shorts resist moisture okay but dry super fast — in minutes, to be precise. Featuring an elastic waist band, snap button and zipper front closure in addition to a belt, you don't have to worry about them falling off your body. In addition, if you  size these shorts correctly the belt is removable and reduces the total weight by nearly an ounce.
What I like most about these shorts is the six inch inseam combined with the baggy fit, which makes them comfortable to wear for a variety of outdoor activities, including hiking, paddling, and climbing.
REI Co-op Active Pursuits
Specs
Material

:

Polyester, Spandex

Inseam

:

4.5 in.

Style

:

Pull-On
Features
Wicking, breathable, 4-way stretch polyester fabric sewn with flat seams is comfortable and durable
UPF 50 sun protection
Built-in liner wicks moisture for added comfort
Wide waistband ensures all-day comfort; drawcord lets you fine-tune the fit
Drop-in stash in liner holds a key, card or cash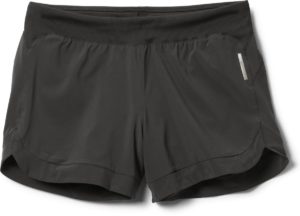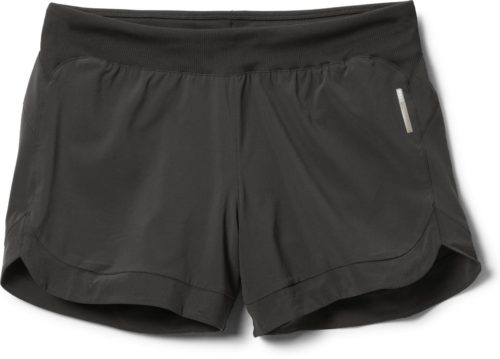 BEST FOR: LONG DISTANCE HIKES AND TRAIL RUNNING
If you are looking for a product that offers the best comfort and protection without the unnecessary extras, REI's Active Pursuits has you covered.
The "no-frills" design of these shorts offer optimal comfort and performance but come up short on features like pockets. Integrating a liner into these baggy shorts allows for a shorter inseam while still providing enough coverage to feel comfortable. The recycled polyester materials excel in wicking away moisture while also providing for a UPF 50 sun protection rating.
What I like most about these shorts — other than the price — is the wide waistband that feels soft against the skin.
Prana Alana
Specs
Material

:

Recycled nylon, Spandex

Inseam

:

5 in.

Style

:

Trouser
Features
Made from ReZion, a bluesign®-approved fabric
Provides UPF 50+ protection from the sun
Fully functional center front snap closure with interior drawstring
Front and back welt pockets with an invisible zipper at the back right welt and upper right leg
BEST FOR: VERSATILITY
Here, style and function combine to make for shorts ideal for wearing from town to trailhead — and any stops you need to make in between.
The Prana Alanas perform well in the outdoors and yet blend in equally well at your local brewery. The thicker material used in their construction is surprisingly breathable, despite being heavier than many of other picks, adding a degree of confidence in their long-term durability. This breathability is partly due to the lack of a DWR treatment, so water is absorbed quickly by these shorts.
What I like most about these shorts are the deep front pockets you can actually use to stash essentials.
The North Face Class V
Specs
Material

:

Nylon

Inseam

:

Short (4 in.)

Style

:

Pull-on
Features
Hands And Small Zip Pocket (for storing valuables)
High Sun Protection Rating (50 UPF)
Quick-drying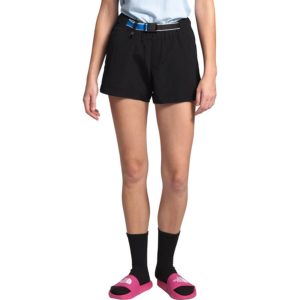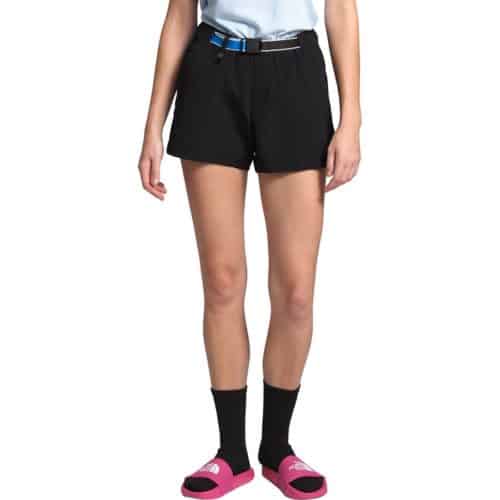 BEST FOR: HIKERS WHO LIKE SPORTY SHORTS
Love the freedom of running shorts? The North Face Class V Hike 2.0 features that same feeling of freedom. These shorts are designed with a short length sporty fit matched by trail performance to gear you up for a day of trekking.
This doesn't mean you're totally without sun protection. These shorts have the highest rating when it comes to sun protection so you don't have to worry about burning your pasty white thighs on your first trip out this summer. The novelty belt is also a nice touch as it offers more support to secure your shorts, preventing them from riding up or falling down.
Patagonia Barely Baggies
Specs
Material

:

Recycled Nylon

Inseam

:

Super Short (2.5 in.)

Style

:

Pull-on
Features
Water-resistant And Quick Drying
Attractive Fit
Adjustable Waistband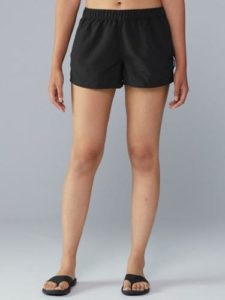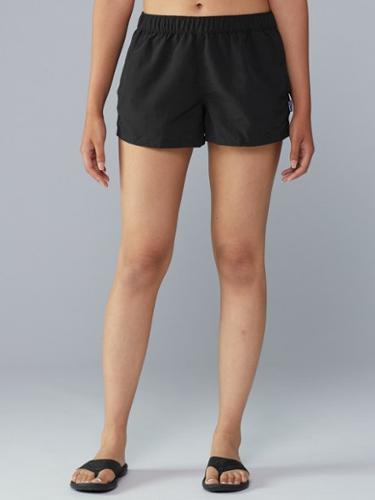 BEST FOR: HIKING AROUND WATER
Patagonia Barely Baggies aren't your average hiking shorts. Mixing an attractive modern design with a durable fabric, these shorts are made for romping around all summer long in a stylish fit.
Quick-drying with a water-resistant coating, these shorts are ready to tackle all your wet and wild adventures. While you're on your way to hidden swimming holes or crystal blue alpine lakes, your legs will have plenty of room to breathe with the short 2.5 inch inseam length. Go ahead and jump in, your short shorts will be dry in no time.
prAna Olivia
Specs
Material

:

Nylon/Spandex

Inseam

:

Short (5 in.)

Style

:

Trouser
Features
Stylish
Comfy With A Relaxed Fit (a button-front fly keeps these shorts comfortable and secure)
Moisture-wicking Finish (to prevent the shorts from getting soaked in the rain)
BEST FOR: HIKING OR TOWN
Looking to go from trail to town? Throw on a pair of Prana Olivia Shorts and get going. These shorts mix style and function, performing well on the trail and looking great off it in town as well.
The Olivia Shorts have a flattering trouser style cut with a mid-length rise. Made from a stretchy, moisture-wicking material, you'll keep cool and comfortable with the relaxed fit no matter the difficulty rating of your hike. Just don't forget to grab a change of shoes for your outdoor trek.
Mountain Hardwear Dynama Bermuda
Specs
Material

:

Nylon/Elastane

Inseam

:

Medium (9 in.)

Style

:

Pull-On
Features
Roomy Legs
Comfy Waistband
Secure Zip Pocket For Small Items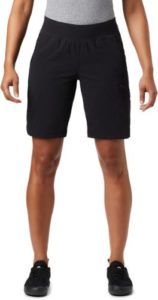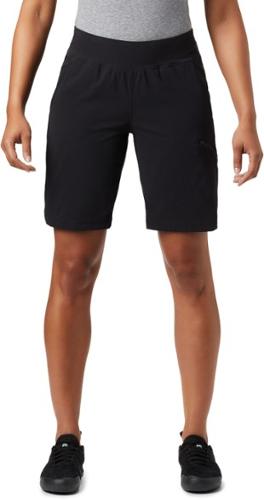 BEST FOR: WOMEN WITH CURVY HIPS
If comfort and coverage are your two top priorities in hiking shorts, you'll dig the Mountain Hardwear Dynama Bermuda Shorts. With a roomy fit and stretchy waistline, knee-length shorts don't get any cozier than this.
These shorts have a clean appearance, streamlining their design and performance. Without the need for buttons, bulky zippers, or purely novelty features, you'll enjoy the ultimate free range of motion when hiking around. That doesn't mean these shorts are completely without useful features. You'll find the deep hand pockets and a side secure zip pocket are just the right touch.
Columbia Silver Ridge
Specs
Material

:

Nylon

Inseam

:

Short (4 in.)

Style

:

Pull-On
Features
Side Cargo And Security Pocket
Adjustable Waist (hidden drawcord inside for easy size adjustment)
Comfortable Fit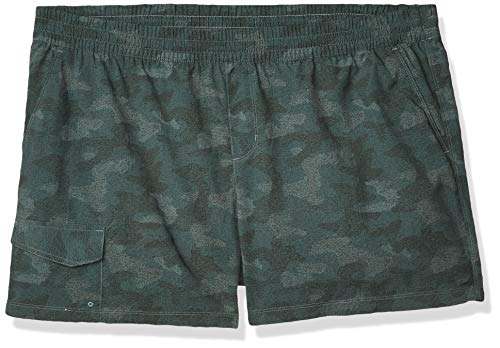 BEST FOR: HIKING IN SUMMER
Add a little pep in your step with the patterned Columbia Silver Ridge Printed Shorts. These shorts have everything you could want in a quality pair of hiking shorts and they look fun too! Toss a pair on and get ready to explore around. The athletic style design along with the elastic waistband is as comfy as they come. Did we also mention they wick away moisture so they'll keep you dry? Brighten up the trail and find your favorite printed pair today!
THINGS TO CONSIDER WHEN BUYING HIKING SHORTS FOR WOMEN
MATERIAL
A good pair of hiking shorts will be made out of a material that's breathable and comfortable. Ideally, the material is also quick-drying and moisture wicking so you can stay dry while keeping cool at the same time.
The most popular material you'll find in a quality pair of hiking shorts is usually nylon. Nylon offers all these features we just mentioned, plus it's durable. That means you won't have to worry about tackling rugged terrain or worry about tears when getting snagged by a branch.
Nylon is also usually paired with some form of stretching material, like elastane or spandex, to increase mobility and comfortability.
WEIGHT
Along with the material, you'll find hiking shorts with a lighter weight offer better mobility. Luckily, most hiking shorts weigh only a few ounces. Needless to say, find a pair that lets you move around comfortably without any extra weight added to slow you down.
FIT
Are you a low-rise kind of gal or do you prefer your pants to hug your waist? Do you like to wear short shorts or are knee-length shorts up more your style? What about a loose fit versus tight? You'll be the most comfortable if your hiking shorts match the style of shorts you typically wear off the trail, so look for a fit that is a close match.
STYLE
Let's face it, style matters – at least to an extent. Hiking shorts come in a wide range of styles with everything from "I wouldn't be caught dead in that" to "who cares, I'm out in the middle of nowhere." You'll want to find a style that suits your tastes best because if you don't like it, odds are you won't be wearing it.
POCKETS
Ladies, we do love our pockets, don't we? Pockets are an excellent feature to have in a pair of hiking shorts. They let you stash a map, compass, energy bar, and other small items all without the need to dig into your pack. Be sure the hiking shorts you choose have ample space to stash anything you want to keep accessible while on the trail.
FEATURES EXPLAINED
SECURITY POCKETS
These are small zipper pockets that keep tiny items safe. They're great for stashing things like your car keys or your ID.
SUN PROTECTION RATING (UPF)
Like your sunscreen, the clothing you wear has a sun protection rating called the UPF. The UPF rating will tell you how much or how little your clothes block out harmful UV sun rays. A UPF 50+ is considered the best as it's the highest rating you will find. Meanwhile, a UPF 20 or UPF 15 is considered to be good.
We should note that if a manufacturer doesn't mention a specific rating it's probably so low on the scale it barely blocks out any rays at all. So when in doubt, lather up on the sunscreen!
GUSSETED CONSTRUCTION
When you move, your motion can put a strain on your hiking shorts. This can cause seams to weaken with wear over time. What a gusseted construction does is help eliminate that strain by sewing in an additional piece of material to strengthen the seam.
This way, you can bend, stretch, climb, and hike all you want on the trail without worrying about your motion tearing a hole in your shorts.
MOISTURE WICKING
In a nutshell, when you sweat, a moisture wicking material will pull that sweat towards the surface of the material while speeding up evaporation. This helps keep you dry and your clothes from looking like you swam with your shirt on. If you're hiking in the heat or plan on working up a sweat, you'll definitely want moisture wicking shorts on your side.