Updated on November 16, 2021
What are the best mountain bikes? Oceans of craft beer and specialty coffee have been consumed during discussions of that topic, and still, nobody has answered the question, because there really isn't an answer. Mountain biking embraces a range of disciplines and bikes are available in a dizzying variety of types, styles, and prices. There is no one best mountain bike, but that doesn't mean you can't find the best mountain bike for you! We've made that process a little simpler by collecting some top contenders in a variety of popular categories.
We started this list with a few assumptions. First, we assume that you're male: if you're a woman, we have a list of your top options here. We're also assuming that, like most casual riders, you're a generalist. We bet that you're looking for a bike that will allow you to ride cross country, trail, and Enduro (or All Mountain), depending on what you're feeling that day. We tried to select bikes that bridge categories and give you some versatility because most of us don't ride the same trail or the same type of terrain every day! Let's look at the top choices in a range of styles and prices.
Disclaimer: Modern mountain bikes are complicated, and the jargon can be confusing at first! We've tried to keep it simple, but if you see terms that you don't understand, check the explanatory sections that follow the reviews. We've provided more detail on every term we discuss here, and there are links you can read for more information.
For more of our top mountain biking gear recommendations, check out these popular articles:
Mountain Bikes for Women | For Beginners | For Kids | For Big Guys | Downhill Mountain Bikes
Mountain Bikes with Full Suspension
Quick Answer

-

The Best Mountain Bikes for Men
Yeti Cycles SB100 GX Eagle
Comparison Table

-

Best Mountain Bikes for Men

For the best experience turn your device horizontally
Reviews

-

The Best Men's Mountain Bikes
Marin Pine
Specs
Frame Material

:

Steel

Style

:

Cross Country

Wheel Size

:

27.5"+

Suspension

:

Rigid

Seatpost

:

Fixed

Drivetrain

:

1x10
Features
Plus-Sized Tires Grip The Trail And Absorb Bumps
Tubeless-Ready Wheels Prevent Flat Tires And Provide Impeccable Traction
Hydraulic Disc Brakes Provide Exceptional Stopping Ability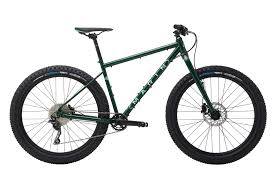 BEST RIGID
They say "steel is real," and this competitively priced entry from Marin is as real as they get. The high strength of steel allows the use of graceful narrow diameter tubing, and the simple frame and rigid fork give the Pine Mountain a sleek, elegant look. The natural spring of the steel frame and the plus-size tires combine to soak up smaller bumps and the absence of an expensive suspension fork allows Marin to spec this bike with features like hydraulic disc brakes and tubeless-ready wheels while keeping the price accessible. If you'll be riding mainly on smooth trails and you like to keep it simple, here's your bike!
Santa Cruz Bronson R
Specs
Frame Material

:

Carbon

Style

:

Trail/Enduro

Wheel Size

:

27.5"+

Suspension

:

Full

Seatpost

:

Race Face Aeffect Dropper

Drivetrain

:

1x12
Features
Balanced For Agility And Stability
Proprietary Suspension Design For Maximum Sensitivity
High-End SRAM NX Eagle Drivetrain Provides All The Gears You Need To Ascend Steep Climbs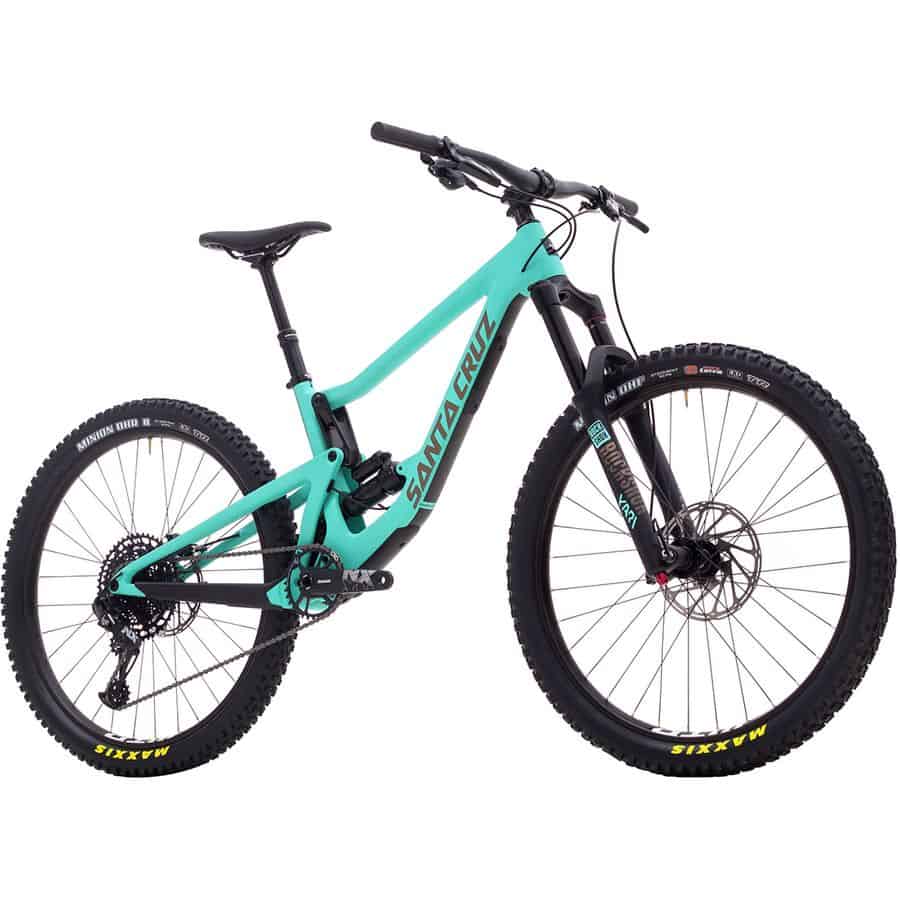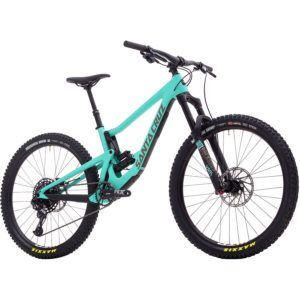 BEST ALL-AROUND VALUE 27.5"
The Santa Cruz Bronson is one of the most capable trail bikes on the planet, and this aluminum model lets you experience all of that capability at a much lower price than the premium carbon version. Santa Cruz has adapted the suspension design of their downhill race bike to the Bronson's lighter chassis, ensuring a smooth ride over everything from small bumps to big hits. If you're looking for a bike that will smash anything from fast flowy singletrack to laps at the bike park, this Bronson fills the bill at a quite reasonable price for a premium full suspension mountain bike.
Intense Tracer Pro
Specs
Frame Material

:

Carbon Fiber

Style

:

Trail/Enduro

Wheel Size

:

27.5"+

Suspension

:

Full

Seatpost

:

Fox Factory Transfer Dropper

Drivetrain

:

1x12
Features
Ultralight Carbon Frame
Long Travel Suspension Smooths Rough Terrain
Aggressive Geometry For Steep Descents
Five-Year Limited Warranty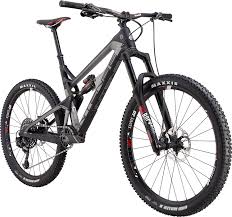 BEST 27.5" TRAIL/ENDURO BIKE
If you're ready to shred and looking for a bike that's as ready as you are, look no further. The Tracer is at home on rough, technical trails and is just as happy running laps on the steepest runs your local bike park can offer. The 12-speed SRAM drivetrain provides all the climbing mojo you need and Shimano XT hydraulics handle the stopping power. If you're looking to get airborne, the bike's powerful suspension and aggressive geometry are there to keep you stable and in control when you come back to the ground.
This is not a cheap bike, but it's priced at the low end of the high end and delivers a lot of trail power for the money!
Yeti SB6 Turq X01 Eagle
Specs
Frame Material

:

Carbon Fiber

Style

:

Trail/Enduro

Wheel Size

:

27.5"

Suspension

:

Full

Seatpost

:

Fox Transfer Dropper

Drivetrain

:

1x12
Features
Perfection
Tunneled Internal Tubes To Make Servicing This Bike Simple As Pie
Shimano XT4 Piston Brakes Have Impeccable Stopping Power
Aggressive Geometry Makes This Bike Ready for Rugged Trails And Rowdy Riding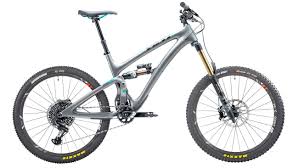 BEST YOU CAN BUY
Every day since 1999, Yeti has closed their factory in Colorado's Front Range from 11:30 AM to 1 PM so their employees can ride their bikes. The SB5 "Lunch Ride" build is based on the tweaks developed by Yeti's experts to maximize the performance of their personal bikes on those daily rides. There's a long list of changes, but they all add up to one incredible mountain bike. You can spend quite a bit more on a trail bike if you want to, but we can't imagine why you'd want to. If you're looking for an aggressive trail ride and you can afford this bike, buy it.
Yeti Cycles SB100 GX Eagle
Specs
Frame Material

:

Carbon Fiber

Style

:

Cross Country/Trail

Wheel Size

:

29"

Suspension

:

Full

Seatpost

:

Fox Transfer Dropper

Drivetrain

:

1x12
Features
Molded Internal Cable Channels Make Servicing The Bike A Breeze
Top Of The Line SRAM Guide R Brakes Ensure You'll Stop Every Time, Even On The Steepest Descents
12 Speed Drivetrain For Ultimate Versatility
"Dude, It's A Yeti"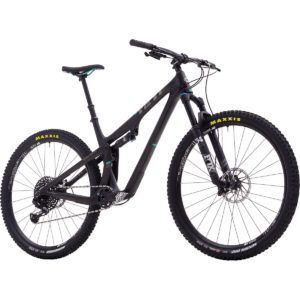 BEST 29" XC/TRAIL BIKE
Do you want to sprint the steepest climbs and still have the mojo for steep descents? Do you want a lightweight 29" XC race ride that can still shred technical trails? If that sounds like you, Yeti has built your bike and delivered it at an attractive price for a premium ride from one of the nation's top bike builders. Smooth, solid, and aggressive are the words reviewers use, and Yeti has put a lot of design work and a very plush range of components into earning those descriptions.
Intense Sniper Trail
Specs
Frame Material

:

Carbon Fiber

Style

:

Cross Country/Trail

Wheel Size

:

29"

Suspension

:

Full

Seatpost

:

Intense Recon Dropper

Drivetrain

:

1x12
Features
Balanced For Fast Climbing And Aggressive Descending
Fox Suspension For A Smooth Ride
Five Year Limited Warranty
High-Quality Components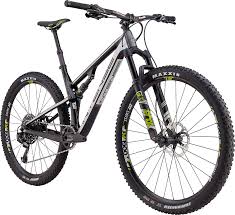 BEST 29" FULL SUSPENSION FOR ALL-AROUND VALUE
Intense has a reputation for building lavishly appointed high-end bikes, but this build breaks that mold. It's by no means a cheap mountain bike, but considering the pedigree and the quality of the components, it offers real value for money. This is a full on 29" trail machine ready to take on anything from cross country races to technical trails, coming in at a very respectable 26 lbs. 4 oz. for the medium size. That makes it a legitimate high-end bicycle at a mid-end price!
THINGS TO CONSIDER WHEN BUYING A MOUNTAIN BIKE
COST
Mountain bikes are available in a huge range of prices: the most expensive bike on this list costs 10 times the price of the cheapest! You do get what you pay for but in many cases, you may not be gaining an advantage you'll notice. It's worth studying bikes, talking to other riders, and looking at the terrain you will ride to decide what will make a difference to you and where you'll find the best value.
BIKE TYPES
Most manufacturers classify bikes in these rough categories.
CROSS-COUNTRY OR XC:
These bikes are designed for smooth, flowing trails. They typically have narrow tires and steep geometry and are designed for climbing and speed on the flats. Cross-country race bikes tend to be extremely light.
TRAIL:
These bikes are the widest category and are designed for versatility, aimed at delivering fun, capable rides over everything from smooth XC trails to steep, rough, technically challenging terrain. Trail bikes can handle limited jumps and drops.
ENDURO OR ALL MOUNTAIN:
Bikes are made to range from the rough end of the trail spectrum into more aggressive bike park-style riding, with bigger jumps and drops and very steep descents. They have to be able to climb as well as descend.
FREERIDE:
Bikes made for huge jumps and drops and place a low priority on climbing.
DOWNHILL:
Bikes made for high-speed racing on defined high-gradient courses.
FRAME MATERIALS
ALUMINUM:
The most common frame material. It's light, strong, and easy to work with, and is used for everything from entry-level to high-end bikes.
CARBON FIBER:
Very light and very strong and primarily used in high-end bikes.
STEEL:
Steel is very strong and allows the use of narrow tubes, and is popular for hardtail and rigid bikes.
WHEELS
29″ WHEELS:
29″ wheels take some effort to get rolling, but once moving they hold speed and encourage more speed. They are better at rolling over obstacles than dodging around them. Cross-country bikes and bikes straddling the cross-country/trail boundary tend to use 29" wheels.
27.5" WHEELS:
27.5" wheels are more agile and better for tight, technical terrain that requires fast maneuvering. Bikes straddling the trail-enduro boundary are typically built around 27.5" wheels.
PLUS-SIZED TIRES:
Plus sized tires can be used on either wheel size but are more common on 27.5" wheels. Plus-size tires are larger than normal tires and can be run at lower pressures. They absorb shock and grip the trail, but add weight and drag.
TUBELESS TIRES:
Tubeless Tires use a sealant to control flats and eliminate inner tubes. They are light and can be run at lower pressures for greater grip on rough terrain.
SUSPENSION
Most mountain bikes use mechanical shock absorbers in the front fork (the part that connects the frame to the front wheel), the rear frame, or both. Suspension smooths out the ride and allows greater comfort and control on rough terrain. It can also "bob" on climbs or flat ground, converting your pedaling force to up-and-down motion instead of forward motion and slowing you down. Modern bikes use all kinds of engineering ingenuity to control bob.
RIGID:
Rigid bikes have no suspension and often rely on large tires to absorb shock.
HARDTAIL
Hardtail bikes have suspension on the front fork only.
FULL SUSPENSION:
Full suspension bikes have front and rear suspension.
GEOMETRY
Books have been written on mountain bike geometry, but here's a very quick explanation:
STEEP GEOMETRY:
Steep geometry uses an upright seat tube and places the hub of the front wheel almost under the handlebars. This configuration gives speed and control on climbs but on steep downhills can easily pitch the rider over the bars. Cross-country bikes use steeper geometry.
SLACK GEOMETRY:
Slack Geometry angles the seat tube back and puts the front wheel farther ahead of the handlebars for control on descents. Bikes designed for use on steep descents and aggressive trails use slacker geometry.
PRO TIP
If you order a bike online, have it assembled and tuned by a qualified bike mechanic. It's worth the price: your bike will work better and many manufacturers will void your warranty if your bike is not professionally assembled.
LEARN MORE
If you'd like to know more about mountain bike design and components, REI has an excellent guide to choosing a mountain bike. If you're confused about wheel sizes (and we wouldn't blame you), BikeRadar goes into more detail here.
FEATURES EXPLAINED
DRIVETRAIN
A mountain bike's drivetrain involves a number of components.
Shifters are mounted on the handlebar and control gear shifting.
The crankset holds the pedals, which allow your legs to deliver force to the drivetrain.
The chain transfers power from the crank to the rear wheel.
Derailleurs move the chain from one gear to another.
The cassette or cogset is the group of rings mounted on the rear wheel. Larger rings are used for climbing.
Most modern mountain bikes have a single front ring and no front shifter, with 10 to 12 rings in the back. Some bikes still use front and rear shifters and derailleurs and multiple front chainrings.
Shimano and SRAM are the dominant drivetrain manufacturers. Many frame manufacturers identify their bike builds by the drivetrain parts used. For example, if you see "XT" in a built bike's name it probably uses Shimano's XT drivetrain. If you see "GX Eagle" it uses the SRAM GX Eagle drivetrain.
SEATPOST
Mountain bikers raise their seats for stability and power when climbing, and lower them to allow free body movement when descending.
Fixed Seatposts require the rider to dismount and adjust the seatpost manually before climbing or ascending.
Dropper Seatposts raise and lower the seat automatically through a control button on the handlebar.
If you ride rolling terrain with many transitions between climbing and ascending, a dropper post is a big plus.
BRAKES
Hydraulic disc brakes are preferred and are standard even on many entry level mountain bikes.
Brake rotors come in a number of sizes, usually 160mm, 180mm, and 200mm. Larger rotors deliver more stopping power. Many bikes use larger rotors on the front.
READ MORE
For more of our top mountain biking gear recommendations, check out these popular buyer's guides: