Updated on June 1, 2022
Let's face it, many of the seats that come with kayaks leave much to be desired. Some don't even come with a seat back or bottom pad – ouch! If you have a bad back, want to take long rides, or just appreciate a plush seat, then you may want to add your own seating to your boat. That's why we're giving you this list of the 10 Best Kayak Seats.
When you sit back in your kayak, you should feel that "oh yeah" sensation like sitting back in your favorite recliner. At the very least, you want a seat that's padded and adjustable. Features like breathability, water repellent fabric, and extra storage are nice too. Peek through this list to help you decide which kayak seat sounds "just right" for you.
For more of our top kayaking gear recommendations, check out the Best Kayaking Dry Bags.
Quick Answer

-

The Best Kayak Seats
Skwoosh Classic Paddling Cushion
Comparison Table

-

Best Kayak Seats

For the best experience turn your device horizontally
Reviews

-

The Best Seats for Kayaks
Yakpads Gel Seat Pad
Specs
Colors

:

Black

Size

:

18" x 6.5"

Attachment

:

Adjustable Buckle

Ventilated

:

Yes

Seat

:

Cloth and Gel

Materials

:

Neoprene
Features
Full insulation and have a 3D mesh moisture wicking covering
Easy installation with adjustable straps and can fit easily on any seat
Made with air flow conscious, quick dry open cell marine-grade material
Suitable for adult men and women to teens and kids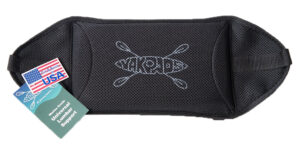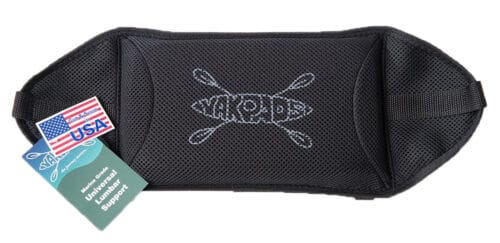 BEST FOR: PADDLERS ON A BUDGET
If you don't have a fortune to spend but would appreciate adding a degree of comfort to your current kayak seat, consider the $30 YakPads Gel Seat Pad — it's worth every penny.
Unlike other options on this list, the YakPads doesn't function as an independent kayak seat but instead functions by strapping onto a seat already in place. The gel neoprene construction provides for a level of cushioning that reduces pressure on the spine while the high back design adds plenty of additional lumbar support. 
What I like most about the YakPads Gel Seat Pad are the eyelet loops that strap the cushion securely to your seat, effectively keeping it from moving around, even in rough waters.
WOOWAVE Padded Deluxe
Specs
Colors

:

Black and Gray

Size

:

12.2"L x 15"W seat, 20.5"W x 17.7"H height

Attachment

:

Metal clips

Ventilated

:

No

Seat

:

Polyester and foam

Materials

:

Polyester and foam
Features
Includes a detachable seat bag in which you can place your personal belongings
Form-fitting design for all body sizes, large & small
2 straps in front, 2 straps in rear
Non-slip contoured padded seat surface
Easy installation & removal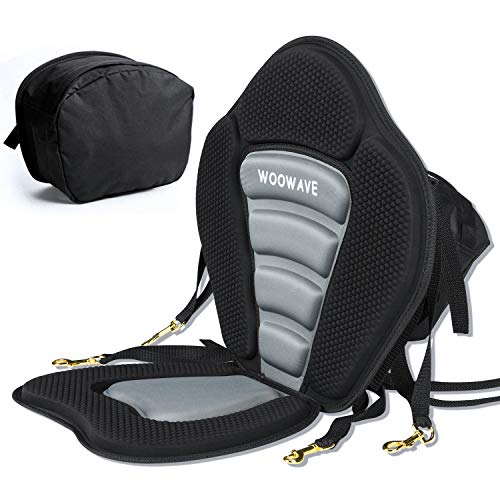 BEST FOR: KAYAK FISHING
When you're in need of a practical, high quality kayak seat with fishing-specific storage space for under $50, give the WOOWAVE a ride.
The WOOWAVE features a durable 210 denier polyester exterior and EVA-foam-filled interior. The seat bag is detachable, which is a convenient option for anglers with multiple boats. There are four way adjustable straps and corresponding copper metal hooks that attach this seat to the kayak.
What I like most about the WOOWAVE Padded Deluxe is the high-quality, contoured high-back seat.
Sea Eagle Deluxe
Specs
Colors

:

White and blue

Size

:

14"W x 12"D x 5"H seat, 12"W x 14"H x 9.5"D back

Attachment

:

Metal clips

Ventilated

:

No

Seat

:

Unavailable

Materials

:

Unavailable
Features
Designed for superior back support
Includes rear pocket for additional storage
Allows you to sit 5" off the floor with 14" of back support
Weighs 3.5 lbs.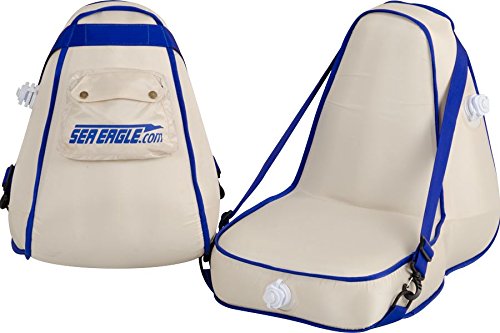 BEST INFLATABLE OPTION
Seats with rigid components run the risk of damaging inflatable-style kayak, so the brand designed the Sea Eagle specifically for inflatable kayaks.
For an inflatable kayak seat, the Sea Eagle Deluxe provides for a superior 14 inches of back support that allows you to sit five inches off the floor. It easily detaches and packs away to a small size when not in use. Weighing in at just 3.5 pounds, it's easy to transport and store.
What I like most about the Sea Eagle Deluxe is that it can be used as a chair when not being used in as a kayak seat.
Skwoosh Expedition
Specs
Colors

:

Black and blue

Size

:

20"H x 26"W back, 1" thick seat

Attachment

:

Metal clips

Ventilated

:

No

Seat

:

Fluidized gel cushion

Materials

:

Unavailable
Features
Waterproof seat cushion
Adjustable lower back support
Adjustable side wings
Reinforced back
Expandable, bungee pocket
2 built-in water bottle holders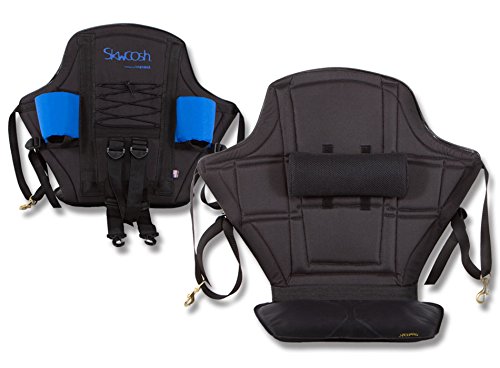 BEST FOR: EXTENDED TRIPS
If you're looking for top-of-the line lumbar support, a 20 inch high back, and a thick, gel seat bottom, look no further — the Expedition features all of these things.
Skwoosh designed the Expedition specifically for just that — long adventures. The gel seat cushion is 1 inch thick and waterproof — ensuring you don't absorb any water that creeps into your vessel. The back of the seat is reinforced with a set of plastic battens, serving to provide both upper and lower back support.
What I like most about the Skwoosh Expedition is that it comes with two insulated water bottle holders, which are convenient for keeping a cold drink on hand.
Skwoosh Classic Paddling Cushion
Specs
Colors

:

Gray

Size

:

16" x 13"

Attachment

:

None

Ventilated

:

Yes

Seat

:

Cloth and Gel

Materials

:

Fluidized Gel and Mesh
Features
Fluidized Gel Relieves Pressure On The Back And Bottom
Mesh Ventilation To Minimize Sweat
Non-Skid Bottom Stays In Place
Waterproof So You Don't Get Waterlogged
No Installation Required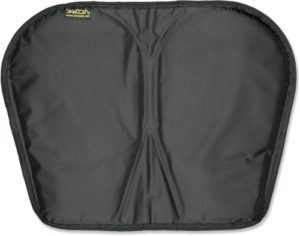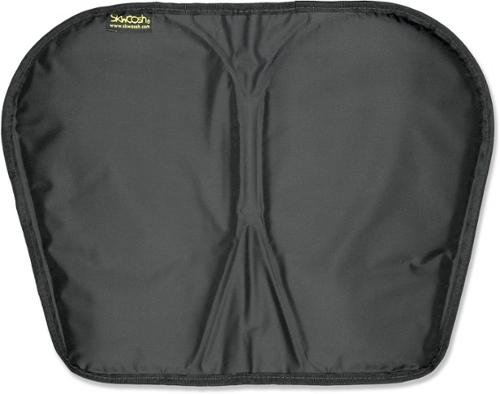 BEST FOR: EXTRA PADDING UNDERNEATH
If all you need is a little extra padding under your seat, then this gel pad is your answer. You can set this seat on top of your existing seat for a little extra cushioning. You could also use the gel pad anywhere else that has a hard seat, such as bleachers, buses, and boats. The non-slip bottom stays put on hard plastic and metal.
The space age gel relieves pressure on your skeletal system, helps maintain circulation, and prevents numbness. Breathable mesh keeps also helps maintain airflow so you don't get overheated.
Ocean Kayak Comfort Tech
Specs
Colors

:

Black

Size

:

17"W x 14"H seat, 24"W x 16"H back

Attachment

:

Metal clips

Ventilated

:

Yes

Seat

:

Cloth and Padding

Materials

:

Nylon
Features
Thick Padding To Relieve Pressure On Back And Bottom
Ventilated Fabric Allows Sweat To Evaporate
Adjustable Straps Help You Fine-Tune Your Positioning
Reflective Logo Enhances Visibility In Low-Light Conditions
Tall Seat Back For Additional Comfort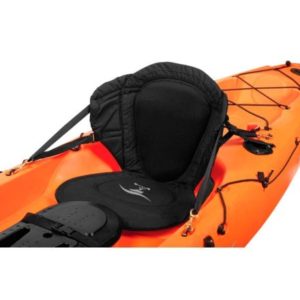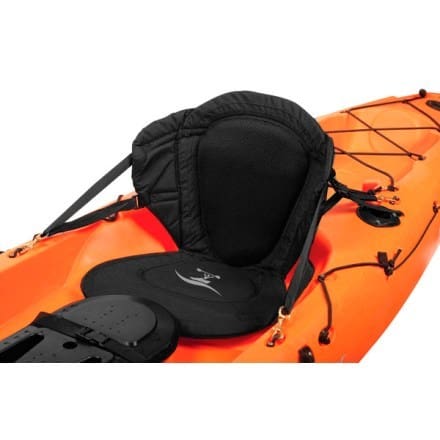 BEST FOR: SIT-ON-TOP KAYAKS
This seat is meant to fit Ocean Kayak's sit-on-top kayaks, but its four-way adjustable mount system and swivel clips should fit most other sit-on-top models as well. The seat provides extra padding, a tall back, and side pads to brace you for long rides.
The tough, UV-resistant fabric resists the rigors you put it through and still looks presentable. Reinforced areas not only lend durability to the seat but also provide additional support for the back. Overall, this seat allows you to enjoy your peaceful ride without the distractions of discomfort from sitting against hard plastic all day.
Ocean Kayak Comfort Plus
Specs
Colors

:

Black

Size

:

23" x 15"

Attachment

:

Adjustable Straps and Clips

Ventilated

:

Yes

Seat

:

Padding and Cloth

Materials

:

Durable Nylon
Features
Tall Back And Wraparound Sides To Rest Against
Extra Padding On The Seat For Paddling Comfort
UV Resistant Fabric To Keep The Seat From Fading
Reflective Logos To Make You More Visible
Adjustable Mounting Straps With Brass Swivel Buckles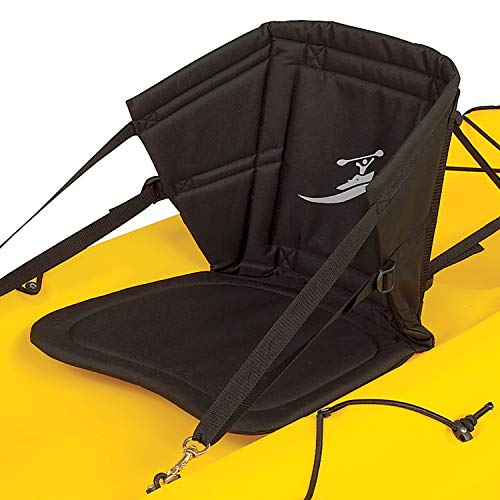 BEST FOR: WRAPAROUND SUPPORT
This kayak seat provides more padding than your standard-issue kayak seat, but not as much as some of the plusher models here. If you're happy with something "in between," then this seat should do just fine. The unique seat shape sort of wraps around your torso, offering support from the sides too.
Adjustable straps let you find your sitting sweet spot, whether you want to sit tall or lean back on a bit of an incline. The brass spring clips attach to the existing eyelets on most kayaks. With high-back support and ventilation, you should be able to stay out on the water longer than before.
Pactrade Marine Deluxe
Specs
Colors

:

Black and Gray

Size

:

21.6"W x 18.5"H back, 15.74"W x 12.6"H bottom

Attachment

:

Metal clips

Ventilated

:

No

Seat

:

Cloth and Foam

Materials

:

Neoprene, Polyester, and Foam
Features
Detachable Zipper Bag For Items You Want Within Reach
Adjustable Straps With Metal Clips For Universal Use
Non-Slip Surface Helps Keep You In Place
Contoured And Padded In All The Right Places
High Back To Accommodate Tall Riders
BEST FOR: WET, SLIPPERY RIDES 
This seat has a non-slip seating surface to keep you from losing traction when you get wet. In addition, the secure straps stay in position so you can sit upright or recline without gradually sinking. Reviewers remind us that the seat could stand to be a little more stiff with a bit more padding under the bottom, but it definitely extends your comfort.
This particular seat was made with sit-on-top kayak models in mind but can successfully be installed in sit-inside models with a few minor adjustments. Either way, the additional storage in the bonus detachable zippered pouch adds a little something extra you can definitely use.
Ocean Kayak Comfort Zone
Specs
Colors

:

Black (Green Mesh)

Size

:

22" x 11.5"

Attachment

:

Metal clips

Ventilated

:

Yes

Seat

:

Cloth and Foam

Materials

:

Nylon and Foam
Features
Extra Cushioning To Keep Your Lower Extremities Happy
Generous Back Height For Taller Folks
Tough Nylon Stands Up To The Rigors Of Kayaking
Ventilation System Allows Sweat To Evaporate
Adjustable Side Straps To Help You Find The Best Angle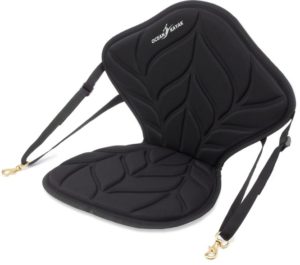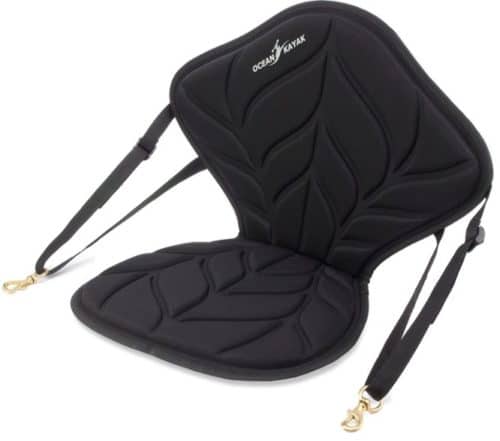 BEST FOR: THE MOST CREATURE COMFORTS
This top-of-the-line kayak seat has some of the most impressive comfort features of any of the seats listed here. The tall height and superior padding make your ride much more enjoyable than your standard-issue seat. That means you can spend more time immersed in nature.
Brass swivel buckles attach to your kayak from any angle while the adjustable straps help you find the level of incline you want to keep. The sturdy seat is nice and firm so it doesn't bend and fold so easily against your weight. Some kayakers appreciate this feature while others feel it's a bit too rigid.
THINGS TO CONSIDER WHEN BUYING A KAYAK SEAT
MATERIAL
The best kayak seats are made of durable polyester or nylon to withstand the rigors of kayaking and the elements. Neoprene is what wetsuits are made out of, so it has great marine quality too. If sturdiness is important to you, you may want a seat with a metal frame or a backboard. Otherwise, choose a softer model if you want to lounge.
PADDING
The type and amount of padding inside is important too. Usually, kayak seats have foam padding or gel beads. While foam provides comfortable cushioning, it may compress after extended use while gel beads should return to their original position. Be sure to choose a cushier model if you need more padding or a contoured model if you want to maintain proper posture.
ATTACHMENTS
Some of the kayak seats listed have adjustable straps with clips while others sit on top of your existing seat. If you want to replace your entire seat, then you want straps that adjust to fit your kayak. If you just want a little extra padding, a seat cushion may be all you need to improve your ride.
KAYAK TYPE
Most of the seats in this list are pretty universal, but some fit better on sit-on-top models while others have sit-inside versatility. Either take a look at the pictures or read through the recommendations to see if the seat will fit your kayak. Otherwise, you can message the manufacturer to see if it will work. Look at your kayak to see how your current seat attaches compared to the one you're considering to see if they're compatible.
VENTILATION
Ventilated seats allow for airflow so you don't get overheated on hot summer days. They limit the amount of sweat you produce and allow whatever sweat you make to evaporate. If ventilation is important to you, be sure this feature is included in your choice.
BACK HEIGHT
The height of the seat back can affect your comfort, especially if you're on the taller side. Check the measurements of your favorite seats to see how high they reach. If your seat only reaches halfway up your back, then your upper back may get sore or you might feel yourself slouching. Another consideration to make is if the back is adjustable or not. Use this guide to find the right seating position.
For more considerations, check out this kayak seat guide.
FEATURES EXPLAINED
ANCHOR POINTS
Anchor points are holes in your kayak where the seat clips or other accessories attach. Most kayaks already have anchor points for your seat, so you shouldn't have to drill holes for them.
VENTILATION
Ventilated kayak seats allow for airflow around your body so you don't get too hot. Typically, ventilation is made possible by little holes in mesh or the moisture-wicking properties of fabric. Think about how a black seat without ventilation could easily cause a pool of sweat to build on your back and seat. Ventilation makes your ride much more comfortable.
MARINE GRADE
If a feature is marine-grade, that means it can withstand the normal rigors of the water such as waves, salt, sun, and moisture. If the clips on your kayak are marine-grade, for example, they should be able to resist corrosion and breakage from getting wet.
MOUNTING STRAPS
Mounting straps are the adjustable straps that connect the seat to the kayak. The straps should be attached tightly enough to keep the seat anchored while you're paddling. Without the mounting straps, you'd have to hold your seat in place with just your bodyweight, and you'd probably slide around and lose the seat if your kayak tipped.
SWIVEL HOOKS
Swivel hooks are metal clips that can spin. Because they can spin, you can attach them from any approach angle. Otherwise, you'd likely end up with twisted, contorted straps.
READ MORE
For more of our top kayaking gear recommendations, check out these popular buyer's guides: